Denver's first 90 degree day came with record heat across Colorado
Tuesday set a number of records across the state for heat, including Denver.
Denver not only hit 90 degrees for the first time this year, but also set a record high set of 92°F. The previous record was 90°F set back in 2009.
Denver was not the only site to set a record Tuesday.
Across Colorado, more than a dozen stations report record highs as of Tuesday afternoon (some stations will not report their record until Wednesday).
Of those, new records for Colorado Springs and the Air Force Academy. Here are other locations with new record highs: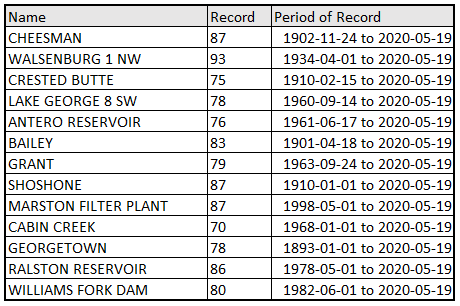 The last time Denver hit 90 degrees was September 15th, 2019.
The city averages 43 90-degree days a year (using the past 30 years of data). The most ever was 73 days of 90s back in 2012.
As we put in this week's SOTA, this link takes you to an interactive map to show you the past 20 years' average first 90-degree day, plus the earliest and latest dates to hit 90.
Temperatures will cool a couple of degrees on Wednesday, then a few more degrees for Thursday. Rain, however, will remain hard to come by. As we outlined for Insiders this evening, this has been a dry month for much of the state, without much relief in sight.