Just a quick update this evening to reiterate the chilly night ahead. Lots of folks have been asking about their sensitive vegetation, what the wind is expected to do, and who may see snow.
First, the wind. A High Wind Warning remains in effect for all of Eastern Colorado. Winds from 30 to 45 mph will be expected through much of the night, with gusts to 60 mph. A look at latest reports from across the region show sustained winds of 30 mph already up and down the urban corridor this evening: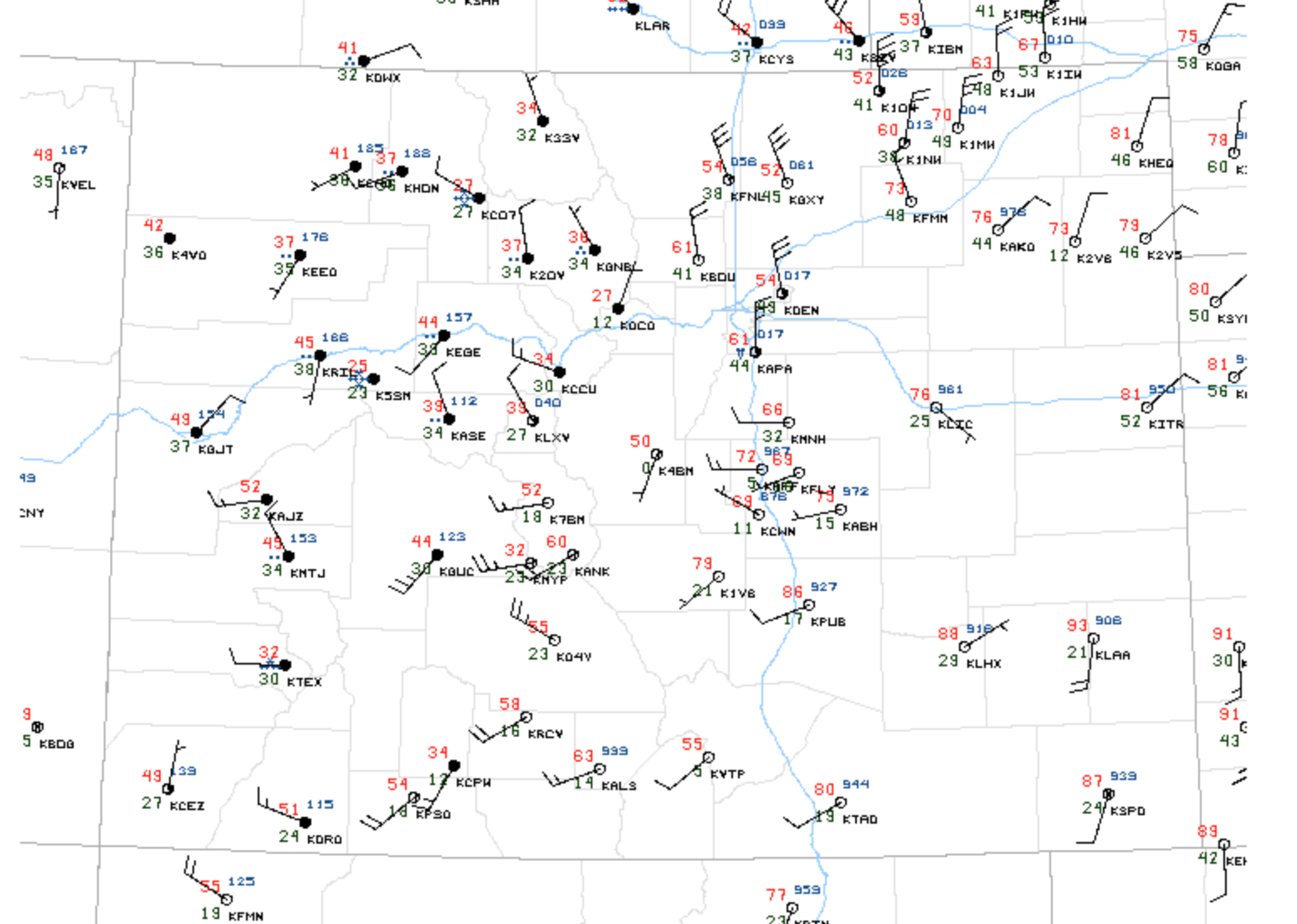 Temperatures have dropped into the low 40s in Cheyenne as of 8:45 pm. Looking at dew points up north, we expect some cooler-than-advertised temperature readings by morning in and around the Denver metro area. While the foothills and Palmer Divide are likely to bottom out in the low to mid 30s in many spots, we won't be surprised to see some readings down into the 30s even for the metro cities as well.
MOS guidance has Denver bottoming out around 41°F, with a similar look from the latest HRRR below. Again, it could be we see temperatures drop a bit more than models are indicating given what we're tracking tonight. Below is the HRRR forecast for 5am mountain Tuesday, widespread 40s for the region, with 30s across the Palmer and higher elevations west of I-25. If you are at all concerned about any of your plants, it wouldn't hurt to try to protect them tonight.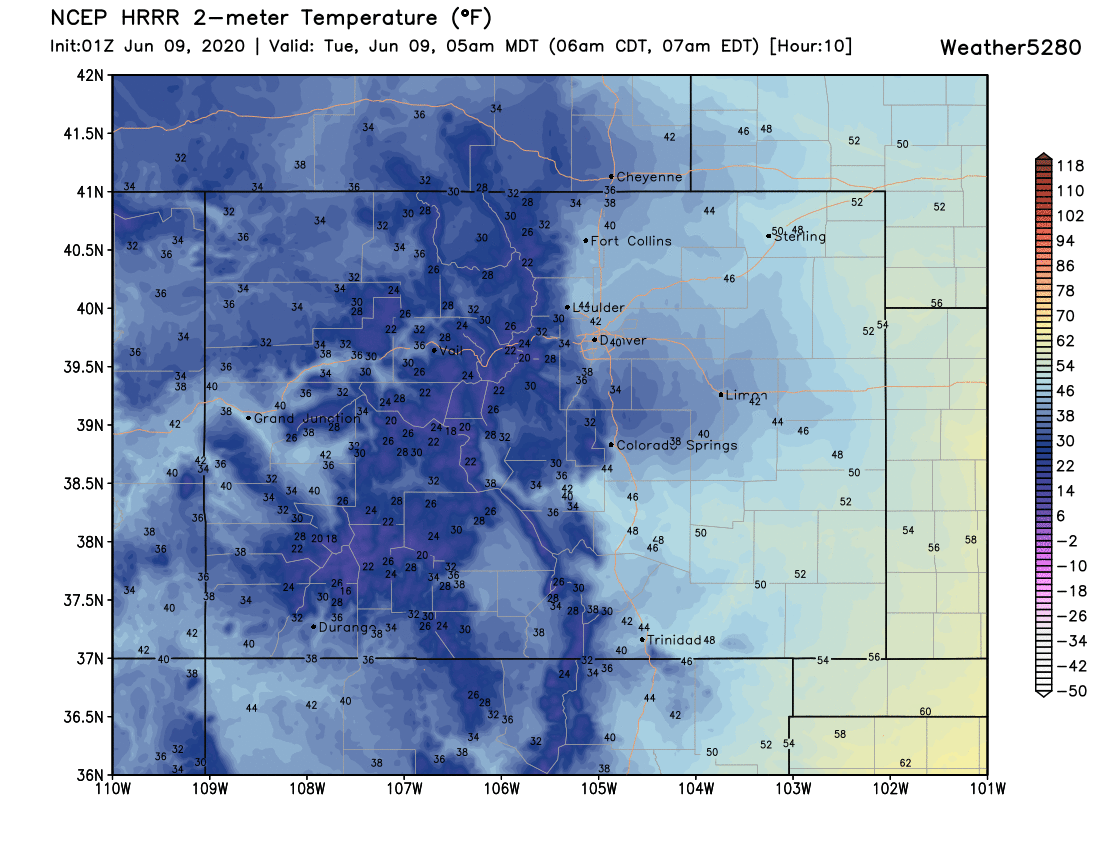 As for snow? A Winter Weather Advisory has been posted for much of the northern and central high country. Rabbit Ears Pass, Rocky Mountain National Park, Medicine Bow Range and The Mountains of Summit County, the Mosquito Range, and the Indian Peaks all could end up with a good 4 - 8" of June snow by midday tomorrow. Here snow levels are expected to drop as low as 7,500 feet, with the best accumulation expected over 9,000 feet.
Some high-resolution short term models are rather bullish with the snow tonight across the Palmer Divide as well. Not hard to imagine a scenario where we see some accumulation for the areas shown below. If you're planning to travel between Denver and Colorado Springs late tonight/early Tuesday morning be aware you may run into some snow. That snow in combination with the strong wind could slow you down due to reduced visibility and wet roads.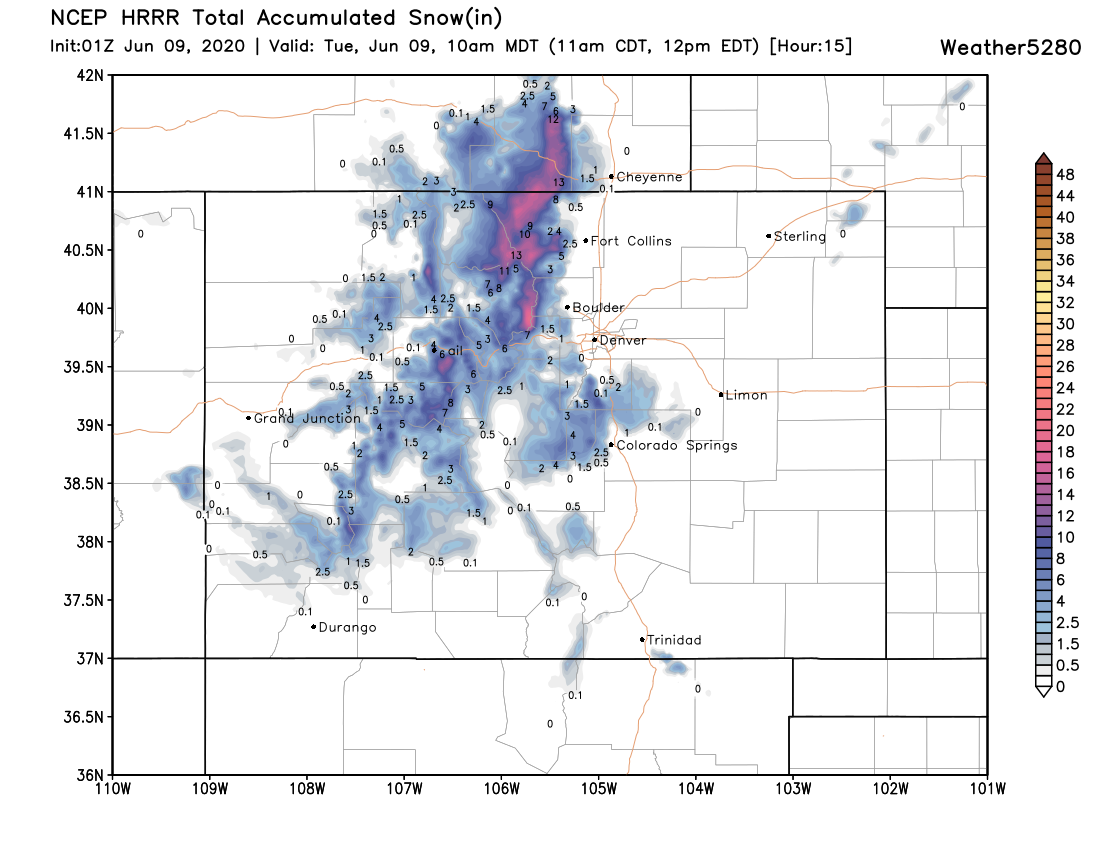 Bottomline: a pretty good chilly on the way in addition to yet another around of wind. It'll be interesting to see how low we go tonight, and where we ultimately see some snow accumulate. Crazy things can happen across the Palmer, even in June.
The record low for Denver is 37°F set back in 1889. As recently as 2008 we hit 39°F on June 9th. Not sure we'll tie or break those numbers officially tomorrow morning, but good bet a number of stations across the metro area will be close.
Enjoy the break from the heat, it'll come back in a hurry! Some good moisture looking likely tonight for many of us which is great news. Here's the radar as of 9 pm – heavy snow across the higher terrain, and good showers and storms across the northern urban corridor. Coverage will continue to expand and spread south through the overnight hours.