For many locations the rain of recent days was nothing short of disappointing. Some areas, however, did much better.
Between Thursday and Friday we saw swath of 1"+ totals ending up north and northwest of Denver. The Palmer Divide picked up some better storms Friday, as well as portions of south central and east central Colorado. In between? Mostly dry. It was good to see parts of southern Colorado pick up some appreciable moisture, but we need more and better coverage to combat the expanding drought there.
Here are rainfall totals from late last week across Colorado: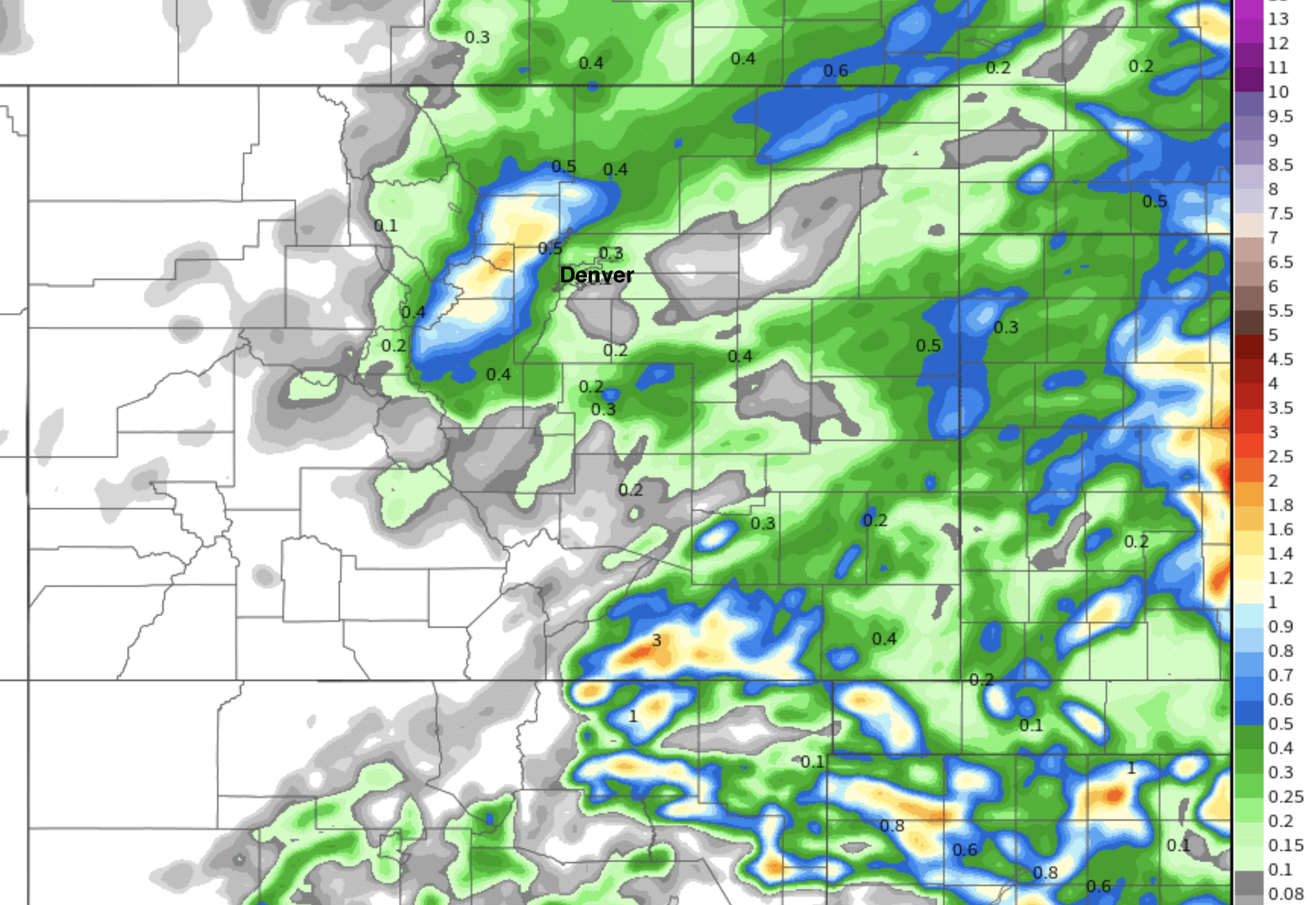 The week ahead looks like a fairly typical summer week. We'll see a few days featuring below average temperatures, and a couple above. None of the record heat we saw last week is in the forecast, and nothing terribly cold either.
For Denver, the warmest day of the week looks to come on Thursday, when highs are likely to climb into the mid 90s. If we look at high temperature forecasts vs average for the coming days, we see a good mixed bag. Most areas will see below average temperatures today, then climb above average for Wednesday and Thursday, before temperatures back off again to end the week.

With highs in the 80s most afternoons, and only a few 90s in the planner, there's nothing close to record heat in the forecast most afternoons. Here's a look at high temperature forecasts vs record highs for each date. Even with a high of 94°F forecast for Denver on Thursday, a good 11°F below the record for the date of 105°F.

While nothing very organized, we'll see a better chances of storms each afternoon this week than we've seen on consistent basis so far this summer too. For most of us its not likely to amount to much, but if you end up under one some brief heavy rain will be possible.
Still other storms will feature more wind and lightning than rain. Keep an eye on the sky –– and remember, when thunder roars, go indoors!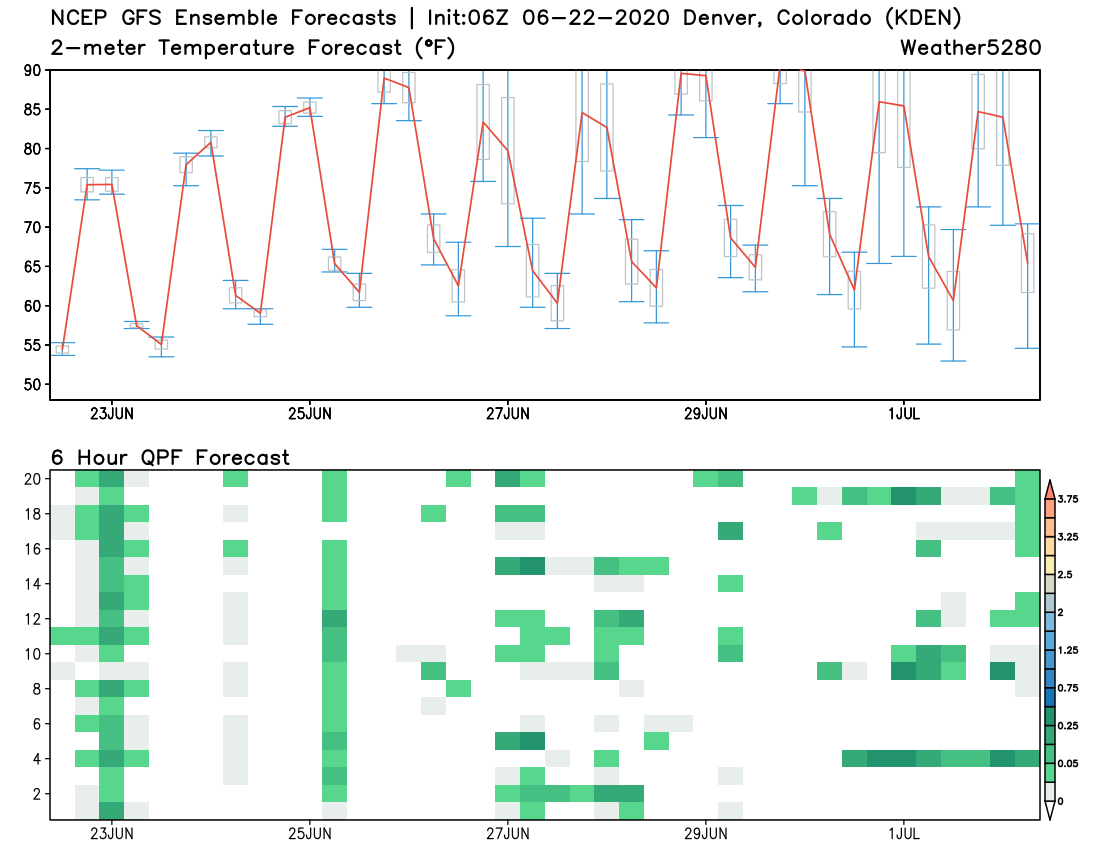 If we look at the latest 3km NAM model, it shows the following for precipitation through Wednesday evening. A pretty good signal for storms along the Palmer Divide and south. It shows some great coverage across the far Southeast Plains, which of course would be welcome news given the drought situation there.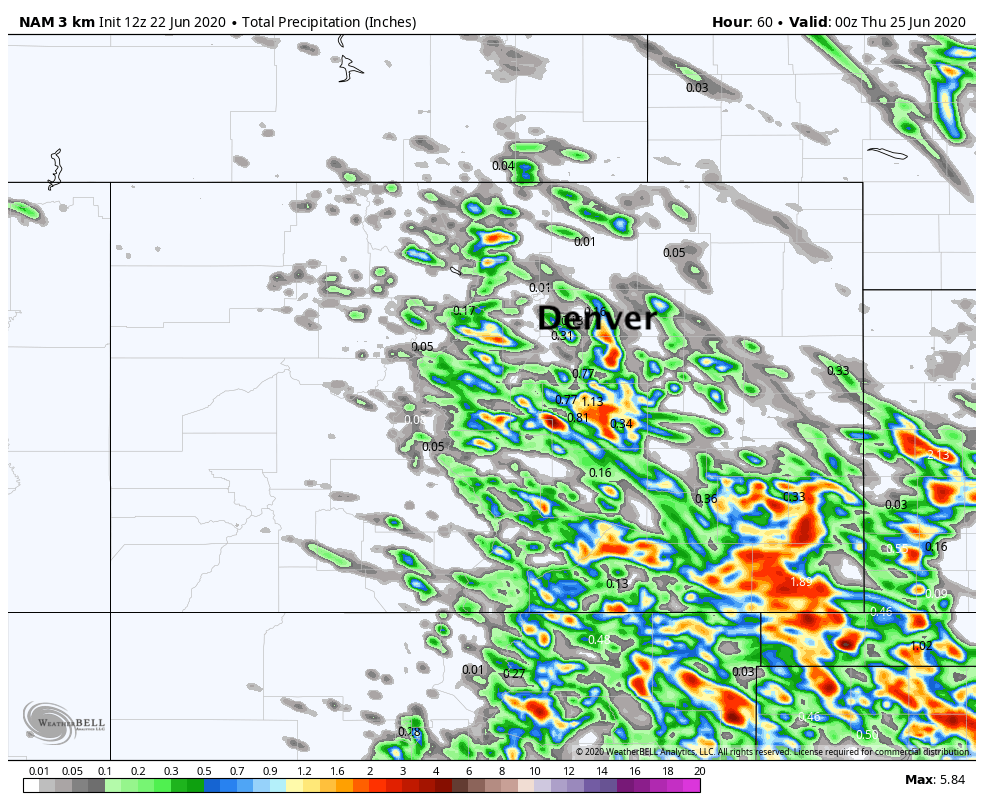 A look at the 7 day precipitation anomaly forecast from the European ensemble, we see it too has some above average precipitation for the Front Range and far Southeast Plains of Colorado, as well as much wetter look for Texas after a dry start to the month.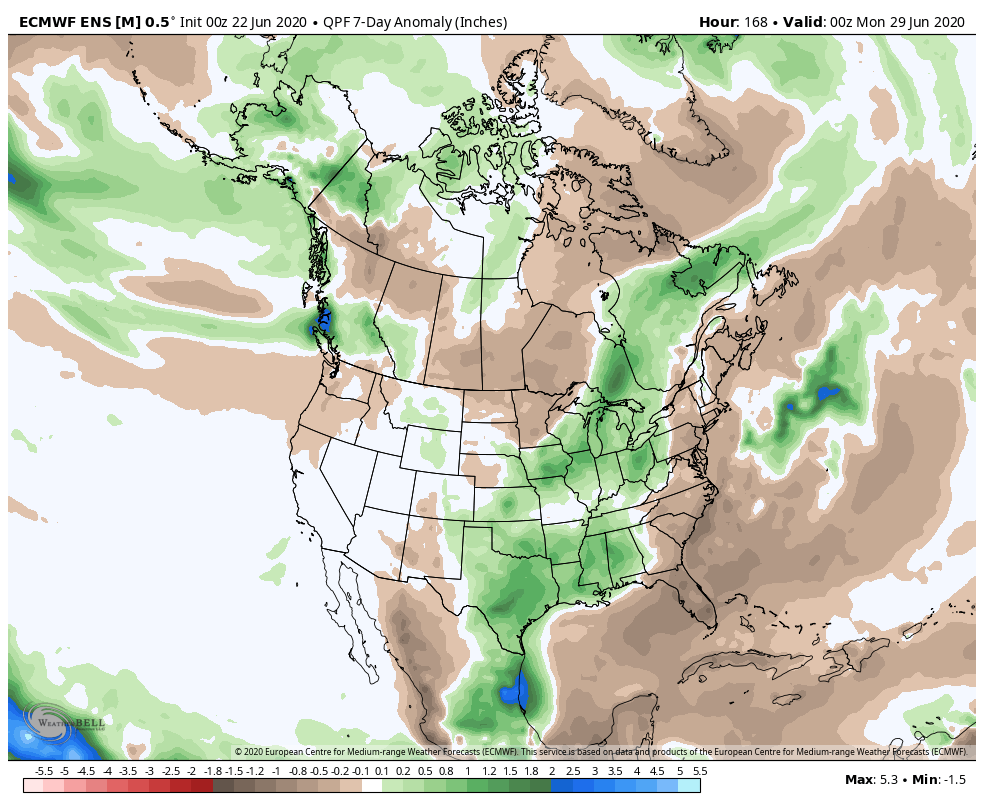 Bottom line, there's reason to at least hope for some storms in the next couple of days. If you live in Denver/north I wouldn't hold your breath but you may get lucky. For those along the Palmer and points south/southeast, a bit more reason for hope you'll see some water falling from the sky.
Here's the outlook for Colorado Springs over the next three days, not bad!