We've seen quite a few popup showers this afternoon across Northeast Colorado, but most have featured more wind than rain. Most areas that have seen these storms are showing totals in the 0.1 to 0.3" range, with a couple of heavier showers delivering a bit more than that west of Loveland and across the Cheyenne Ridge.
Tomorrow storm coverage will be a bit more widespread, and the chance of some of those storms being severe will be elevated from what we've seen most afternoons of late.
The SPC has a Slight Risk for severe storms across much of the Eastern Plains on Friday, the exact border of which could change a bit by tomorrow morning. If you live along the Front Range and points east, it's best to plan on the threat of severe storms on Friday, with the greatest risk looking to line up across the Palmer Divide and east of I-25. Hail, damaging wind, and tornadoes will all be possible with any stronger storms that develop on Friday.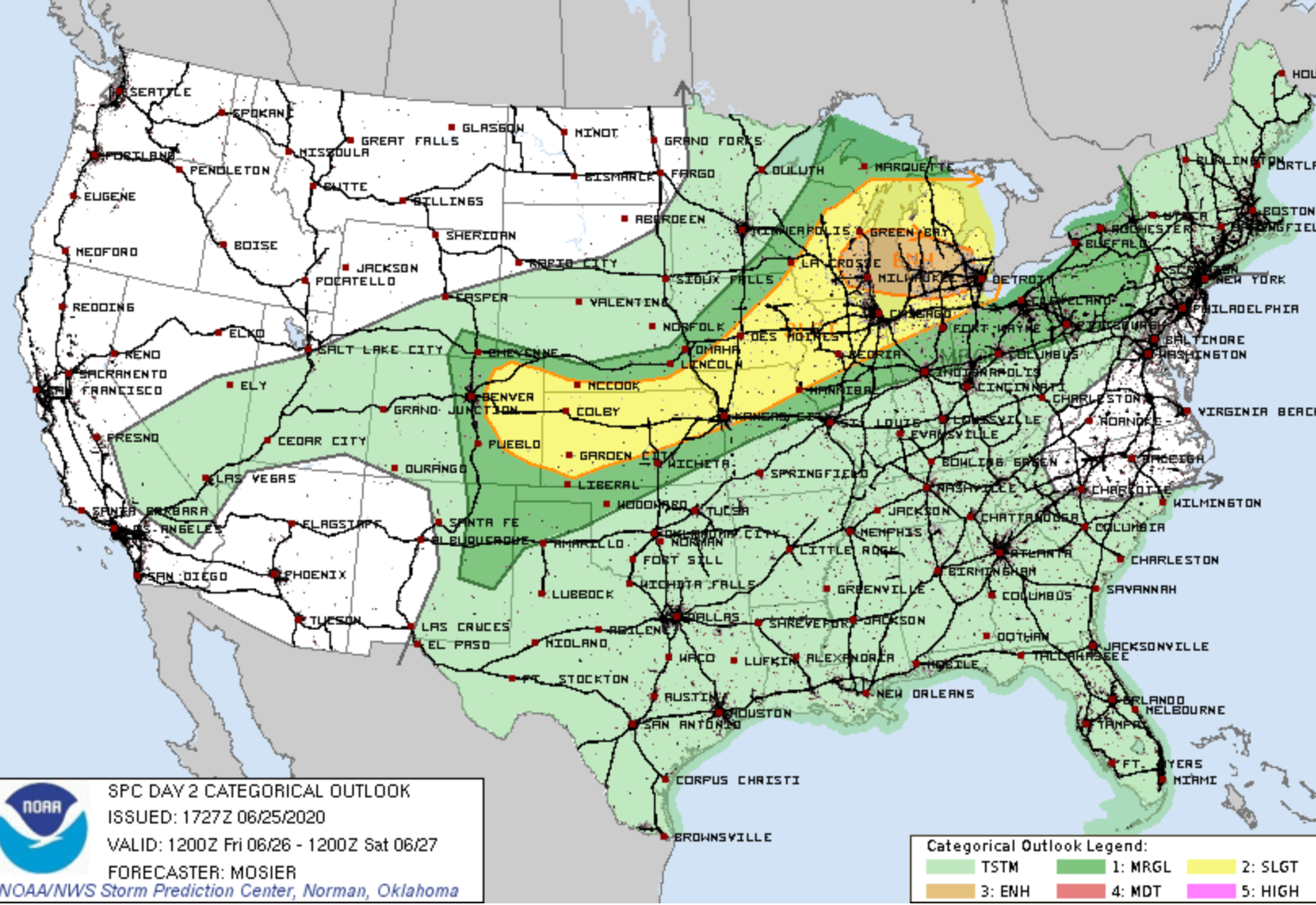 If we look at the GEFS outlook for Denver, we see a nice dip in temperatures along with the better rain chance. Most members show some precipitation Friday, even if not epic.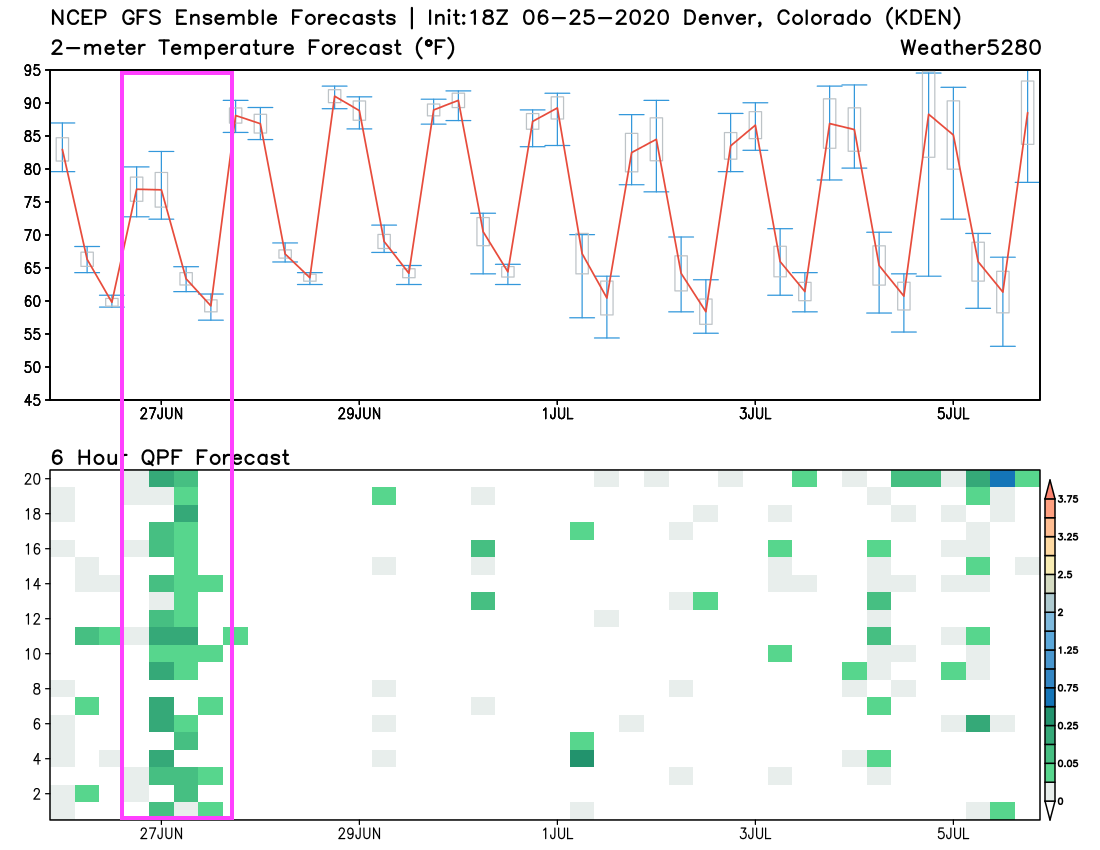 MOS guidance has highs around 80°F on Friday for the urban corridor, which is about 7 degrees below average for the date. Some models show highs topping out in the upper 70s, which will largely depend on when we see the storms build in.
The hourly planner for Denver shows the the chance of storms increasing by early afternoon, with the best chance for storms coming between 1pm and 6pm on Friday. Saturday will be a few degrees warmer, with still a 30% chance of storms.
The 3km NAM shows most storms missing the urban corridor, at least north of the Palmer. It has the best activity well east, and through the Colorado Springs region: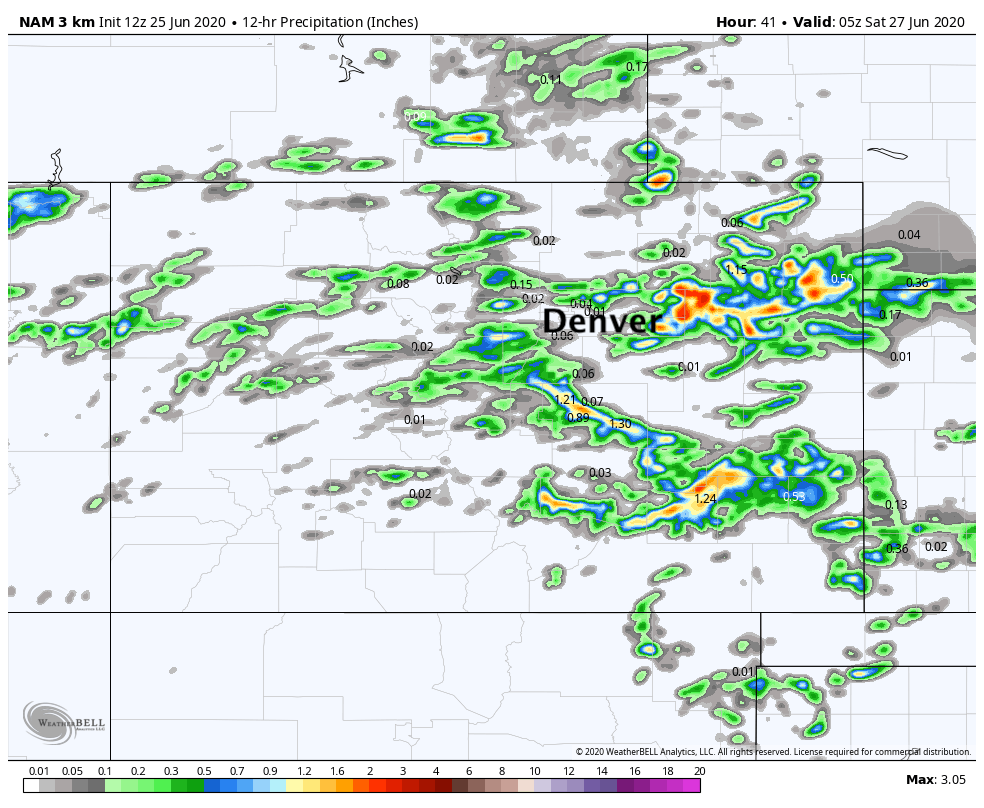 The GFS also shows plenty of misses Friday, but happens to put a cell through Denver. The greatest totals on this model are across Southeast Colorado:
It's best not to focus on the exact placement of where these models have the heavier precipitation, but instead the potential that exists and a more active look to the forecast than we've seen in some time.
Easy enough to imagine yet another afternoon where storms miss many of us along the urban corridor – but there's enough energy and moisture in place that it's a good day to stay weather aware just in case. Someone across Eastern Colorado will see some good boomers on Friday, with hail, strong winds, and even a tornado possible.