July, 2020 has been absolutely cooking across the region to date. And, while the week ahead will feature a few days with better storm chances, and at least one modest cold front, there's plenty of hot and dry ahead as we see it.
Through the first 11 days of the month, Denver's temperature is running 4.5°F degrees above average. And, with just 0.10" of precipitation recorded at Denver International Airport, the city is a good 0.5" below average for precipitation to date.
Each afternoon, with the exception of July 1st, has seen highs in the 90s in Denver, and each day except Tuesday this week expected to break the 90 degree mark as well. The outlook, below, shows highs in the mid 90s most afternoons, with the exception of Tuesday and Wednesday behind a nice, but brief front:

The front that moves through Monday night will hold temperatures below average across Northeast Colorado on Tuesday, and near average on Wednesday before we warm back into the mid 90s for the remainder of the week. Here's a look at the GFS 2 meter temperature forecast anomaly for Tuesday morning, showing a nice push of cooler-than-average air pushing across the High Plains: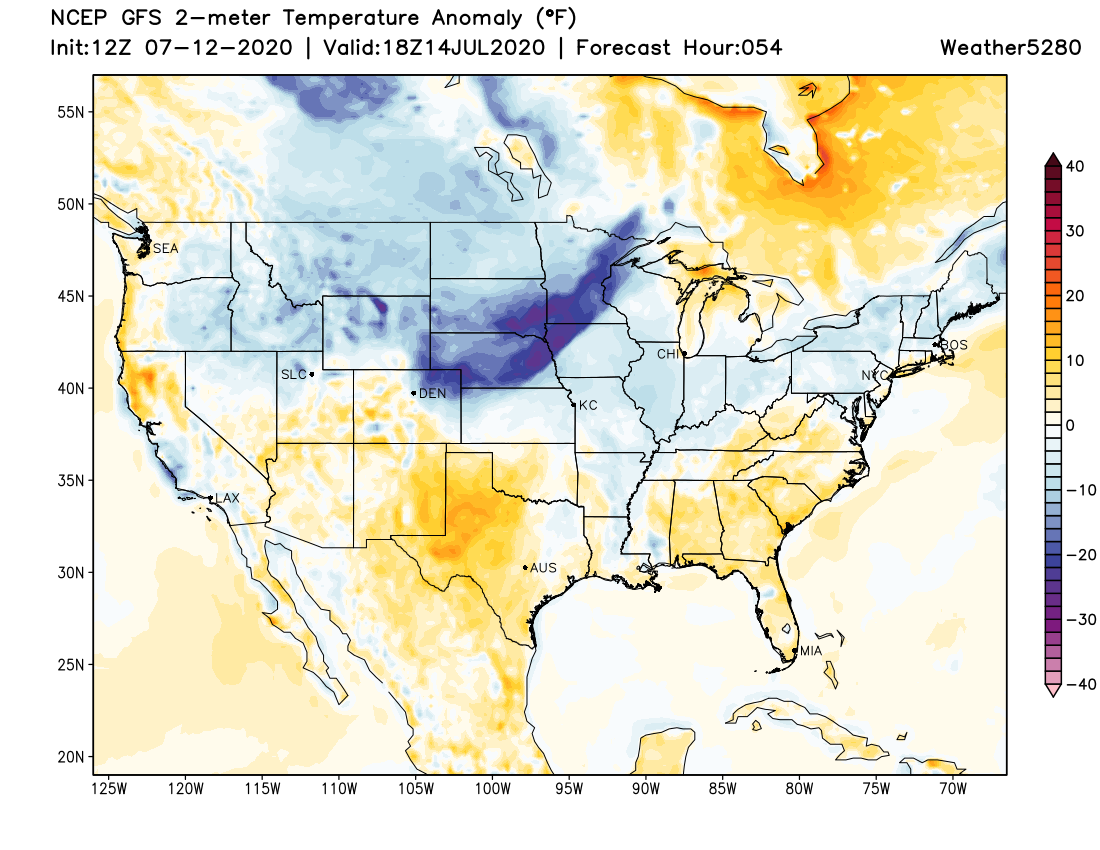 For Denver this will mean an uptick in storm activity as well. On Monday we'll see storm chances in the 40% range, with those chances climbing to about 50% on Tuesday. As we discussed in our most recent Insider update, with a lacking monsoon, we'll need to rely pretty heavily on any fronts that move through in the coming weeks to deliver a few storms to our region.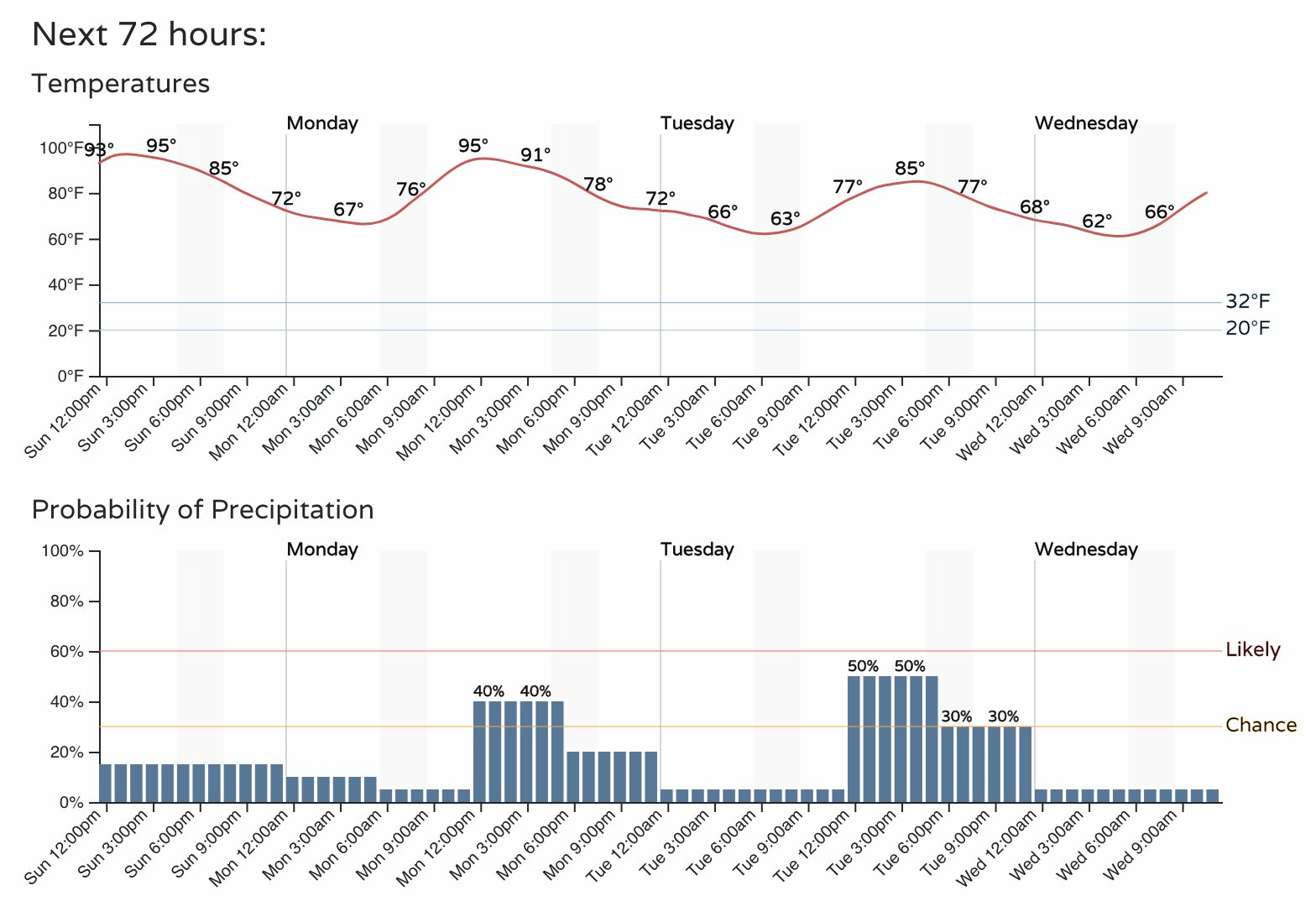 Even with the cooler temperatures, and the increased storm chances, there's not a lot of confidence that most of us will see any appreciable moisture from any of these storms. Probabilities look slightly better than they did a few days ago that we will see something, but overall pretty dismal for measurable precipitation. If there are to be storms that produce locally heavier rain, they will be more isolated in nature.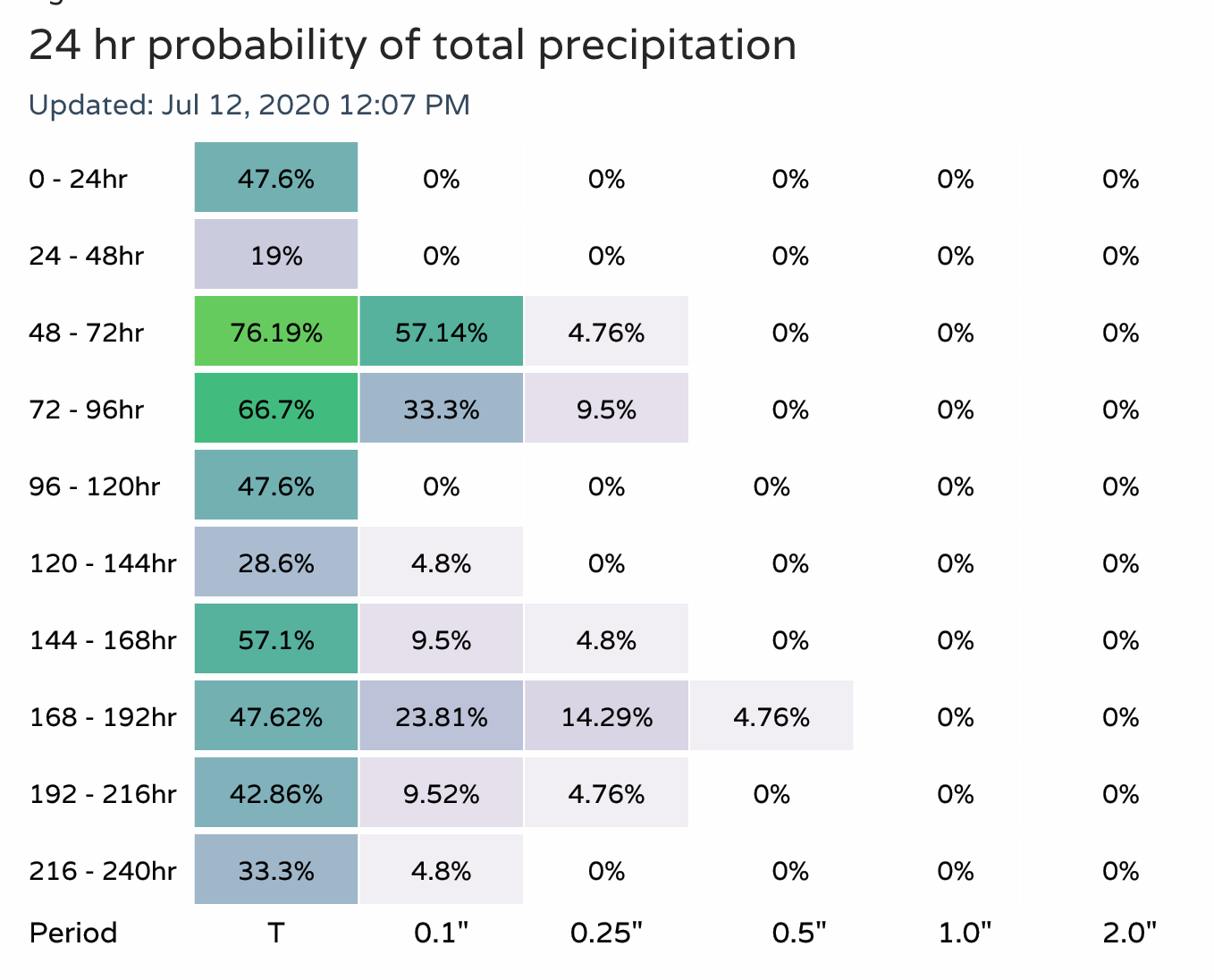 The 3km NAM shows where potential for heavier storms may end up over the next three days. Not many of those across the urban corridor, with better coverage east and southeast of the Denver area: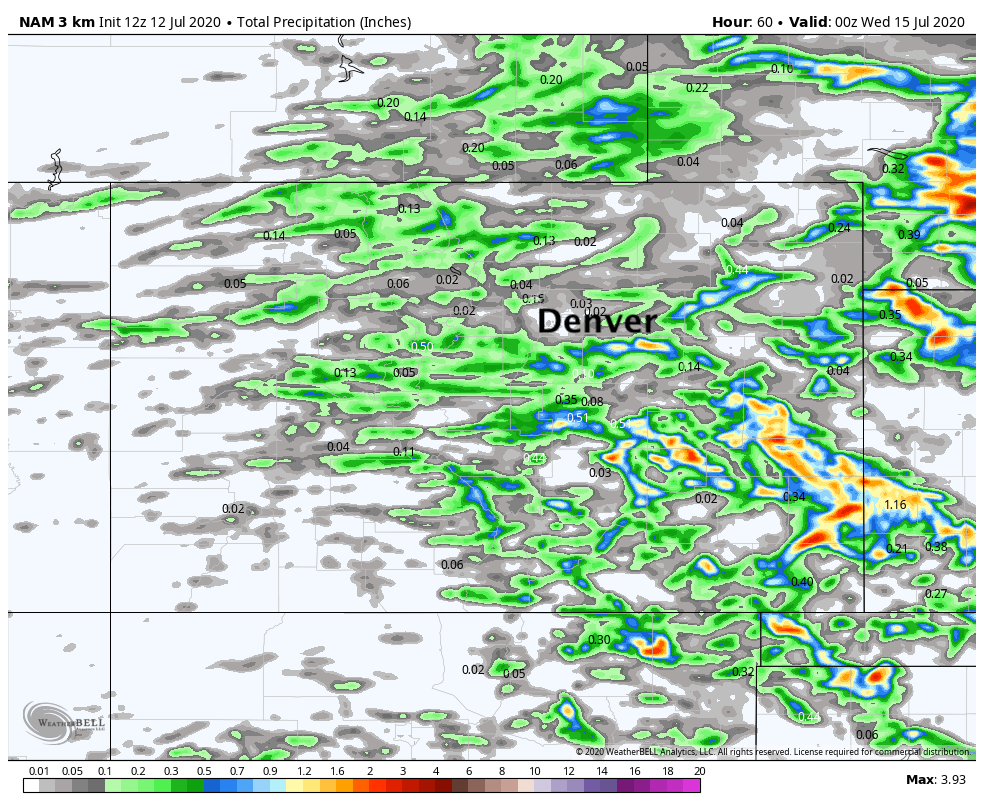 If we take a look at probabilities for East-Central Colorado, we see a bit better look for some hope in the moisture department this week:

So again, a break from the hottest temperatures we've been seeing recently looks to come our way early this week, as well as a bit better chance of storms across Eastern Colorado. For the urban corridor it's a bit of a wait and see how much moisture we'll manage this week... but even without rain, a break from the heat will be welcome.
Temperatures to remain warmer than average in the medium range, with highs back into the mid 90s for the latter half of the week, with 100s possible once more across Southeast Colorado as we close in on next weekend.