I get the impression the atmosphere has just about had it with 2020, much like the rest of us. Nationally, this will be a week of extreme weather – from two tropical cyclones likely to make landfall along the Gulf Coast, to record heat and enormous wildfires across the west.
You likely noticed an increase in smoke in the sky yesterday. This was the arrival of additional smoke from fires in California, coupling with those that continue to burn out of control across Colorado. Most of the state, aside from portions of Southwest Colorado are under an Air Quality Alert, as ozone and fine particulate continue to plague our air across the state.
The smoke forecast from the HRRR is impressive, now showing smoke issues across most of the Western United States, with much of that eventually working its way east in the coming days.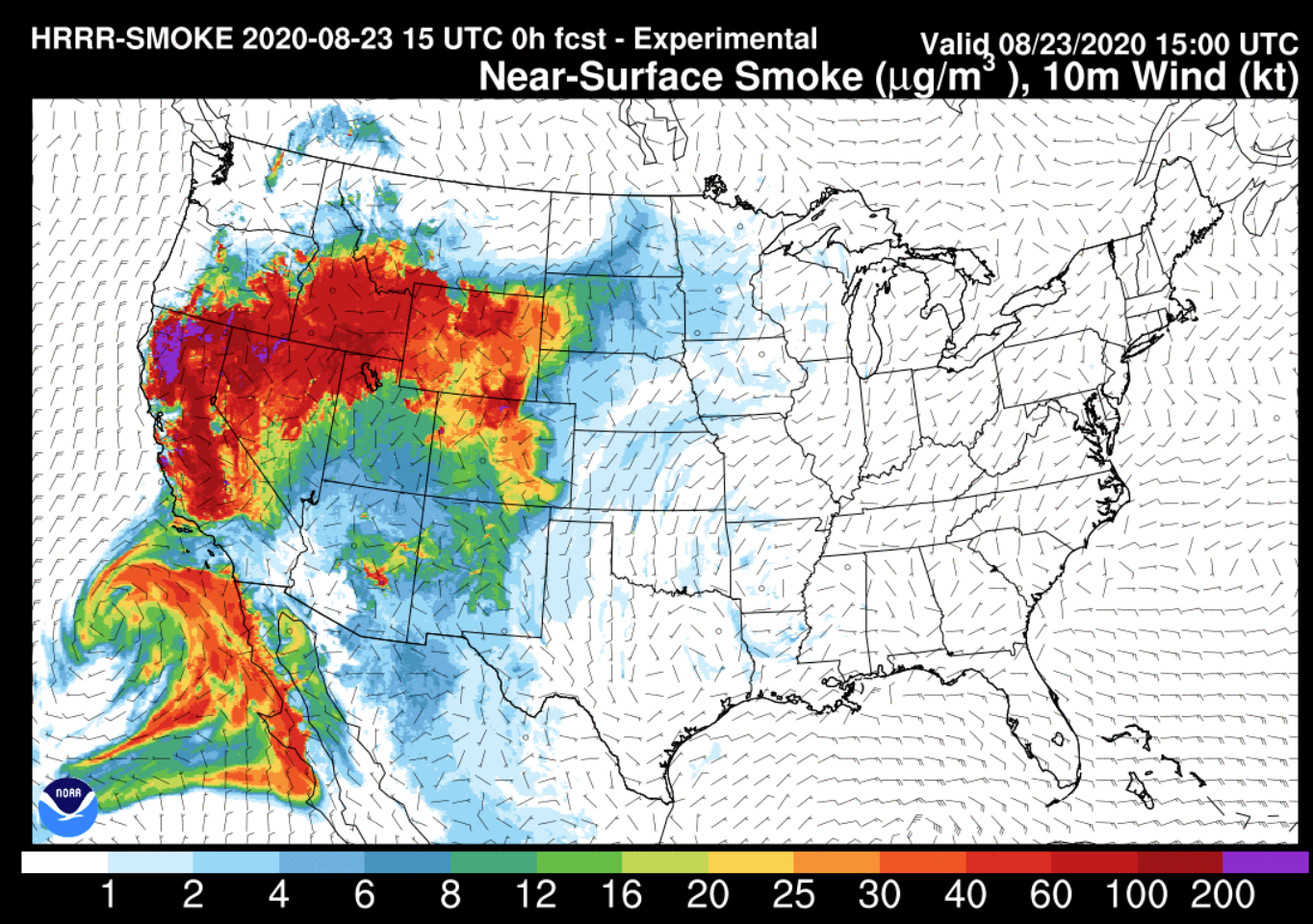 As if our extreme heat at fire issues aren't enough, California is bracing for the potential for more fires as lightning is expected across the state today and Monday. The size and scope of the current fires burning across Northern California is incredible. From WeatherWest:
As I've stated publicly, I'm essentially at a loss for words to describe the scope of the lightning-sparked fire outbreak that has rapidly evolved in northern California–even in the context of the extraordinary fires of recent years. It's truly astonishing. By the time this post is published, around 800,000 acres of land will have burned over the past 8 days in California–over 700,000 of which in the northern part of the state, and about 500,000 within 100 miles of San Francisco. For perspective: less than 250,000 acres burned in California in all of 2019. There are so many fires right now that multiple wildfires under 5,000 acres have gone largely unattended, and unmentioned in the media. CalFire stated earlier today that to fight these fires to the maximum of their ability, the agency would near nearly 10 times more firefighting resources than are available.
This post was from two days ago, and conditions have not improved since. Since this posting, an additional 250k+ acres have burned, putting the total acreage burned at over 1 million acres in less than two weeks according to Daniel Swain.
It's not a mystery really why our skies are so smoky after reading this. AND, this doesn't account for the fires ongoing in our state. The fires we've been tracking here for weeks continue to burn largely out of control, with a new fire to add to the list yesterday – the Lewstone Fire in the foothills west of Colorado State University. As of this morning, this fire is estimated at 195 acres, and 0% contained.
As we have discussed at length in recent updates, there's not much in the immediate forecast to offer help in mitigating the fire danger across the west. Today's fire weather outlook from the SPC shows continued issues from Northern California, across the Great Basin, and into Western Colorado, where dry thunderstorms are expected to spark more fires in the coming hours.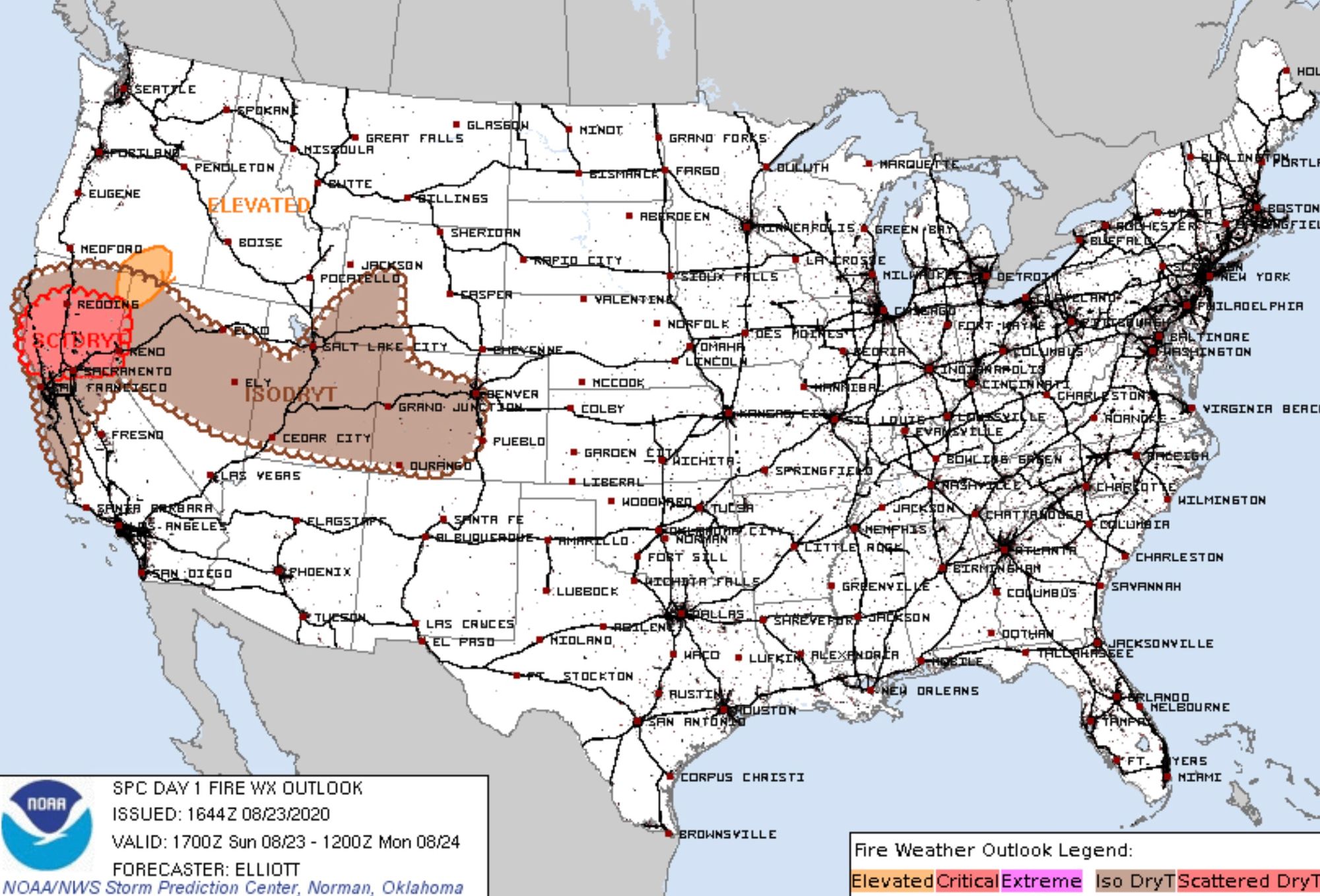 As we outlined in our update on Friday, ridging overhead will keep us hot and dry at least through much of this week. There is little change in that thinking today.
Here's a look at today's 500mb pattern today as depicted by the European model. Stout ridging in place across the Four Corners: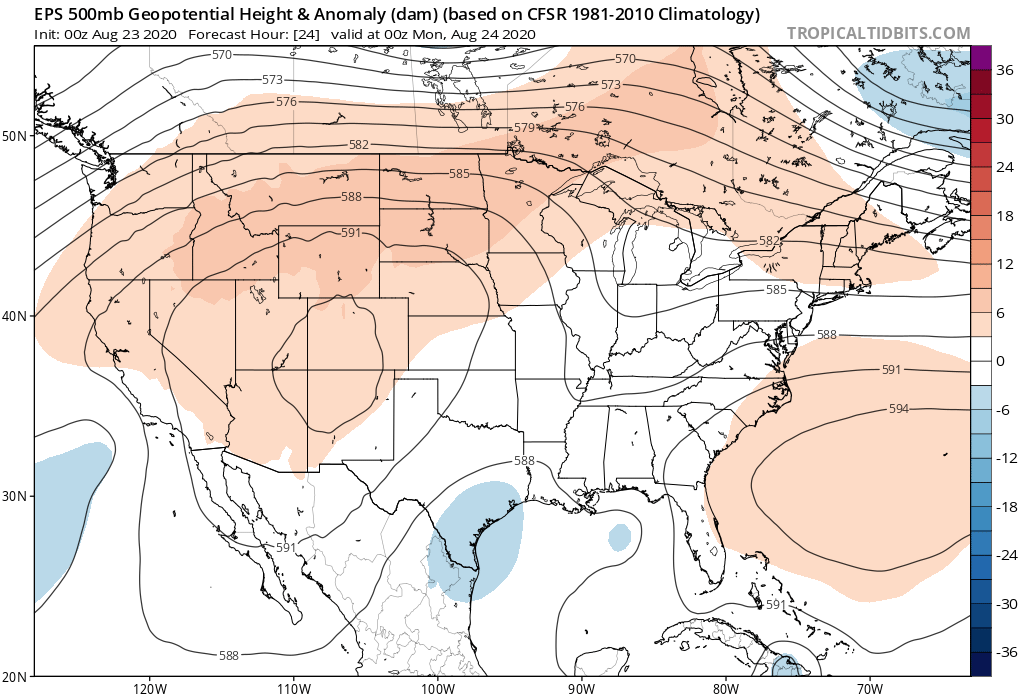 This will be the weather story around here for the coming days. It's not until late this week, or perhaps even later next weekend/early next week that we see the ridge breaking down with any possible significance to our weather. Models continue to show a nice trough dropping out of the Northern Rockies, which could finally offer some relief from the heat to end August and start September: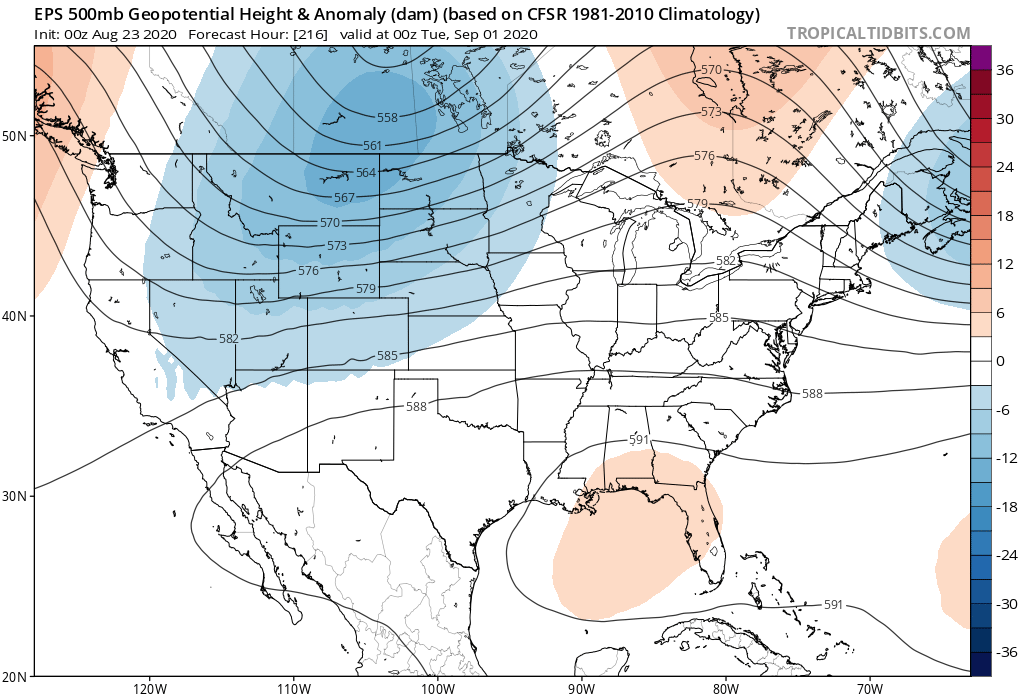 With that, record heat is still in the forecast for the next couple of days for the greater Denver area. Pueblo, Colorado Springs, Denver, and Cheyenne, are all expected to tie or break record highs today and tomorrow, before dropping to "near" record highs Tuesday and Wednesday. If you look ahead, however, you'll note by Friday we'll be well shy of any records across the region:

The above equates to highs in the upper 90s for Denver through Wednesday, before finally dropping into the 80s by week's end:

Active tropics
For our part of the world hot and dry are the story. For the Gulf Coast it's the threat of two hurricane landfalls in the coming days.
Hurricane Marco, currently in the Gulf of Mexico is forecast to make landfall Monday evening along the Louisiana coast, and bring dangerous storm surge and hurricane-force winds to portions of the Gulf Coast through the day Monday.
Tropical Storm Laura will be quick on its heels. It's expected to strengthen into a hurricane once it reaches the open water of the GOM, and then take a similar path to Marco, with currently a landfall projected to be west of where Marco is likely to come ashore on Monday.
Here's a look at the chance of tropical storm force winds with these two systems, as well as their current projected paths. For all the latest, please visit https://www.nhc.noaa.gov/.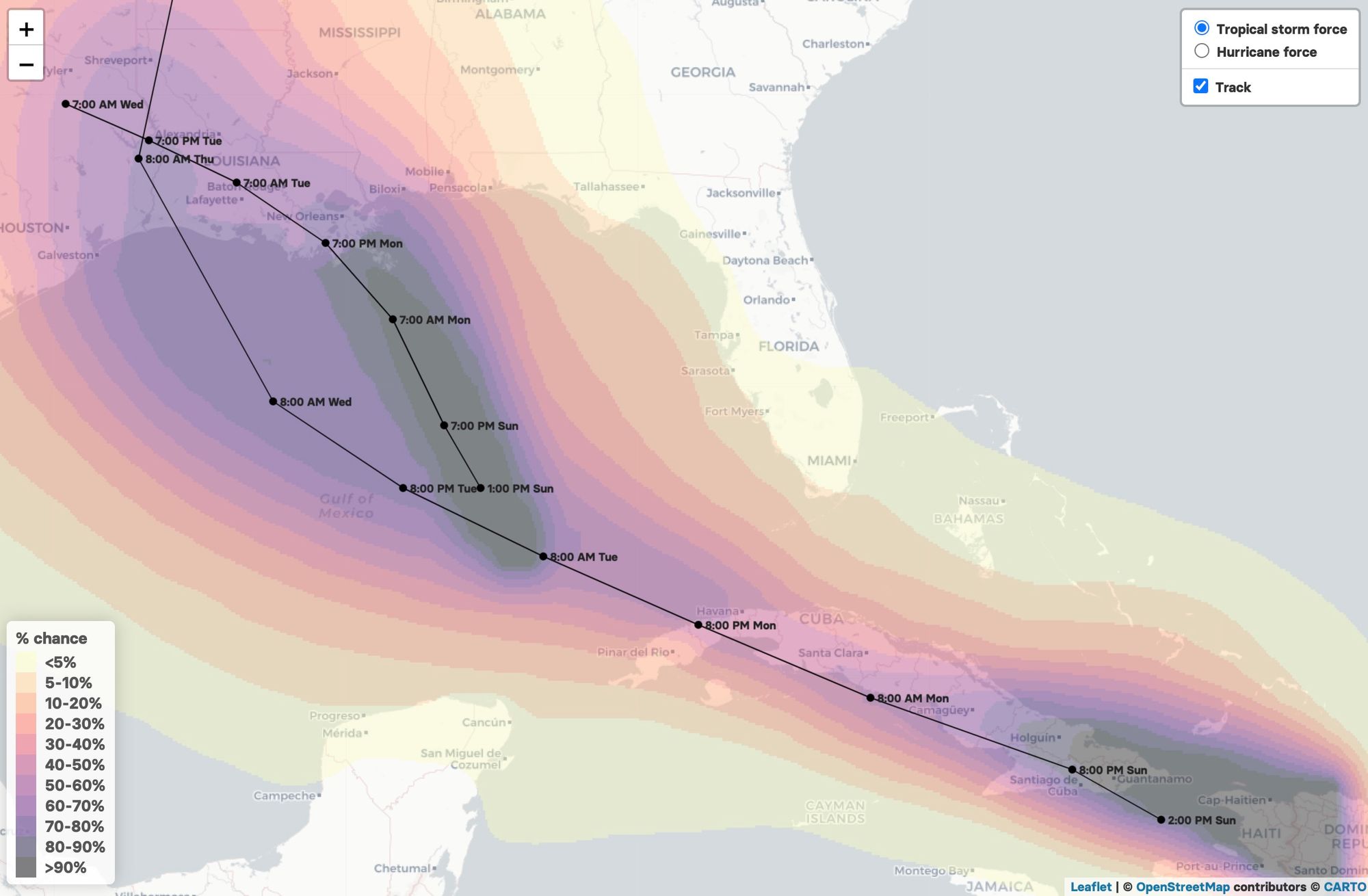 Hold on, it's going to be quite a week of weather.