It had been a brutal summer. After a dreadful snowpack season, the heat and dryness came on quickly. The U.S. Drought Monitor showed the state with widespread D2 and D3 drought. Watering restrictions were put in place. And then the big fire started. The governor at the time famously told reporters that "it looks as if all of Colorado is burning today." I had recently graduated with my Bachelor's Degree in Meteorology from Metro State University of Denver. I remember a day when the sun looked like a dim orange ball in the sky and ash fell on my new Mitsubishi Eclipse.
The year was 2002. Colorado was in one of its worst droughts in recorded history. While Governor Bill Owens was not accurate in saying all of Colorado was burning, the Hayman Fire did grow to be our state's largest wildfire on record, ultimately burning over 135,000 acres.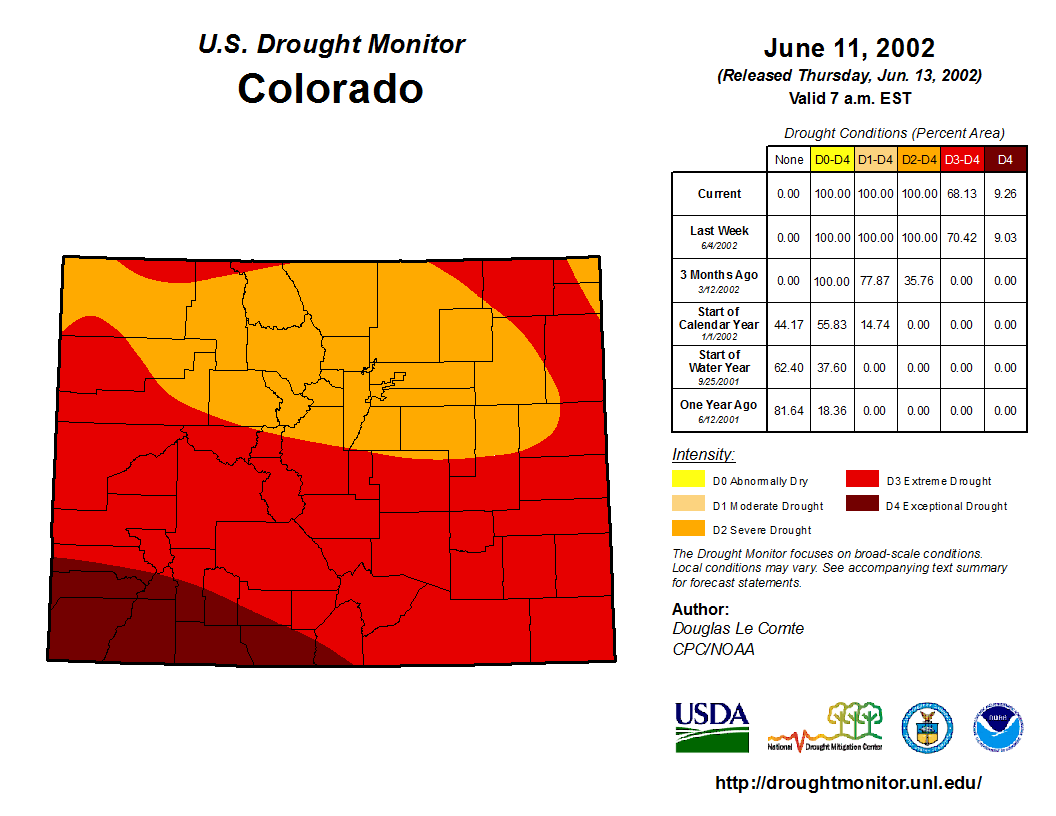 18 years later, and we find ourselves experiencing similar conditions – hot temperatures, a lack of rain, fires burning. And with each widespread drought, I get asked the question – are the drought and fires connected? The answer - yes, but it's complicated. Drought doesn't always equal wildfires, and wildfires don't always mean drought.
Wildfires depend on many variables: ignition source (possibly weather-related, lightning; more often than not human caused) and fuels (what will burn) are big factors. Short-term weather is very important – dry days, low relative humidity, and windy conditions create a very favorable environment for fires to spread. Longer term conditions also play an important role. A sufficient accumulation of moisture (like winter snowpack, or wet, soaking springs) can help with the growth of vegetation that could become fuel later. Conversely, extended dry periods dry out that vegetation, making them more combustable.
It's also important to note that wildfires are a natural part of our state's ecosystem. Wildfires are part of the normal seasonal cycle for our mountains and forests. Regular precipitation and snowpack keep our mountains dense with forest growth. Warm summers help dry that vegetation out. Every summer our mountains experience wildfires.
But, there is a connection with drought. When our state is experiencing widespread and severe drought in the summer, we tend to see more large and out-of-control wildfires. Let's look at some of our most notable years in the recent past.
2002
After the relatively wet decades of the 1980s and 1990s, 2002 took many Coloradans by surprise. Statewide snowpack on March 1 was a mere 56% of average, lower than it had been in 22 years. The image below, from NOAA's National Centers for Environmental Information, shows August 2001-July 2002 statewide precipitation ranked as the driest on record (and still does).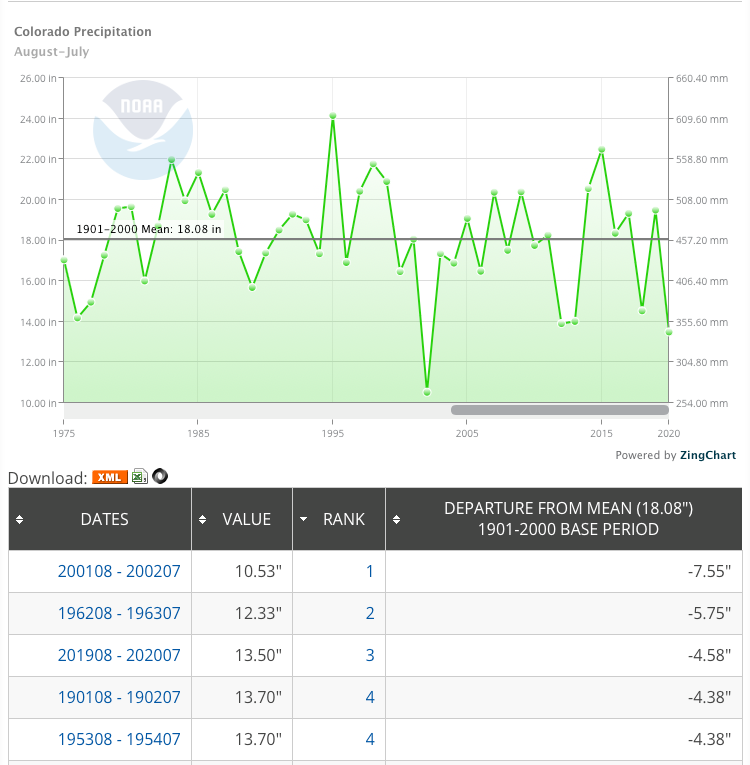 The Hayman Fire started on June 8, 2002. It was found to be arson, and was started on a day when the National Weather Service had issued a Red Flag Warning. In addition to the human cause and extreme weather, drought helped not only this fire, but many fires spread across the western U.S. By September 2002, The National Interagency Fire Center reported over 6 million acres burned, compared to a 10-year average of 3 million acres (over half a million in Colorado alone).
The Missionary Ridge Fire near Durango, Colorado also started in the summer of 2002, burning over 70,000 acres.
2012-2013
The drought of 2012-13 started with an abysmal snowpack season for 2011-12. Around the headwaters of the Colorado River, snowpack peaked in early March, 5 inches lower than average peak and 1 month earlier. But June 1, there was no snowpack left, with one of the earliest meltouts on record. March - August 2012 was the warmest on record for Colorado. Even warmer than during the 1934 Dust Bowl period!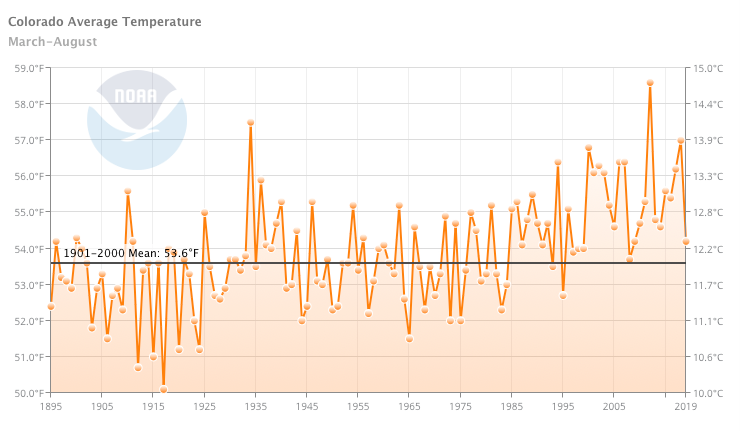 In the early summer of 2012, a lightning strike started the High Park Fire in northern Colorado. After killing one, and destroying 248 homes, it was listed as the most destructive fire in state history.... a record that would stand only a few days before being broken by the Waldo Canyon Fire, just west of Colorado Springs. That fire destroyed 346 homes and killed two people.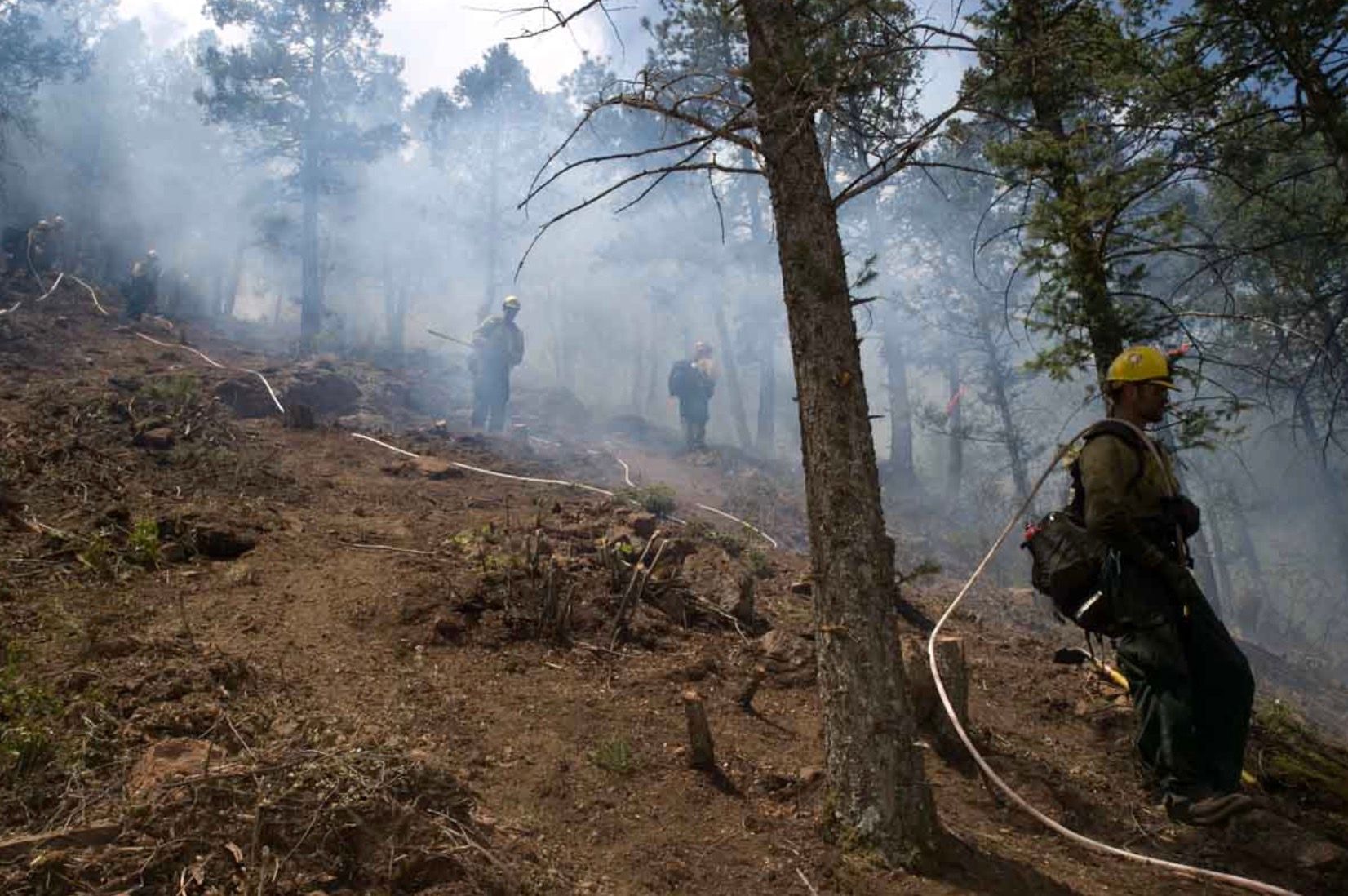 Summer of 2012 was followed by another bad fire season of 2013. Fires that year included the West Fork Complex, with multiple fires burning over 110,000 acres, and the Black Forest Fire, which then took the title of most destructive fire in state history. Drought conditions would quickly be relieved by a very large-scale flooding event in September 2013, but the state wouldn't be totally free from persistent severe dry conditions until May 2015.
2018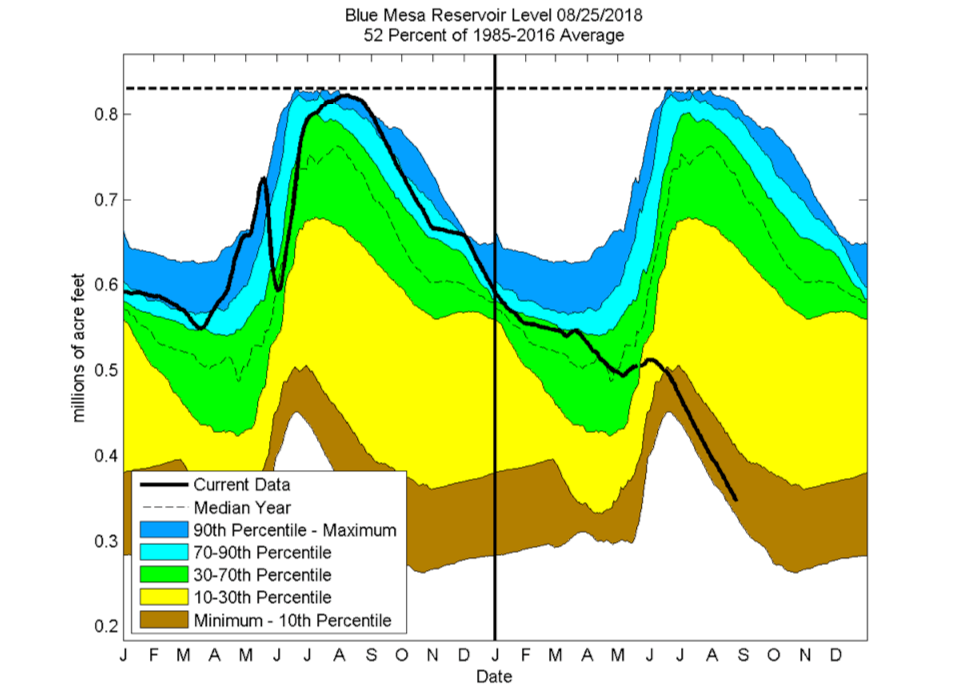 While drought didn't plague the entire state in 2018, it was a particularly bad year for southern Colorado, especially the San Juan Mountains west of the San Luis Valley and the Sangre de Cristos east of the valley. The lack of snowpack that winter, and high demand in the summer led to a hydrologic emergency in Southwest Colorado. The San Juan River (near Bluff, UT) reported a record low accumulation for the period October 1, 2017 - September 30, 2018. Blue Mesa, the state's largest reservoir, went from near capacity in the summer of 2017 to near record lows in the summer and fall of 2018.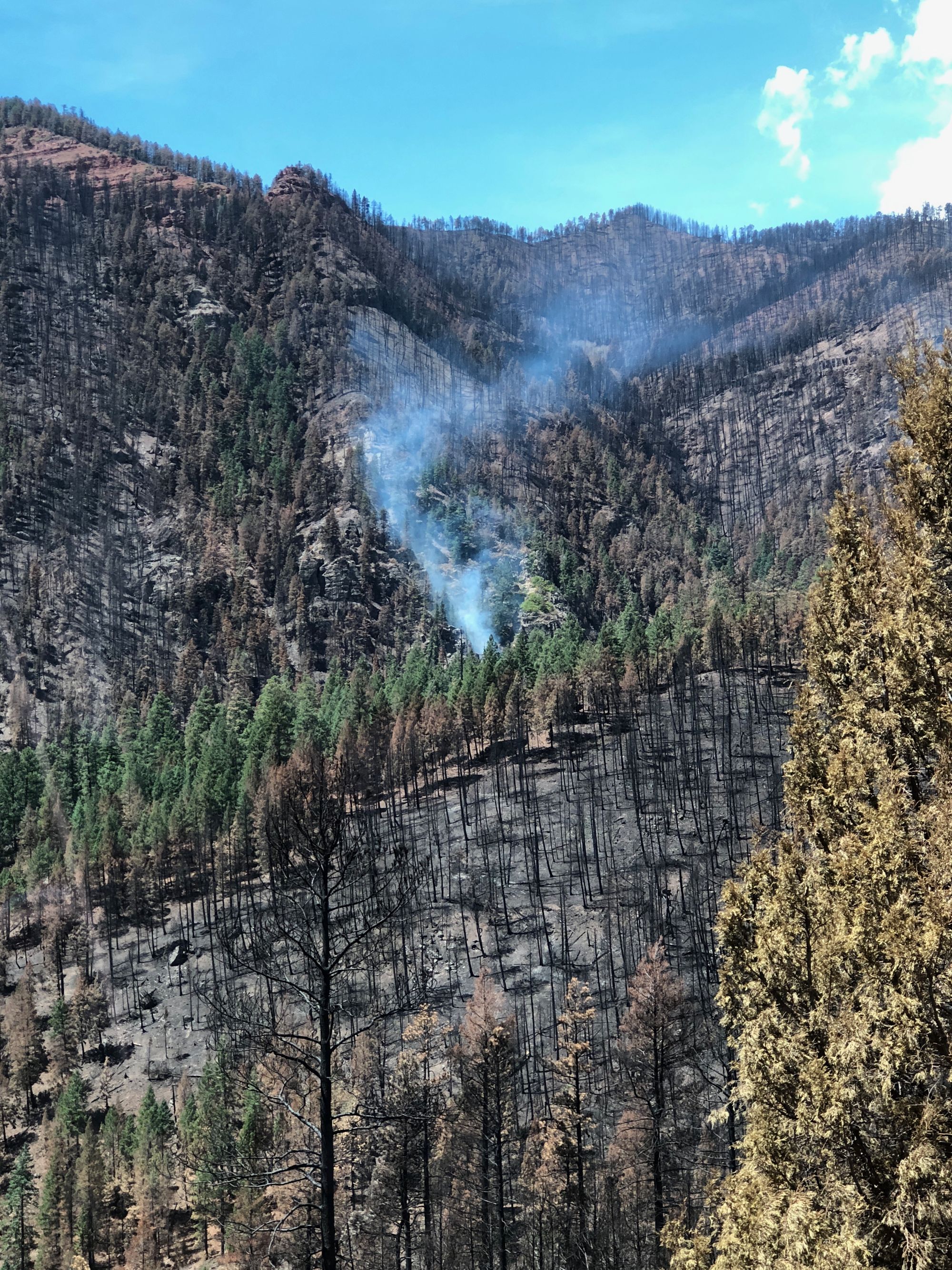 Two devastating, human caused fires spread across the southern mountains that summer. Near the town of Durango, the sparks from the Durango-Silverton historic railroad triggered the 416 Fire, which swept through the mountains, shutting down the San Juan National Forest. In total, the fire burned about 54,000 acres.
East of the Continental Divide, in the Sangre de Cristo Mountains, the Spring Creek Fire was started by an arsonist. That fire burned over 108,000 acres, making it 3rd largest in the state's record at the time (now 4th, since the Pine Gulch Fire has burned more). Despite both of these large fires being human-caused, the widespread devastation of both was definitely connected to exceptional drought - both regions experiencing D4 drought conditions (the worst category in the U.S. Drought Monitor).
2020
In keeping with the chaos of 2020, it only makes sense that we'd have another widespread drought event and large wildfires.
There are a couple of unique features to this drought and wildfire season though. First point of note was the snowpack season. In and of itself, you would not be able to predict that the drought would be bad based on the state's percent of average snowpack statistics. The northern part of the state did pretty good with snowpack. The southern portions struggled a bit, but overall, the peak snowpack wasn't out of line with what we'd expect in a normal year. By the beginning of April, we did have some dry areas of concern, particularly across Southeast Colorado. But our peak snowpack looked okay, and some forecasters were actually calling for a near average wildfire season.
Unfortunately, no snow would come to the southern mountains in April. Warm temperatures dominated the mountains in April and May and the state was much drier than average for that period. This made for a bad combination for snowpack, which melted way too fast and way too early.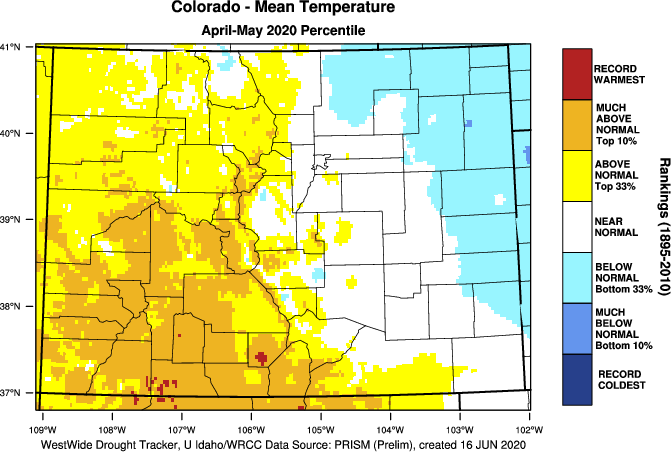 Drought expansion has dominated the state's climate story this summer. And with it, increasing concerns for an enhanced risk of large wildfires. But that was another unique part of this drought event. We made it through June, no large wildfires of concern. We made it through July. We had made it through the most active wildfire months for our state! But we would not be so lucky for August.
While we are fortunate that so far our wildfires are not causing widespread devastation to property and lives (let's hope it stays that way!), we have had some important fires this month. The Pine Gulch Fire, started on July 31, has now grown to be the 2nd largest fire in the state's history at almost 130,000 acres. The Grizzly Creek Fire, much smaller at 30,000 acres, has nonetheless wreaked havoc. A major interstate, I-70, has been forced to shut down in both directions for 2 weeks. As one of the only major thoroughfares across the Rocky Mountains for commercial truck drivers, this is a major impact.
The two smaller fires in northern Colorado, Williams Fork and Cameron Peak, are in areas dense with bark beetle kill. While firefighters are ensuring protection of structures, they are likely to allow them to continue burning through the dead trees, and could possibly burn well into the fall.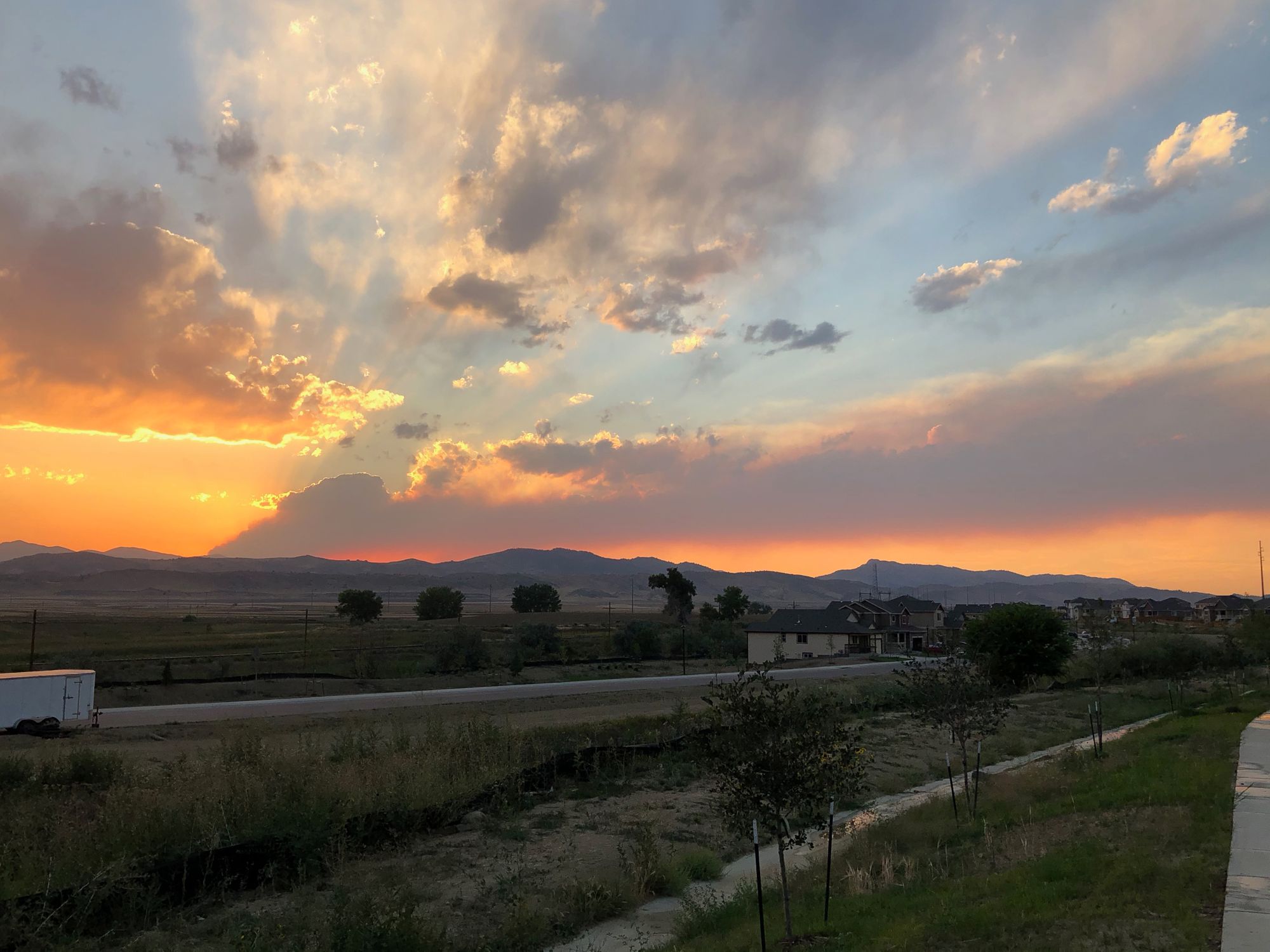 How many large wildfires happened during these events?
According to a list of Colorado's wildfires,  out of the top 20 by size, 15 occurred during one of these above mentioned drought events. Some key points to remember:
Wildfires are a natural part of our state's ecosystem.
Drought is a commonly recurring natural hazard in our state.
Bad droughts and large wildfires go hand-in-hand here.
Wildfires are pretty complex and so many ingredients have to be there - land management, forest density, long-term climate change, medium-term climate variability (snowpack seasons and drought), and short-term weather (wind, relative humidity) all play an important role. The one thing we can control is limiting the number of human-caused fires. Please remember to take care of our beautiful state - heed fire bans and fire restrictions, don't throw cigarette butts out your car window, and when making a campfire (when there aren't restrictions), do so responsibly and make sure it is completely out when you're done.