Let's put the snow conversation to the side for a moment and take a look at some of the remarkable temperature records Denver is likely to challenge or break in the coming days.
Most 90-degree days in a year
Today Denver broke 90-degrees for the 70th time in 2020. That's just three shy of the record for 90-degree days set back in 2012.
The current forecast calls for highs near 100°F on Saturday and Sunday in Denver, which will get us to 72 days of 90-degrees or warmer this year. The big question will be how warm we get on Monday before changes begin to arrive.
The answer may be just shy of 90°F, but... MOS guidance has us close, and depending on the timing of the front we often will over perform with warm ahead of a strong cold front. Our current forecast is 89°F Monday, but should we hit 90°F we would tie 2012 for the most 90-degree days in a year at 73.
Here's a look at high temperature forecasts around the region in the coming days, including 100°F in Denver on Saturday:

Even with next week's cold shot we could still set a new record for 90-degree days in a year. The average last 90-degree day in Denver is September 4th, but the latest on record was October 1st, set back in 1892.
Latest 100-degree reading on record
Should we hit 100°F on either day this weekend (and it looks likely that at least one afternoon will) this will mark the latest 100°F day on record for the city. In fact, until last year no September on record had recorded a 100°F reading, dating back to 1872.
Prior to last year's 100-degree readings the latest on record was August 16th set back in 2002. To break the century mark two Septembers in a row, and this year to do so several days later than we did last year is remarkable.
Setting a record high to record low in 48 hours
If the current forecast holds we will be setting both daily record highs and lows over the next four days!
Both Saturday and Sunday are currently forecast to break the old records for the date in Denver by 2°F. But don't worry, by Tuesday the high will be a comfortable 53°F colder than its daily record high.

Should the forecast low of 28°F on Tuesday night hold the city would best its previous record low for September 8th by 3°F just 36 hours or so after we hit a record high and potentially record-latest 100°F degree reading:

Earliest freeze on record
The earliest freeze on record for Denver is September 8th, 1962, nearly a month earlier than the average first freeze of October 7th.

If the forecast holds we'll miss tying his record by just a few hours and instead see our first freeze of the year come on Wednesday the 9th, but some guidance has Denver dropping to freezing on Tuesday which would tie the record set in 1962.
High on the list of largest 2-day temperature changes on record
The list of remarkable single day and 2-day temperature drops on record is a long one. With a forecast high of 89°F on Monday and a low of 28°F on Tuesday night this 61-degree drop won't land us on the top of the 2-day list the NWS in Boulder has compiled.
Still, this one will need to be watched. How hot do we ultimately end up getting Monday? And how cold will the temperature drop to on Tuesday night? We'd need to stretch both extremes a few degrees to make the list, with a 66-degree temperature swing rounding out the list of largest 2-day drops on record: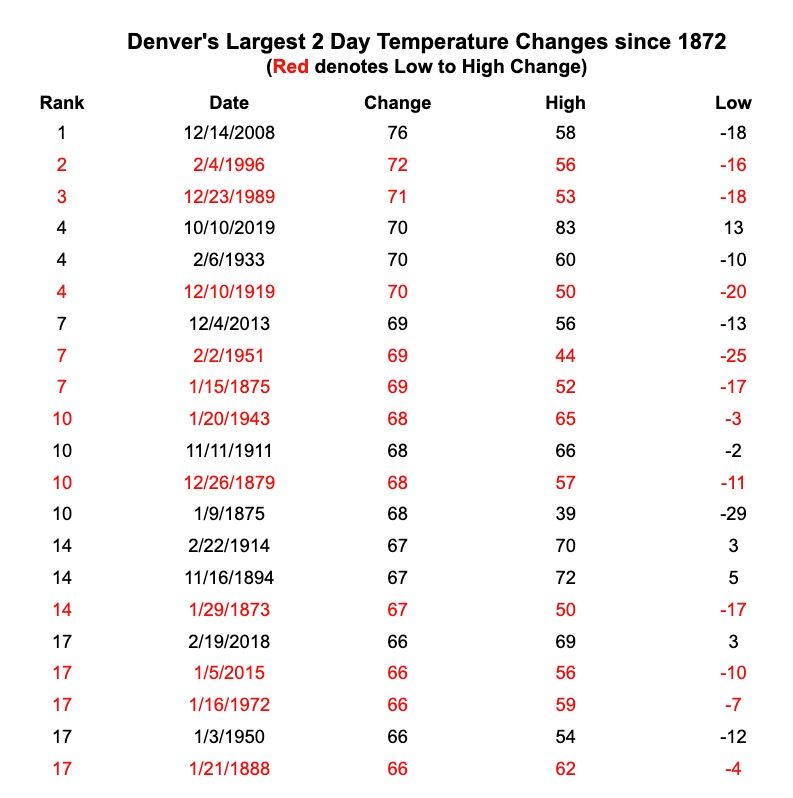 As you see on that list above, most of those big temperature swings come during the heart of winter. It is even more impressive to see a swing like this so early in the season. Why? Because the days are longer, we don't have any snow cover, and the ground is very warm. Those things in combination keep the air more insulated and less prone to gigantic changes like this one, making the incoming cold front all the more remarkable.
Plenty to watch in the coming days let alone the potential snow. Stay tuned, and let's see just how crazy this temperature rollercoaster ride ends up being!