We continue to track a potent early season (late summer?) wintry blast which is set to arrive in Northern Colorado Monday night, and bring with it record-breaking cold and the potential for the first accumulating snow event of the season to the Front Range and urban corridor.
This post will focus on the snow potential and timing of this system. If you are looking for information around some of the temperature records Denver is set to break in the coming days, you can find more on that here.
Although models have indeed trended toward a bit more realistic solutions in the last 24 hours or so, it's unfortunately looking like we should prepare for accumulating snow for many communities along the Front Range and the likelihood of record-breaking cold by late Tuesday night and early Wednesday. While we need the moisture, accumulating snow this time of year can lead to extensive tree damage.
First, let's take a look at timing of the cold air, rain, and eventual snow chance.
For Fort Collins, highs on Monday are expected to top out in the low 80s before changes begin to arrive late in the day. The chart below shows the hourly outlook for Fort Collins through mid morning Tuesday, with rain chances on the increase Monday evening, with greatest precipitation probabilities coming Monday night and into the day Tuesday: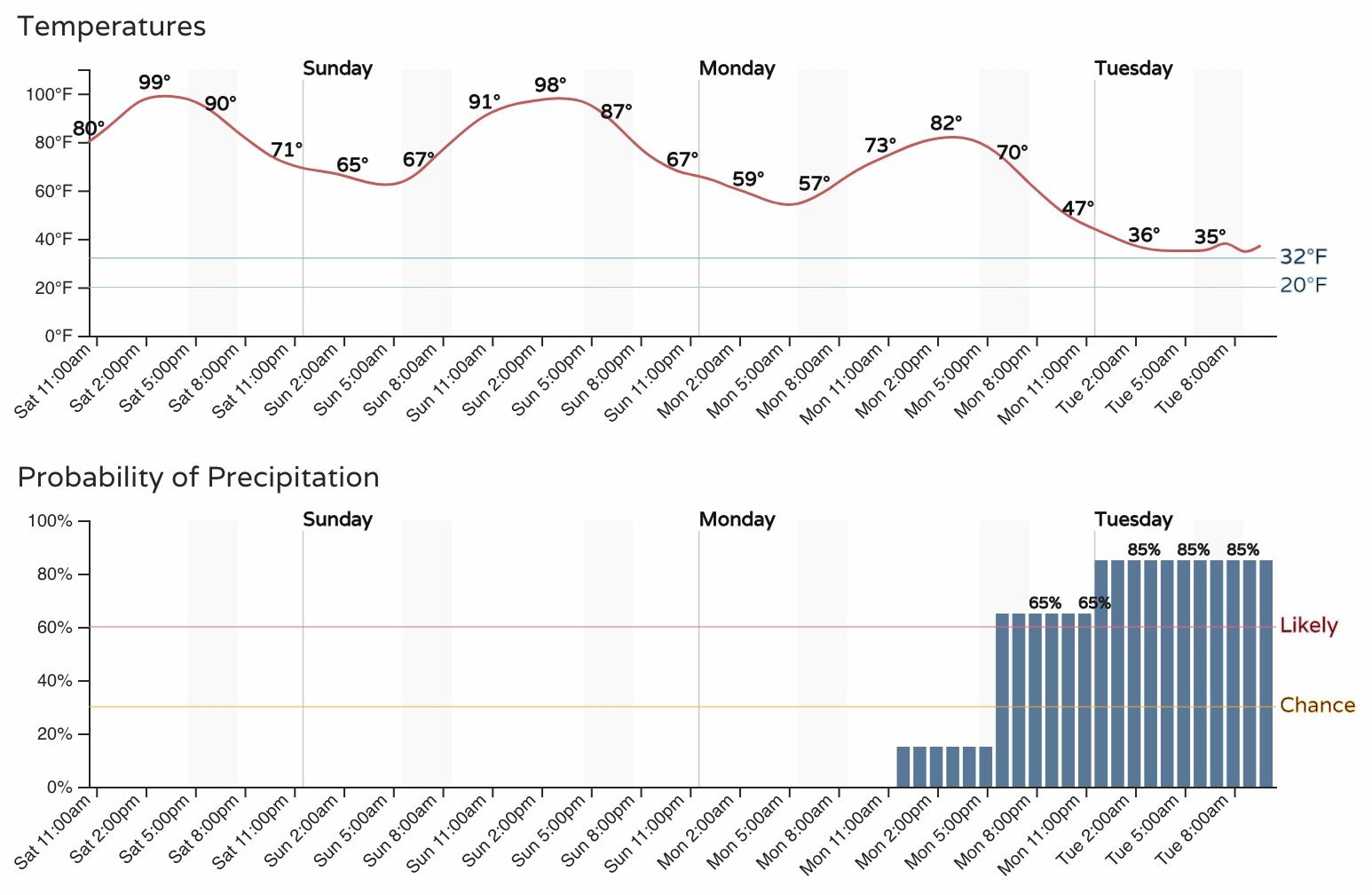 For Denver it'll be a similar timeline, just a few hours delayed. With that, look for highs to make it into the mid to upper 80s on Monday (we may fall short of tying the most 90-degree days in a year Monday, we'll see), with precipitation chances increasing Monday evening and overnight. Temperatures in Denver will be slower to cool, with air temperatures still in the upper 30s by early Tuesday morning, meaning the onset of snow may hold off until mid/late morning for the metro area barring any changes to the current outlook: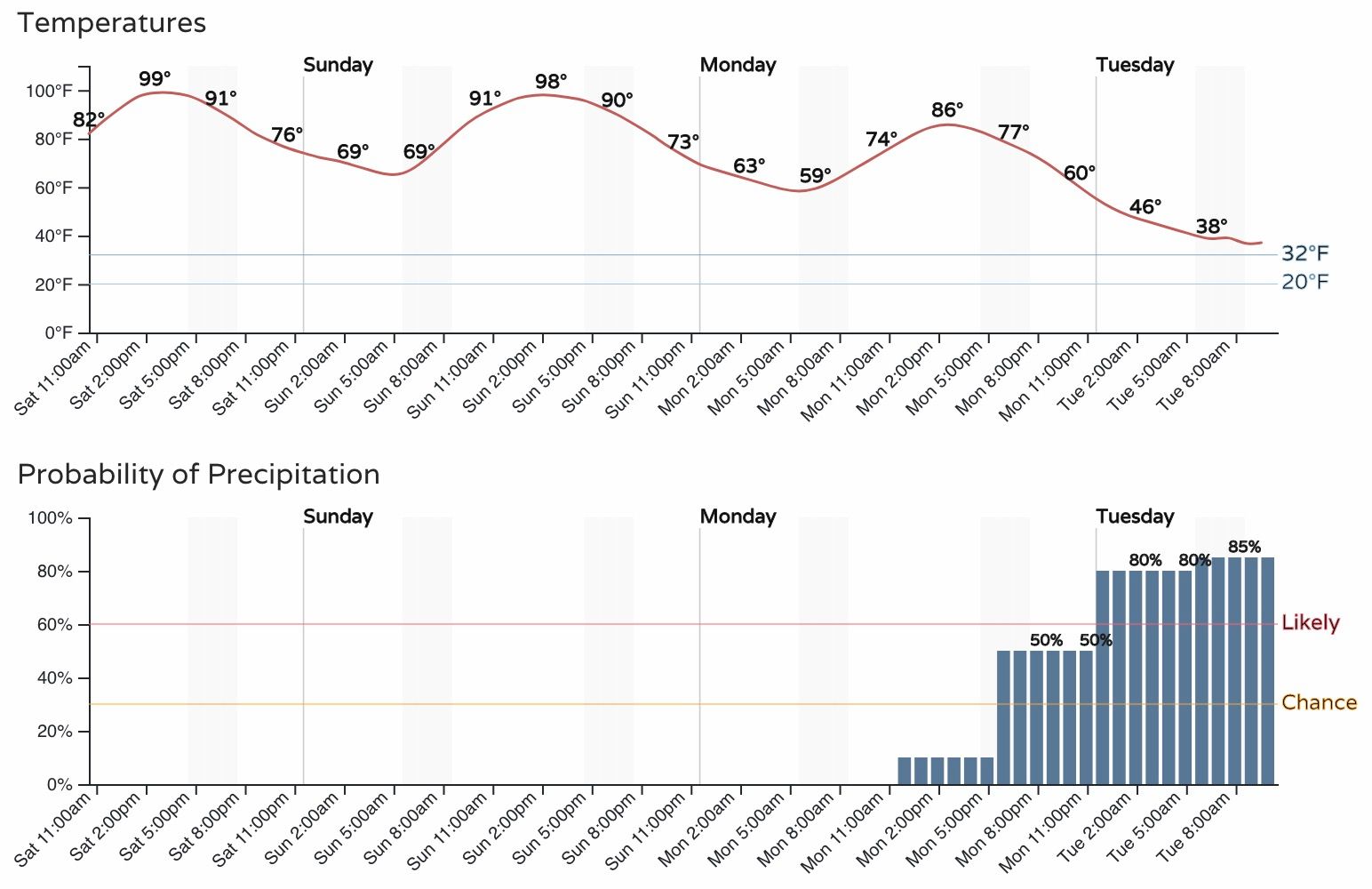 And finally, here's a look at the hourly planner for Colorado Springs, which will likely be spared the worst of the snow with this system. Temperatures will be milder in COS on Tuesday (low to mid 40s most of the day), with the cold arriving Tuesday night, perhaps dropping lows into the 20s by early Wednesday morning.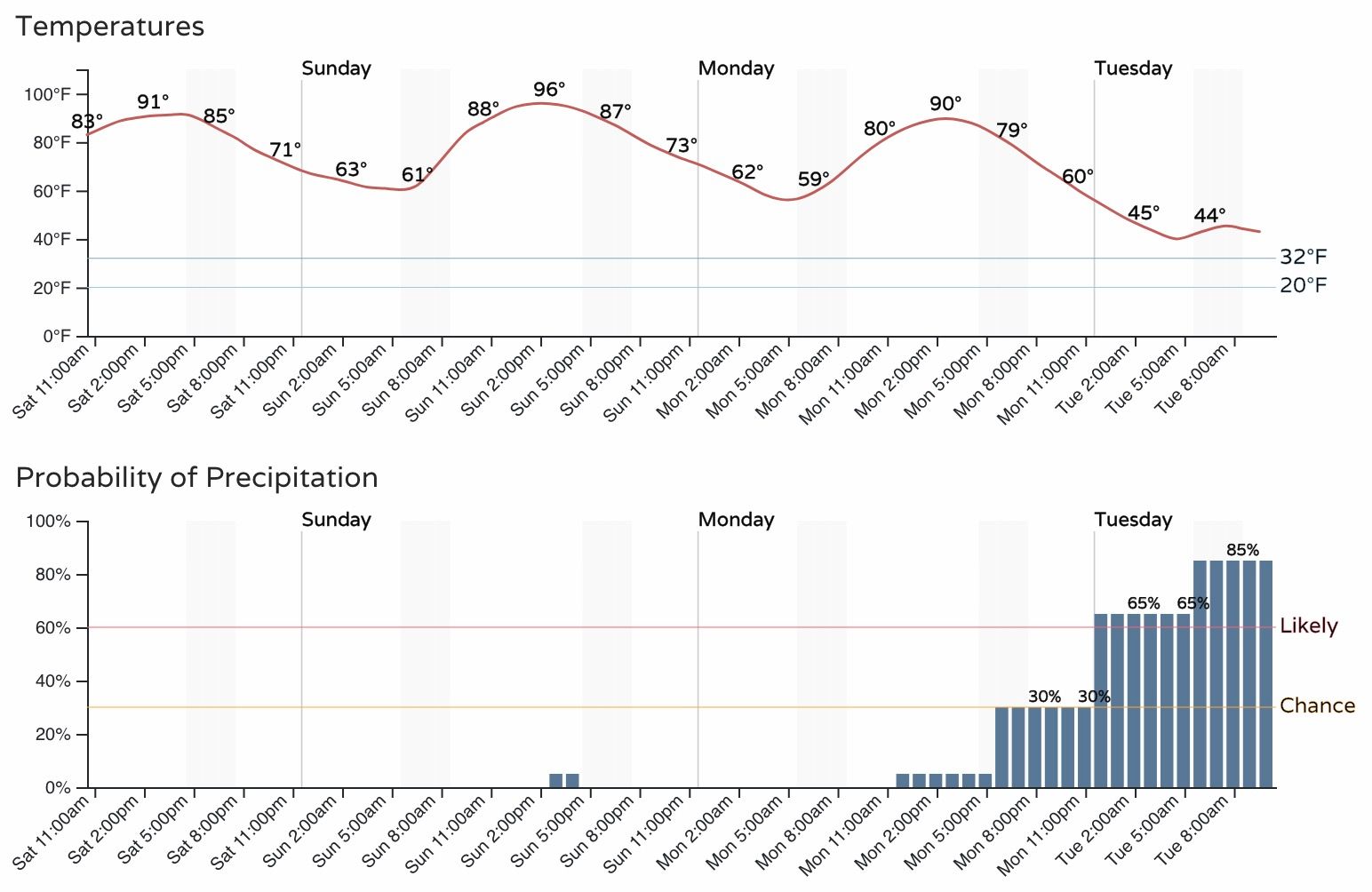 Temperatures will continue to fall through the day Tuesday, and with that rain is expected to change to snow for many of us during the day Tuesday and extend into Tuesday night.
The change will be dramatic. Taking a look at the latest NAM forecast model for 2-meter temperatures Monday evening, we see it has most of the urban corridor still in the 80s around 5pm: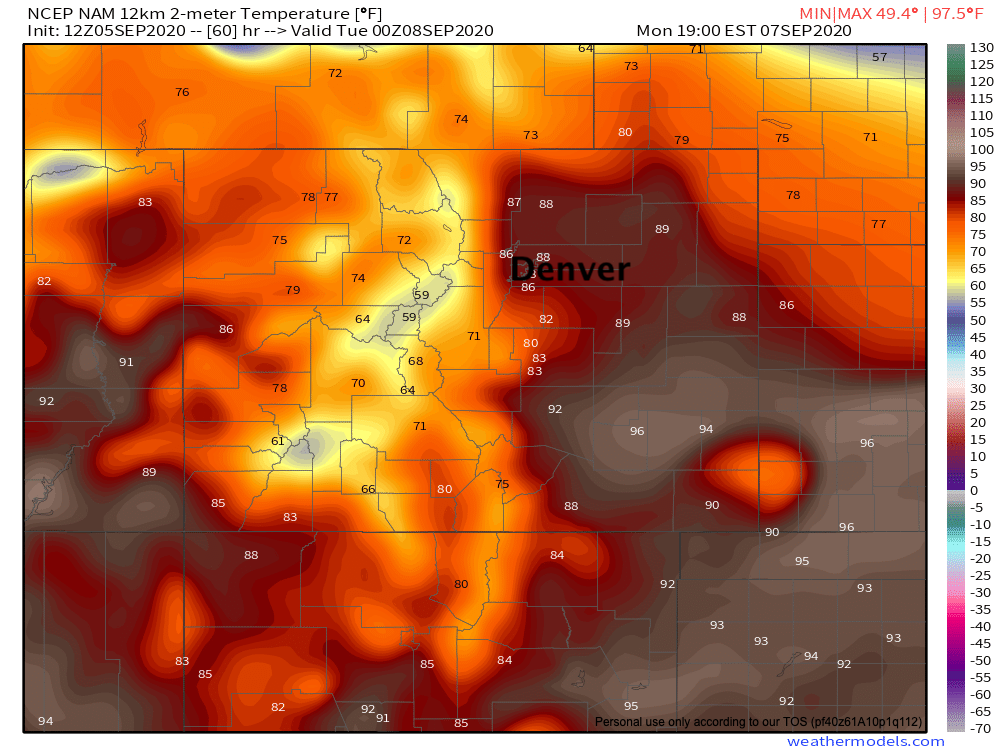 24 short hours later here's its temperature forecast: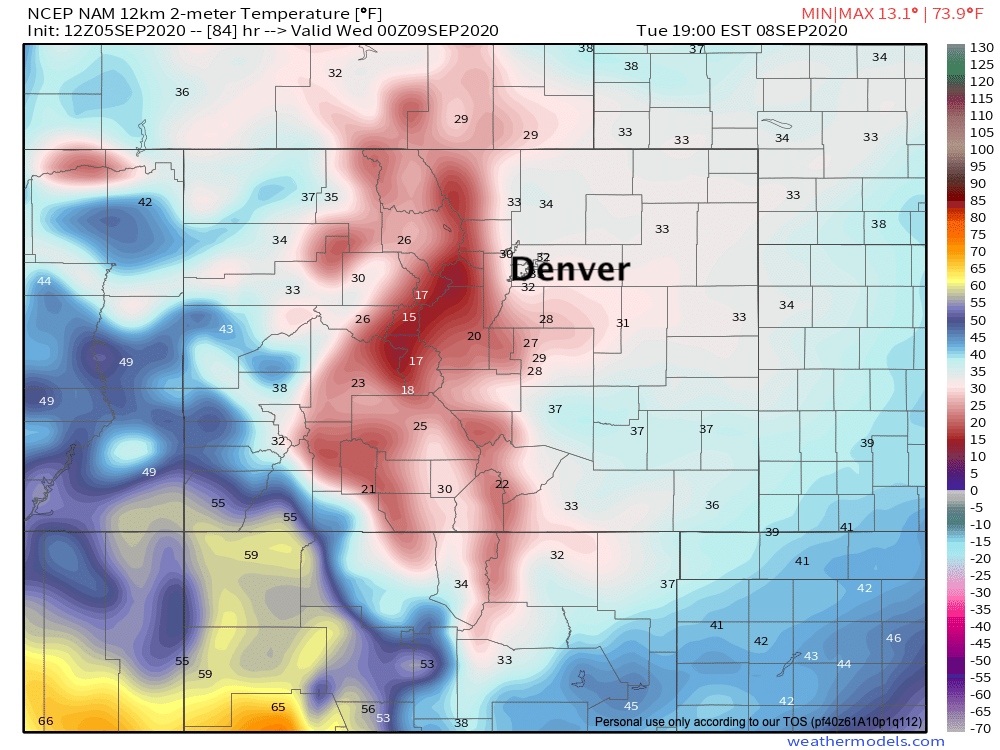 Crazy!
Behind the front deep upslope flow will follow, and with that we expect widespread precipitation for Eastern Colorado on Tuesday. Rain is likely to change to snow by mid to late morning for most of us, even if daytime temperatures and (very) warm surfaces keep the snow from accumulating much during the day. The cooling and transition to snow, is often underdone in the modeling, and with that if many of us could wake up to snow by daybreak on Tuesday, even if current data shows that transition not happening until later in the morning.
Here's a look at the GFS forecast for midday Tuesday, with widespread rain and snow across Eastern Colorado, and plenty of wind to boot!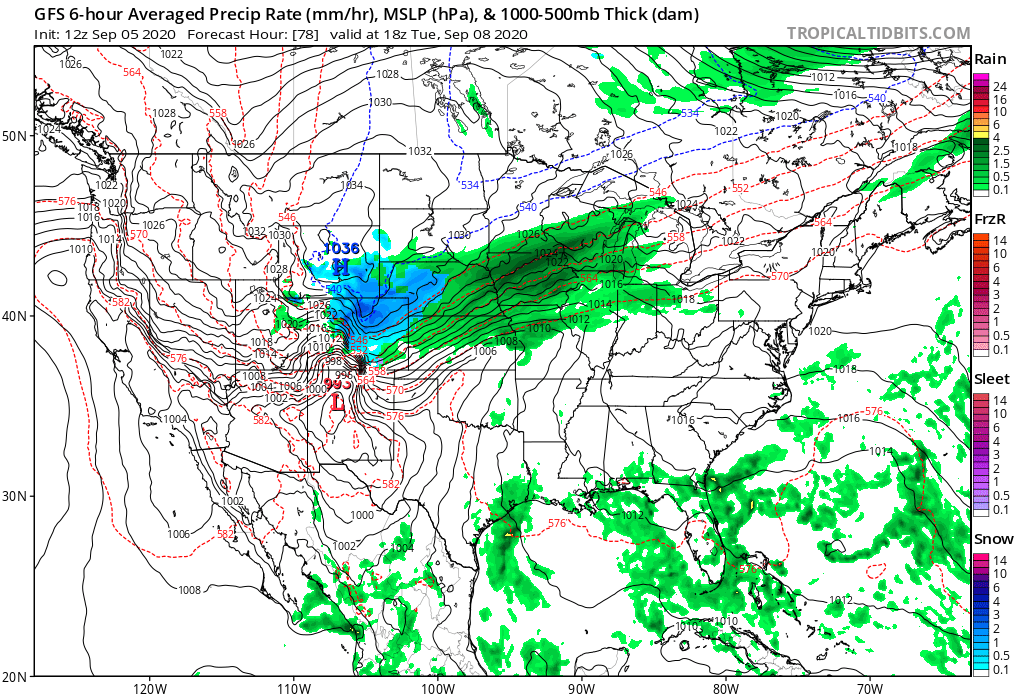 Models remain very moisture-rich with this system, but we see less of the crazy outliers on the high-end as compared to what we were seeing yesterday, and this makes sense. Most of the models showing the greatest precipitation/snow totals keep the snow going far too long Tuesday night (in our opinion), so a good moisture event yes, but likely less extreme than some data indicates.
The European ensemble mean forecast shows near 1.0" of QPF for the Front Range and adjacent plains. This is certainly good moisture, and if much of that falls as snow could spell problems.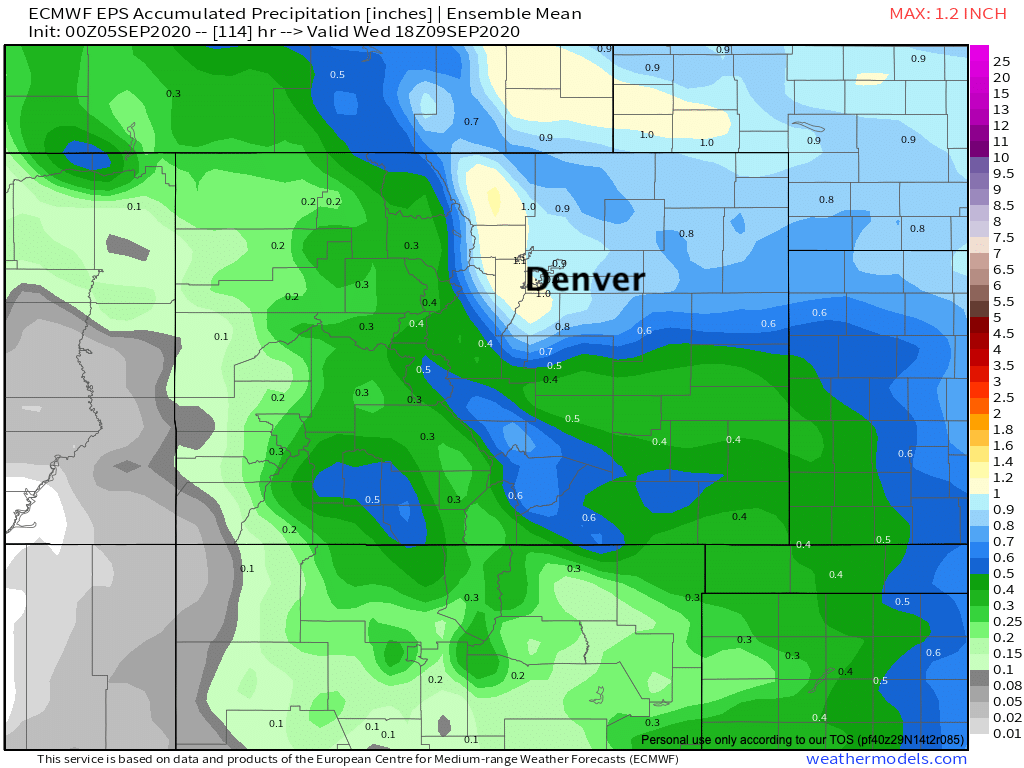 Our probabilities are notably lower, suggesting 1.0" of liquid won't be approachable. This is something we'll be watching closely through the weekend, to see if our probabilities increase or modeled QPF decreases as we get closer to Monday and Tuesday. Here are our current precipitation probabilities for the Denver/Boulder area: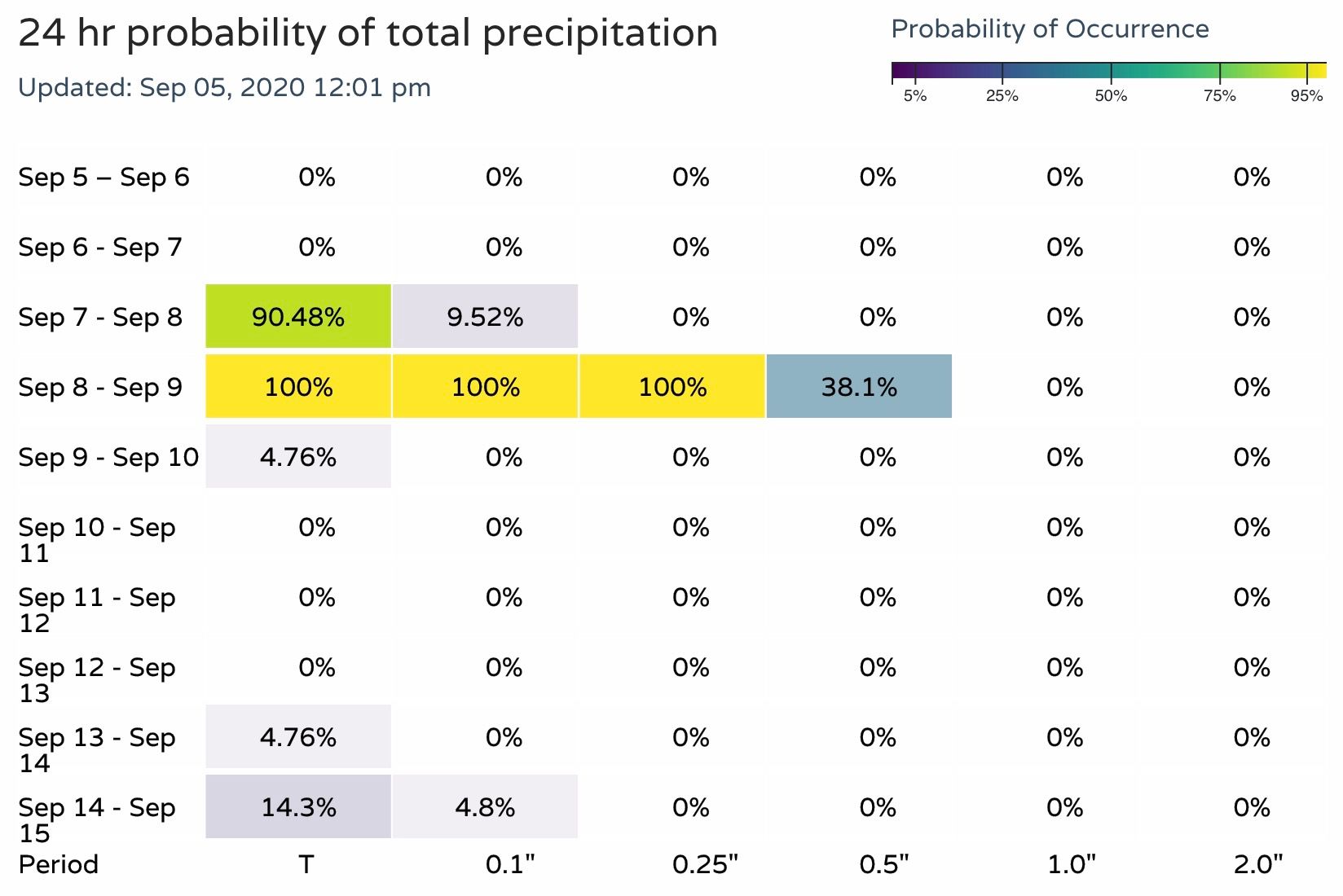 As for how much snow we're talking?
It's REALLY hard to say!
How cold temperatures actually get, how much snow falls during the day Tuesday vs evening, how much snowfall rates can overcome melting... pick your favorite obstacle. What FALLS vs what STICKS will no doubt be two different things for most of us.
Where we are likely to have the most potential for snow to accumulates on grassy surfaces and, unfortunately, leafed trees. We have a good shot at seeing our first measurable snow of the season across the metro area, but how much and how impactful it is will vary greatly.
Overall we like the 1961 snow as a good analog to this one. That system produced anywhere from 1 - 5" across much of the metro area, with considerably more at elevations west and southwest of Denver.
Here's a look at totals from that storm. I remain a bit skeptical of the T for Boulder, but generally 6 - 12" for the Front Range foothills/mountains, and 1 - 5" for the Denver area: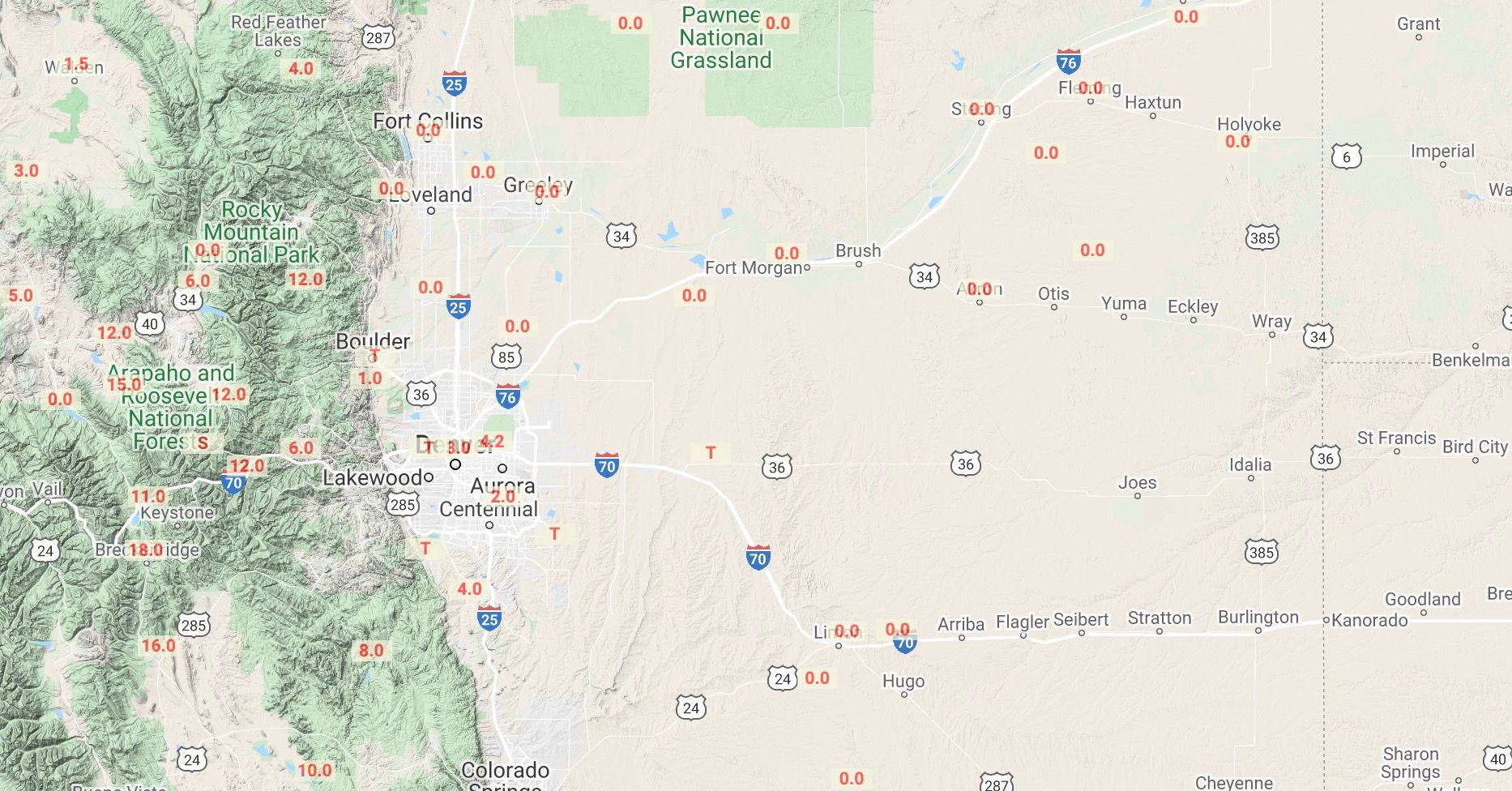 So, for early numbers here's what we are thinking. These are subject to (and likely) to change between now and Monday. Nothing like trying to forecast SNOW when it's 100 degrees outside, and every part of the upcoming forecast is an extreme. A lot to work through, and plenty of adjustments will need to be made.
Fort Collins: 1 - 5"
Denver metro: 1 - 5"
Southeast Denver/Aurora/Parker: 2 - 6"
Boulder: 3 - 7"
Palmer Divide: 2 - 6"
Foothills mountains West and Southwest of Denver: 6 - 12"
Colorado Springs: 0 - 3"
And here are our latest snowfall gamblers: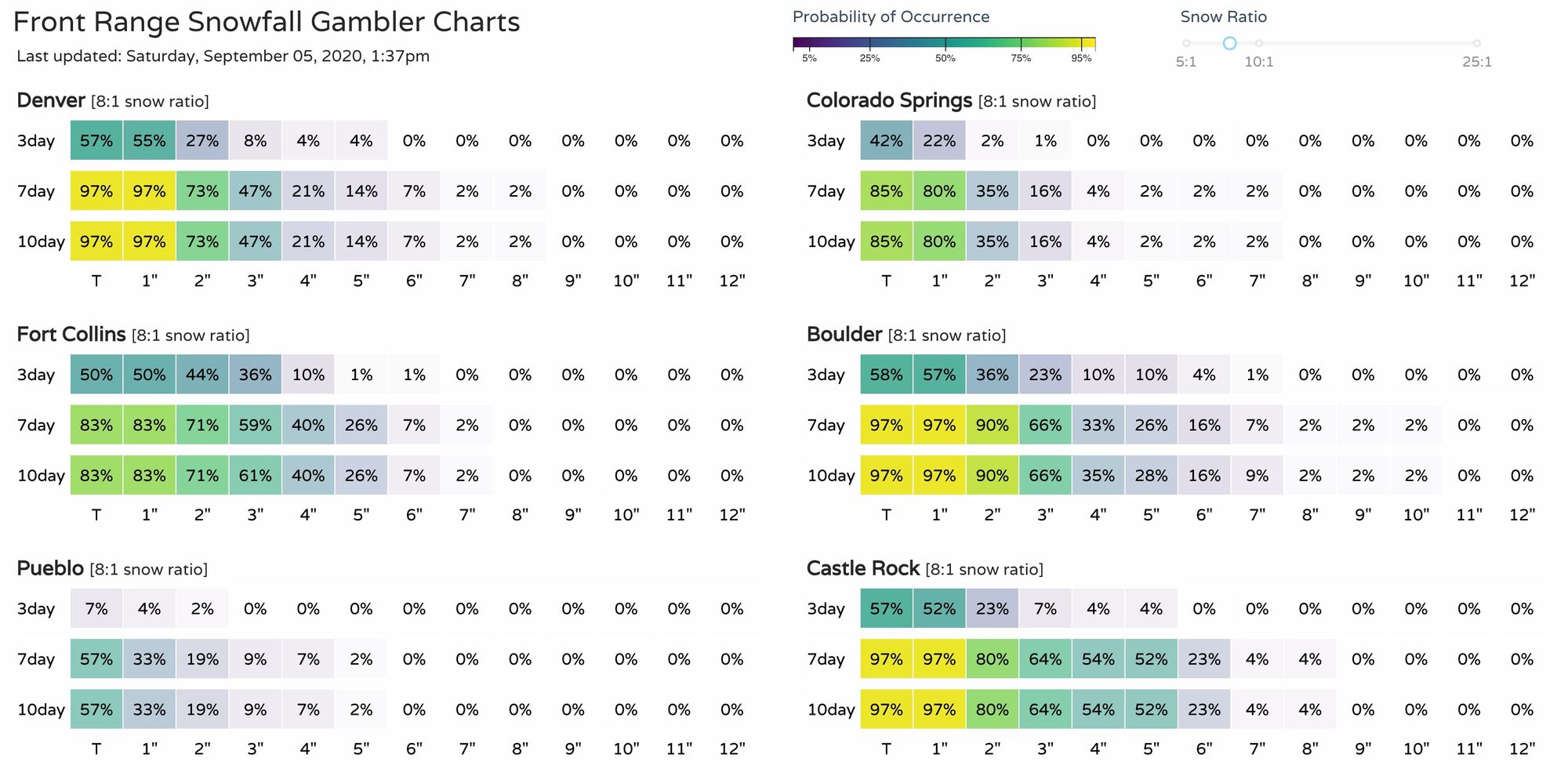 More to come.