Although the cold air is on track and hasn't wavered, the snowfall projections are wildly changing in totals and locations due to models' struggles to consistently project the upper-air flow.
For example, let's look at the European Ensemble forecast for the middle atmosphere for Wednesday morning. Let's compare this particular model suites projection from its Saturday morning run to its early Sunday run. Note that the middle atmosphere has a closed low in Sunday's update versus the open trough in the Saturday morning update.
Saturday's run: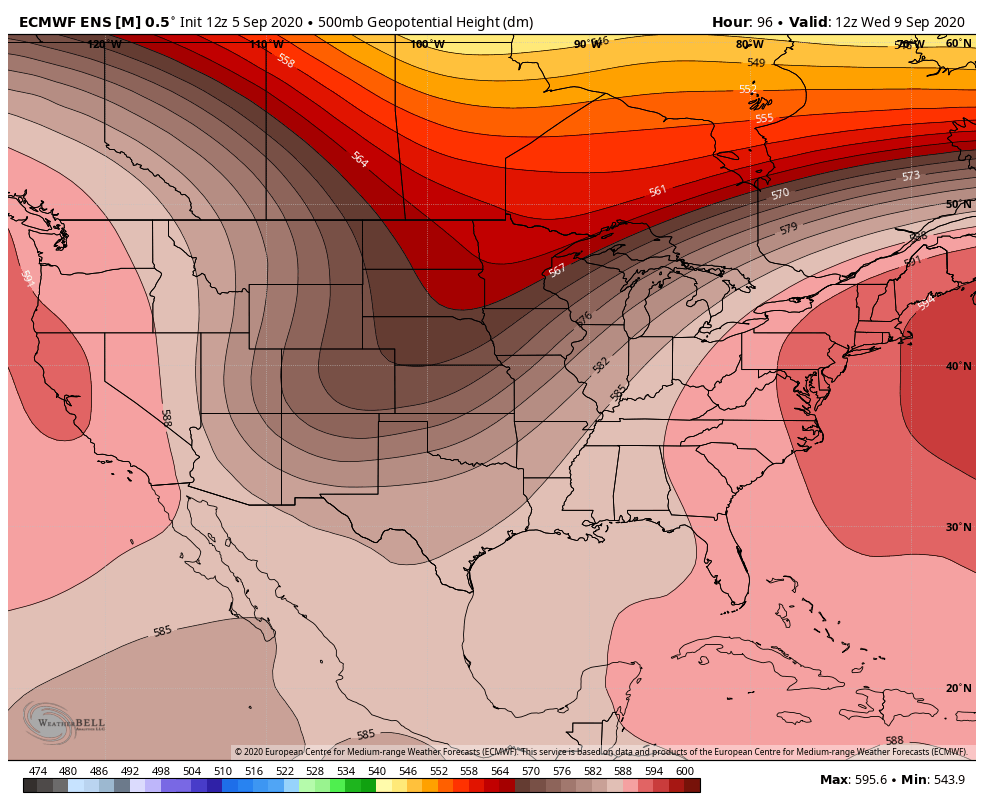 Sunday's run: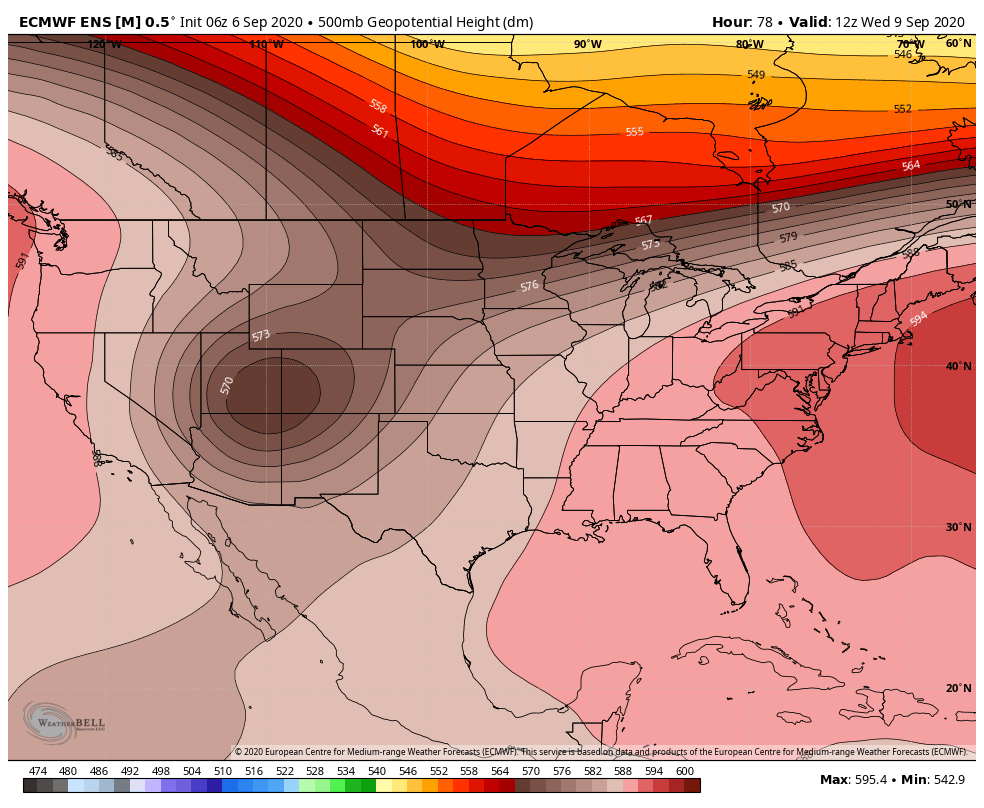 These two scenarios depicted by one model show the inconsistency we deal with not only from the European modeling but also American and Canadian products.
Here is a look at the American operational model upper low evolution through Wednesday evening: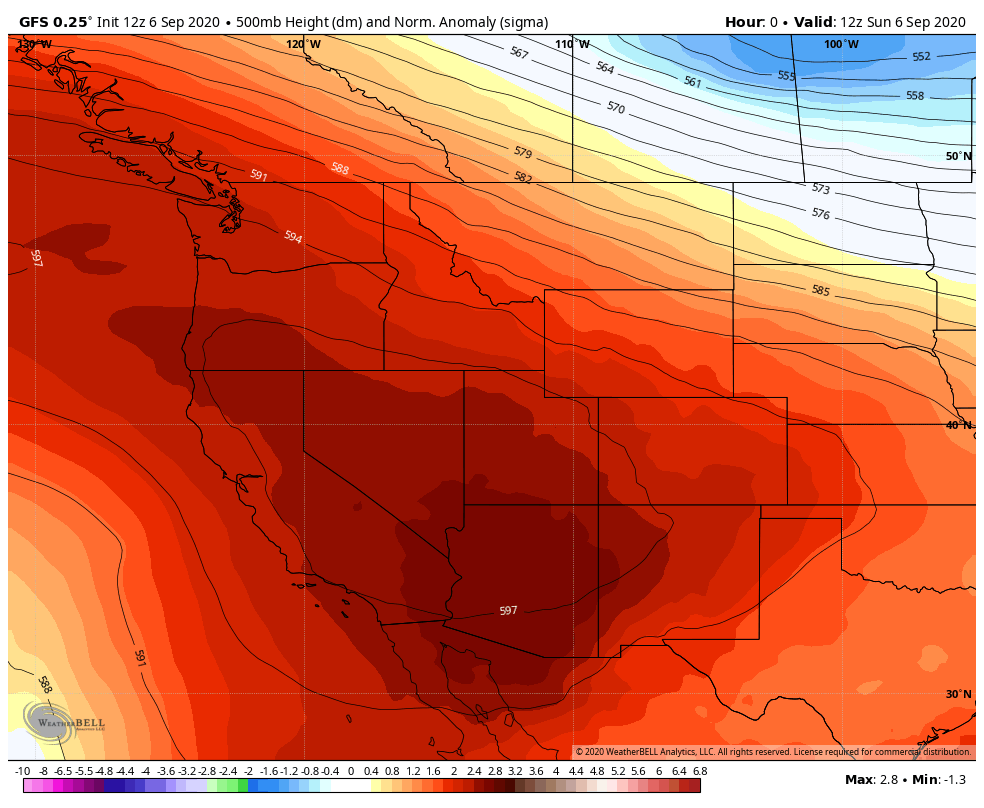 Here's a look at the American model ensemble mean evolution of the upper low through Wednesday evening: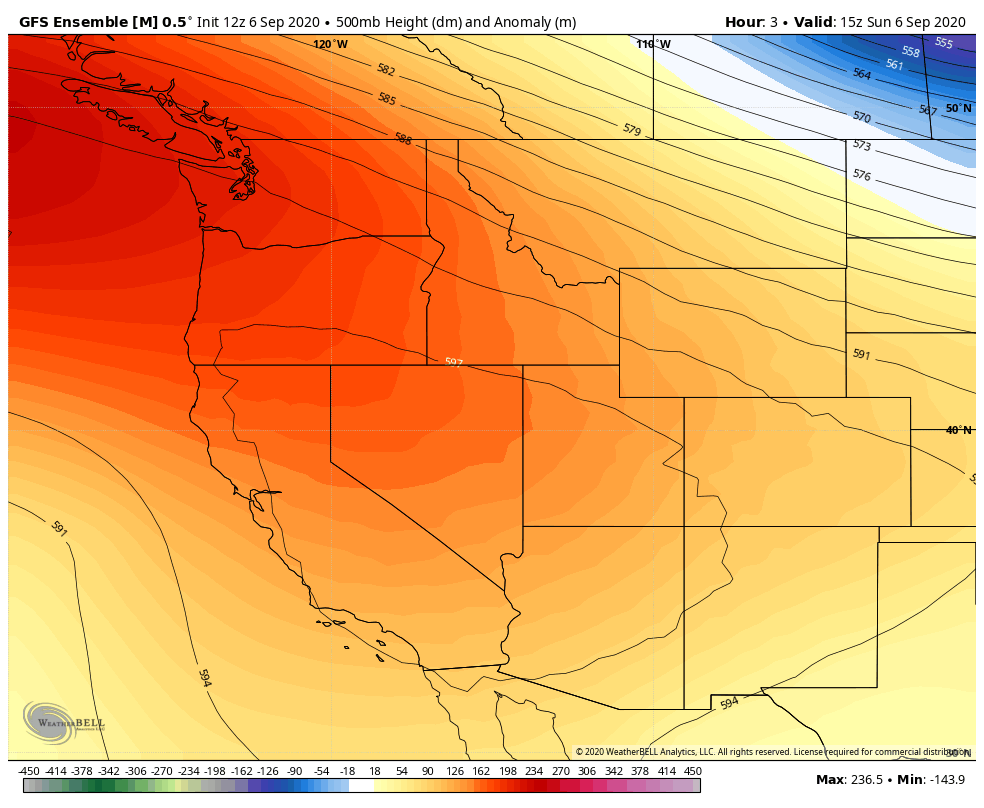 You see how much farther west the ensemble forecast position is with the closed low, versus the operational? The ensemble of a particular model is usually more trusted than the operational and that has HUGE implications for what we see here east of the mountains. The farther west the upper low evolves and moves, the less impact we have here on the Front Range with regard to snow. This has been a noticeable and IMPORTANT trend in the models today. Also, the forcing and thermal profile differences between these kind of setups can dictate wildly different snowfall totals and locations. We've seen that from run to run in the modeling also.
Where we have seen relative consistency in the snowfall forecast is in our Gambler Charts. Let's compare updates from Saturday afternoon, to Sunday morning, to Sunday afternoon:
Saturday afternoon: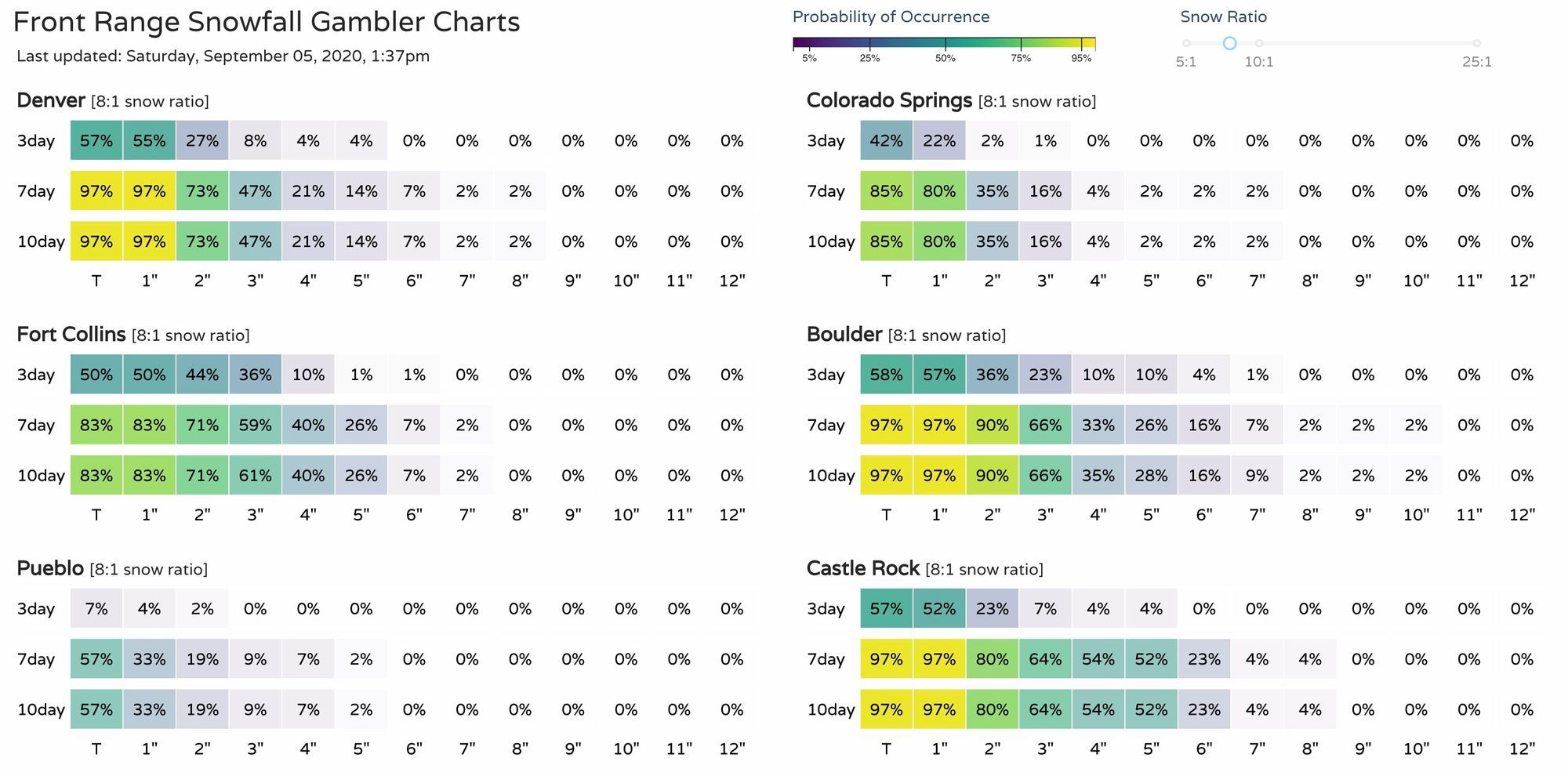 Sunday morning: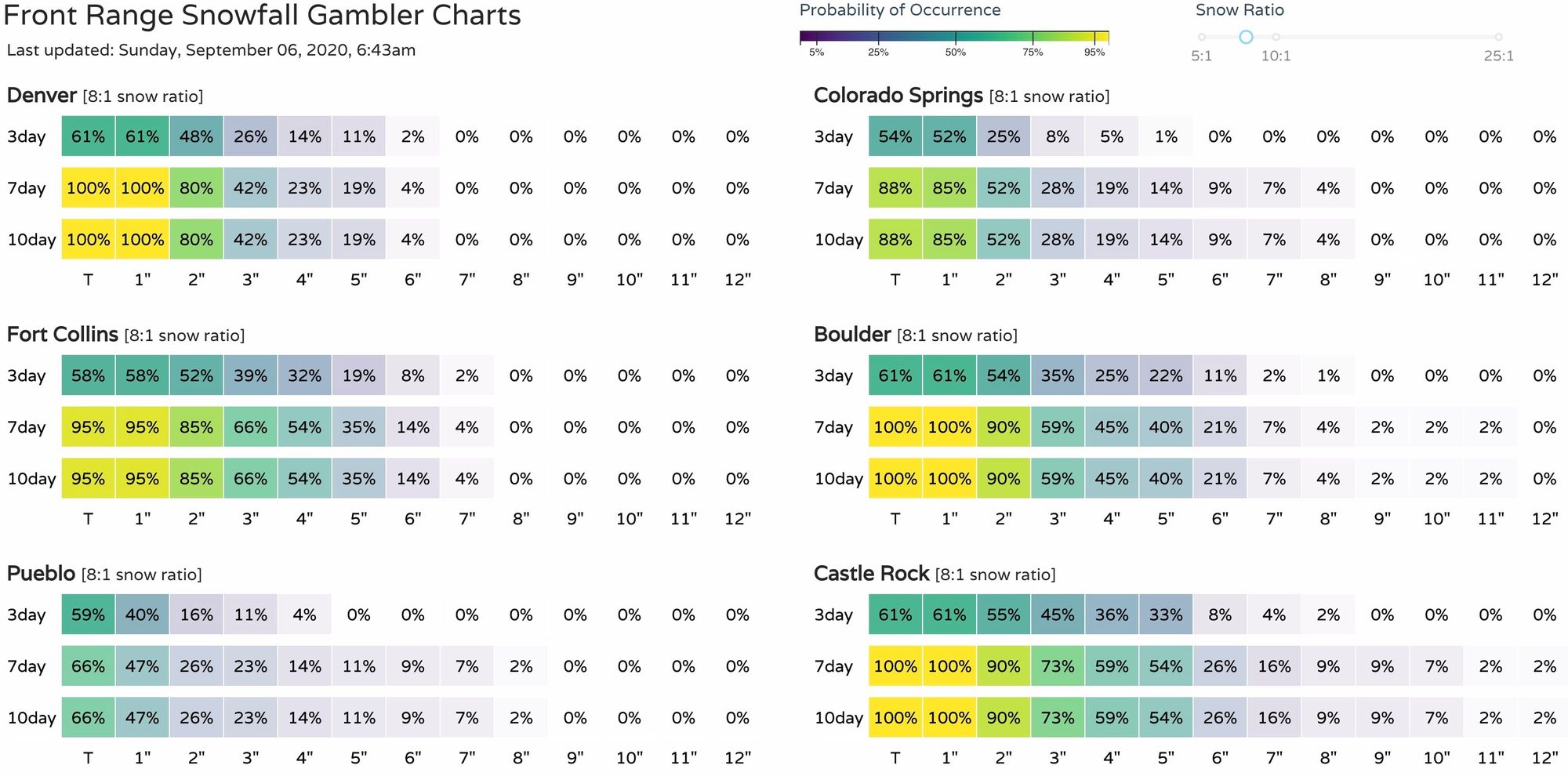 Sunday afternoon: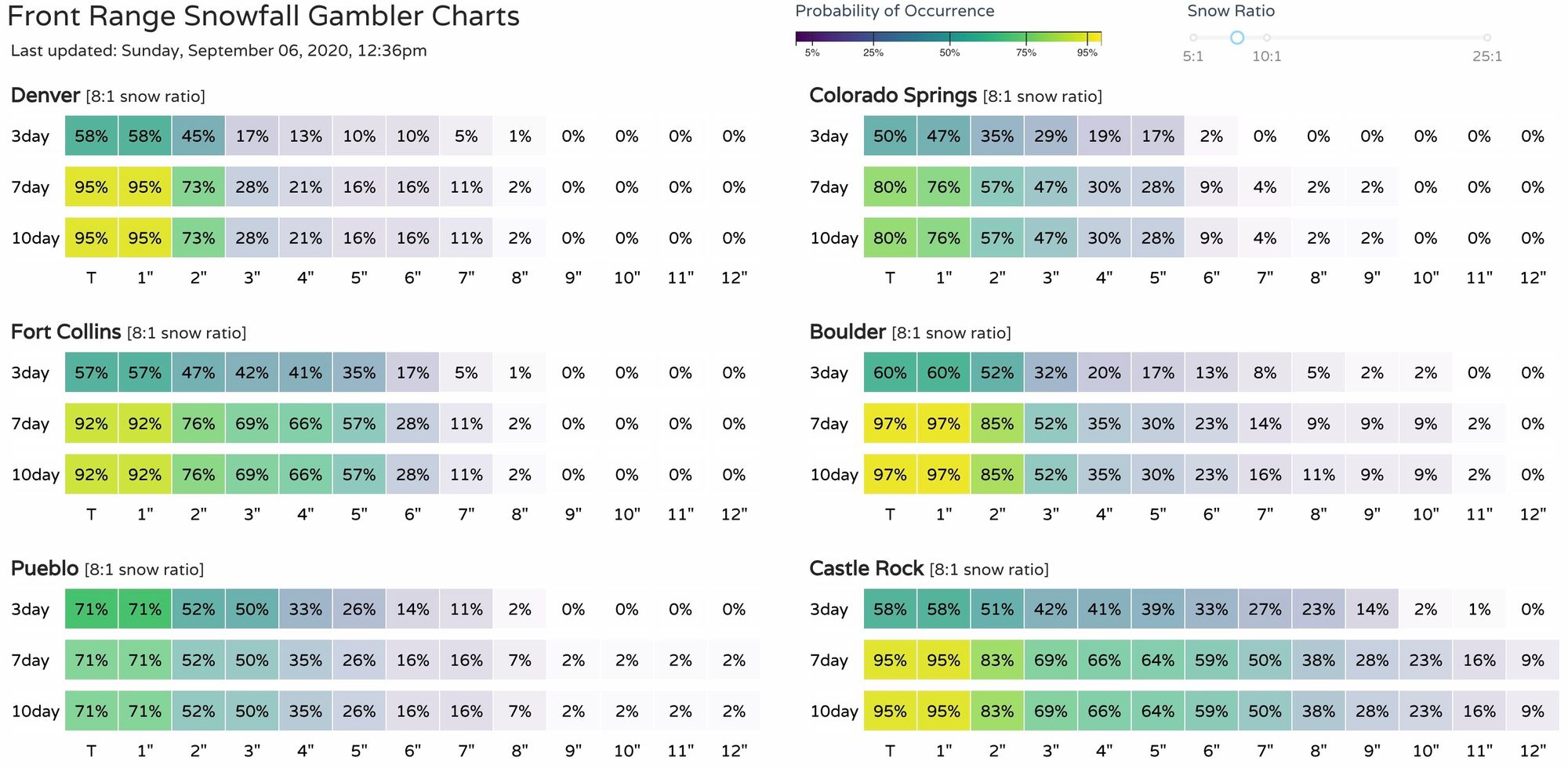 The highest confidence probabilities haven't changed much in recent days. In this afternoon's run we see some higher end trailing probabilities which would suggest some boom potential – this is especially true for Boulder and Castle Rock. This is in large part to more of the modeling trying to catch onto the cutoff solution vs an open trough.
With that said, we are leaning more toward these than the model snowfall projections at this time. We hope to see some run-to-run stability in the models to either boost or deflect confidence in our Gamblers data.
As of now a model blend and probability weighted snowfall forecast will be quite close to the median snowfall projection provided by the WPC.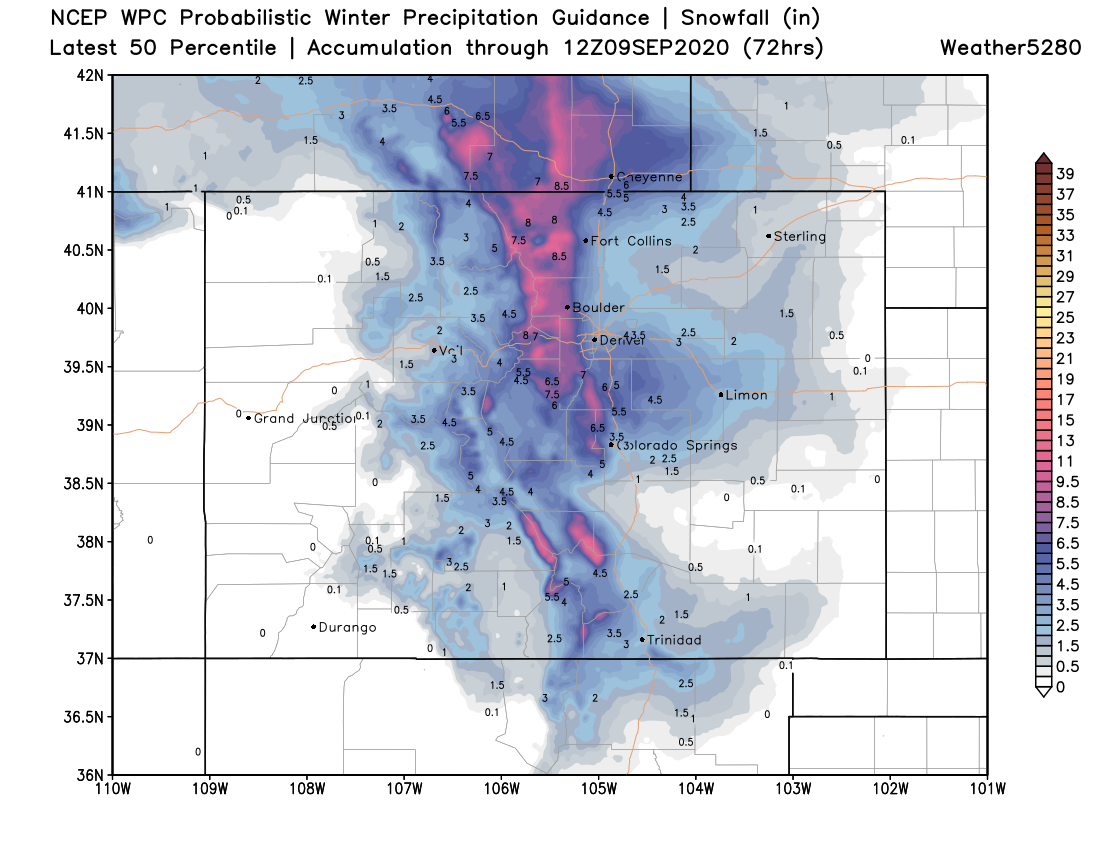 Although, this still reflects the amount of snowfall until Wednesday morning not necessarily the amount of snow sitting on the ground Wednesday morning when many snowfall measurement reports will be submitted. This is an important distinction! There will be a tremendous amount of melting and compaction with this storm.
Ground temperature, daytime snowfall, and the ultimate thermal profile (as discussed is still in limbo from model update to update) remain factors in the ultimate snowfall forecast.
Here's our rough forecast as of Sunday afternoon, matching the numbers we posted yesterday. We'll adjust it as needed as we get closer to Tuesday and of course we'll see how totals ultimately stack up considering melting: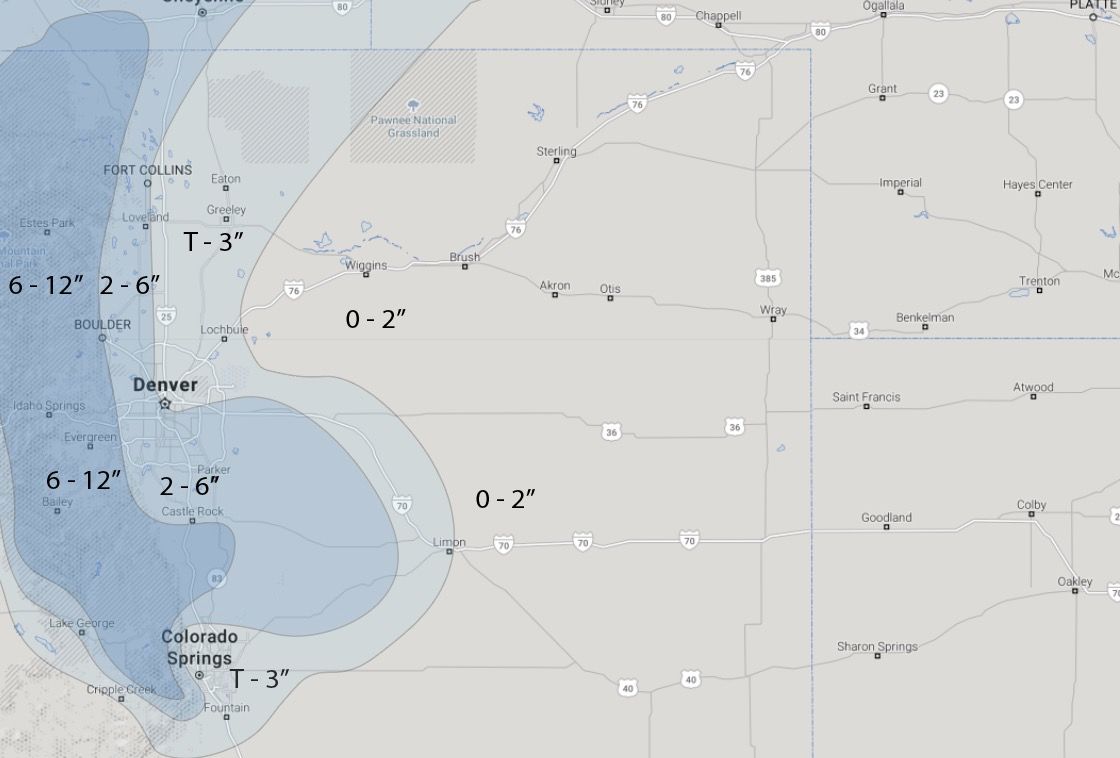 Even rapid melting may not be quick enough to prevent widespread tree damage. This will be a heavy wet snowfall and even a small amount of it may cause branches to break on our fully leafed trees.
In any situation, snow remains likely Tuesday immediately following the cold front. That front remains on schedule as we've discussed in multiple posts to this point. Alerts were officially issued Sunday morning for the incoming impact: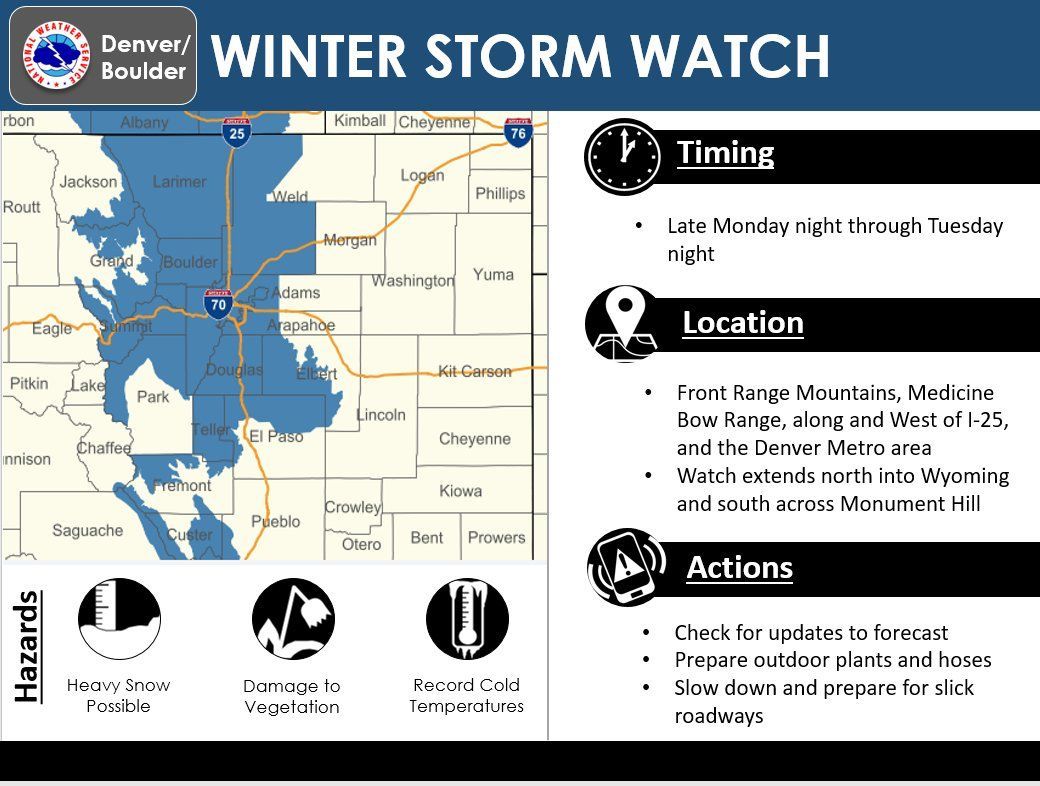 Beyond any potential damage we may see from the snow on trees, one of our biggest concerns with this system is the cold, record cold in fact that's possible Tuesday and Wednesday.
Our Weather Board set to show you some cities across the region, note the number of record lows possible.

This chart shows you the difference between the forecast low and the existing record low. For example, Denver will be 4 and then 2 degrees colder than existing record temperatures for Tuesday and Wednesday based on the current forecast. Cheyenne is set to crush their previous record low by 12-degrees.
With this record cold snap we continue to track the variations in snowfall projections and will keep you posted as to the latest in those changes. We will maintain the course following our own Gambler data as the highest confidence product at this point.
---
Matt Makens is a member of the Pinpoint Weather Team, seen on Colorado's Own Channel 2 nightly.