We've posted extensively about the storm set to hit Monday and last through Wednesday, the three main takeaways continue: Cold, snow, and wind.
Cold
Temperatures will plummet, and may rival the biggest September temperature drops on record. Record cold is likely for Tuesday and Wednesday across the area. The chart below shows how much colder than the current record low for Monday night and Tuesday night temperatures are expected to be:

If you haven't planned to cover gardens, bring in potted plants, and cover your irrigation backflow pipes you should do these things before Monday evening. And, as you will read shortly, make sure your covers are well attached or the wind will remove all of your protection.
We'll need to keep these things covered through Thursday morning.
We touched more on the temperature outlook and Freeze Warnings issued by the National Weather Service in our Insider update this morning, you can find it here.
Here's an hourly timeline of temperatures for Denver. We expect the front to coming roaring through here between 6pm and 9pm:

Snow
We continue to see the same model struggles as we described in previous posts. Our Gambler Data remains consistent and is the basis of our snowfall forecast you see here: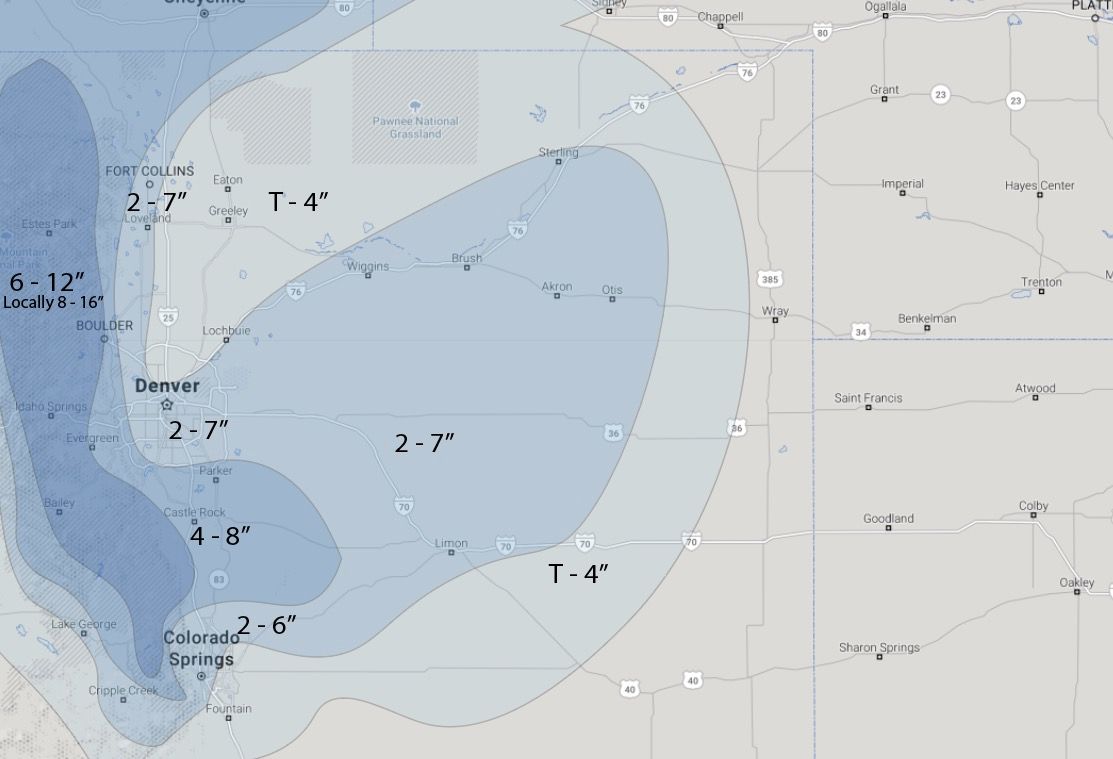 The cold is such that accumulation remains most likely on trees, plants, and grasses but there may be a sharp enough temperature drop that the snowfall has a chance for slushy accumulation on bridges, north facing, and mountain road surfaces Tuesday evening/overnight. If current forecasts hold, there will likely be extensive tree damage up and down the Front Range and urban corridor from this system.
To plan on the snow's arrival, here is the hourly planner for precipitation (Denver):

Wind
One of the least discussed components of this system will be the wind. The temperature change to come over a few hours is greater than 60 degrees and that takes a lot of energy to move that kind of cold air into a region. So, wind will be making sure you realize the cold front arrives.
This is a projection of wind gusts to show you where the wind will be strongest, and remember that temperatures will be quite cold, too, so wind chill values will be quite significant for the time of year.
Here's an hourly planner on wind for the Denver metro area:

And for COS:

Bottom line
We are all in at this point. We hope our frequent posts gave you the heads up you need to prepare for weather's change.
We will keep you posted on any changes that need to be made to the snowfall forecast, and will be keeping an open record of all the new coldest temperatures on the way for the 8th and 9th of September.
We'll plan to have another update later today.