We've been tracking a cool down for some time now, set to arrive Sunday and bring temperatures across Northeast Colorado closer average for this time of year.
A couple of notes in today's update, both related. Temperatures aren't forecast to cool nearly as much as it once looked for your Sunday - Tuesday timeframe, and the front looks largely dry east of the mountains aside from some spotty showers. Still, instead of temperatures in the mid 80s or so, we'll see highs drop into the mid 70s for the next several days after today:

What's more? Even with this cool down temperatures will remain above average. Highs this time of year in Denver should be in the upper 60s, so while the mid 70s should feel more fall-like, it's still quite warm for mid October. A look at temperature departures from average highs shows Denver at +13°F today, and dropping to +5 - 7°F over the next few days. Wednesday will again feature highs in the 80s, before a perhaps more substantive cold front arrives later in the week.

Sunday will feature high fire danger across much of the state, especially as the front approaches and winds become quite gusty across Eastern Colorado. A Red Flag Warning goes into effect midday Sunday and continues into Sunday evening, with winds from 2o to 30 mph expected and gusts to 50 mph. Even though temperatures will be cooler, they will by no means be cold – so winds, in combination with low humidity and warm afternoon temperatures will all aid to the increased fire danger. Below is a look at the latest Fire Weather outlook from the SPC for Sunday, showing the Elevated fire danger across Eastern Colorado: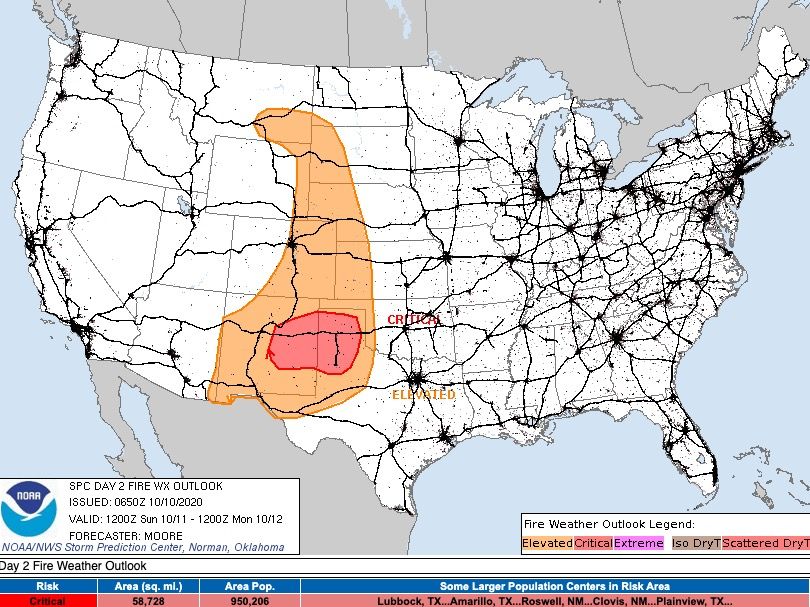 As for the chance of precipitation? Well... even what once looked like some scattered showers now looks like an isolated-at-best scenario. The GEFS (pictured below) shows virtually no precipitation forecast by any of its ensemble members Sunday - Tuesday, with very little showing up for the latter half of the week as well. Do note, however, that temperatures are forecast to cool tomorrow (red line on the upper graph), warm Wednesday, then cool even more perhaps to end the week: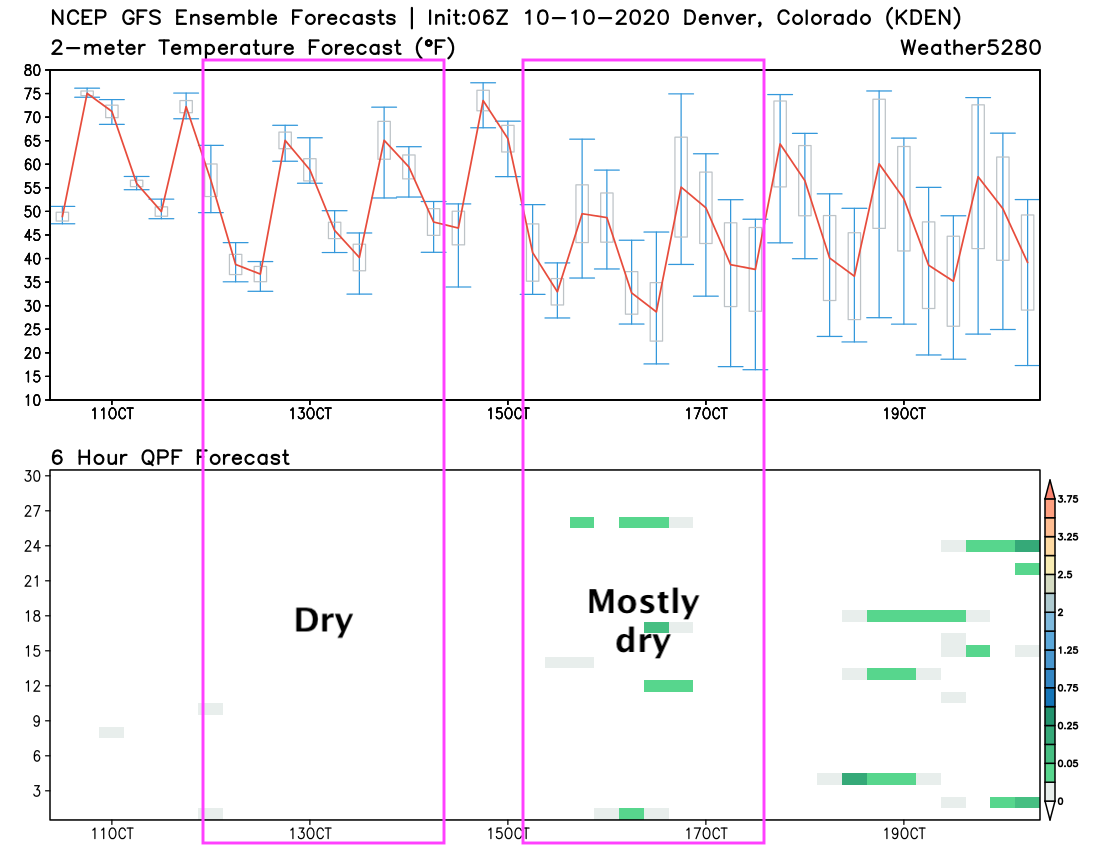 Here's a look at the GFS precipitation forecast for the next few days, with most of the measurable precipitation from this model confined to the northern and central mountains: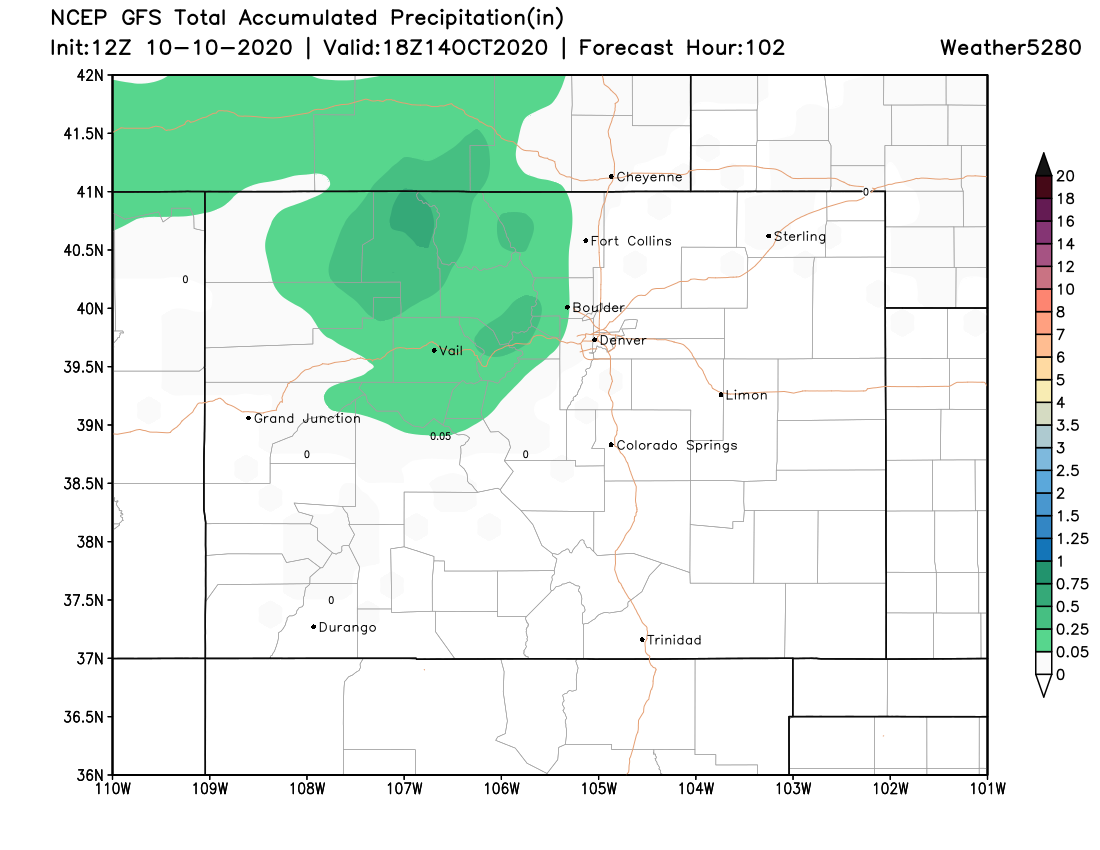 The late week cold front will be tapping into a colder air that expected to take up shop across the Eastern United states for mid-October. The 5 day mean 500mb pattern shows that trough centered northwest of the Great Lakes which will help usher in some colder air to the High Plains, Great Lakes, and Mississippi Valley, while the Southeast U.S. is forecast to remain under the influence of the never-ending ridge.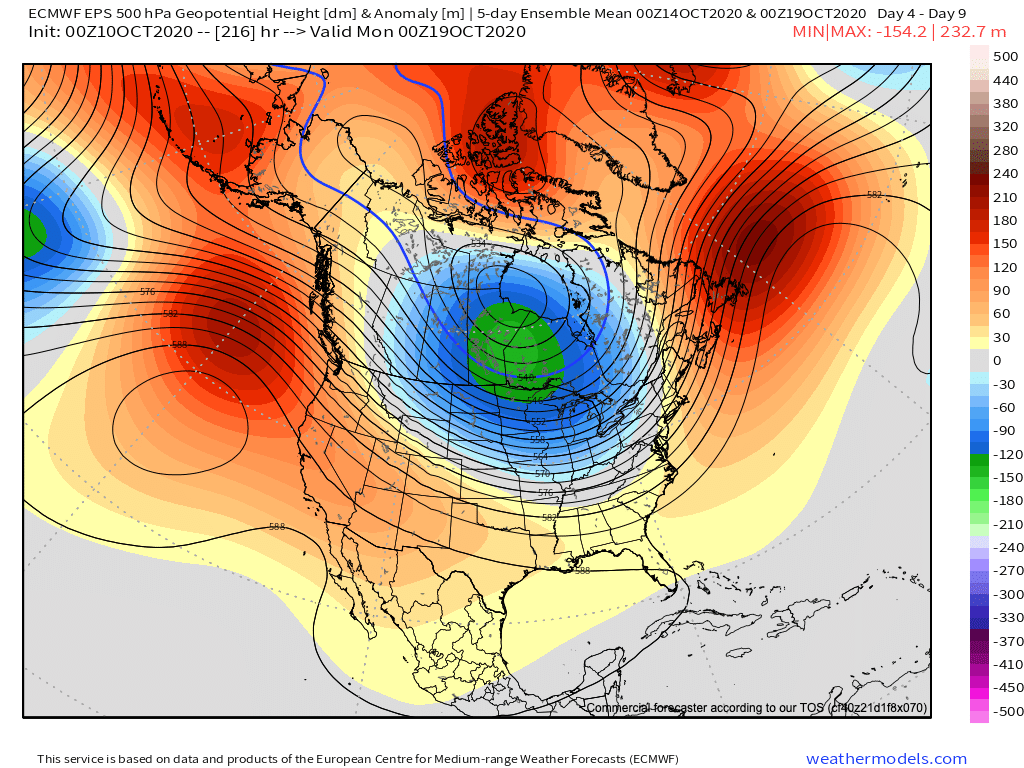 This equates to the following 5-day average temperature anomaly map ending next Sunday evening. Hot and dry for the Southwest (including Colorado, especially if the late week front end up too far east for us), and a cooler northern tier and east: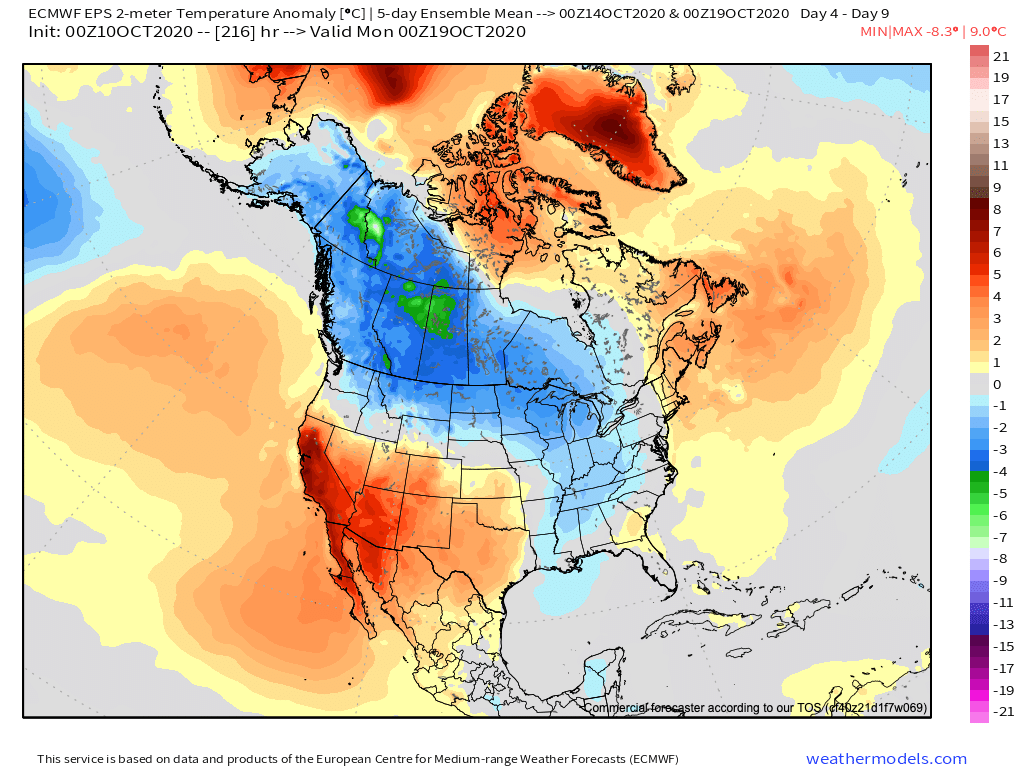 By later in the month the Euro shows the trough retrograding west a bit: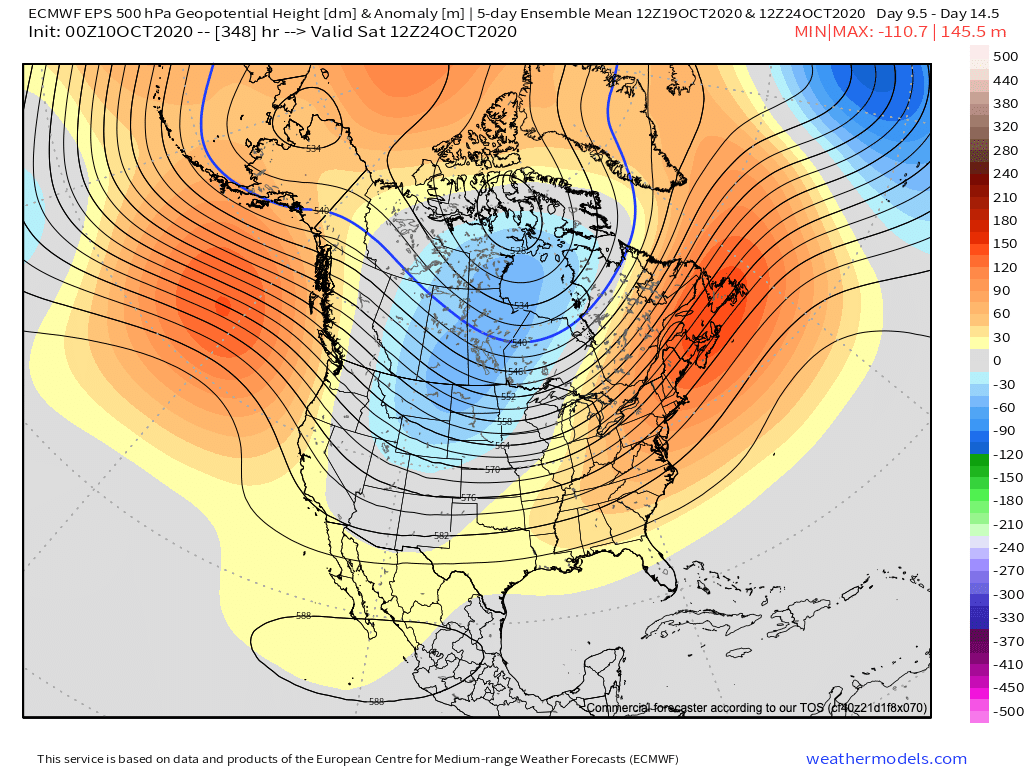 If this were to verify, this would correspond to a period of cooler weather across the Rocky Mountain West and Northeast Colorado (see below). We shall see.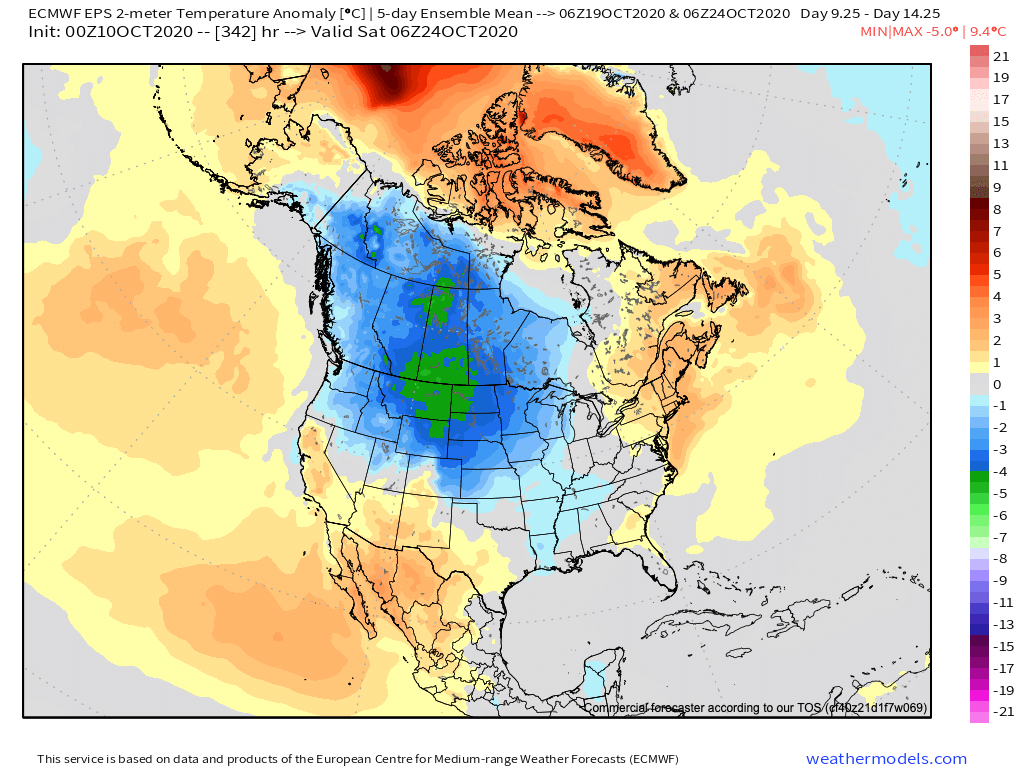 For now, look for a windy but cooler day on Sunday, followed by two beautiful days in the 70s to start the week. A brief warmup on Wednesday may be followed by another cold front on Thursday, but a bit too early to see how much of an impact that front ends up having on our temperatures as of now.