If our winter outlook posted yesterday didn't get you in the mood for winter, maybe the changes on the way this weekend will. Following on the heels of one last warm afternoon Saturday will come a sharp cold front to Northern Colorado, which will drop highs across the urban corridor to below freezing for your Sunday, and quite possibly Monday as well.
The latest regional outlook below shows a warm afternoon today followed by a cooler but not cold day on Thursday. Friday we'll see a secondary push of cold air cool us another 10 degrees or so (with even the potential for some rain and snow showers!), followed by a pre-front warmup on Saturday (sorry, Cheyenne).

Forecast lows will drop from the 40s this week into the teens by Sunday night. A low of 14°F is currently forecast for Sunday night, and 12°F for Monday into Tuesday. This will be the coldest airmass we've seen since last season.

Let's step through a timeline of what we expect for our weather over the coming days. Below is a look at the European ensemble forecast for high and low temperatures over the next 10 days for Denver. Pretty clear to see the rollercoaster ride headed our way over the coming days, as well as good agreement that the second half of the weekend will be COLD!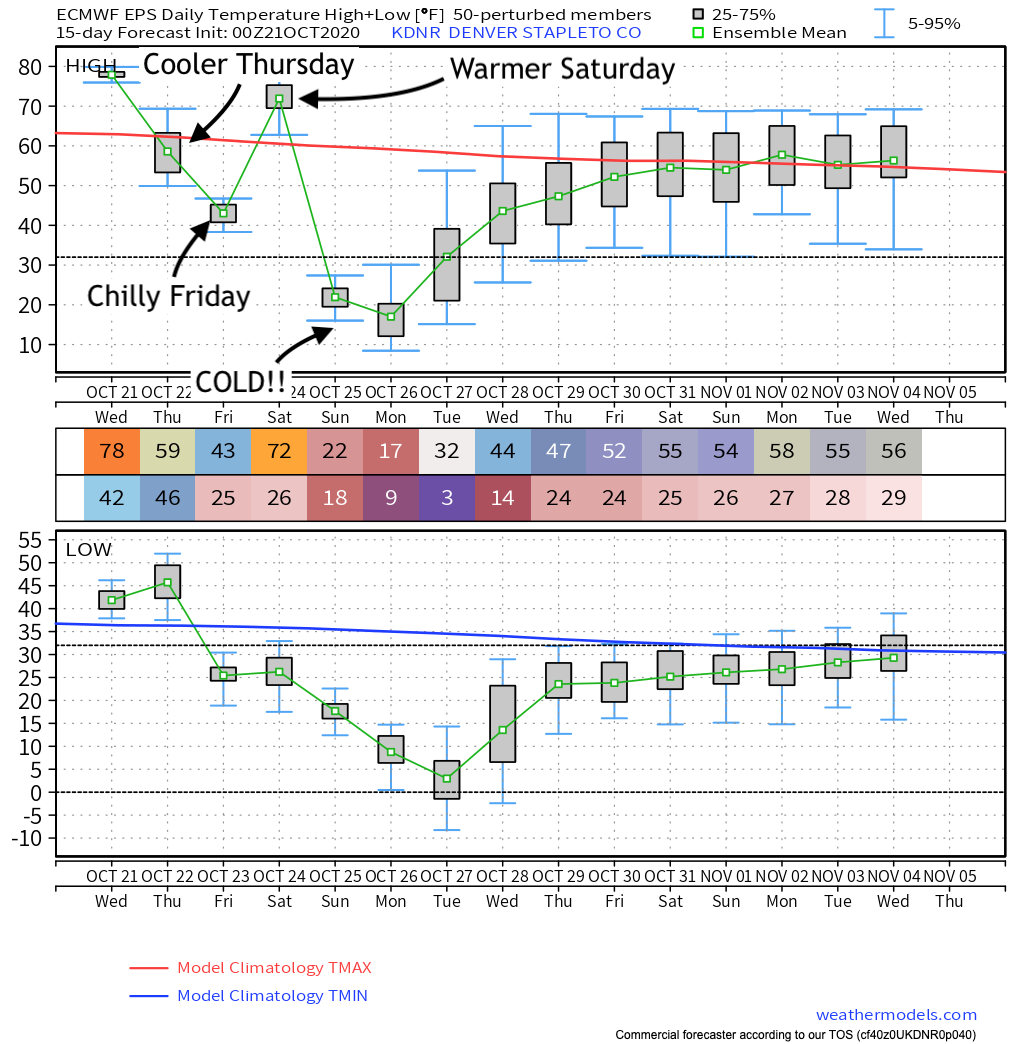 As mentioned above, the front that moves through Thursday night into Friday morning will have some potential to bring a few light showers/snow showers across the northern urban corridor.
Looking at probabilities we see the chance for that rain/snow isn't all that impressive, but a chance nonetheless. If a few locations see some flurries or a light coating of snow Friday morning, don't be caught off guard.

The better chance of snow will arrive Saturday night or early Sunday morning. First across far northern Colorado, and eventually spreading south across the Denver metro area and out across the Southeast Plains.
For Denver, current timing shows the potential for the heaviest snow to move through Sunday afternoon and evening. This will be a banded snowfall event, and with that expect mostly light snowfall outside of one or two primary snow bands moving from north to south from Sunday into Monday.
Here's a look at the GFS forecast for early Sunday, with snow starting in our northern mountains and approaching the Wyoming/Colorado state line: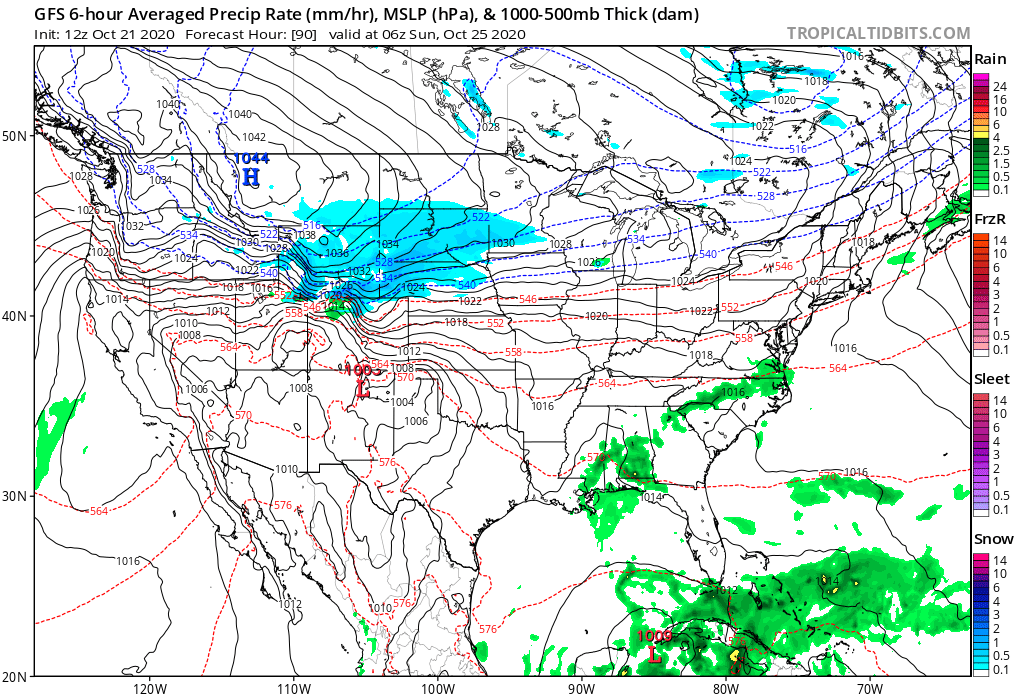 By mid Sunday morning heavy snow is falling across the Northern Front Range mountains and foothills with snow coverage increasing across the Plains: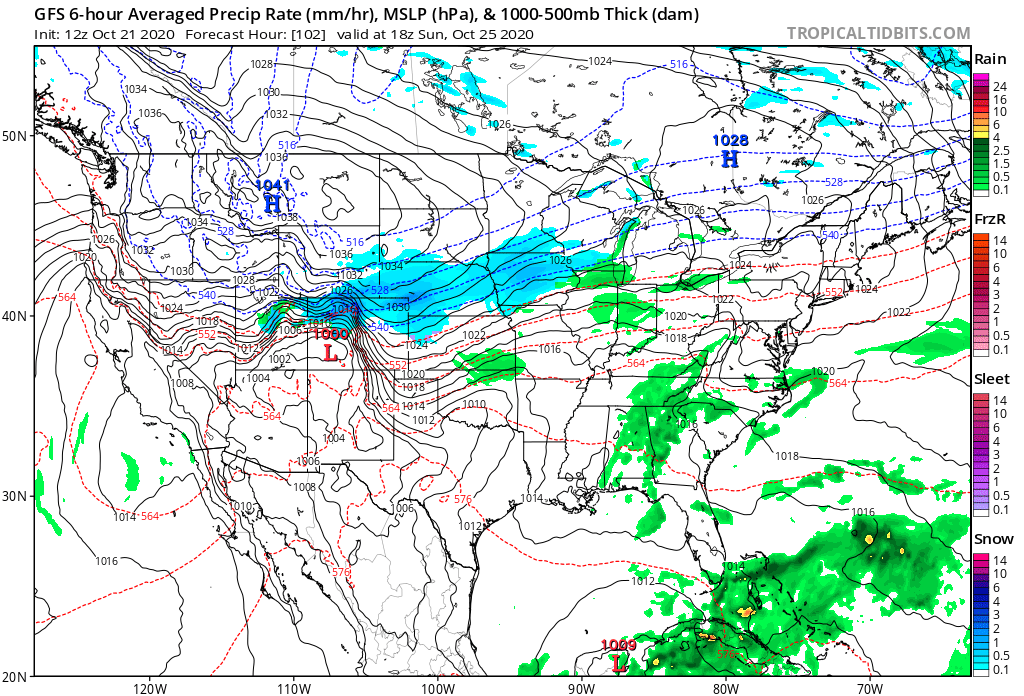 By Sunday evening widespread snow is expected across Northern Colorado, with a band of heavier snowfall stretching southwest to northeast slowly sagging south across the region: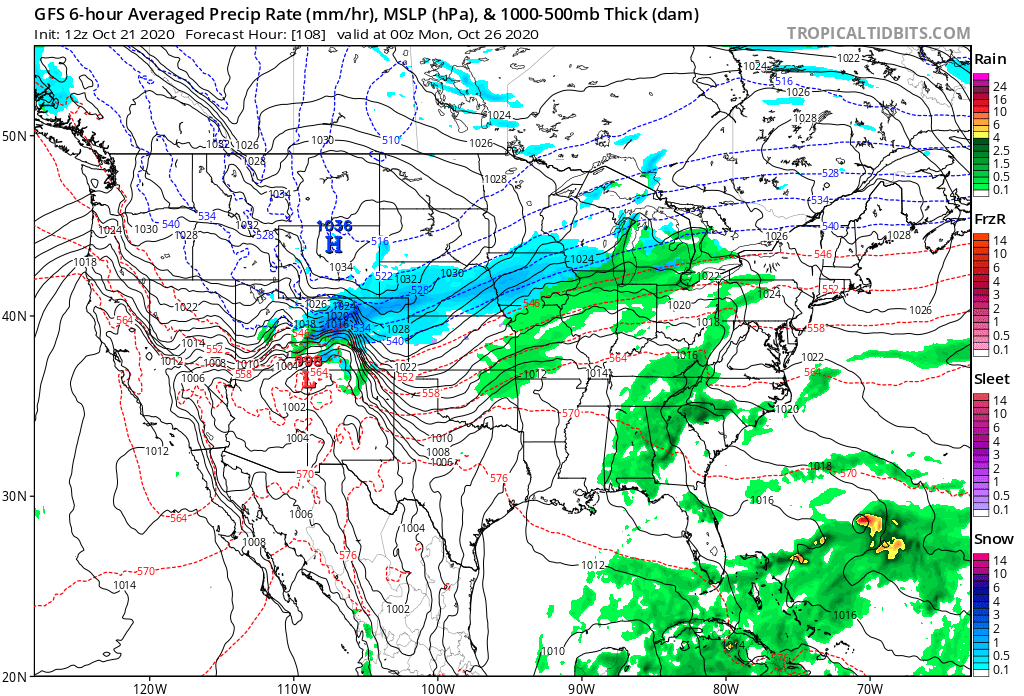 The heaviest snow is expected to accumulate along and west of I-25 with this system, with much lighter snow (in general) east of the interstate out across the Plains.
The European ensemble is pretty bullish on totals. Looking at its latest run (below) we see it showing probabilities for 3" of snow or more in the 80% range for the Denver area: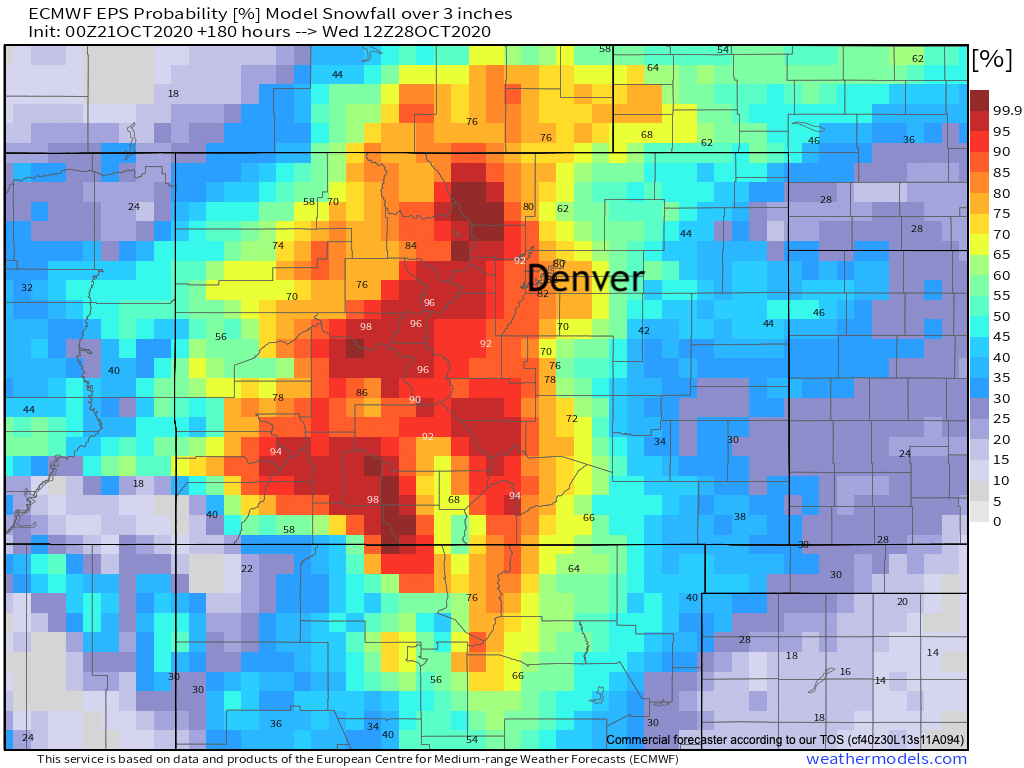 Dropping off considerably for 6" or more: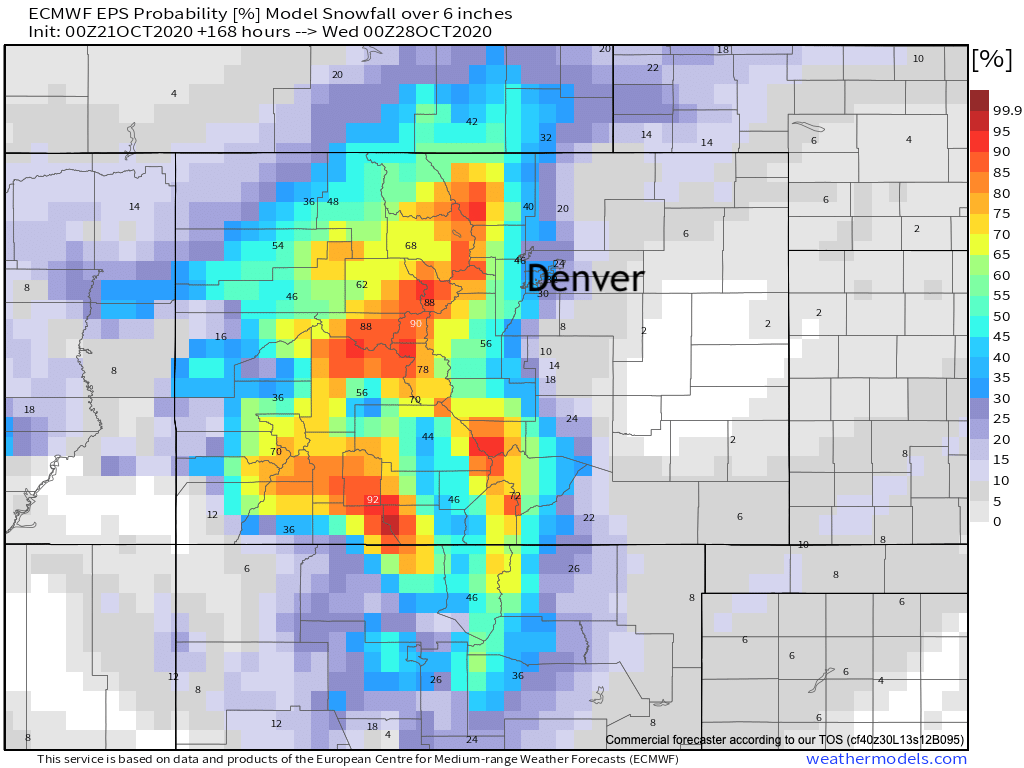 For precipitation we see a little maybe something Thursday night into Friday, with better probabilities showing up late Saturday through Sunday night:

What's clear is this will be a dramatic change to the warm and dry we've experienced over recent weeks.
Temperatures will be COLD, we are certain of that, with how much snow we ultimately see still working itself out. We do think some mountain locations will do quite well with this setup, which is welcome news as fires continue to burn across the area. For the metro areas, the potential for an impactful, accumulating snow is on the table for the second half of the weekend – so keep an eye on the forecast!