Yes, we'll be talking snow in today's update, but first... another day and half of windy weather, low humidities, and high fire danger to work through before the change arrives.
Conditions will be especially dangerous for fire activity across the mountains on Saturday, with the SPC including much of the state in its Elevated Fire Weather outlook for tomorrow. A Red Flag Warning goes into effect tonight for the northern Front Range mountains, and continues through 7pm Saturday. This includes the East Troublesome Fire area and Cameron Peak Fire area. From the SPC:
The combination of the strengthening surface pressure gradient and    very strong flow aloft will result in broad areas of 20-30 mph    surface winds, with gusts to 60 mph in terrain-favored areas.  A    critical burn environment remains in place in many of these areas,    with record-high ERCs and very large ongoing fires.  The main    limiting factor for a higher fire-weather threat is only modestly    low RH values, which may not fall below 15% for sufficient duration    to justify any critical upgrades.  Central/southern Colorado into    northeastern New Mexico appears to have the greatest chance of  critically low RH during peak heating hours, and these areas may need critical upgrades in later outlooks pending observations and newer model guidance.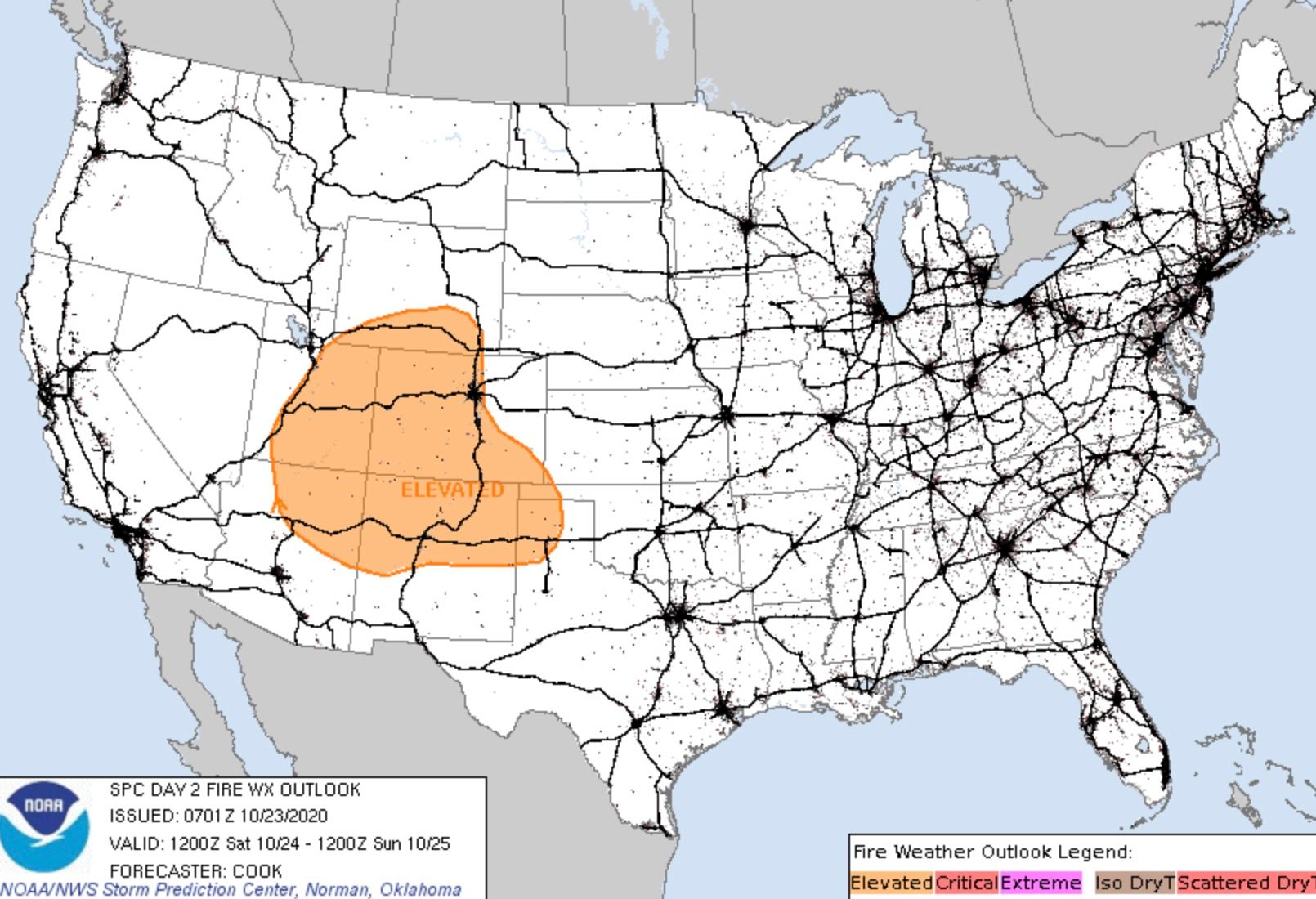 The latest NWS hazards map shows the Red Flag Warning for our mountains, Freeze Warnings east of Colorado, and a Winter Storm Watch in effect for the High Plains:
The East Troublesome Fire continued its remarkable growth on Thursday. The fire is now estimated at 170,163 acres, making it the second largest fire on record for Colorado, second only to the Cameron Peak Fire which continues to burn. While no official tally has been released of how many structures have been lost, we know many have. We also know there have been heroic efforts from firefighters in recent days to save many, many more homes and structures. The next 24 to 36 hours won't be easy, with evacuation orders still in place for Granby, Grand Lake, and Estes Park.
Here is a look at the latest fire perimeter map, with the East Troublesome Fire and Cameron Peak Fire now getting awful close to merging. An interactive version of this map can be found here.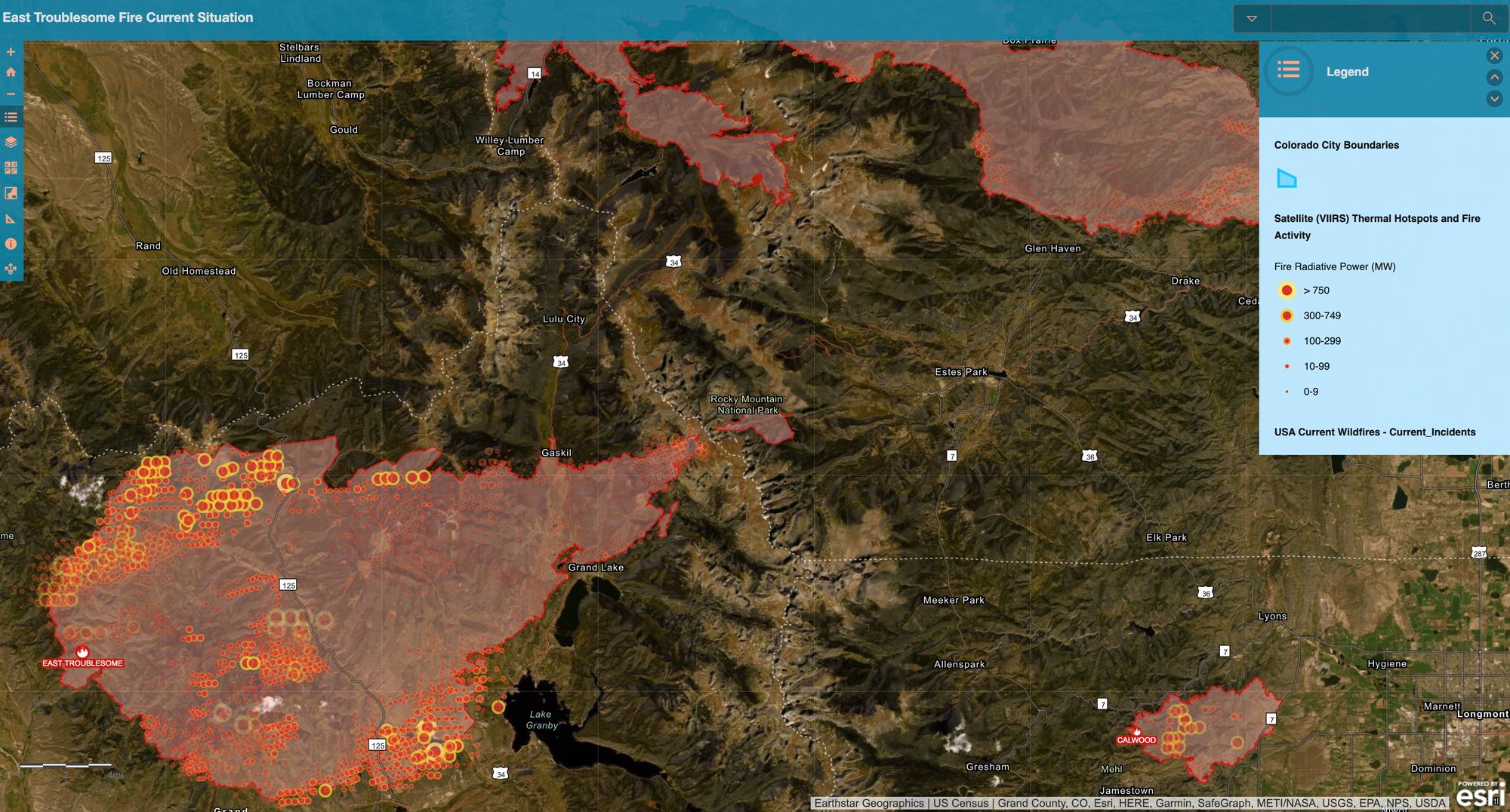 Snow is coming
The good news is, snow is coming. Unfortunately part of what will drive the extreme fire danger on Saturday is the approaching trough that will eventually bring the cold and snow to the state.
We see the best chance of snow coming Sunday into Monday. The further north you are the earlier that snow arrives on Sunday, the further south the later it'll arrive.
For the East Troublesome Fire area we see precipitation chances increase Saturday night, followed by a good chance of moisture Sunday into Sunday night:

A similar look for Denver as as well, with the better moisture holding off until Sunday vs Saturday night.

The hourly timeline reflects this as well. Dry between now and Saturday evening for Denver, but the chance of rain then snow increasing Saturday night into early Sunday morning. The greatest chance for snow still looks to come Sunday afternoon and evening to the greater metro area.
Temperatures will be chilly today, mild on Saturday ahead of the storm, then sharply colder for Sunday and Monday. Out current outlook calls for highs in the 60s on Saturday, then falling into the low 20s by Sunday afternoon, eventually bottoming out near 10°F Sunday night into Monday: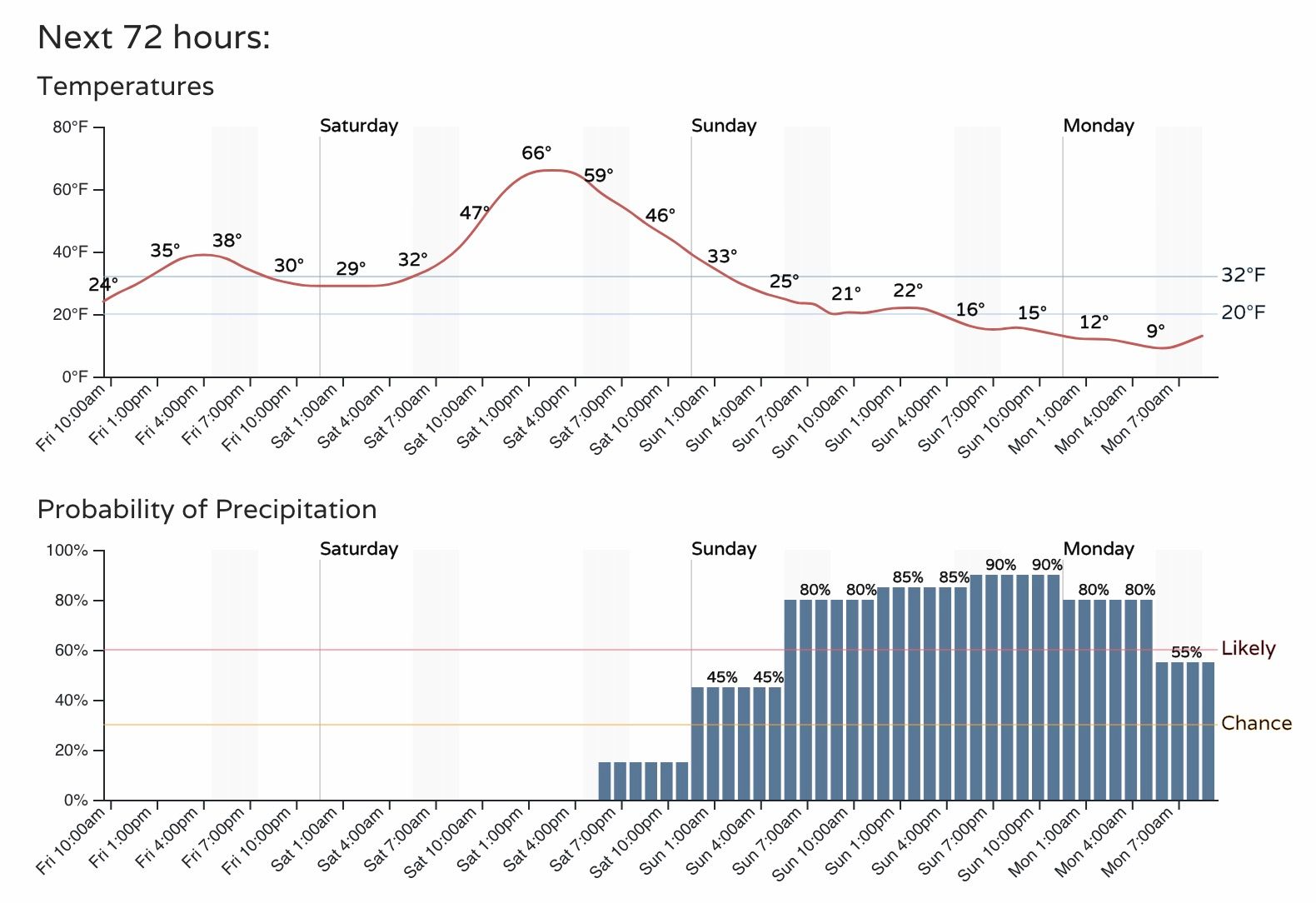 How much snow?
This will be a banded snowfall event, meaning the haves and have nots will be on two ends of the spectrum from very little snow (just cold!) to a decent snowfall event.
The latest GFS shows the heaviest band lining up across the Denver metro area, with much lower totals north and south. In recent days that exact placement has fluctuated some, generally from being a bit further north (over Boulder County and east) and now a few miles south. For Fort Collins and Colorado Springs this scenario, should it play out like this, would be a low-end event, but the first meaningful snow for most of the Denver area this season. For the fires ... some snow is better than no snow, but it would be nice to see a bit more projected by this model for those areas being impacted: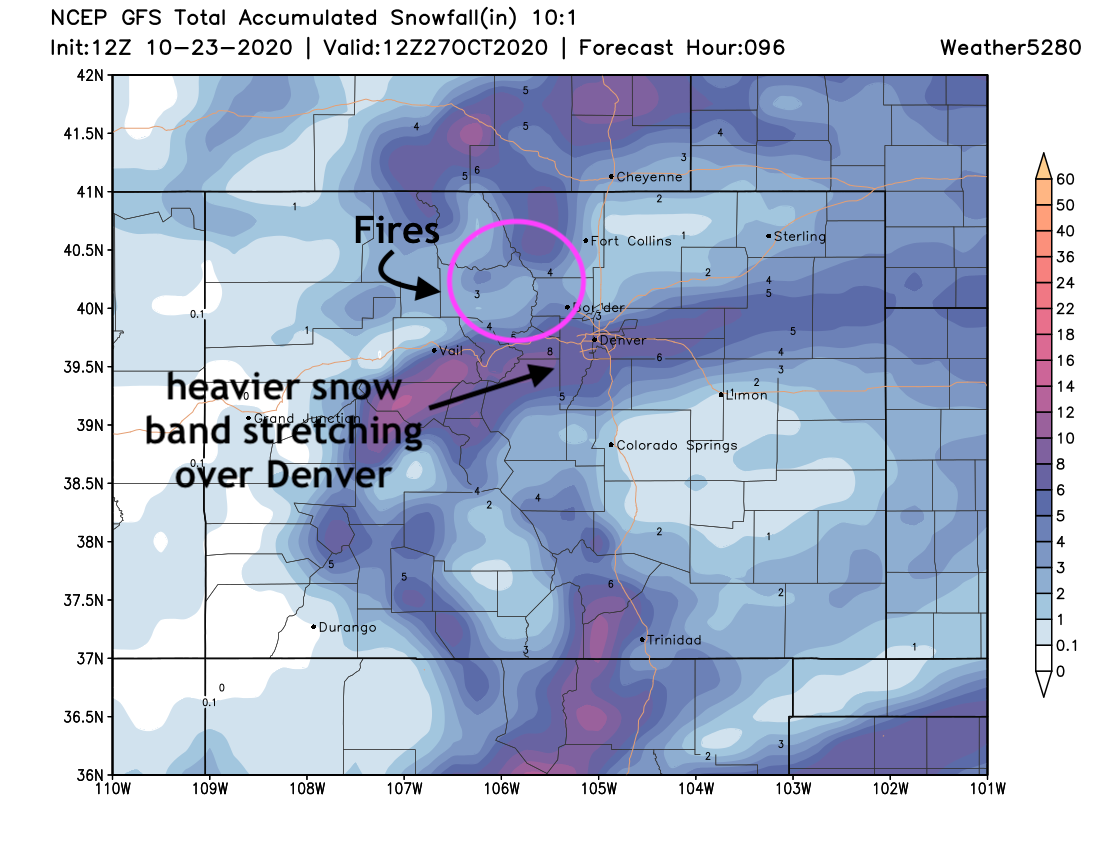 The European operational run continues to paint the heaviest band of snow lining up north of Denver, and far more impactful for the fire areas as well. It'll be interesting to see if the two models come into better agreement today or not. It's also worth noting that the Euro has been generally wetter with this system the GFS – which given the ongoing drought could mean this model ends up being overdone with it's QPF (liquid forecast).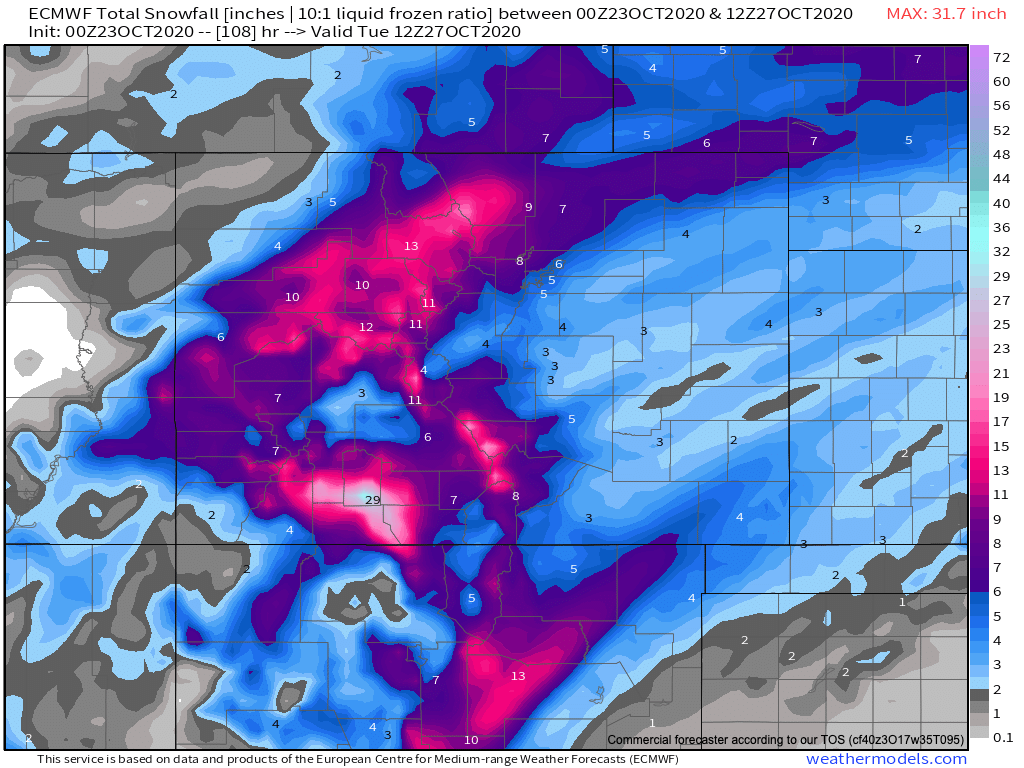 The European ensemble is also a bit more bullish for the northern urban corridor and even more promising for those fire areas. That said, its resolution is lower than the operational GFS, so it won't pick up on the subtleties of some of these banded events either. What is clear, is that probabilities for 3" of snow or more are much lower once you get south of the Palmer Divide: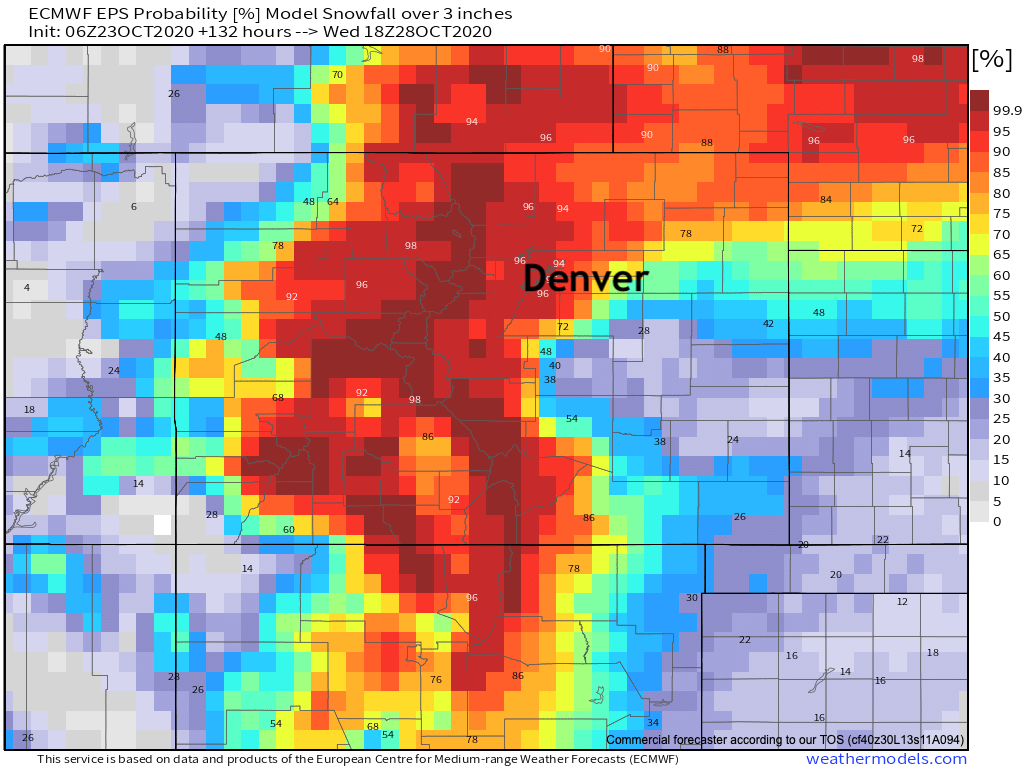 Taking the above graphics, and considering the 25th and 50th percentile outlooks from the WPC would indicate a nice accumulating snowfall looks likely for the second half of the weekend across northern Colorado.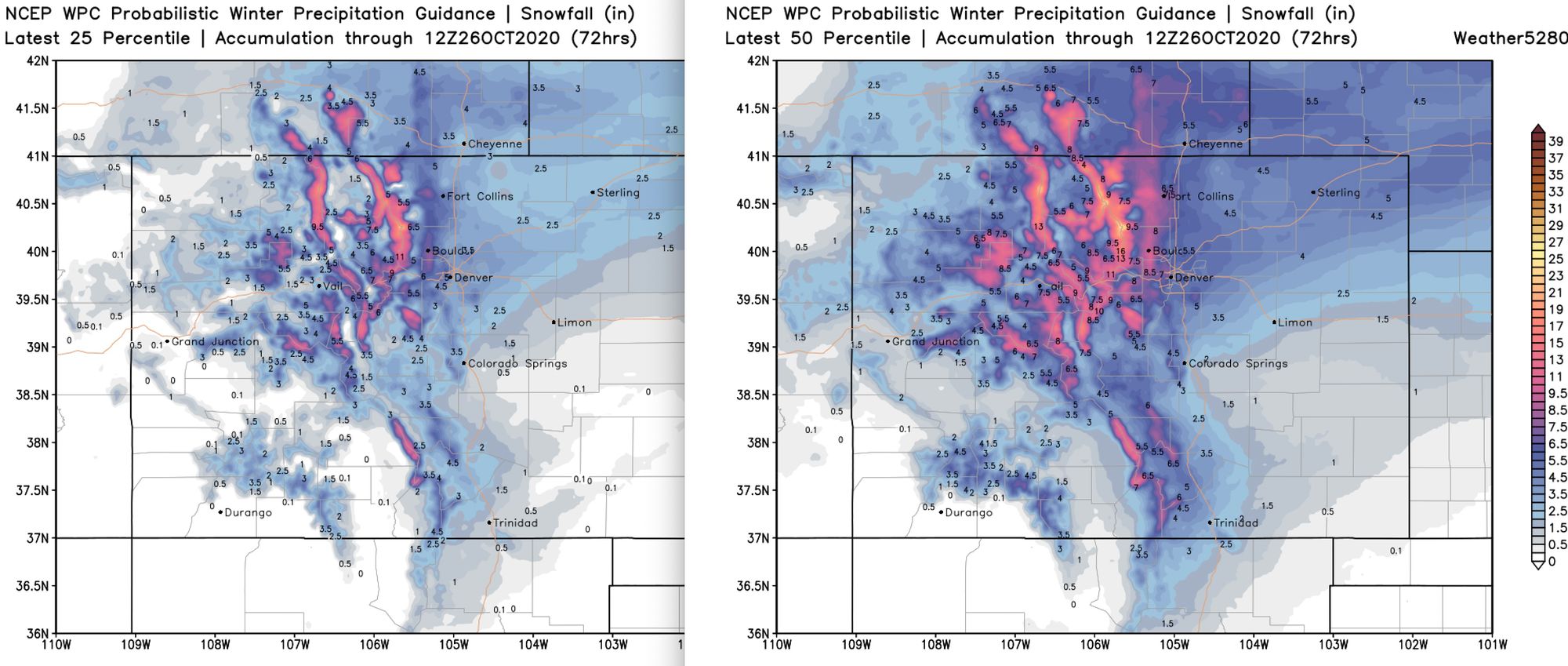 Where the heavier bands of snow set up a good 3 - 6" looks likely for those living along the I-25 corridor from Castle Rock north to the state Line. As you go further west – think Jefferson County, Boulder, West Fort Collins totals from 4 - 8" or locally higher would be possible. For the same areas that miss on the heavier bands, halving those totals seems reasonable – so still something!