Latest satellite imagery shows plenty of clouds to our north as big changes are set to arrive later tonight and Sunday to Northern Colorado.
Ahead of these changes, clear skies, dry air, and westerly winds – all combining for yet another day of extreme fire danger across much of the state, including for the East Troublesome Fire and Cameron Peak Fire where we've already seen winds gusting to 40 mph today.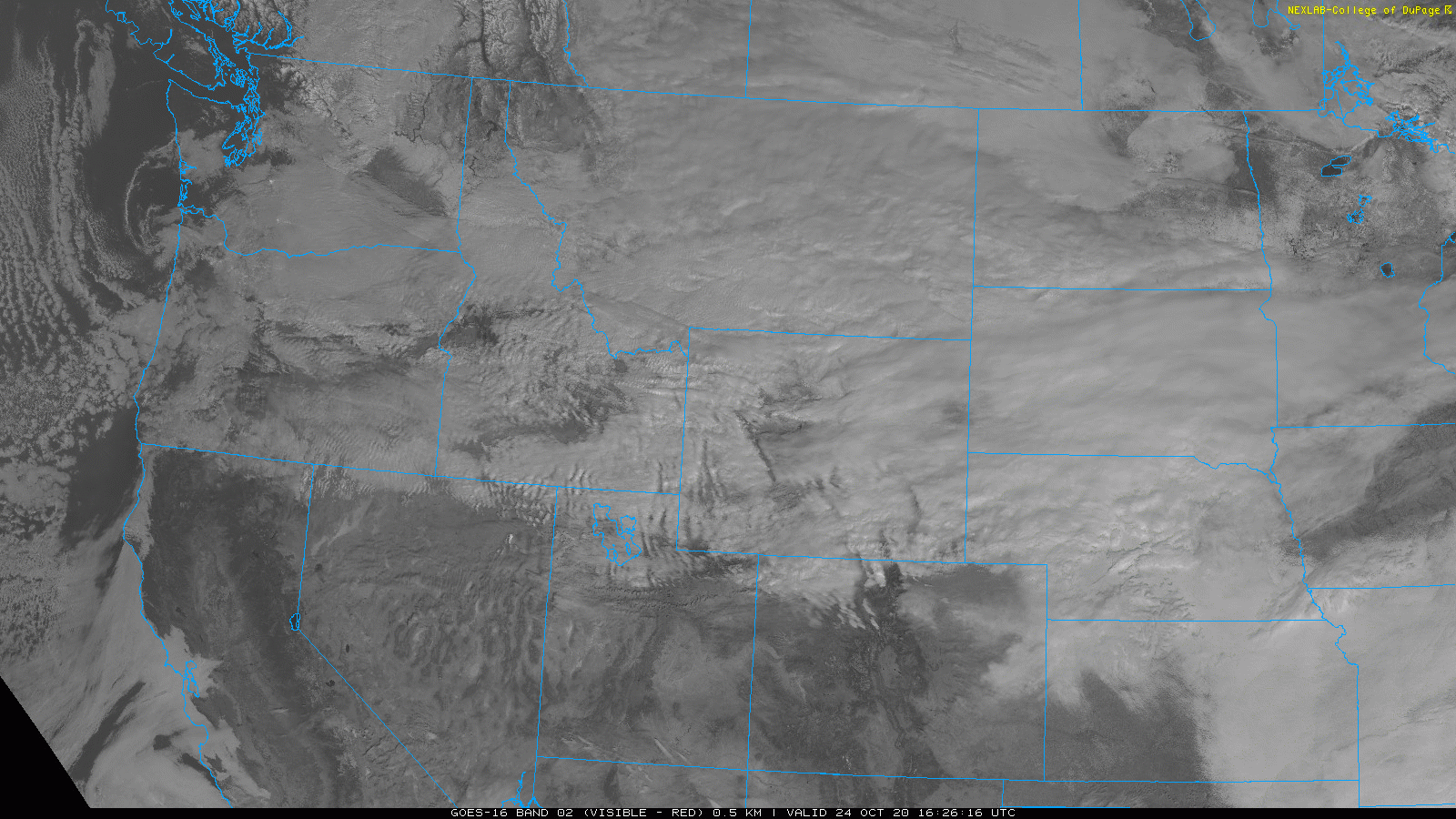 Wind will continue to be an issue for firefighting efforts through the afternoon, and some of that wind will make it down to lower elevations as the day progresses as well.
The Red Flag Warnings in effect are across northern and central Colorado are set to expire after 7 pm this evening. Winter Storm Watches go into effect at midnight for the northern mountains, and 6 am Sunday elsewhere. Cities from Castle Rock, to Denver, to Boulder and points north and east are all included in the Winter Storm Watch at this time, while Colorado Springs is not.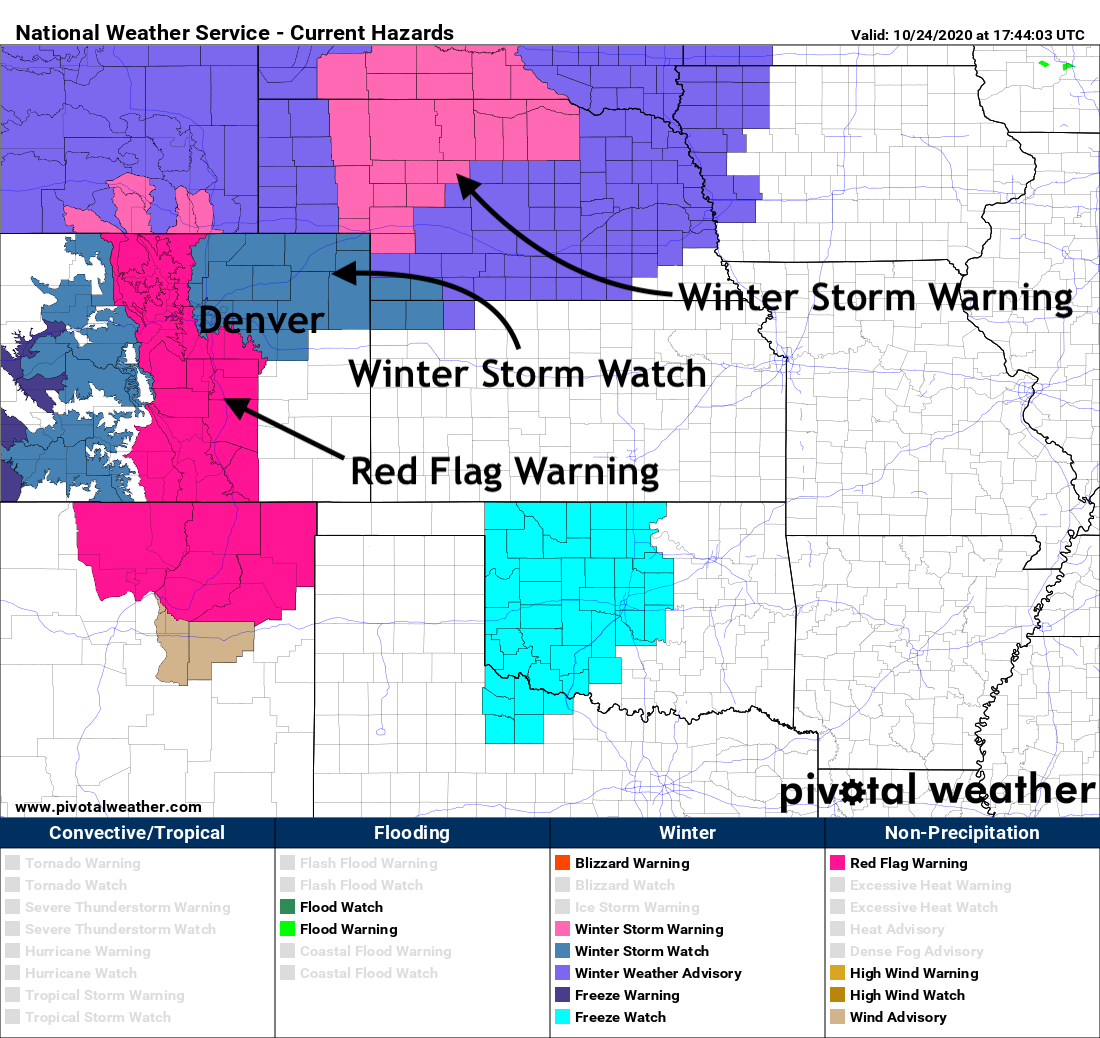 Timing and impacts
Through the remainder of today look for mild temperatures at lower elevations with gusty winds at times as well. For the Front Range foothills and mountains the next 8 hours remain critical for fire danger, and we're likely to see continued rapid growth at times from current fires across the region. Help is coming, but part of that change is what's driving to the increased hazards through the remainder of the day, with perhaps some showers developing in the mountains by about 9 pm this evening.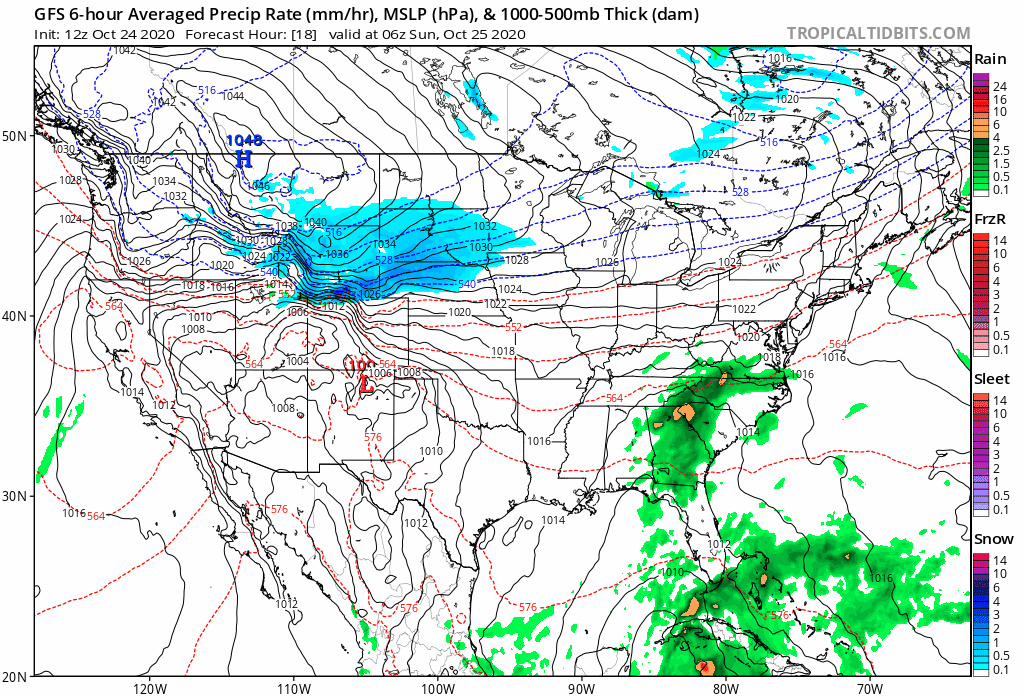 Our hourly outlook for Denver has not changed all that much. The high temperature for Sunday won't be all the reflective of how cold it'll actually be while most of us are awake, as it's expected to come around midnight tonight, with temperatures steadily falling through the day Sunday. We expect temperatures to fall into the teens across the metro area Sunday morning and stay there through the remainder of the day, eventually dipping into the single digits by Monday morning.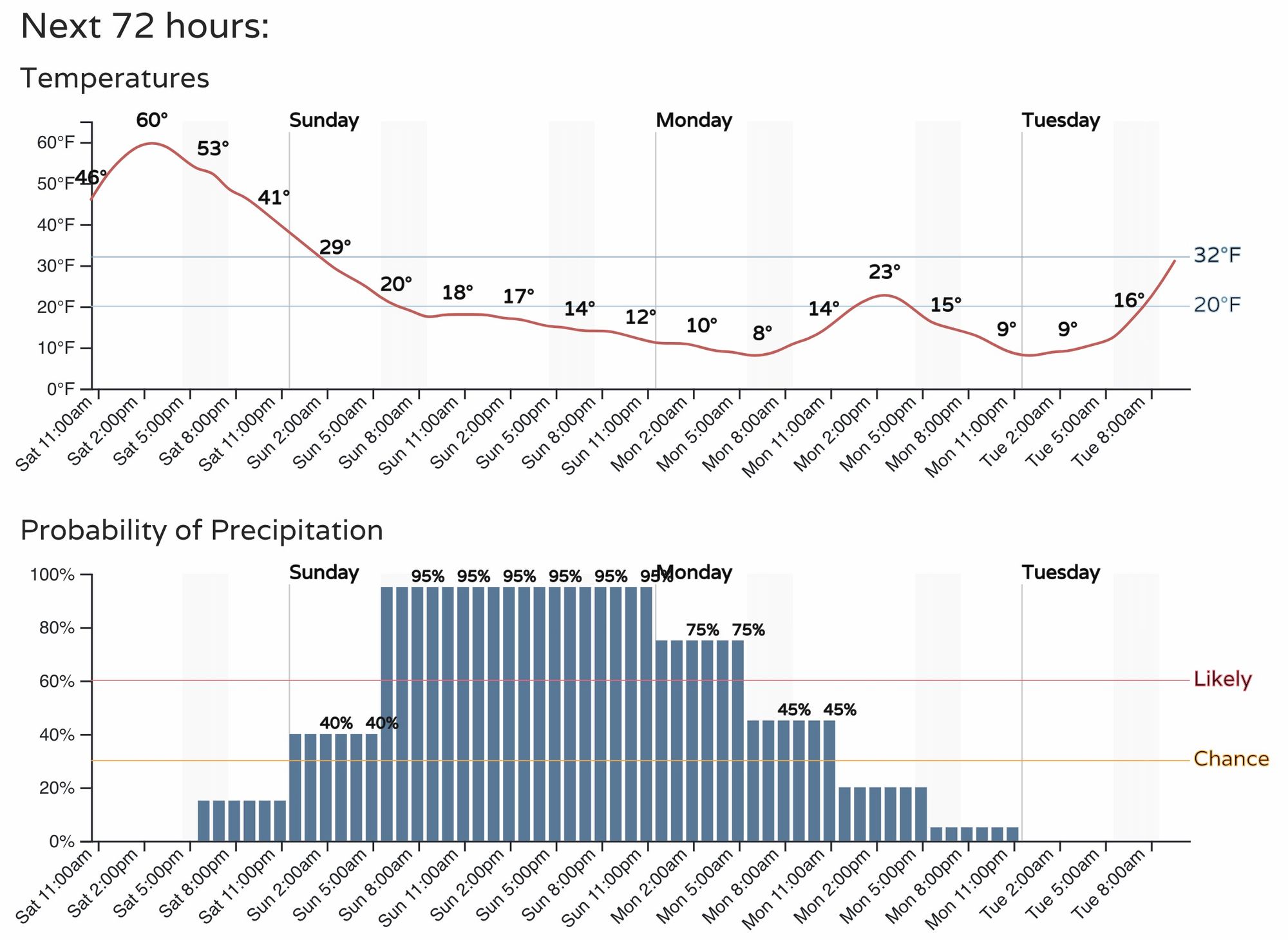 As you can see, the best chance of snow will come during the day Sunday and into Sunday night before tapering off from north to south. For those north of Denver you can move this timeline up a few hours, and for those south – back a few hours.
Even with the recent warmth and much of the snow coming during the day Sunday we think the bitter cold temperatures and the fact we're getting just a bit later in the season now will mean this will be an impactful snow event for our roads. This is especially true for areas that see the bulk of their snow later in the afternoon Sunday and into Sunday night. The more snow that falls during the day the lower the totals and road impacts will be.
It's been awhile since we've had winter driving conditions to contend with, so plan accordingly – and better yet, stay home!
Snowfall totals
There's still a bit of a split in the modeling, with some models placing the heaviest snow band well to Denver's north, others directly over the city. In either event, definitely some high-end potential with this system, but not for everyone.
With pretty bullish numbers in the modeling, we'll go ahead and up our totals a touch from what we issued yesterday. While there will be plenty of variation in totals within these areas due to banding, we think there's enough upside with this setup to warrant these broad-brushed totals.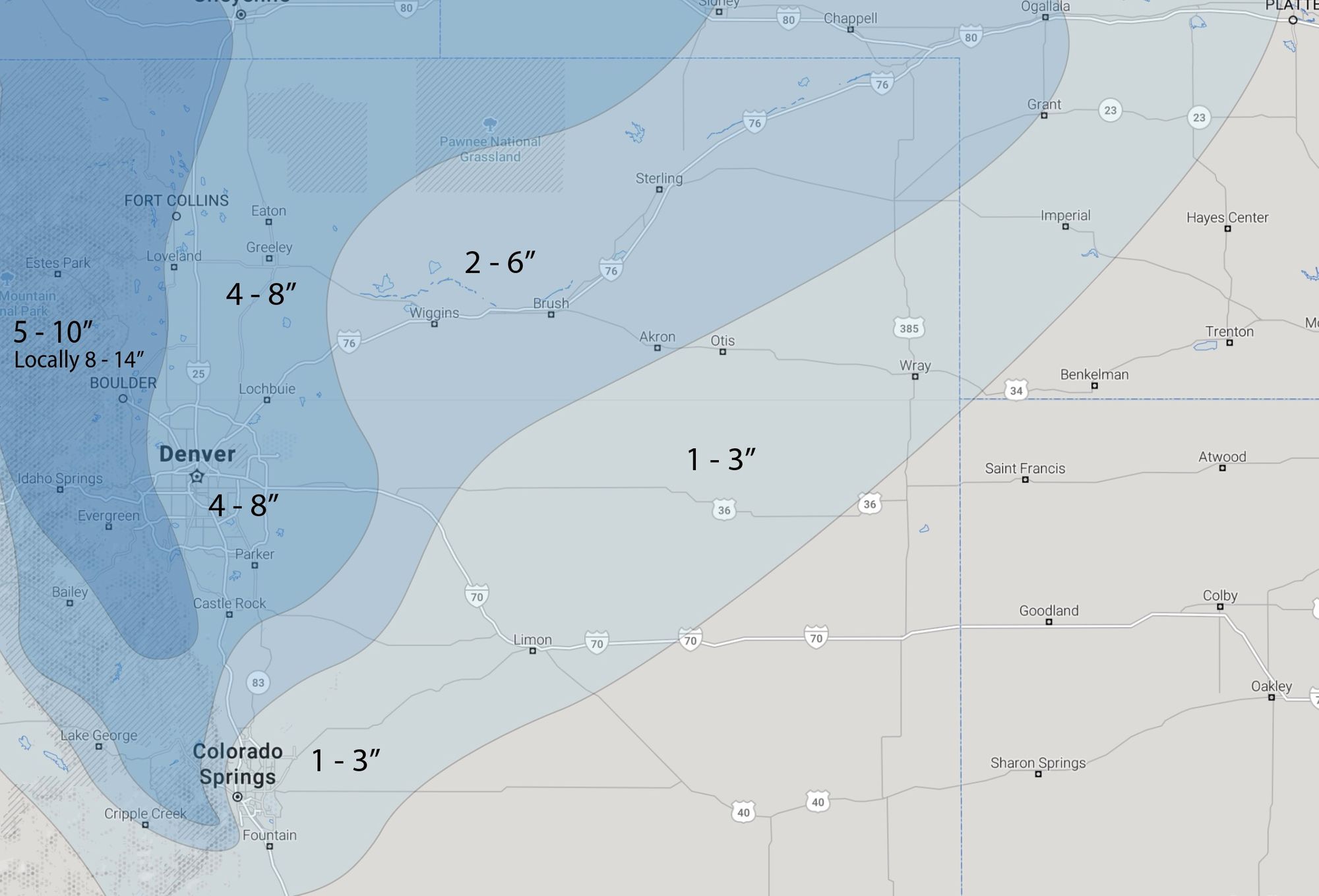 As you can see, the west side is in the 5 - 10" range – this includes Denver's western suburbs, the city of Boulder, and western Fort Collins. Locally we could see upwards of a foot of snow, especially for areas at higher elevations within this zone.
For the bulk of the urban corridor we'll go with 4 - 8" of snow, with again likely some areas that "boom" if heavier banded snowfall occurs.
South of the Palmer Divide we expect totals to drop off and therefore will continue with 1 - 3" for Colorado Springs. Of note, the latest European model shows more like 3 - 5" for COS, so we'll see how it shakes out.
Probabilistically the greatest odds for a boom snowfall (greater accumulation than forecast), looks like it could be north of the immediate Denver area. While the GFS has been VERY consistent in bringing the heavier band right over the metro area, much of the other data would be supportive of that occurrence being to our north. Boulder, Loveland, Fort Collins have the greatest odds of 6 inches of snow or more in the latest Euro ensemble forecast below, with areas south of downtown Denver with much lower odds: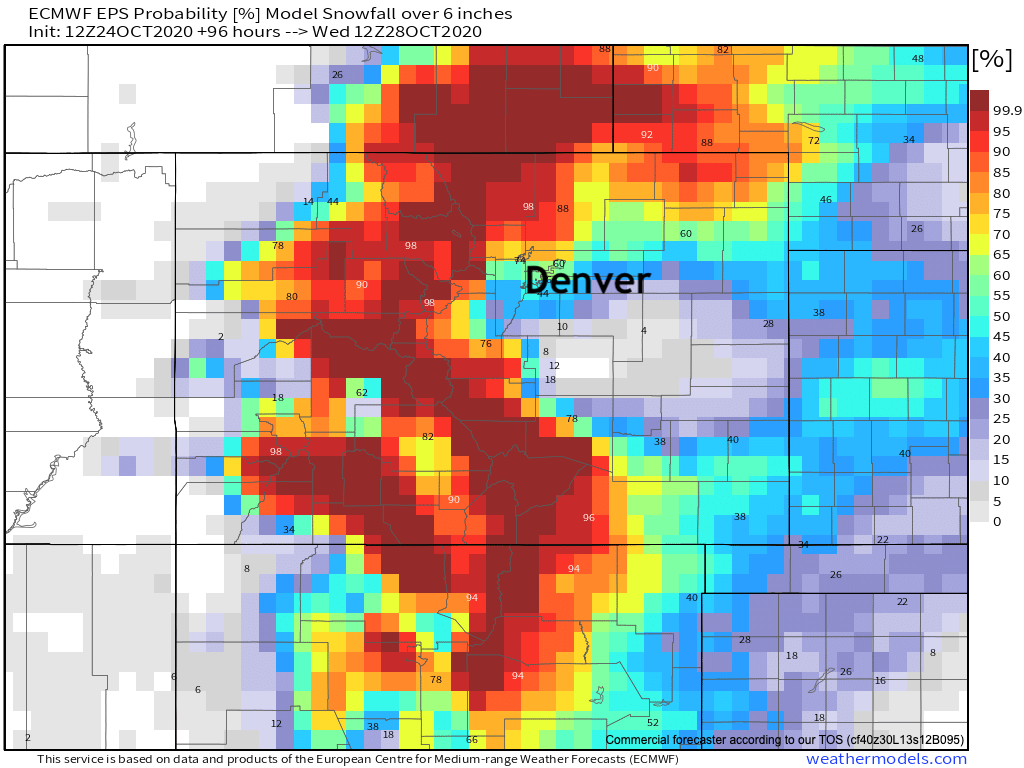 Another round of data to go this evening, we'll see if anything changes dramatically. At some point Advisories and Warnings will replace the Watches currently in effect, so check back here later in the day. All the NWS alerts are published here on Weather5280.com.
Boom or bust, a HUGE change in our weather. Enjoy the snow, keep us posted as to how much you see, and stay warm!
---
One more quick note this afternoon... We realize our snowfall gamblers haven't been updating reliably in recent days, as has also been the case with some of our model data. Our upstream data services have been having outages, which have yet to be resolved. We are working on work arounds, but in the mean time thank you for your patience!
---
Happy weathering folks, and good-riddance fire danger. PLEASE let it snow HEAVILY across our parched, fire-stricken mountains.