If you don't pay too much attention to the reality of how little snow has accumulated, it almost feels like a 'real storm' out there today. Temperatures have been in the teens and 20s all day, and the snow has been falling steadily since early this morning, it feels like winter.
We're approaching 1.5" of snow here on the west side just after 1pm. We expect to add another 1/2" to 1" to that total through the remainder of the day, and perhaps not even that much for many of us. Here's the latest forecast from the short-range HRRR model, showing expected additional snowfall through 2am tonight:
With time, the snow will begin to diminish across Eastern Colorado. In its wake a bitter cold night ahead. Single digits to about 10°F is about where most folks will bottom out early Wednesday morning, before we begin a nice warming trend for the remainder of the week.
By 2am the HRRR model shows frigid temperatures statewide. It won't come as as shock if some locations across the Plains drop below zero tonight, especially if we can get some clouds to clear out.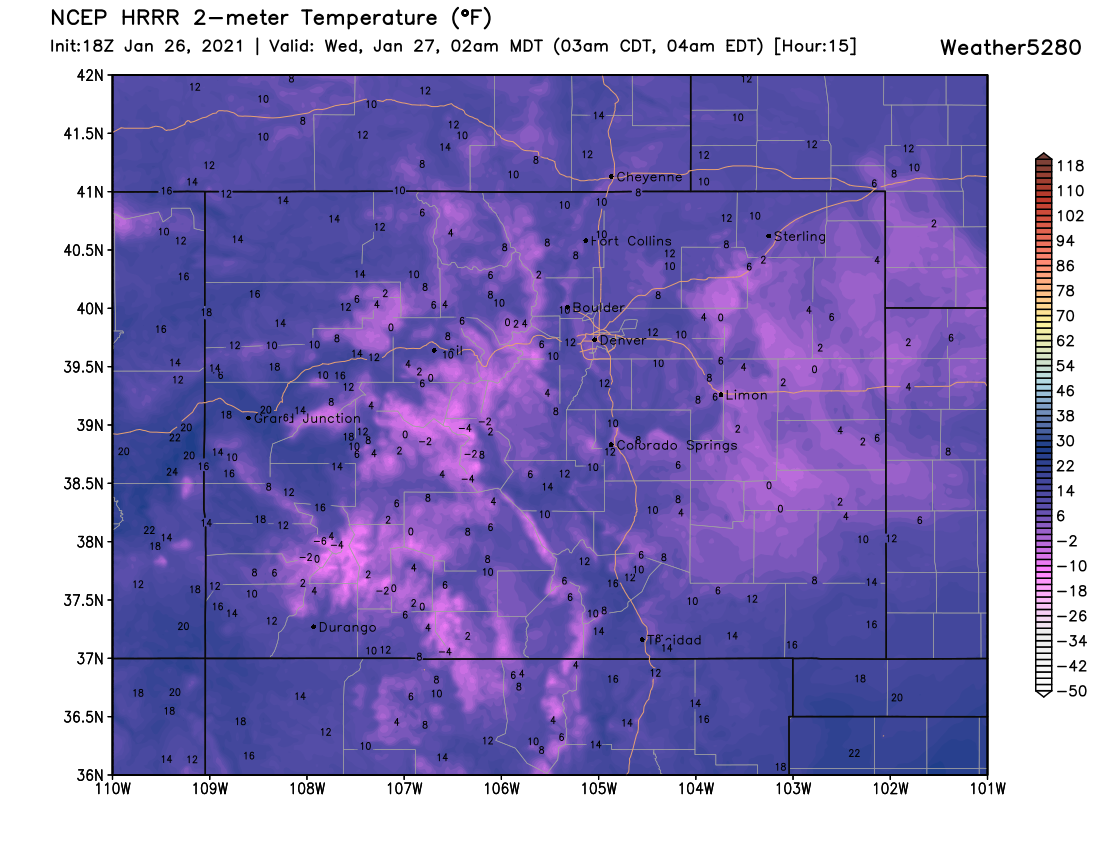 At any rate, COLD, with snow gradually coming to an end Tuesday evening for the urban corridor and overnight across the Plains. Here is the latest timeline for the Denver metro area, showing that chance of snow really dropping off after about 5pm this evening, but still some flurries and showers possible into the night before clearing.

The hourly outlook for temperatures shows a warmer but still chilly day on Wednesday, before we warm another ten degrees or so for highs on Thursday. The warmest day of the week across Northeast Colorado is expected on Friday, with highs in the upper 50s across the urban corridor to finish off the work week.

The next round of snow for the high country moves in Friday night and Saturday, but at this time this looks like a mostly dry (perhaps windy, with isolated showers) system east of the hills. We'll of course track that system and pass along any changes to that thinking if need by, but for now look for highs to drop about 10 degrees Saturday from highs on Friday, making it a cooler (but still mild) start to the weekend as the system moves overhead.
A check on the trusty GEFS shows today's snow coming to an end, the scattered (isolated?) showers possible this weekend, and then a hint of something colder and wetter to move through here in the first week of February. We'll be tracking that one closely here as well as for our Insiders should that continue to show up in the data going forward.