We hope everyone is staying warm! The cold is here, and will be with us for a couple more days. Check out the current reading as of 8pm, with windchills well below this.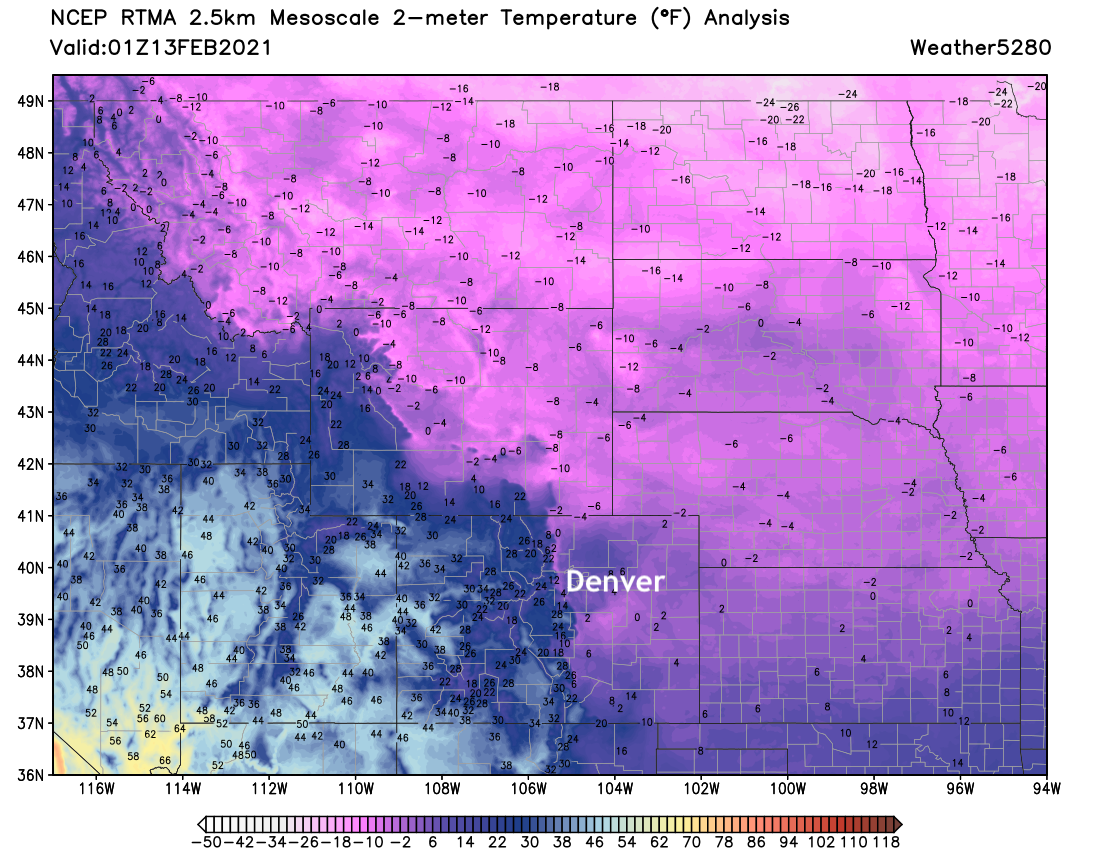 And yes, it'll only get colder. The high Sunday will be in the single digits for Denver, with some models (such as the GFS below) showing a high of -1°F for the city. Overnight lows Sunday night into Monday morning will be the ones to watch – should we clear quicker than expected we would likely drop (well?) below -10°F. Wind chill values will be running 20 to 40 below zero later Sunday night into Monday morning, across Eastern Colorado. Absolutely frigid stuff!

We saw some snow last night, and could see a bit tonight as well, but little accumulation is expected for the areas that do pick up the showers and flurries.
The better chance of snow picks up tomorrow afternoon and over night into Sunday morning. Here is the latest hourly planner for the Denver area, very much unchanged from what we've been sharing in recent days. It looks like a good chance of snow to accompany the cold Saturday evening and overnight!

How much snow? We'll broad-brush the metro area with 2 - 6". The Boulder area could do better than that, with Fort Collins, Greeley, east to Sterling all in the 3 - 7" range for totals through Sunday evening. In the end, everyone should see snow this weekend, with some potential for it to add up in a few spots.
Here are the latest gamblers for Denver. Looking like a 50% chance we make or break the 5" mark in Denver:

And with that, here's our snowfall map. It'll be very fluffy snow, so won't take much moisture to pile up some nice totals in spots.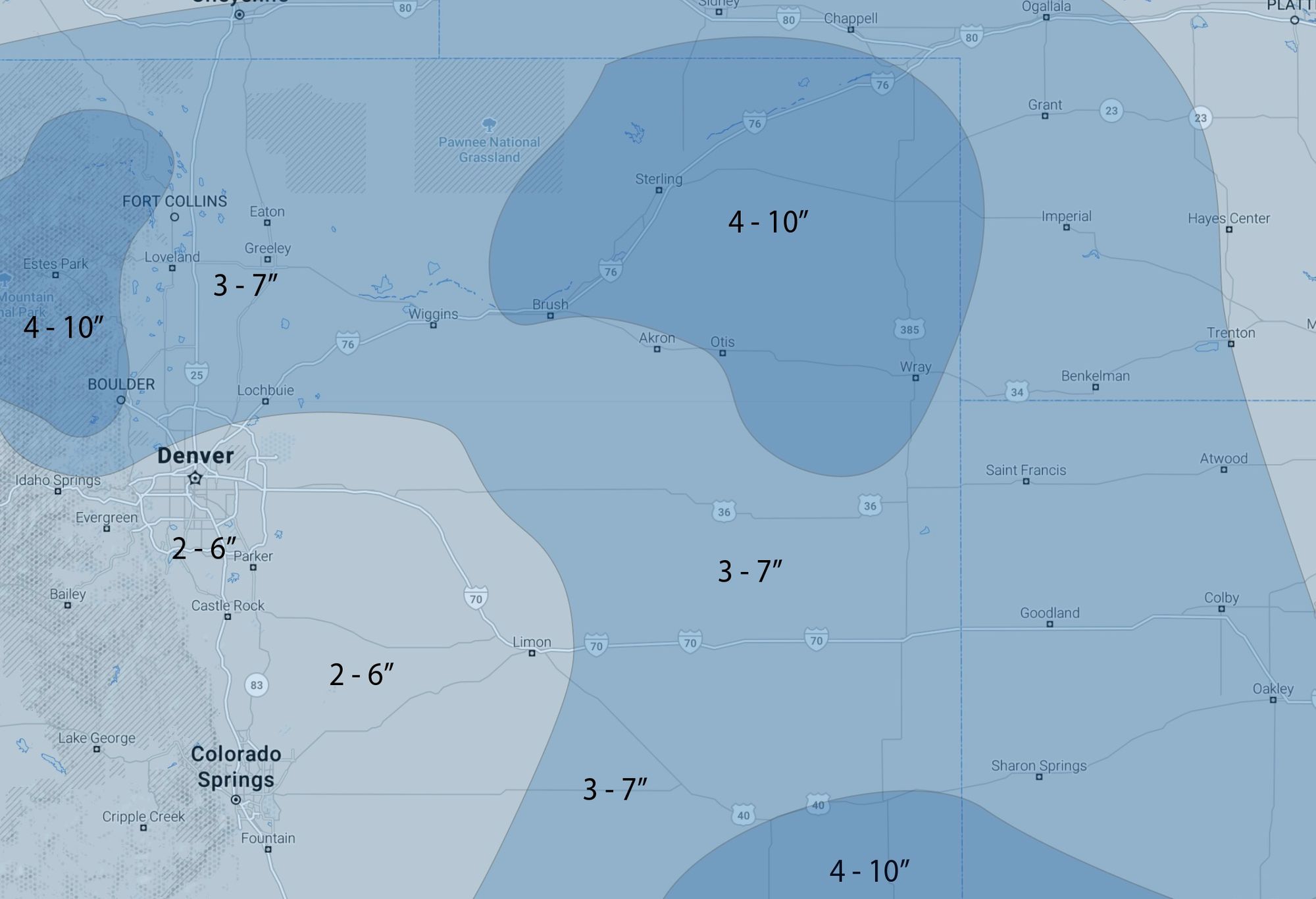 As for impacts... it should be pretty clear by now this is a good weekend to stay put if possible! Snow will come to an end across most of the state by Sunday afternoon or evening, but given the expected temperatures the impacts will remain well into your Monday morning commute.
Here's an animation from Saturday morning through Monday evening. It shows the snow increasing over Colorado Saturday afternoon and night, then dropping south into Oklahoma and Texas for Sunday night and Monday – where some areas will see significant snow and ice from this storm.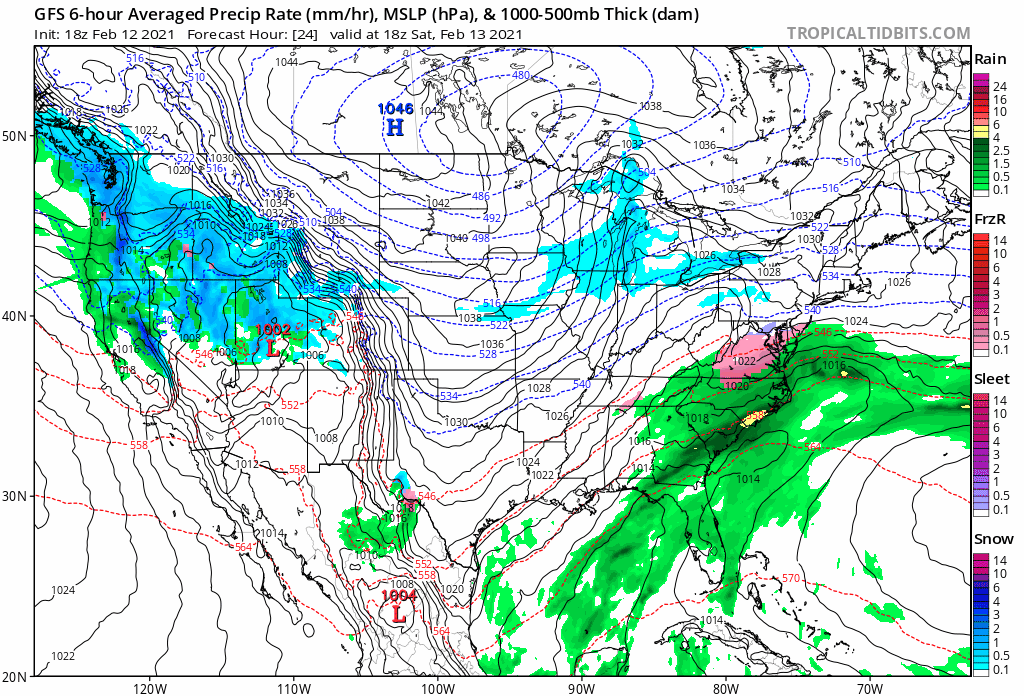 We'll leave you with this NDFD (NWS) snowfall forecast map for the coming days. Yes the cold is impressive, but not every day you're going to see a snowfall map that looks like this with big time snow on the way for the south-central United States to end the weekend: