Well, today might be for lovers, but there's not a lot to love about our snowfall forecast! A true, good old fashioned bust, at least for most of the Denver area. But hey, at least it's horribly cold?
As we opined last night, despite being consistent day in and day out, the models were well overdone with the amount of moisture we'd see from this system. So, instead of a low-end 2 - 3" event, we only managed a 1/2" to 2" in most locations.
Below is a look at snowfall totals over the last 48 hours. Denver the clear short here, but some nice totals up north, northeast, and east which does in fact match our forecast pretty well. Also, great to see some appreciable snow for some of our mountains as well this weekend!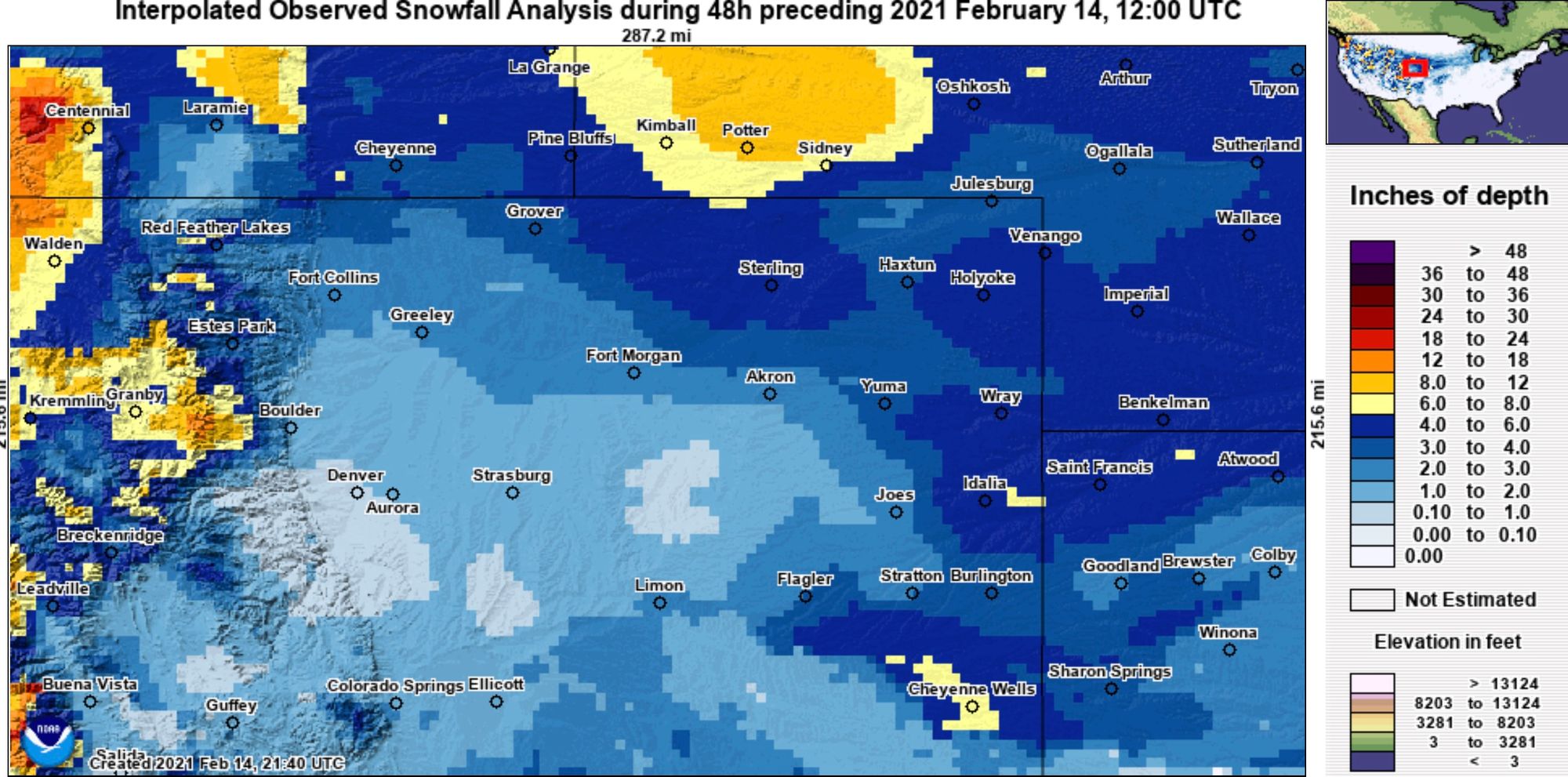 That map is an interpolation based on storm spotters and weather sites. Here's a look at what CoCoRaHS spotters reported Sunday morning, totals from a Trace to 3" or so for most of us. A link to the interactive map is here. You can also explore precipitation totals to match these reports, with some incredible snow to liquid ratios over the eastern plains last night!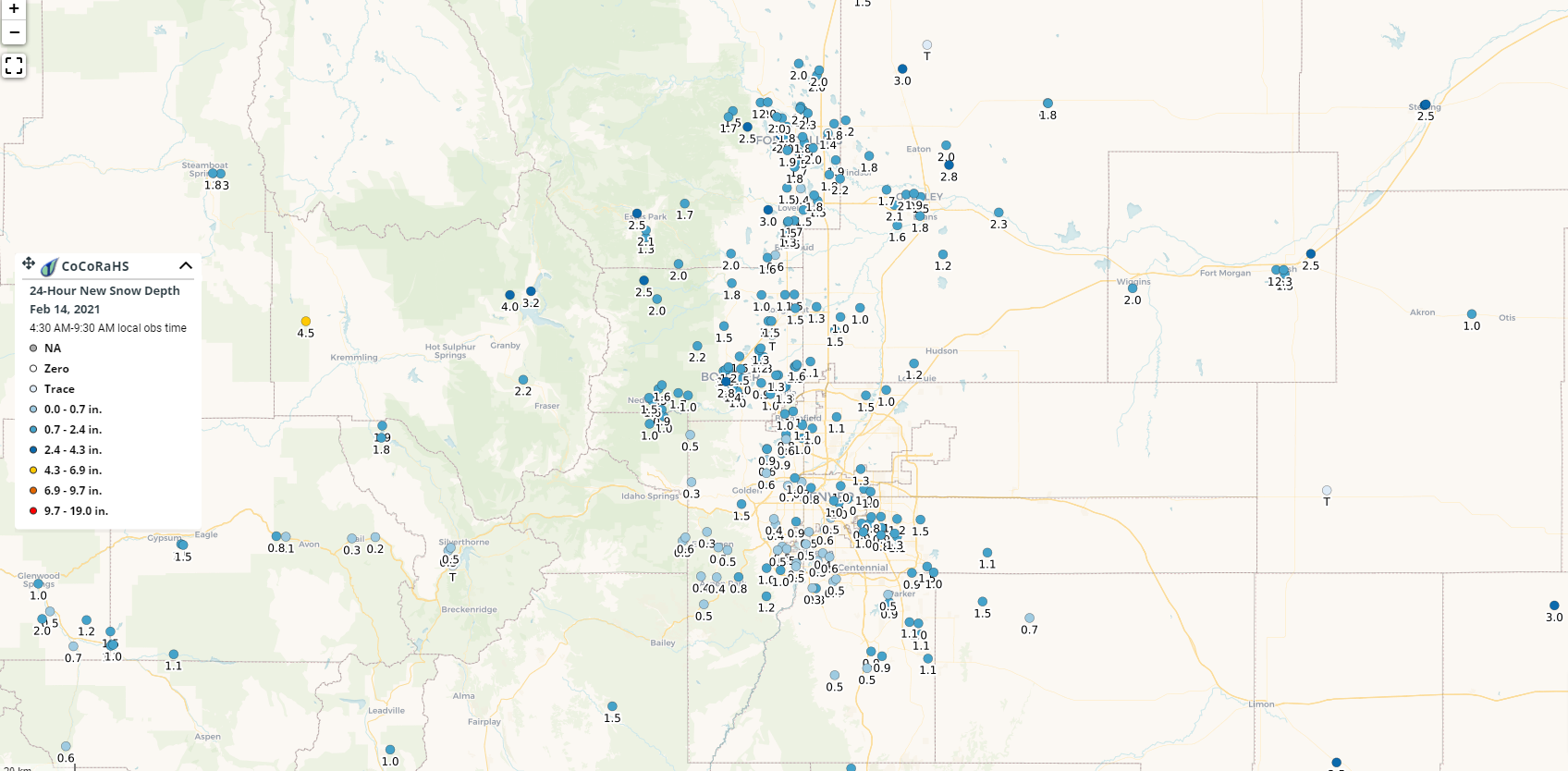 On the whole, a remarkable weekend for weather across a large portion of the country. Take a look at the hazards map from the NWS this morning. Coast to coast cold, snow, and freezing precipitation with several states across the south-central U.S. with Winter Storm Warnings in place for 100% of their counties.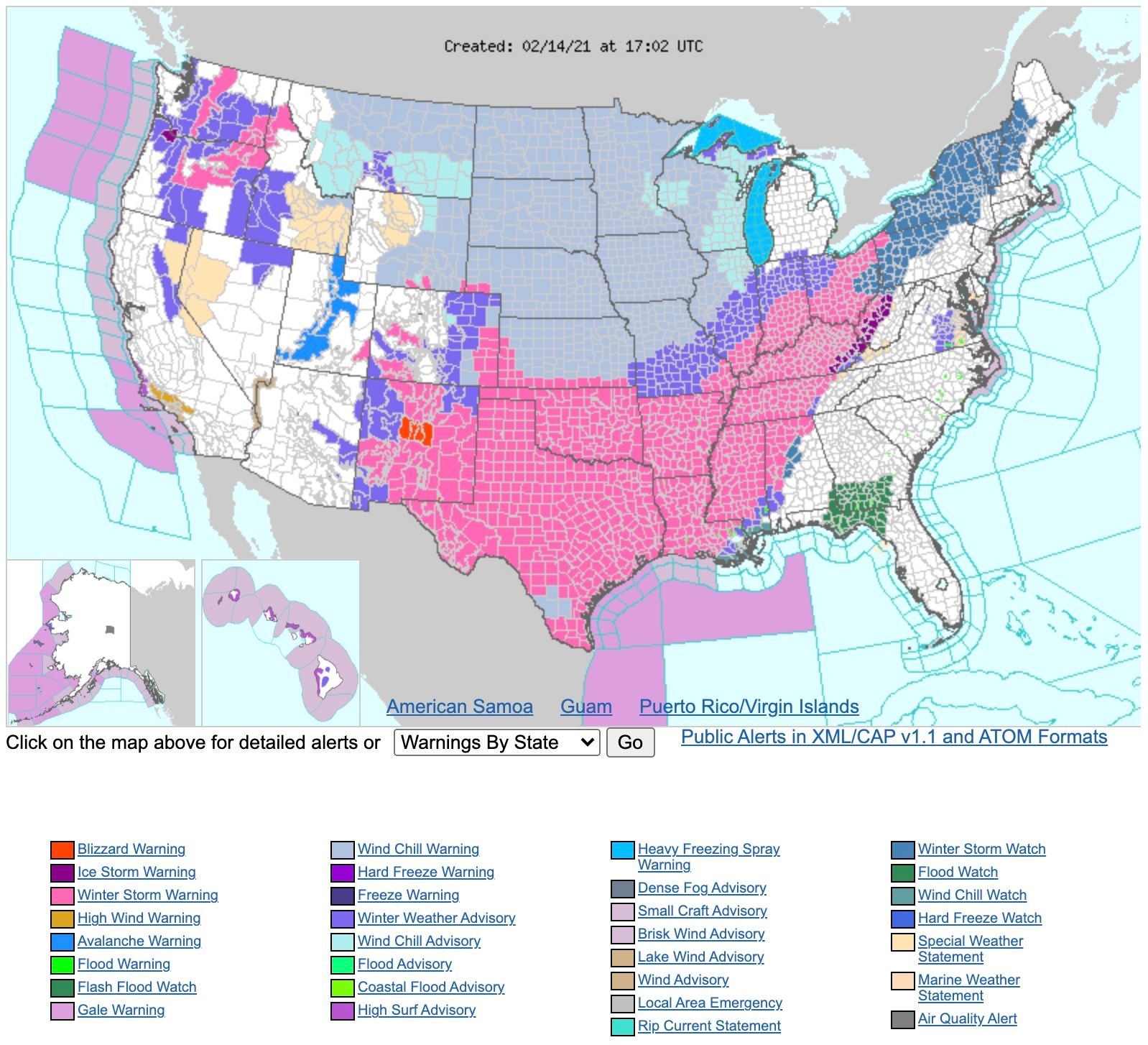 Yesterday Seattle picked up 8.9" of snow, today portions of Oklahoma and Texas could see the same. Here's the latest NWS snowfall forecast map through Monday morning: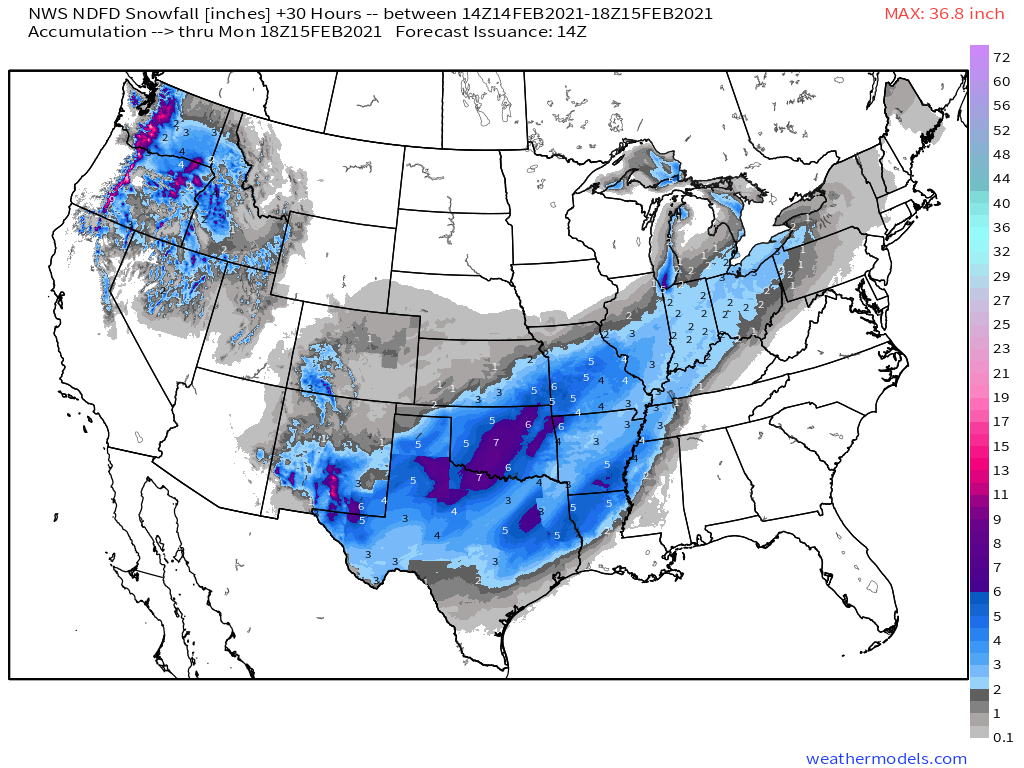 Closer to home, what snow we did see from this event will come to an end today if it hasn't already for you.
Left behind will be another day or so of bitter cold temperatures. "Highs" today across Northeast Colorado will be in the negative single digits to single digits, with overnight lows a good 10 to 20 degrees below zero for the Plains. Here's the hourly for Denver: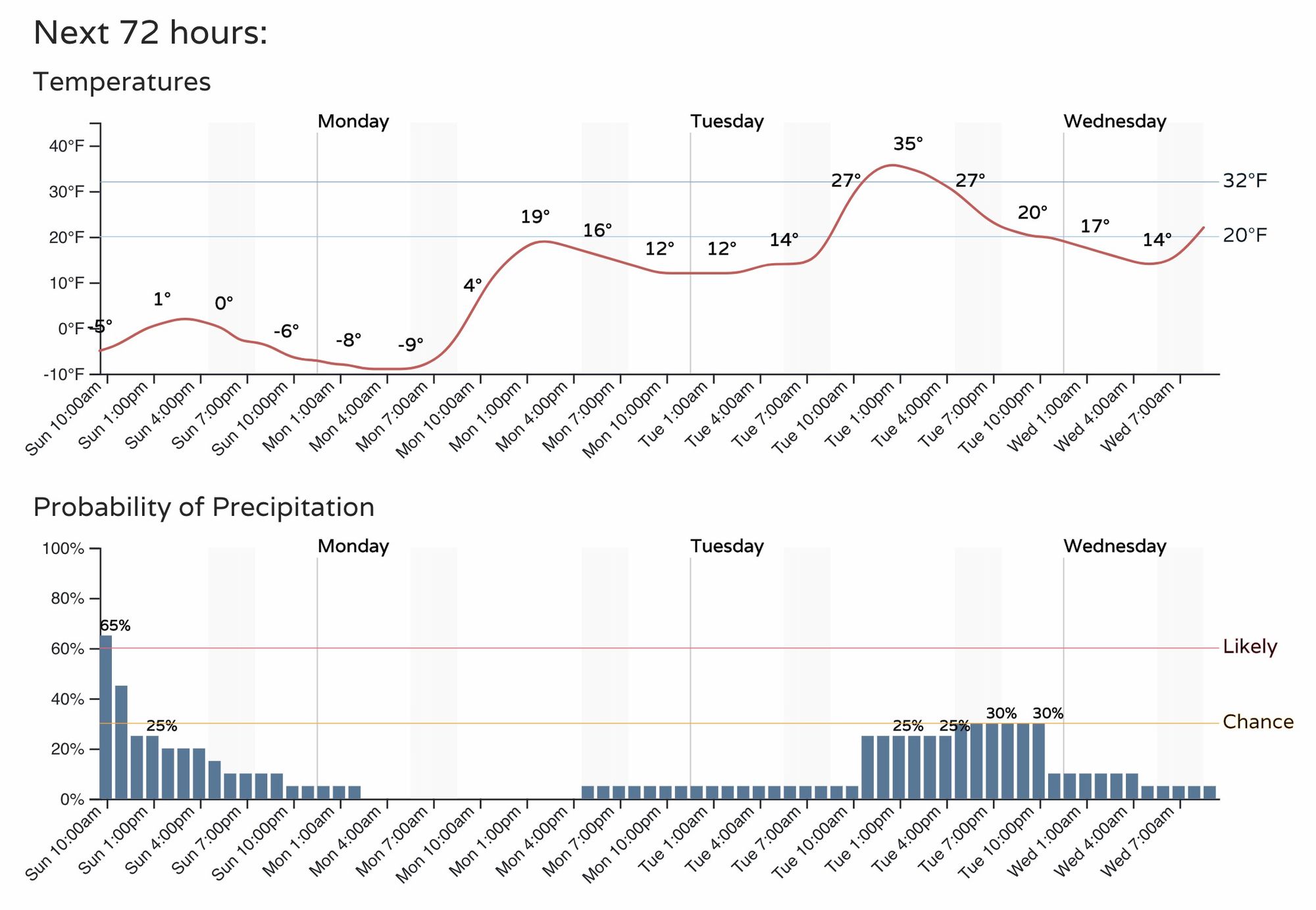 Here are the forecast lows across the CONUS Monday, just brutal stuff, with single digit lows extending very far south into Texas to accompany their snow and ice on the way.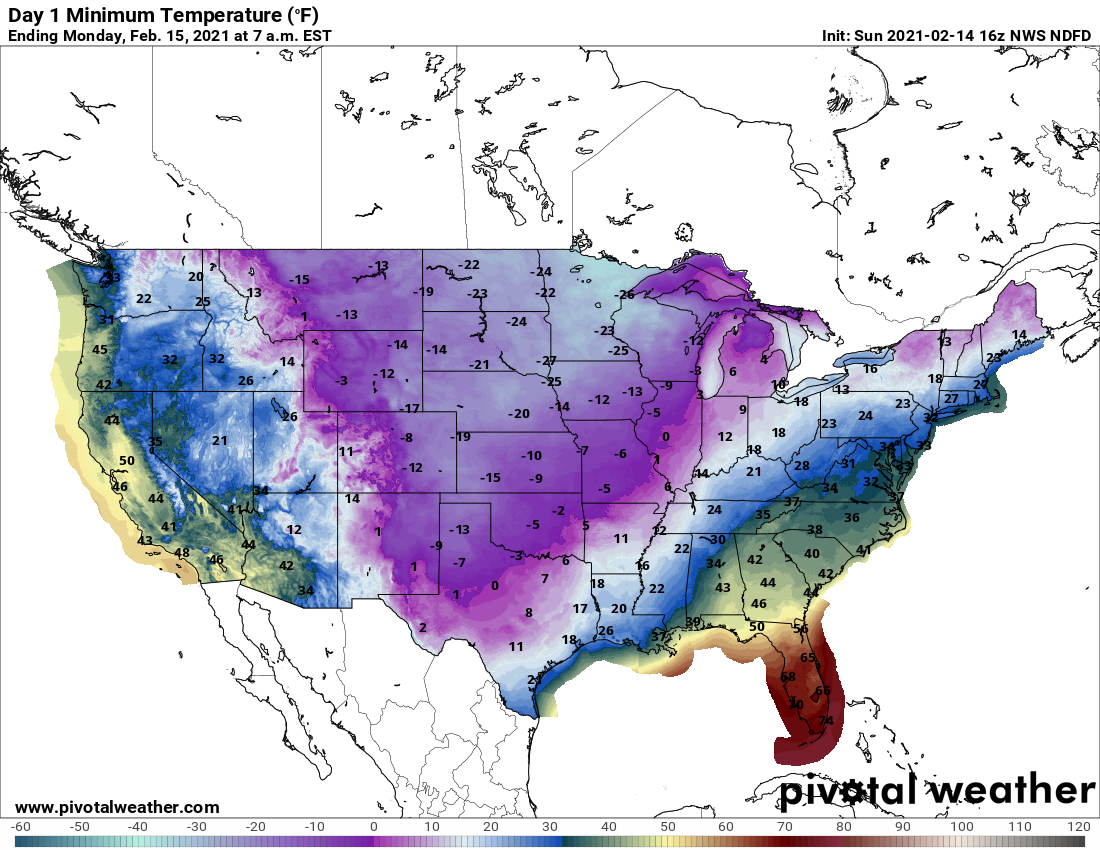 And wind chills WELL below zero for a significant portion of the country: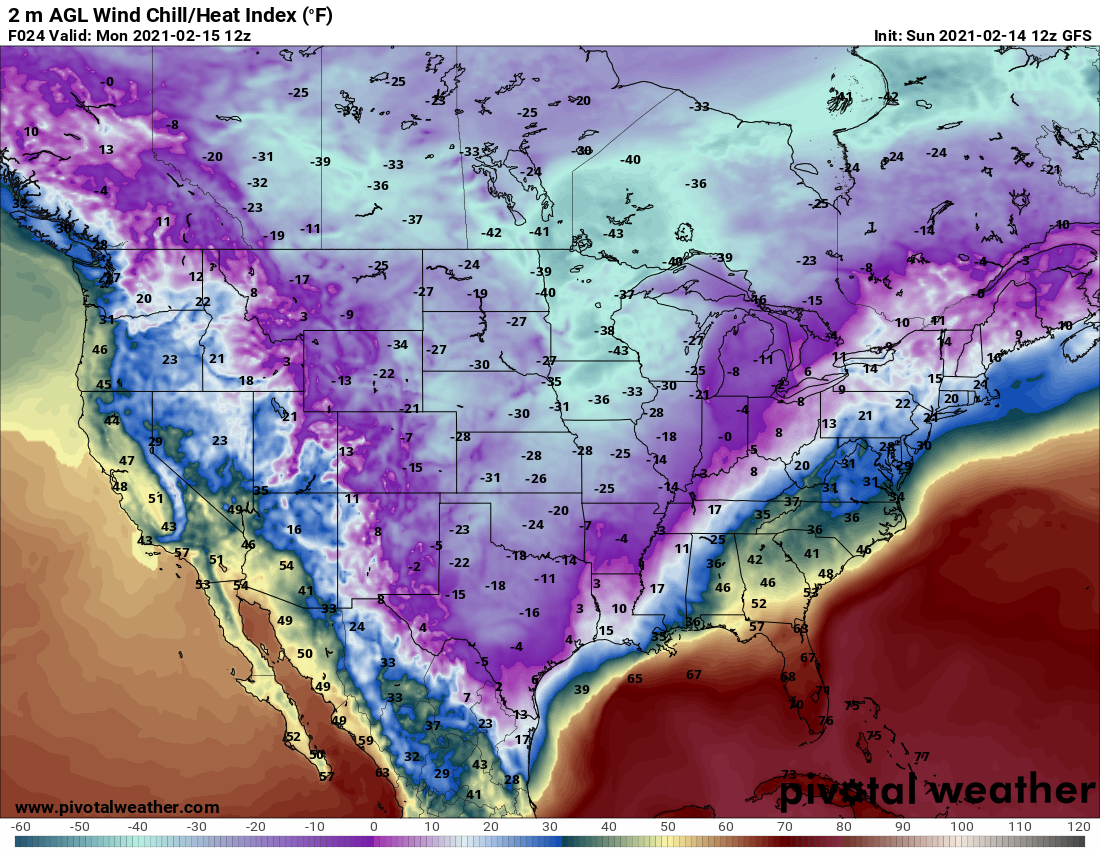 The week ahead
For Denver, a general warming trend starts Monday, but it'll be slow. Look for highs in the teens Monday, with 30s back in the forecast Tuesday through Thursday.

Regionally we'll see a similar warming trajectory. By the end of the week temperatures should be much warmer, with even some 50s showing up next Saturday, with perhaps a system to watch next Saturday night and Sunday.

As for how much snow the chance you see in the forecast you see above are likely to deliver to the urban corridor on Tuesday and Wednesday? Perhaps not much, but we'll keep an eye on them. A few models bring some spotty accumulation to the area Tuesday night, generally from a Trace to 3", and not all that widespread. The Boulder area, and Colorado Springs will be to areas to watch for potential here.
Some more mountain snow this week looks like a good bet, which is great, but east of the hills may continue to be shorted. Still, something to watch as we start the work week.