Even as temperatures have "warmed" into the 30s along the higher elevations of the Palmer Divide and areas mainly along and west of I-25, the cold clings on for the low-lying areas of the plains, as well as the high mountain valleys this afternoon.
Below is a look at temperatures just before noon on Tuesday, showing pockets of warming, but still plenty of cold across the state today.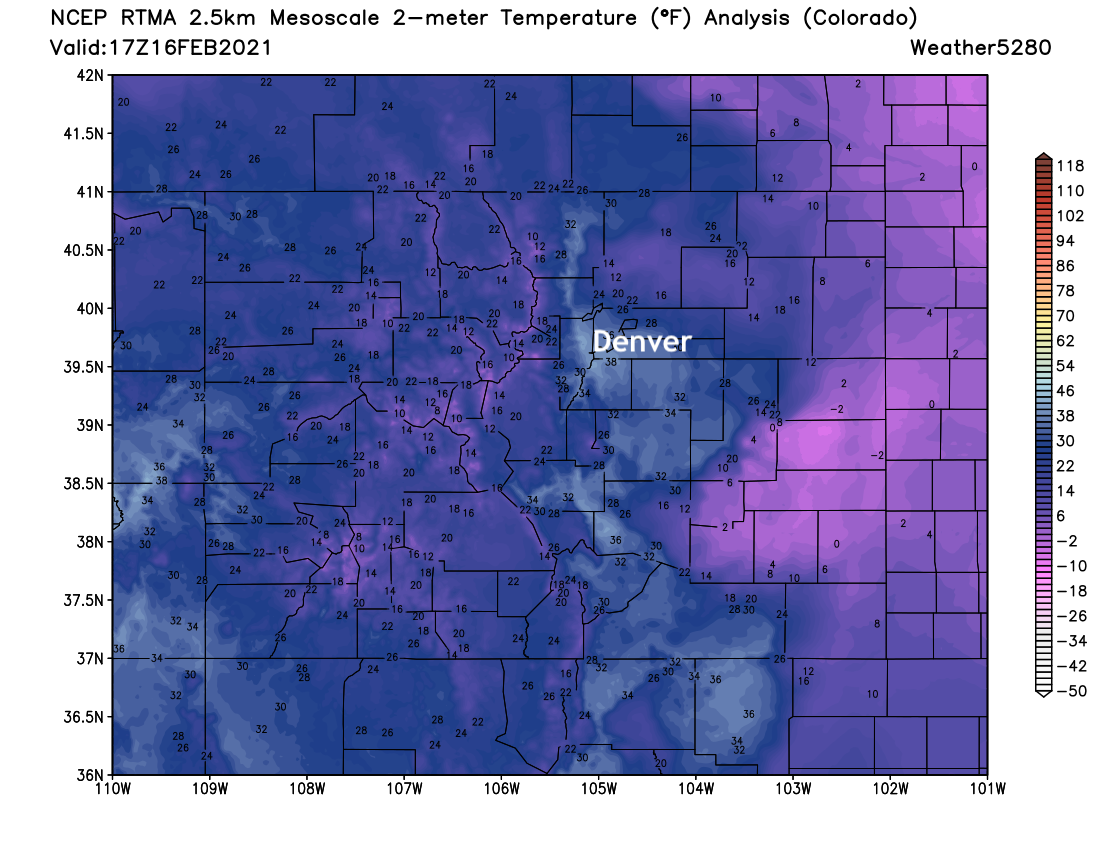 We expect isolated to widely scattered snow showers to develop this afternoon and evening, with a Trace to 1/2" expected from each.
As far as where those showers are more likely, the latest HRRR places the best coverage north of Denver and perhaps some shower activity for the Colorado Springs area as well. The best snowfall through 1am tonight is expected to remain confined to the highest peaks.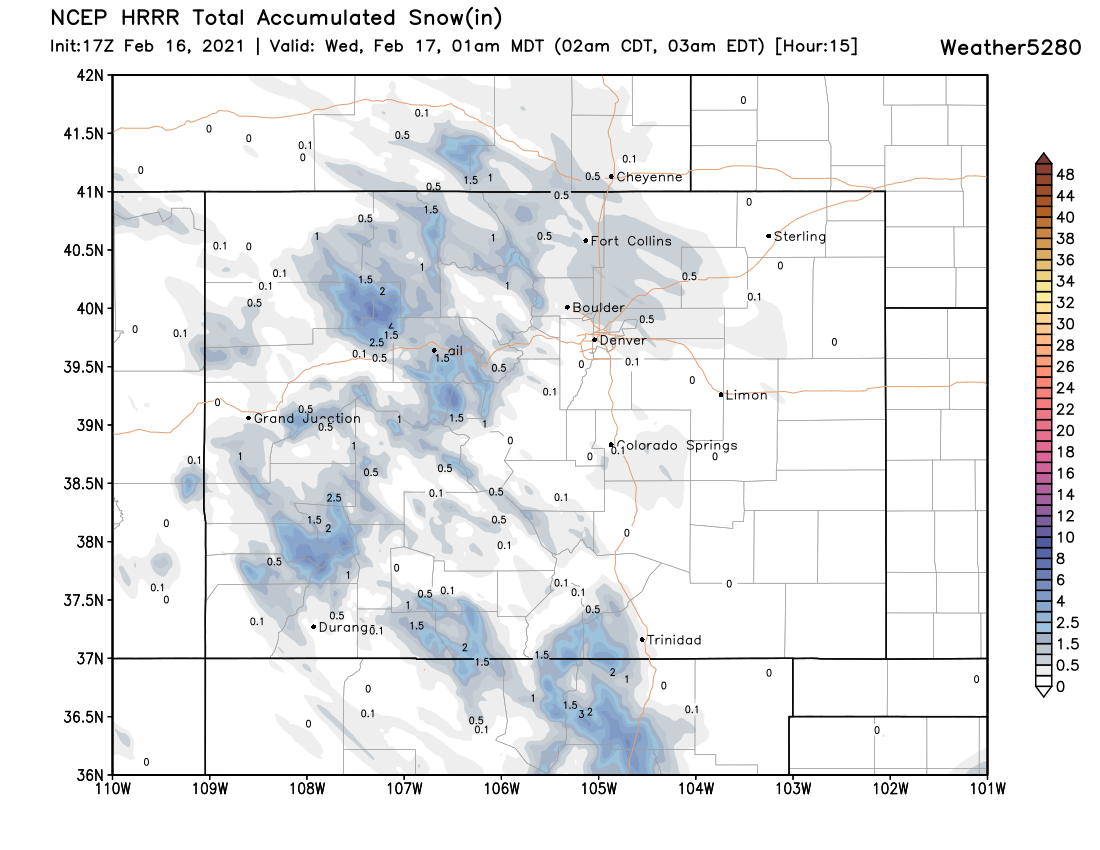 So, while we don't expect much snow today, worth keeping an eye to the sky if you have to head out this evening and know you may encounter a snow shower or two.
We'll do it again tomorrow, but perhaps manage a higher chance at more folks seeing some accumulation. Wednesday's highs will be from 5 to 10 degrees cooler along the urban corridor, with about a 60% chance we'll see snow develop during the afternoon and evening hours.
Here's the latest timeline of both for the Denver area: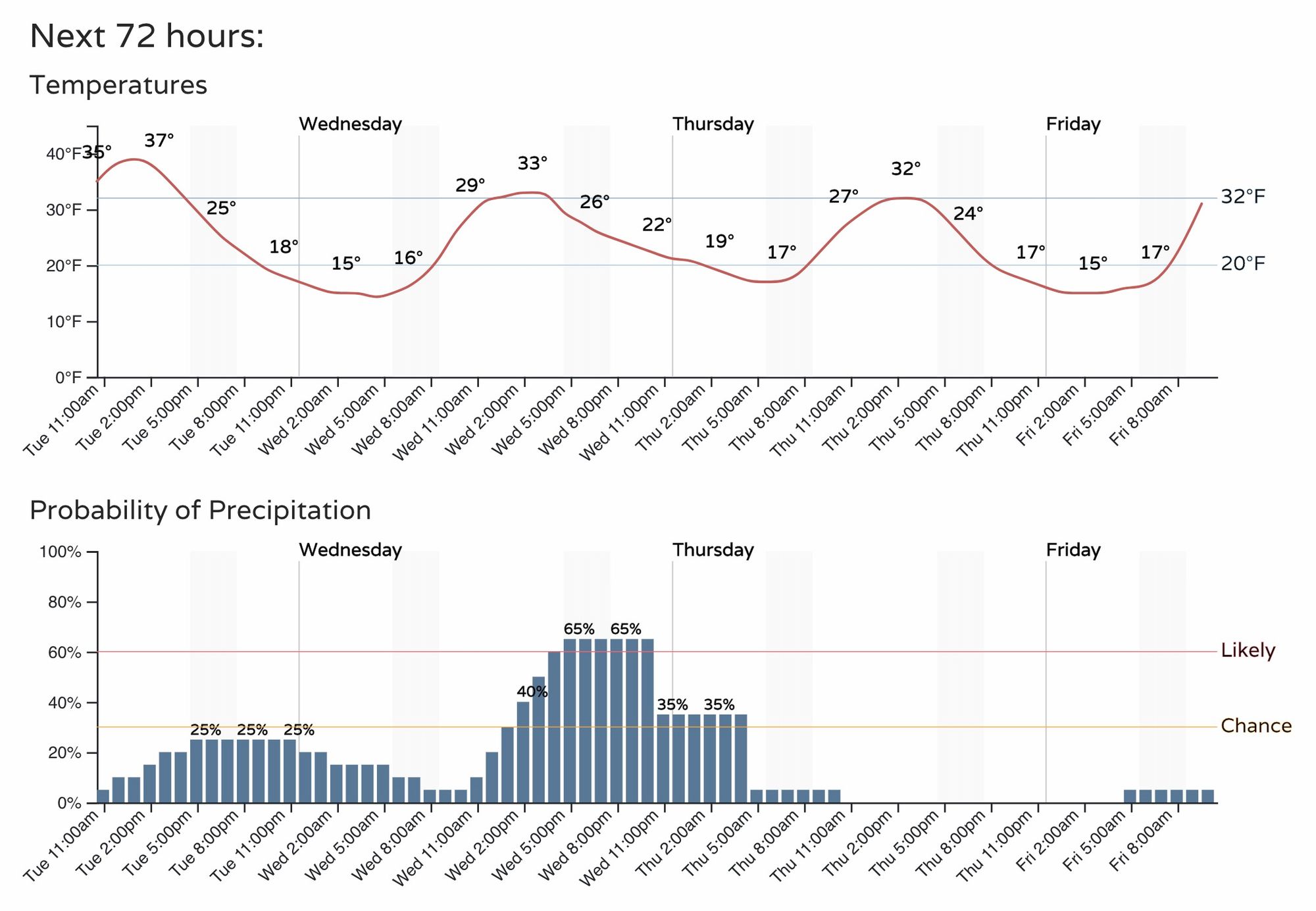 Totals will generally be on the low side Wednesday, but again, a bit more potential than today. We think areas that see better snowfall Wednesday evening will end up in the 1 - 4" range, with others seeing a Trace to maybe 3" of snow. Here's a look at our initial forecast for tomorrow, on top of whatever does (or does not) fall tonight: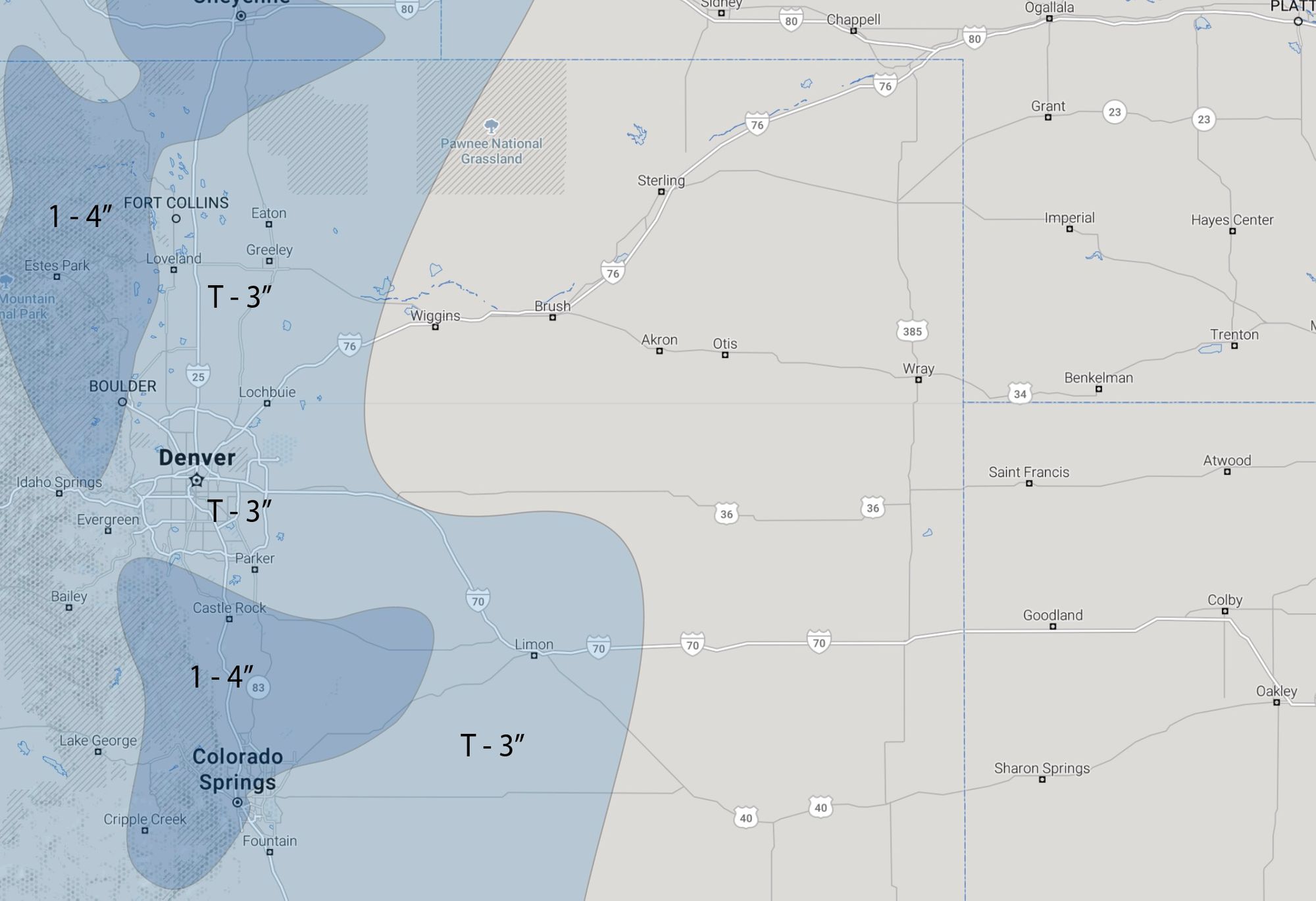 And here are the latest probabilities, clearly bias toward low-end totals tomorrow: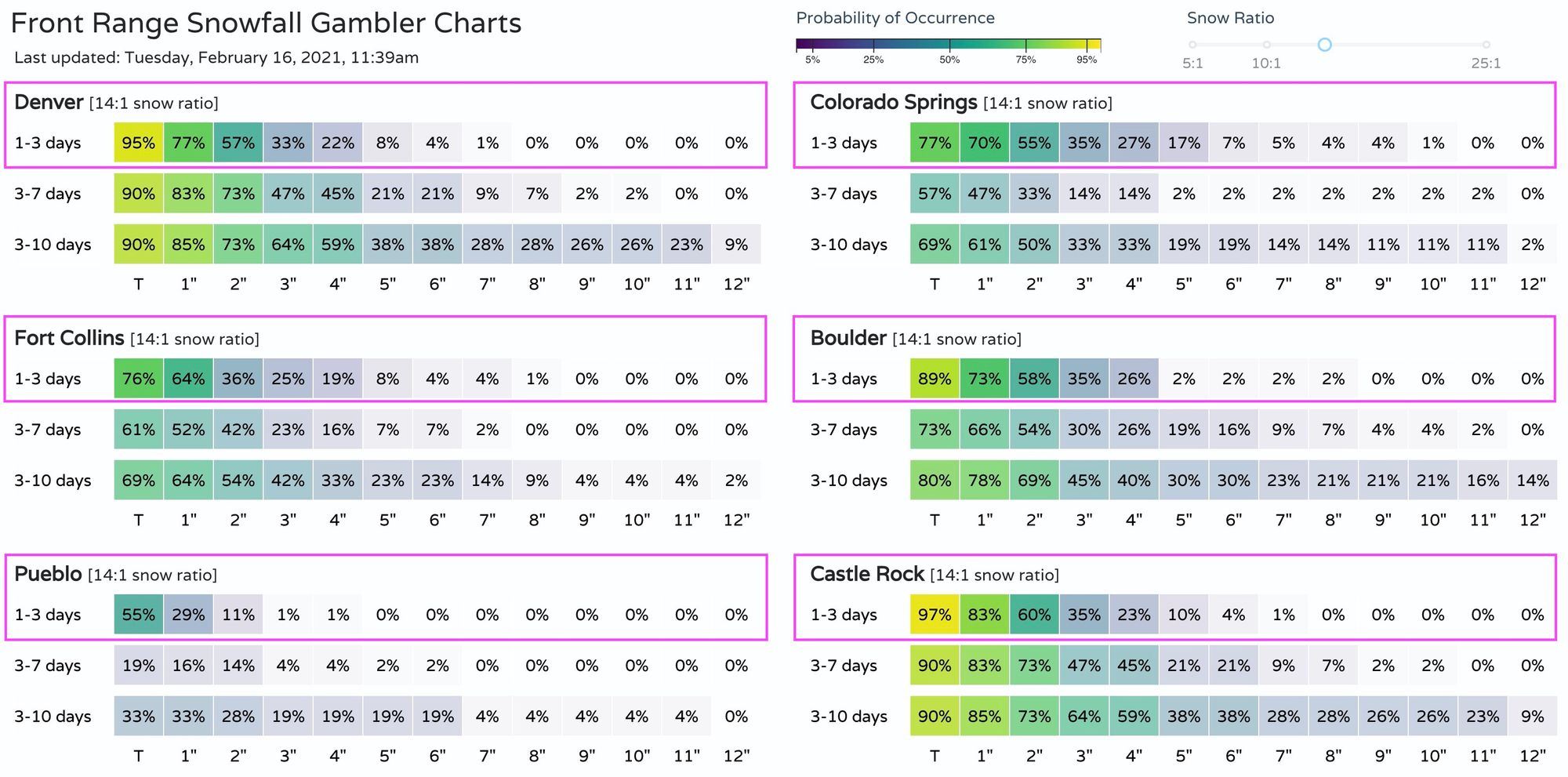 As for temperatures... the coldest air is gone from the Denver area now, but with tomorrow system we'll remain on the chilly side for another couple of days. Friday looks quite nice before - perhaps - another system flies through on Saturday.
Here's the latest high/low forecast for Denver from the European: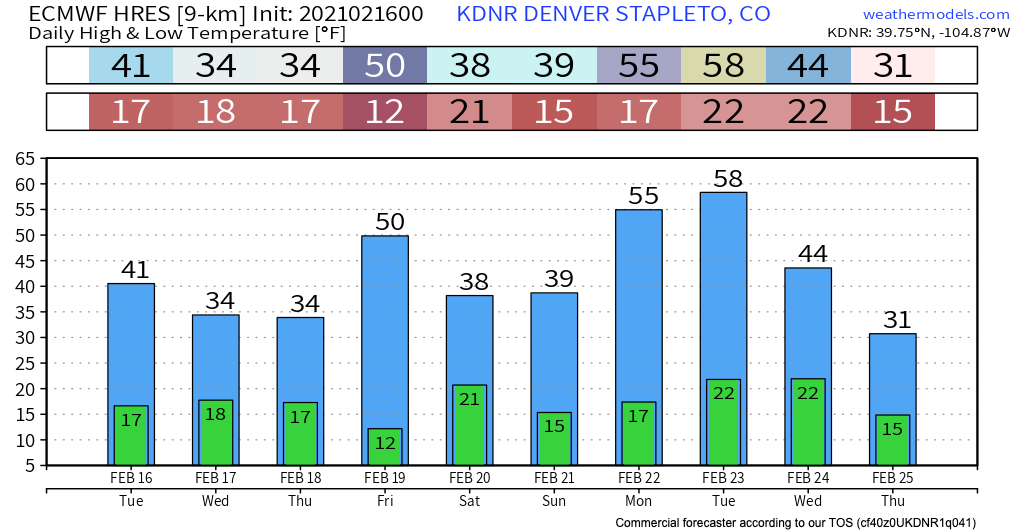 And for Lamar, where the cold is really hanging on today. Some milder weather ahead in the seven-day: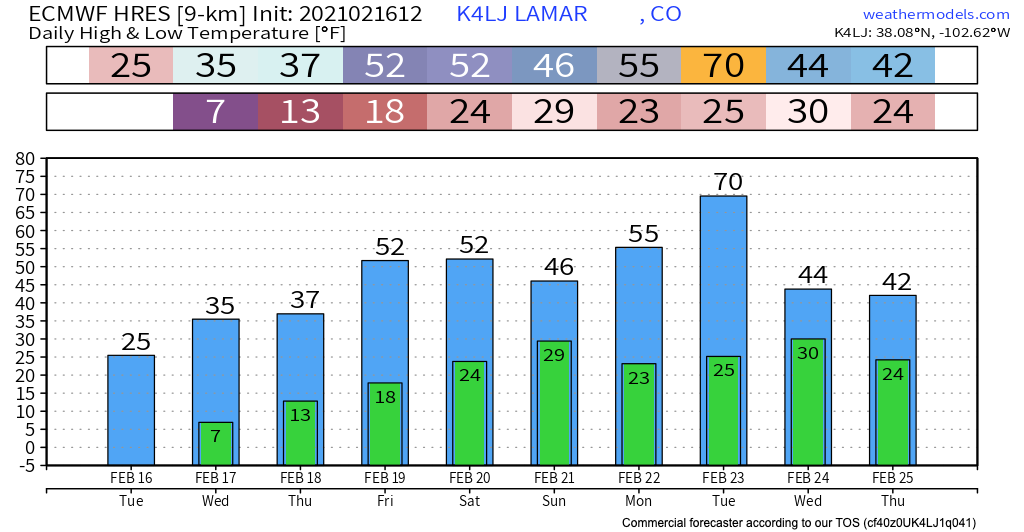 Look for another update Wednesday regarding the snow potential through Thursday.