Models continue to come in pretty bullish with snowfall totals from Sunday afternoon through Monday morning. This is especially true for folks living at higher elevations to Denver's west, and south, as well as for those west and north of Colorado Springs.
Within the city centers the snowfall potential remains more in question, mostly with regard to how warm temperatures will ultimately end up being. Should more of the snow fall overnight Sunday vs Sunday afternoon, the potential for accumulation will clearly be greater.
At lower elevations the best chance for seeing accumulation will be on colder/raised surfaces such as grass and overpasses, with more of a question around road impacts, but certainly the potential for a slow Monday morning commute is on the table.
There will be a lot of melting and compaction with this event, even more than what we saw with our blizzard a week ago, which will make forecasting snowfall totals (what falls vs what sticks) even more difficult.
And finally, expect at least a period of heavy snow as things ramp up on Sunday afternoon or evening. We'll likely see a period of rain/rain mixed with snow initially at lower elevations before transitioning to all snow.
Timeline
Look for another beautiful day along the Front Range today with temperatures in the mid to upper 60s for many locales. By tonight we see that initial blast of colder air arrive, followed by an increase in precipitation through the day Sunday. It's likely that many locations will begin as rain Sunday before transitioning to snow, especially at elevations below 6,000 feet.
Here is the latest timeline for Denver, with the best chance of rain and snow moving in around midday Sunday and carrying with us through about midnight. Rain and snow will carry into Monday, though the bulk of the accumulation from this even is expected between Sunday afternoon and very early Monday morning.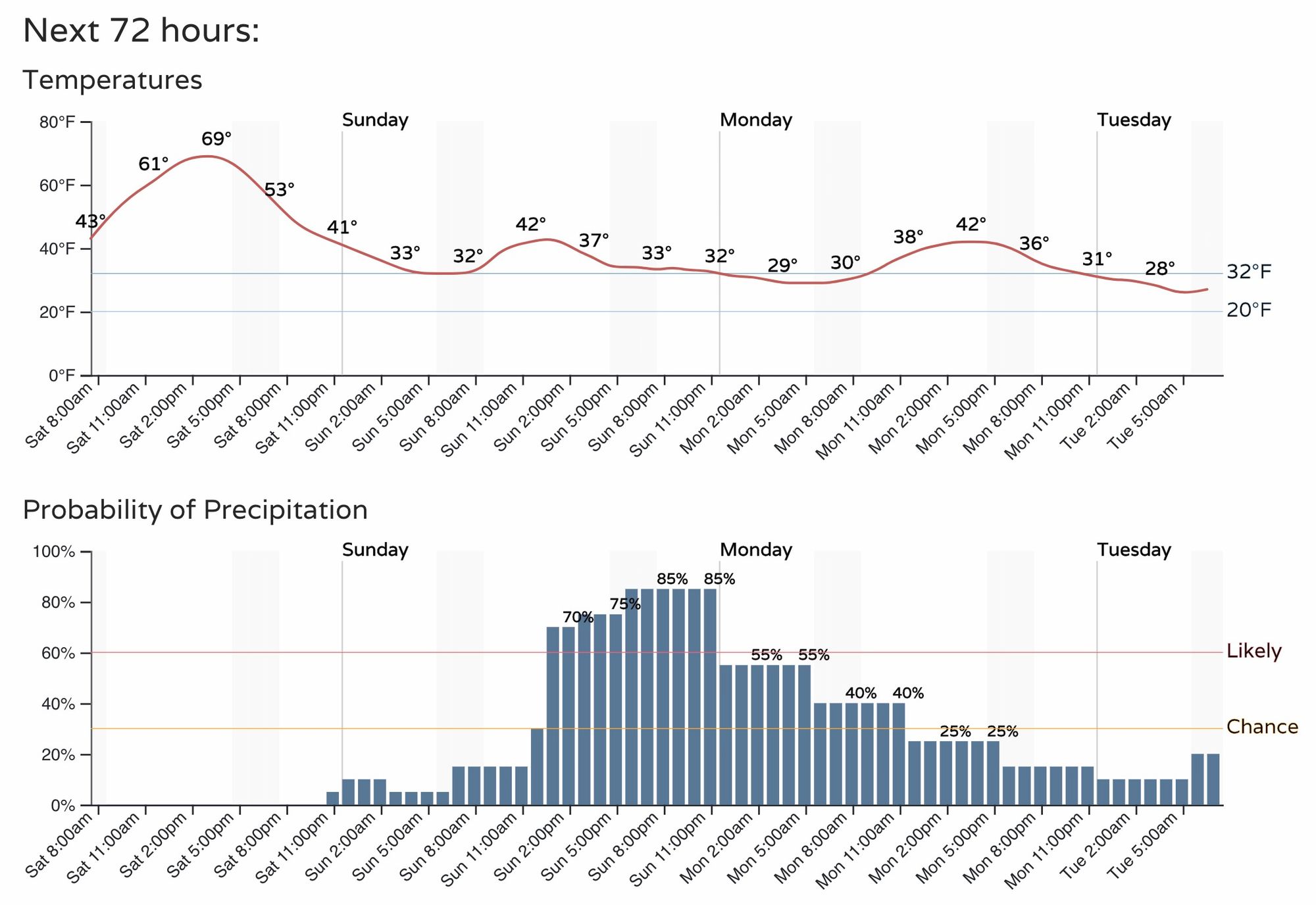 For Colorado Springs, a similar timeline, with perhaps a slightly slower onset of precipitation Sunday:

For temperatures, look for beautiful conditions today followed be an unsettled and chilly pattern beginning Sunday and carrying through much of the week. Highs will drop from near 70°F today, into the 40s through Wednesday. Overnight lows will be in the low 30s and upper 20s through the period.

Snowfall forecast
Below we'll look at the snowfall forecast for Sunday into Monday. Another chance of snow (or two) are in the seven day forecast as well, but there's far too much uncertainty to worry much about those at this time.
For the areas of greatest confidence in temperatures cooperating for snow we'll go with 4 - 8", with the potential for some locally higher totals of 10 - 12". For areas where temperatures are likely to be a bit more of an issue we'll go with 2 - 6", with best accumulation on colder/raised surfaces. This includes Denver and Colorado Springs. Further away from the Palmer totals are expected to be lighter, with just a Trace to 3" for Fort Collins, and little snow expected across the Northeast Plains.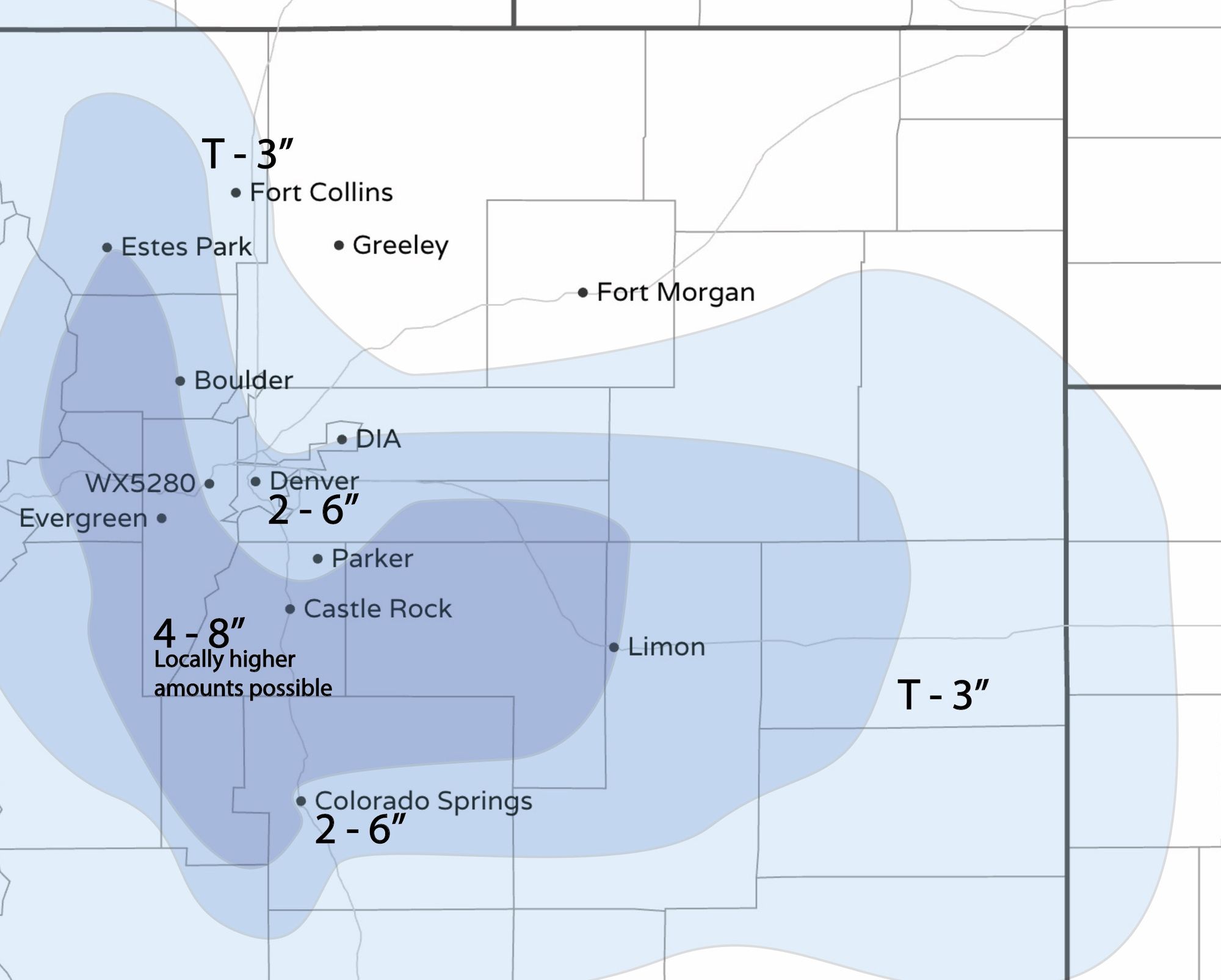 The European ensemble is pretty bullish for the areas we outlined in our 4 - 8" range, with pretty good odds COS will pick up 3" of snow or more as well. For Denver that number is in the 50 to 60% range, not considering melting etc.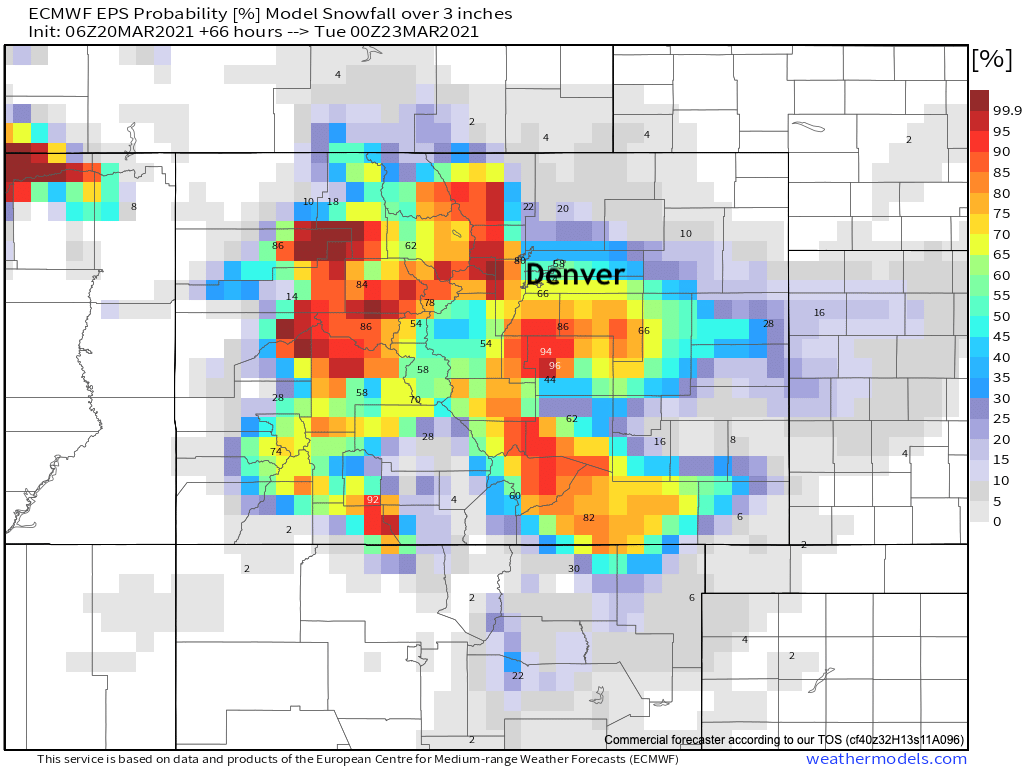 If we look at our gamblers, we see some pretty bullish odds as well. For Denver we're sitting at about 39% chance for 6" of snow or more, 26% for COS, and 63% for Boulder. You can see that the 2 - 6" range is favored in most instances, with the high-end outlier potential not to be ignored! For Fort Collins odds of a meaningful accumulating snow is much lower.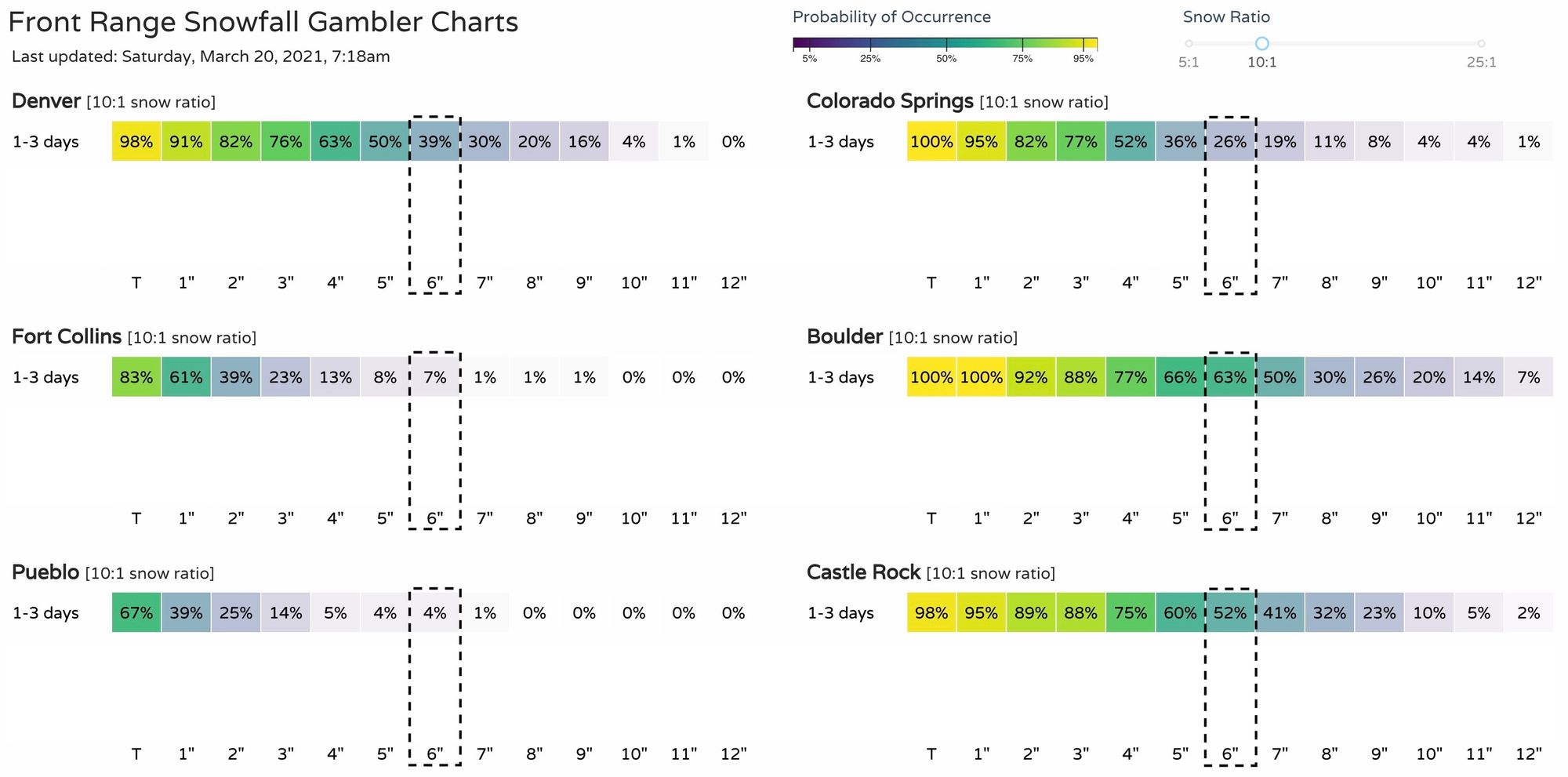 We'll continue to track things and pass along updates as needed. Clearly Sunday evening and the Monday morning commute will be the most impacted travel times. Snow will be heavy at times Sunday evening, especially at higher elevations, so please avoid travel if possible.
The big thing we'll be watching is temperature trends in today's model runs, and see how timing fluctuates around onset. Models have been pretty consistent with moisture, but how much falls as rain vs snow, and how much comes before sun down Sunday will be the keys for how much snow we see accumulate.
More to come. Stay tuned!