As we watch the latest storm system pass over Colorado showers and thundershowers popped up around the Front Range Friday afternoon.
As of 1 pm the radar view from Pueblo shows scattered showers from the Springs to Denver areas.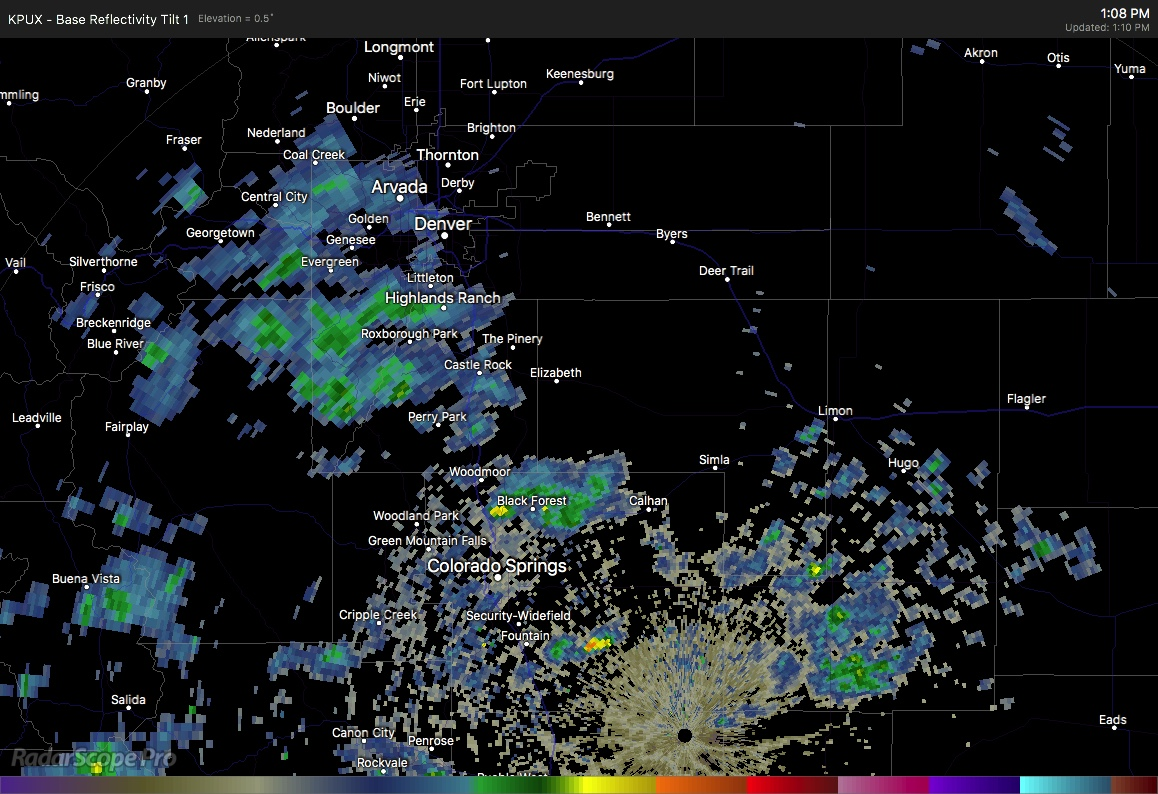 Let's take a view of the forecast-radar product which indicates scattered showers across the Front Range through Saturday morning: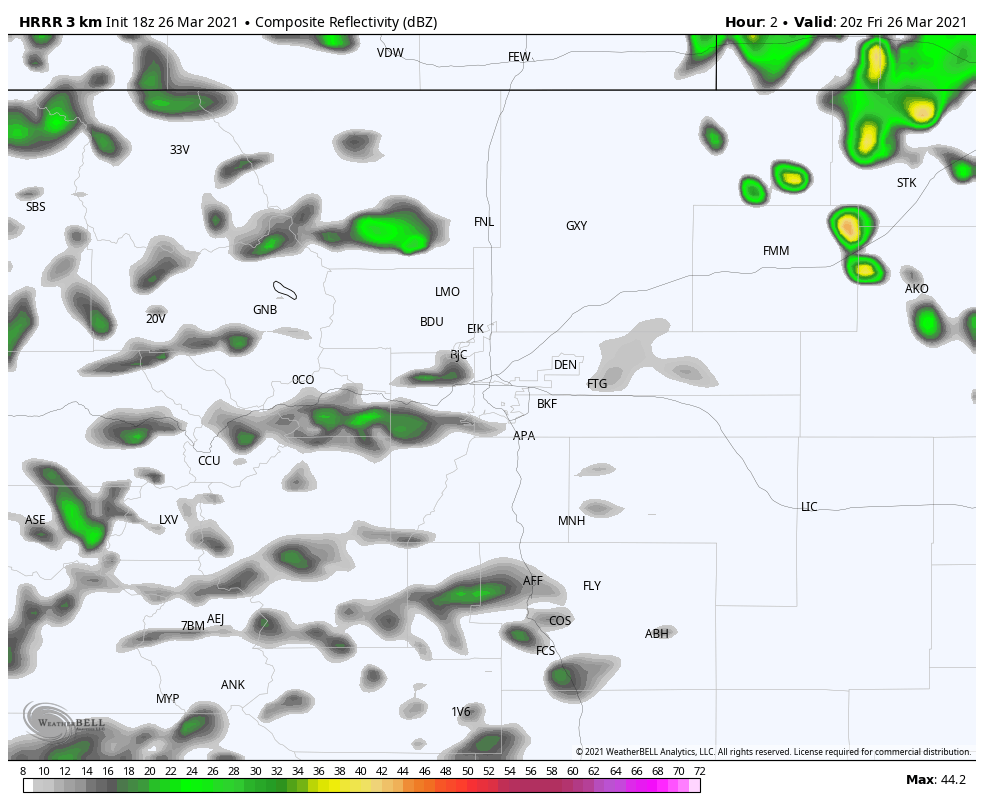 It will be possible for lightning and thunder with this activity, too. If that is the case, that is an indication of having higher energy and therefore a higher chance of dropping notable rain/snow, at least in isolated pockets.
Just as an example, we could see upwards of a quarter-inch of precipitation from any stronger showers that move through. This particular model places a heavy shower east/southeast of Denver, but of course the placement won't be precise.
Rather than focus on the location of higher precipitation, just use that map above as a reference to know that if you get a shower – regardless of your location – you may catch a decent amount in a short time.
If you hear thunder with your possible shower then you have a higher chance of hitting more than one-quarter inch and even snowfall totals may be a couple to a few inches.
As an example, again don't necessarily pay attention to the exact location of deeper snowfall as shown here but use this image as a reference of what snowfall may be possible under a heavier shower.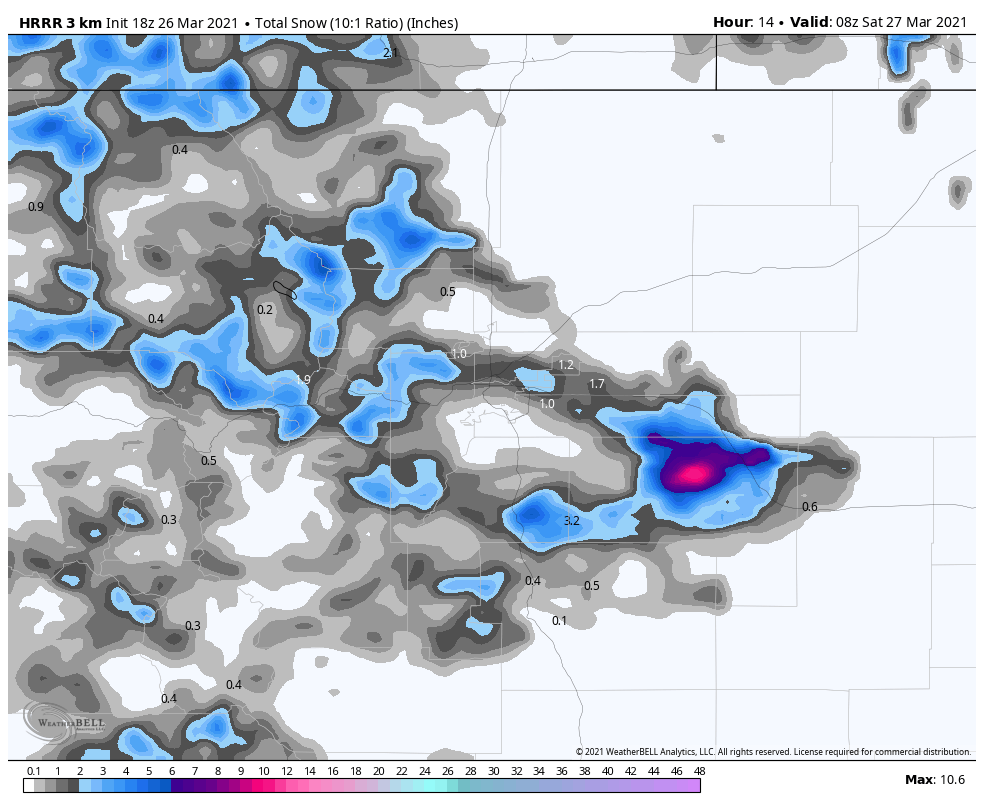 A stronger thundershower has the potential to drop several inches of snowfall.
The most likely areas for this will be those on the Palmer Divide: Douglas, Elbert, and parts of Arapahoe and El Paso Counties.
Temperatures cool Friday afternoon as clouds increase, supporting a rain/snow mix in the afternoon but snowfall into the evening.
Here are a couple of hourly planners. Denver first: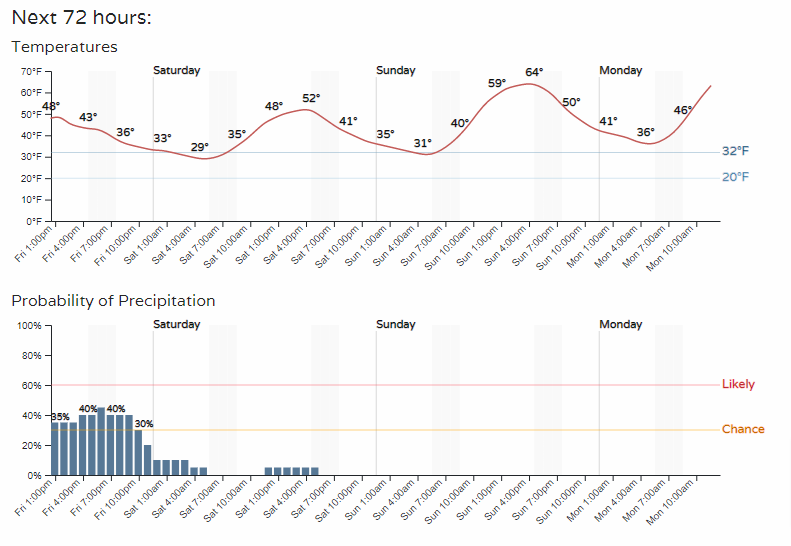 Colorado Springs: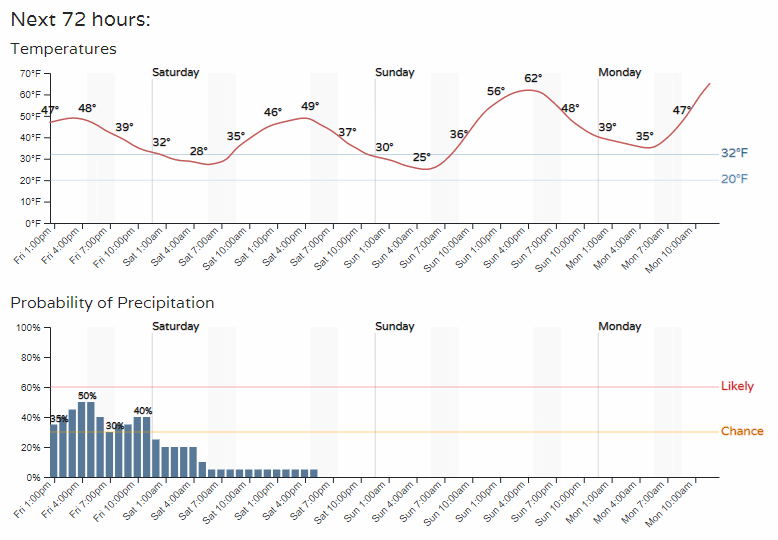 As the system clears slowly Saturday, we will have sunshine return in full Sunday and Monday. With that, 60s and 70s.
That warmth doesn't last long, however, as rain and snow chances return Tuesday.
This has been quite a March in terms of storm systems for the metro areas. In case you missed it, we published how a weakening La Niña pattern will shift the pattern headed through Spring: