Wind gusts an annoyance Monday prior to a cold front's arrival that will significantly drop temperatures and provide some areas of rain and snow for Tuesday. Take a look at the extent of the High Wind and Red Flag warnings in place across the central United States this afternoon!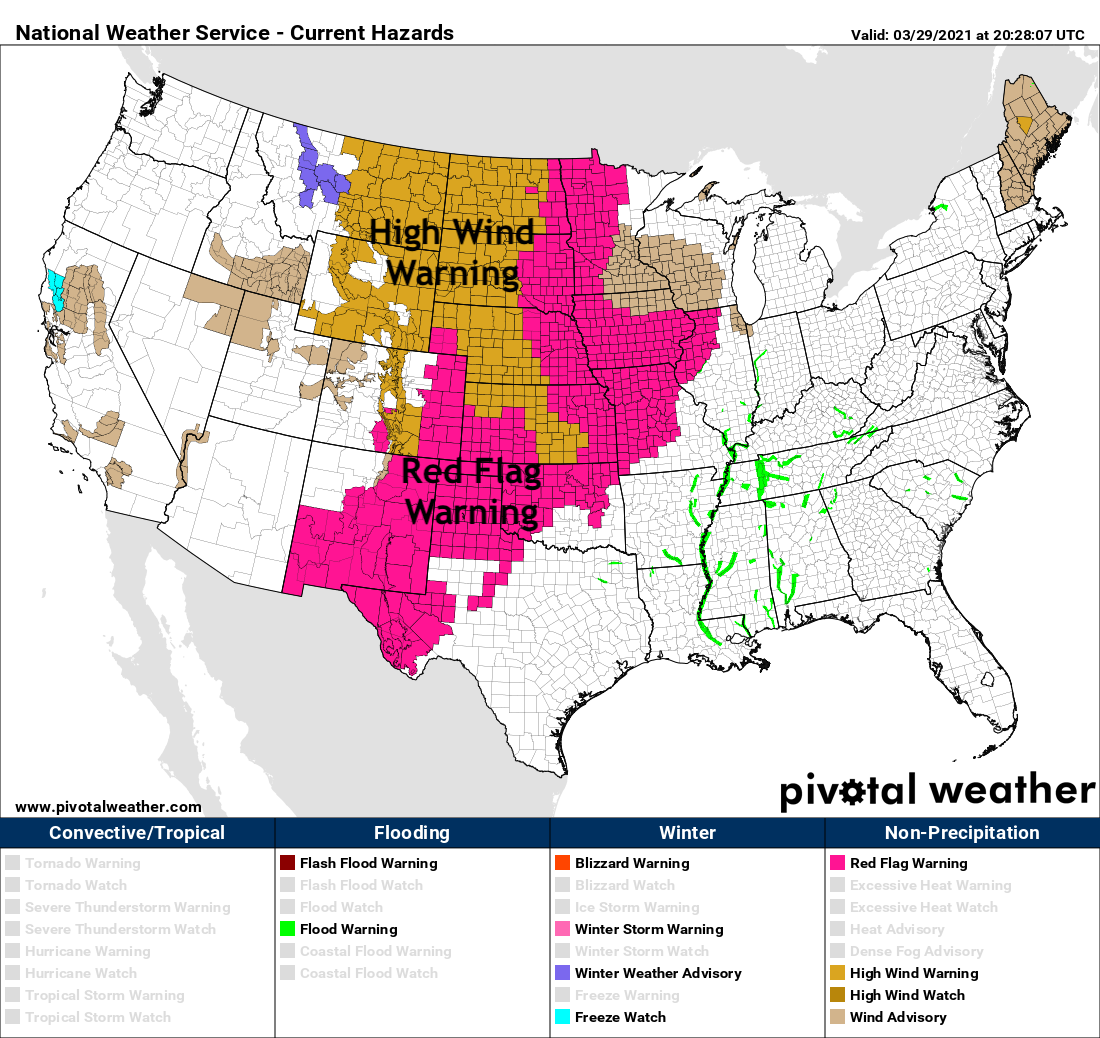 Our cold front is still a couple of hours out, but quickly approaching. A look at latest temperatures across the CONUS you can make out the front quite easily, with very mild (and windy) weather out ahead of the temperature change on the way: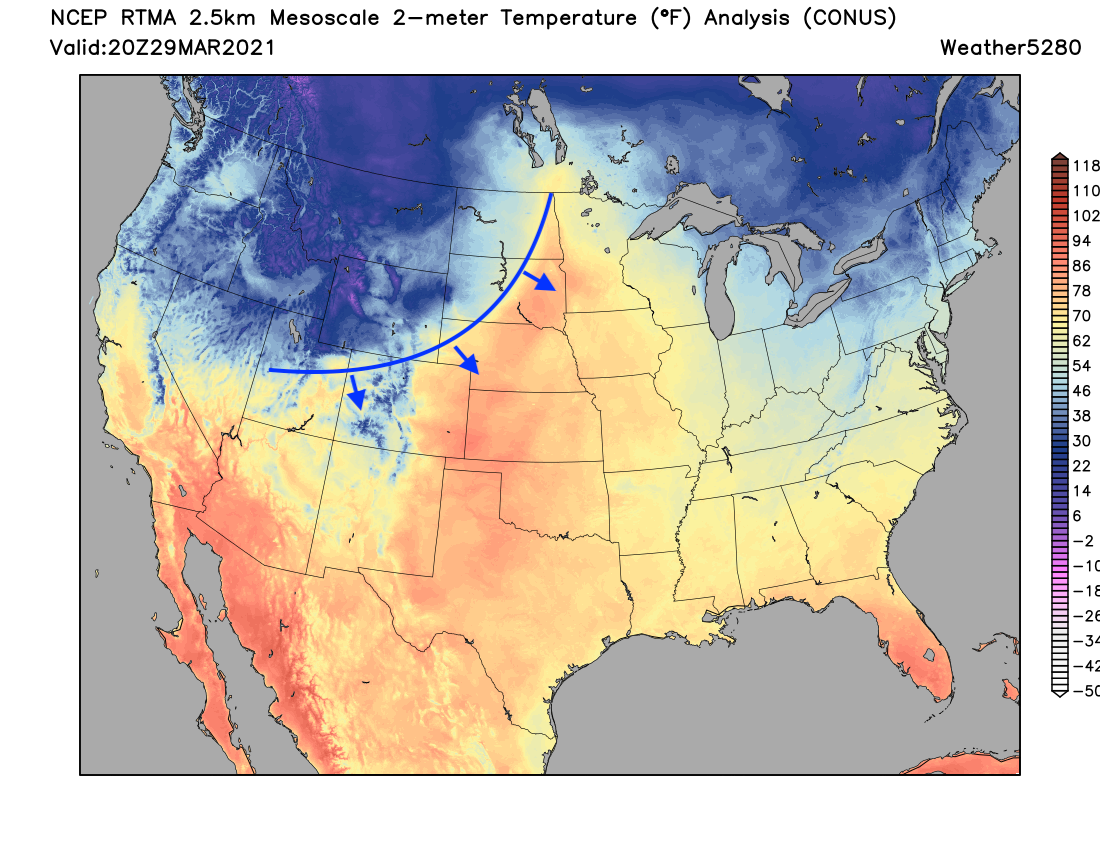 The timing of the front is shown here, see those temperatures drop this evening, and remain quite chilly through the day Tuesday. The temperature drop this evening is likely to be quite dramatic in many locations!

With the cooler temperatures we'll see another chance of rain and snow, starting with passage of the front this evening and carrying through Tuesday for the Front Range and eastern plains. Here's the timeline for Denver:

Let's watch this animation of rain and snow from Monday evening to Tuesday evening. This particular model has most of the shower activity as snow, and mainly during the day Tuesday. Most data would support the bulk of what snow we do see will be mainly from Denver and points south. These snow showers could be heavy at times.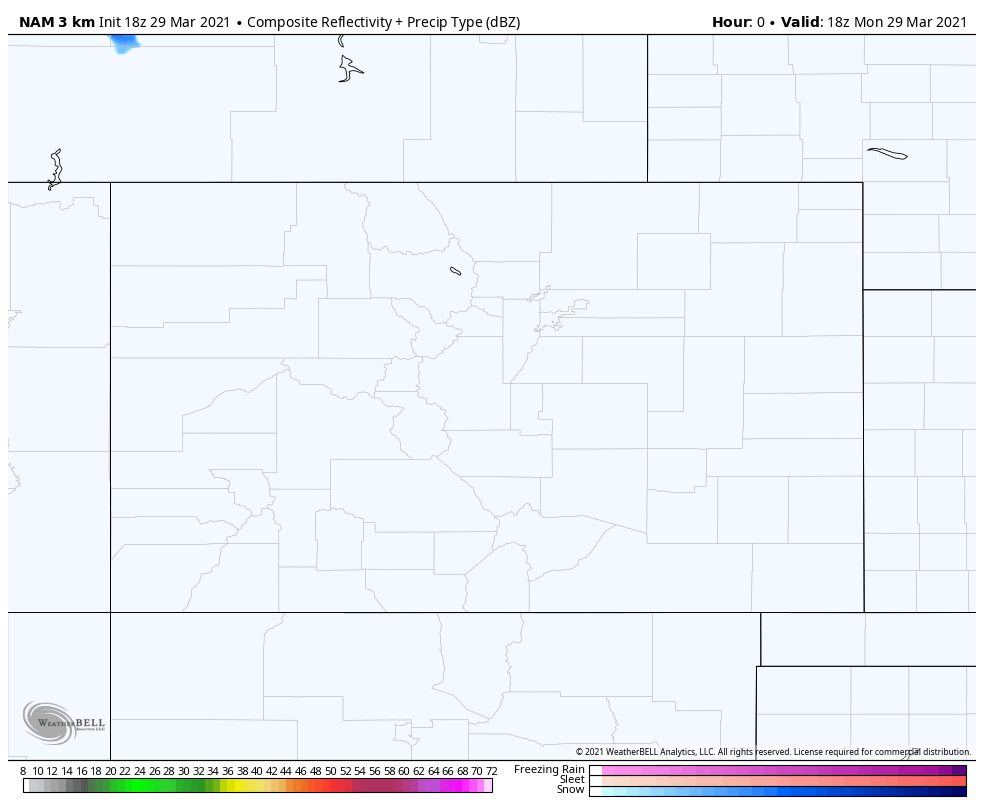 With areas of snowfall into Tuesday, there may be some cases of accumulation. Particularly west of Denver, the Palmer Divide, and the Pike's Peak region.
For Denver, we like a Trace to 2" as the most probable outcome. Should timing come in a bit earlier Tuesday, perhaps we see a bit more in spots, especially outside of the city core. For Colorado Springs similar, with a high-end perhaps closer to 3" if we see moderate snowfall persist a bit more during the day Tuesday.
For the foothills west of Denver and across the Western Palmer Divide some 3 - 4" totals will be possible.
These showers will be convective in nature, and for at least a time we could see some pretty good snowfall rates, it's just about when that shows up, and if it happens to coincide with the Tuesday morning commute or not.
Here's a good idea of where and how much snow we may end up with by Tuesday night, with much of this being on raised/cool surfaces following today's warmth, and especially so if the bulk of the precipitation holds off until after sunrise Tuesday.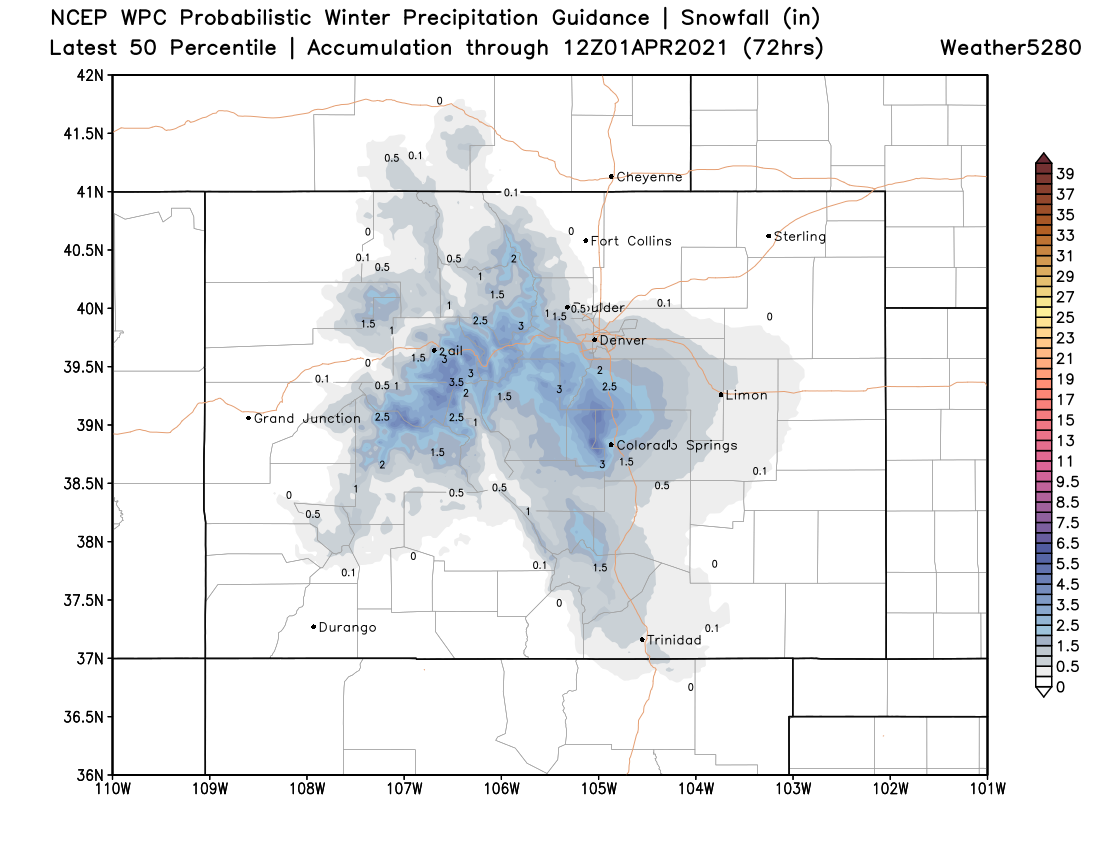 While perhaps not a big snow, you'll want to plan on giving yourself a few extra minutes Tuesday morning in case. For now, it looks like the greatest snow potential for Denver will be from after midnight tonight through mid morning, so showers could align poorly with that morning commute.
After Tuesday, and to a certain extent Wednesday we are still tracking a very nice warmup to end the week and next weekend. Highs will be well into the 70s in most cases, with even some 80s showing up for the eastern and southeastern plains by the weekend!