The state of the atmosphere this week reminds us we aren't done with the cold season around here, with a week of chilly temperatures, rain, and snow on tap for much of the state.
Most of Monday will be similar to today – highs in the low to mid 50s, with mostly sunny to partly cloudy skies. Later in the day, things start to change, with an increased chance of precipitation Monday evening and overnight into Tuesday.
The chance of rain and snow will be in the forecast from Monday evening through Friday, with the chances of showers possibly lingering well into the weekend as well. Daytime highs will be in the 40s and 50s for the urban corridor, with overnight lows in the upper 20s to middle 30s.
Let's first take a look at the next three days or so as we transition to this wetter/chillier weather, and try to communicate what will be a complex and rather long-duration cool and wet weather pattern over our area this week.  
First, the hourly forecast to get a sense of the timing. For Denver (below) expect a gradual cooling and increase in precipitation chances through Tuesday night: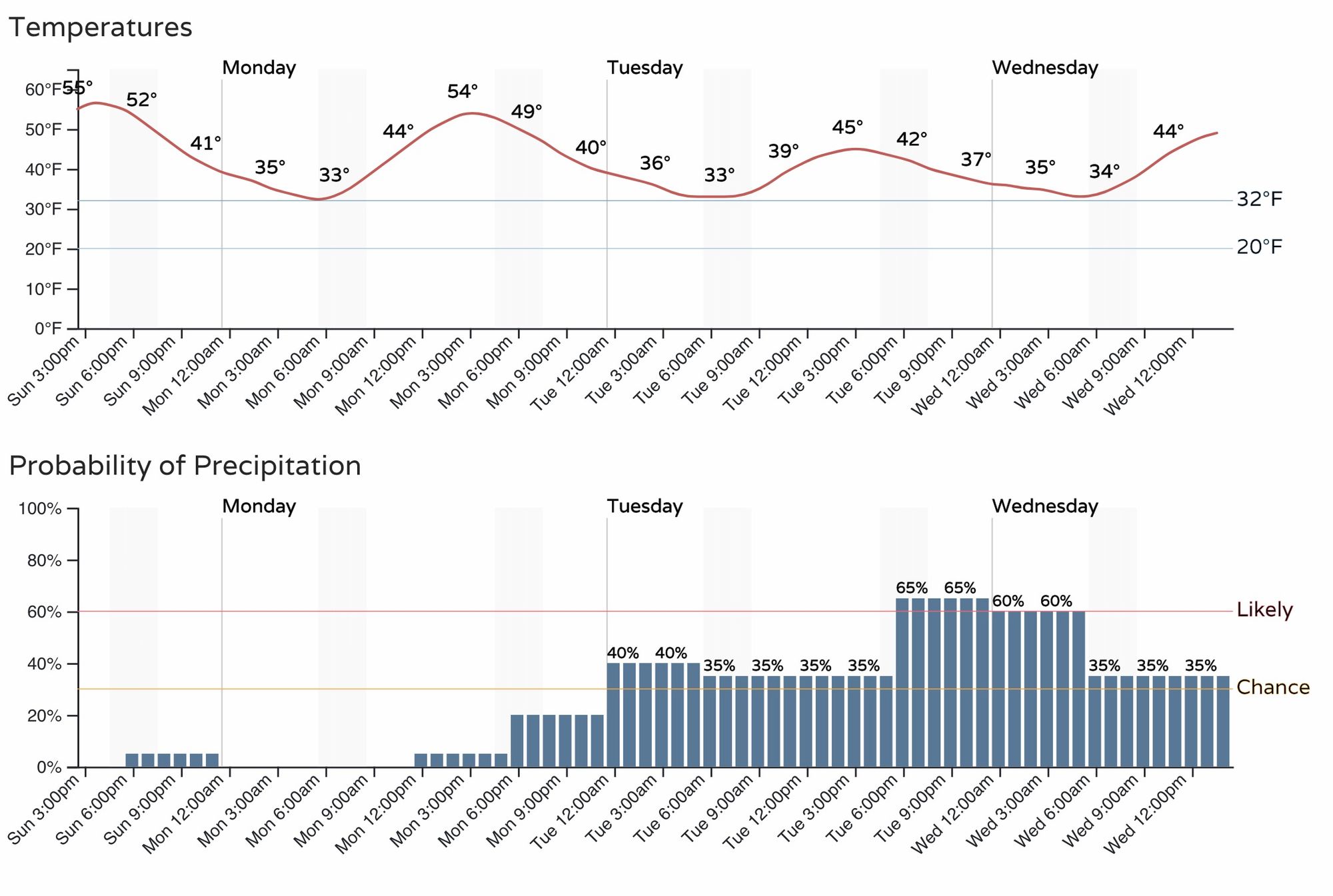 The slight chance you see Sunday evening could equate to some light flurries for some, especially in the elevations, but we won't anticipate much of an issue.
By Monday afternoon and evening we see upslope flow begin to develop along the Front Range and this will come and go over the next several days, meaning periods of heavier precipitation at times and generally unsettled.
One of those times where we could see heavier precipitation is Tuesday afternoon and evening where some of us could see a bit better precipitation develop, with temperatures likely cooling enough for many of us to see snow – even at lower elevations. Given the fact temperatures will be marginal, however, we think totals will be low, with perhaps a bit of accumulation on grassy surfaces Tuesday evening into Wednesday. For the foothills, and elevations over about 6,000 feet, the snow potential will certainly need to be watched for impacts from Tuesday afternoon and night.
Given the high uncertainty around both temperatures and how much energy will move overhead Tuesday afternoon/night, the following probabilistic snowfall guidance actually looks pretty good. These are totals through early Wednesday morning.
That's about a Trace to 1.5" for most of us along I-25 and east, with 2 - 6" as you start moving into the mountains. West Fort Collins, Boulder, Golden, Castle Rock, Palmer Lake, and areas northwest of Colorado Springs look to be the areas to watch most closely for a couple of inches by Wednesday morning as things appear now.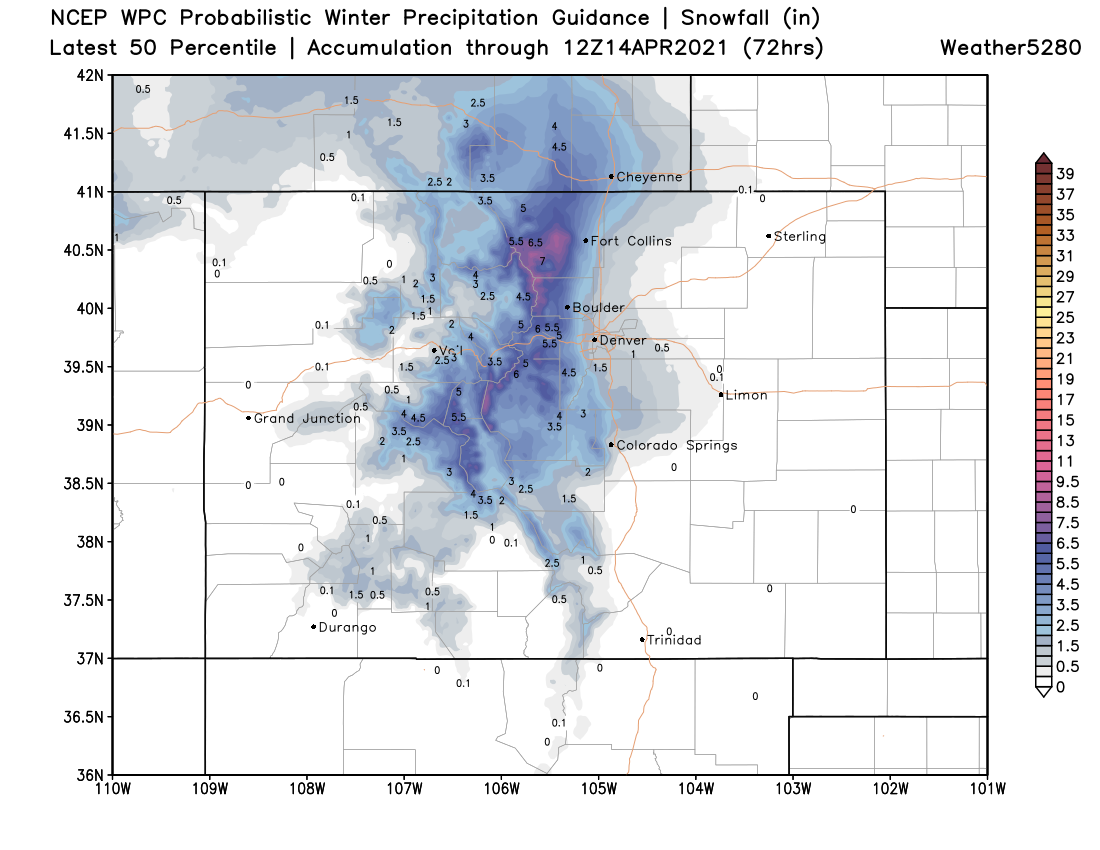 This is an evolving forecast, so we'll obviously provide updates as needed as we start the week. Best to prepare for gradually cooler temperatures to kick off the week, with increased rain and snow chances on the way as well.
Wednesday through Friday
For the latter half of the week still far too much uncertainty to speculate all that much on how much snow we may or may not see. Models have generally backed off some of the epic amounts they were portraying at times last week, which we think makes sense given the setup.
Still, the wet and chilly weather won't end on Wednesday but will stick with us through the end of the week.
There's an amazing amount of inconsistency in the data, but if there's any agreement at all its that our next two main chances for accumulating snow would be Wednesday night into Thursday and/or Thursday night into Friday.
How temperatures will cooperate, how much energy we'll have to work with, and how strong a northeasterly flow we see at the surface are all questions we just don't have the answer to just yet. While April IS Denver's second snowiest month on average, it does take the right setup – and currently we see marginal temperatures, daytime snow, and a bit of an unorganized atmosphere which doesn't add up to a classic April snow. We'll see if we start to narrow in on one solution or another and if anything looks a bit more impactful (and colder) as the week progresses.
For now, plan on the chilly and wet weather continuing. It's likely we will see more snow from Wednesday night through Friday – but how much and exactly when are TBD. The latest European ensemble mean shows 3 - 4" of snow (total) through Saturday in Denver, which considering melting and spread over many days wouldn't be all that impressive at any given time, and matches its operational model pretty well at this time. The GFS today is much snowier, but hard to put much stock into it given the overall setup. Not to rule out a heavier snow for the latter half of the week, but it's the least likely at this time.
One product we'll be watching this week are the snowfall probabilities from the European model. Right now here are the odds for 3" of snow or more through next Saturday afternoon. Pretty good odds for the Front Range mountains and foothills, and some intrigue along the urban corridor, but not a sure bet. Also, this includes all of the main snow chances during the course of the week, and not all at one time. The April sun will do plenty of melting if given a chance!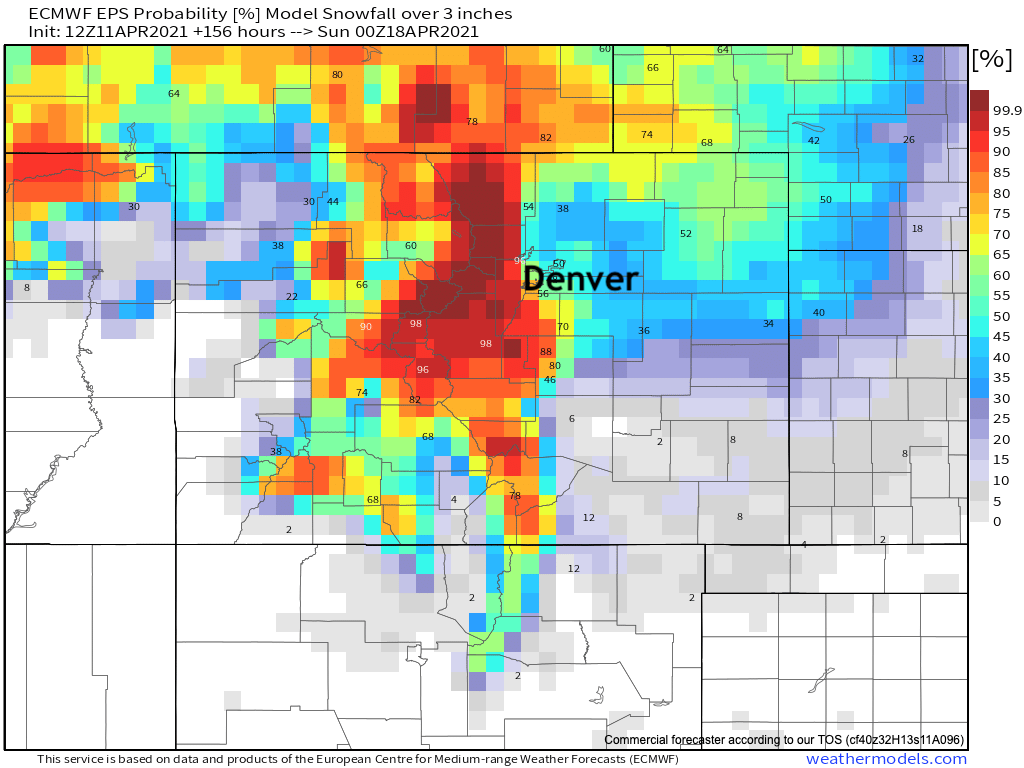 We look forward to interacting with you this week as we dissect the daily changes.