So far the more bullish models for snow through midweek have come up way short. Last night's snow didn't deliver all that much outside of a few isolated areas along the Front Range mountains, with only a Trace to 1/2" for most areas along the urban corridor – if that.
Below is a look at snowfall totals over the last three days through Wednesday morning. A Trace to 1" in spots along the urban corridor, and spotty 6"+ totals for the higher terrain to our west, but not widespread:
If we compare this to the snowfall forecast from the GFS Monday morning, we see just how overdone its snowfall output has been so far this week!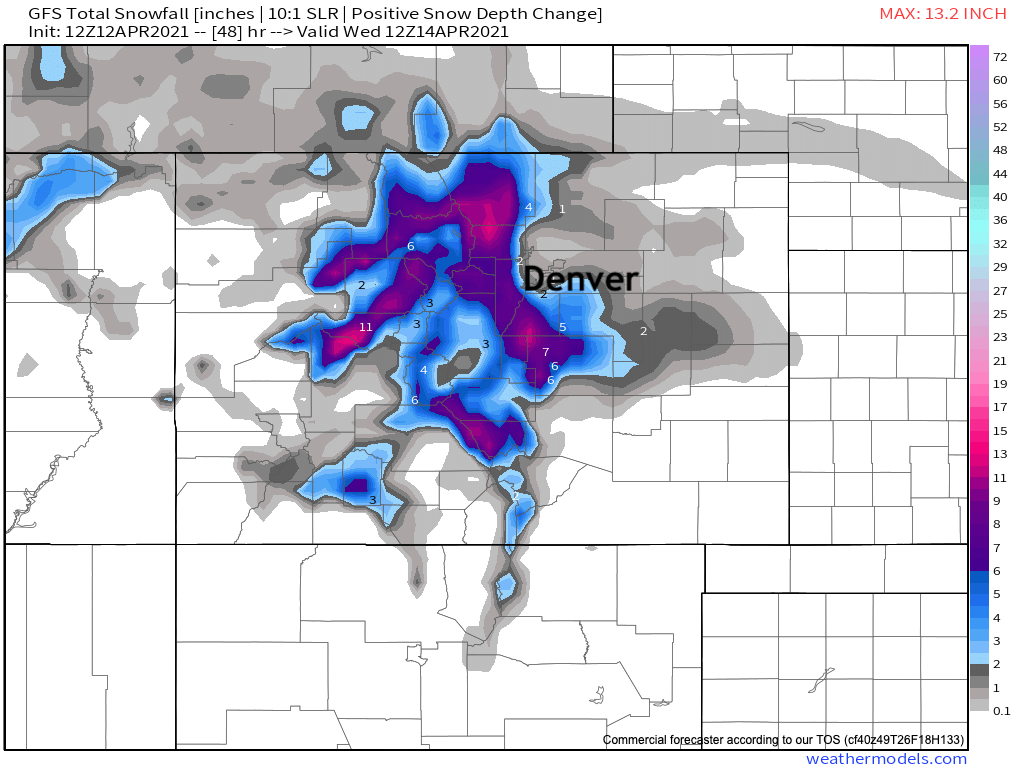 The Euro's Monday morning output was better, but still not great: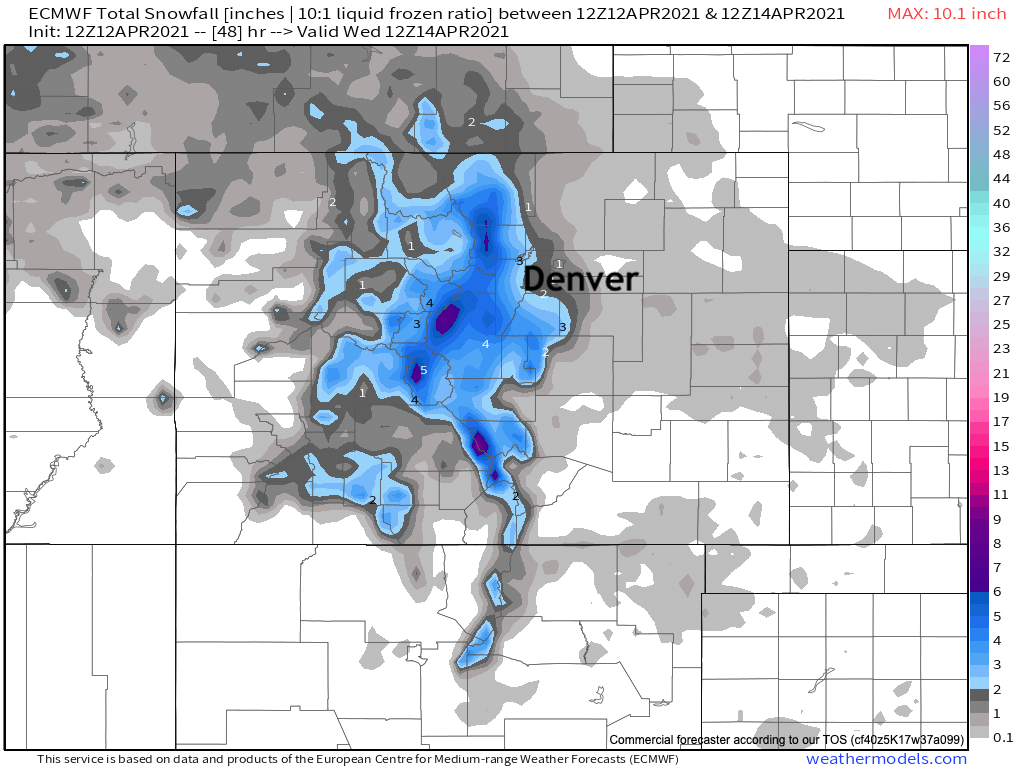 Thus far we just haven't seen the lift and moisture advertised in the modeling pan out this week, and with that we've not only less accumulating snow, but less precipitation overall as well.  
This afternoon and tonight
Similar to yesterday afternoon and evening we do expect an uptick in shower activity later today. Also like yesterday afternoon and evening we expect most locales to see little or no accumulation.
The caveat to that may be if we manage a few more convective showers this evening, which would lead to at least localized heavier snow showers. The most likely occurrence for this would be in the foothills vs along the urban corridor, but a quick 1 - 3" of accumulation cannot be ruled out if these heavier showers do materialize.
The latest hourly probability for precipitation in Denver moves us into the chance range tonight, with snow becoming likely by Thursday afternoon:

Thursday and Friday
Given the overall setup, and track record thus far, it remains hard to stomach the totals the GFS is forecasting for Thursday and Friday. While we do foresee a period of moderate to heavy snow developing Thursday afternoon and overnight, we still question just how much snow we'll ultimately see accumulate across Northeast Colorado and the Front Range given the northerly track of the low, temperatures, April sun, and warm surfaces.
What we can say is there is better consensus in the modeling, and the timeline of the best chance for accumulating snow for most of us coming between Thursday afternoon and Friday morning looks good. The rather slow progression of the upper level trough will likely keep us chilly and unsettled well into Saturday across the state, but the most meaningful snow looks to come to an end by then, at least how things stand today.
The main trough is forecast to move across northern Colorado Thursday evening into Friday morning, eventually getting east of us over the weekend, even as it leave some energy behind. Here's a look at 500mb anomalies valid Thursday night:
At the same time a rather potent cold front is forecast to push through northeast Colorado, which will help enhance upslope and snowfall at least for a time Thursday afternoon and evening along the Front Range.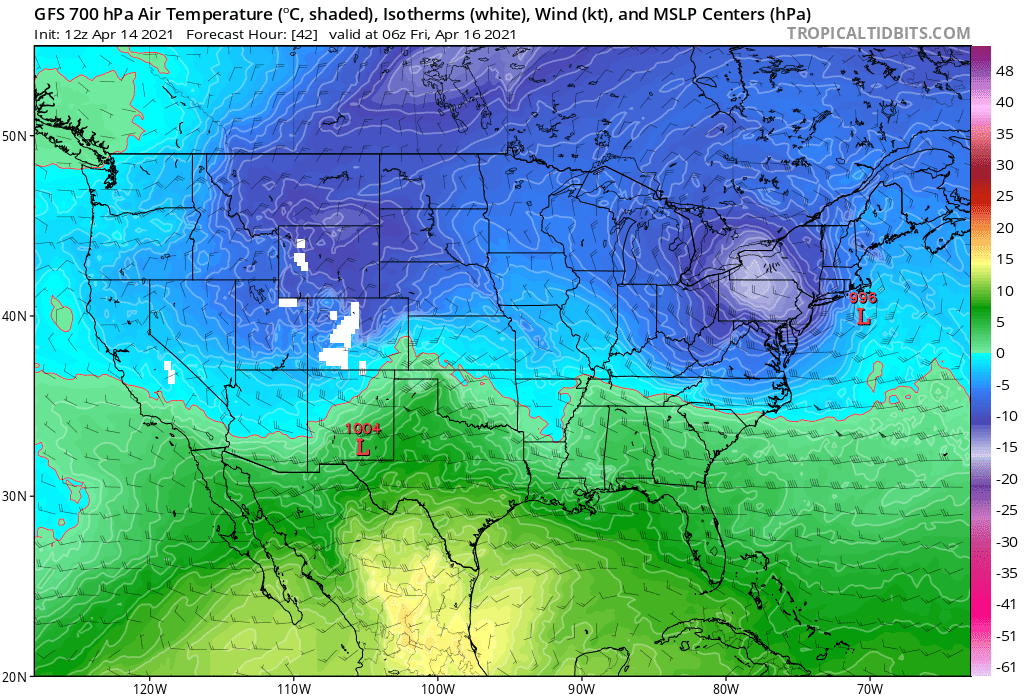 Later Thursday night winds become more northerly rather than northeasterly which could begin shutting off the heavier snowfall for many of us along the urban corridor, but light to moderate snow is expected to continue across the Northeast Plains well into Friday morning.
Raw numbers from the European ensemble would suggest the following totals from Thursday afternoon through Friday night:
Front Range mountains: 5 - 10"
Cheyenne: 3 - 7"
Fort Collins: 2 - 6"
Boulder: 3 - 7"
Denver: 2 - 6"
Highlands Ranch: 3 - 7"
Colorado Springs: 2 - 6"
Fort Morgan: 2 - 6"
Sterling: 4 - 8"
Limon: 2-6"
While some of the operational models remain more bullish with snowfall totals, given everything we've been discussing this week, and the fact that much of this will melt without pretty good snowfall rates, we tend to like the above numbers and can adjust on Thursday as needed.
With that, here's our initial forecast map which takes us from Thursday afternoon through Friday: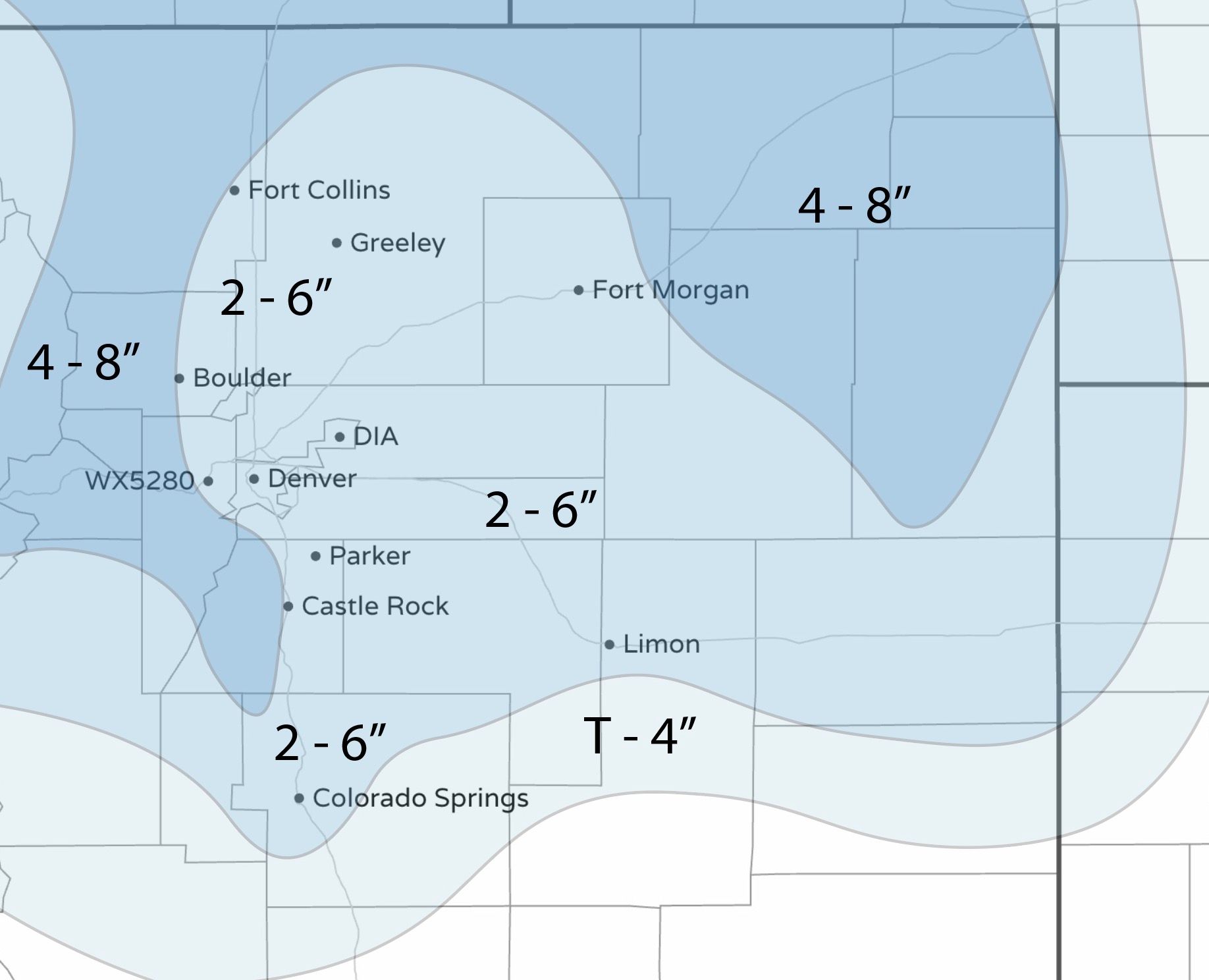 Tl;Dr
Look for snow showers to develop again this afternoon and evening along the Front Range foothills and adjacent plains. Little accumulation is expected outside of an isolated heavier snow shower or two, where a quick 1 - 3" would be possible – mainly across the higher terrain.
Snow chances increase Thursday afternoon and night along the Front Range and Northeast Plains. Snow will be heavy at times, especially Thursday afternoon, with some convective showers capable of producing 2"/hour snow rates at least for a time Thursday afternoon.
An associated strong cold front will drop temperatures below freezing Thursday night, and keep the metro areas in the upper 30s to near 40F Friday, with light snow showers and flurries continuing.
Snowfall totals could accumulate to several inches by Friday morning across Northeast Colorado, but confidence in how much snow we'll see and how much snow will fall vs stick remains quite low.
The big question is if models hold steady with their precipitation forecasts tonight or if we start to see them back off. Again, the track of that low may ultimately prove problematic for a widespread heavy snowfall event across much of the area.
Stay tuned!