We're now day of, and models continue to differ on how the next 24 hours or so will pan out across Northeast Colorado. Details around snow totals aside, expect rain and snow showers to increase through the afternoon across northeast Colorado, with locally heavy rain and snow possible through the evening.
The HRRR model, which has done quite well with snow events in recent weeks, has trended snowier this morning after keeping the heaviest snow well north of the Denver area in overnight runs. Its totals would assume some pretty healthy accumulation before sundown tonight, so it's likely overdone, but the trend is still notable. Meanwhile the NAM model has backed off on totals, and looks more in line with our forecast, and the GFS remains quite bullish for snow, as it has all week.
With greater confidence in a least a period of moderate to heavy snow this afternoon and night across Northeast Colorado, the National Weather Service has issued a Winter Weather Advisory for all of NECO, it goes into effect at 3pm for Denver and expires at 9am Friday morning.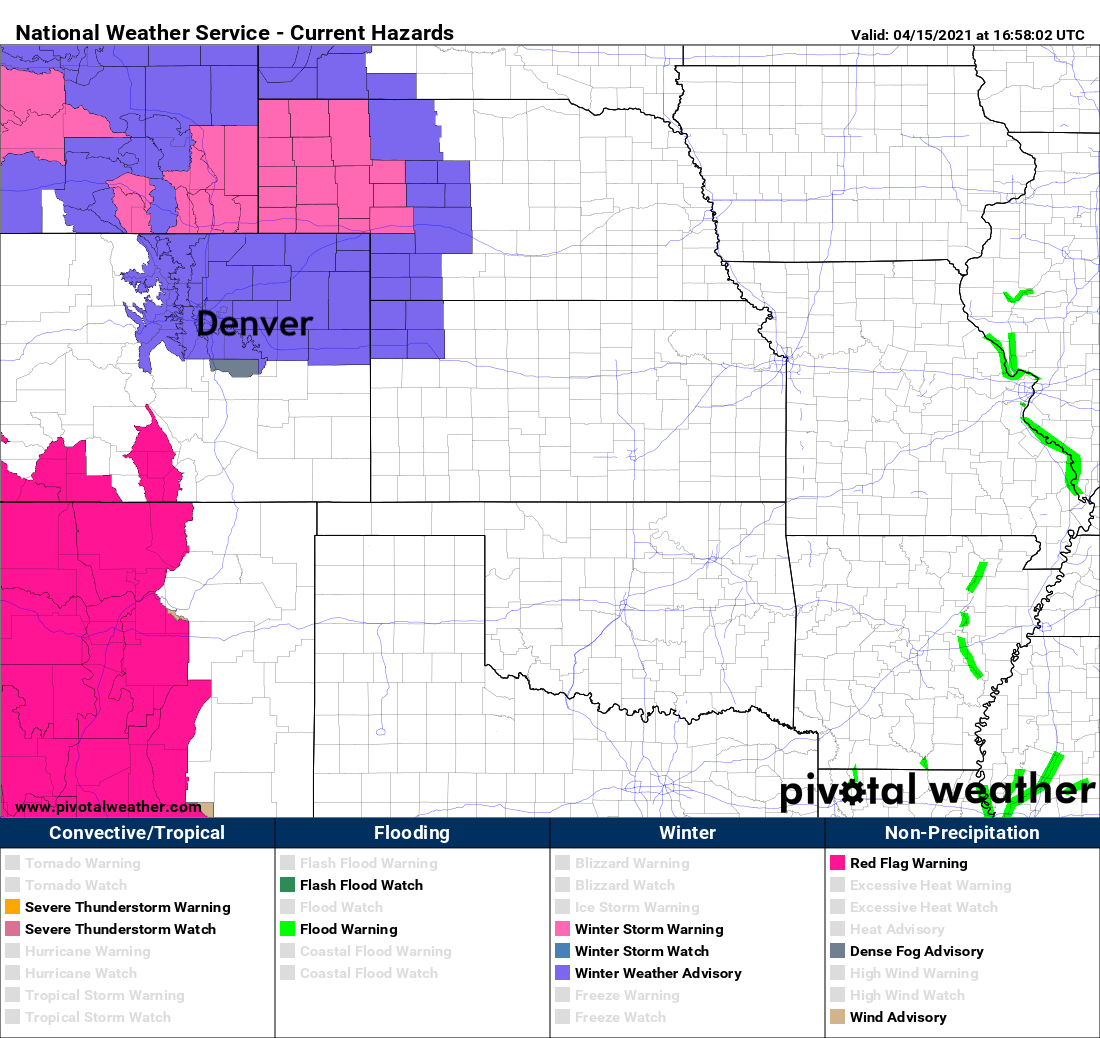 The Advisory calls for 3 - 6" of snow for most of the urban corridor, which clearly fits pretty well with our 2 - 6" range we have forecast. While some models continue to show upwards of 8" for many areas, we think with rain, melting, compaction, and a good deal of uncertainty that remains most areas will not see such healthy totals.
Timeline and impacts
The latest timeline hasn't changed much. We expect rain and snow to develop along the Front Range and urban corridor by early to mid afternoon, with precipitation becoming more widespread through the evening, before gradually letting up overnight into Friday morning.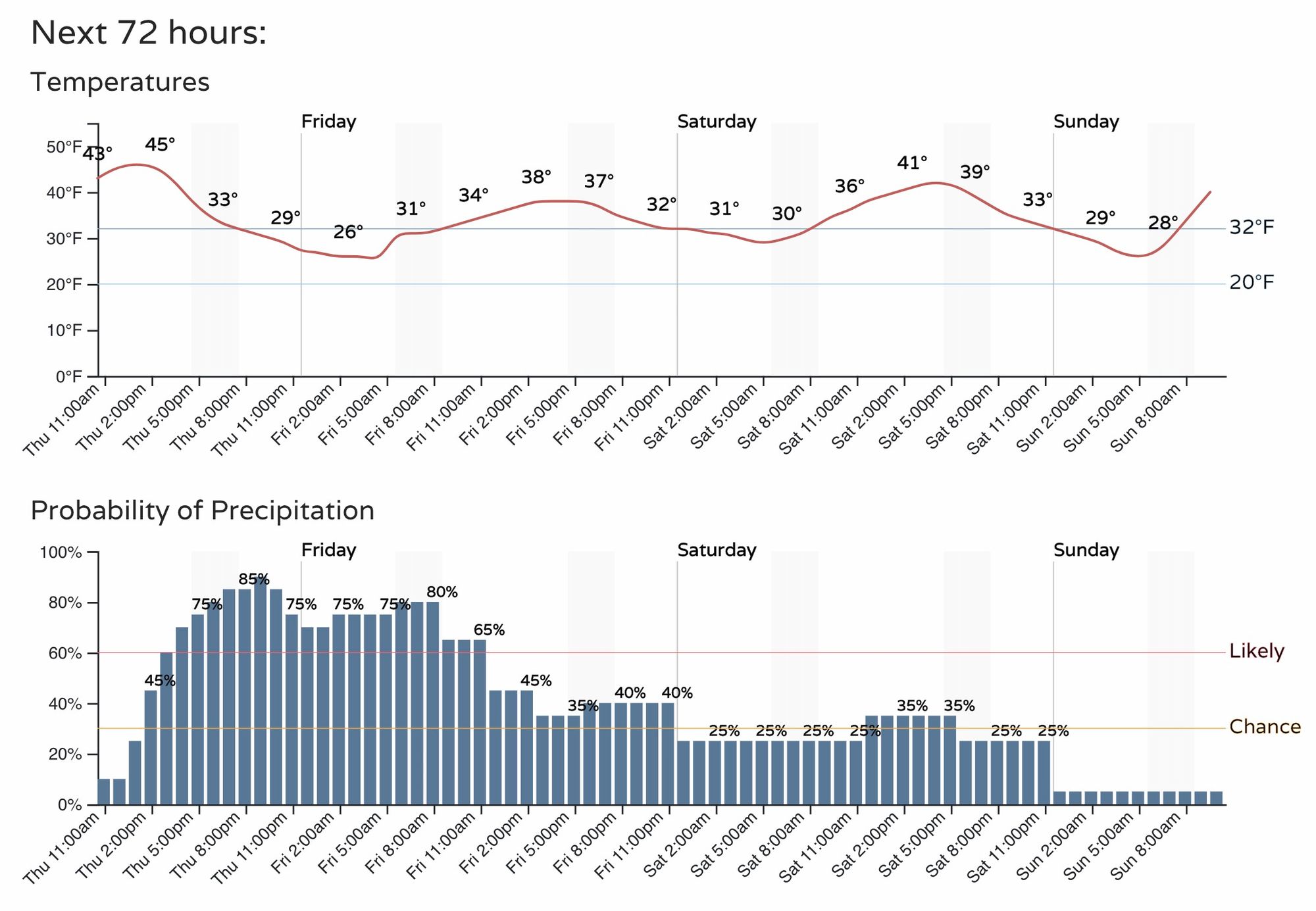 Initially precipitation may fall in the form of rain, this is especially true along and east of I-25. Showers and storms may initially produce some locally heavy rain as they develop this afternoon, and as those transition to snow we expect pockets of heavy wet snowfall to develop. IF the latest HRRR is correct, we could see localized showers of snowfall rates in excess of 2"/hour at times this evening.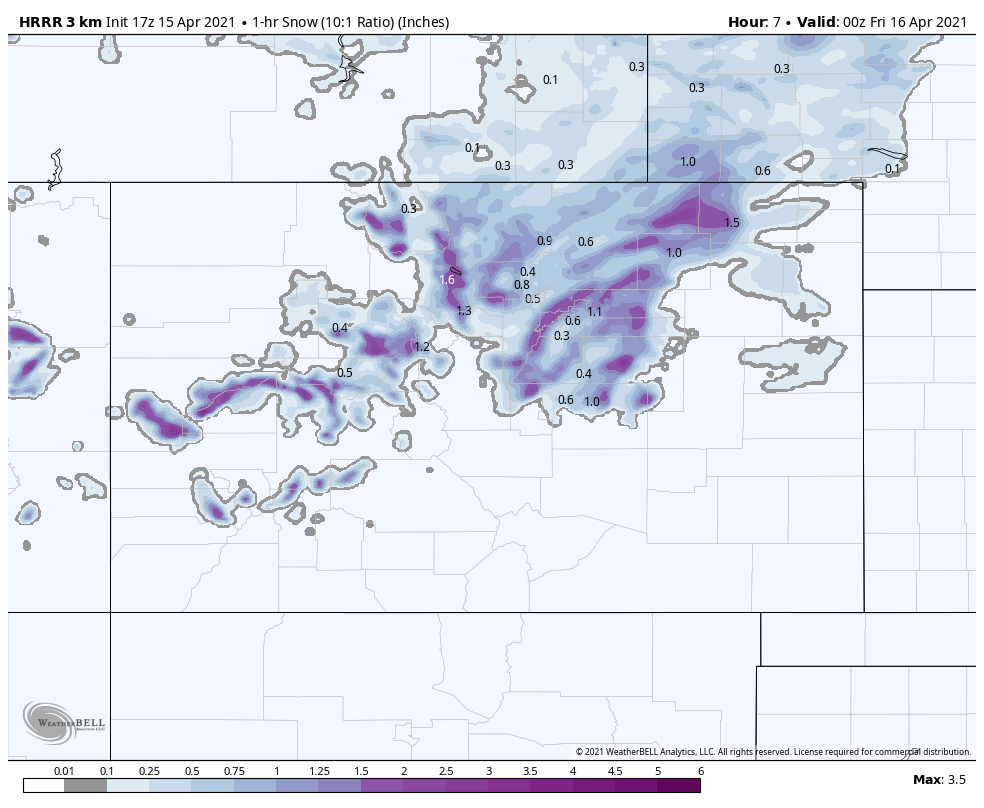 Given the time of year and recent warmth, we expect roads at lower elevations to do okay until after sundown tonight, when slushy and eventually icy conditions will set up where we see the heavy precipitation persist overnight.
So, this evening's rush may be slow due to areas of heavy rain and snow, and the Friday morning commute may be slow due to icy and slushy roads.
Snowfall forecast
We didn't change much from yesterday. We pulled the 2 - 6" range back a bit over Colorado Springs, as the setup is a questionable for the Springs, however still some locally heavy snow showers could mean some quick accumulation this afternoon/evening.
The remainder of the urban corridor will remain in the 2 - 6" range, with locally heavier amounts possible IF we can sustain some of the heavier snow after sunset tonight. The Front Range foothills and mountains could see 4 - 8", with a an area of heavier snowfall totals expected across the Northeast Plains as well.
The biggest bust potential could end up being for areas along and east of I-25 IF temperatures do not cooperate. DIA, Greeley, etc – may end up more in the 1 - 4" range, we'll see.
Friday and the weekend
While the heaviest snow moves through this afternoon and overnight, we expect the pattern to remain chilly and unsettled into the weekend, with more rain and snow showers across the region through Saturday. At this time little additional accumulation is expected, but the chilly pattern won't be exiting in any hurry.
We are also watching early next week for yet another cold front and rain of snow. It looks to move through much quicker, but could bring another round of accumulating snow to portions of Colorado to start next week.