Tornado watch issued for parts of the metro areas and the eastern plains of Colorado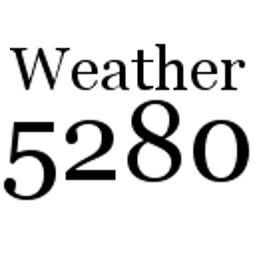 A tornado watch has been issued for Saturday afternoon and evening. Here is the issuance by NOAA's Storm Prediction Center.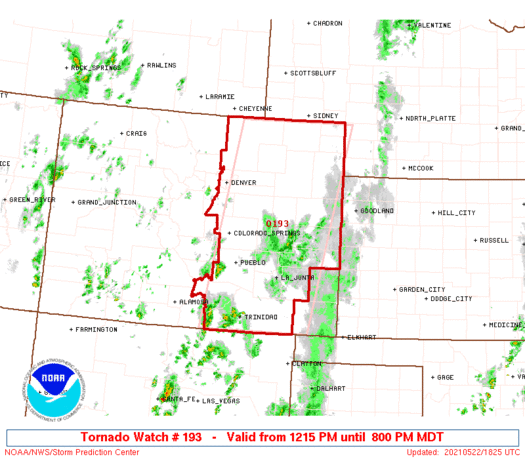 URGENT - IMMEDIATE BROADCAST REQUESTED    Tornado Watch Number 193    NWS Storm Prediction Center Norman OK    1215 PM MDT Sat May 22 2021    
The NWS Storm Prediction Center has issued a    
* Tornado Watch for portions of Eastern Colorado    
* Effective this Saturday afternoon and evening from 1215 PM until 800 PM MDT.
* Primary threats include... A couple tornadoes possible. Scattered large hail and isolated very large hail events to 2.5  inches in diameter likely Isolated significant damaging wind gusts to 75 mph possible
SUMMARY...A moist air mass extends across the eastern Colorado Plains toward the Front Range and I-25 urban corridor this afternoon. This moisture along with additional heating and upslope low-level winds will likely contribute to severe thunderstorm development by mid-afternoon, initially near the Front Range, with storms subsequently developing quickly northeastward into the  adjacent Plains of east-central/northeast Colorado. Large hail should be the most prevalent risk, but the potential will also exist for a couple of tornadoes, and eventually damaging winds into late afternoon/early evening as storms organize/move northeastward. The tornado watch area is approximately along and 70 statute miles east and west of a line from 55 miles north of Akron CO to 25 miles  southeast of Trinidad CO. For a complete depiction of the watch see the associated watch outline update (WOUS64 KWNS WOU3).
For Denver, here is a timeline of the storm activity. Similar timelines are available to you on your customizable WeatherBoard.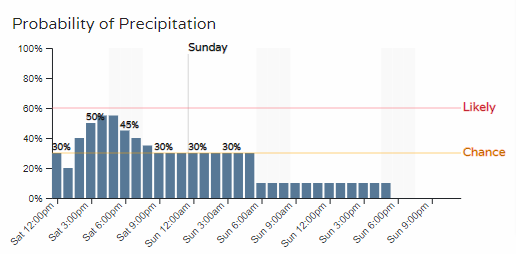 For all areas, here is a midday update of the storm animation across Colorado through Sunday morning.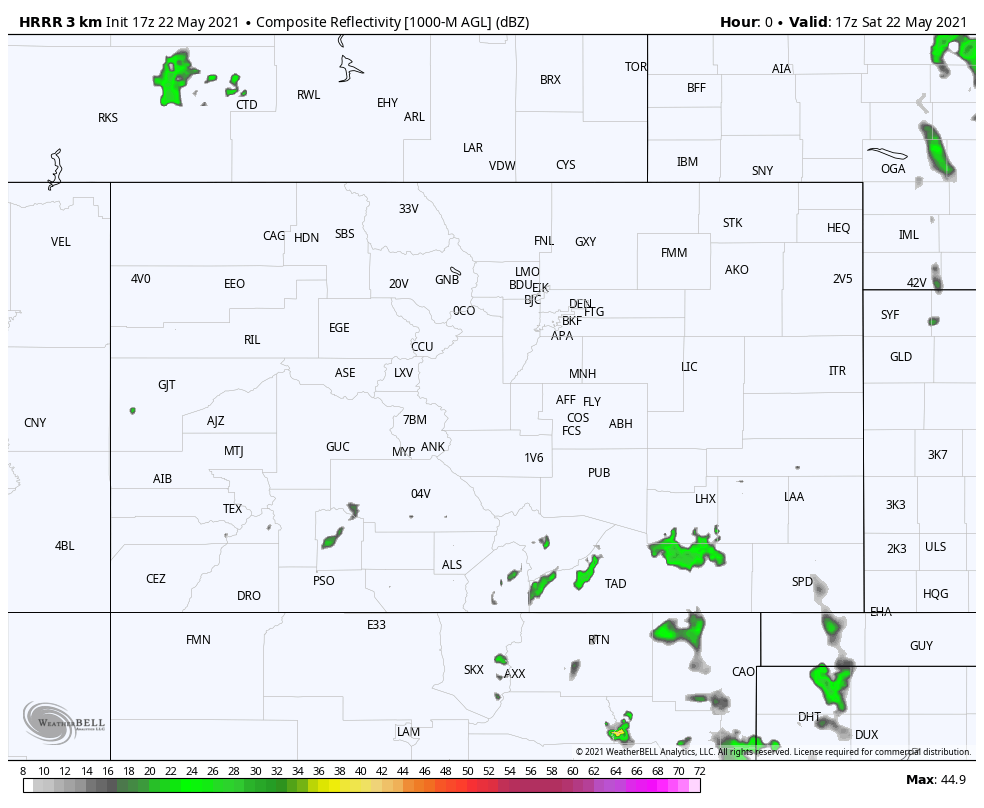 Storms that develop will then move to the east/northeast and have the following probabilities of damage by:
Tornado: Up to 5% likely.
Hail: 15% likely, and possibly significant sizes.
Wind: 15% likely.
Stay tuned to local weather radio as active weather is to develop and spread across the plains.