Today marks yet another day where an Air Quality Alert is in place along the urban corridor and much of Eastern Colorado. It's been an exceptionally smoggy summer, reminding many Denverites of the infamous brown cloud of the 1990s.  
While the driving forces behind this summer's poor air quality may be different than decades past, the health concerns remain. The following health warning from officials has been on reprint nearly daily this summer:
HEALTH INFORMATION...Greater likelihood of respiratory symptoms and breathing difficulty in active children and adults and people with lung disease, such as asthma; possible respiratory effects in general population. Active children and adults, and people with lung disease, such as asthma, should avoid prolonged or heavy indoor and outdoor exertion; everyone else, especially children, should reduce prolonged or heavy indoor and outdoor exertion.
If you're curious about the air quality near you (other than looking out the window and noticing the ongoing smog) the CDPHE website is a great resource. Here you can find a map of air quality reports from across Colorado. Below is a snapshot from this afternoon: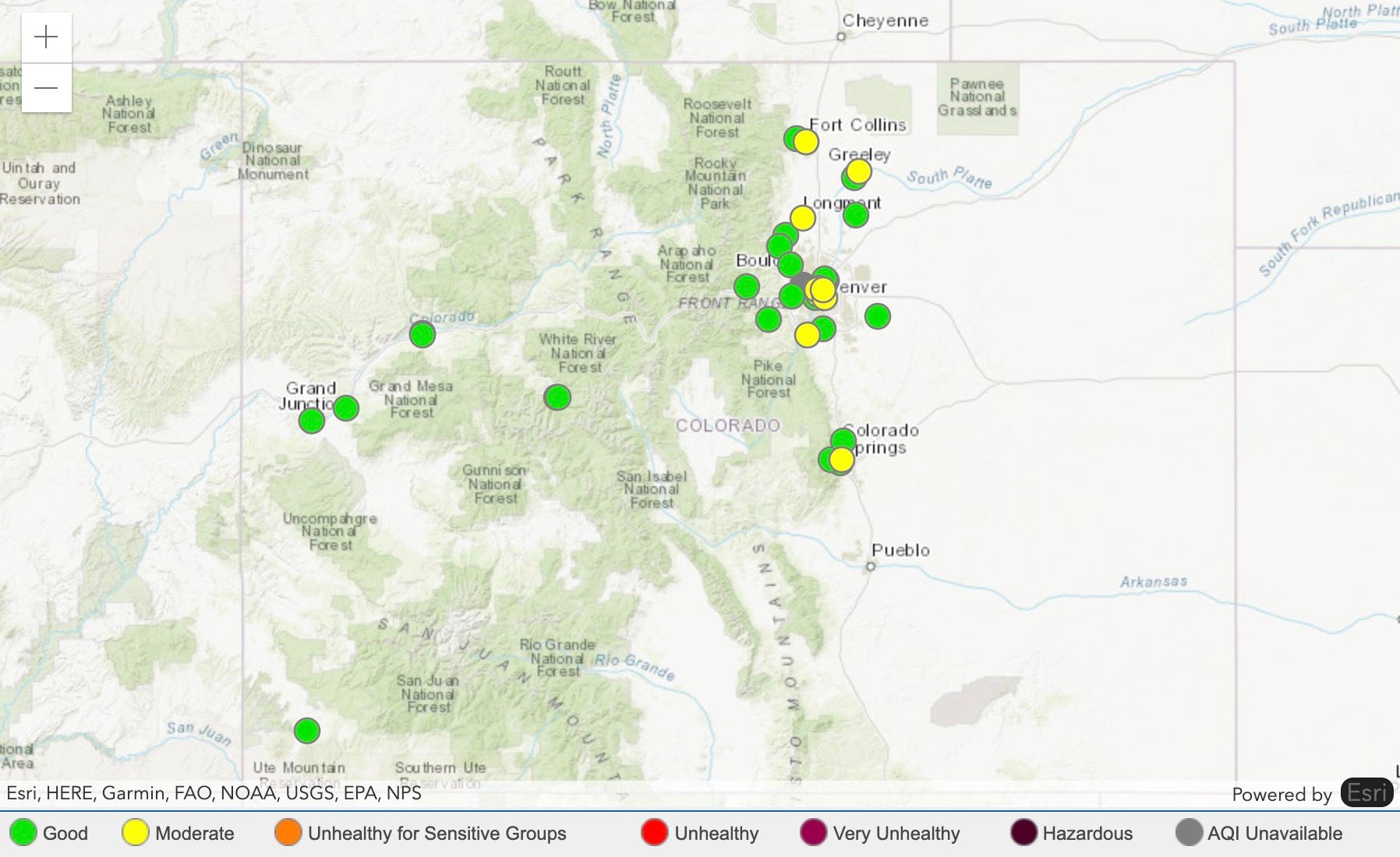 Looking at data covering the last 30 days, we see most days have featured poor air quality, which lead to a record number of consecutive days under a poor air quality alert for Denver in July. In fact, today marks the 29th day out of the last 30 that there's been an Air Quality Alert issued for Denver.

While fires burning across the west aren't helping the situation, it's not the full story either. Traffic is back roaring along the Front Range, and a rather hot and stagnant weather pattern hasn't helped clear the air from time to time as fronts often do around here.
Here's a look at traffic counts at I-25 and 6th Ave in Denver since 2016. As of June, traffic counts aren't just back to pre-pandemic numbers, but are actually ahead of any of the prior four years!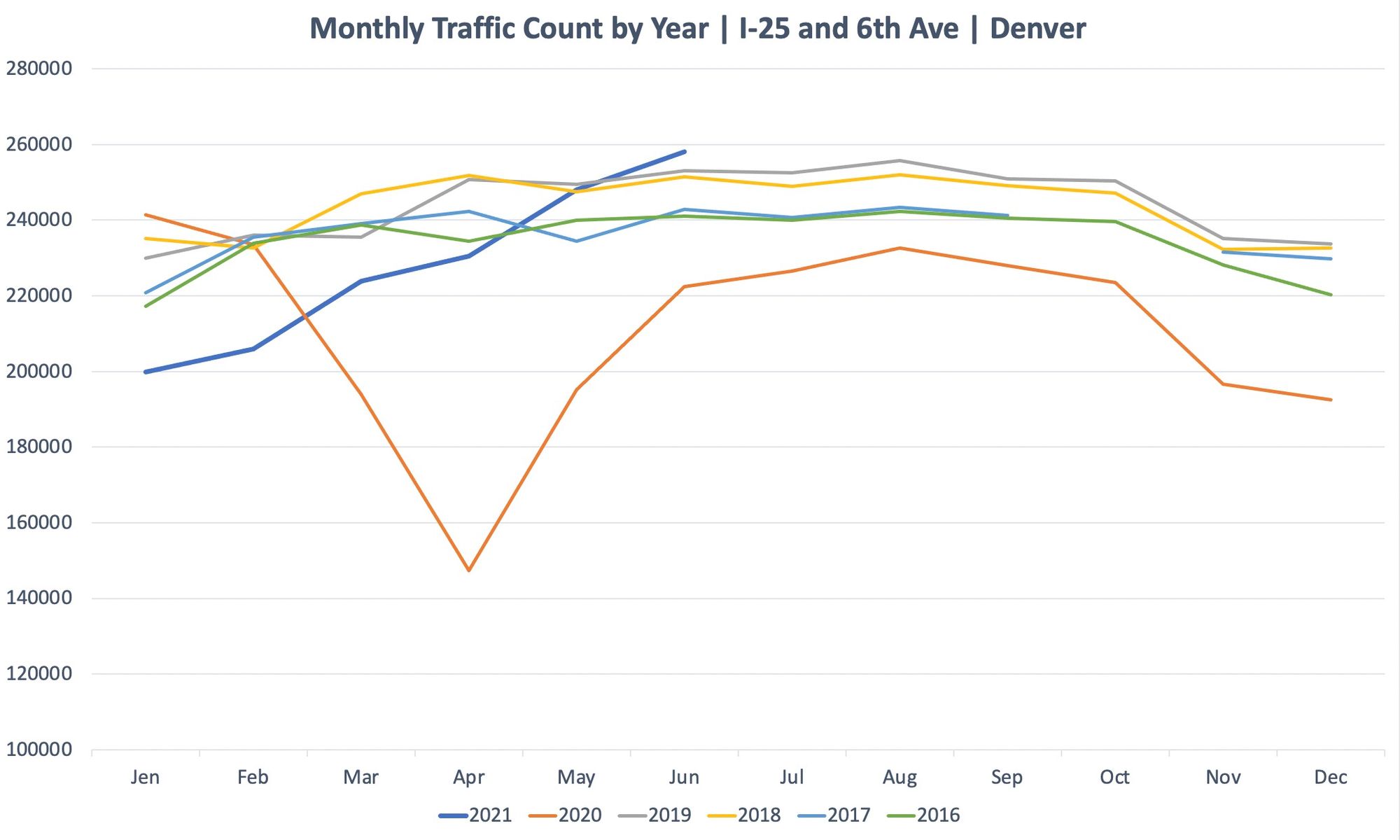 The combination of moving pollutants, stationary pollutants, wildfire smoke, and a persistent weather pattern has combined to create a rather relentless pollution cocktail this summer.
Here's a look at the latest smoke forecast from the HRRR model. It shows, thankfully, not much fire activity across Colorado, but fires across the Pacific Northwest cranking a lot of smoke into the atmosphere which continues to work its way east, and right down along the Front Range of Colorado: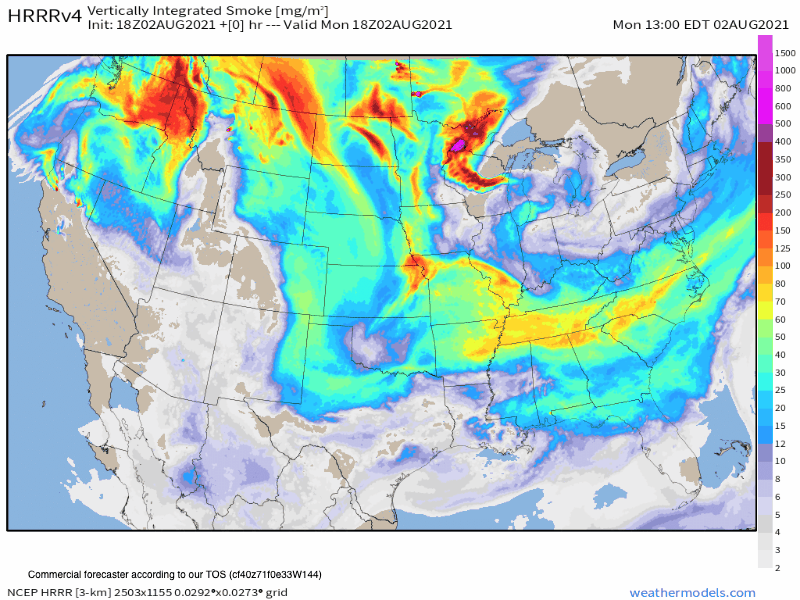 The outlook
The good news is there may be some better air on the way by the weekend. We'll see. Through Thursday the AQI (Air Quality Index) is forecast to remain poor, even as some of the smoke we've been inundated with could relax over the coming days. By the weekend, perhaps we'll see some green days!
The cause of this will be a shift to a more zonal flow, as well as a series of shortwaves passing to our north, which should help to mix poor air out more readily. Some models are further north with this series of short-waves, some further south. The more northerly solutions would keep us hot and dry through the weekend, while a more southerly solution could mean better daily storm chances this weekend into early next week. We'll see.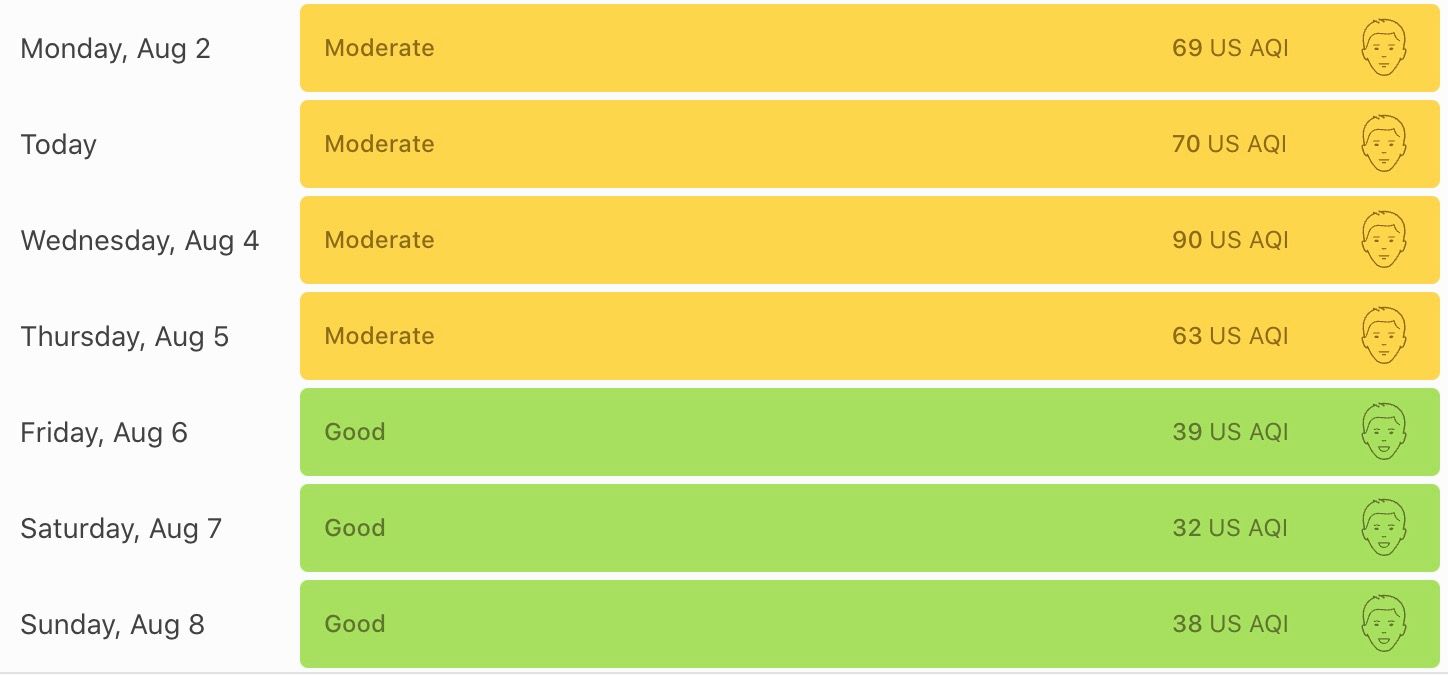 For now, plan on a relatively active storm day today, continued poor air quality over the next couple of days before hopefully we see some improvement. The end of the week should be drier and warmer, but perhaps some more active storm days to follow should we tap into the storm track to our north from time to time later this weekend into early next week.