Cooler weather over the last couple of days, as well as spotty strong storms across Eastern Colorado have been a welcome relief to the recent record heat we've seen across the state. Precipitation totals since Sunday (below) show that while not everyone saw rain (we only picked up a few stray drops!) some folks saw some appreciable rain, and in a few cases far too much hail.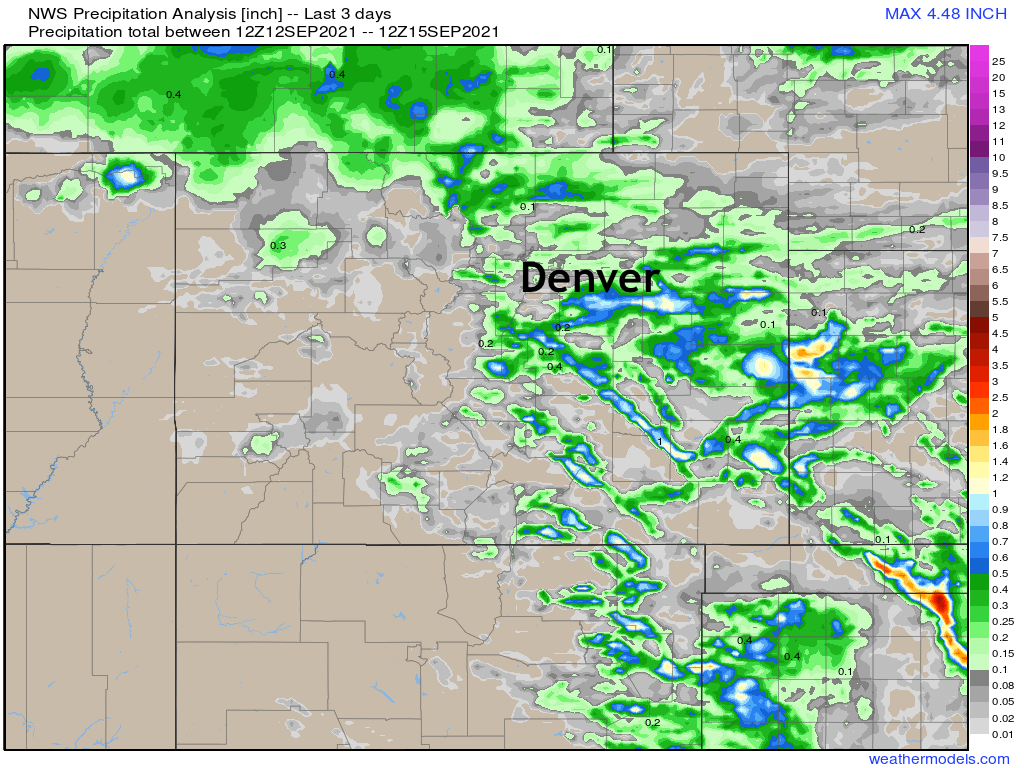 As we look ahead to the remainder of the week, and ahead into the following week, we see a return to mostly quiet and warm conditions across the state through about Sunday, before the potential for a stronger system to move through early next week and deliver some cooler air to the state, and perhaps even some mountain snow! At this time, it does not appear we'll be able to tap enough cold air for snow a lower elevations, but of course this is the time of year we need to start to watch these systems more carefully.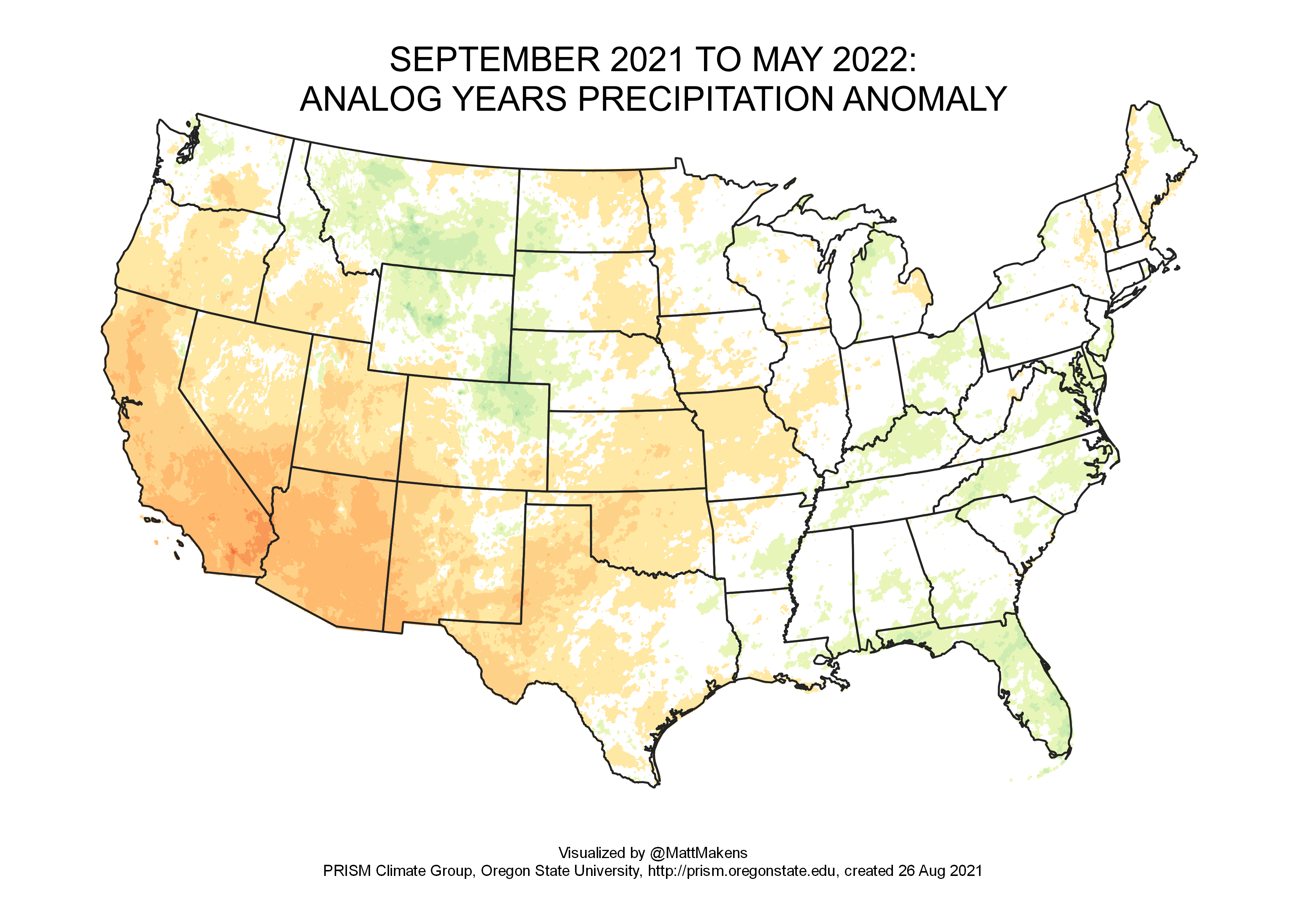 Current data shows a trough dropping out of the northern Rockies early next week, and delivering a cold front to eastern Colorado somewhere in the Monday afternoon to Monday night timeframe. The bulk of the energy is expected to stay north of our area, with the upper level low moving across Wyoming.
A look at the latest European ensemble forecast shows this, with ridging (reds) in place this weekend: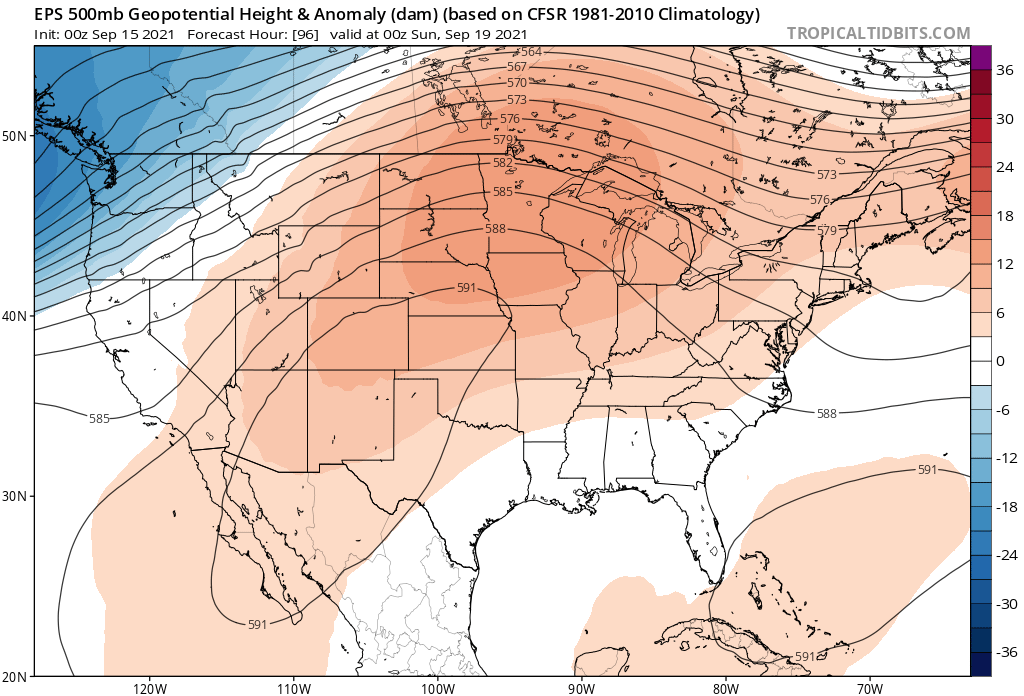 Then a trough moving through the Northern Rockies early next week: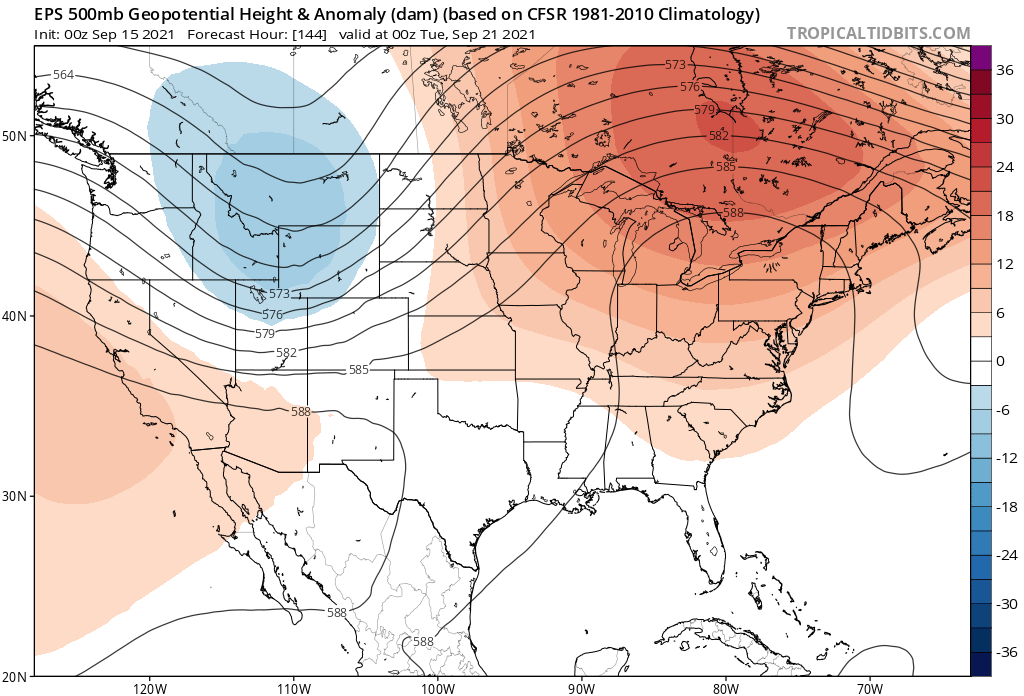 Of course a more southerly track would mean a more impactful event for our area. At this time, consensus is a more northerly track which would equate to a cool-off in temperatures around here, but perhaps not as cool or as wet as we might otherwise see should the track shift south a bit. With the above pattern, the northern mountains would stand the best chance at picking up the best rain and snow across the state.
Looking at temperatures for a moment, we see the European ensemble model drops Denver into the 60s for highs on Tuesday, with lows dipping into the 40s Tuesday and Wednesday: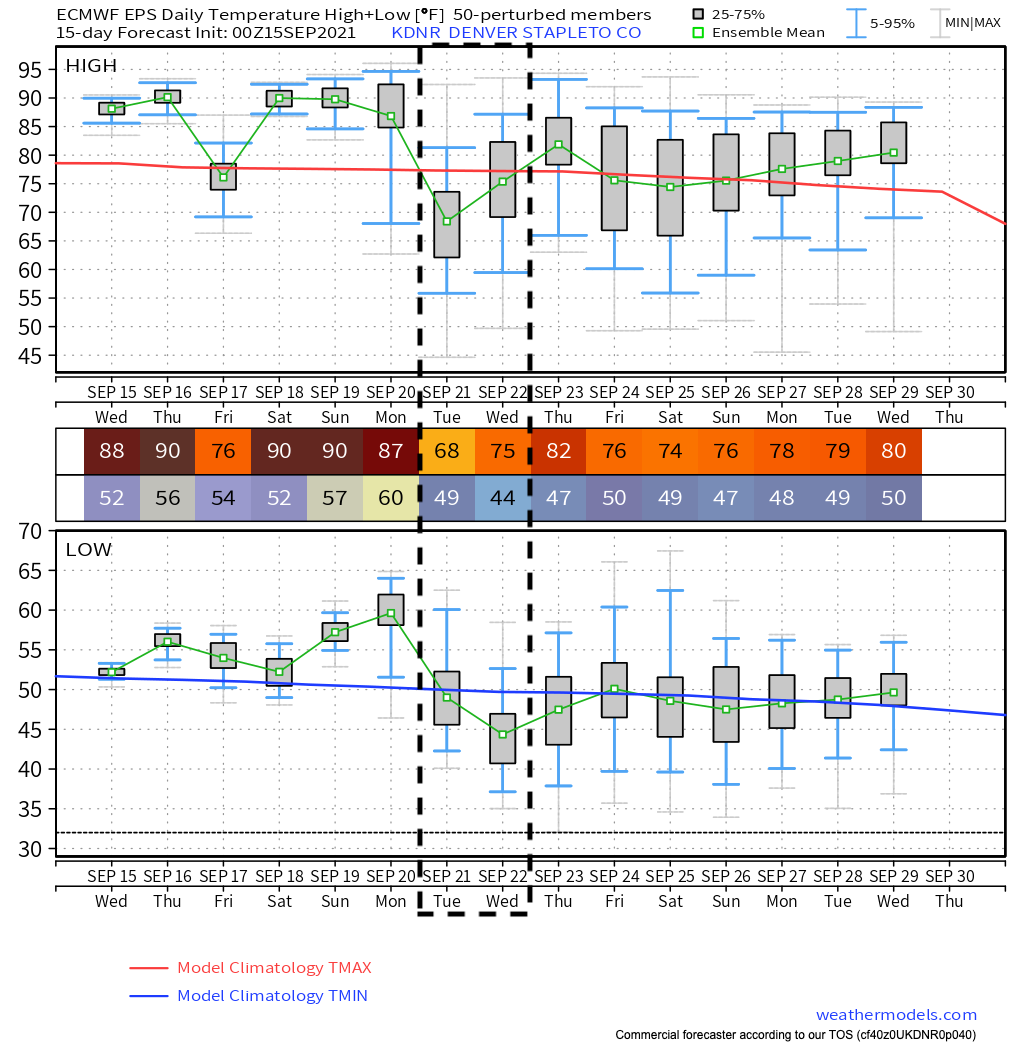 A notable cool down? Absolutely. Shocking early season cold? Far from it. Recall that Denver's average low by next Tuesday is 47.6°F, so the current mean forecast from the Euro of 44°F Tuesday night is only a couple degrees below average for this time of year!
As for precipitation... Well, the current storm track won't do much to promote heavy precipitation across our area. Should the trough dig a bit further south, something we'll be watching for in the data over the coming days, that would change. But for now, light precipitation looks possible across northern Colorado early next week, with some of that coming in the form of snow at higher elevations.
Again looking at the European ensemble model we see it shows about 0.1" of precipitation across the Denver area next week, with a bit better totals for the higher terrain of the northern and central mountains – which makes senses given current forecast track.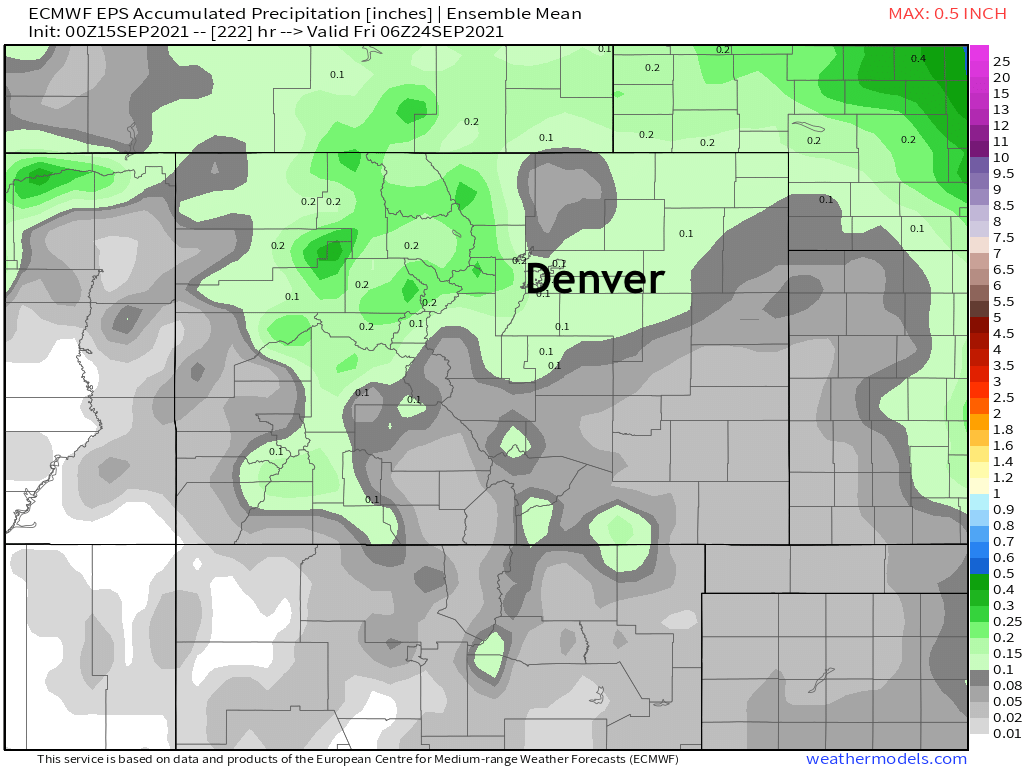 If you're hoping to squeeze out the season's first snow in Denver, well... the odds are currently against you. Looking at the 50 ensemble members from the European we see one member showing about 0.5" of snow for Denver early next week. Not even a trace from the others.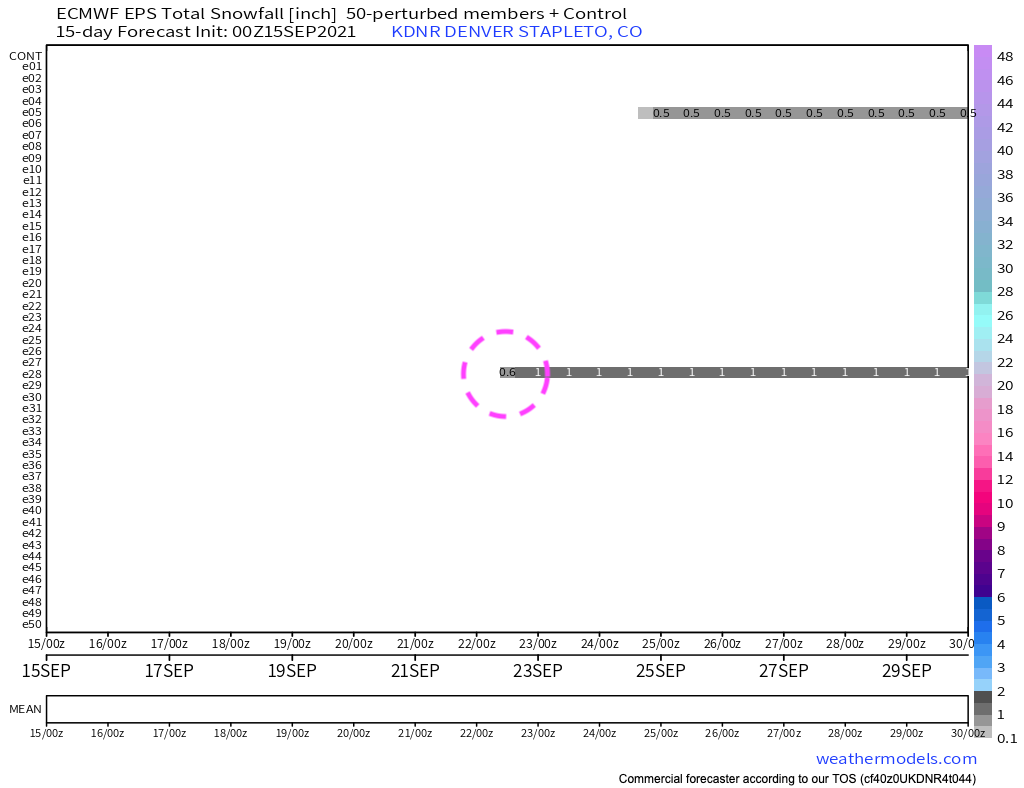 If you've got your eye on the high country for some early season snow, well odds are a bit better but by no means a given just yet. Looking at the same ensemble snowfall matrix for Steamboat we see quite a few members showing some light snowfall accumulation early next week, but still only a mean of about 0.5" at this time.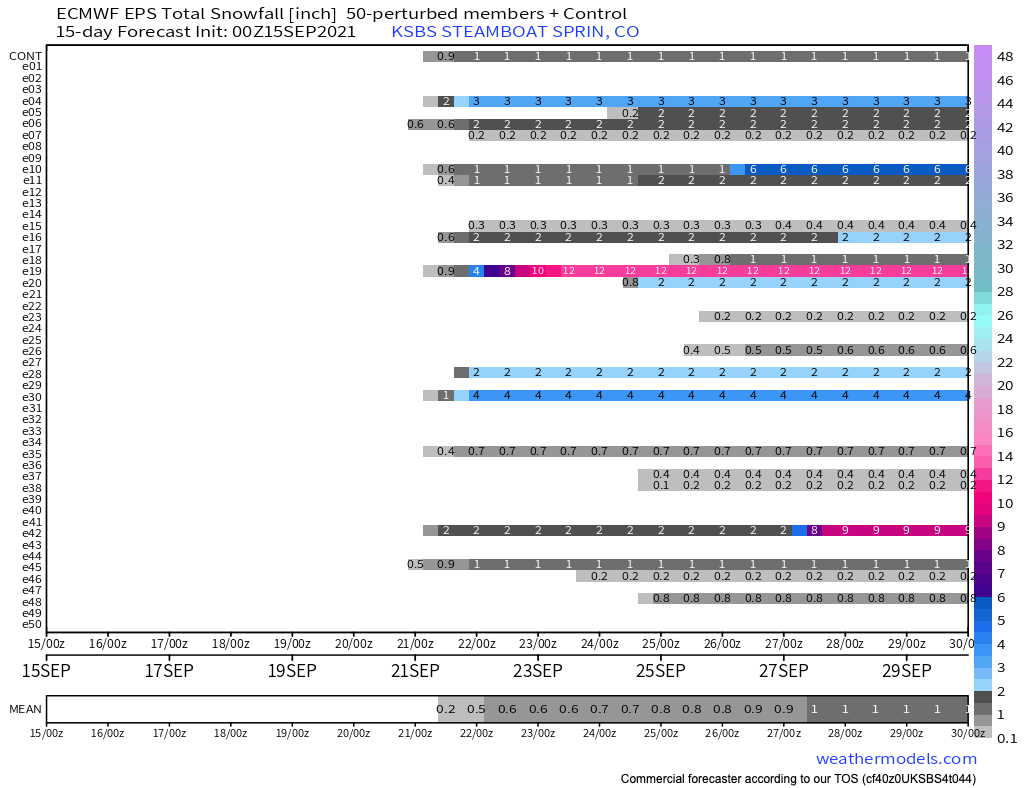 Enjoy the quiet and warm end to the week, and keep an eye on the forecast for early next week as we track the latest over the next several days.