I got a little excited about snow on Friday. You all need to help remind me not to do that this winter!
Let's check in on the two systems we've been tracking for some time now.
The first "system" continues to look quite dry. Its biggest impact will be high winds across the northeast plains, and ultimately some temperatures more closely resembling December.
A Red Flag Warning remains in effect through the afternoon for the plains, and late tonight for the Front Range foothills. The fire danger will remain high, with winds to 80 mph at times at higher elevations, and already reports of at least one fire (the Miner's Candle Fire) burning west of Idaho Springs. Please, do not burn anything today!
A shortwave trough moving across the state today is bringing the high winds and change in our temperatures. A front stalled along the northern Colorado border will drop south through the afternoon bringing with it sharply colder temperatures as we move into the late afternoon and evening.
The HRRR model shows the cold front approaching the urban corridor around 3pm, likely moving through Fort Collins at this time (if not before, as models are usually too slow with the progression of such fronts). Temperatures will be in the low 30s and 40s behind the front, but still 50s and 60s out ahead of it: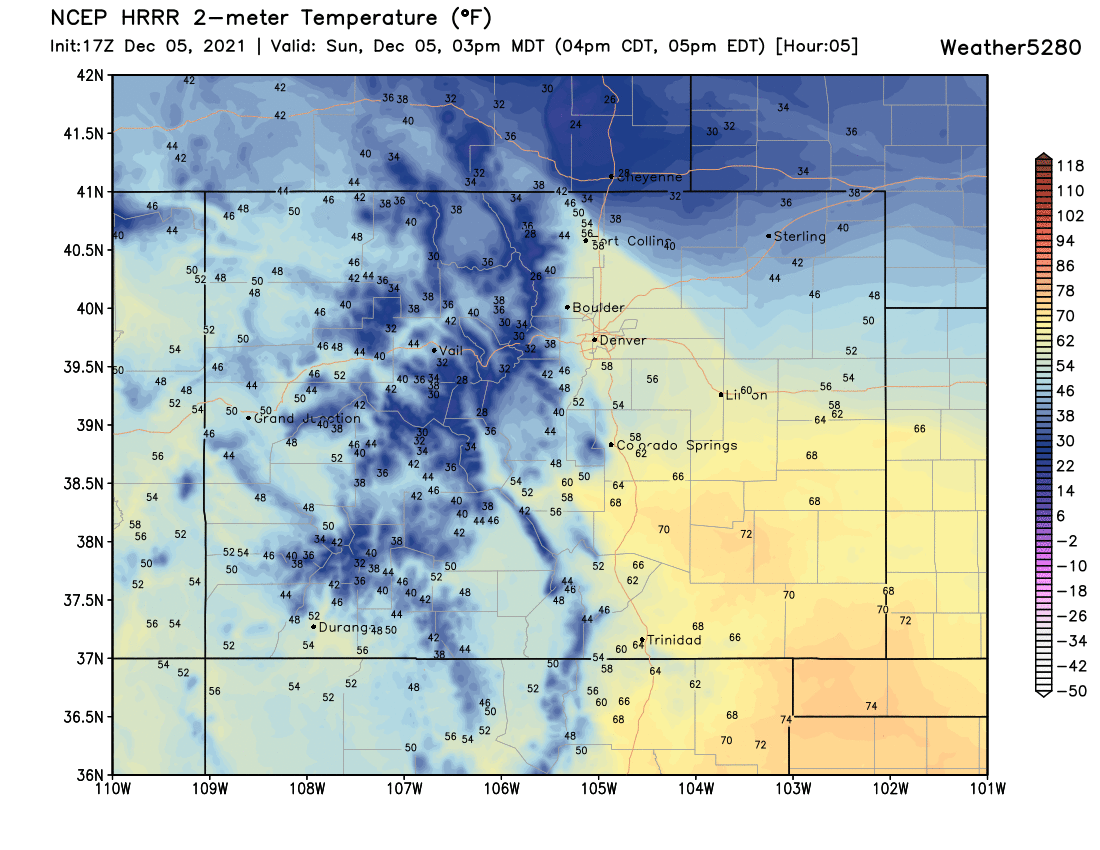 This particular model swings the front through Denver around 5pm, but again, it could be too slow if history holds.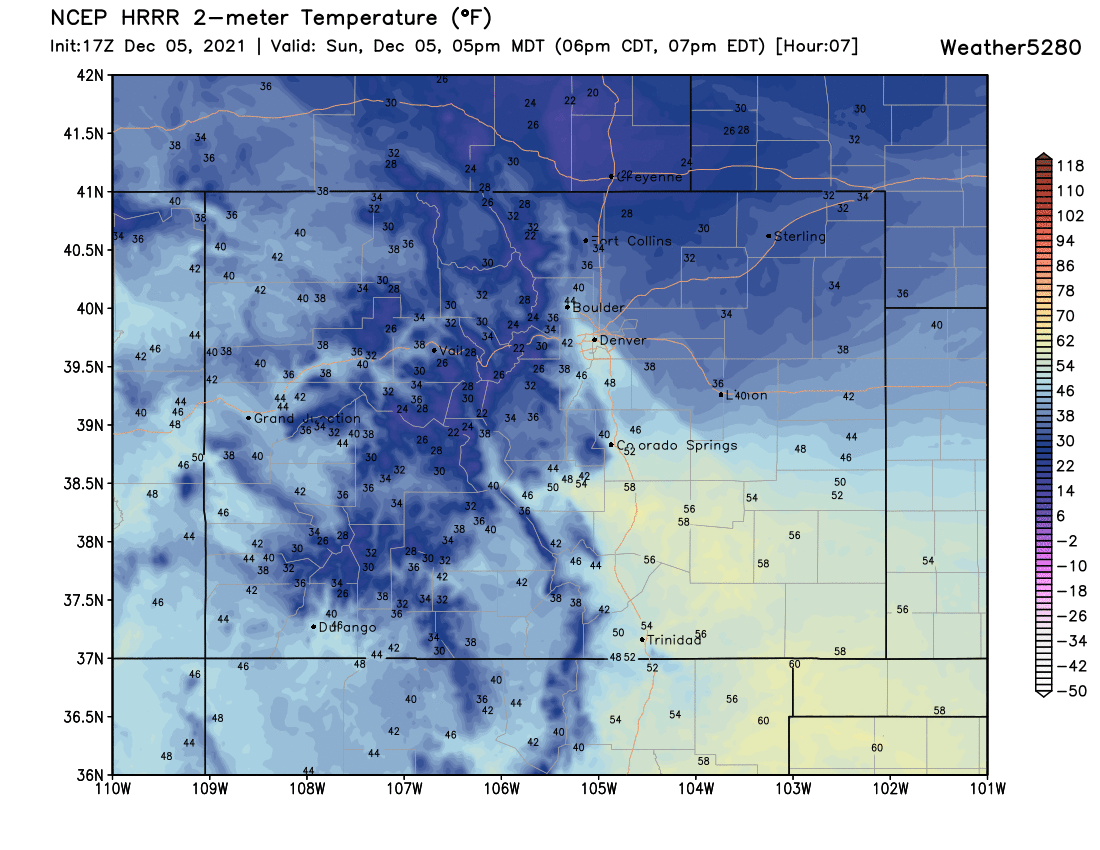 Never mind precisely when the cold front moves through your neighborhood, just know to expect it in the coming hours. The hourly planner shows Denver dropping off from the low to mid 60s early this afternoon and into the low 20s by midnight: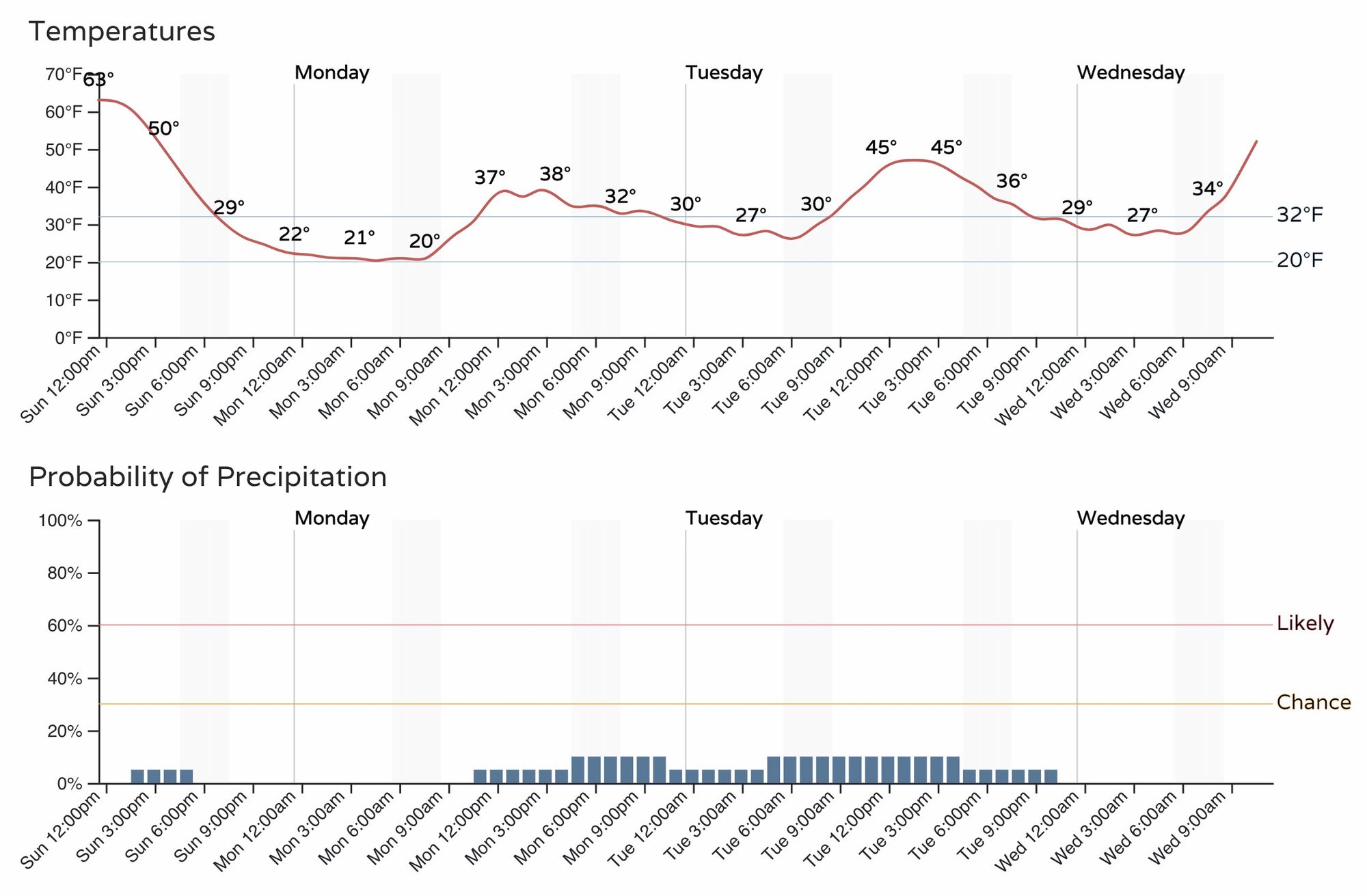 The precipitation chances, while present in the chart above, aren't great. Monday will be chilly, with highs in the 30s to maybe 40°F, but odds of any snow are low.
Here's the mean snowfall forecast from the European ensemble model through early Thursday. The mountains will see some snow over the coming days, thankfully, but as you can see not much of a shot for us east of the hills.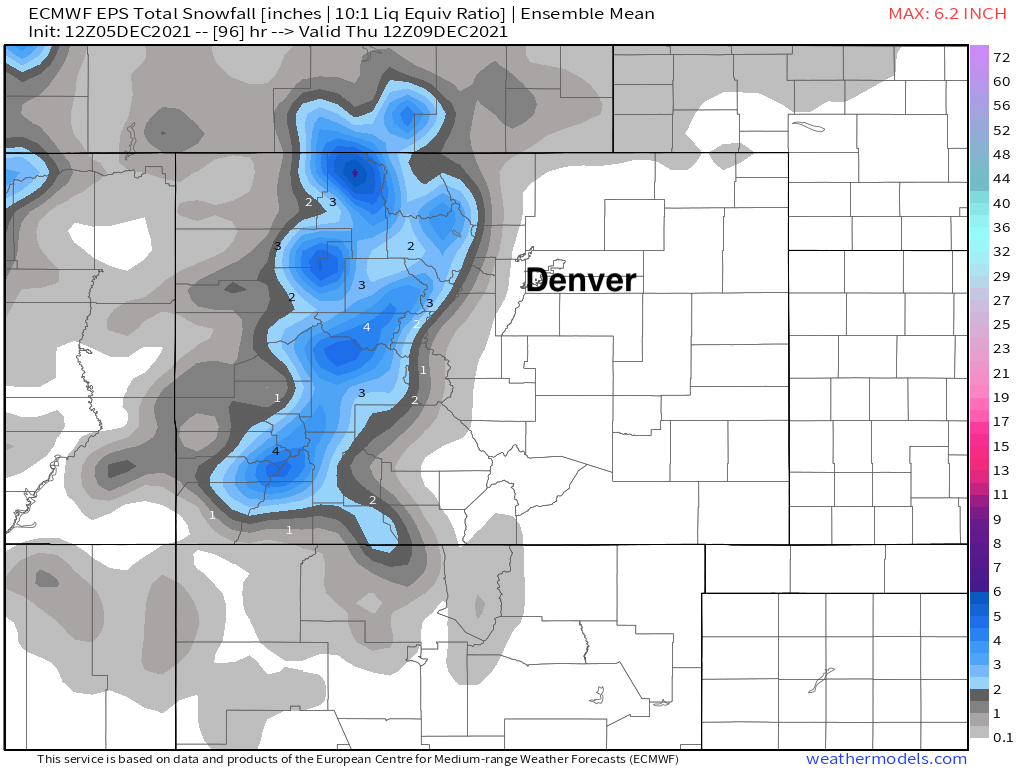 System two
If we look at the system due to arrive late in the week... well, there's still a chance we see snow at lower elevations, but precipitation probability trends certainly are headed the wrong direction at this time if you want snow (and you should).
The good news is, it still looks a bit more meaningful for the mountains. Looking at Steamboat, we see probabilities uptick tonight and Monday with the passage of this initial shortwave, and then spike again late in the week:

The ensemble mean snowfall forecast when we look through next Sunday afternoon shows much of our mountains finally seeing some appreciable snow, and this is considering a 10:1 (snow/liquid) ratio which is probably a bit low for the highest terrain.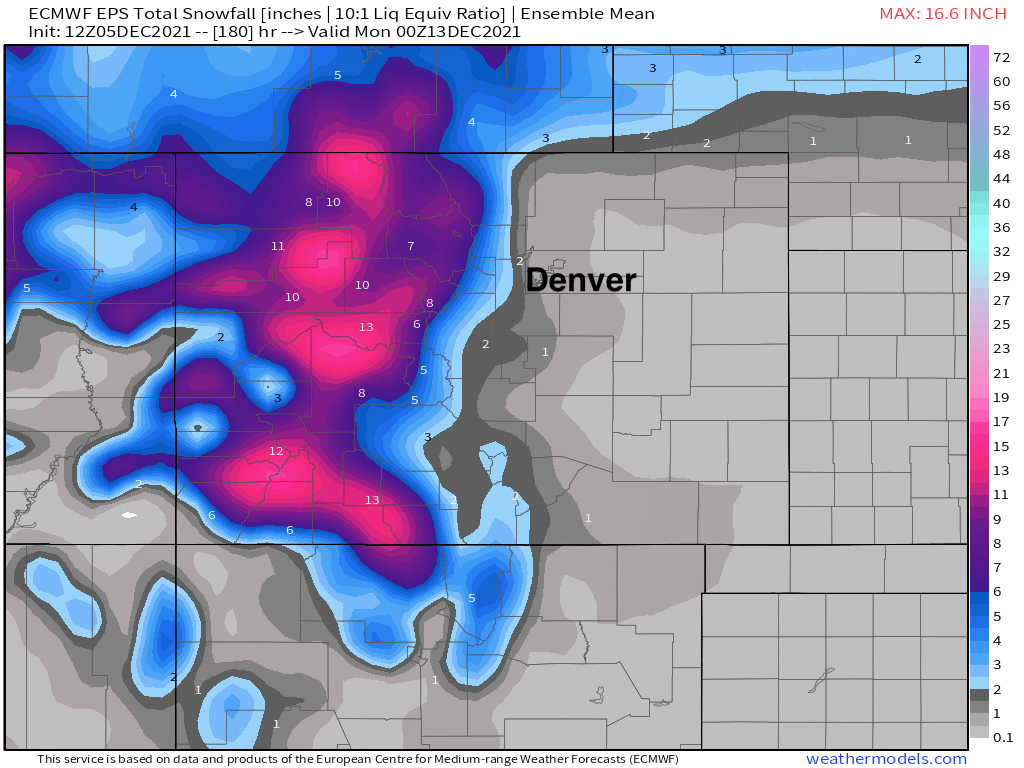 There's quite a ways to go before Friday rolls around, so not quite ready to call this a non-event just yet. It still, rather shockingly, may be our best chance for snow yet this year even with things looking far less favorable today than they have at times over recent days.
We can take some solace in the fact the models don't seem to have a clue, and are all over the place in how this pattern evolves. At 500 mb we can see a general trend toward a weaker trough, but the speed and track continue to jump around considerably with each run. Here's the last 10 runs from the GFS valid next Friday night... with about 10 very different ides on how things may look: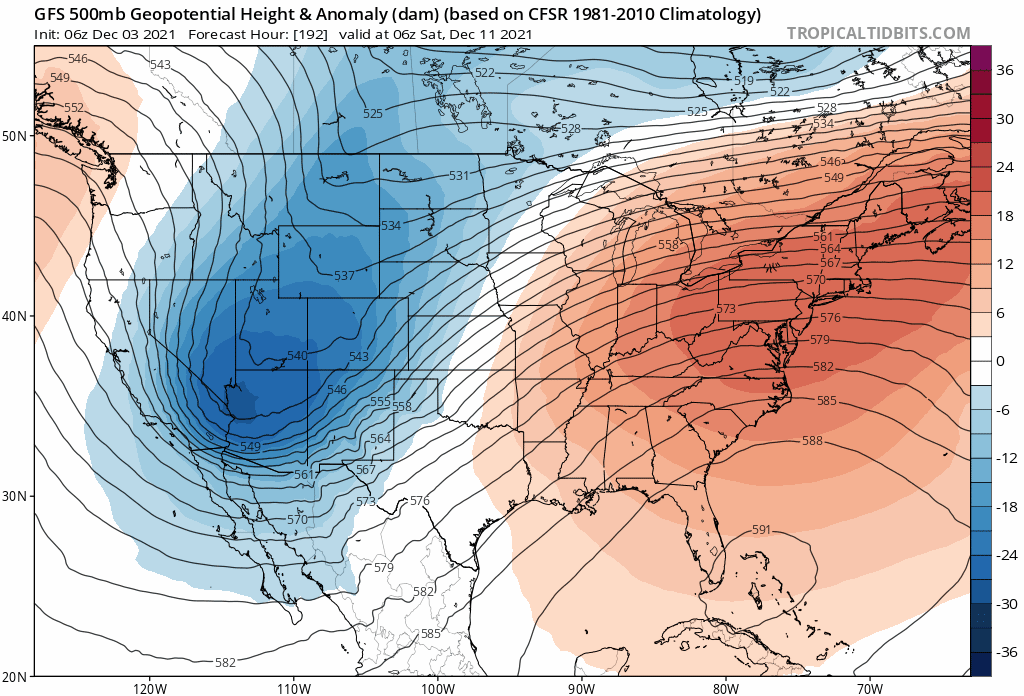 At the surface, a similar story. At times snow along the Front Range, other times it rapidly ejects the low northeast with mostly dry conditions in place for us on Friday: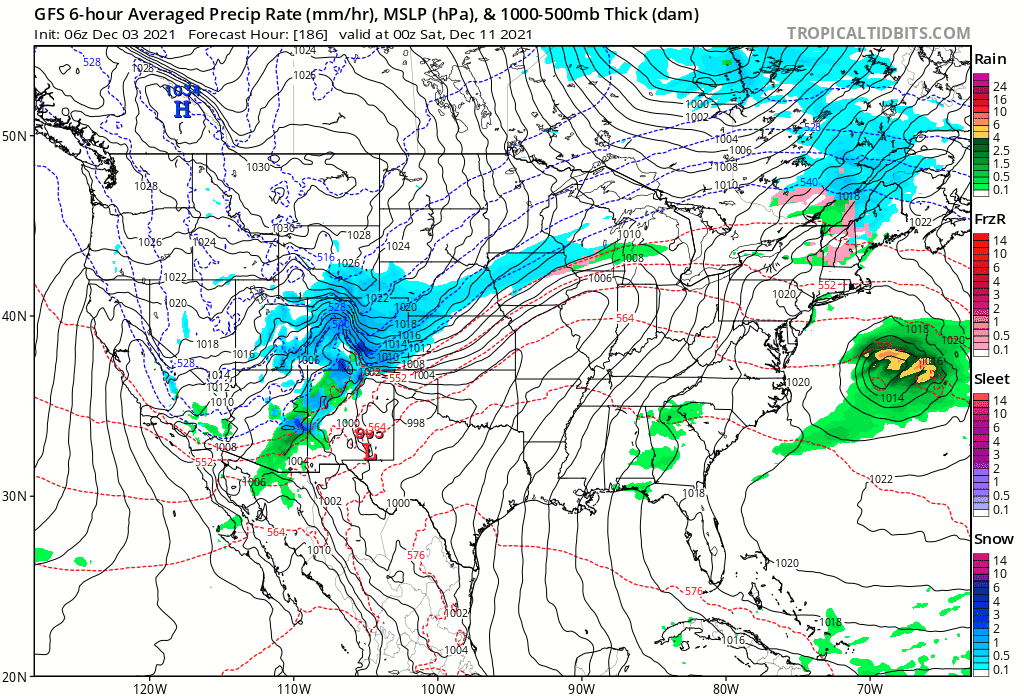 As for snowfall probabilities... don't look at the European if you want snow east of the mountains. Our snowfall probability charts don't look much better. For 3" of snow or more you'll likely have to head to the high country this week, with odds quite low across the plains at this time. Here are probabilities for 3" of snow or more by next Monday: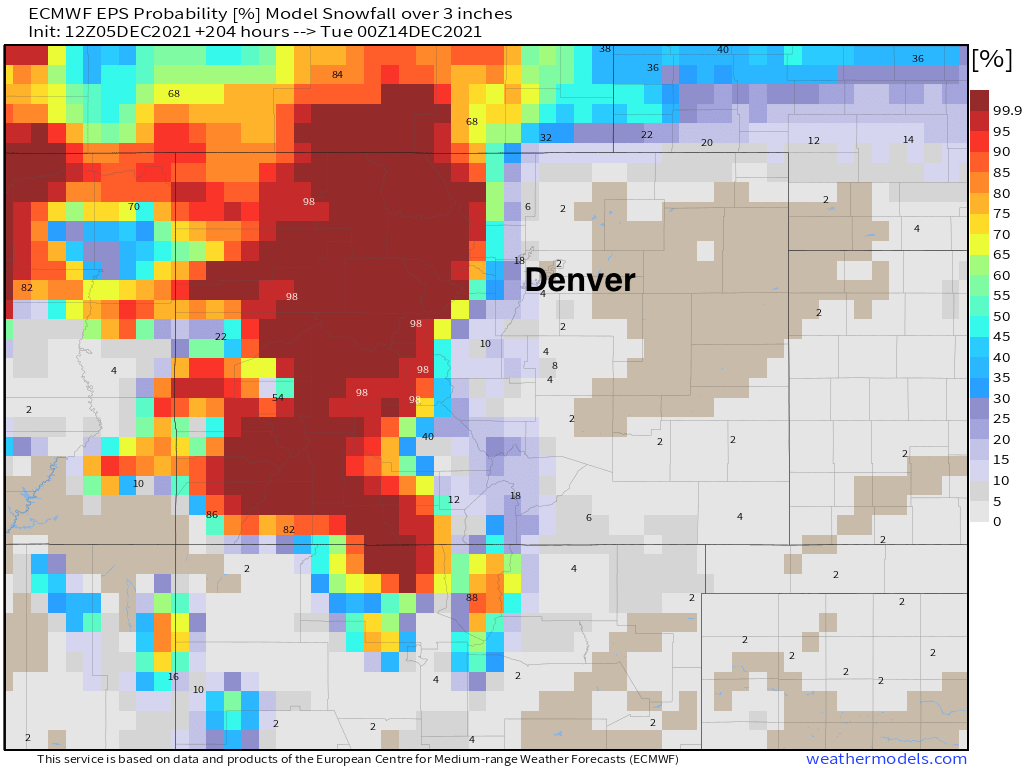 Key takeaways
A cold front will drop temperatures along the urban corridor in a hurry later this afternoon. Winds will continue today, and remain gusty at times through the middle of the week, especially in the foothills and Front Range mountains. Fire danger will be greatest today, but there won't be a lot of moisture for the foothills with this system either.
Mountain snow will be on the increase later Sunday, and continue off and on through Tuesday, along with those gusty winds.
Our next system begins impacting the mountains Wednesday night, and will keep the high country feeling wintry through Saturday, with locally heavy snow possible.
For Denver, our best chance to see our first measurable snow of the season continues to look like it'll be late this week (vs Monday or Tuesday) but recent trends would indicate this system will also favor the high country vs the urban corridor, with a general drying trend in the data. It's a long way out and it'll need to be watched nonetheless.