After a dismal start to the snow season across the Western United States, December 2021 has been one to remember.
Basins, many of which were just 10 to 30% of average snowpack to start the month have seen a dramatic turn around with a favorable pattern in place since the first week of December. Those same basins across Oregon, California, and Nevada are now running some 100 to 200% of average. Two more storms are set to swing through before the end of the year, too.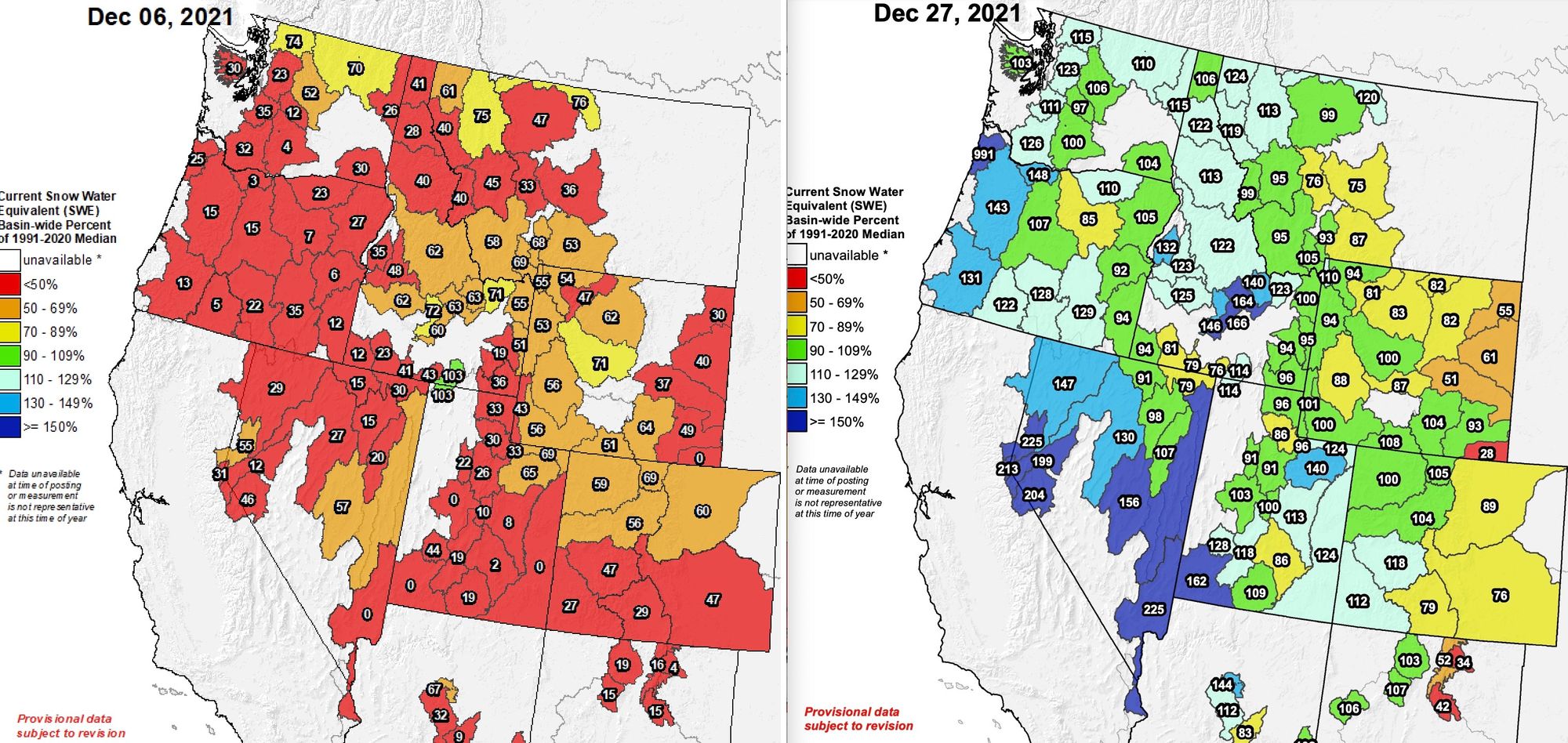 For Colorado it's been a good month too. The statewide snowpack is now listed at 95% of average, up from 51% in early December. You can see that a couple big storms have taken the the state's snowpack from near record low territory to average over the last couple of weeks: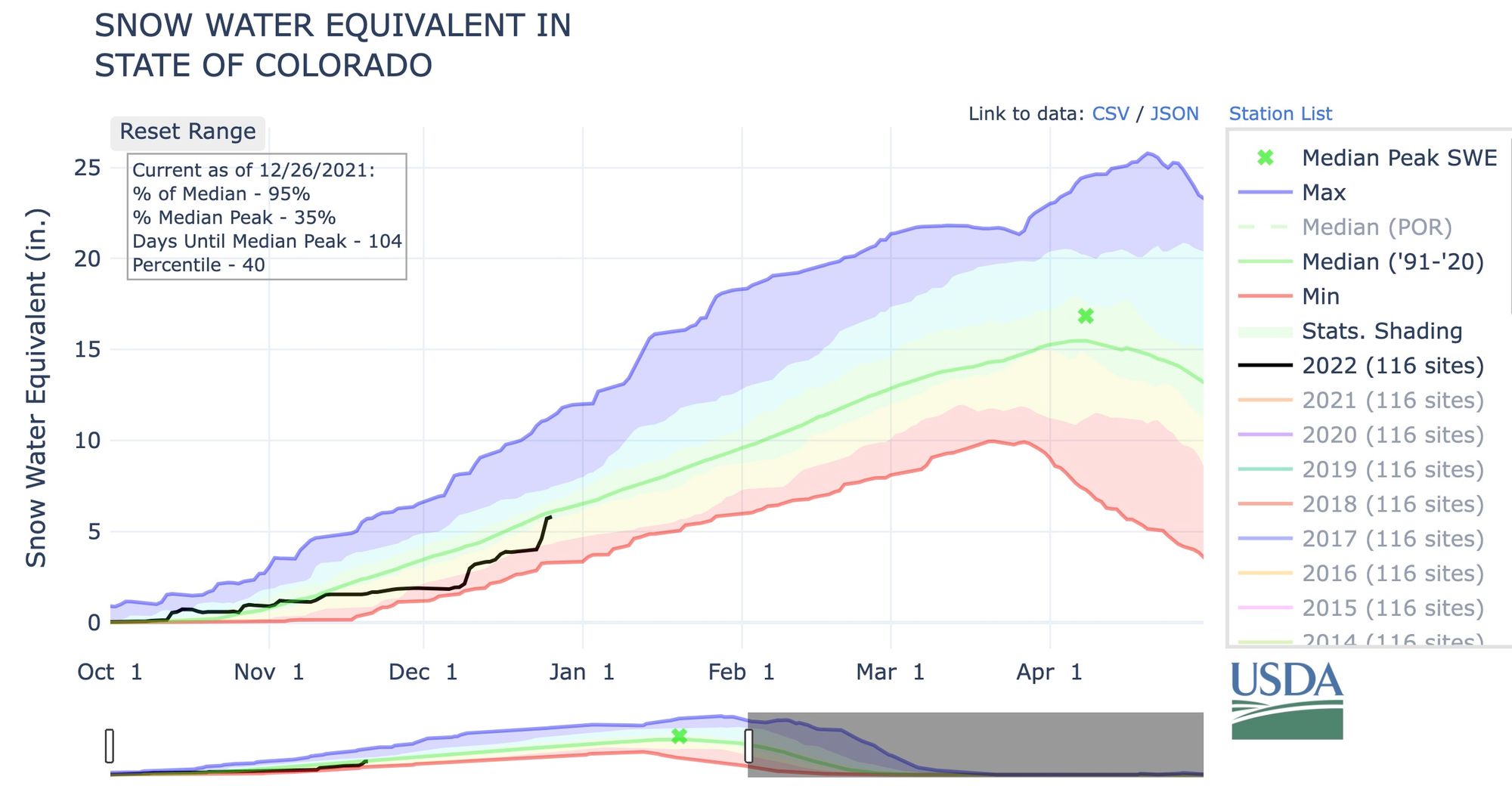 Looking again at snowpack across the West as of December 27th, we see the basins on the lee side of the Rockies are those that continue to hurt most, with those basins across Eastern Colorado running from 75 to 90% of average, and no thanks to any plains snow for the improvement here.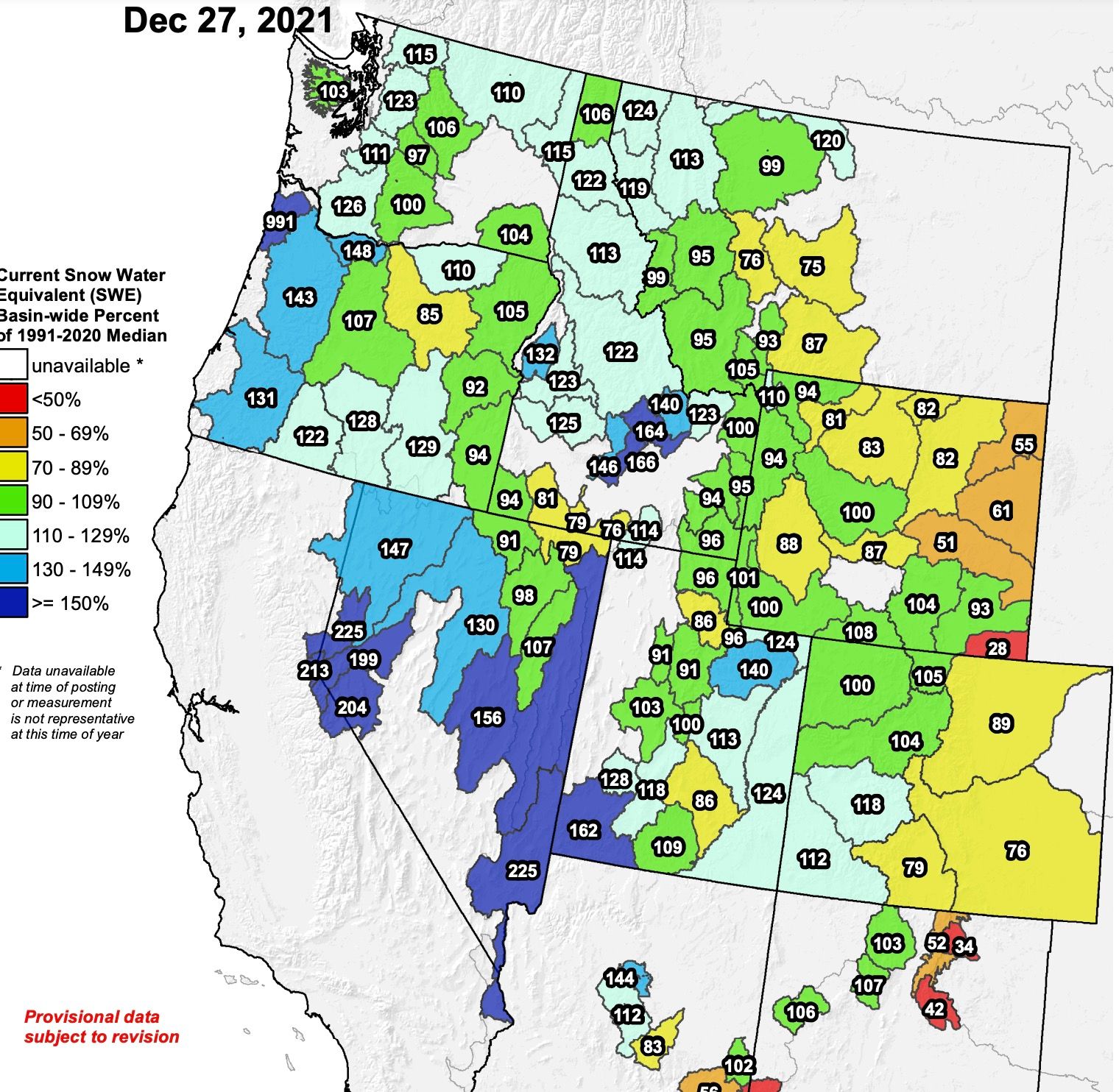 The week ahead
The final week of 2021 will feature more wet and cold weather across the drought-stricken West. The animation below shows the GFS forecast from today through next Sunday, with more interior snow across the Great Basin, rain for the southwest, and perhaps if you look closely, a bit of snow for Northeast Colorado by next weekend? (??)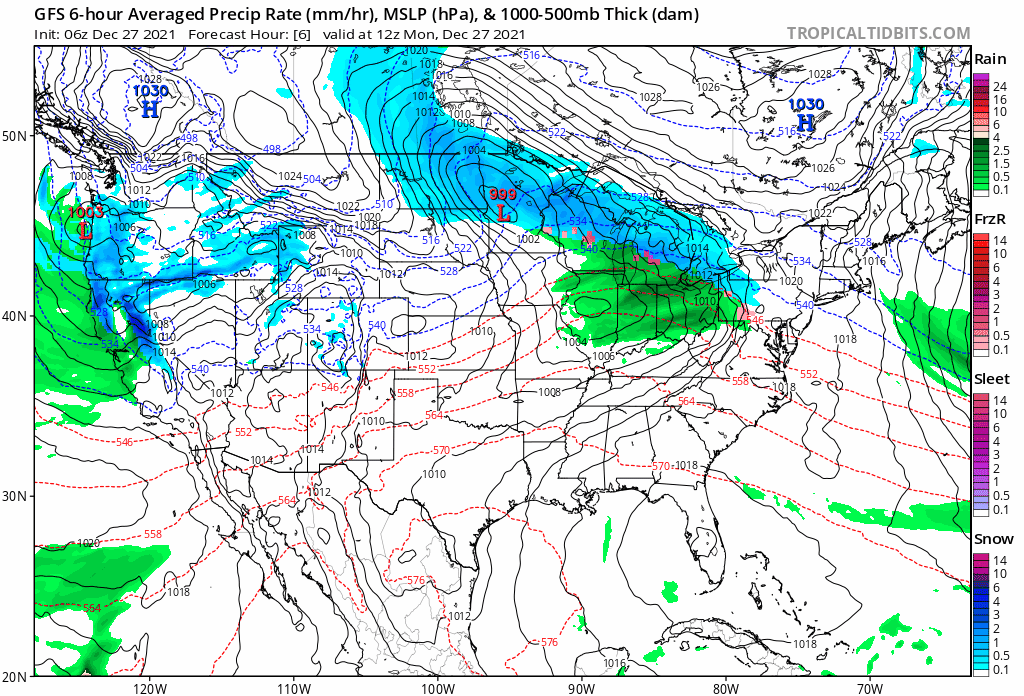 The greatest precipitation anomalies will end up west of the Continental Divide for Colorado, with above average precipitation forecast for Southern California, Arizona, and portions of Utah and New Mexico as well: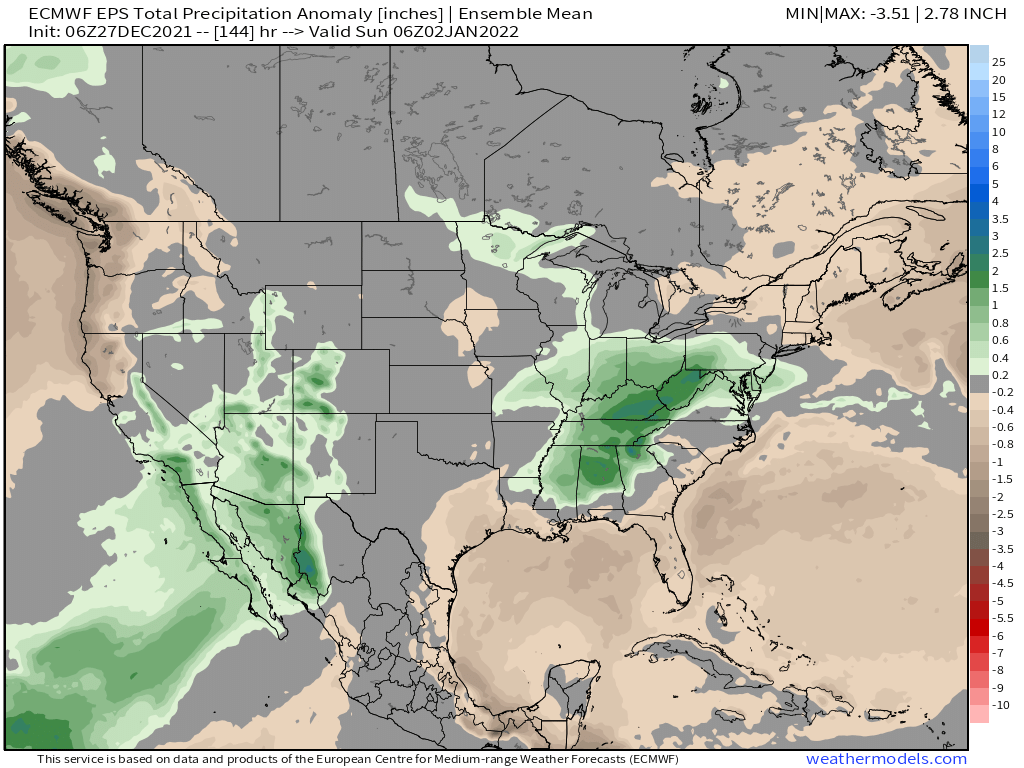 While we could see a couple of isolated snow showers blow through tonight along the Front Range, Denver's best chance of snow (if you want to call it that) comes Friday night into Saturday behind a strong push of arctic air set to crash south down the plains: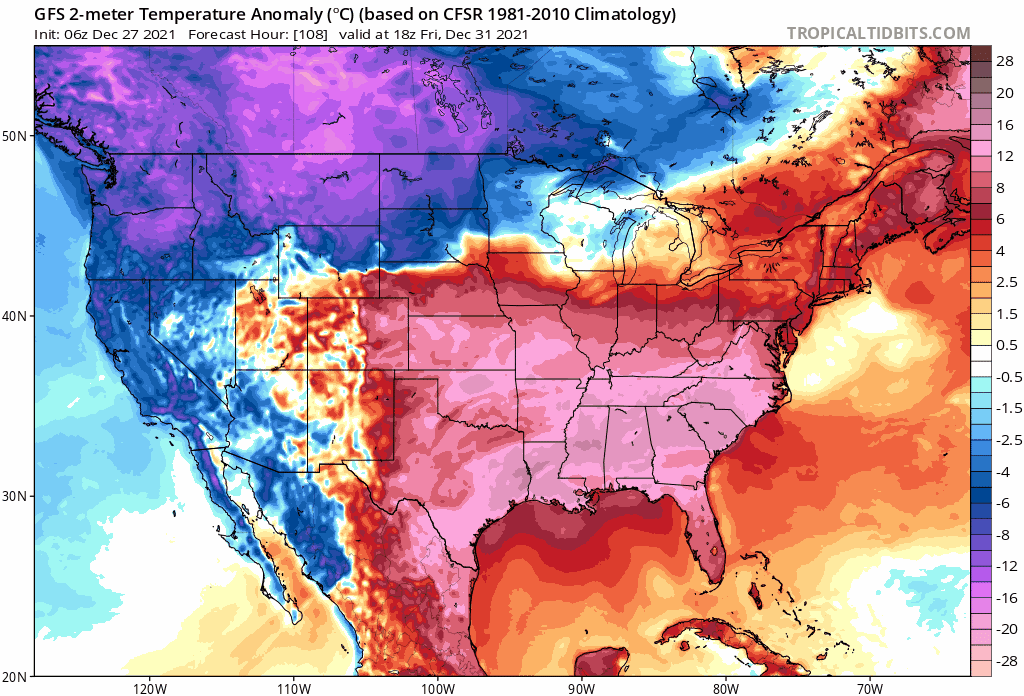 The hourly planner for Denver shows about a 2o to 30% chance we'll see some light precipitation tonight, with cooler pattern in place through the remainder of the week as compared to our recent warmth: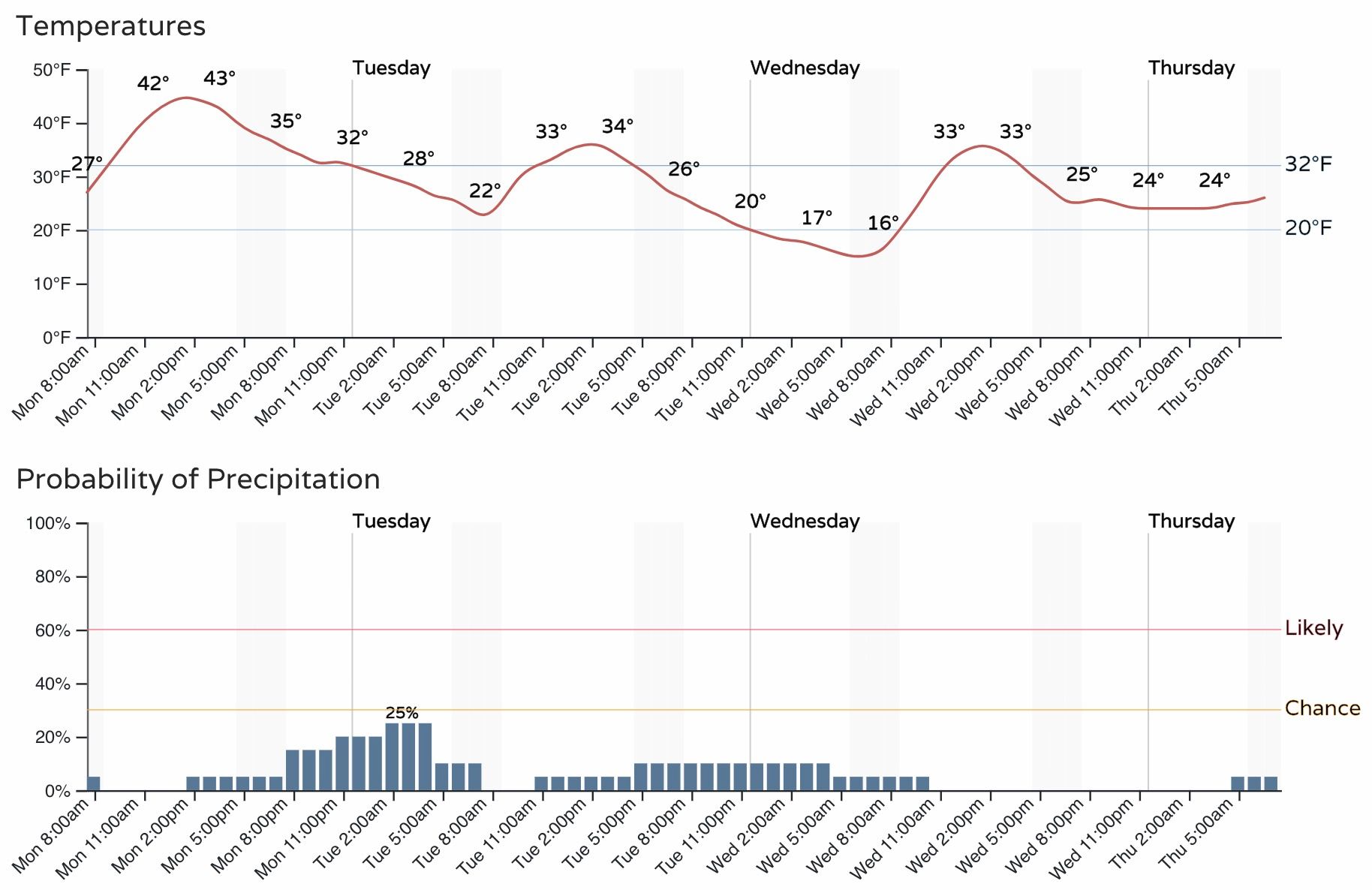 With regard to the late week system, while not exactly an ideal setup for snow around here, these types of setups can sometimes piece together fluffy accumulations from these fronts, but not necessarily much in total moisture.
The GEFS ensemble model forecast shows most members producing at least light QPF (precipitation) for Denver to end this week, along with that sharp drop in temperatures: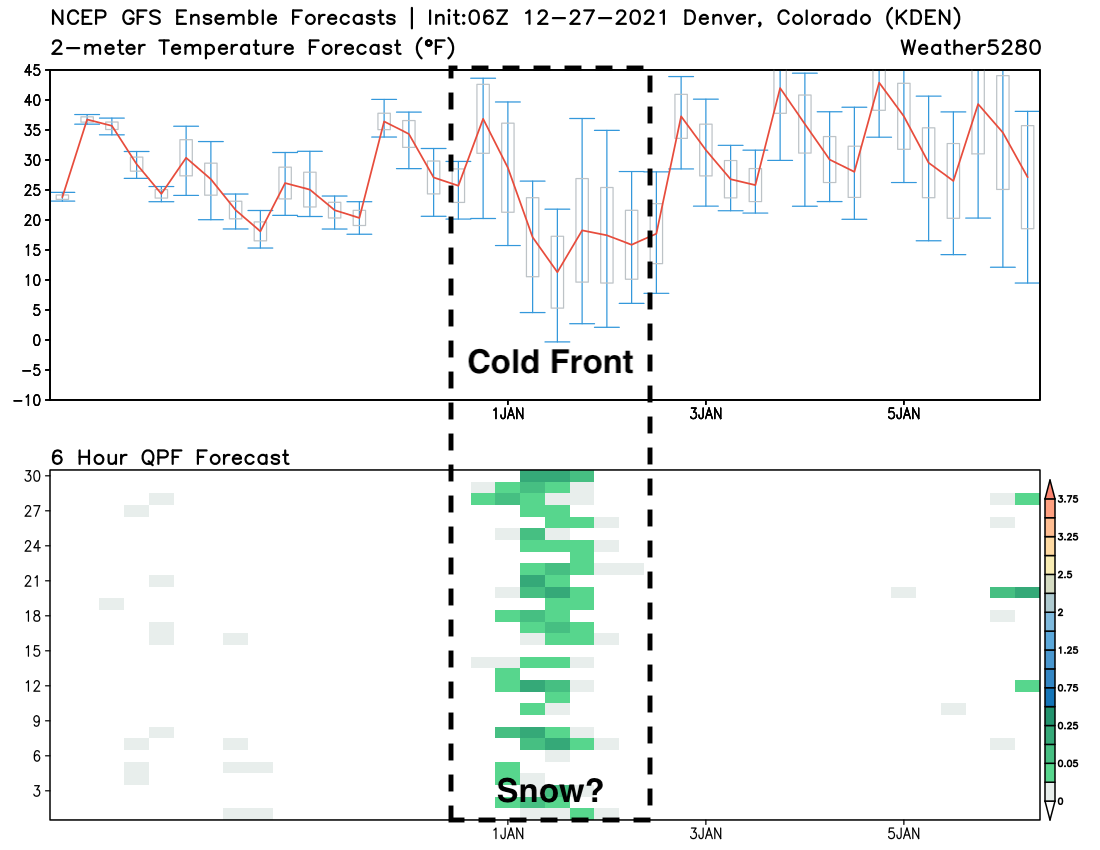 Some of the operational models do as well. The European, which has been far too bullish for snow all season in Denver, shows 3 to 6" along the urban corridor where the GFS is narrower with its heaver snow band, and only produces minimal snow for the Denver metro.
The European ensemble mean snowfall forecast is much more bearish, which should lend pause to its deterministic's snowier solution. Again, it's harder but not impossible to capitalize on an arctic front around here. The ensemble shows closer to 1" along and east of I-25 through the weekend, with perhaps a couple inches up along the foothills, and of course lots of good mountain snow. This is a 10:1 snow/liquid ratio map, so totals would be a bit higher given the cold on the way, but still – not a clear signal for a great snow along the urban corridor at this time.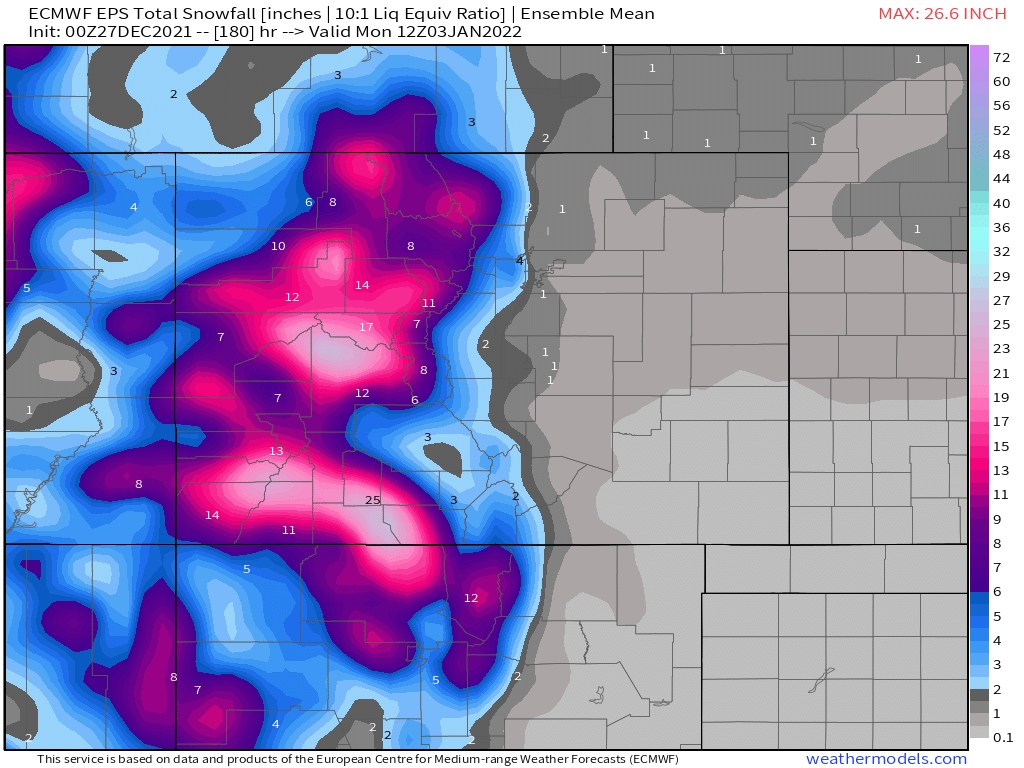 Our snowfall gamblers would confirm. Definitely some potential for snow on the way later this week, but only cautious optimism warranted if you are hoping for snow. Boulder is currently looking at the best odds to pick up a few fluffy inches, but the other cities aren't out of the running, yet.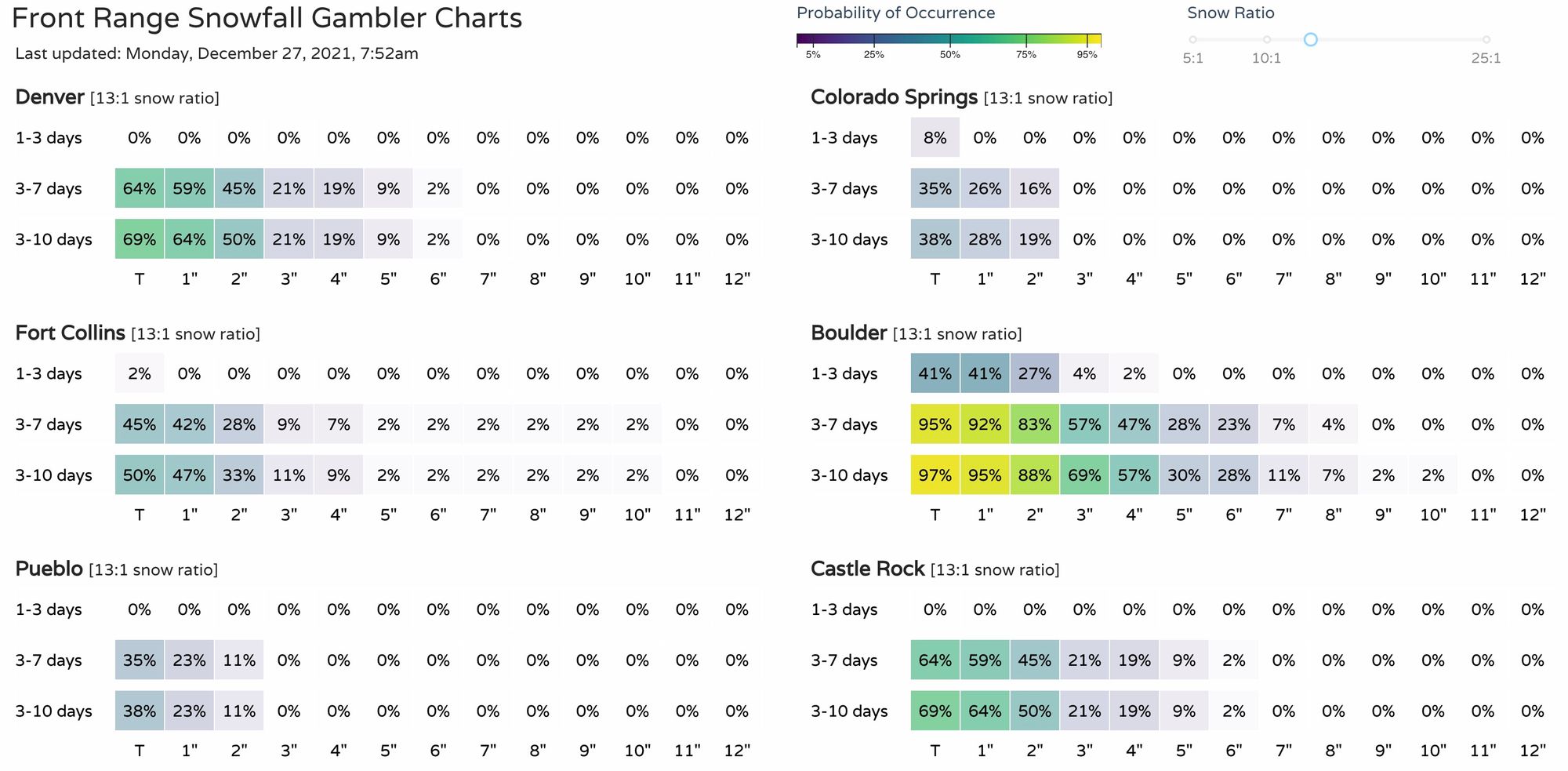 We'll keep an eye on things and hopefully we can piece together a bit of snow across Northeast Colorado to round out the year.
Meanwhile, head to the high country if you're looking for real snow. Stay safe, and enjoy the great conditions! ⛷