The upcoming chance of snow cannot arrive fast enough. Several metro area cities have been evacuated, as winds to 100 mph have pushed fires through Superior and Louisville this afternoon, and continues to burn out of control. We have been posting updates all afternoon, and as is always the case in these situations – please follow the latest from your local community authorities and first responders.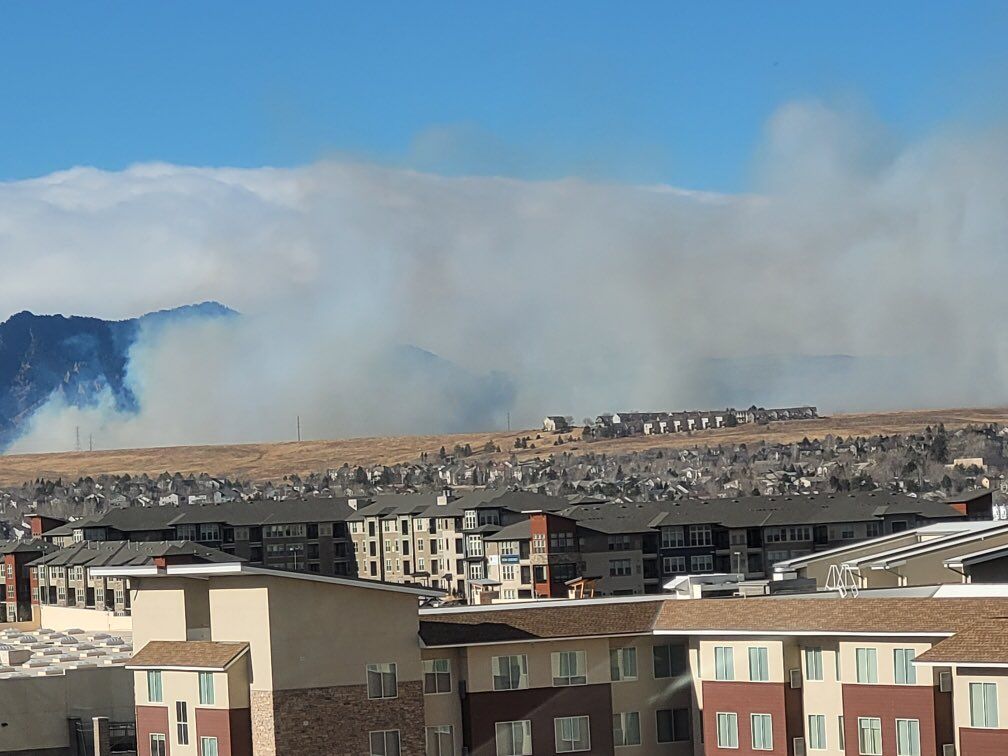 The hourly planner for the Denver area shows that relief IS on the way, but frankly it won't arrive fast enough for many folks living in the path of today's erratic fire.
Temperatures will drop into the upper 20s overnight, then only manage the low to mid 30s Friday before the bottom falls out Friday night. The chance of snow will be on the increase from midday Friday, with the best chance of snow coming Friday afternoon through midnight NYE.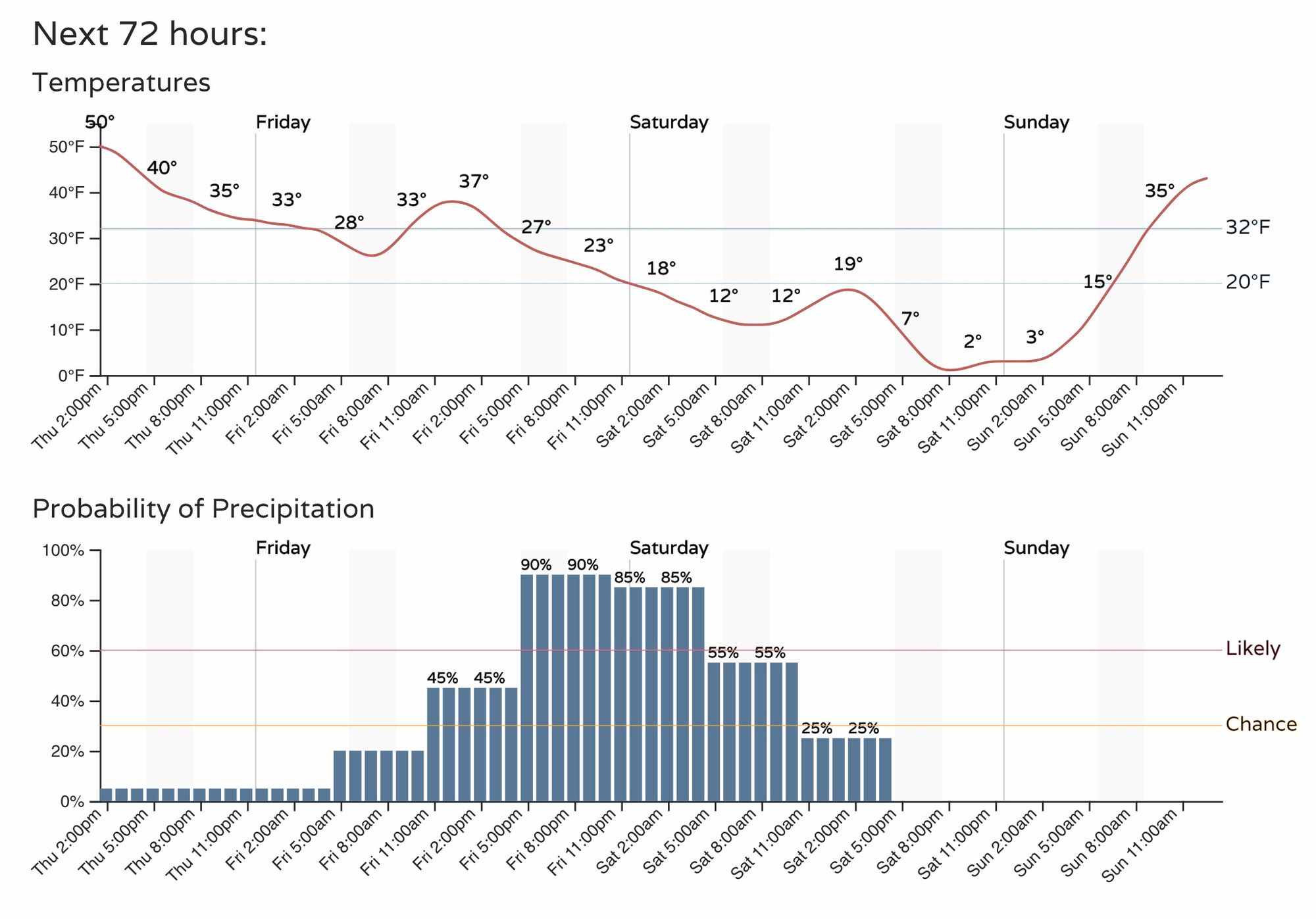 The High Wind Warning in place across the metro will stay in place through 5pm, after which winds should begin to let up a bit. Here's the latest hourly planner for Superior, CO which shows winds gusting to 25 mph still at 10pm tonight, but a general decrease in winds through the evening.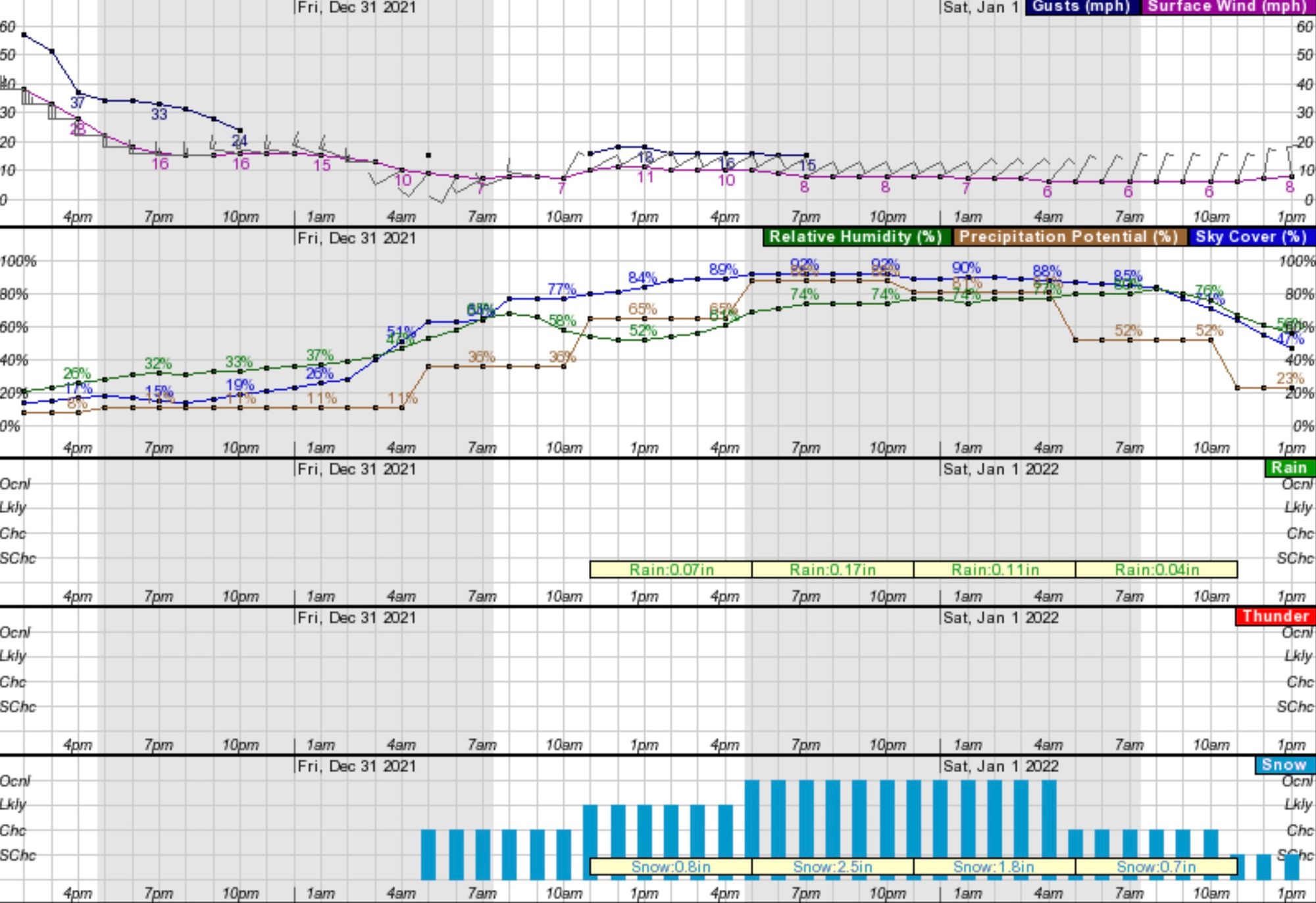 Still, as of 3pm the winds have shown little hope of easing up. The NCAR Mesa Lab, south of Boulder, has been reporting winds in excess of 80 mph since noon:
Again, tomorrow's snow cannot come soon enough.
Snowfall forecast
A Winter Weather Advisory has been issued for Denver and the Northeast Plains. A Winter Storm Warning is in effect for the foothills and mountains of Colorado. Snow, heavy at times, will be most likely from Friday late morning through Friday night, before coming to an end on Saturday.
The foothills west of Denver and Boulder could see from 5 - 12" of snow by Saturday morning, where most of the urban corridor along I-25 will see from 2 - 6" of snow. With the potential for some banded snowfall to setup (perhaps the heaviest where we are seeing fire today) some localized totals >6" of snow across the metro area is possible. The system will deliver some VERY cold air with it, so the snow will be quite fluffy – meaning even if low in water content, it could add up to several inches of snow before all is said and done.
Here is a blend of all models for snow through Saturday night. At a 10:1 ratio you can assume totals would be even greater than this should it prove correct. We'll be at greater than 12:1 for most of this storm.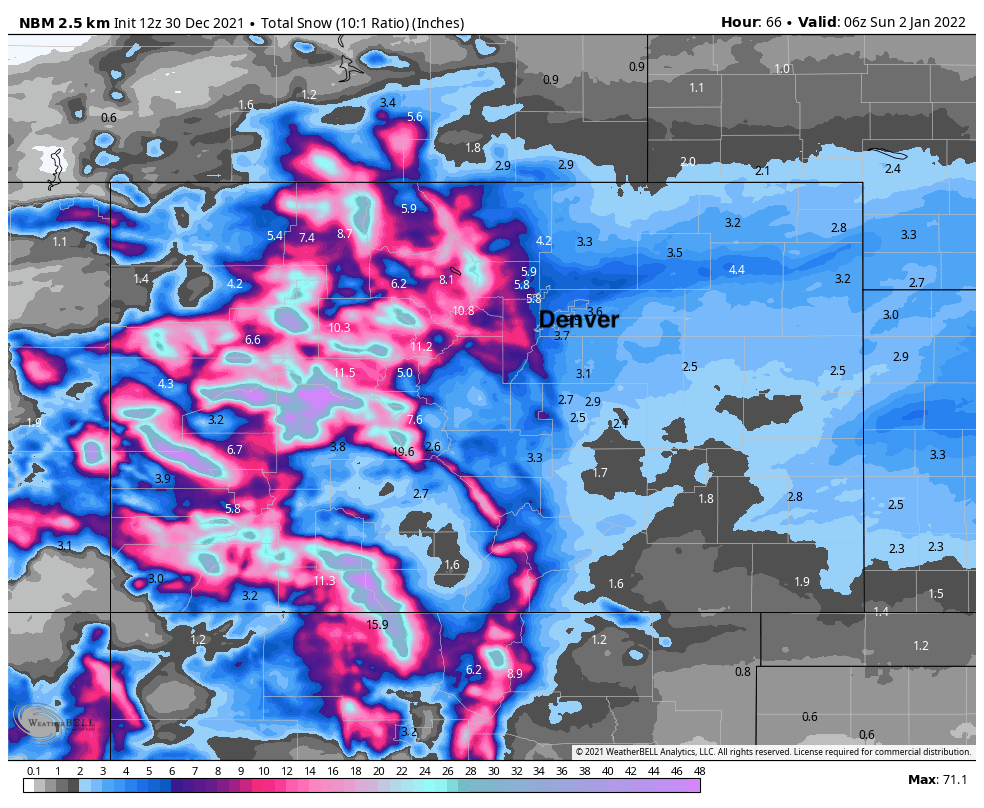 Our snowfall forecast shakes out as the following:
Fort Collins: 1 - 4"
Boulder: 5 - 10"
Evergreen 5 - 10"
Denver: 2 - 6"
Castle Rock: 2 - 6"
Colorado Springs: 1 - 4"
The snowfall gambler charts look a bit better than yesterday too. For Denver that's a 54% chance for 3" of snow or more, in Builder that's at 95%: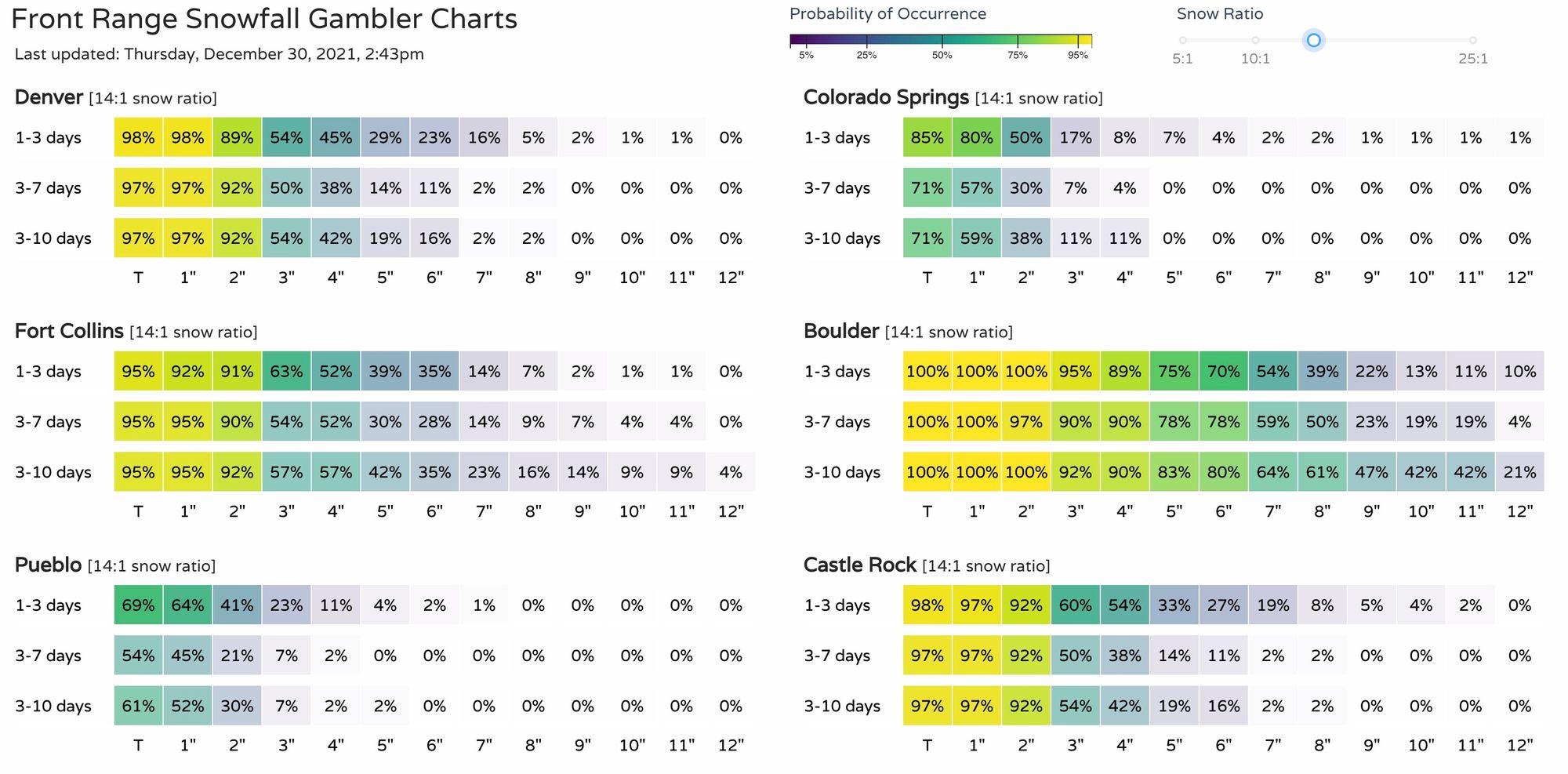 The other big big story will be the cold... Temperatures for New Years Eve will be in the single digits with snow, and only in the teens for highs on Saturday: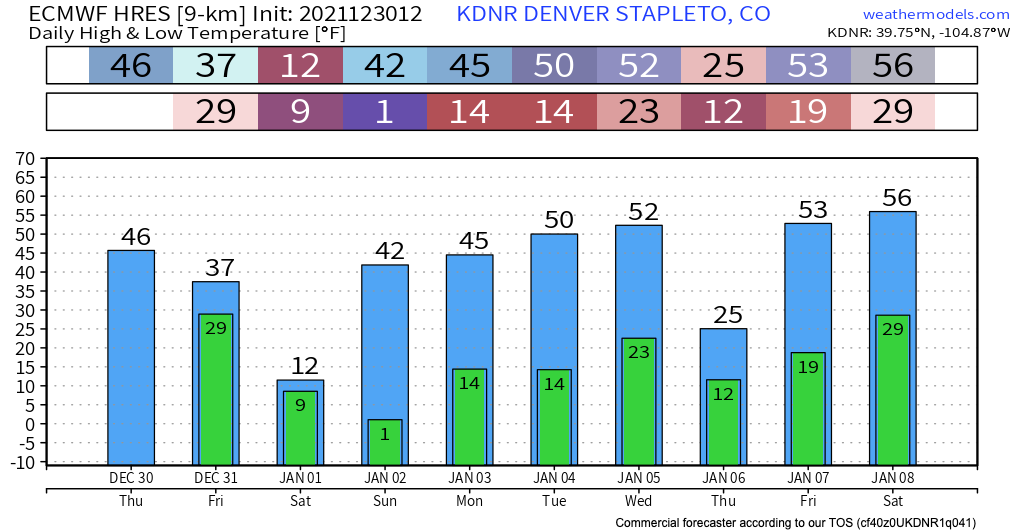 Of course, even as we track the snow chance on the way tomorrow, the focus for the remainder of the day will be the active and unfolding situation across the northwest Denver suburbs. If you are in the area, or leaving east/northeast of Superior/Louisville, PLEASE heed all evacuation orders and warnings that may be forthcoming.
We all are holding our collective breath this afternoon, and hoping that the snow comes in earnest tomorrow.
More to come...