In the midst of a warming trend, we have a couple of systems to watch for the week ahead that will bring both rain and snow chances to the state.
For Denver, it's a rather warm looking start to the week despite a system arriving Monday, which will knock back temperatures a few degrees from today's highs, but still a mild afternoon overall: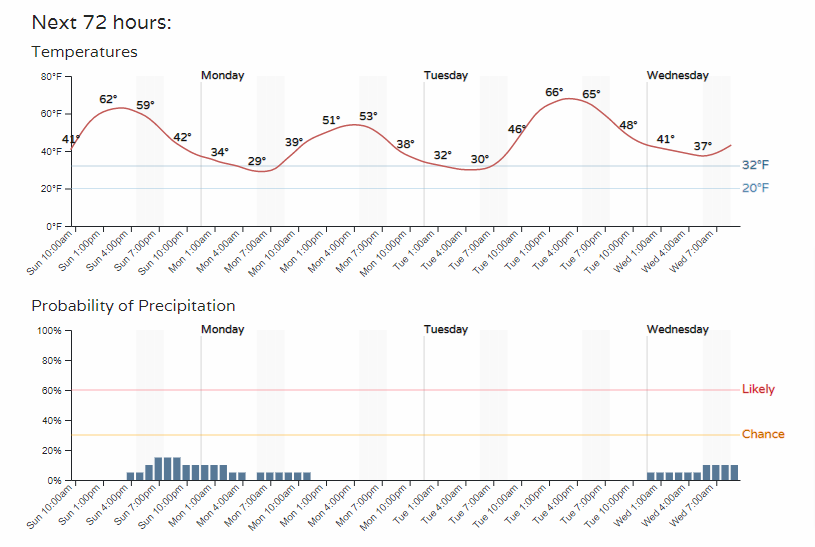 That system is what causes our hourly rain/snow chance to increase a bit late Sunday into Monday, albeit very low chances.
The mountains will benefit more from this incoming system, with snow chances increasing Sunday into early Monday. It won't be a lot of snow, but at least several inches for the higher mountain ranges. Here's a look at the snowfall forecast for the northern mountains. The map is centered on Steamboat Springs.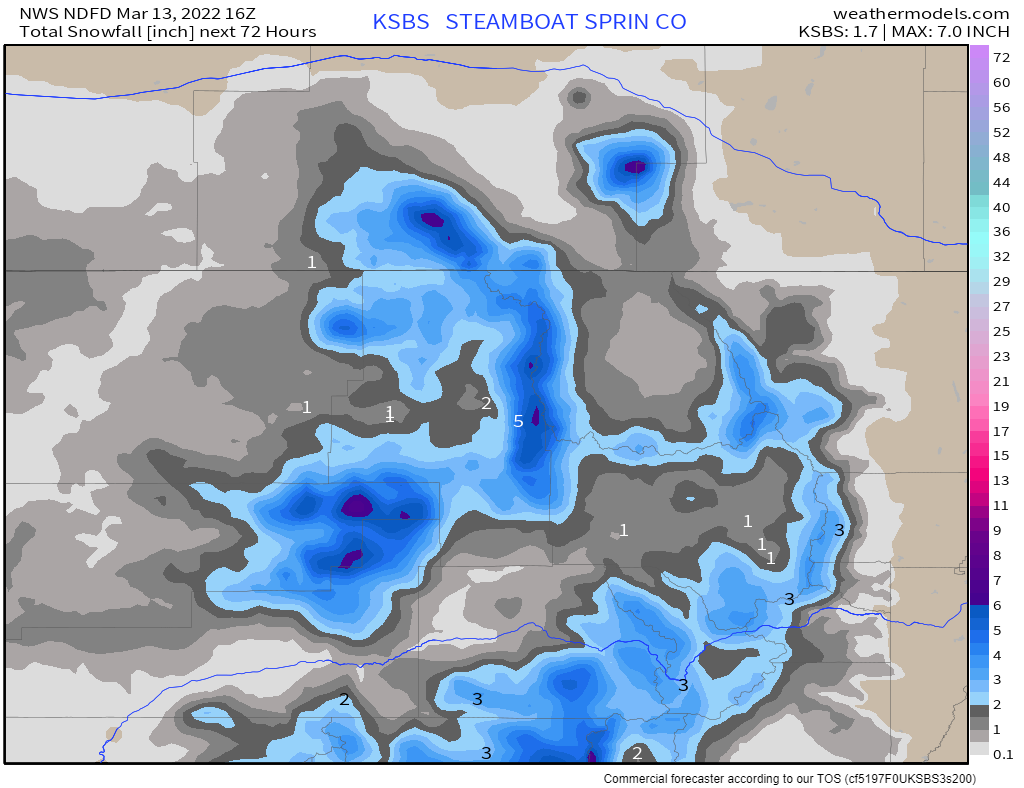 Any precipitation, again a very low chance, that falls on the Front Range late Sunday or early Monday will not amount to very much at all.
There's a second system on the way that looks much wetter. This will be arriving Wednesday into Thursday. Right now, modeling indicates a strong agreement in receiving precipitation those days, plus temperatures drop more significantly with this system.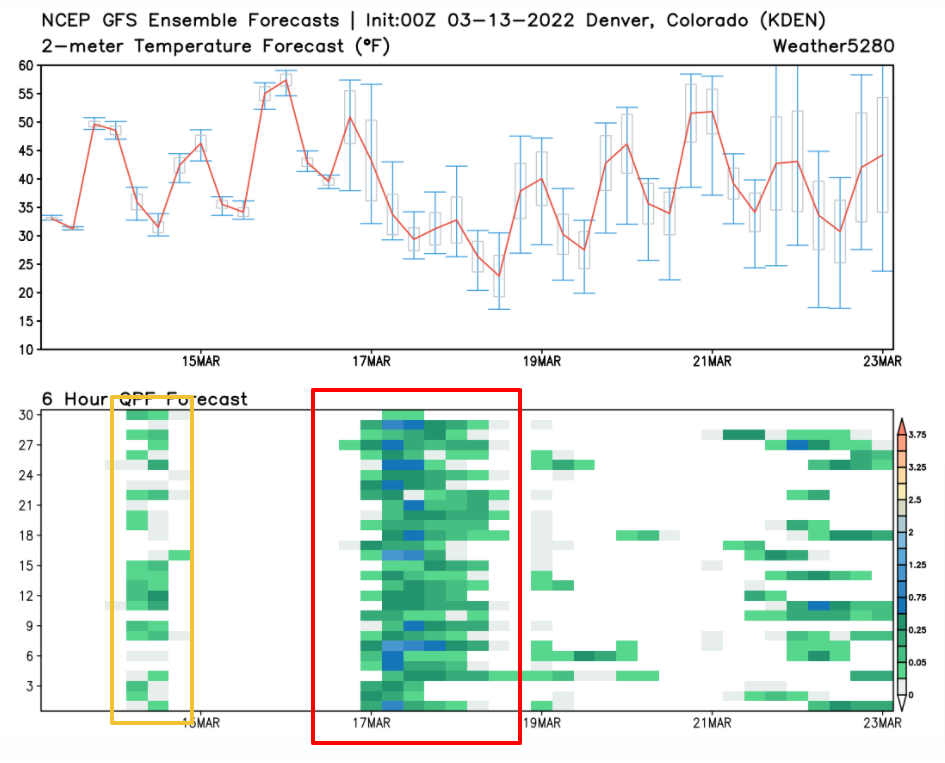 Or, another way to look at those daily chances for precipitation, with a good spike in probabilities for that Wednesday to Thursday timeframe:

Let's look at temperatures for a moment across the week, too.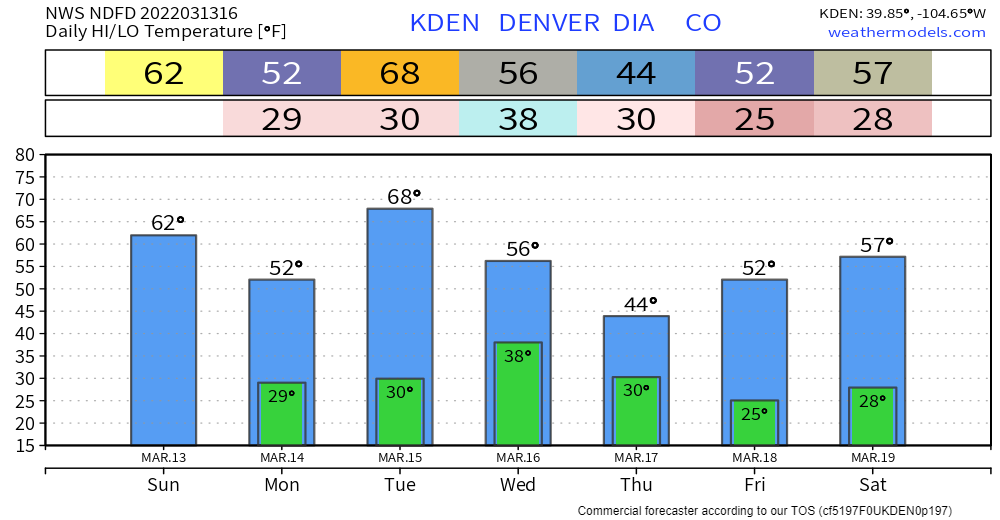 That first system comes through with a minor change to temperatures, but the second system drops highs into the lower 40s by Thursday.
Considering we see that second change as a wetter one also, those temperatures Wednesday support rain chances, meanwhile Thursday represents a higher chance to see a rain/snow combo to even straight snow chances.
It's early to be calling for snowfall accumulation totals, but let's assume for a moment that the total precipitation is a half to one full inch of liquid. If we split that between rain and snow we could be looking at a few inches of wet snowfall following the rain, with greatest accumulations across higher terrain west and south of Denver.
Again, that's just an early estimate and the bottom line is that we have a chance for rain and snow with our second system this week. As we get closer we will see how much total water looks probable and then break that into our rainfall and snowfall accumulations.
Just know there's the chance of a rather wet system on the way for the Denver area.
Oh, if you are wondering about that second system and its impact on the mountains, there'll be new snow of several inches for most of the ski areas to enjoy for the second half of the week into the weekend as well.