There's better consensus in the modeling today with regard to our next system. Not great, but better. And consensus seems to be forming around the European ensemble idea, vs the American GEFS.
That is, a more easterly and southerly storm track which will pull the greatest rain, snow, and wind away from the Front Range, and focus the greatest impacts across perhaps the Eastern Plains of Colorado, or even into Western Kansas and Texas/Oklahoma panhandles.
There are still differences between the GFS and Euro solutions. The European continues to trend further south and east, and while the GFS appears to be headed that way it's still much further north and west with the low Monday evening, and therefore remains more impactful for Eastern Colorado than the Euro.
The European ensemble, which we rely most heavily on at range, is showing better consensus between its various members on where the surface low will setup on Monday. That consensus is much too far south and east of our area for a significant storm, as we need the cluster of lows shown below to be up north about 150 miles for this to occur.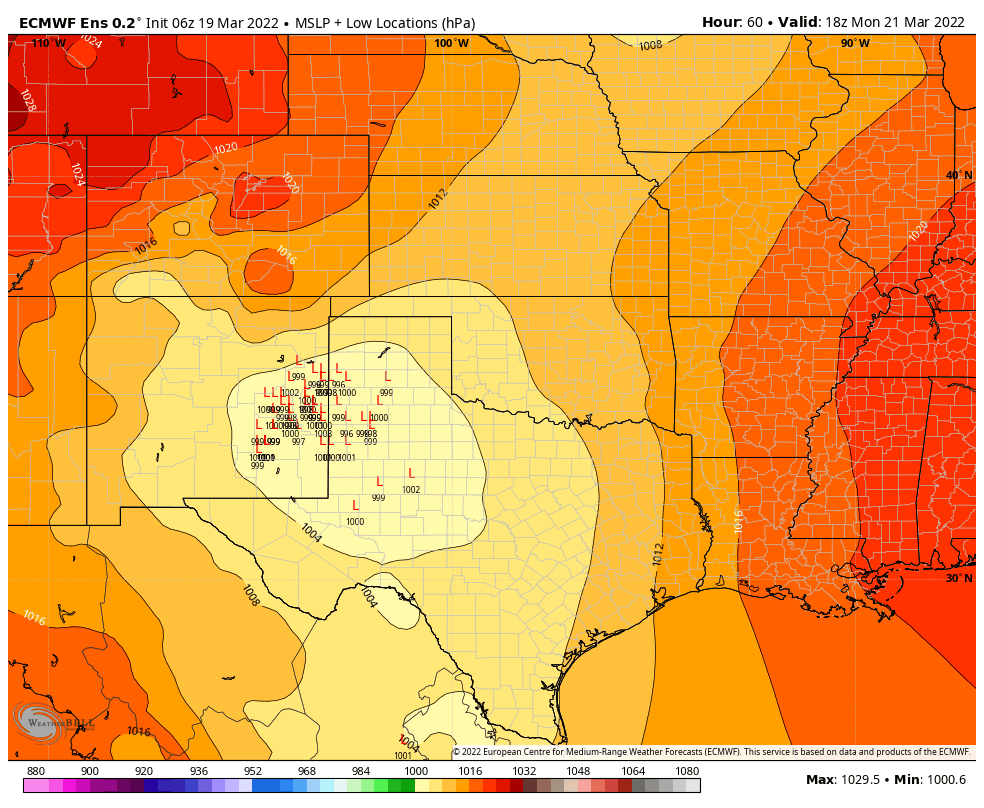 If we compare with the GEFS, we see it too is focused pretty far south now: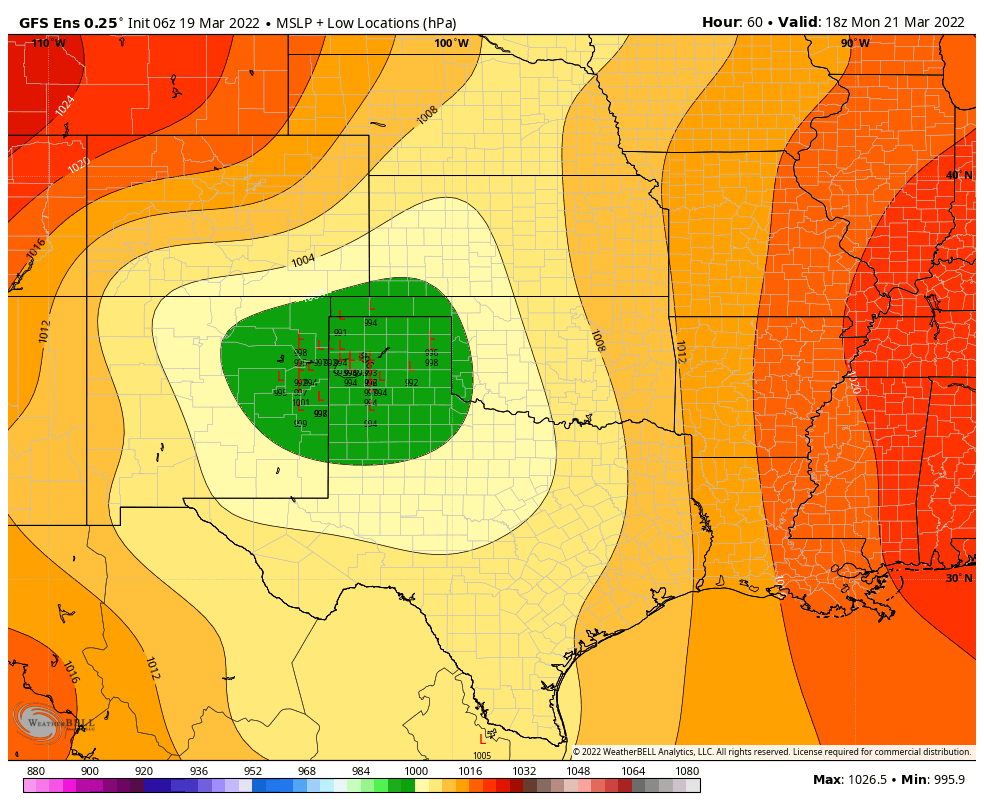 The GEFS continues to pull the low up north and east Monday night vs a more easterly track from the Euro, though this is less pronounced than early runs. Still, the slightly more northerly track from the GEFS, and turn northeast, would mean a more impactful storm for Eastern Colorado and Western Kansas while the Euro would keep most of the wet weather well south and east.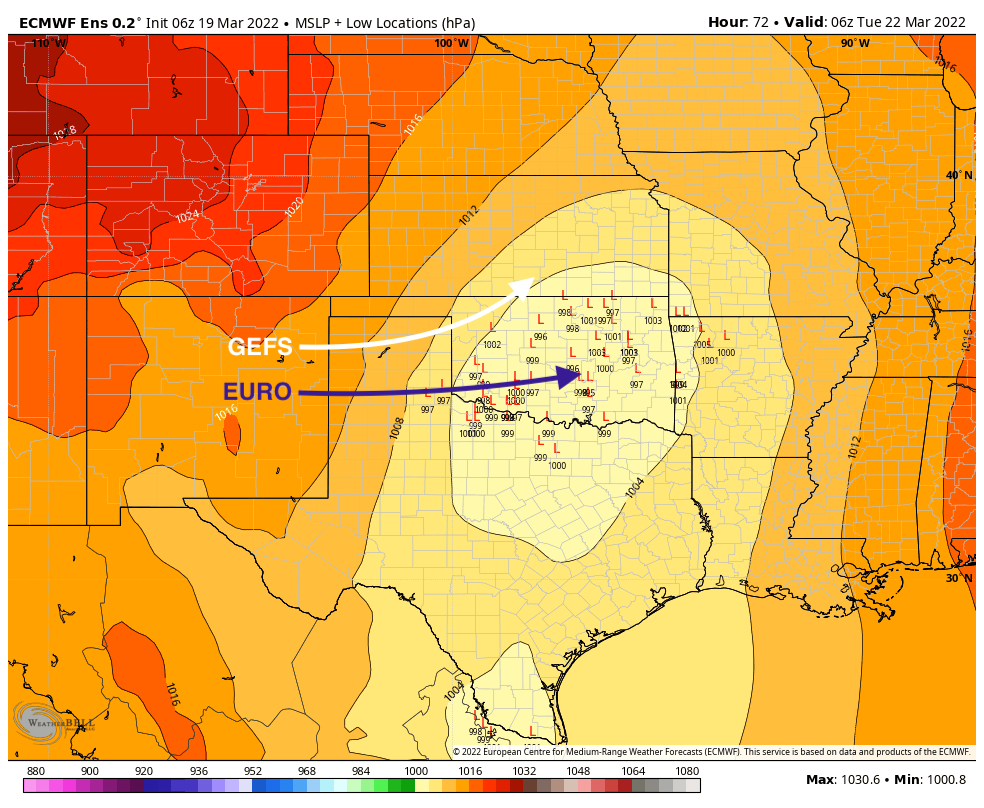 The somewhat subtle differences in these two tracks will have profound impacts on our weather across Eastern Colorado. The Euro shows almost a non-event for most of Colorado, with the exception of some higher terrain snow west and south of Denver as the system passes to our south Monday. Note how far southeast the heaviest precipitation is!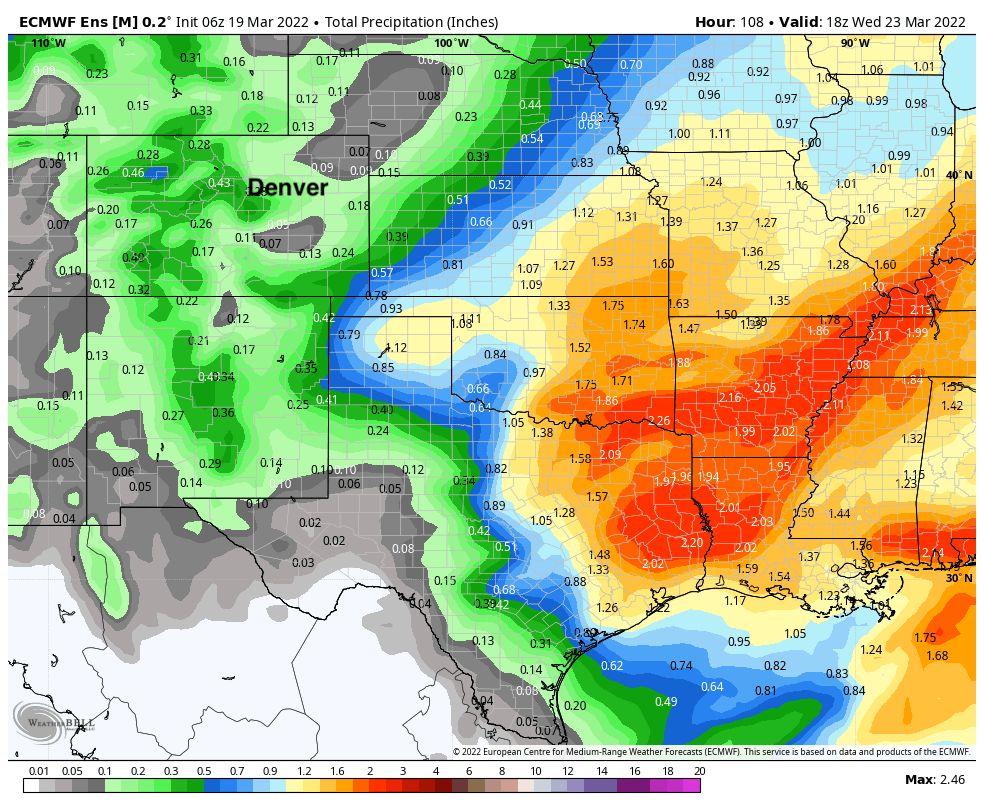 The GEFS continues to show much better wrap around moisture, with far the Palmer Divide and Eastern/Southeastern Colorado in line to get some good moisture (would likely be in the form of wind-driven snow). Northern Kansas and Nebraska would also benefit from the more northerly track.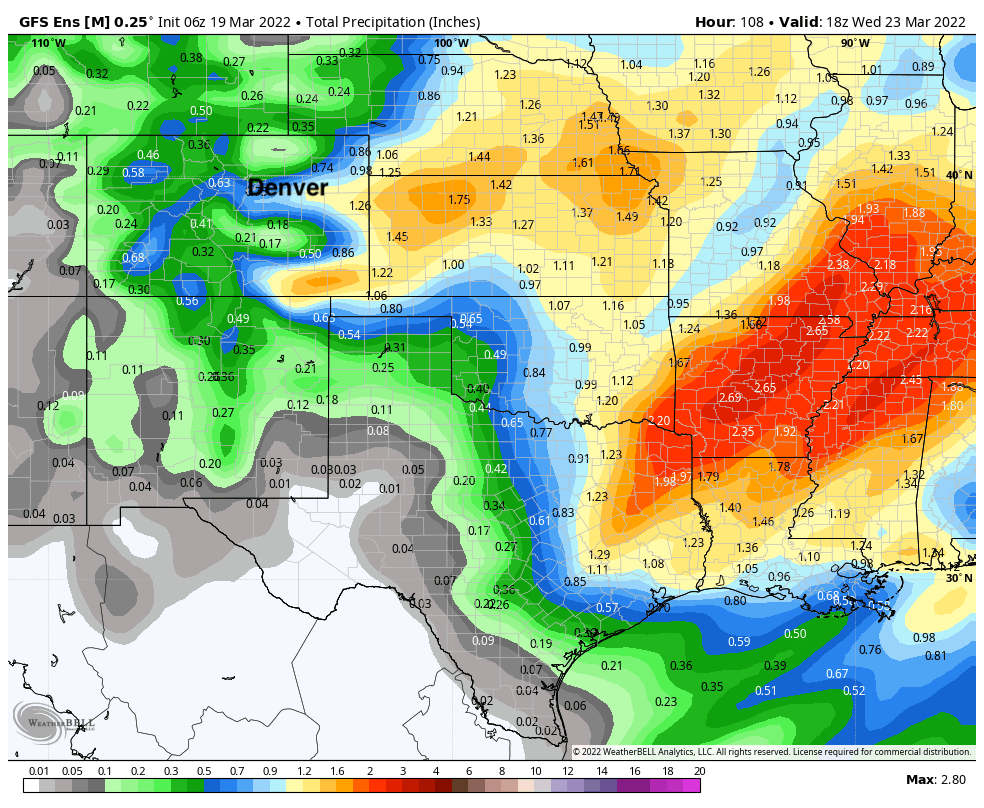 So where does this leave us?
With still a good amount of uncertainty, but odds of a significant storm across the greater Denver area are lower than they once were. It'll be interesting to watch the data today and see if there are any fundamental shifts in either the GEFS or Euro ens models that would change that idea. For now, we continue to split the difference/lean toward the Euro which means a lower-impact event for our area, some potential for something more significant across the far east plains, and a good chance the system misses almost in its entirety should the Euro pan out.
Here's a map to try and illustrate potential at this time. Greater confidence in an impactful storm the further east and southeast you go from Denver, but still some scenarios where we see a more impactful storm closer to home, though those scenarios seem to be trending less likely as things look this morning.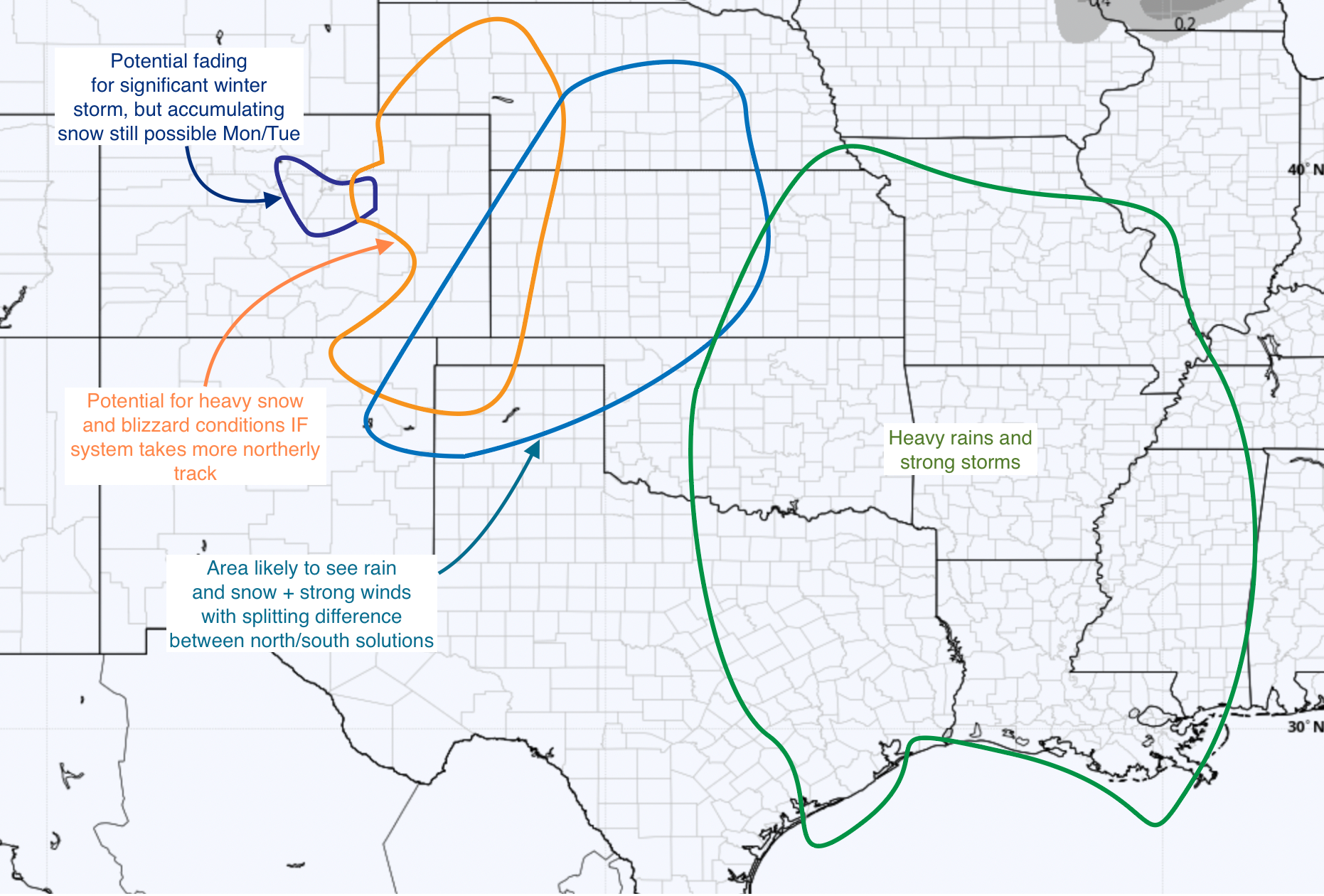 We hope today offers better agreement in the data and we can start to zero in on the forecast a bit more. We can look forward to a warm day today and Sunday before changes arrive Sunday night. For Denver look for the chance of precipitation to increase late Sunday and continue during the day Monday before dropping off Monday night, with temperatures in the 30s and 4os across Northeast Colorado on Monday.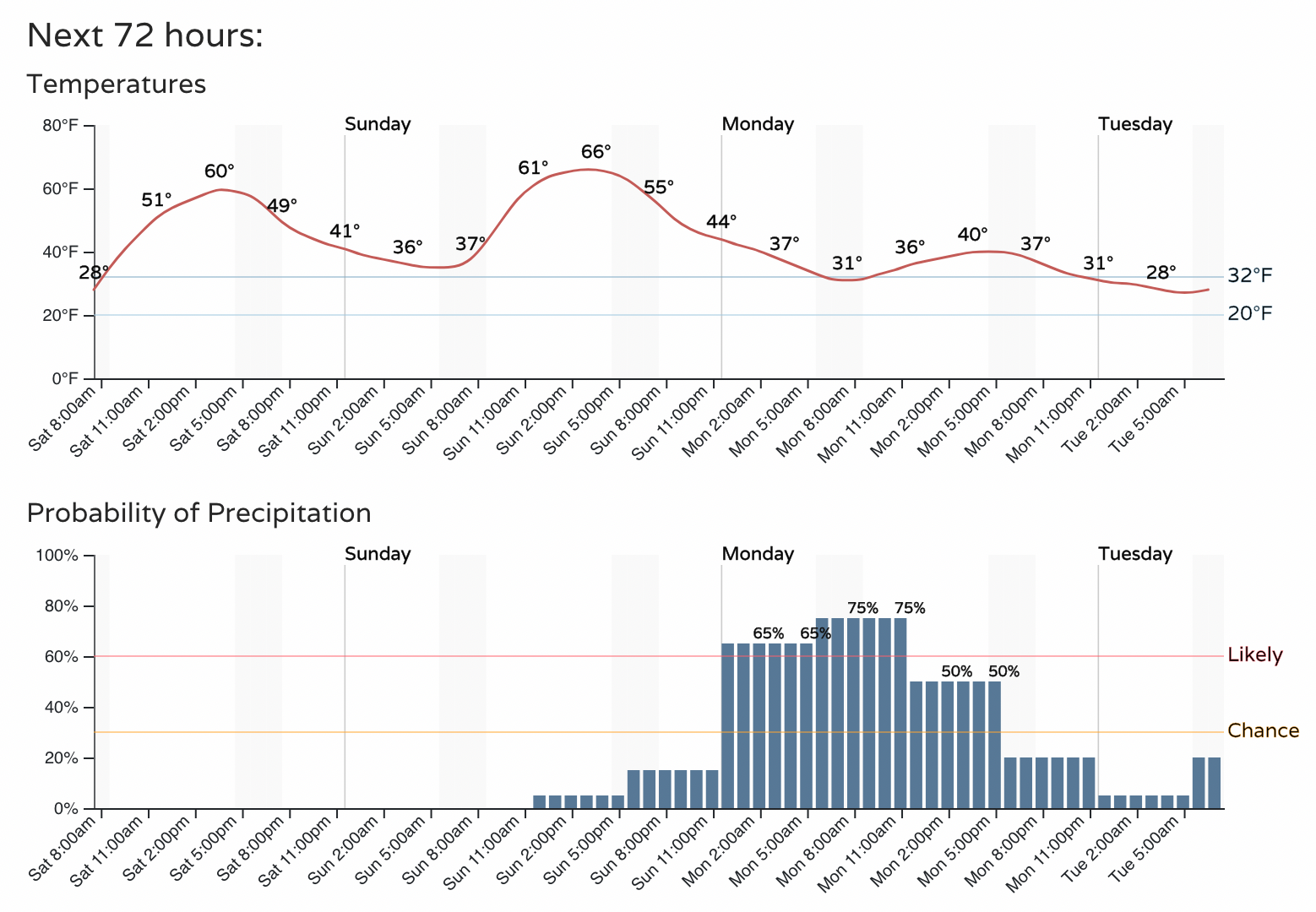 More to come!