It wouldn't be March in Colorado without both the threat of a heavy snowfall along the Front Range, and some pretty epic modeled snowfall outputs that are almost certain to be wrong.
The American GFS model had as much 2 feet forecast for the Denver metro area from tonight through Tuesday as recently as a couple of days ago. As of this morning that model has 1 - 4" for Denver, and it's not out of the question that this is still overdone.
The last 16 runs from the GFS show it slowly (slowly) coming around to the Euro model idea – where the bulk of the heavy rain and snow misses to our south and east.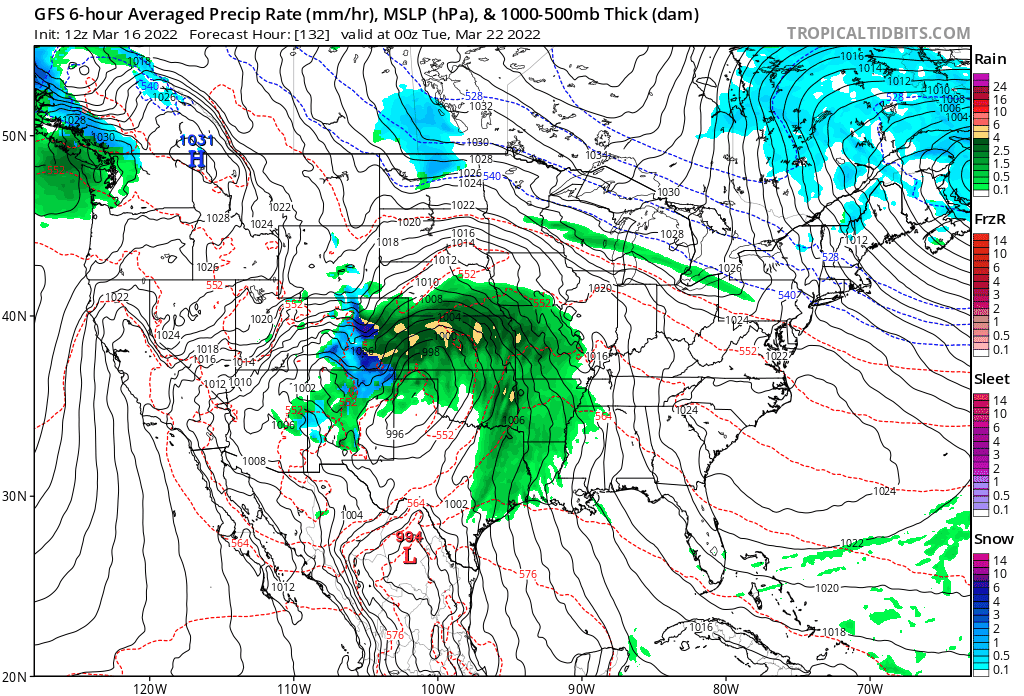 At 700mb, it's quite easy to see each consecutive run trending south from the one prior, with this morning's run centering the low over northern Texas vs southwest Kansas Monday evening: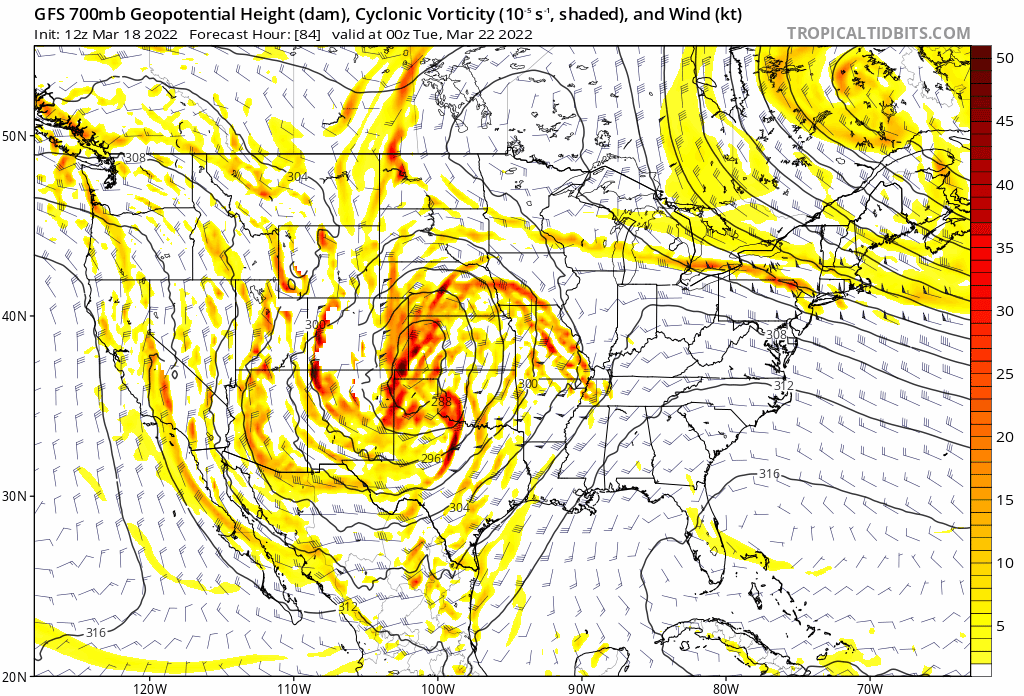 The forecast
The chance of snow will increase after midnight tonight for the Denver area, and be with us much of the day Monday. The best window for Denver to see accumulating snow looks to be between 4am and 2pm Monday, where we could see a couple inches of slushy accumulation across the greater metro area.
Temperatures will fall from the mid 60s today into the 40s for highs on Monday and Tuesday, before we gradually begin warming once more. This is not a terribly cold system, as you can see.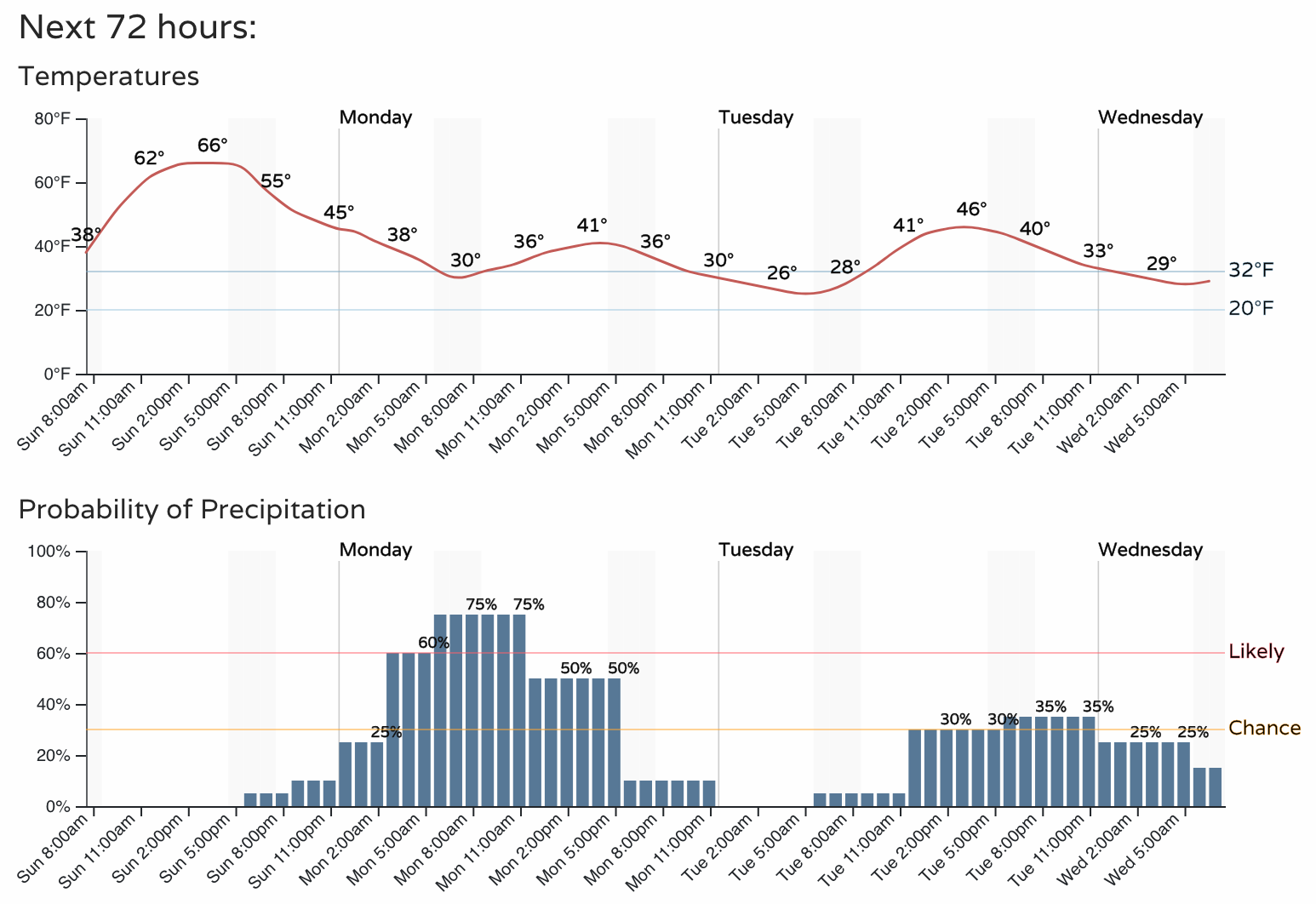 Snowfall forecast
The snowfall forecast is as follows. We expect some accumulation outside of Denver in the immediate foothills and Palmer Divide. Meanwhile, Greeley, Loveland, Fort Collins will struggle to see even an inch of snow it appears.
Denver could see from a Trace to 3" of snow, with the best chance for accumulating snow being on the south, southeast, and west sides of town.
The foothills west of Denver and across the western Palmer Divide are in our 2 - 6" range, with some potential for a boom snowfall for some of these communities. We shall see.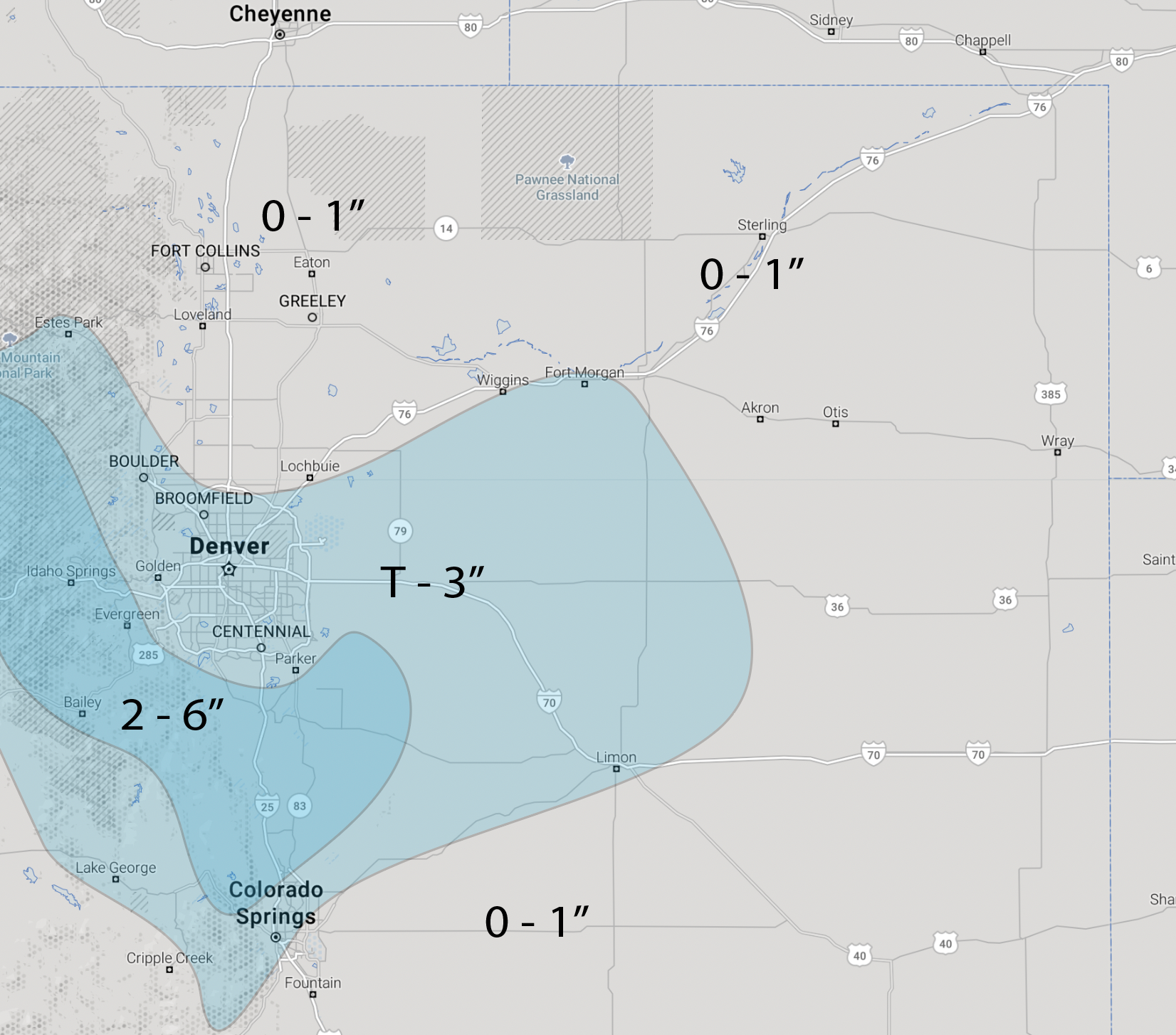 Wind
This will be a windier system than some of our recent storms, so areas that do see snow could see some of it blowing around with reduced visibility. This is especially true across the Palmer Divide, and eventually possibly out east across the Plains depending on where the system ultimately tracks.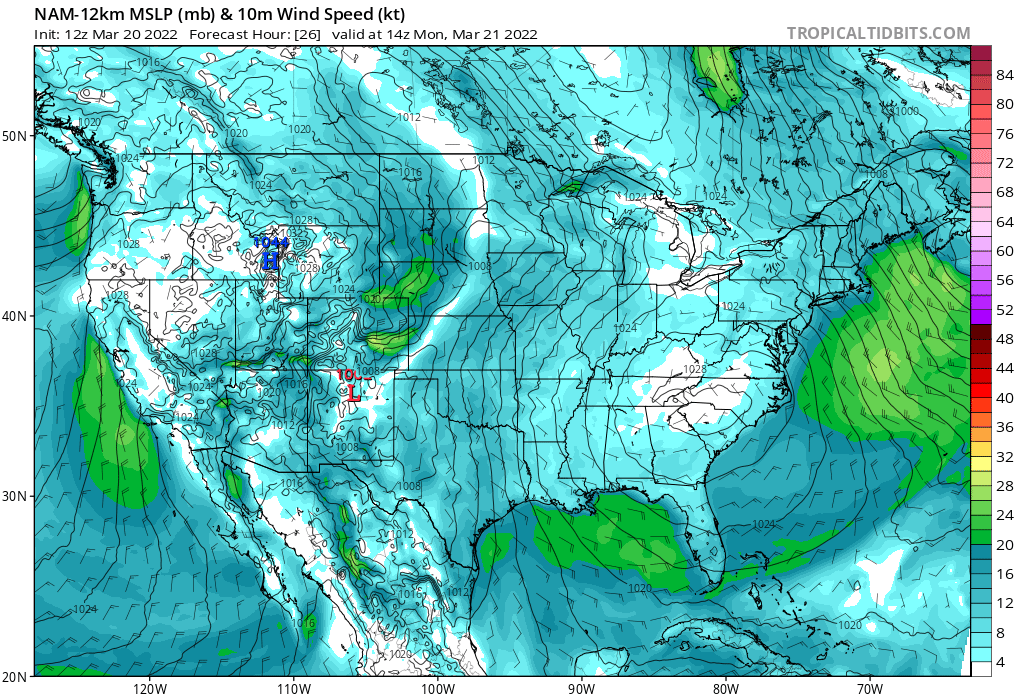 Eastern plains
There is still quite a bit of uncertainty with the exact track of this storm, even as confidence is higher that the Denver area will largely miss the biggest impacts.
Across southeast Colorado there remains potential for a period of heavy snow from late tonight through Monday night, but a slightly more east/southeast track would put this area out of play as well.
The blend of models shows some heavy snow across the far southeastern part of the state, which certainly is possible. Some models have that swath of snow extending even a bit further north and east, with implications for calving no doubt. Given the uncertainty, this seems like a good middle-of-the-road idea at this time.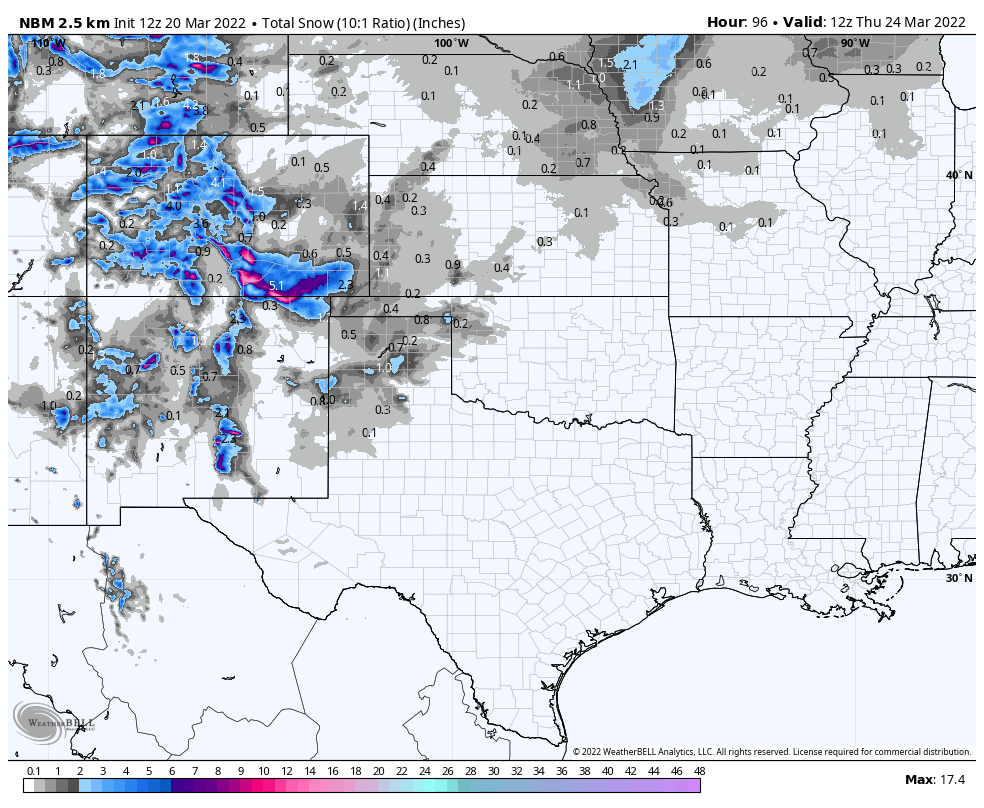 As we've been discussing for some time now, the greatest precipitation from this large system will end up well east of us. East Texas, Oklahoma, and southeast Kansas will see appreciable moisture, as well as the threat of severe storms on Monday.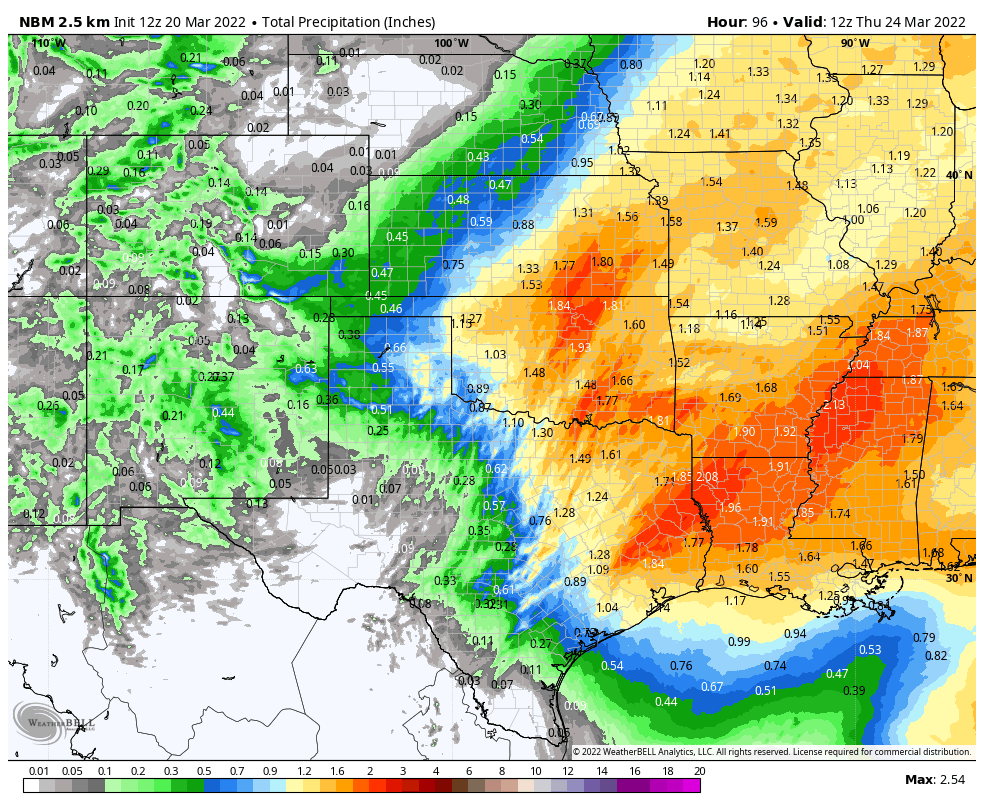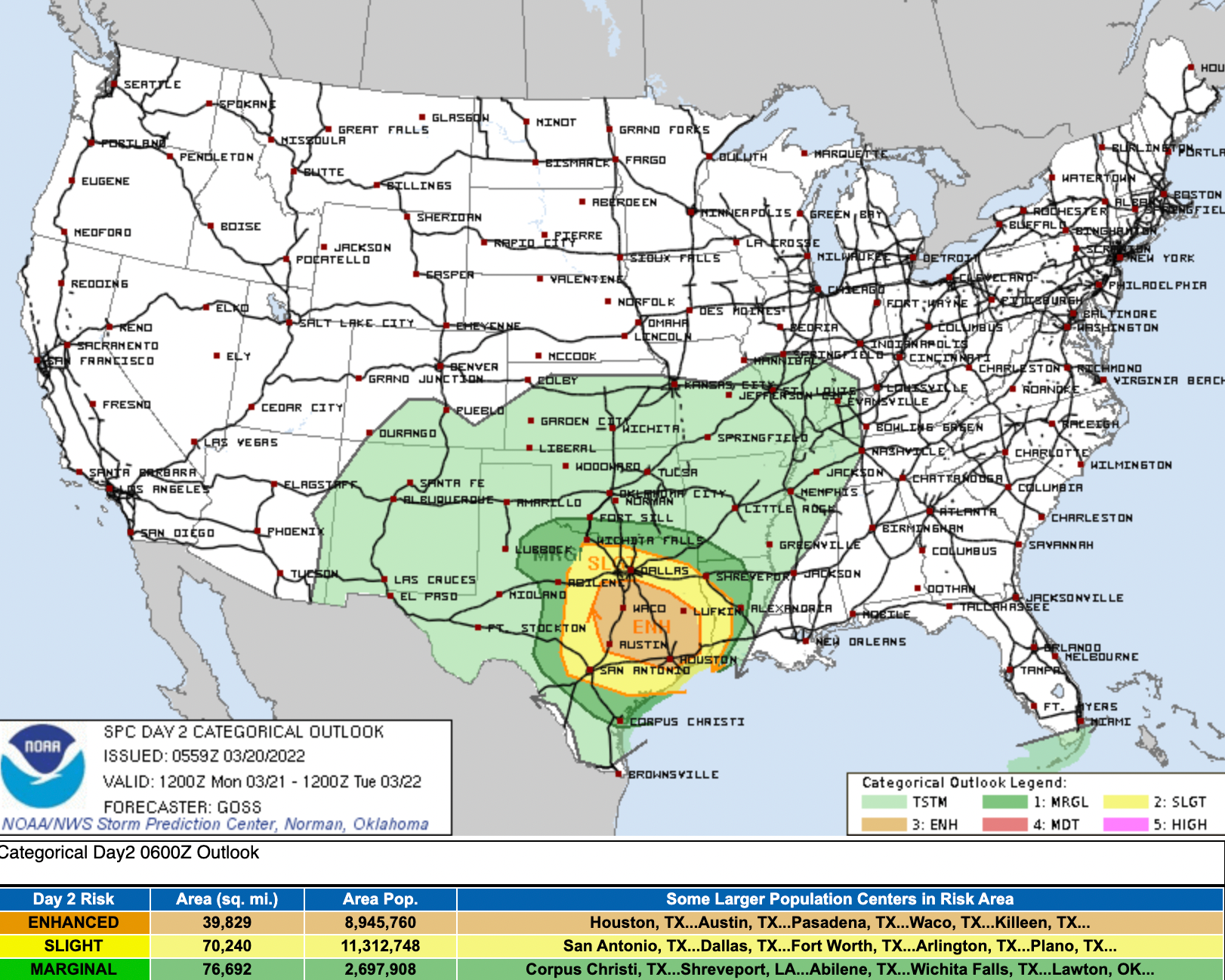 Boom potential?
If the storm tracks further north than anticipated it could be we see greater snowfall totals than currently forecast. It's looking like a low probability at this time, but not out of the question either. We will be watching this system closely through the remainder of the day and tonight, and adjust the forecast if need be.
We did see totals jump up for the Denver area in the SREF model this morning, but it could be largely due to an outlier or two. The mean is now at 5.5" for Denver, but it's clear to see that an overwhelming majority of members are below that mean, with an outlier coming in at 35"! (So you're saying there's a chance?)

With still some uncertainty on eventual track, leaning on the European ensemble remains the best bet. It's been incredibly consistent in recent days, and puts odds for a boom quite low. Areas of western Jefferson County and western Boulder County will see the best chance at besting 3" of snow this go around, with this model sniffing out some potential across Southeast Colorado as well, as we discussed above.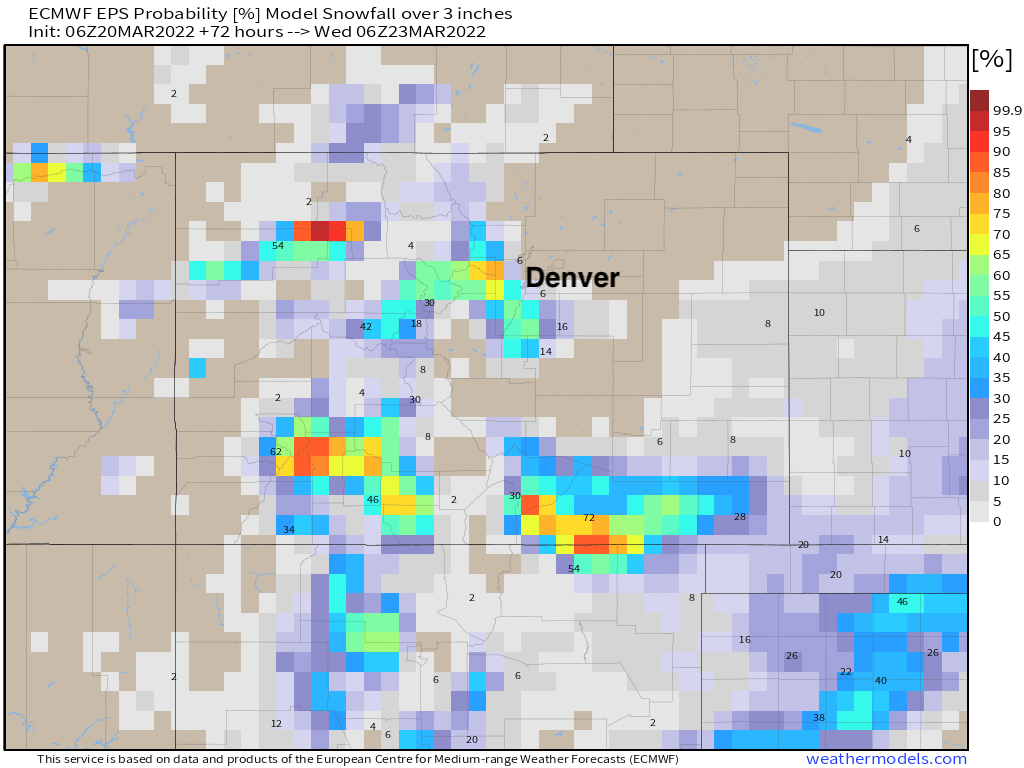 Again, we'll watch things today and if anything of any significance changes we'll pass that along! For now, get out and enjoy the warm day, and watch for the potential for a slushy/wet commute Monday morning.