After unusually warm temperatures this weekend, the weather turns cooler and unsettled for the week.
Although enjoyable weather in most respects, the weekend's warmth combined with dormant vegetation turns to a dangerous fire situation in Boulder County. Per the Boulder OEM, the evacuations as of late Saturday included more than 1,500 people, down from 19,000 earlier in the day.
With additional warmth Sunday and Monday, the fire danger remains high. Near to and record setting temperatures are possible today and tomorrow across the region. Denver's existing records are 78 and 83 degrees respectively.
Sunday's high temperatures across the region: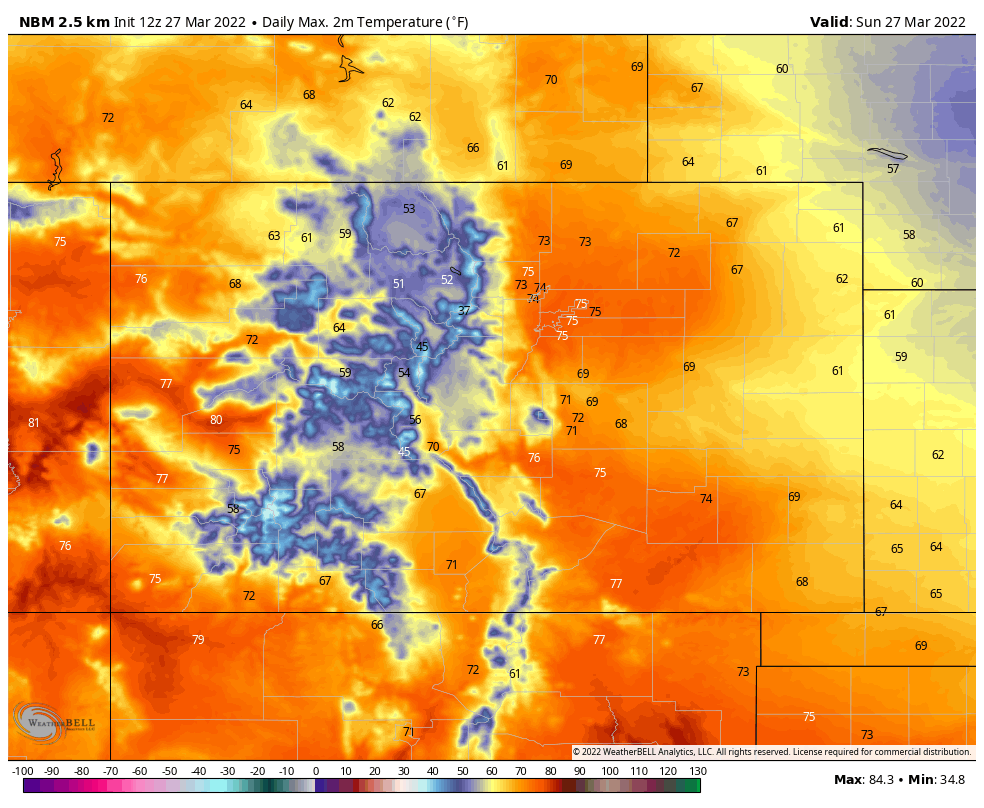 Monday's high temperatures: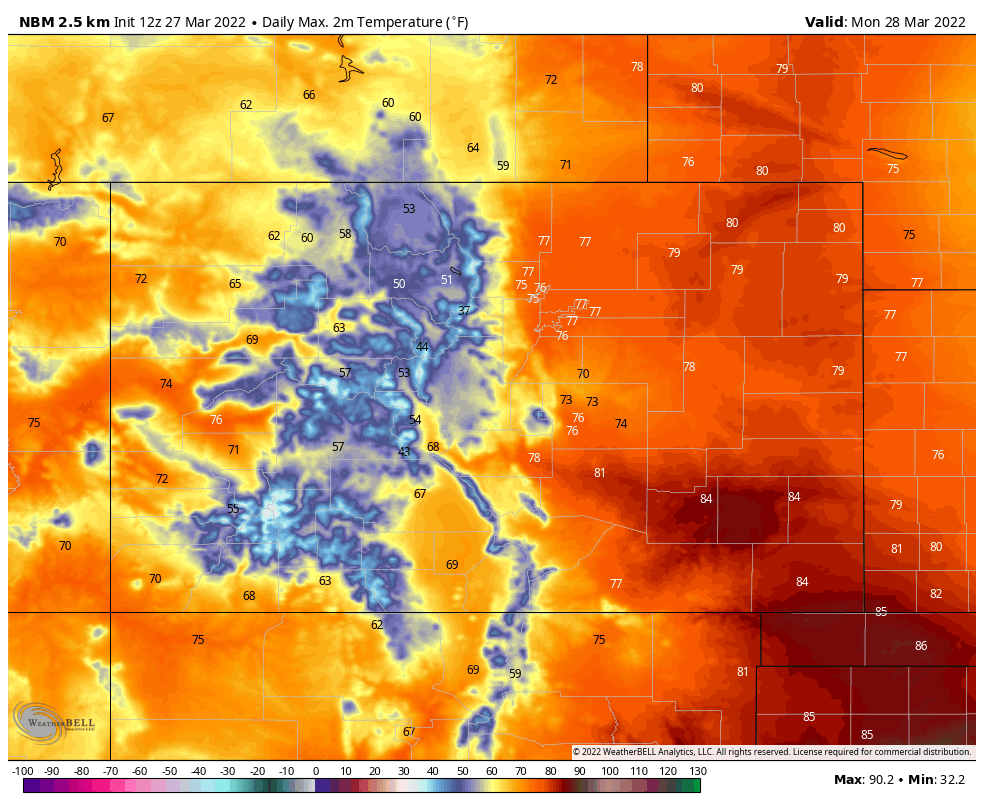 Monday's high temperatures, plus some moderately gusty wind results in a fire weather watch south and east of Denver focusing on those from near Colorado Springs and Pueblo to the entire southeastern corner of the state.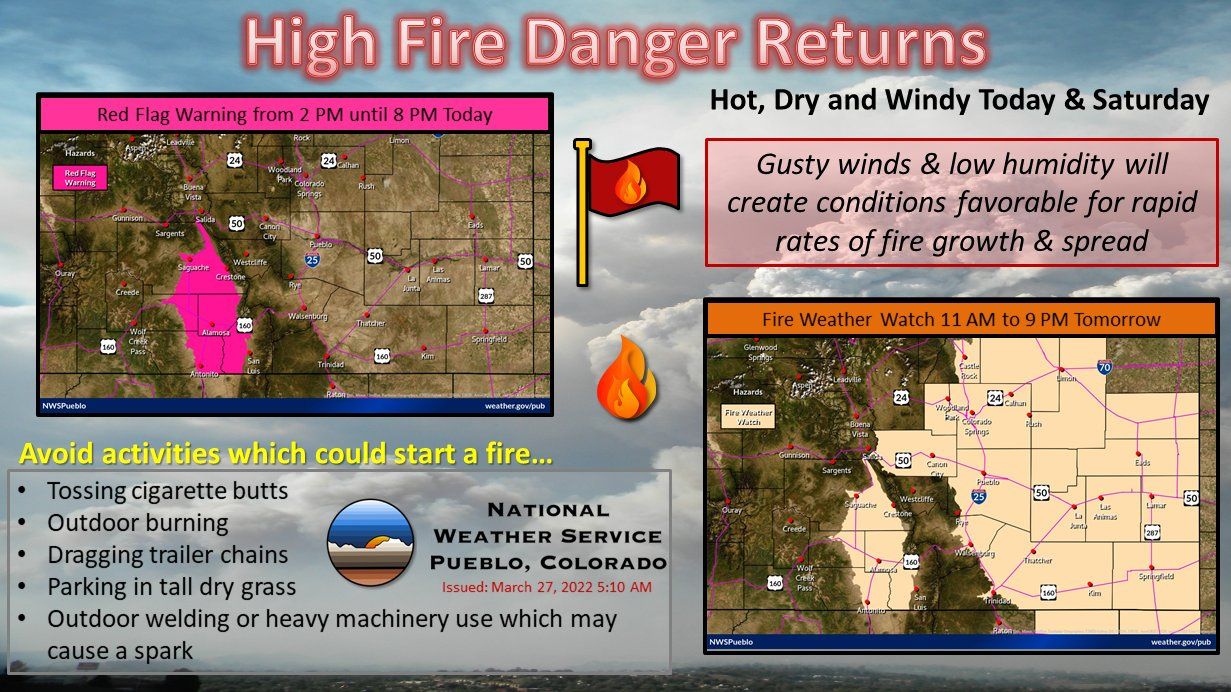 By Tuesday, we begin to track some changes to diminish the fire threat for awhile. This animation shows temperatures from Monday's unusual warmth drop during the day Tuesday and remaining cooler Wednesday.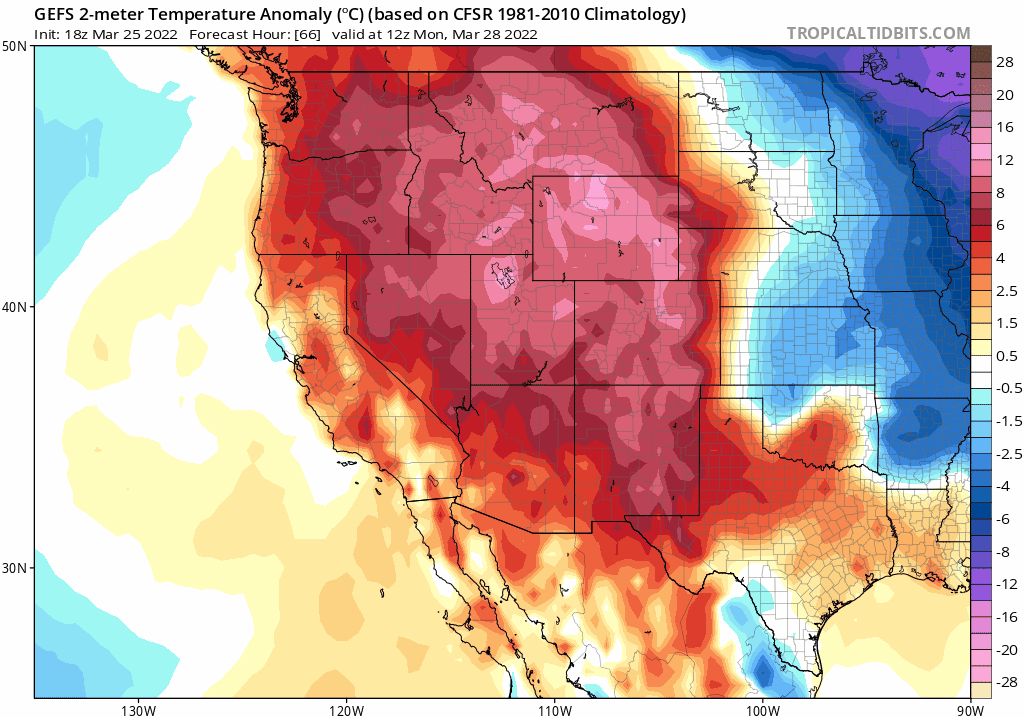 How this looks hourly for Denver: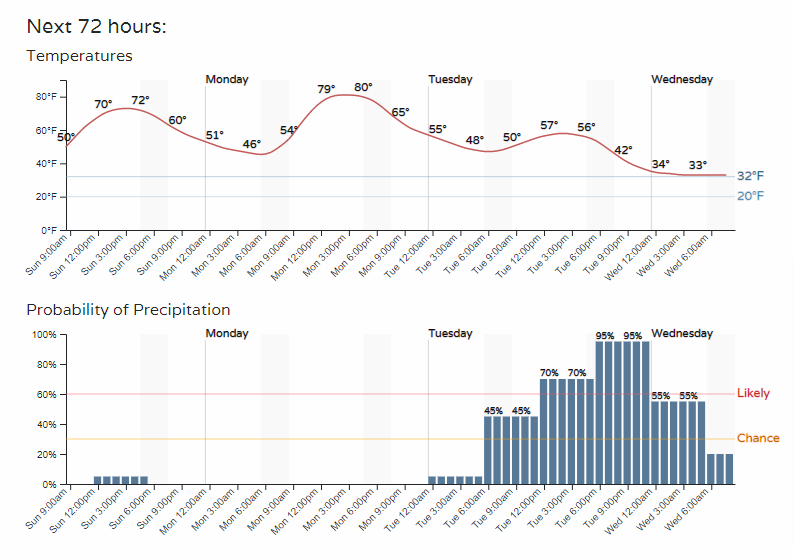 With that hourly planner we see the chance for precipitation increases Tuesday. This will be a combination of rain and snow chances for the midweek, and additional chances later this week.

Those chances have been dropping the past few days, but we still stand a reasonable chance to pick up some appreciable moisture. The potential total water for the week looks like this: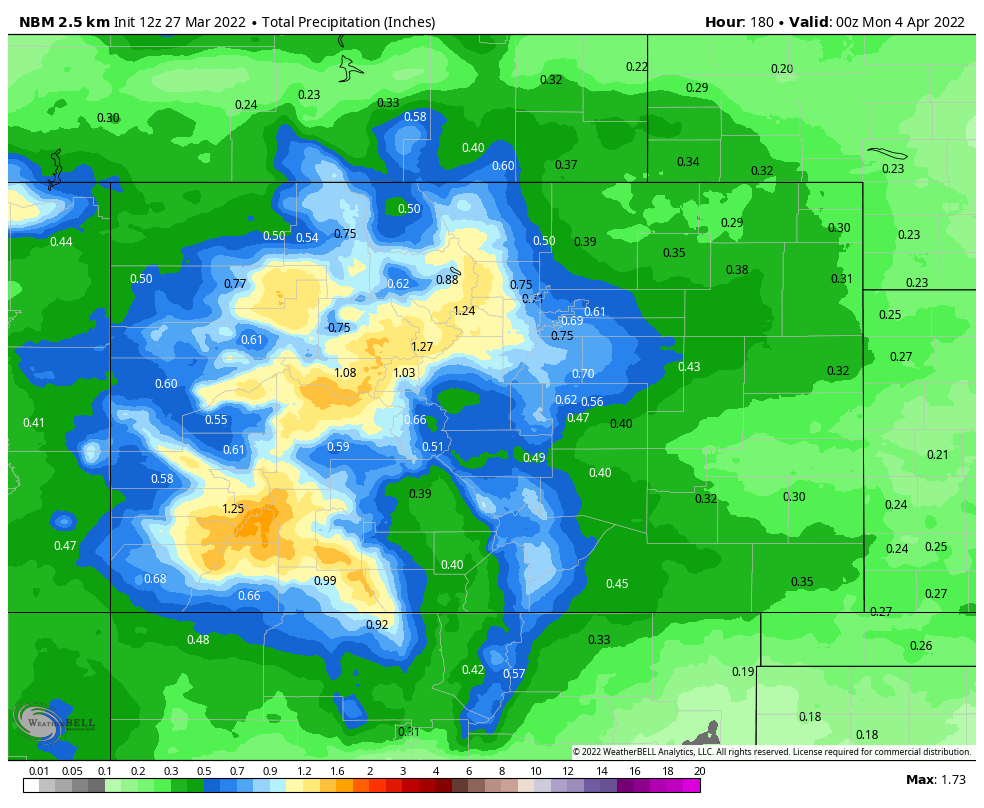 That's potentially between 0.5 to 0.75 inches across the Front Range.
Of that, there will be some snow, and the early snowfall estimates for the week may fall like this: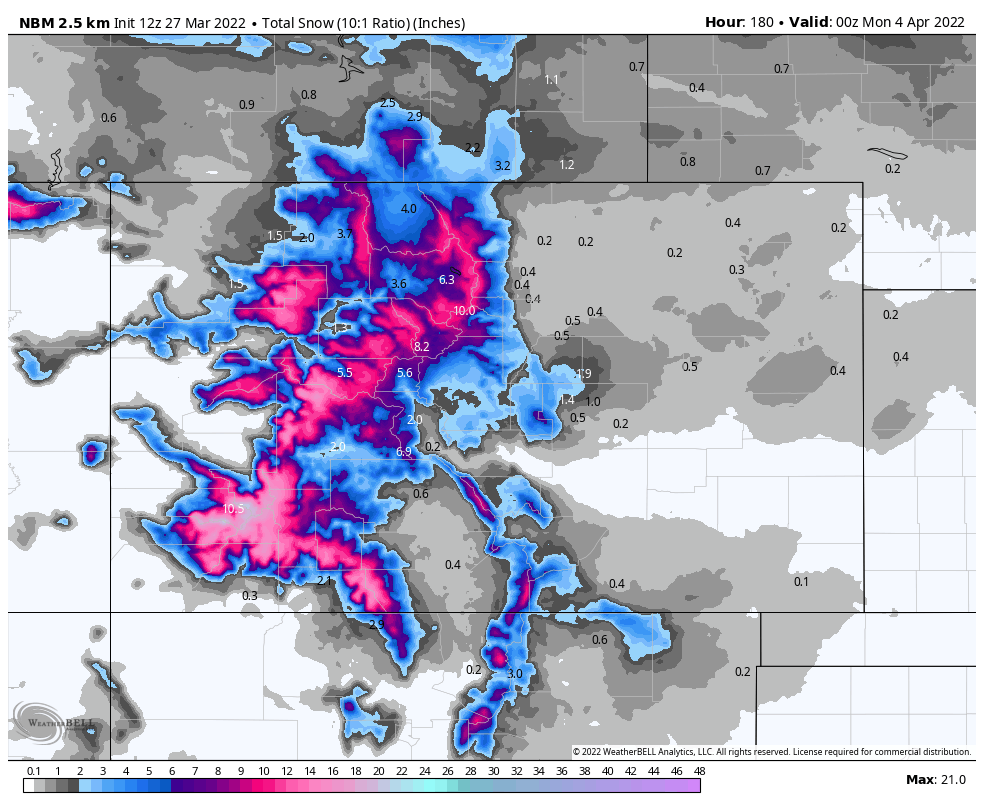 Not necessarily a snowy outlook for the metro areas, but the Palmer Divide and foothills west of I-25 are likely to see some accumulation and certainly the mountains will.
For Denver snow lovers, we do cool off this week but we hardly have truly cold temperatures and therefore the snowfall totals appear quite low compared to rain at this time.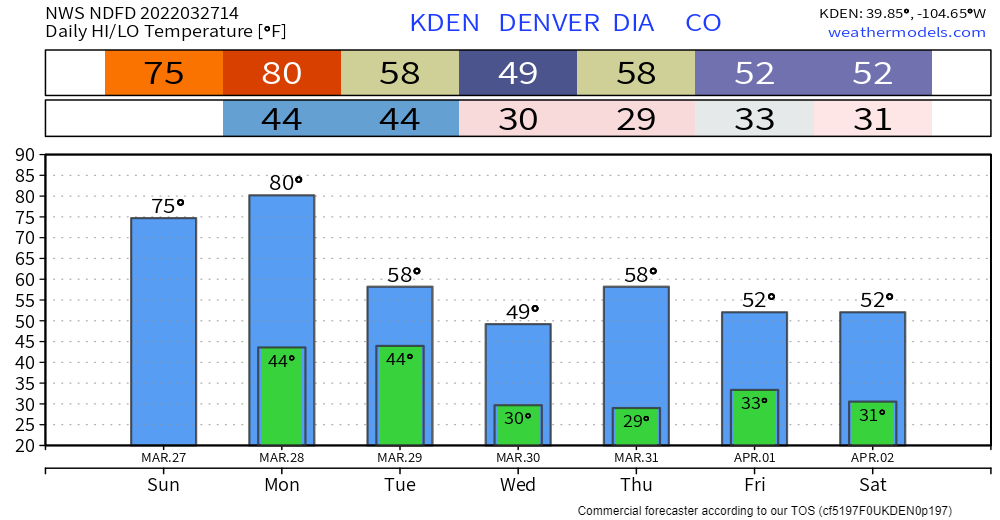 From the fire danger situation of this weekend, at least we do have temperatures more in line with seasonal norms for much of the week, and chances for precipitation, too. Sadly, we have to wait another couple of days for that relief.