Nothing like following up a snowless April in Denver (the city's second snowiest month on average!) with the chance for accumulating snow across the region on May 20th!
Denver's average last snow of the season is April 28th, but snow in May is by no means uncommon. By the time we move into the second half of the month, however, it becomes far less common. The latest measurable snow on record came on June 2nd, 1951 when 0.3" of snow was recorded in Denver. We have seen measurable snow on the 29th, 28th, 24th, and 5 times on the 21st. Should we happen to see measurable snow at DIA (we may not) this weekend, we could move into the 5-way tie for top 10 latest snows on record.
The average last freeze of the season is May 4th, also well in the rearview mirror at this point. The latest freeze on record was on June 8th, 2007 so we aren't near a record yet, but a freeze this weekend could also land us on the top 10 list for latest freezes on record.
The latest European ensemble mean shows a low of 32°F on Saturday morning and 30°F on Sunday morning. GFS MOS guidance shows temperatures as low as 28°F in Denver Saturday night. Ouch! Not a done deal, but it looks increasingly like we'll see a late season freeze across much of the region by the weekend. We'll discuss further below.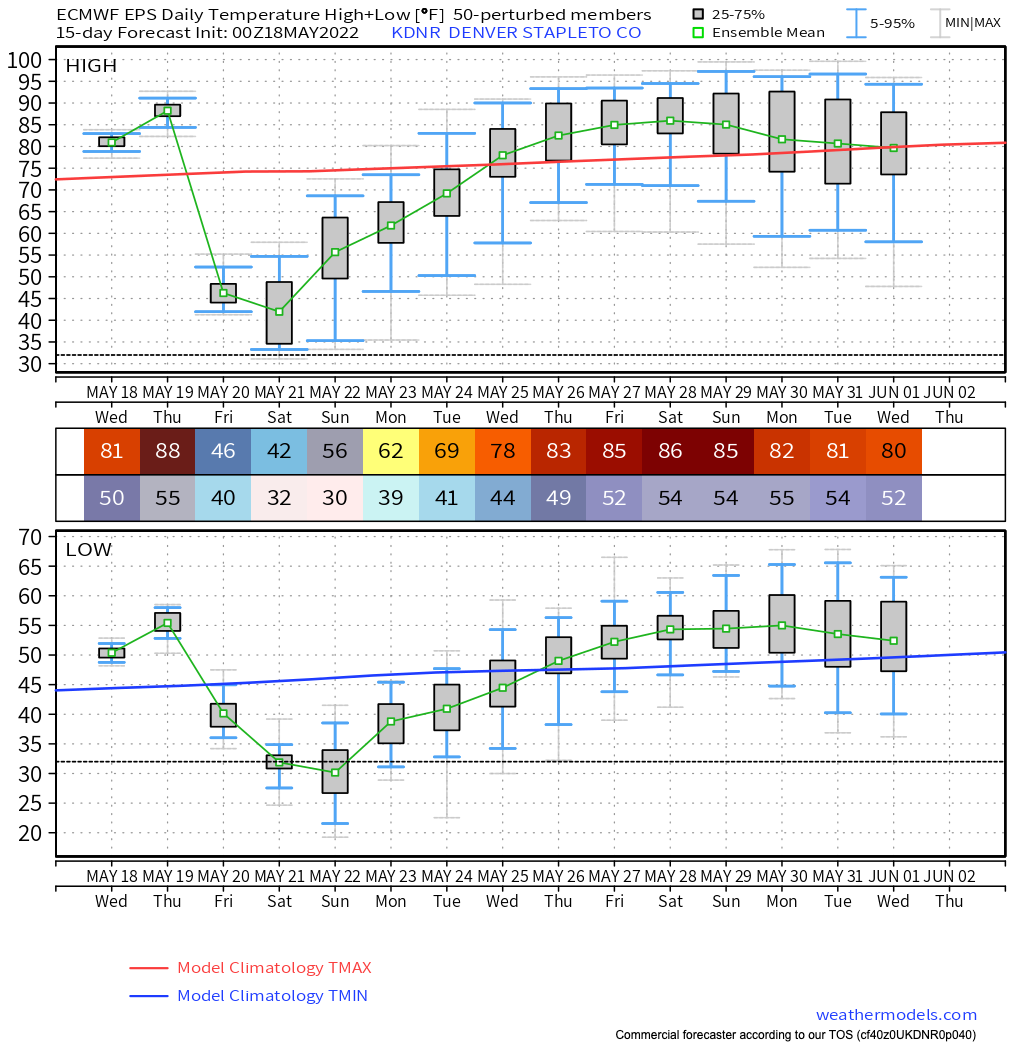 Until our big change arrives, more warm and mostly dry weather is on tap today and tomorrow. That said, a few areas could see some storms Wednesday afternoon, and even a few severe storms are possible across Eastern Colorado, particularly south and east of Denver. Below is the severe weather risk map for today: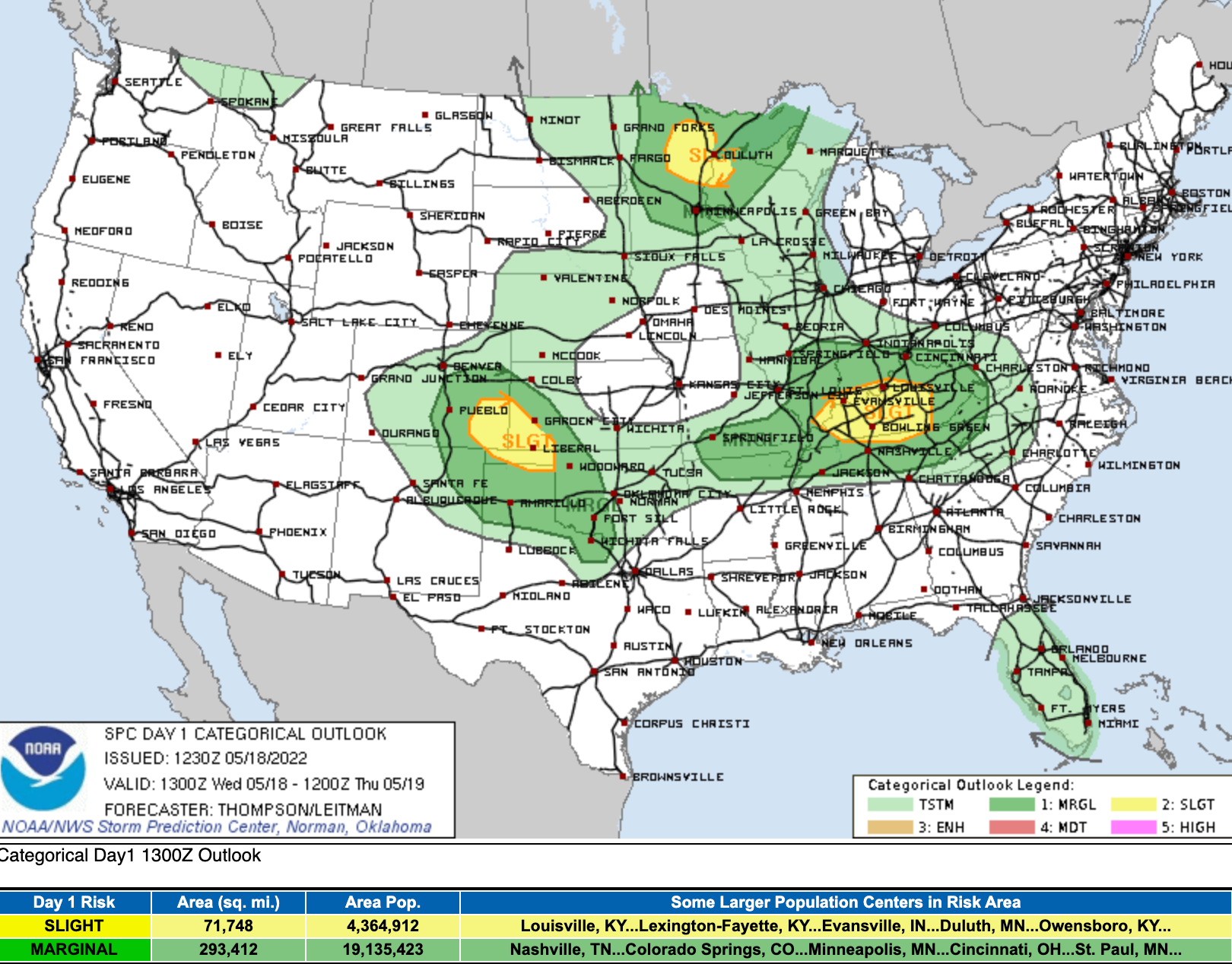 Thursday will be a day of transition. A windy day of transition.
For Denver this equates to highs near 90°F on Thursday with gusty winds and high fire danger, but as you can see below, changes will be lurking to our northwest!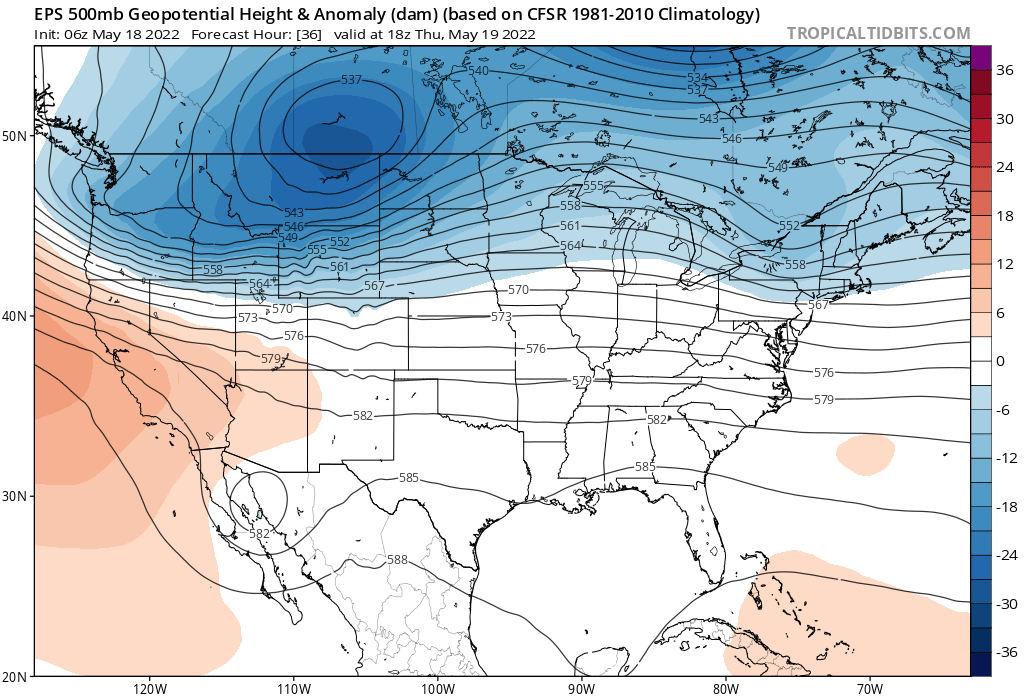 By Friday morning we'll be under the influence of the trough delivering our chilly and wet change: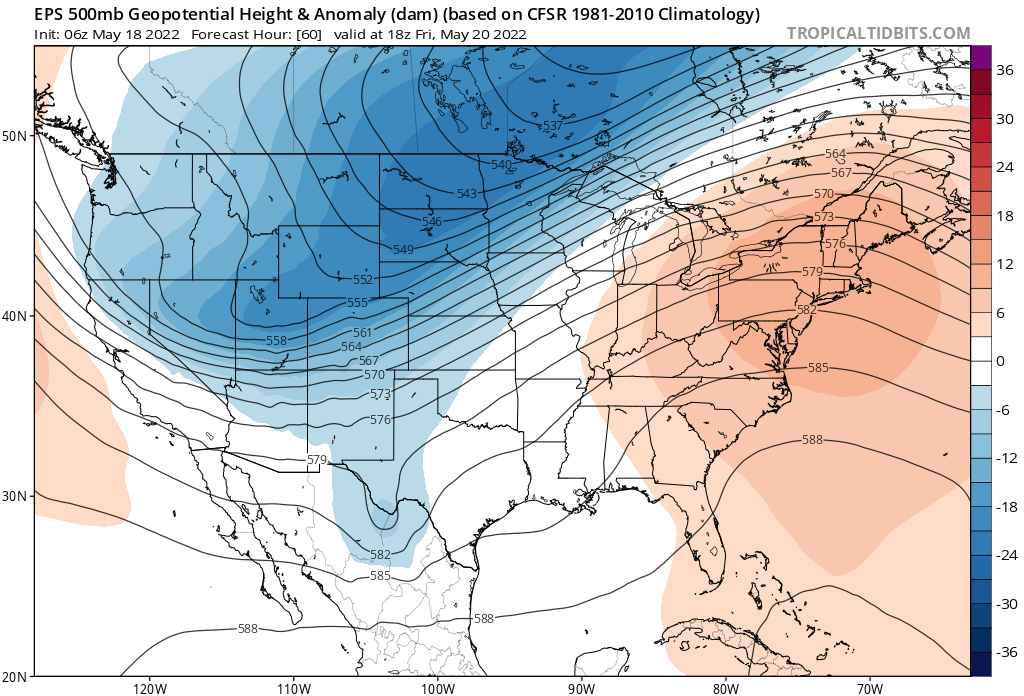 Remaining under its influence into Saturday morning: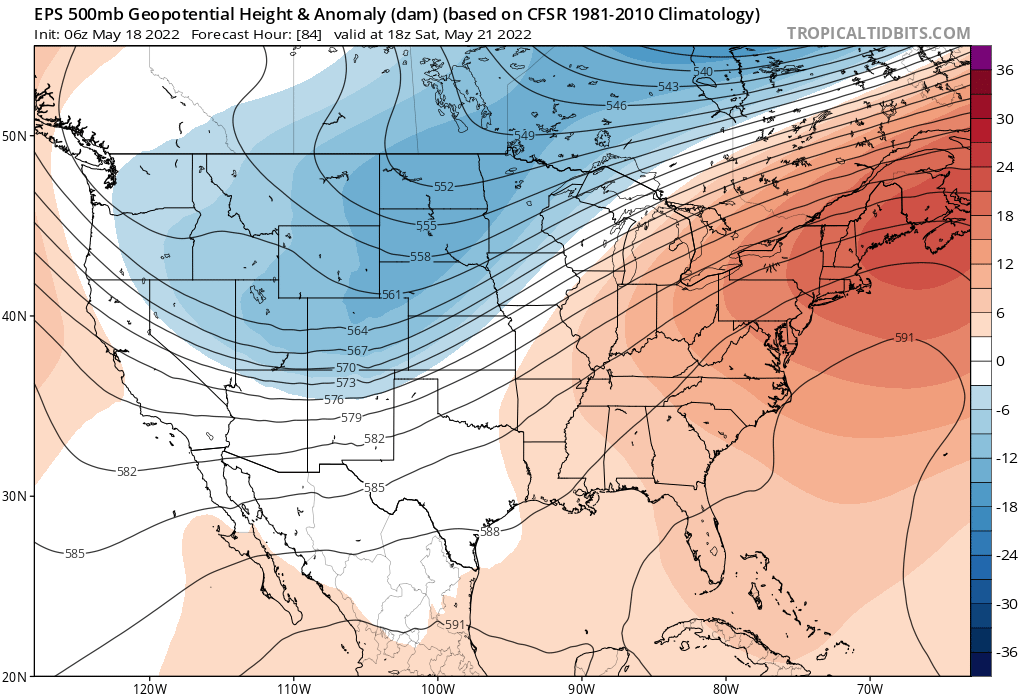 Ignoring for a moment the details around just how cold any particular model is, the upcoming changes are certain to be dramatic. A look at the GFS 2-meter temperature anomaly forecast from this morning through the weekend, we see all the warmth we are (and have been) experiencing wiped out by dramatically colder temperatures by Friday, and sticking with us through Saturday at least: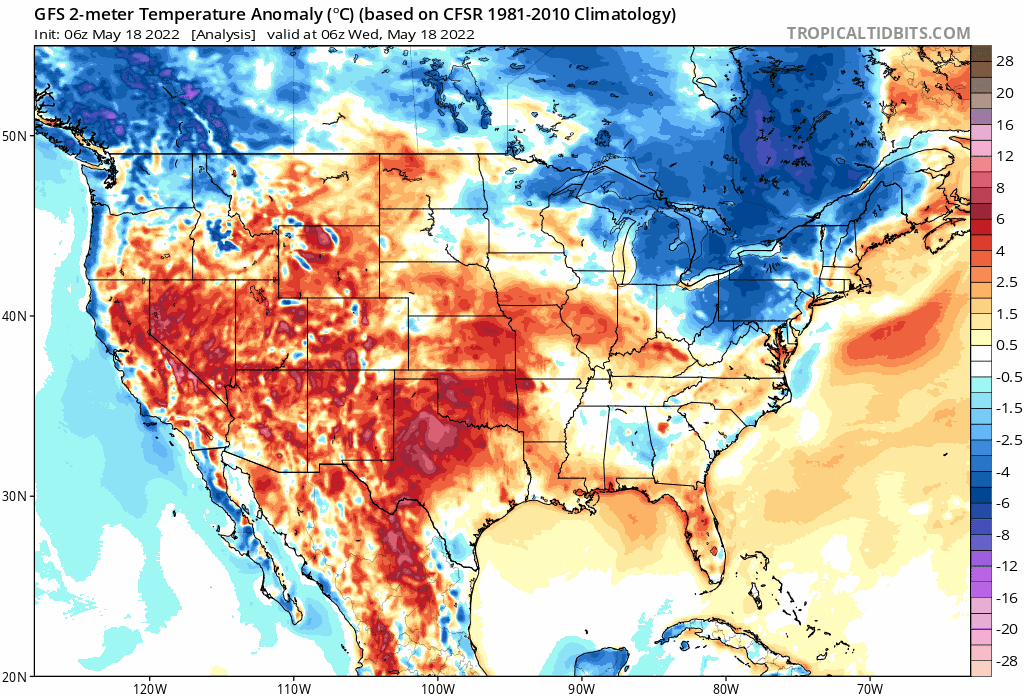 The current forecast high for Denver on Friday is 41°F, some 48°F colder than the anticipated high temperature on Thursday in the city. By Saturday morning we could be some 60°F colder than that high!
Needless to say, snow or no snow, temperatures may be a big issue for vegetation (and pipes) up and down the Front Range and Eastern Plains. If you haven't planted yet, it's best to hold off until after this system passes. If you have – make plans to protect your plants if you can.
Here is the current forecast for Denver:

Rain and snow forecast
We are of course concerned about what temperatures may do, and this goes hand-in-hand with what we are likely to see play out on the rain and snow front.
A measurable snow looks increasingly likely for the Foothills and Front Range mountains, and increasingly possible for the urban corridor. Models have become quite bullish on cold and snow for the region, the Euro included, but still may be overdone at lower elevations, and of course any snow that does fall would be up against very warm surface temperatures. The old "what falls vs what sticks".
The latest GFS shows temperatures around 33°F by Friday evening in Denver with heavy snow falling. Our current outlook has temperatures about 5 degrees warmer at this time, with snow focused across higher elevations. Will we move toward the colder modeled solutions today and tomorrow? Or will they move to us?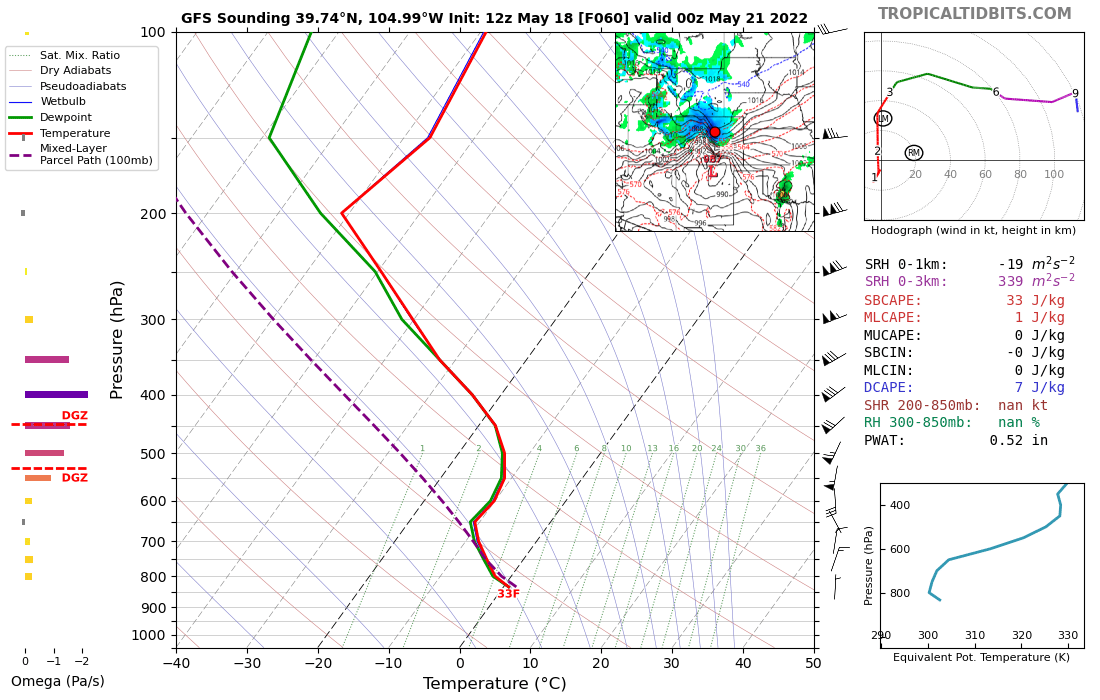 With this increase in confidence at higher elevations, the NWS has issued a Winter Storm Watch for elevations above about 7500ft west of the urban corridor (blues in the map below) where snowfall totals up to (and perhaps in excess of) a foot will be possible.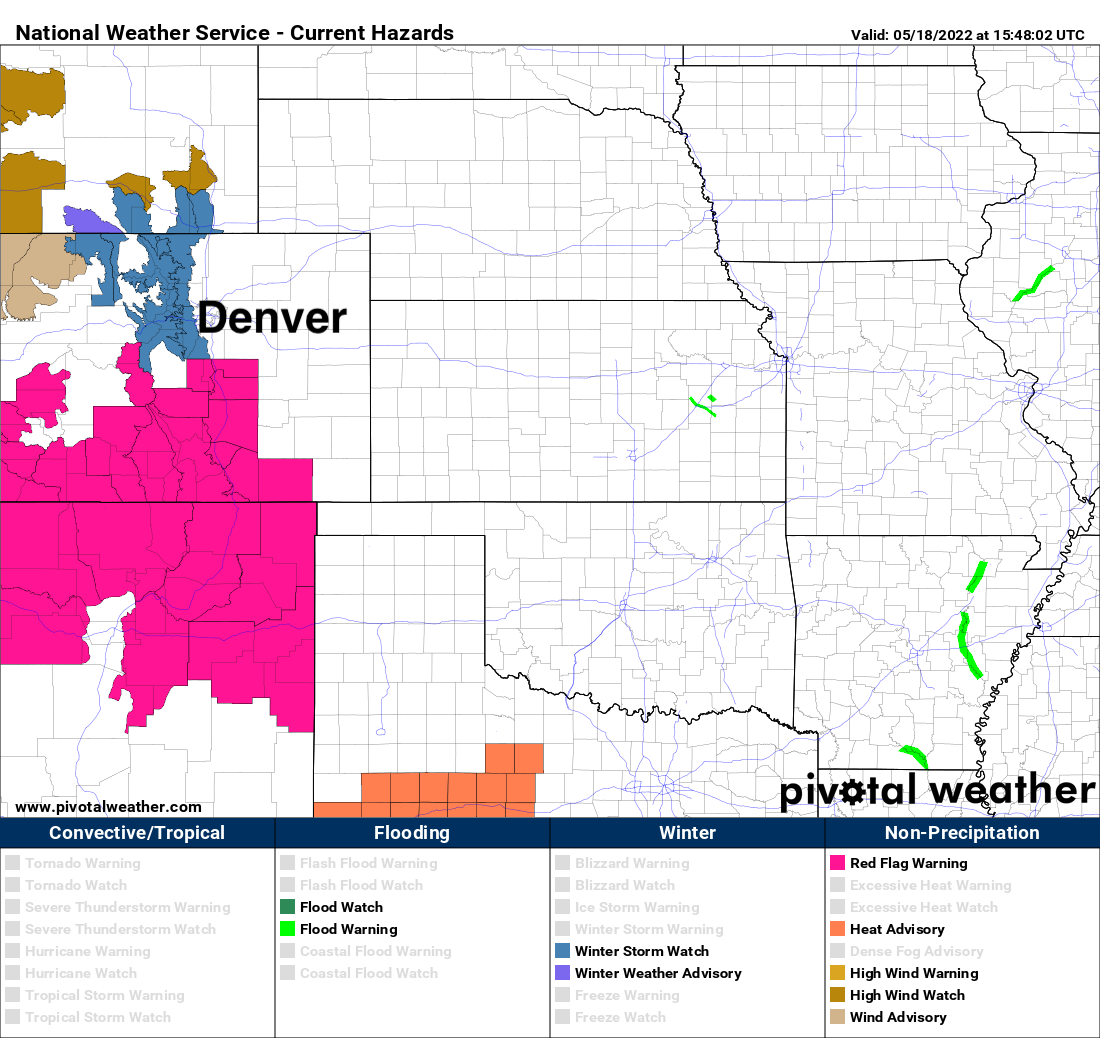 Below 7 to 7.5k feet snow potential will be WAY harder to pin down. Even if we do change to snow Friday PM and overnight, and we very well may, what will manage to accumulate and for how long remains in question.
That said, even a "light" accumulation along the urban corridor will prove problematic as leafed trees will promote accumulation much quicker than the very warm ground surface. And if we do get heavy snow on those leafed out trees, it won't take much to cause significant damage. Frankly, we hope models are overdone on the cold today, and the trend keeps us just warm enough to avoid the worst of any snow impacts here at lower elevations.
There's no denying however that models have trended in a colder/snowier direction over the last day or two. This could very well swing the other way today, as confidence around a colder/snowier solution is low at best for lower elevations. The latest Euro ensemble probability for 1" of snow in Denver is now sitting at about 90%: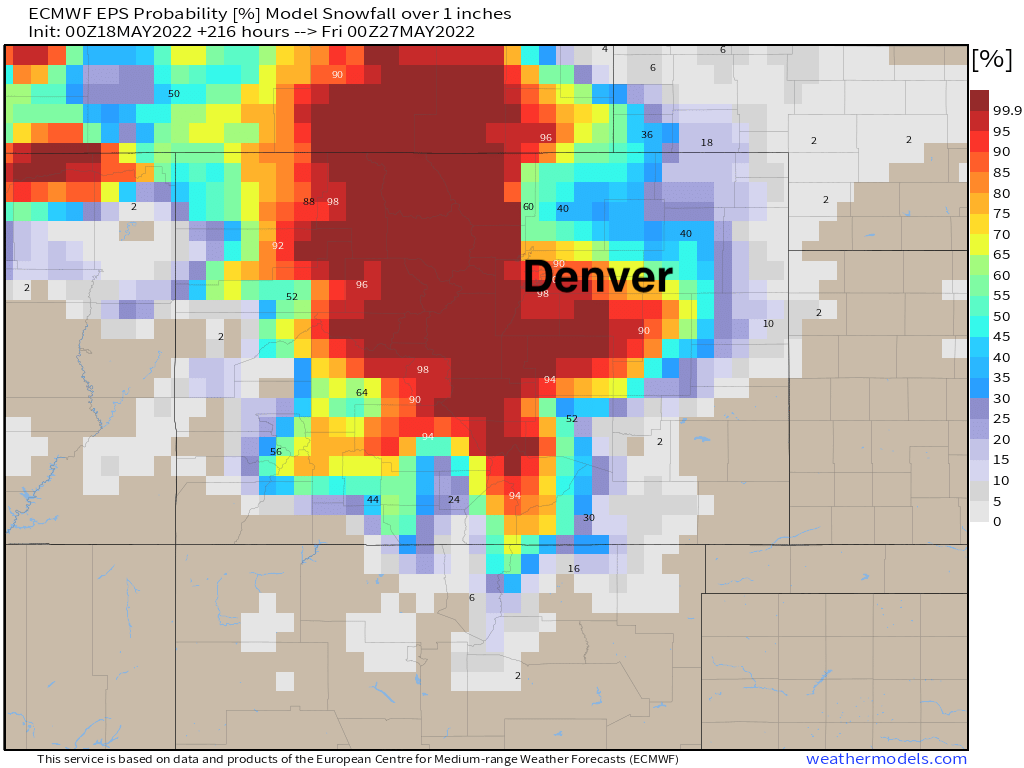 For 3" of snow in Denver its at about 70%: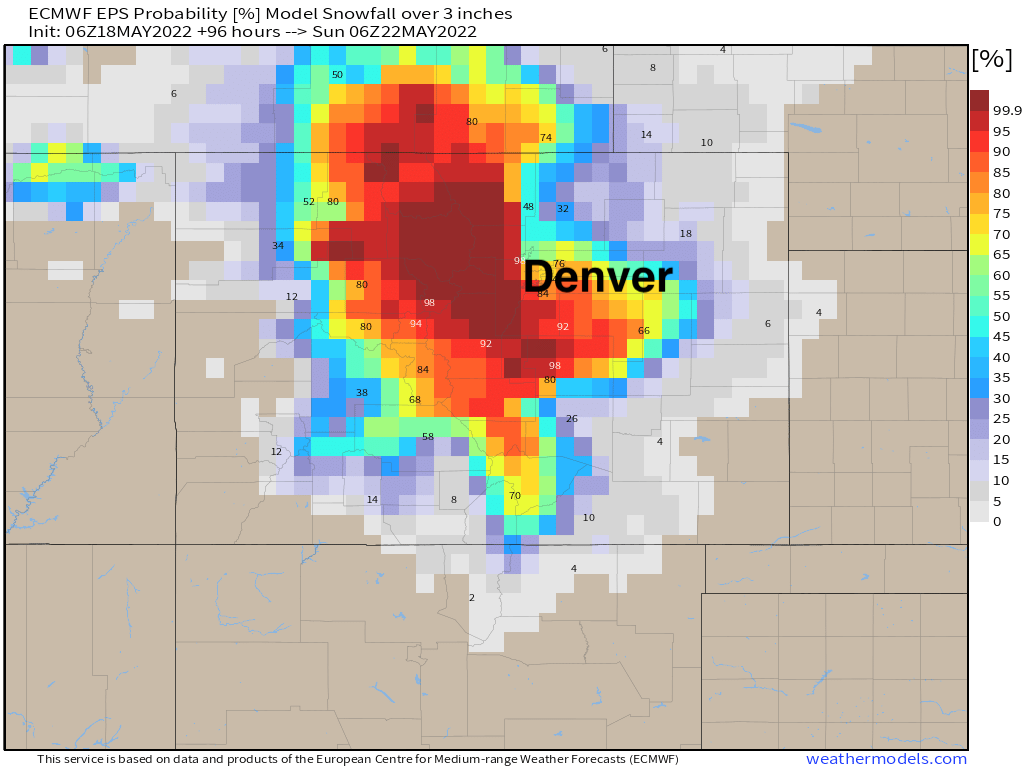 This is not going to pick up on the melting that is likely to occur, so actual odds are likely lower than this – however – the point holds, this looks increasingly like an anomalous late season cold precipitation event.
Our gamblers may sit better, good odds for that 1" range, but a much faster drop off in probabilities above that, outside of Boulder of course.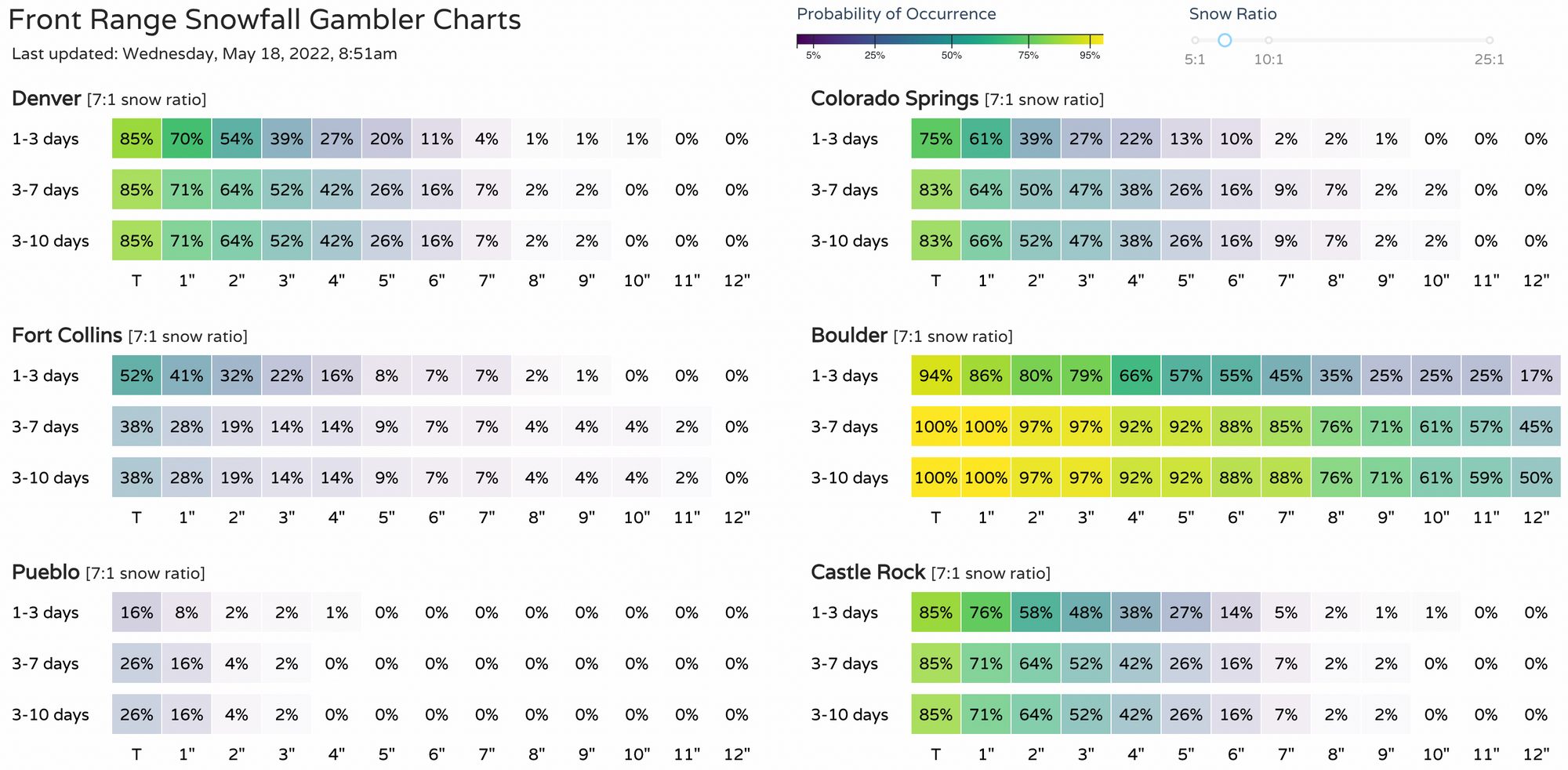 Given we are still a couple of days away, here's the takeaway re snow this morning:
For foothill locations, and those above about 7,500 feet, a heavy late-season accumulating snow is looking increasingly possible from Friday afternoon through Saturday morning.
For the urban corridor, a late-season freeze looks increasingly possible, with a good chance we see snow/mixed precipitation as well. Where that rain/snow line ends up, and how impactful snow at lower elevations where its been quite warm remains very much in question. Still, any accumulating snow on trees this time of year can be very damaging.
This is an evolving forecast, with details yet to be worked out. Stay tuned!
On a more positive note, a healthy dose of water looks likely. Here are odds of 0.5" of precipitation through Sunday morning for the state, much needed moisture: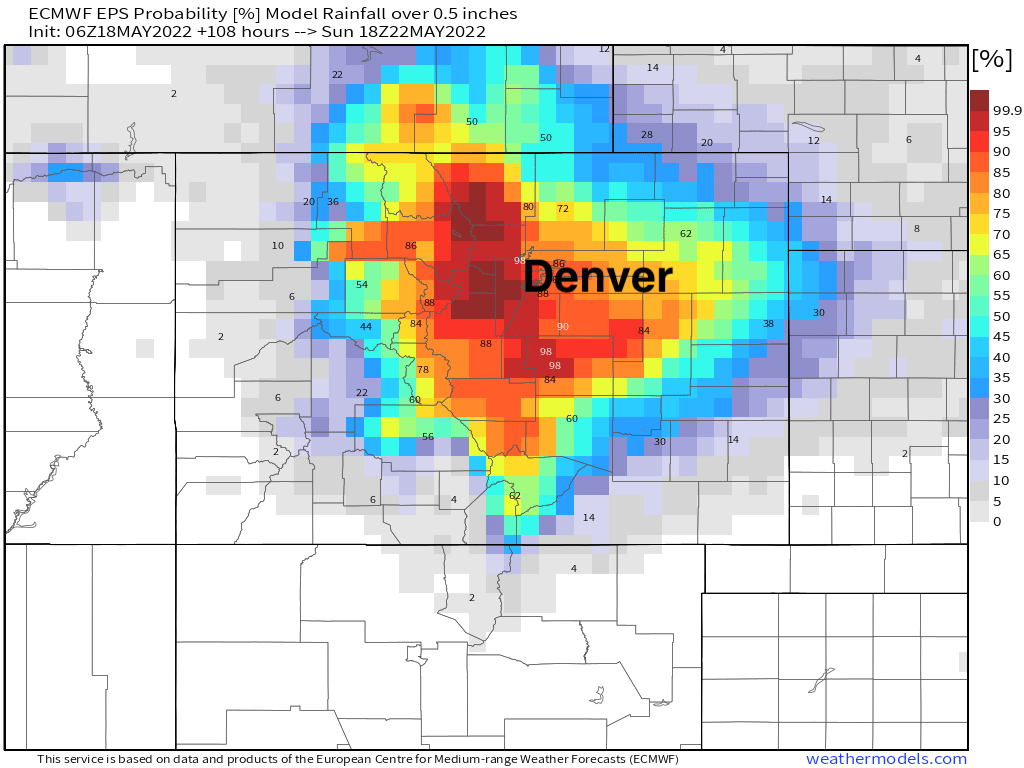 And the latest WPC precipitation guidance showing upwards of 1.0" of liquid for many locations between now and Monday:
Timing
As mentioned above, temperatures remain mild today and tomorrow ahead of big changes on the way Friday.
Storms will be possible today in and around the Denver area, with the greatest potential south and east of the city. Thursday will be drier, windier, and warmer before the bottom drops out Thursday night into Friday.
The currently hourly planner has the best chance of precipitation beginning late morning Friday and continuing into Friday night. As you can see, we keep temperatures a bit warmer Friday PM than some models are suggesting at this time. A colder solution would of course mean more snow mixing in at lower elevations.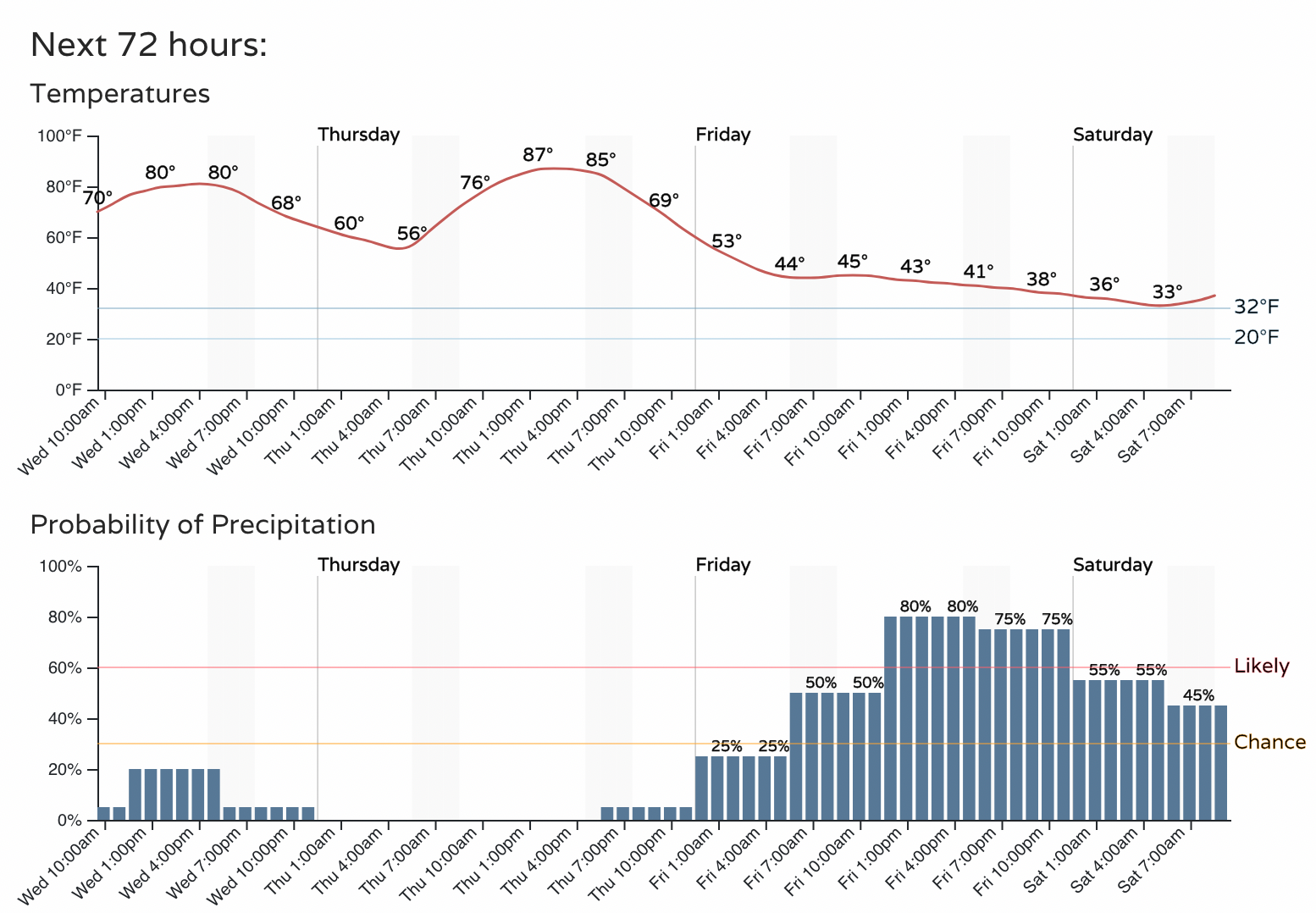 More to come...