The cold and wet weather has arrived and will stick with us through the remainder of the day and on into Saturday for many of us. No major changes to the forecast at this time.
Last evening's cold front was impressive. It's awesome how many folks along the Front Range have weather stations these days and shared with us the dramatic temperature drop as the front moved through. In Fort Collins, the weather station at Christman Field dropped 26°F in just 15 minutes last night – a record for the station!
Rain and snow coverage will continue to expand through the morning and afternoon. Many areas in and around the greater Denver metro area are already seeing rain transition to snow, with several reports of 1 - 5" of snow already accumulated in the higher terrain of the Front Range foothills and mountains. If you are not seeing snow yet, you will be for too long most likely.
A look at the latest 3km NAM model shows rain and snow developing over northern Colorado this morning, gradually filling in south and southeast through Friday night. Snow will be heavy at times, and will lead to a late-season accumulating snowfall for many of us by tonight if not sooner.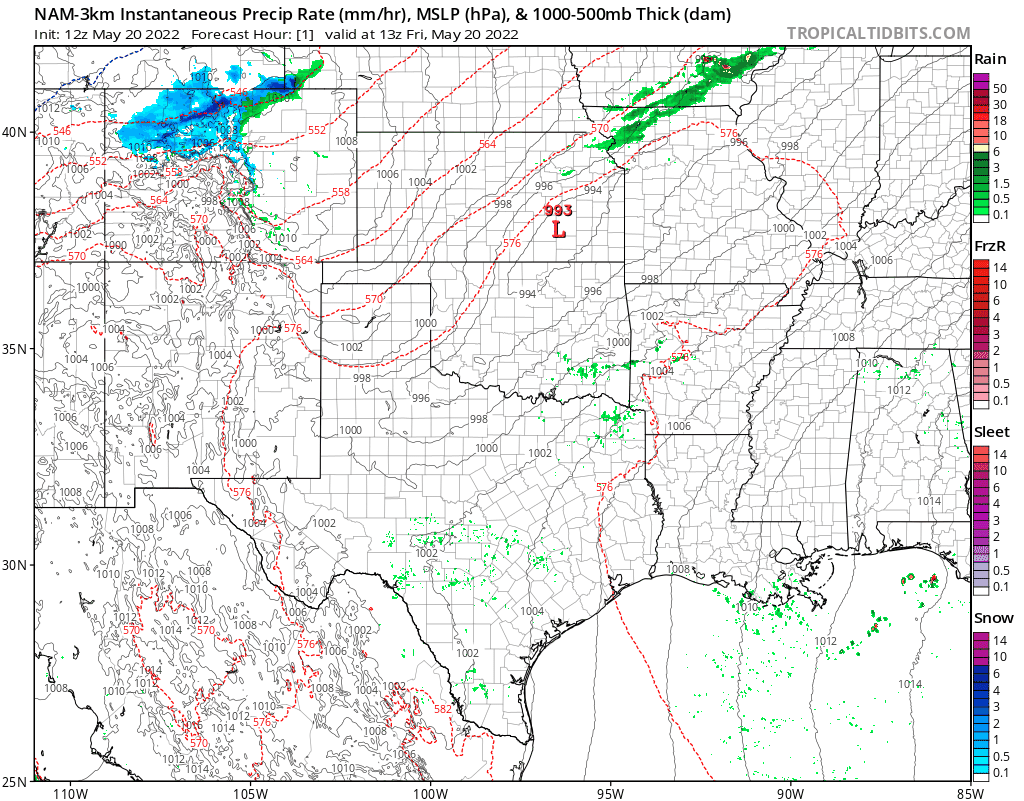 The animation above matches well with what we anticipate for timing of this event. The latest timeline shows us entering our best chance for that rain and snow now, then continuing into Saturday morning. While we'll warm a bit Sunday, the weekend overall will be chilly and unsettled across the region.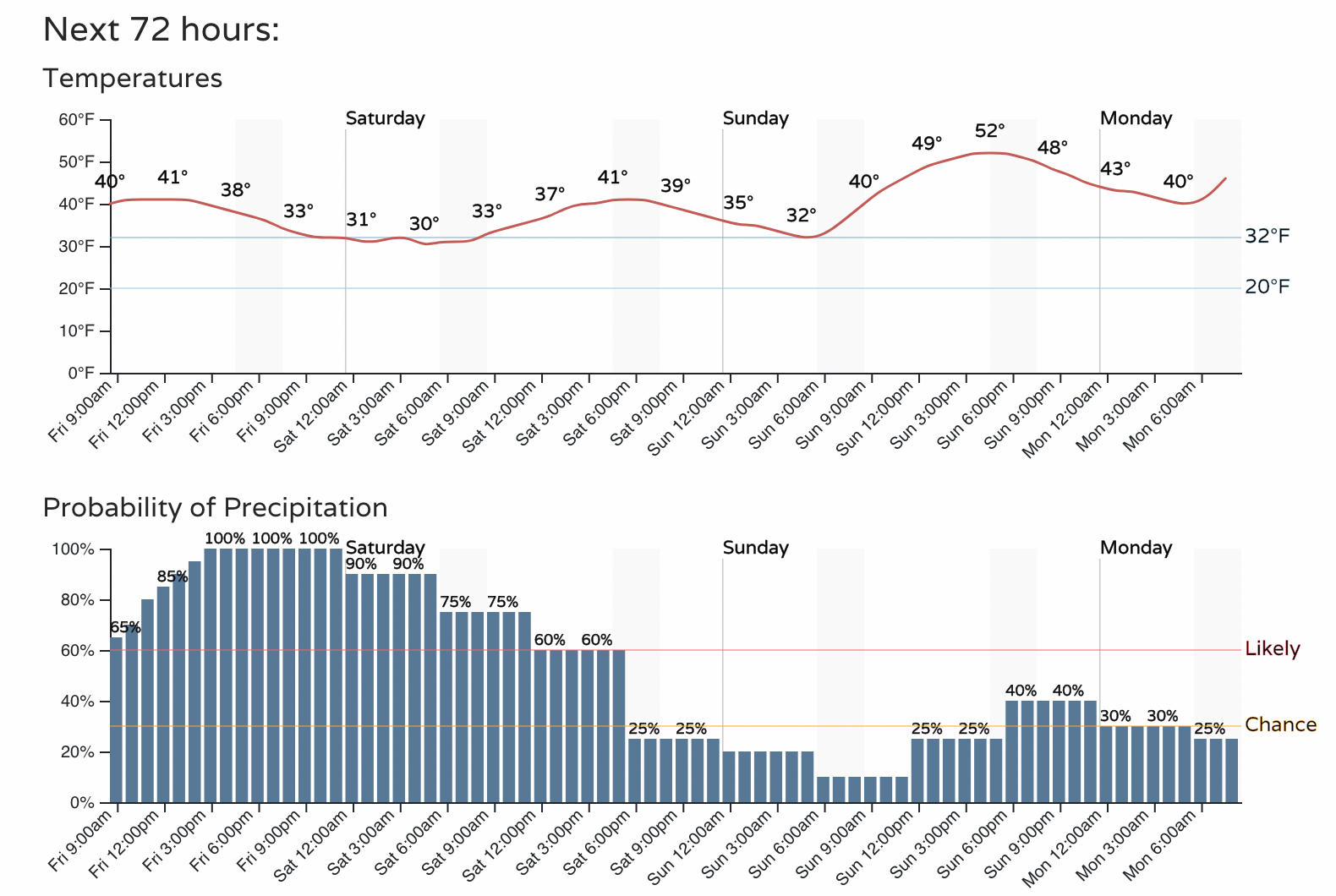 Great moisture!
Snow aside, this will be a great soaking storm for central Colorado. Models continue to indicate many locations will see 1.0" of precipitation or more from Boulder through Denver and down into Colorado Springs and surrounding areas. This of course is FANTASTIC news as we continue to deal with ongoing drought.
The WPC precipitation forecast is even more bullish, showing upwards of 1.5" of liquid through the weekend for the foothills and Palmer Divide: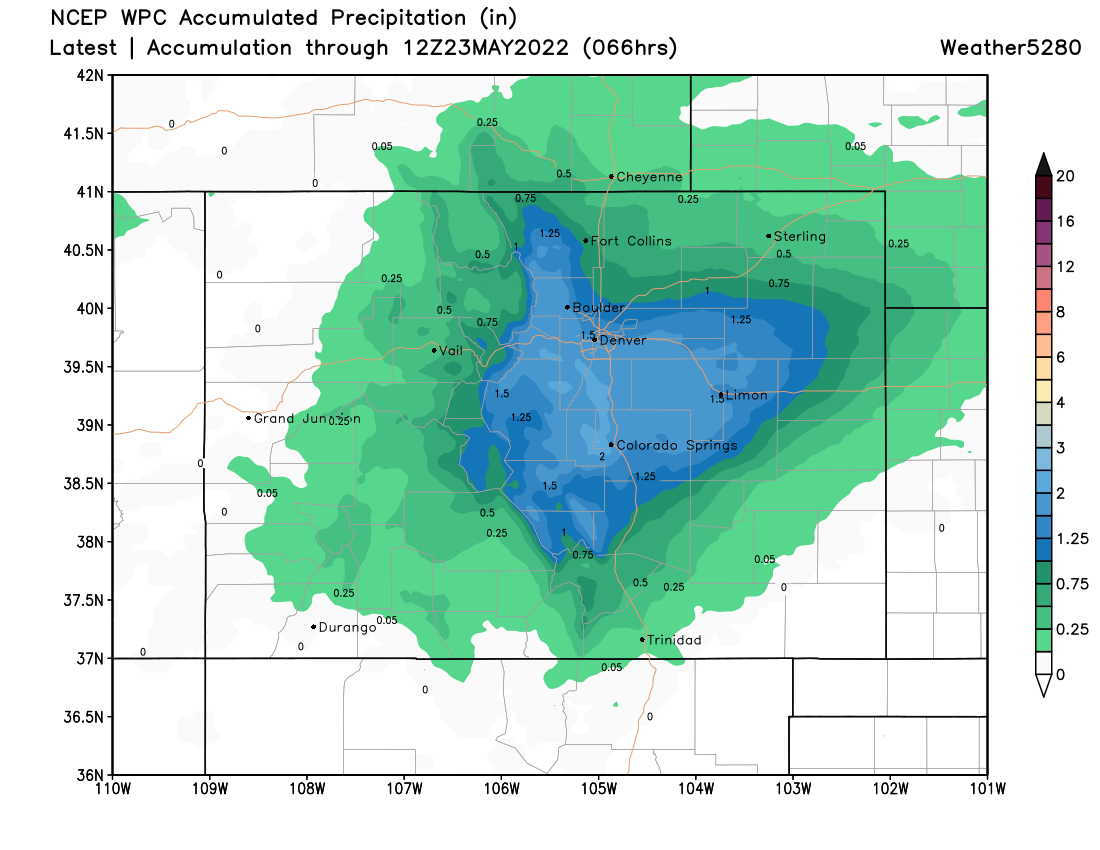 Snowfall forecast
Given many of us are already transitioning to snow, the forecast now becomes less ambiguous around the changeover, but remains a challenge in that surface temperatures are quite warm, the sun is quite high, and air temperatures will remain marginal into tonight at lower elevations.
It's likely we'll see snow most of the afternoon along the urban corridor, but accumulation will remain confined to grassy/raised surfaces, and melting will be quite efficient during the daytime hours. Another challenge is that we look to be running ahead of schedule with this storm. That means we may "waste" a good bit of the snow during the daytime today, when temperatures are warmer. Meaning more of the snow falls when it is likely to melt. Pretty tough to get a lot of snow to accumulate this time of year if it comes during the daytime...
As you move up in elevation out of Denver this is less and less true. Again, we are already seeing accumulating snow in the foothills, and the elevation of that accumulation will gradually lower into this evening.
Given the remaining uncertainty, and the fact much of what falls won't stick (or will but then will compact/melt), we won't adjust our snowfall forecast this morning despite some models indicating greater snowfall totals are possible.
The latest HRRR snow depth forecast shows the greatest anticipated depth across the region around 7am Saturday. It shows from 2 - 5" for Denver proper, with upwards of 6" as you move south and west out of town. This matches quite well with our forecast, and lends some confidence.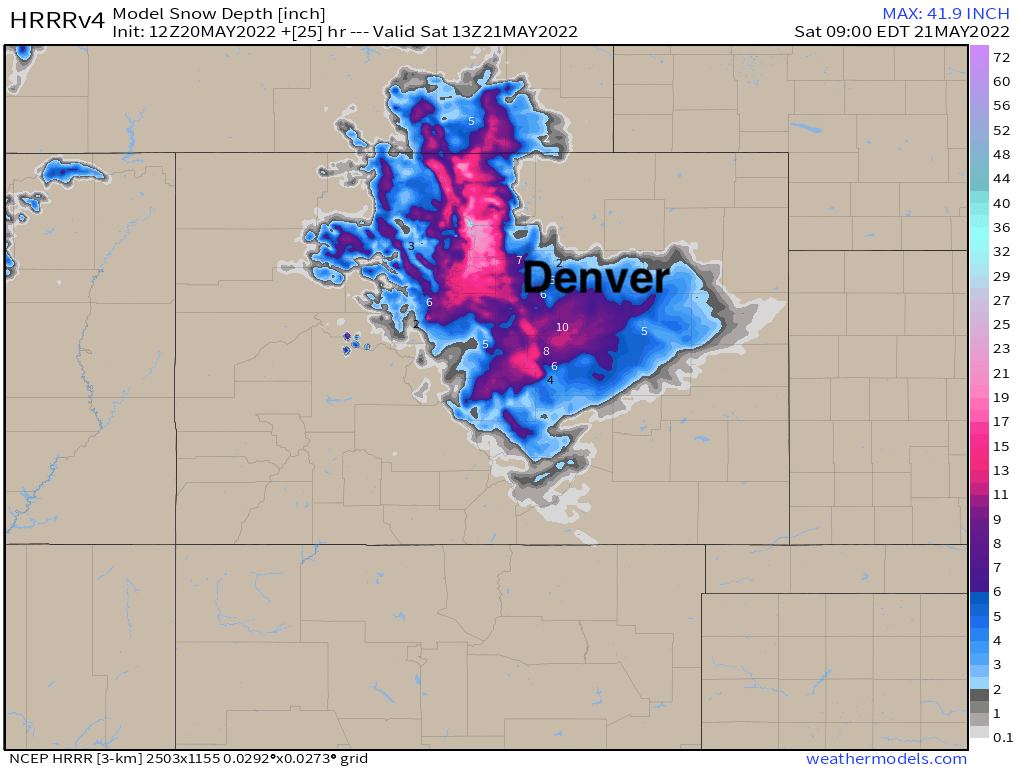 It's quite possible we see some reports in excess of 24" that we have in the hills to our west. It's also possible the Palmer Divide sees some boom totals.
While some models show 8 - 12" of snow IN Denver and IN Colorado Springs, we think the combination of factors we've been discussing all week long will keep actual numbers lower. Time will tell.
Impacts and planning
We remain quite concerned about tree damage across the Front Range, particularly tonight as snow is able to accumulate more efficiently.
While we expect roads to hold up pretty well through the day, this will change a bit as we move into the evening and overnight hours. In the cities, some icy spots and even some slush may accumulate, but the bulk of the worst road conditions will be in the higher elevations outside of the city cores.
Downed trees and power lines could be a different story. If your plans take you out of the house later today and tonight please travel carefully.
A Freeze Warning goes into effect at 9pm tonight for the urban corridor, and remains in effect through 10am Saturday. From the NWS:
WHAT...Sub-freezing temperatures as low as 26 expected.  

WHERE...Portions of east central, north central, and northeast   Colorado.  

WHEN...From 9 PM this evening to 10 AM MDT Saturday.

IMPACTS...Freeze conditions could kill crops, other sensitive   vegetation and possibly damage unprotected outdoor plumbing.

PRECAUTIONARY/PREPAREDNESS ACTIONS...  Take steps now to protect tender plants from the cold.  To prevent water pipes from freezing; wrap or drain or allow them to drip slowly.
The latest Euro model forecast shows a low of 30°F tonight in Denver and 28°F tomorrow night. Latest MOS guidance has a low of 28°F tonight in Denver and 32°F tomorrow. Either way, COLD both nights looks likely, so please take the precautions outlined above seriously!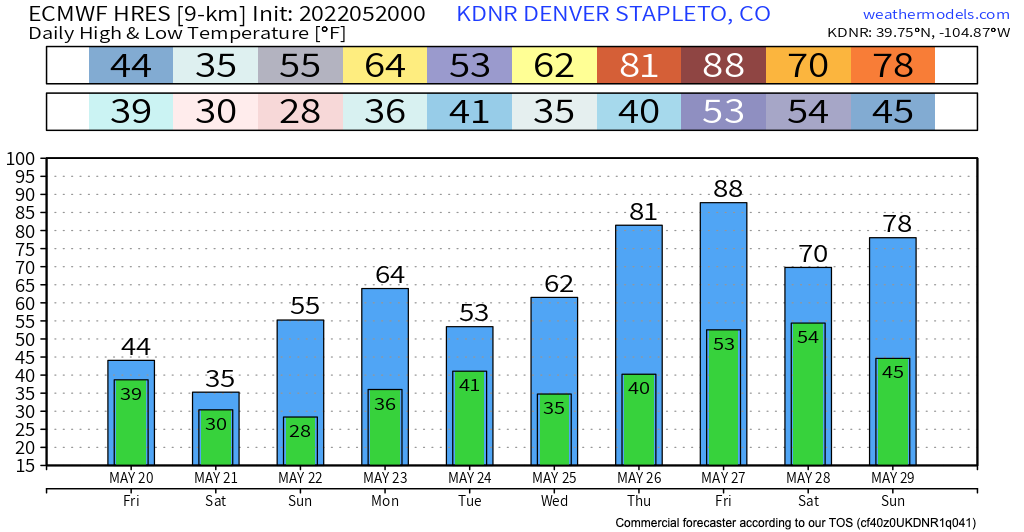 Stay safe, stay warm, and as alway keep us posted as to how things play out where you live in the comments below!