After a nice cool off this weekend, temperatures are set to climb once more this week. Highs were in the 70s both Saturday and Sunday across the area, well below average, and a nice break from the recent heat. Unfortunately, and perhaps not surprisingly, the cooler temperatures weren't accompanied by much precipitation in Denver, with just a Trace recorded at DIA, Denver's official weather station.
Precipitation totals over the last 3 days shows some parts of the state did pick up some much needed moisture, though perhaps not as widespread as models indicated at times last week.
Still, ever bit helps, and great to see parts of southern Colorado capitalize on some of these stormy days, and great moisture this weekend across New Mexico which has suffered large wildfires early this summer.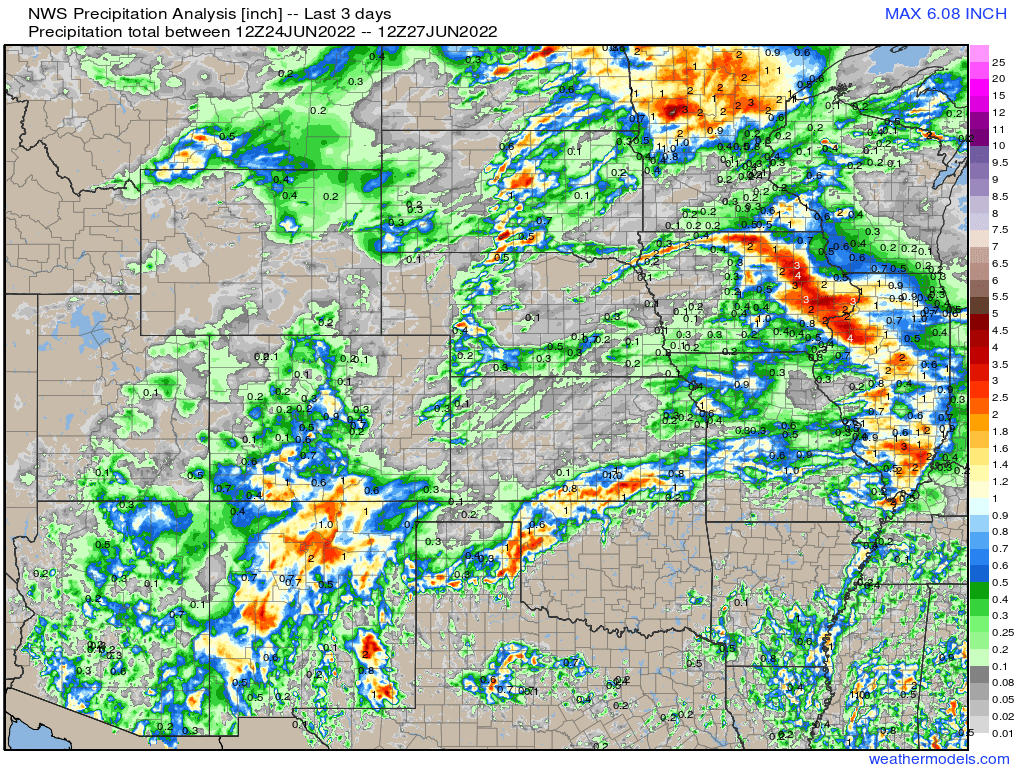 A check on the Drought Monitor from last week shows where we did manage to see rain this weekend really is where the drought is currently worst, so not a total loss if disappointing across Northeast Colorado.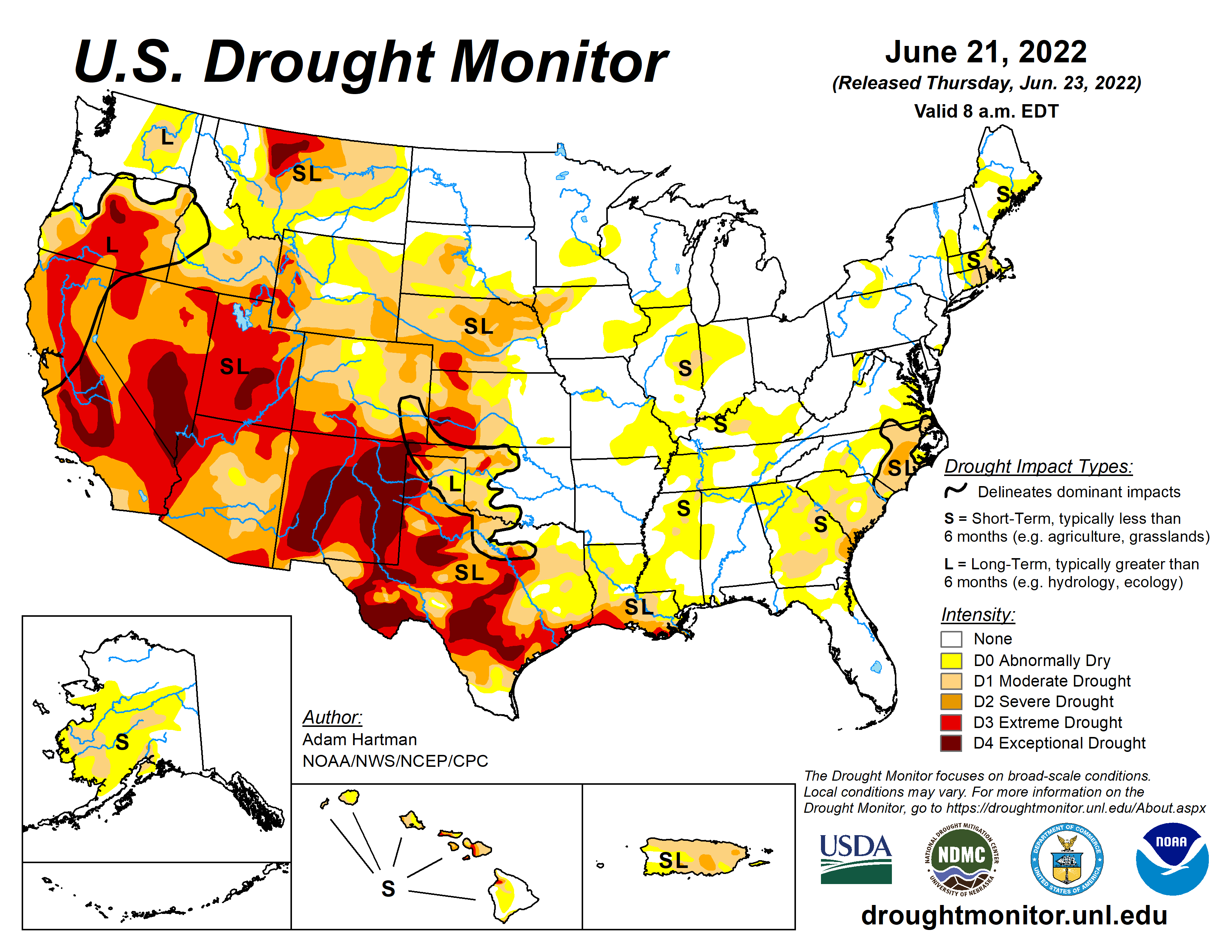 As we kick off the workweek, temperatures will climb and storm chances will decrease. Some storms will be possible over the coming days, but with a drier pattern in place many of these will be more high-based in nature, meaning more wind and lightning than anything else.
Temperatures this afternoon will be about 10 degrees warmer than the weekend in Denver, and will climb another degrees or so tomorrow and Wednesday: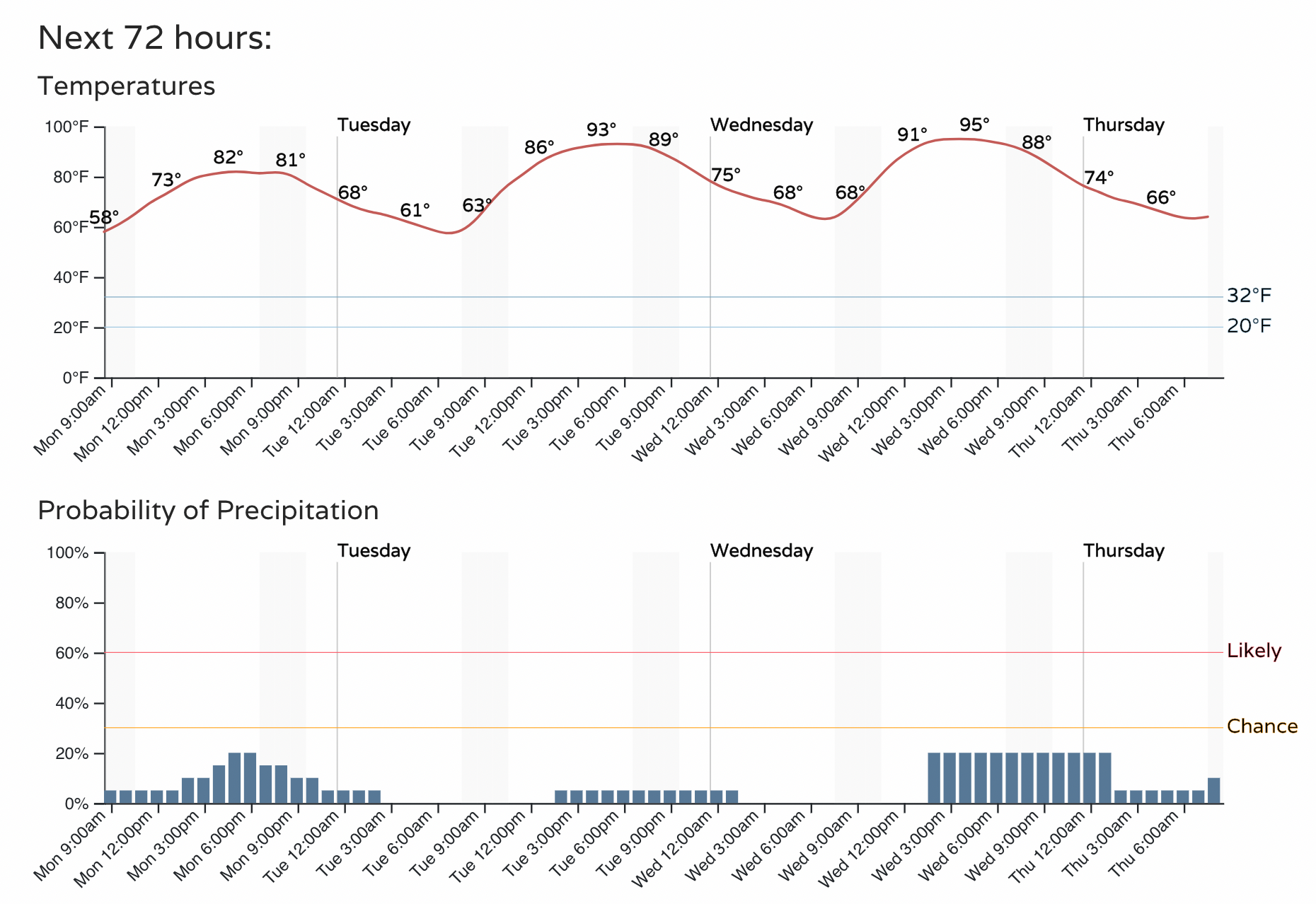 Happily, the presence of a ridging to our southeast will continue to promote the flow of monsoon moisture north into New Mexico and Southern Colorado over the next week. During the latter half of the period we could even see a bit of the moisture make it further north... but we'll see.
This animation shows precipitable water (PWAT) anomaly values over the CONUS over the next 10 days. The greens indicate above average PWAT values, and it's quite easy to see that moisture being pulled north off the Sonoran Desert.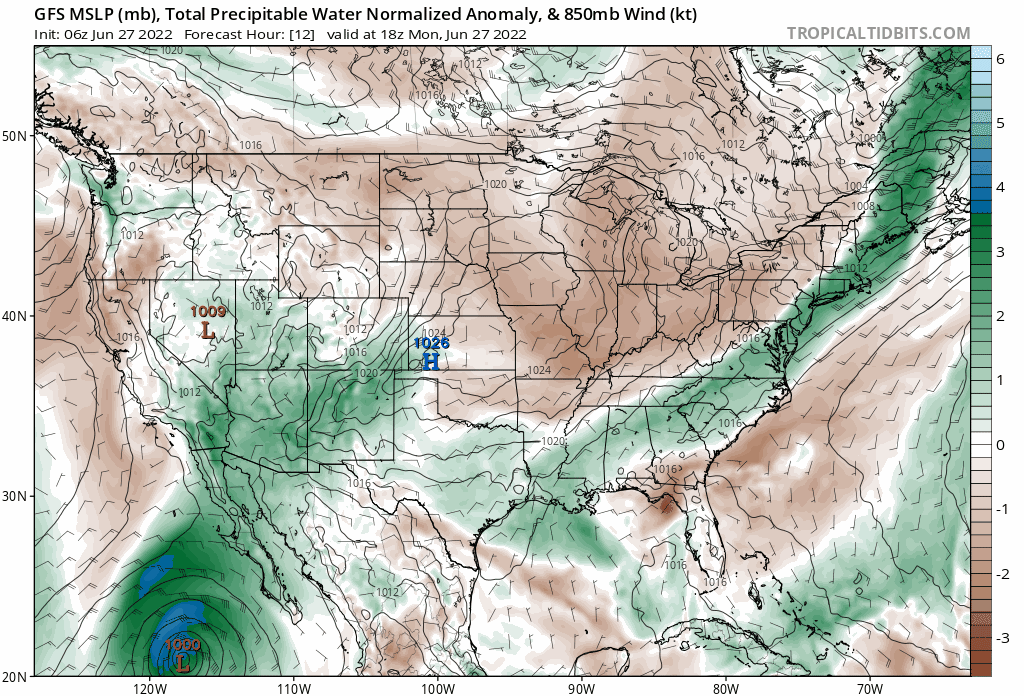 If we look at the GFS 6-hour precipitation rate forecast for the same period, you can see those diurnal storms across the Four Corners region, a signature of the North American Monsoon.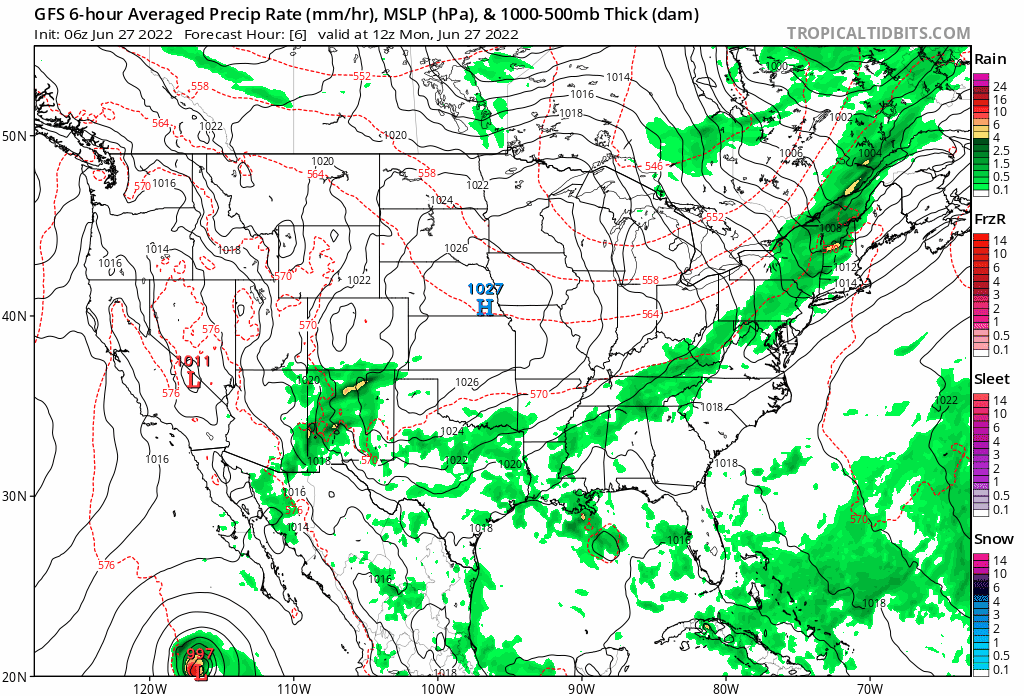 The 10-day precipitation anomaly map shows continued above average precipitation is expected for much of Arizona, New Mexico and Southern Colorado. Great news.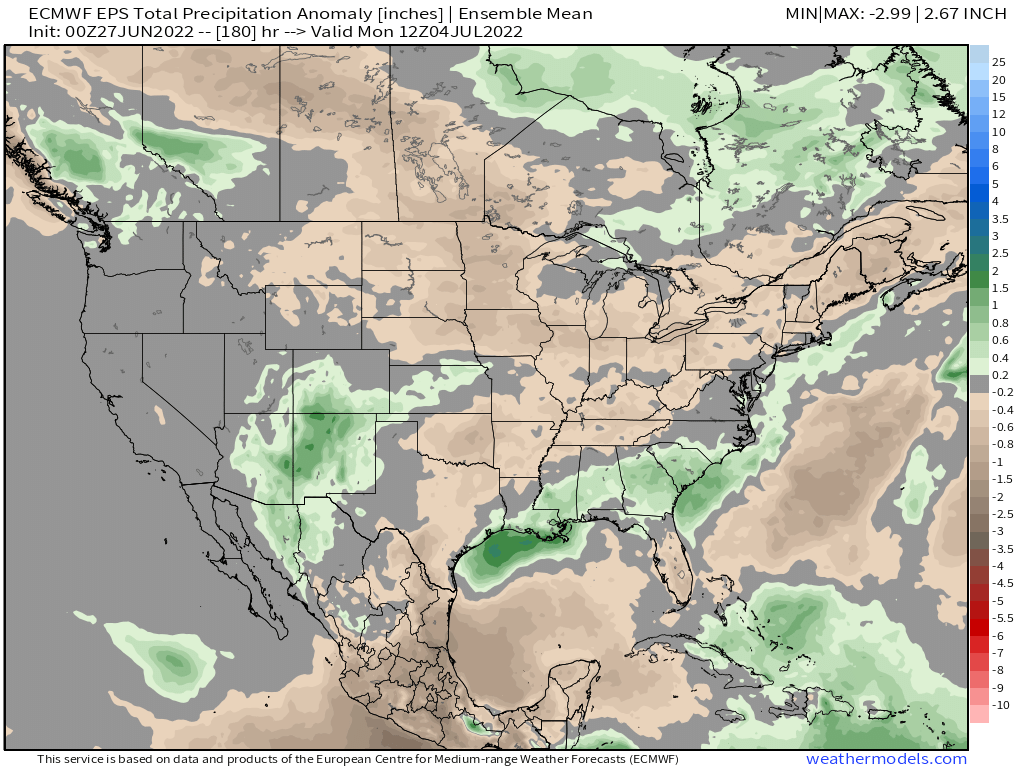 Whether we will see the benefits of this monsoon further north remains to be seen. While it's hard to be all that optimistic, it's good to see it's at least showing up SOMEWHERE this year, and climatologically we're still a bit ahead of when we might expect that moisture to make it into the northern and northeastern portions of the state.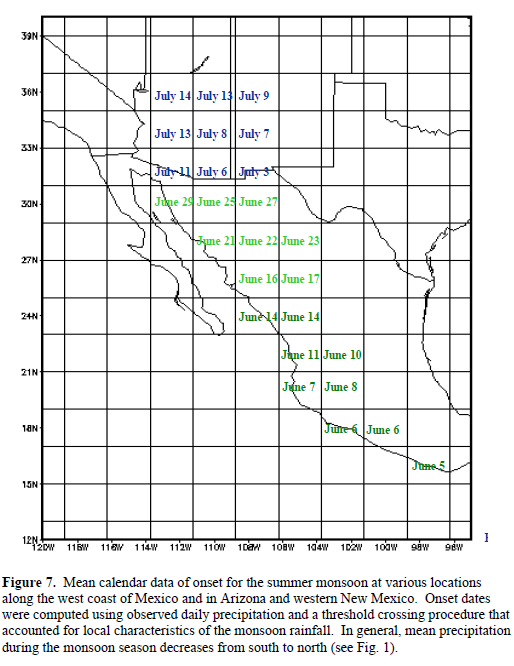 The Euro weeklies suggest the first couple of weeks of July could in fact promote that flow of moisture further north and east. We shall see!