We saw some fantastic rain across much of Eastern Colorado on Sunday, as well as a notable drop in temperatures from the recent heat.
Yesterday's high of 87°F was the coolest day in Denver since July 11th when we topped out at 81°F. Since then the city has been trapped in a remarkably hot pattern, with highs most afternoon in the mid to upper 90s and up to 100°F on the 18th.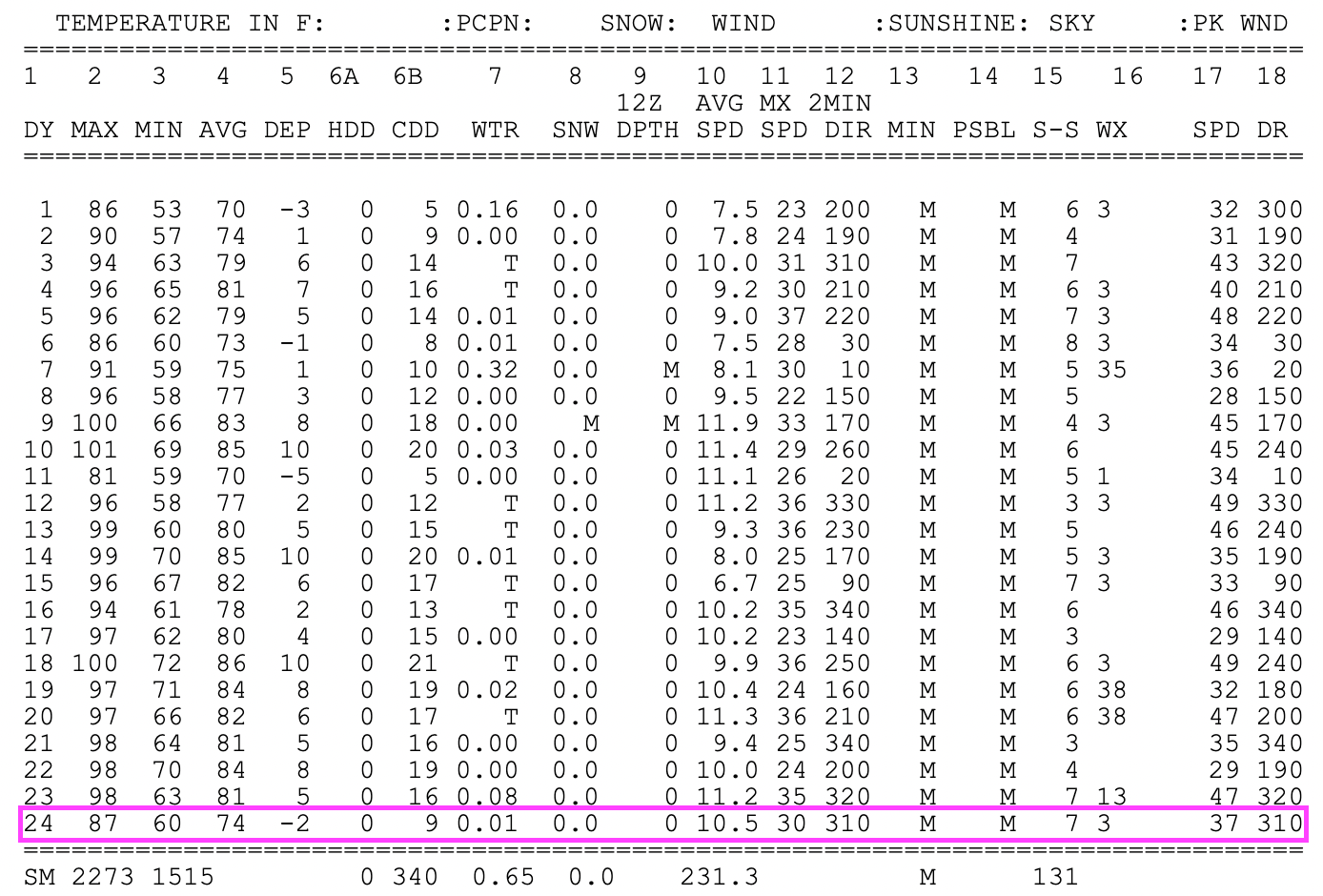 While parts of the metro area again missed on the heaviest precipitation, many stations across Eastern Colorado saw their wettest day in some months on Sunday, with a handful of CoCoRaHS stations reporting 1.5 to 2.0" of precipitation (yellows), and many more logging from 0.25" to 1.5". Welcome news!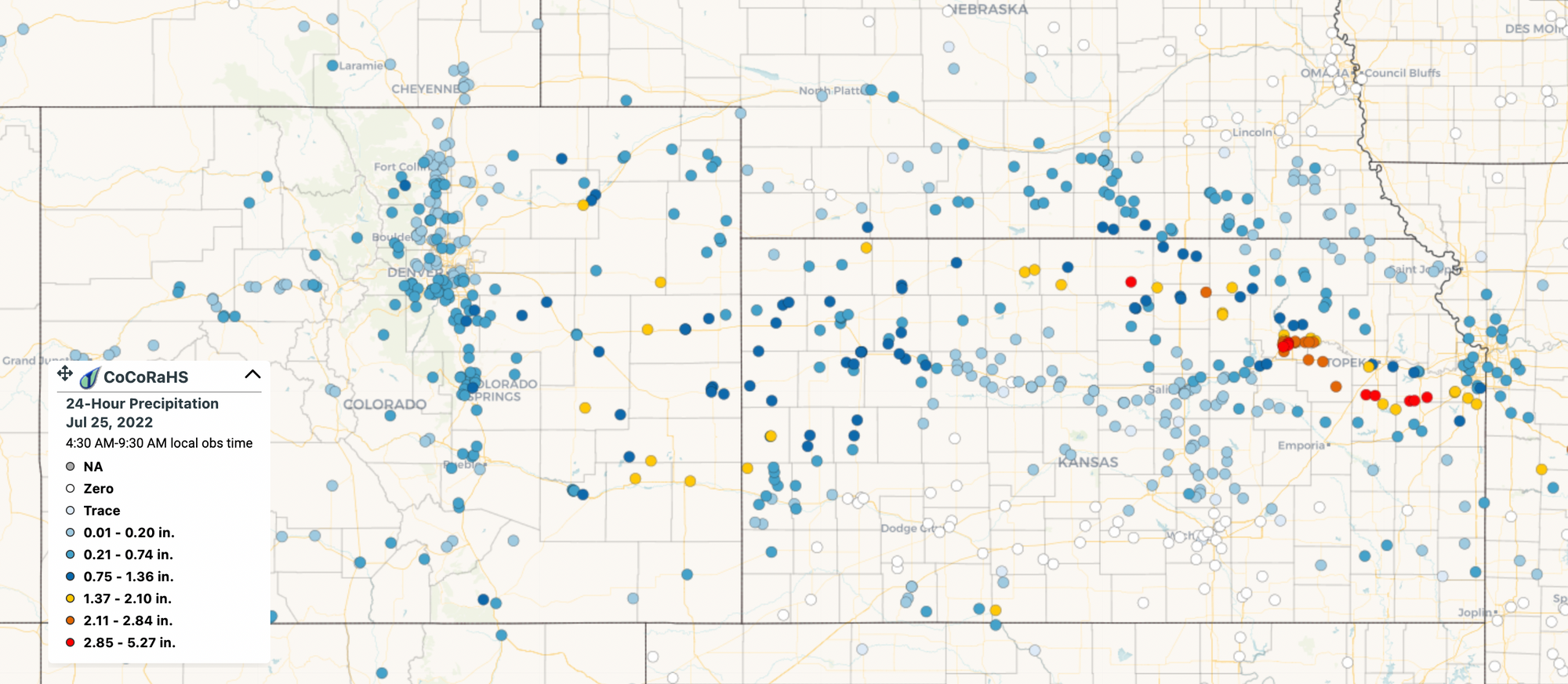 Precipitation analysis over the last 3 days shows who's managed to cash in on some good moisture and who has yet to do so, a lot of Eastern Colorado has done quite well: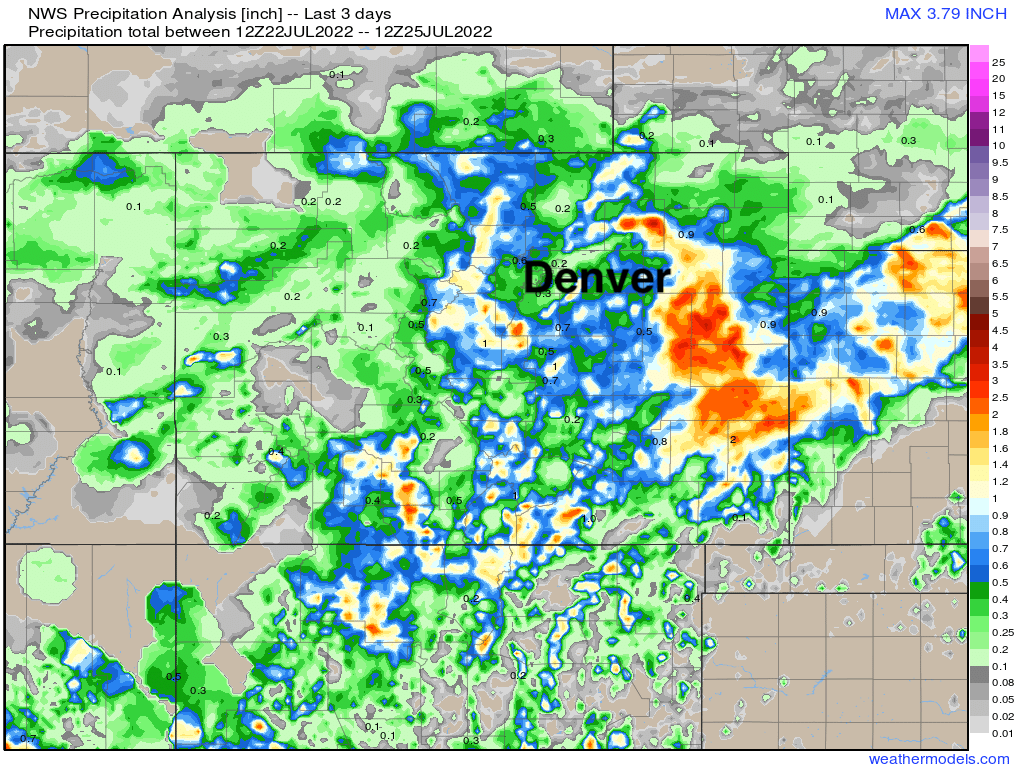 More wet weather is in the forecast over the next couple of days as well, particularly for southern Colorado. North of I-70 will be more hit-and-miss, with mostly dry conditions expected across Northwest Colorado. A better chance for rain across northern Colorado returns to the forecast for the middle of latter half of the week.
This is thanks in large part to the ongoing monsoon, which continues to bring above average precipitation to the Southwest United States. Regionally we see the forecast over the next two days calls for good monsoonal rainfall across most of Arizona, this extends into western New Mexico and Southern Colorado as well: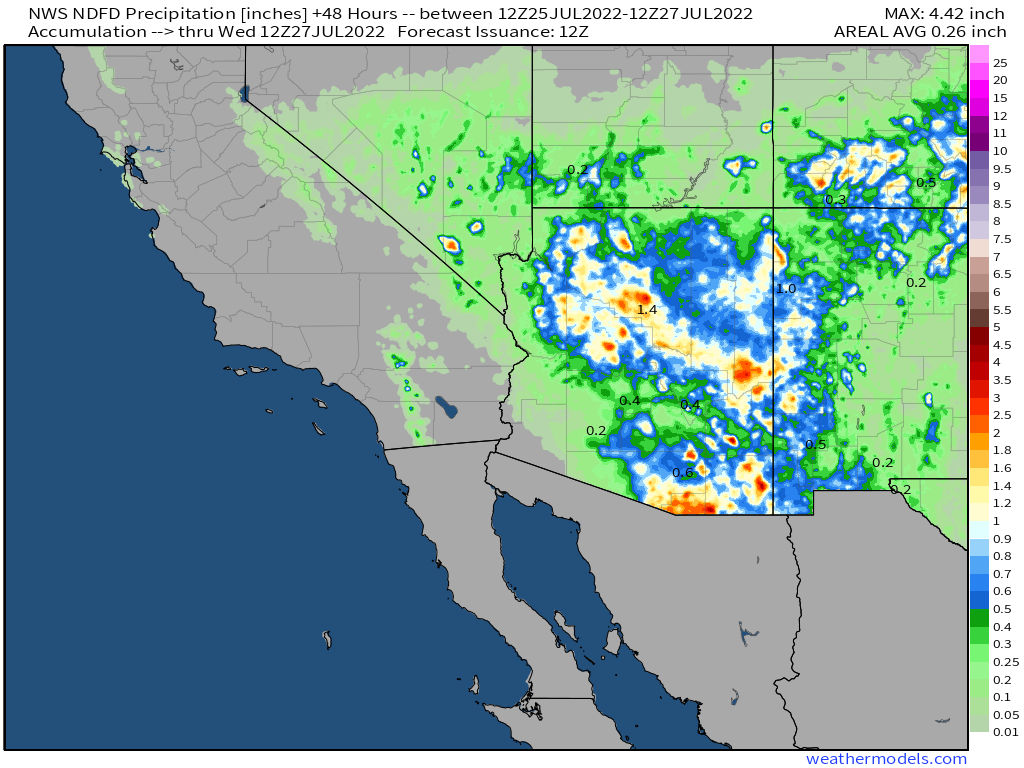 Zooming into Colorado we see the flow of moisture tracks over the southern portions of the state, with lesser totals forecast as you move north of I-70, though even here isolated to scattered heavier downpours can't be ruled out.
Flash Flood Watches remain in effect for many areas to our south and southwest, with no watches or warnings in place at this time for Colorado.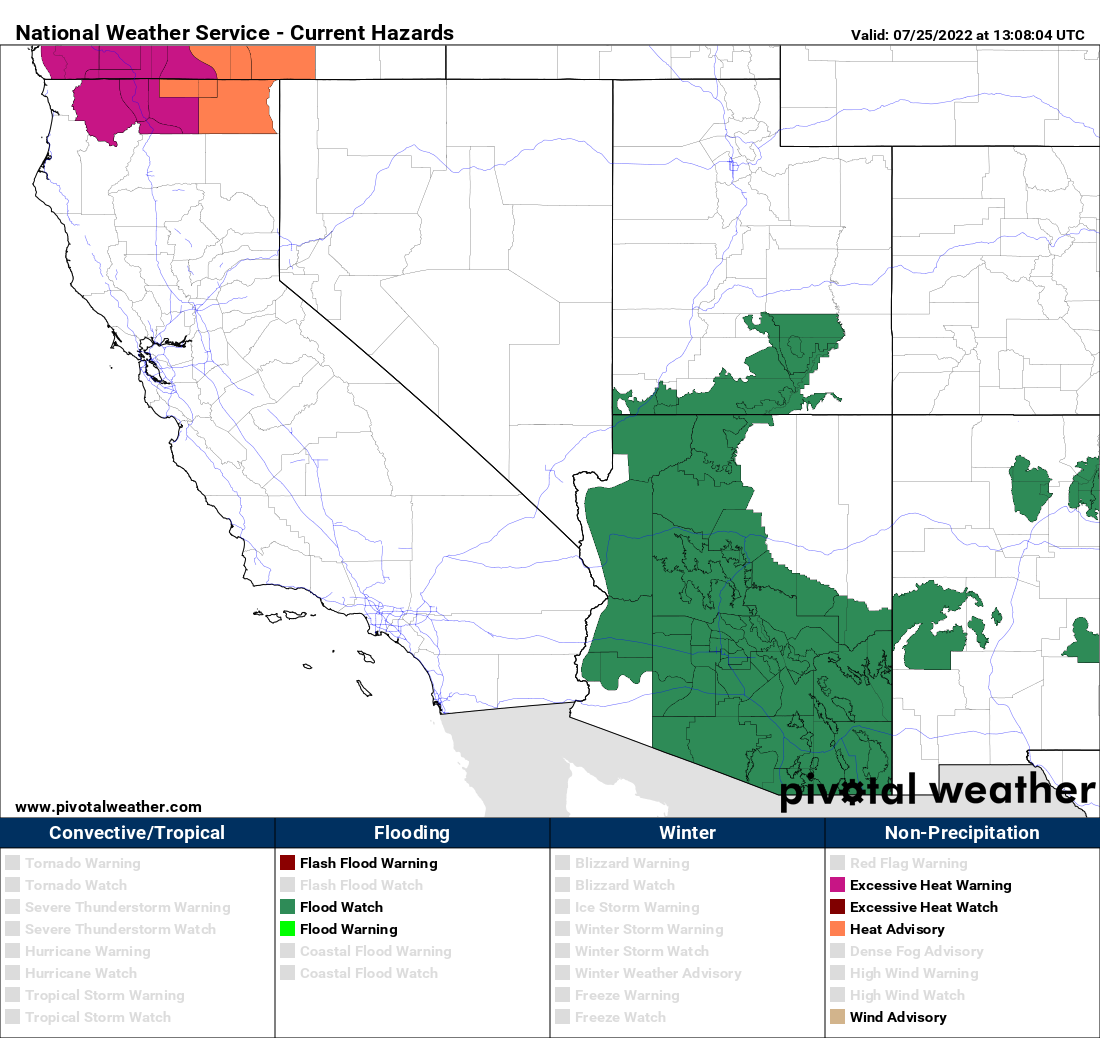 For the latter half of the week, Denver's storm chances may increase a bit more once again as we see a cold front move through the region and bring a healthy dip in temperatures to the region on Thursday.
The Euro has highs only in the low 70s on Thursday, though modeled data varies quite a bit here. We currently have a high of 78°F for the city, so still a nice break from the upper 90s... but we'll see just how cool we can get. Thursday and Friday look like Denver's best chance of storms this week, with pops going from 30 to 40% on Tuesday and Wednesday to 60 to 70% by Thursday – barring any changes to the outlook.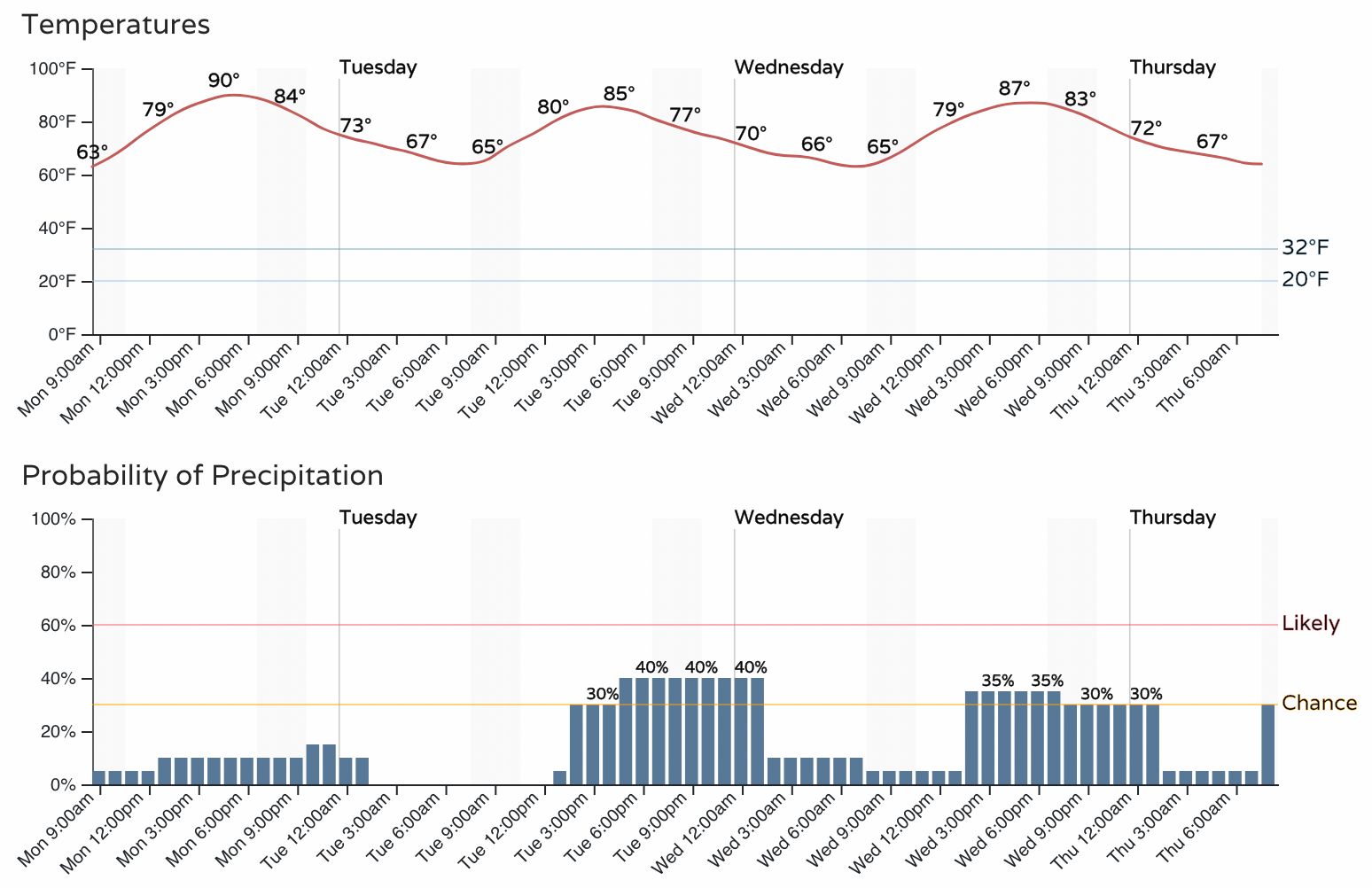 Hard to believe it until we see it, but the WPC precipitation outlook shows 1 to 3" across most of Eastern and Southern Colorado through the next weekend. With 0.5" to 1.3" for the Denver area, and greatest totals across the southern reaches of the state, including the parched southeast plains!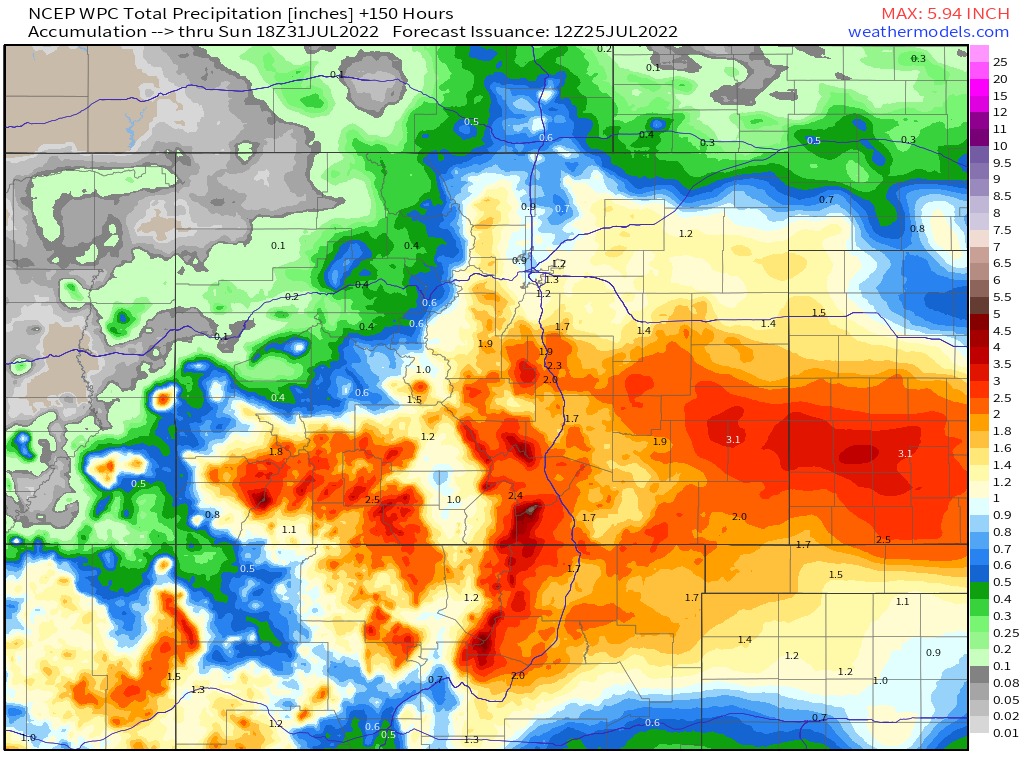 Nationally we see where the greatest precipitation anomalies are expected to end the month, and with the outlook above it's not hard to believe this has much of Colorado in the green. For Kansas and Oklahoma this pattern should also deliver more moisture to end the month and follow on yesterday's heavy rains, with drier conditions north and south.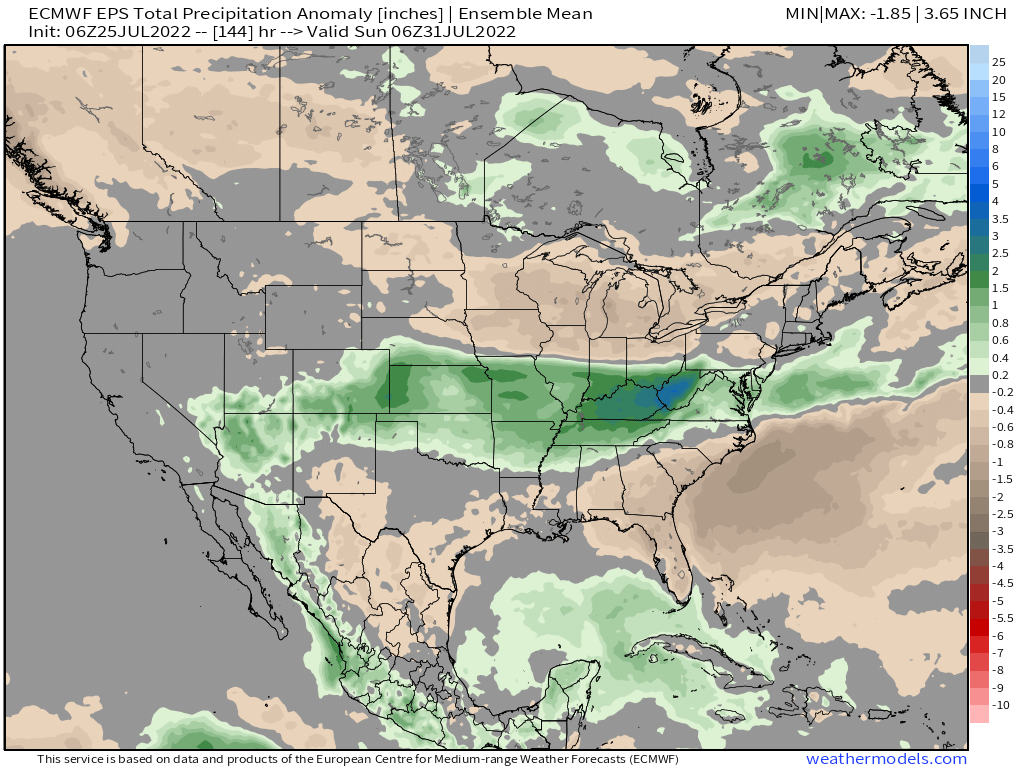 While we get a bit of a break from the heat, the summer that thus far has been marked by extreme heat across much of the CONUS continues in many spots. The Northwest, Southern Plains, and coastal Northeast United States are all under heat advisories and warnings today: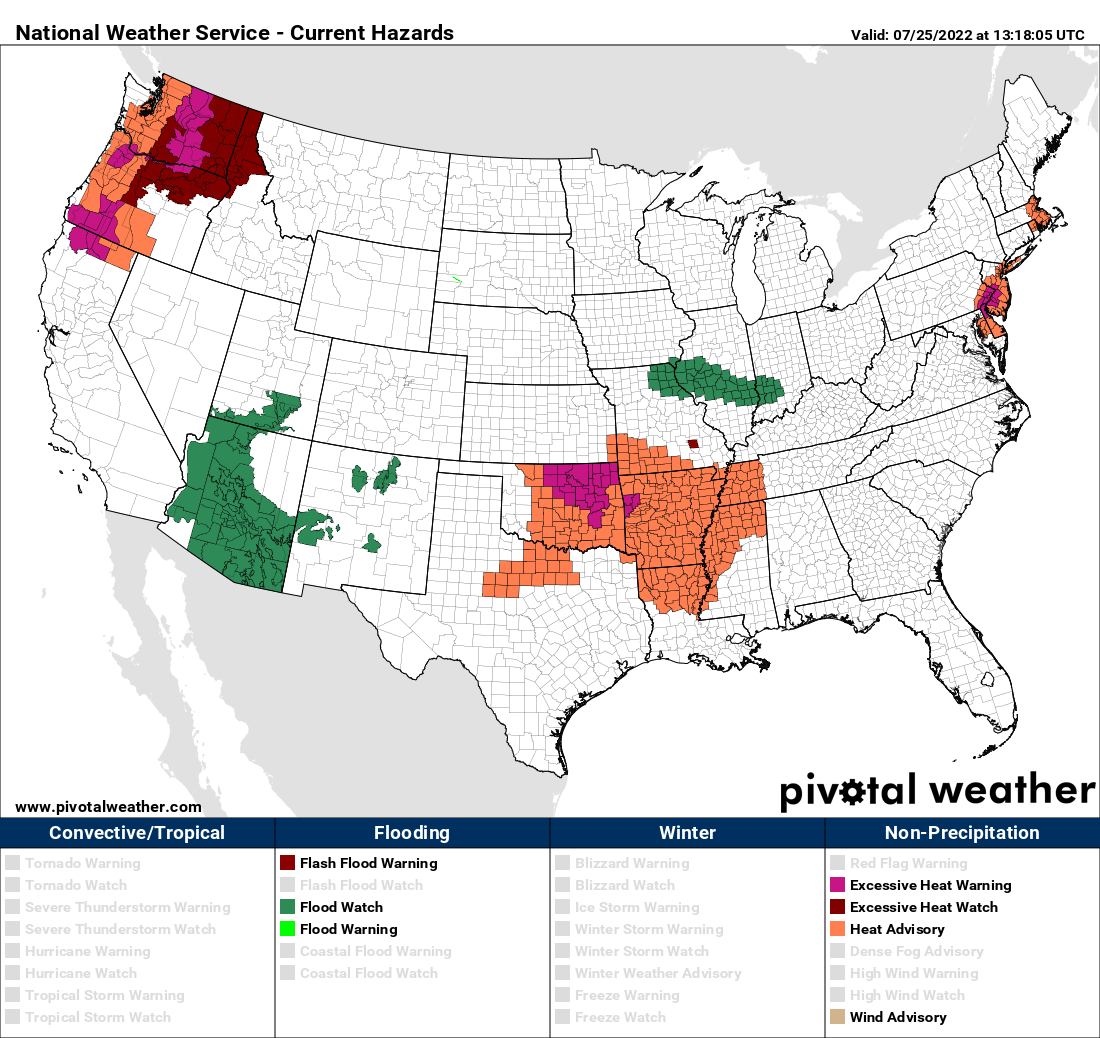 We'll see how the week shakes out, but let's hope yesterday's rain is indicative of what's to come and that we can indeed capitalize on the forecast above. We need the moisture!