A nice little boom snowfall for a few folks that ended up under jet-enduced snowbands Thursday evening.
Denver, officially, will log 4.5" of snow with this system, even as many locations across central and northern parts of the city saw about half that much snow (or perhaps a bit less than that in some cases). A healthy band set up over the southwest reaches of the metro area, and extended northeast clipping DIA to help boost snowfall totals at the airport.
A look at snowfall totals over the last couple of days shows those bands quite well, with one over Boulder County, the other across the south metro area, and streaky light snow bands across the Plains. A great snow as well for many of our mountain locations to kick off November.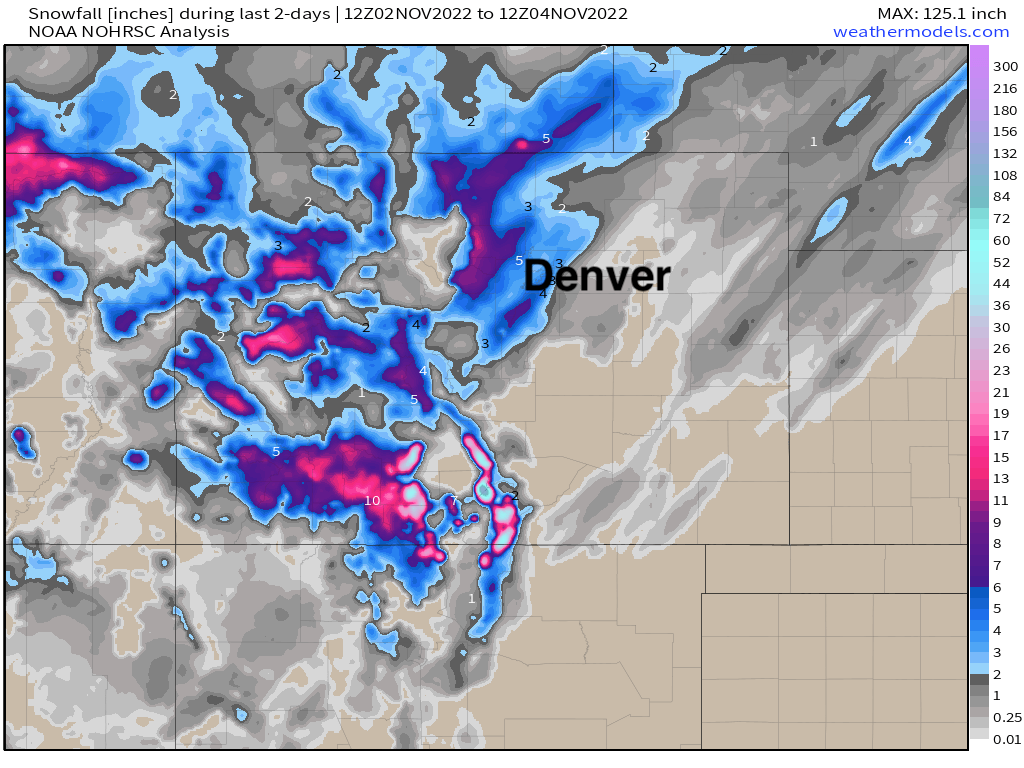 All this to say... this year's snowfall forecast contest has officially come to an end. November averages about 7.4" of snow in Denver, so with 4.5" right out of the gate, a strong start to the month. Can we keep it going?
With 14 people guessing November 3rd for the date of this year's first measurable snow in Denver, this year may have set a new record for number of entries that picked the correct date. Congratulations to you all!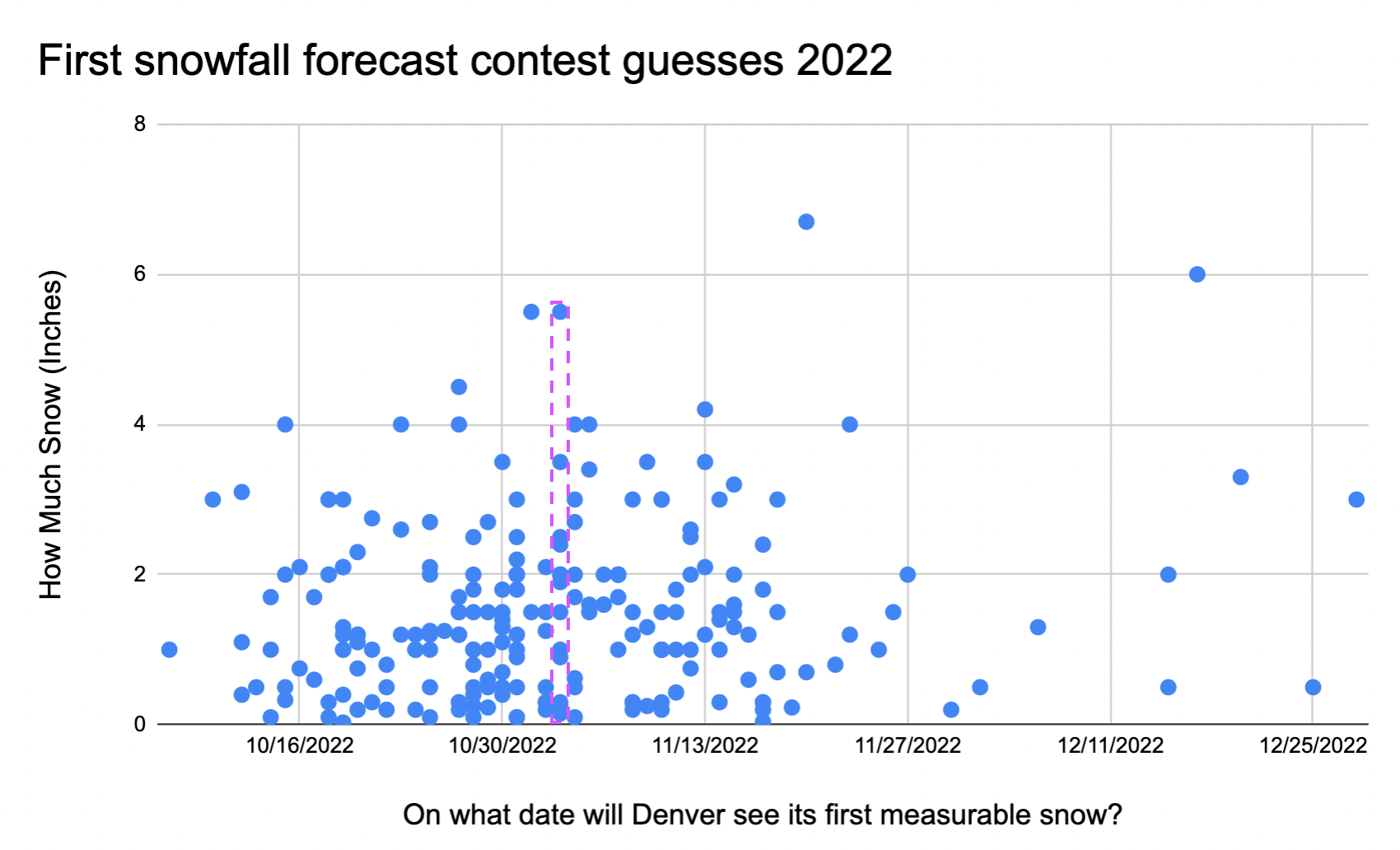 While none of the 14 contestants guessed the correct amount, there was a two-way tie for the closest to the correct amount, with our winner (due to time tie-breaker) picking 5.5" of snow on November 3rd, and our second place winner picking 3.5".
Here is a look at all the correct date submissions: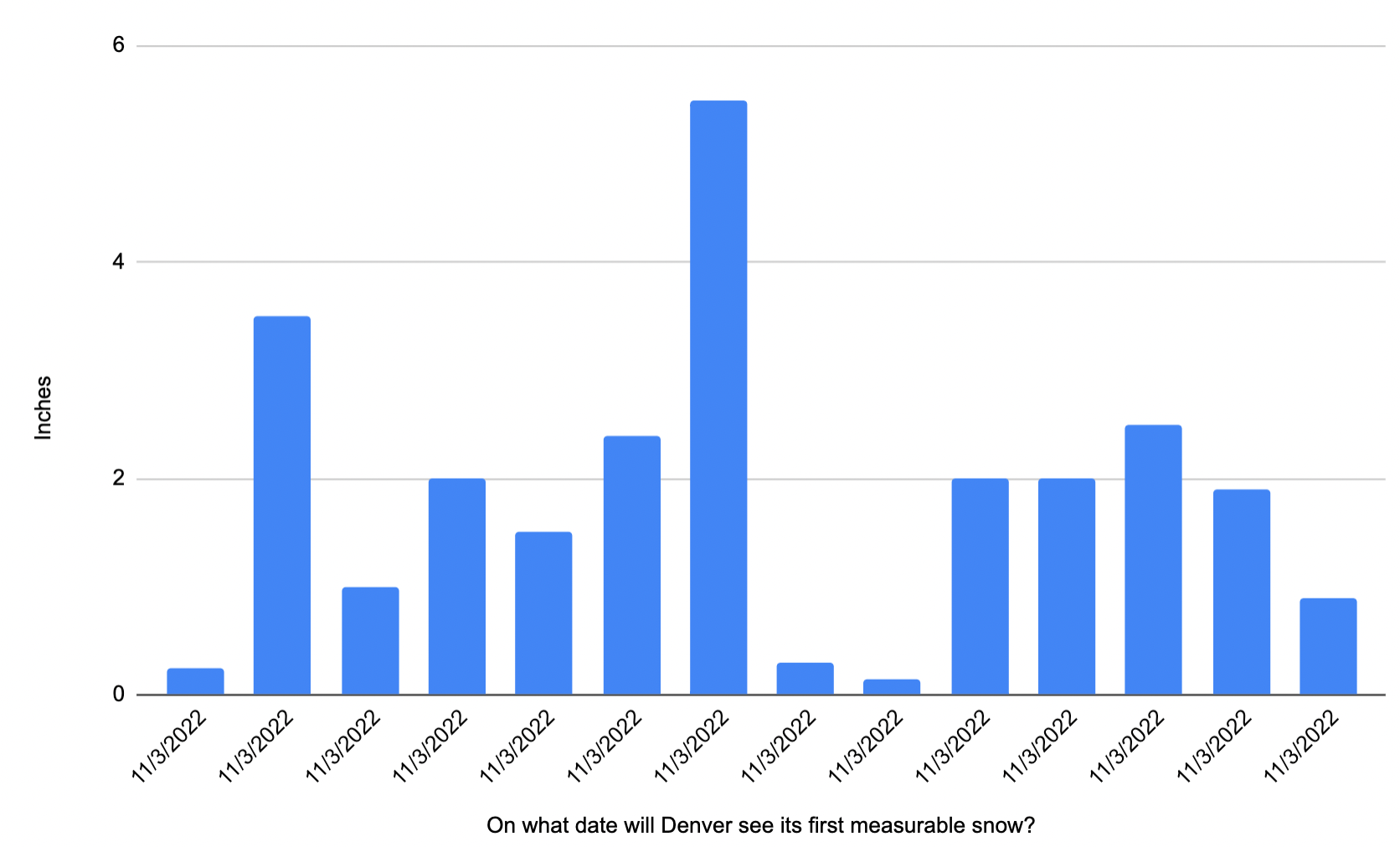 We will be contacting each of the winners shortly. Thank you to all the hundreds of contestants that once again made this year a fun and successful contest! Hard to believe it's been 10 years, and we're happy we didn't have to wait to December to finally have an answer this year!
As for if we're likely to see more snow any time soon? It looks quiet at least for a few days with mild temperatures back in the forecast again after today. The Euro and GFS both have a system moving through for the latter half of next week, but are split on its impact east of the hills. The GFS keeps us mostly dry, while the Euro shows a bit more upside potential for more snow. We'll see!