Some areas woke Sunday morning to a bit of snowfall, but a stronger system will arrive in less than 48 hours to bring about bigger changes than what we have had Sunday. This week's State of the Atmosphere will focus on the early part of this week as we have a storm system to move through.
In quick summary, look at temperatures for Denver this week: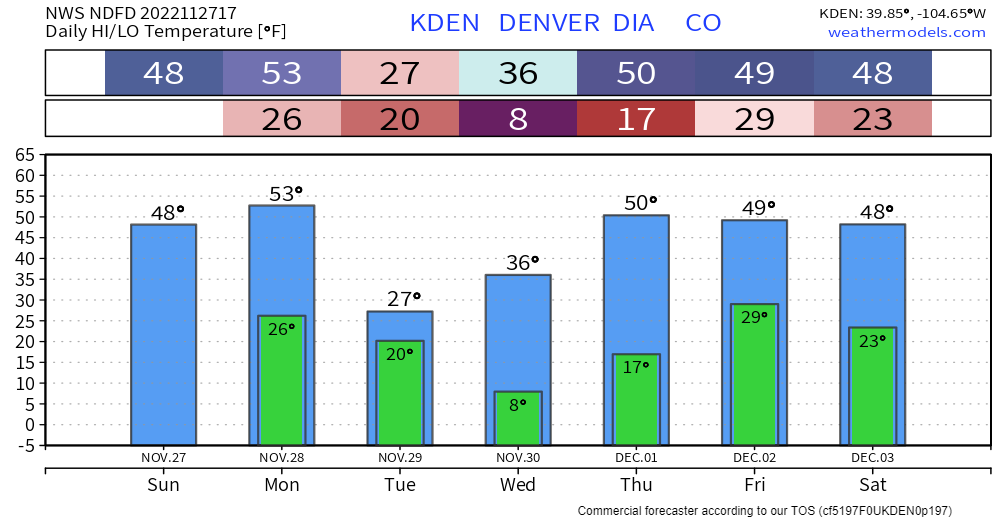 That's quite a drop from Monday to Tuesday into Wednesday morning. That cold will come through with snow chances.
Let's set the stage here with a look at the system as it moves through. The blog continues, but if you prefer a video presentation, I discuss the pattern here:
In this animation, the first system, today's, passes by and heads east (blue area early in the animation) then a second system moves in from the Northwest (second blue area - much larger this time indicating more energy). This trough swings through from Monday through Tuesday.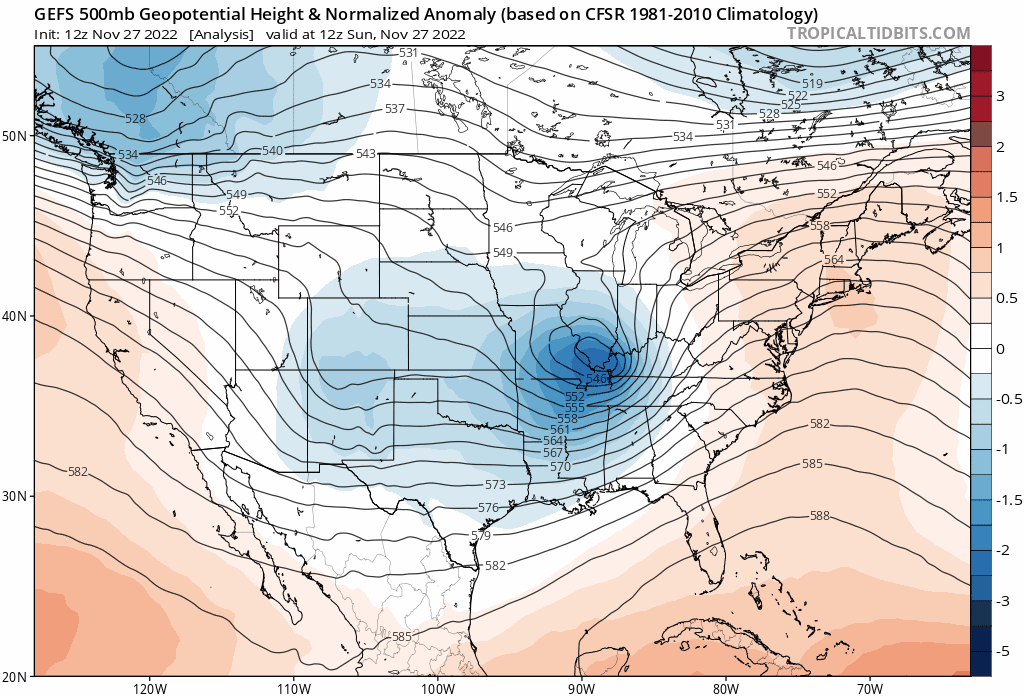 What this system does in terms of producing rain and snow is shown in the following animation. Notice how the line of snow moves into Colorado, weakens and dries up as it passes east into Kansas.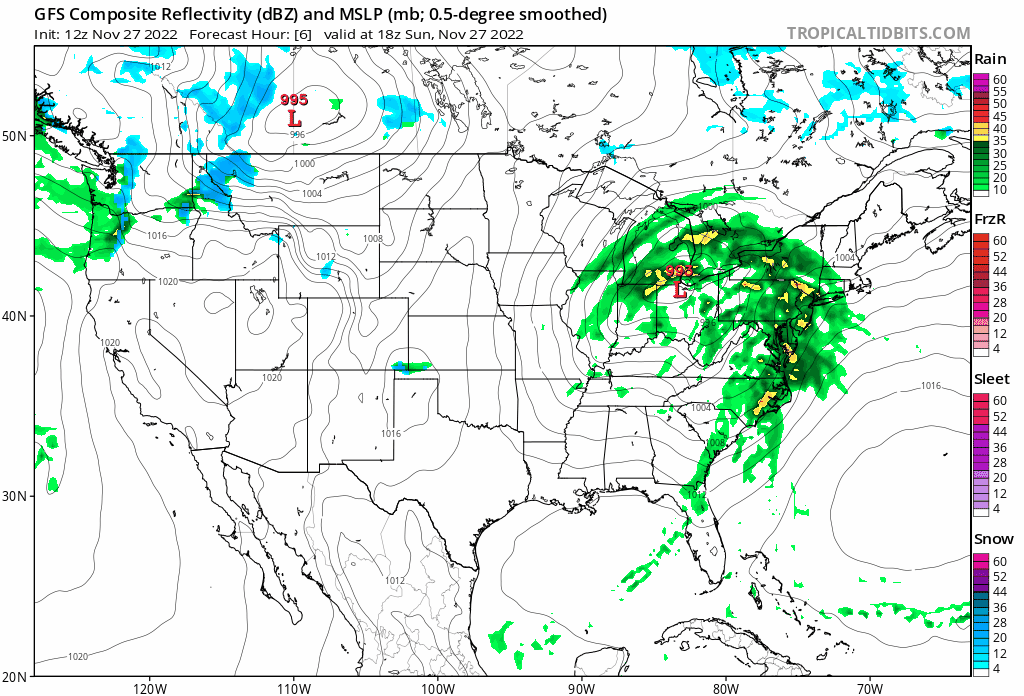 This system will have more energy than what just moved through the state, although still limited for a big impact. However, we will take any snow we can and help out the ski conditions. We received some great images from opening days this past week, here are a couple from Beaver Creek and Crested Butte.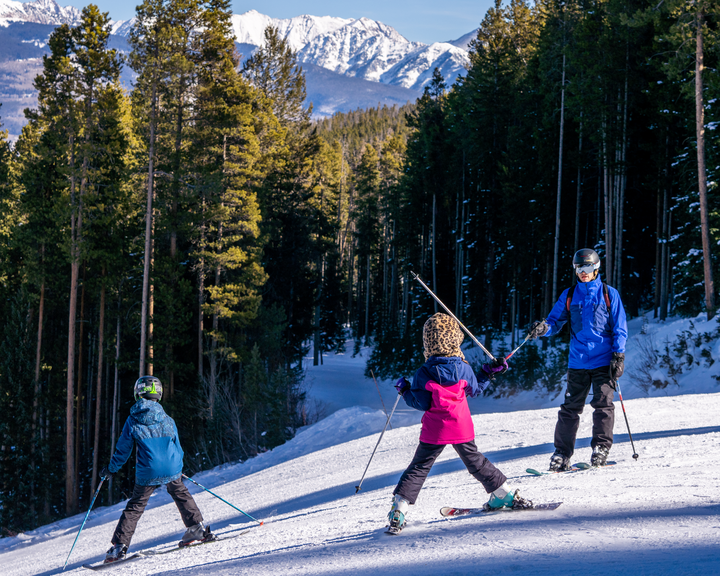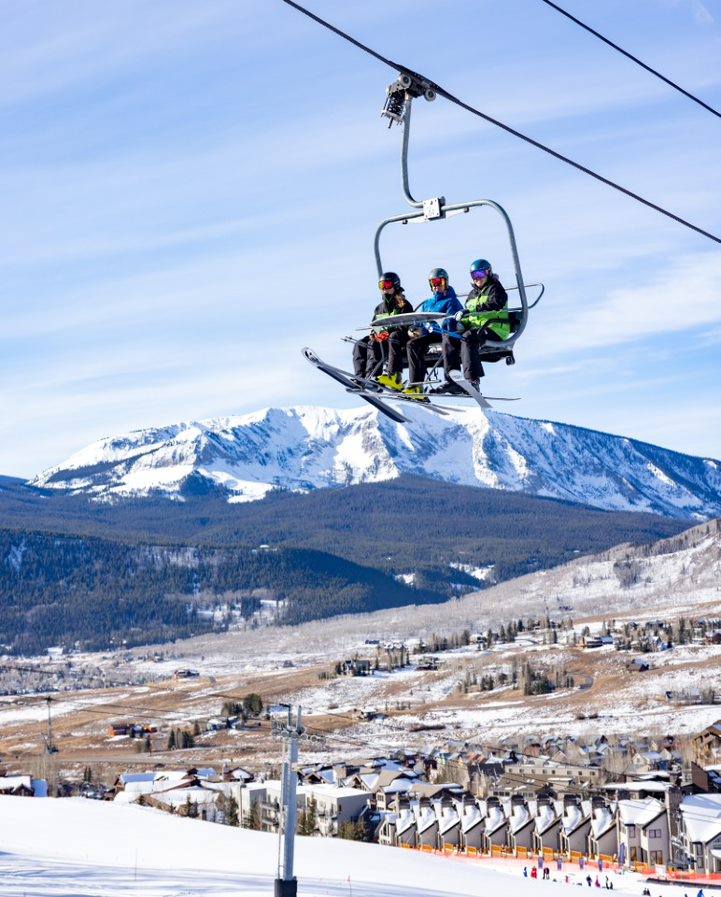 Let's drill down into Colorado for the next few days.
There will be travel impacts due to the storm, most of the higher-level impacts will be across our mountains and Northern Colorado. If timing doesn't change, metro area commuters should plan on an impacted commute Tuesday morning, lingering throughout the day.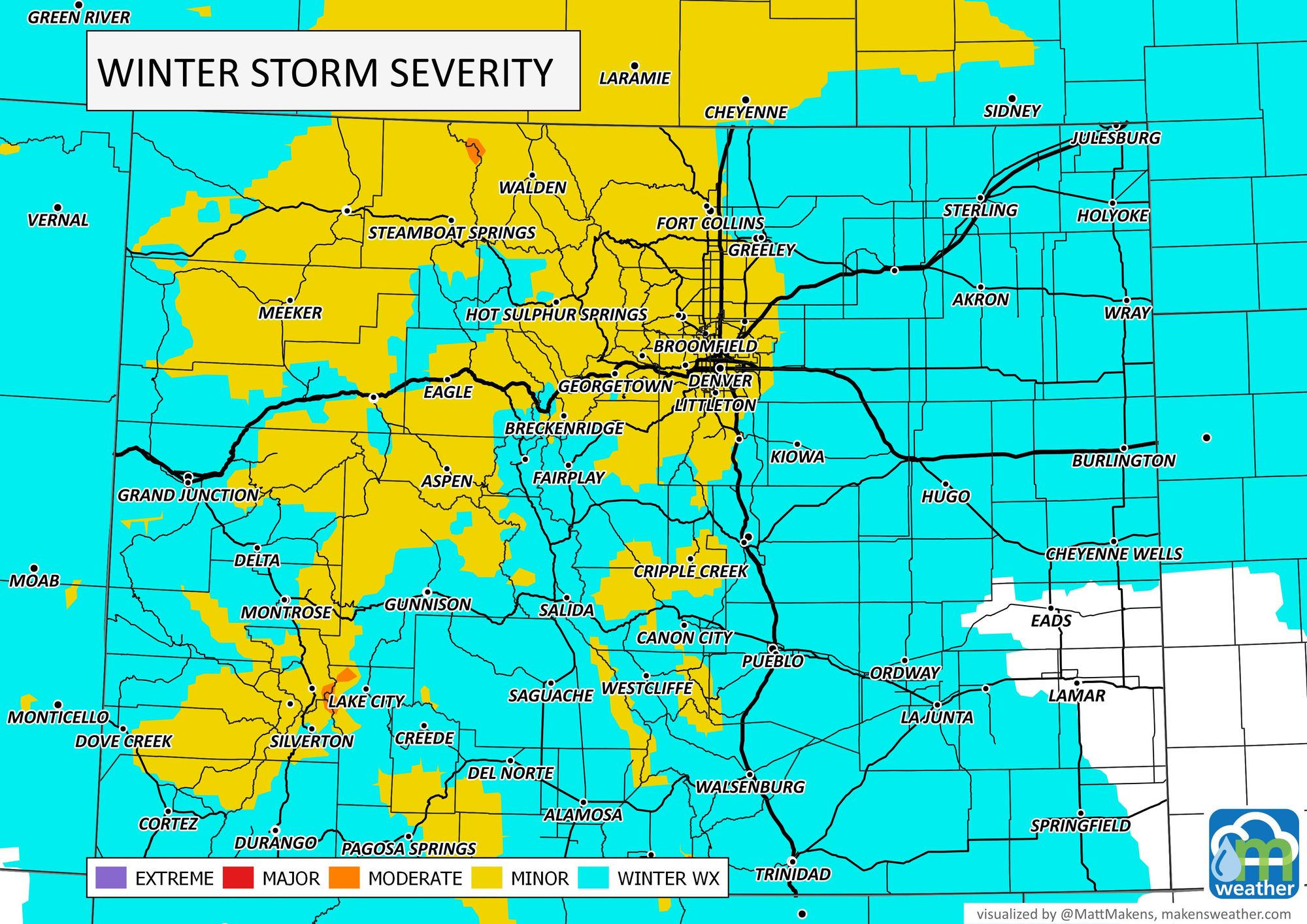 As far as snowfall totals, you might have already guessed that the northern areas will do the best.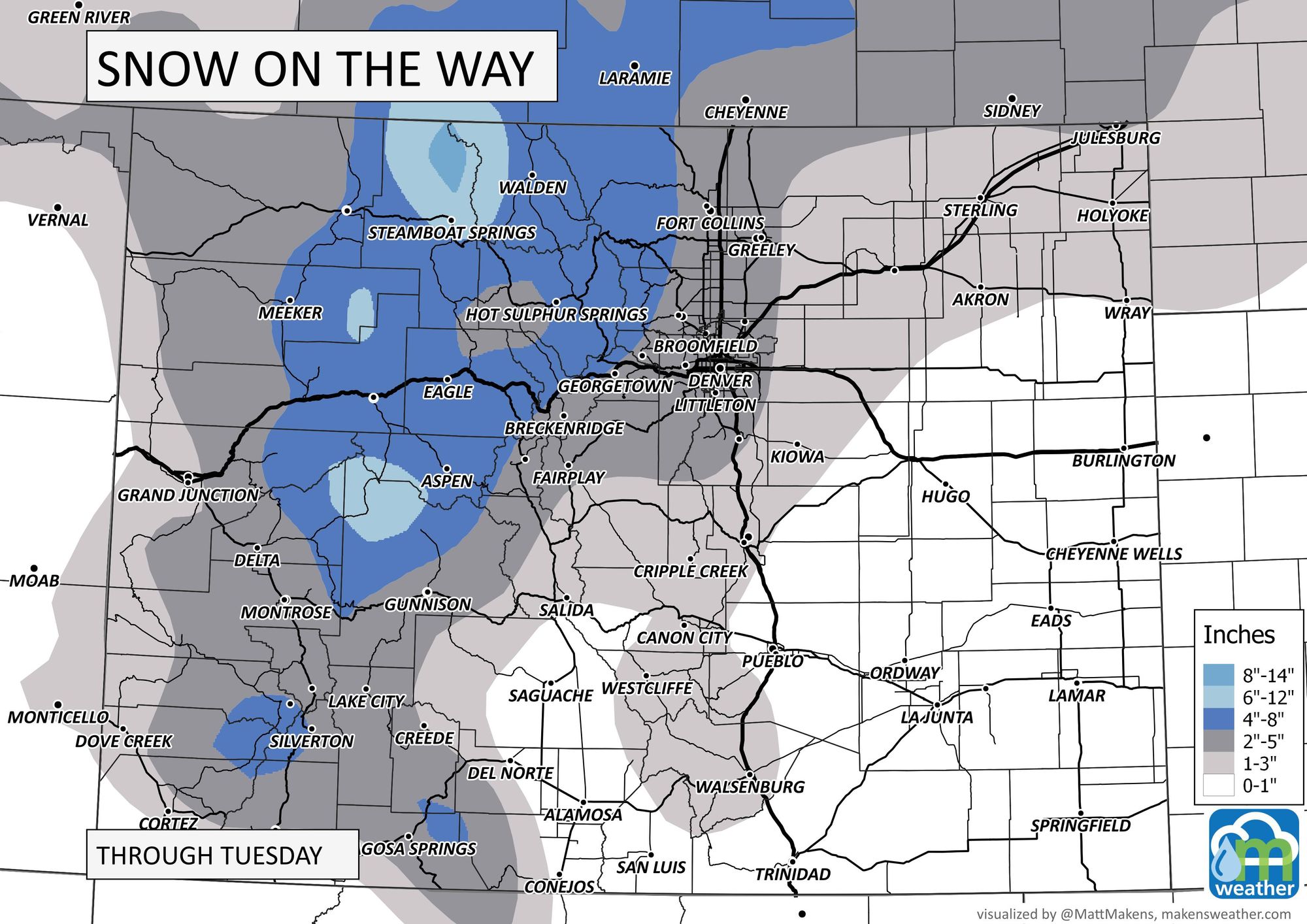 That's a general look at snowfall potential with the next system, if you like to see the full range of possibilities with our Gamblers Charts, Boulder has the odds reaching into the higher totals as based on a generic snowfall ratio, I'd expect the ratio to be able to produce a bit more than indicated: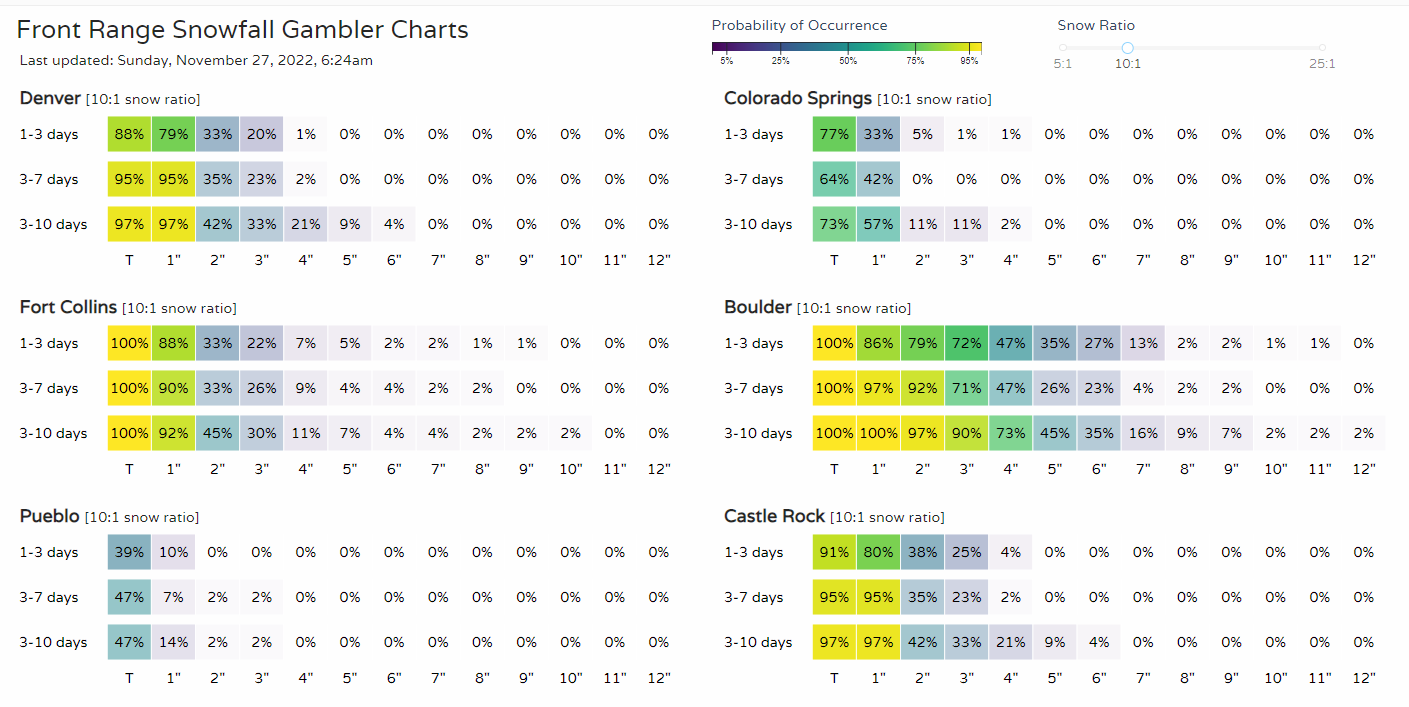 Those charts are available on our Insiders page, click here.
Now, let's discuss the timing of the impact. We will run down Front Range communities from Fort Collins to Colorado Springs. Most of us will see the biggest impact Tuesday morning, lasting throughout the day.
Fort Collins: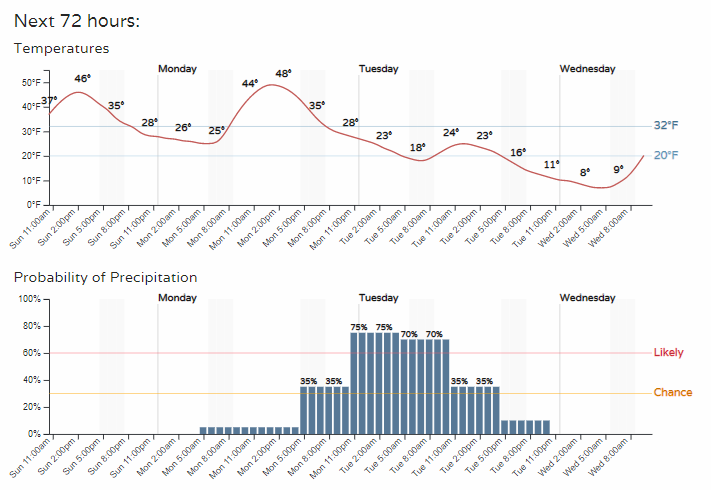 Denver: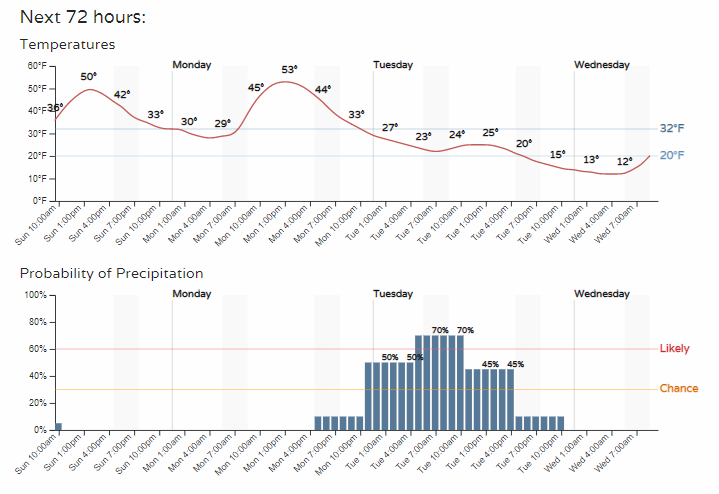 Castle Rock: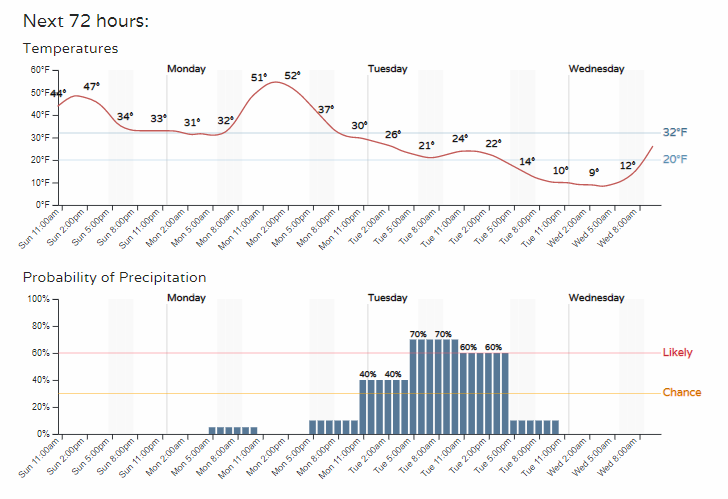 Colorado Springs: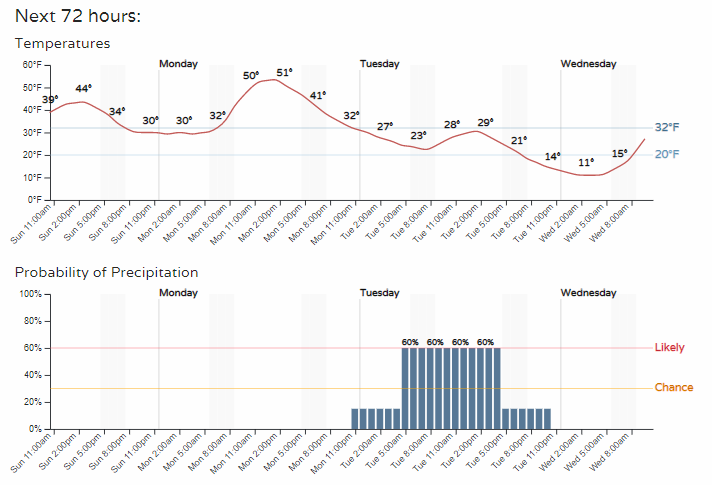 I'm sure there'll be some timing and totals adjustments to make so we will be back with another post for you Monday.
For now: Beyond this system, we will warm throughout the week into the start of the weekend. Right now, there are some chances that we see another system next Monday and Tuesday.