The wind on the way we are used to. The colder and snowier than average November we just logged, now that's something!
Preliminary monthly data for November shows Denver ended the month -3.8°F below the long-term average for the month, and with 10.9" of snow – well ahead of the 7.4" we see on average. This marks the snowiest November since 2019 (13.7"), and only the 4th time in the last 25 years the city has seen 10" of snow or more during the month.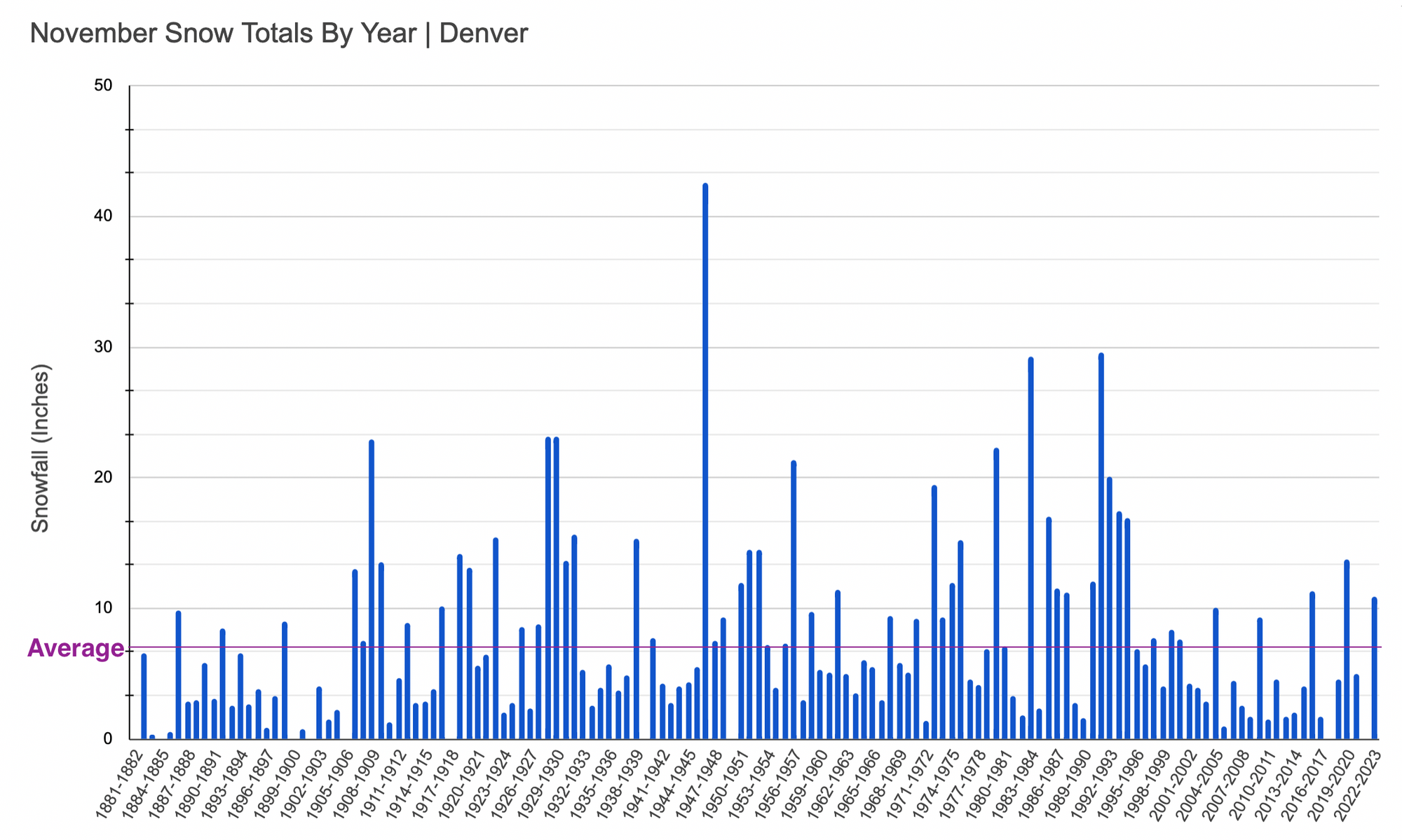 It was a cold month on the whole for the western United States, with portions of the intermountain west running more than 10°F below average this month. For the eastern third of country the opposite was true, with above average temperatures along the eastern seaboard in November.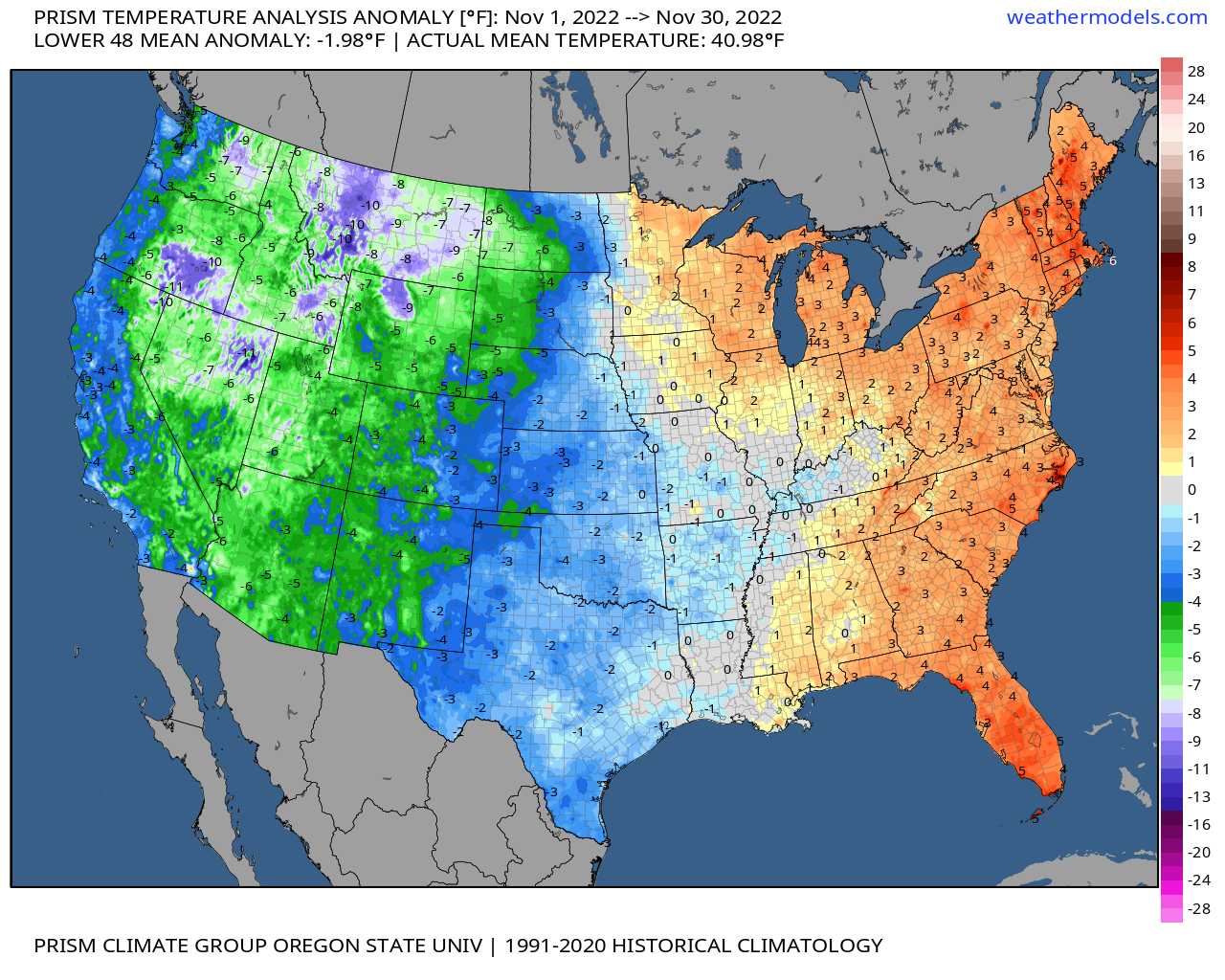 December will pick up where November left off across the West. Take a look at the current hazard map from the National Weather Service, with all those purples and pinks across the West indicating winter weather alerts – from Watches (blue) to Advisories (purple), to Warnings (pink).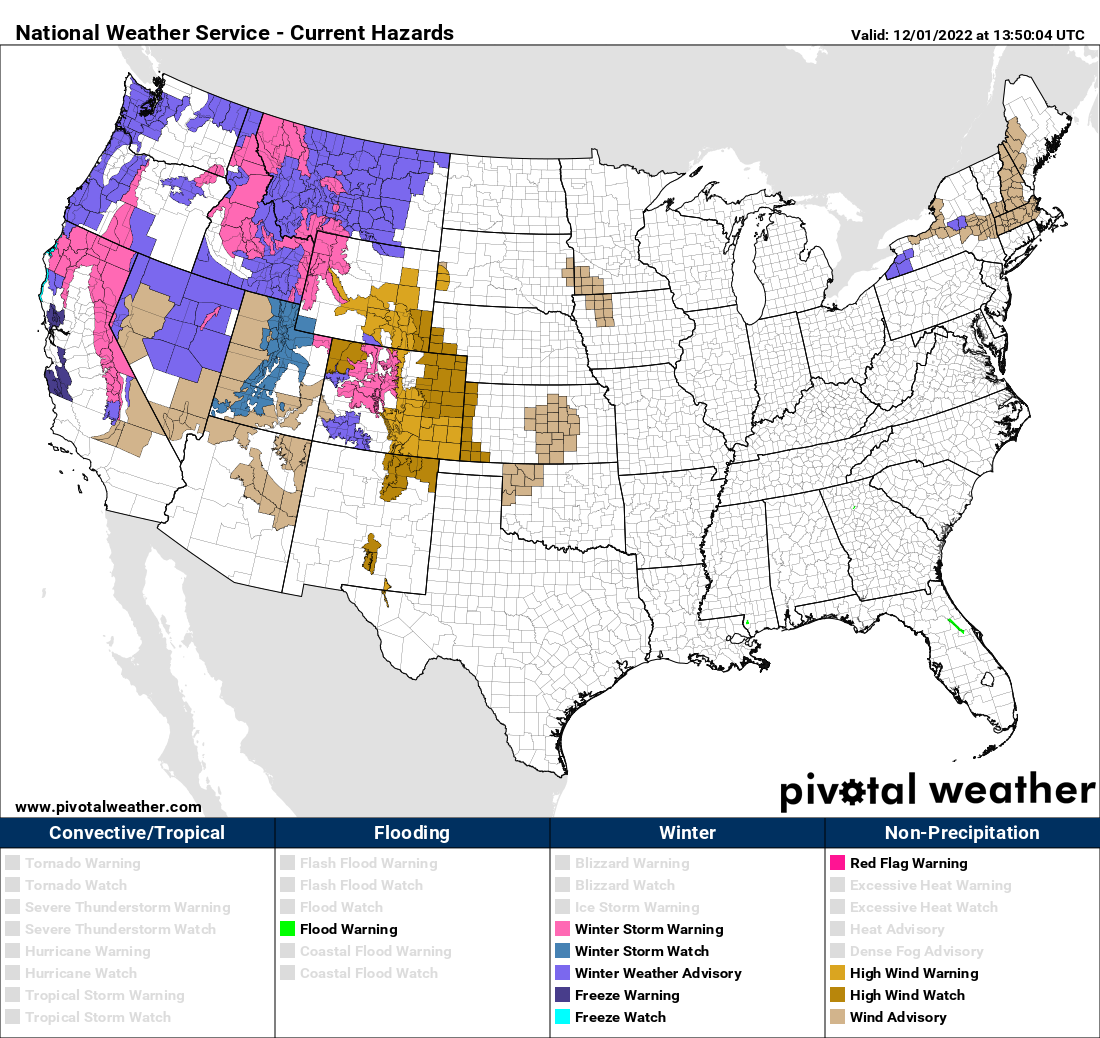 Zoomed in to Colorado we see Winter Storm Warnings, Advisories, and High Wind alerts littered across the state.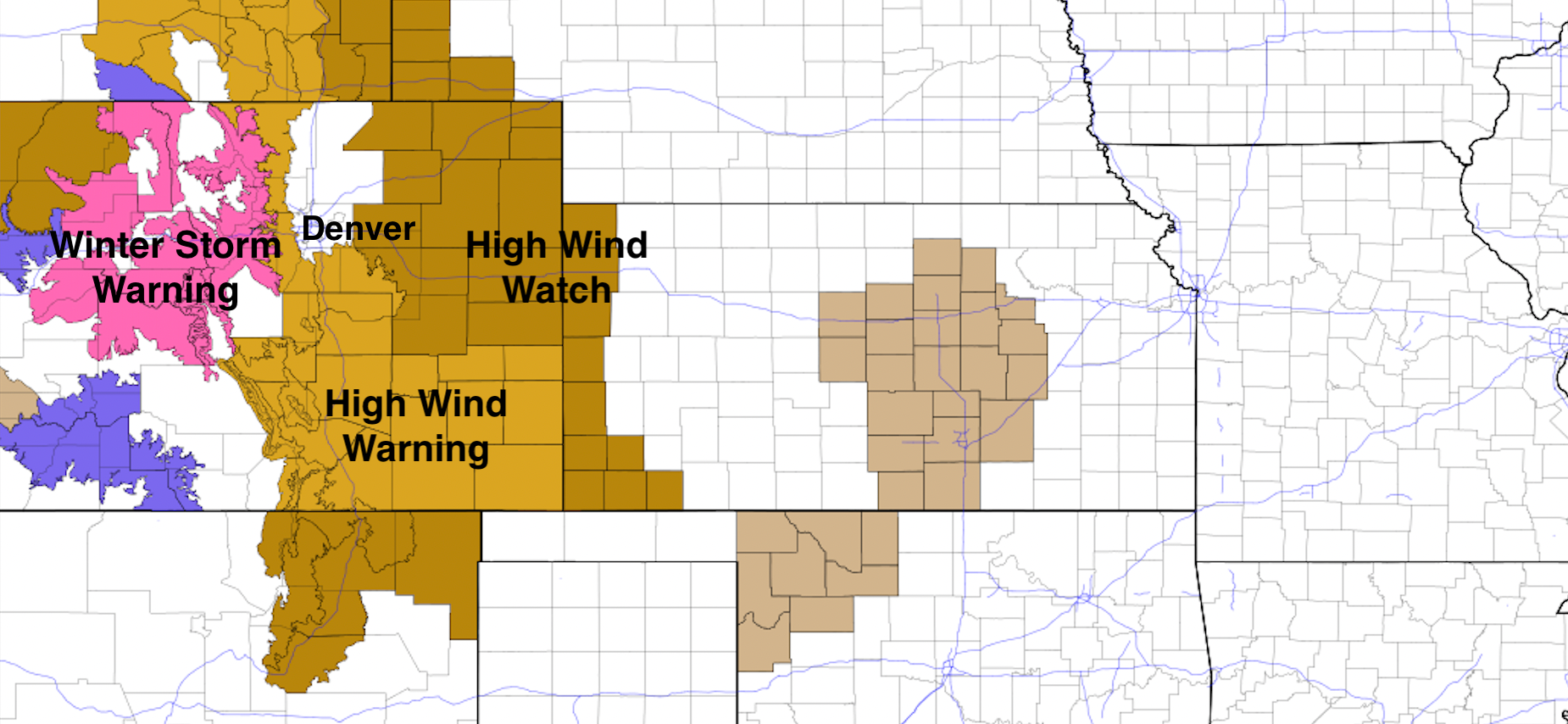 In the high country, the Winter Storm Warning will encompass those high winds as well, meaning travel across much of the state, and in particular across the northern and central mountains will be extremely difficult tonight and tomorrow. Heavy snow, in excess of 12" in some cases, with winds to 60mph+ across the higher terrain is expected.
Looking at the latest HRRR forecast for the next 36 hours, we see windy conditions across the high country this morning, a bit of a lull, then an uptick in strong winds tonight spreading into the foothills and plains by midnight tonight, if not before. The High Wind Warning for the foothills west of Denver goes into effect at 8pm tonight and continues through 5pm Friday, where gusts could easily hit 75mph, with sustained winds to 40mph at times.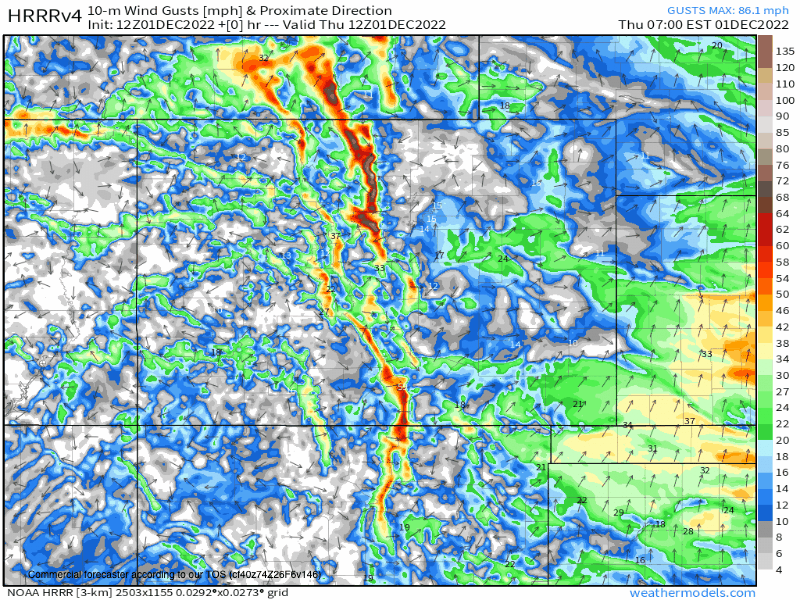 With this particular setup, any meaningful snow should remain in the high country. The latest HRRR shows snowfall potential across the state through early Saturday, and it looks reasonable: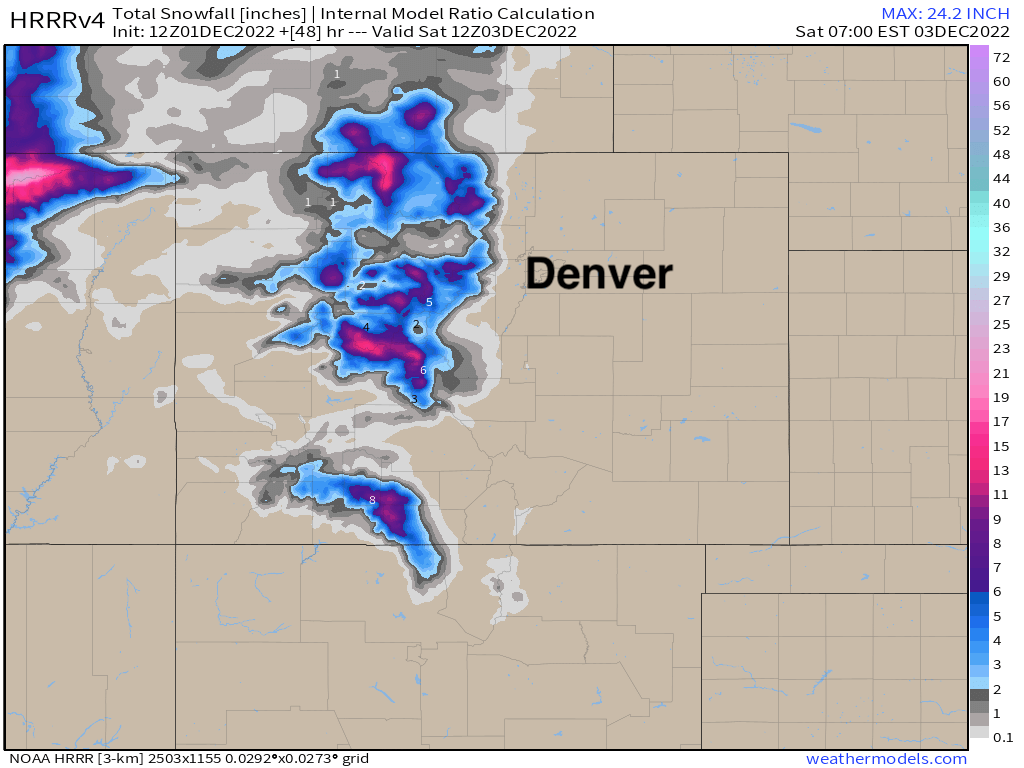 That's not to say we won't see any rain/snow showers move across the urban corridor. Right now we have about a 20% chance of just that on Friday, with little/no accumulation expected and generally mild temperatures (albeit windy and raw).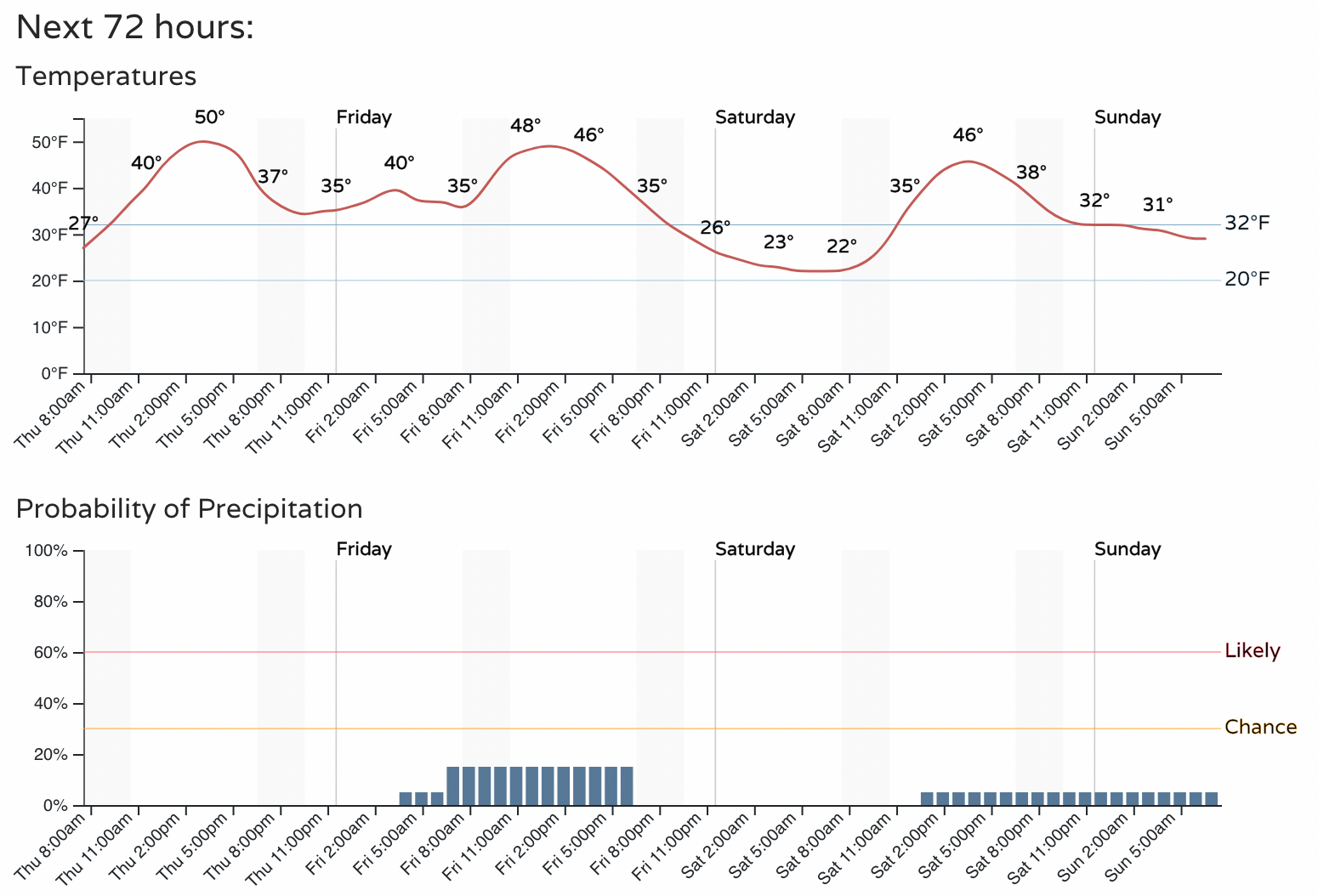 The storm track, generally speaking, remains fairly active through the first part of the month. While no big storm is imminent along the Front Range, this pattern will need to be watched, with a couple of big systems forecast to move in from the west over the next couple of weeks, and no dominant ridging in place – yet.