Tuesday will be quite warm, 60s, ahead of the next weather machine that is set to drop heavy snow on the mountains.
Here is an animation of the system moving through the state today through Thursday morning, note we'll have some rain and rain snow mixing at lower elevations: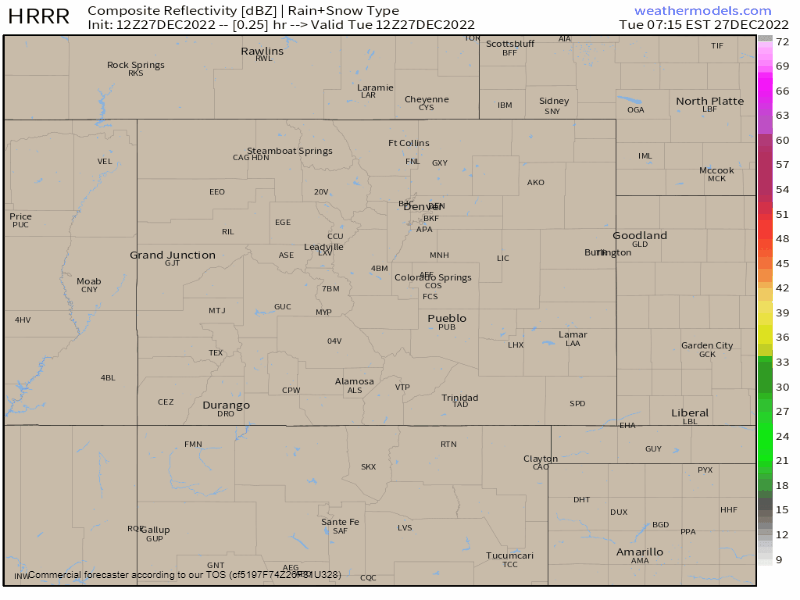 For metro areas, rain and snow will move in later Wednesday, with the biggest impact on the afternoon and evening roads. The total storm impact from late Tuesday through early Thursday is shown here.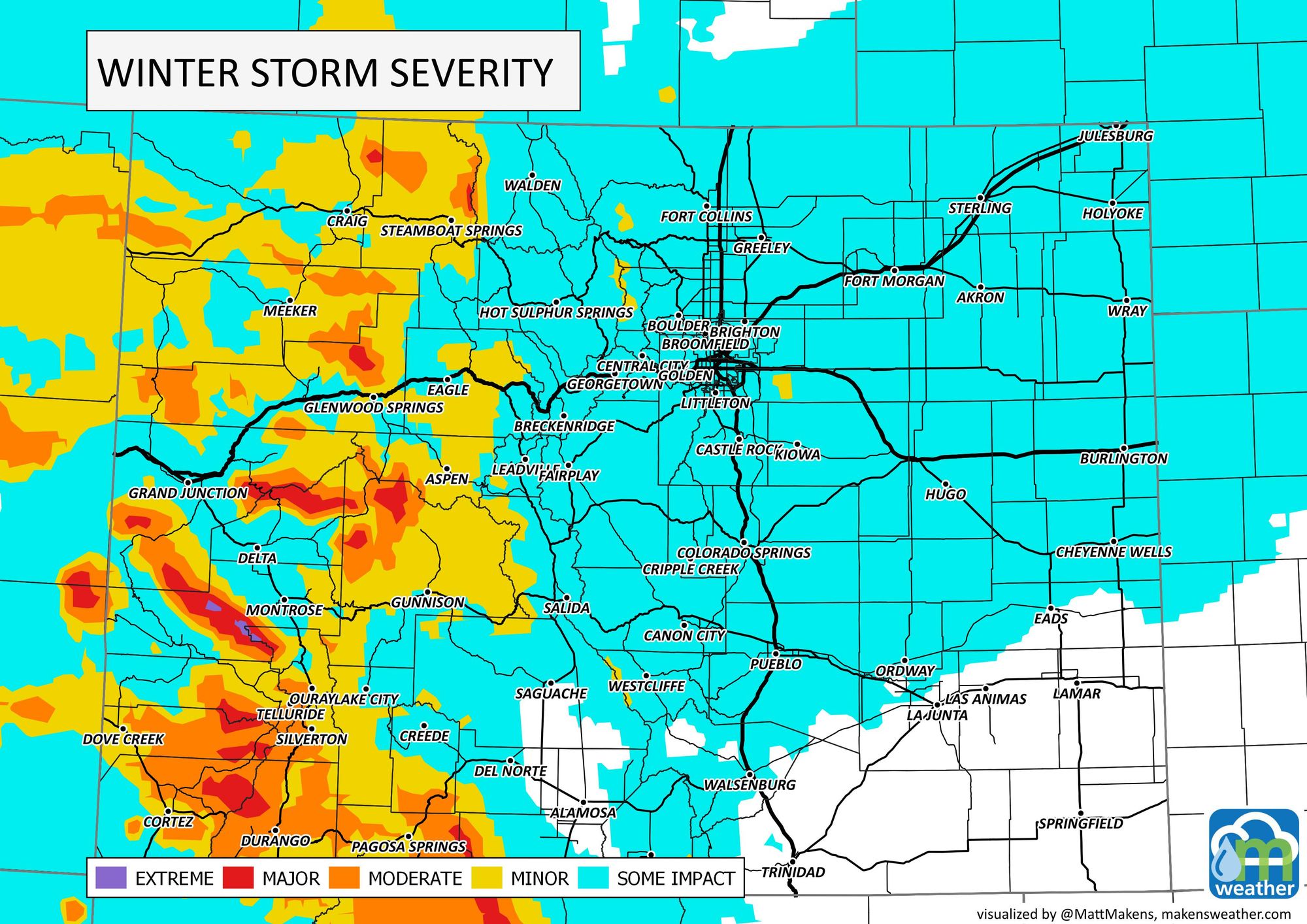 Speaking of impacts, we break down the Nation's weather issues for the next two weeks in the latest Daily Shower:
Part of the impact for travelers will be wind. It'll be a gusty day on the mountains and at times for the metro areas and Plains too. We will measure gusts well over 30mph at times. Again, a far cry from the last system. Here is one snapshot for 2pm showing the gustiest areas in the warmest colors.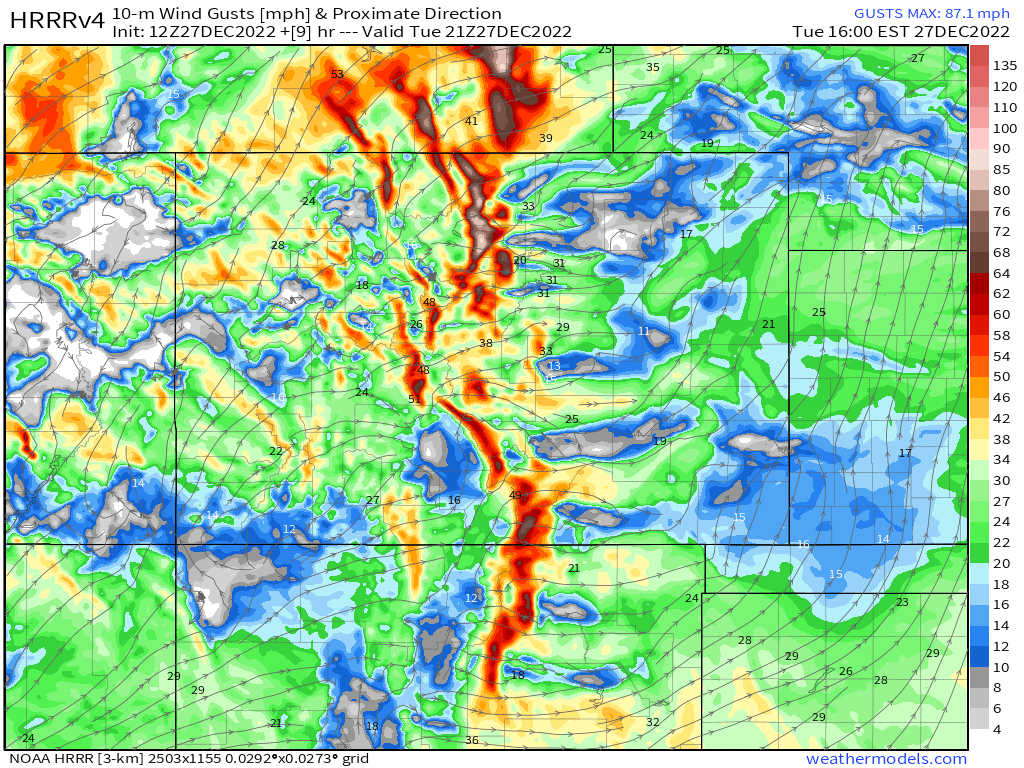 With the wind, a warm wind, it's shaping up to be a very mild Tuesday across the area.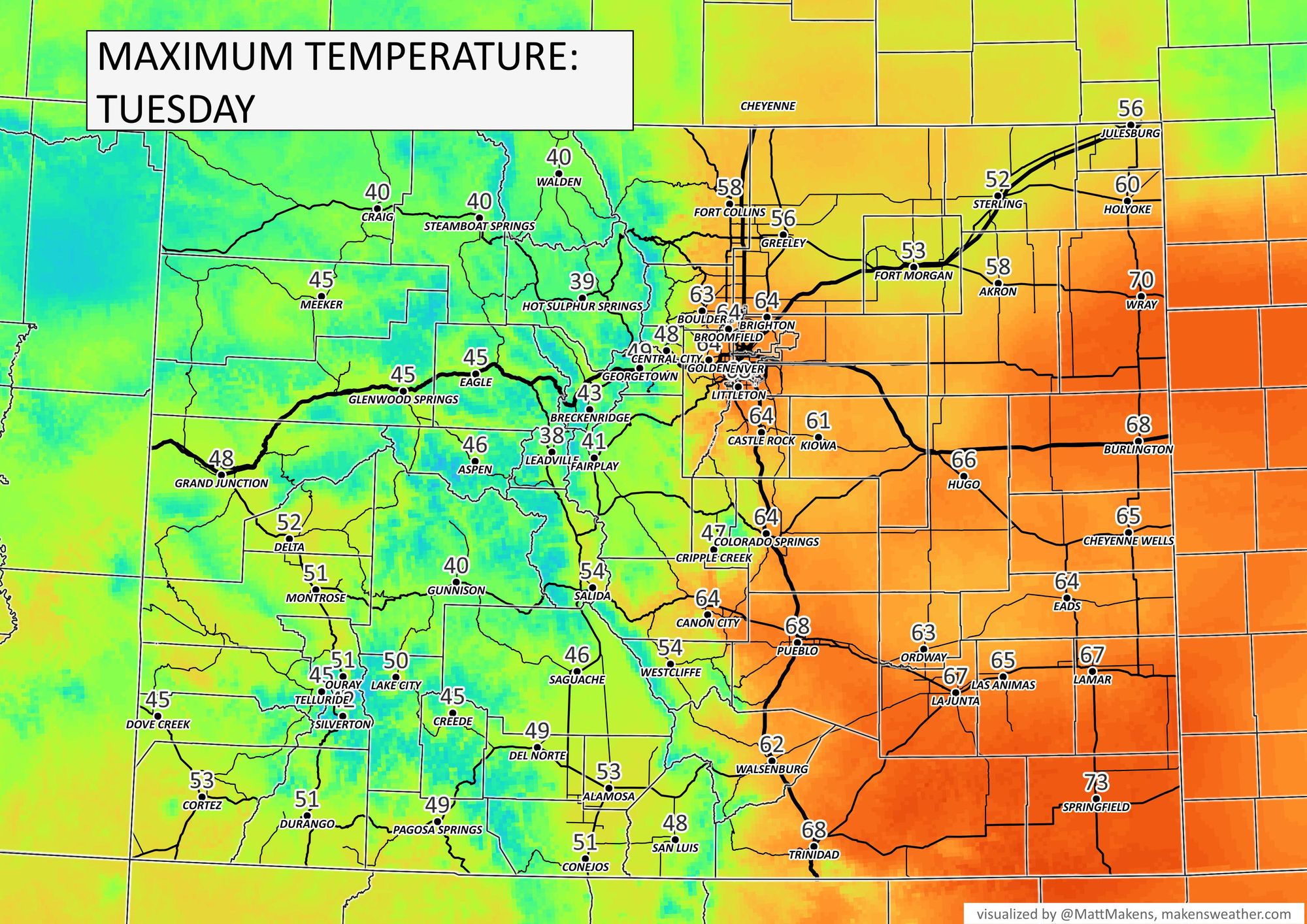 Tuesday will end the super-mild temperatures as during the next three days we will be cooling off, however, very minor temperature changes compared to what we felt last week.
In hourly planner form, you'll see warmth early on and still warm enough Wednesday to give some rain showers before snow.
For Denver: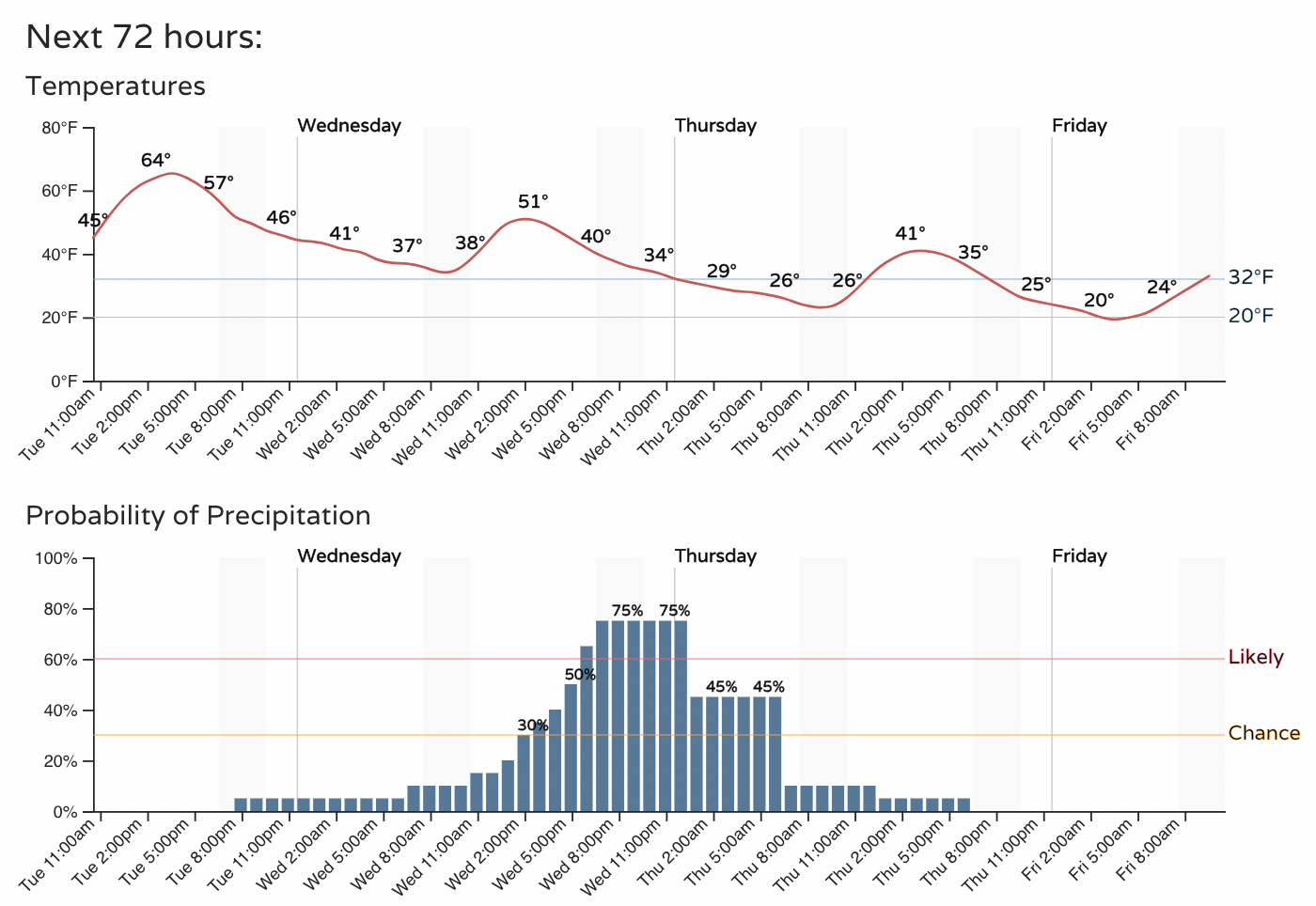 For Colorado Springs: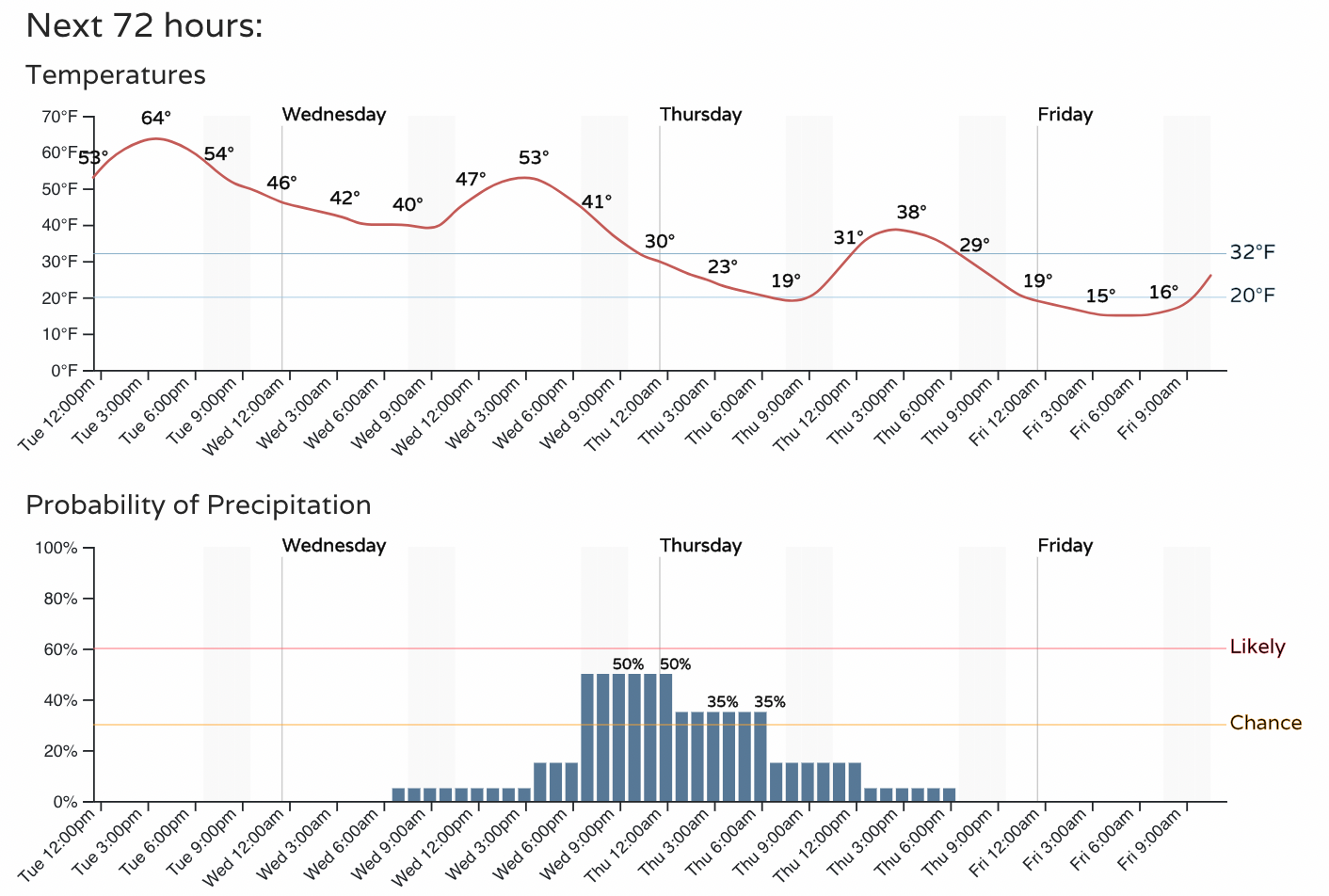 As we go from Wednesday afternoon through the evening, the metro areas will have a chance for rain before changing over to snowfall from 4-6pm or so. This will mean that roads likely can't be pre-treated and icing/slush could lead to some issues for drivers later in the day.
As far as totals, this system will give its heaviest snowfall to the southwestern mountains of Colorado. There will be areas of snowfall focused on the Denver area, too. Overall odds favor a one to three inch event, however, a close look at our gamblers data and isolated modeling show the potential for snowbands in the area that could drop some heavier totals.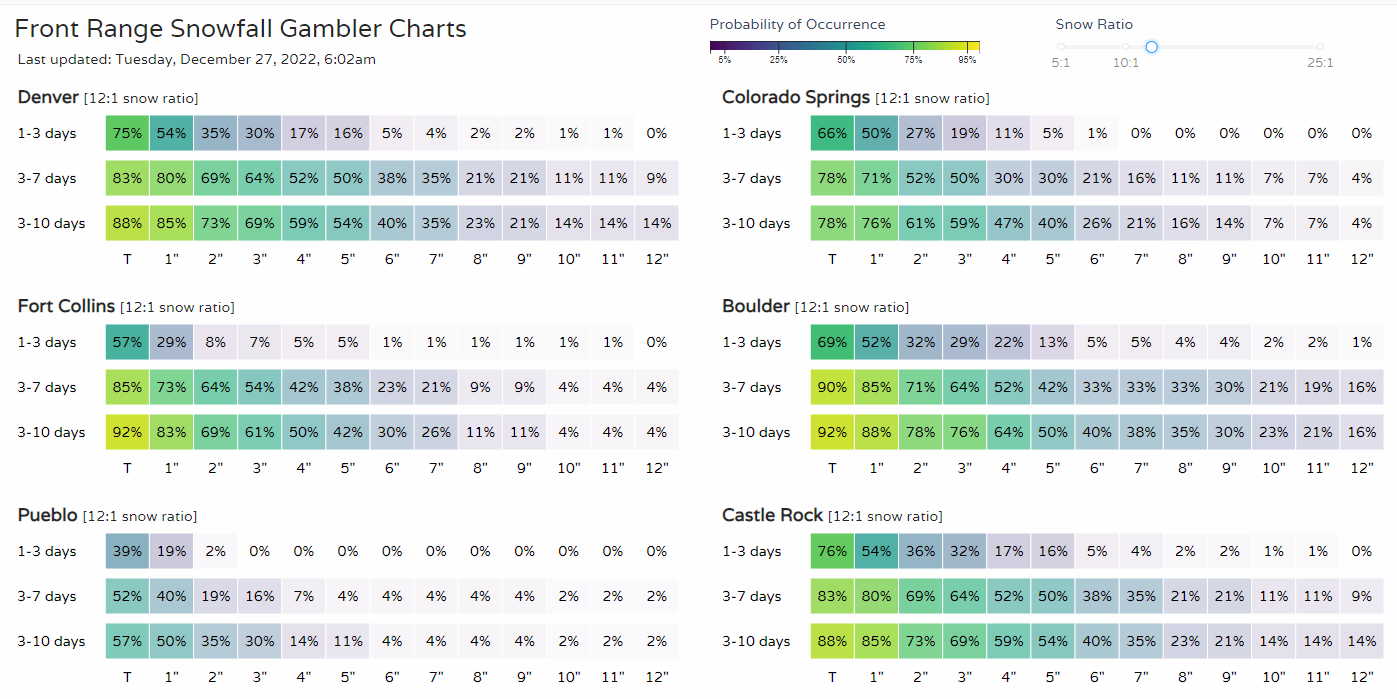 In general, using the most probable approach we have the following. For the Front Range, this isn't accounting for rain initially, which will drop totals, and this is assuming we see at least one rather strong snow band(s).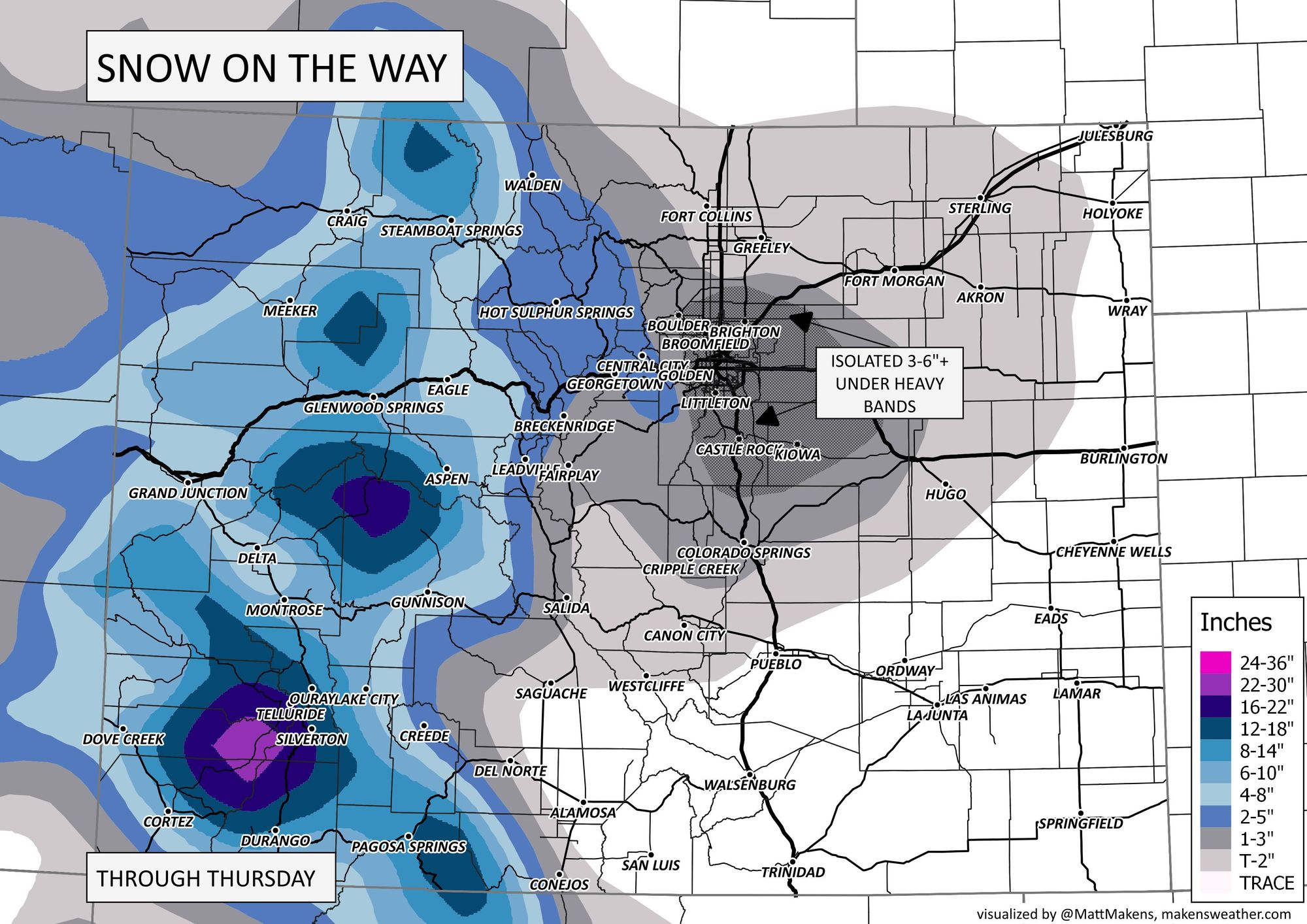 Boulder: 1-3"
Colorado Springs: T-2"
Denver: 1-3"+ (Banding potential)
Fort Collins: T-2"
Frisco/Dillon: 2-5"
Palmer Divide: 1-3"+ (Banding potential)
Steamboat Springs: 6-12"
Vail: 4-8"
As this system clears, we have additional chances for snow as we bring in the New Year. We'll have more on that later. As far as temperatures, overall not cold following this system, but not a big warm-up on the backside of it either.