In contrast to last week's very cold and dry snow, the incoming system later today will be quite wet – remarkably so even given it's late December.
Despite being the morning of, there remains a lot of uncertainty with how the next 24 hours will unfold, particularly around how much snow we will see and where. With the amount of moisture most models are showing there's a ton of upside potential for some of the area to see a pretty good snow Wednesday evening and overnight (think 4 - 10" or so), while the mild temperatures we will be dealing with could keep those totals dramatically lower (think T - 3" where changeover is slow to occur). There where be a bullseye of heavy snow somewhere, but tough to know exactly where until it sets up.
Let's start with what we know.
Heavy mountain snow
For southwest Colorado in particular today will be quite snowy, with storm totals of 3 feet possible across the higher terrain, and heavy snow ongoing through the evening. Morning snow showers across the northern mountains will likely see a lull midday, before picking up across the I-70 corridor this afternoon once more.
Heavy rain and snow for parts of Eastern Colorado
Rain becomes increasingly likely in the Denver area by early to mid afternoon, with the best chance of precipitation for Denver coming between 3pm and 4am tomorrow morning. Due to the nature of this system, you'll note in the hourly below, it just won't be that cold. Even as Denver transitions to snow this evening, temperatures will likely remain in the 30s.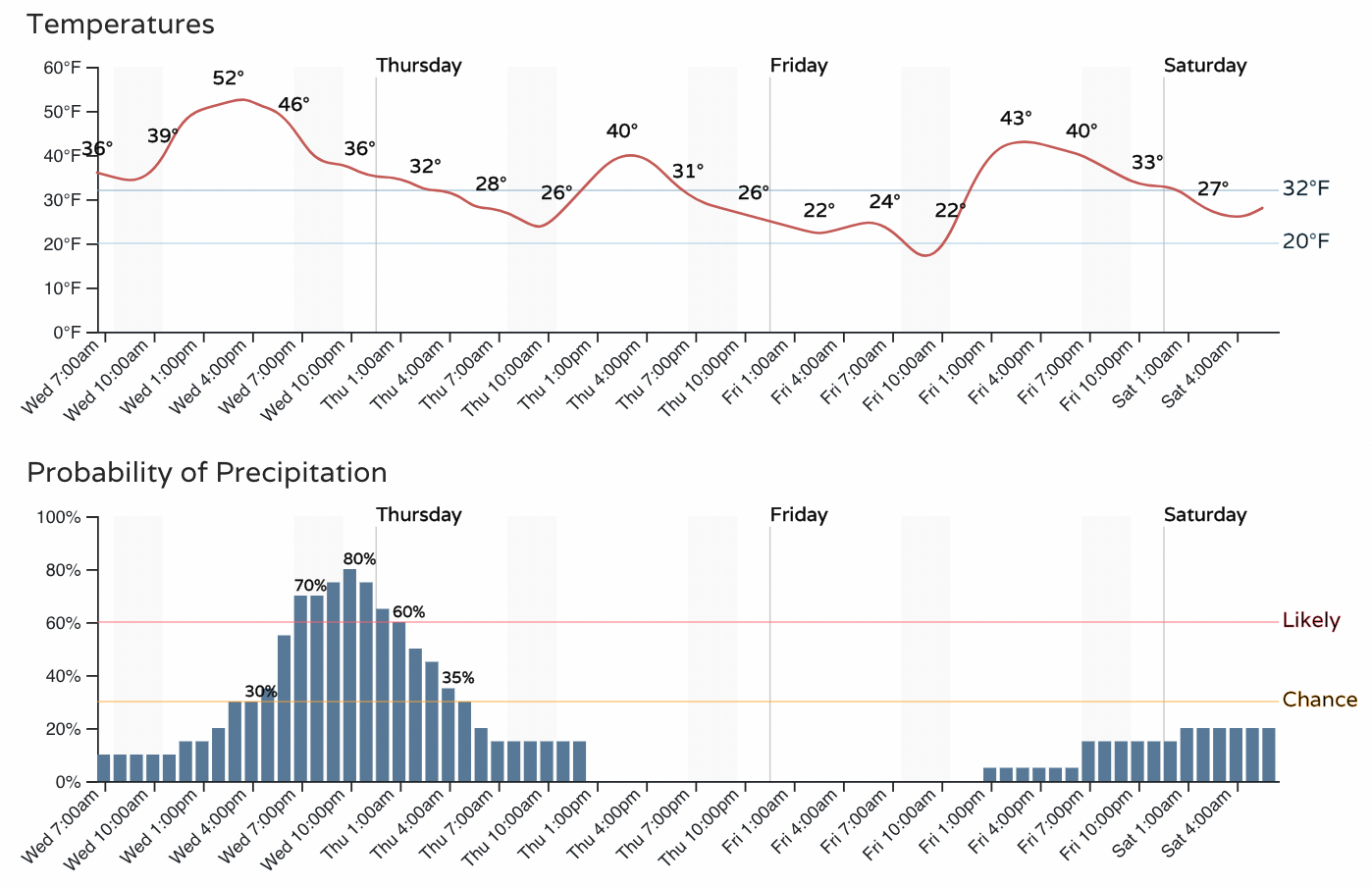 The HRRR, which is quite bullish on precipitation from this event showing roughly 1" of QPF (precipitation) through Thursday morning across the greater Denver area, has light to moderate rain moving into the city by 4pm. For the foothills west of Denver and across the Western Palmer Divide that transition to snow will happen quickly, which is likely to lead to a very difficult commute Wednesday evening – avoid if possible!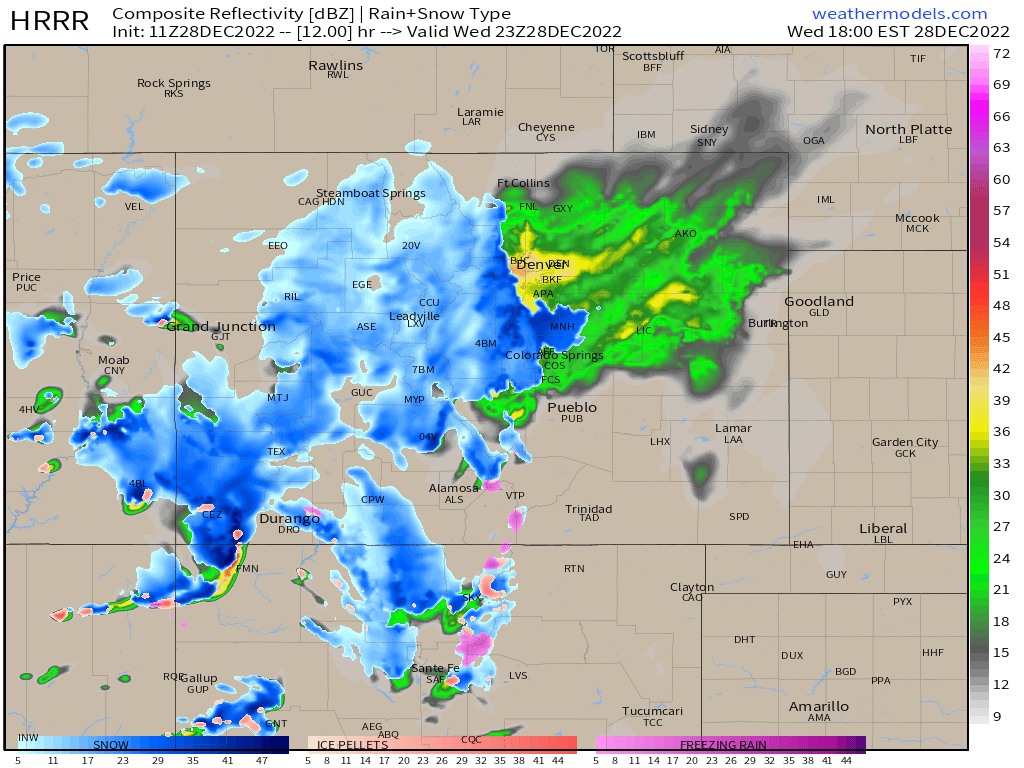 When the rain will change over to snow in Denver (or elevations below about 7,000 feet) remains a difficult question to answer. This model shows that changeover happening around 6pm in Denver, with some models being a bit slower and some a bit faster.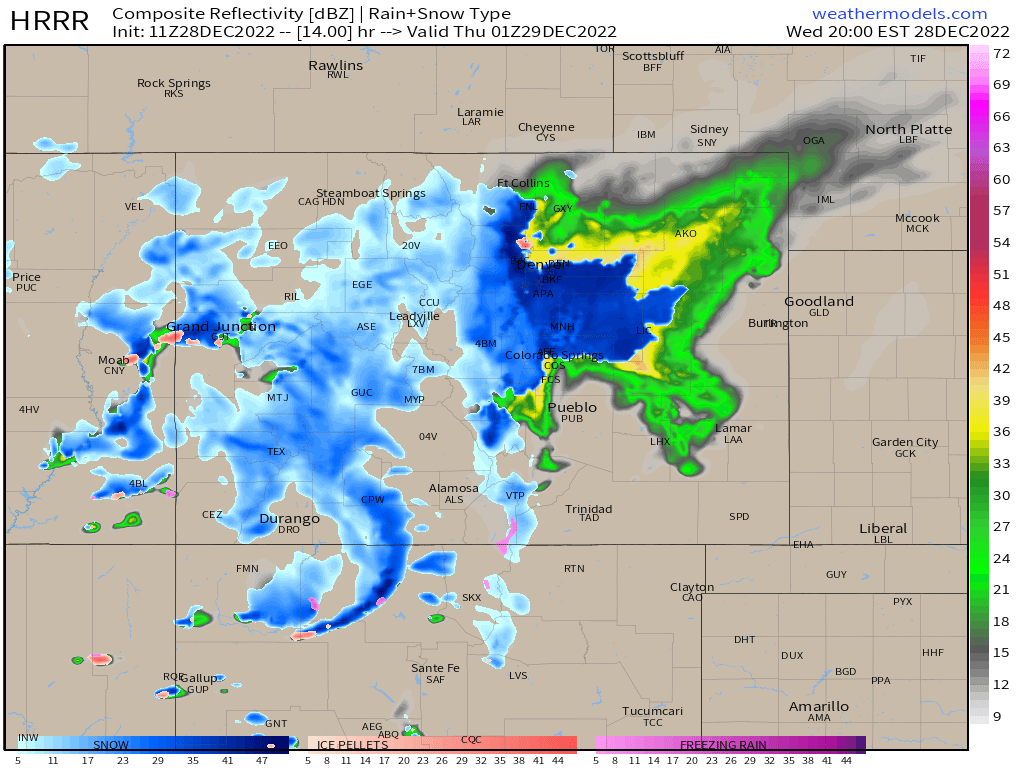 While some high-resolution models show up to an inch of precipitation for our area, even the more modest data is pretty impressive. The latest European ensemble mean forecast shows 0.5 to 0.8" of liquid for many of us, with a sharp cutoff north of Fort Collins and little precipitation expected south of highway 50.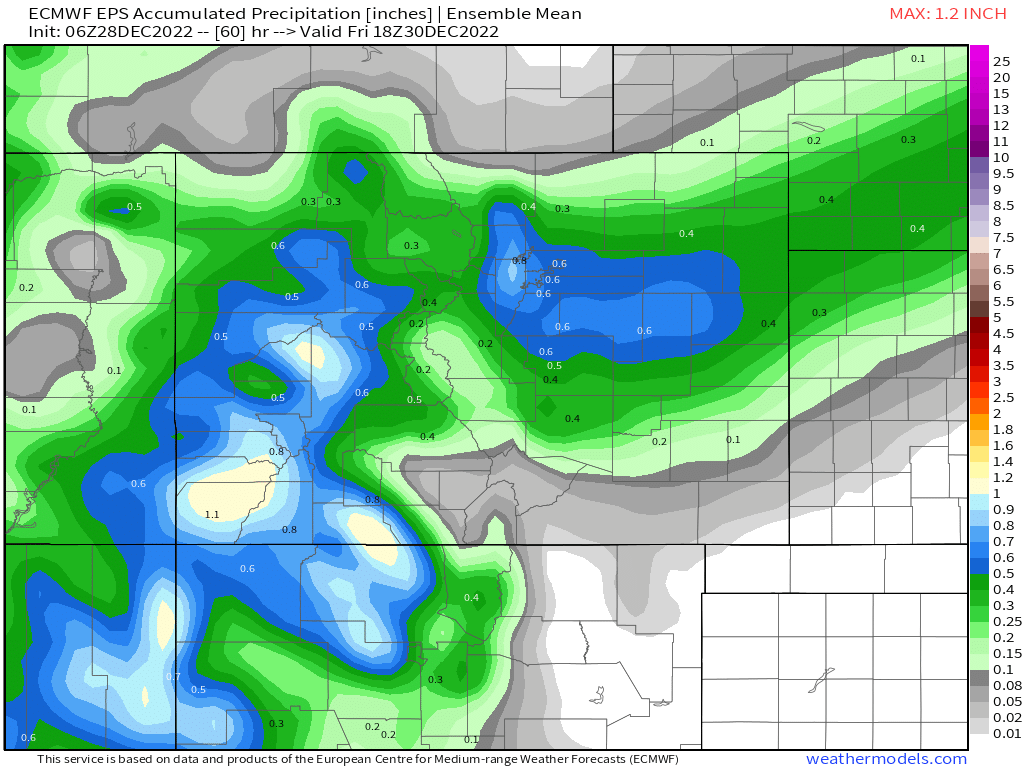 The forecast PWAT values for this evening will be near record territory, indicating there is quite a bit of moisture to work with for this time of year. The daily max for Denver is 0.42" with the GFS (for example) forecasting a 0.47" PWAT value for 5pm this evening.
NWS: Precipitable Water - measure of the depth of liquid water at the surface that would result after precipitating all of the water vapor in a vertical column over a given location, usually extending from the surface to 300 mb.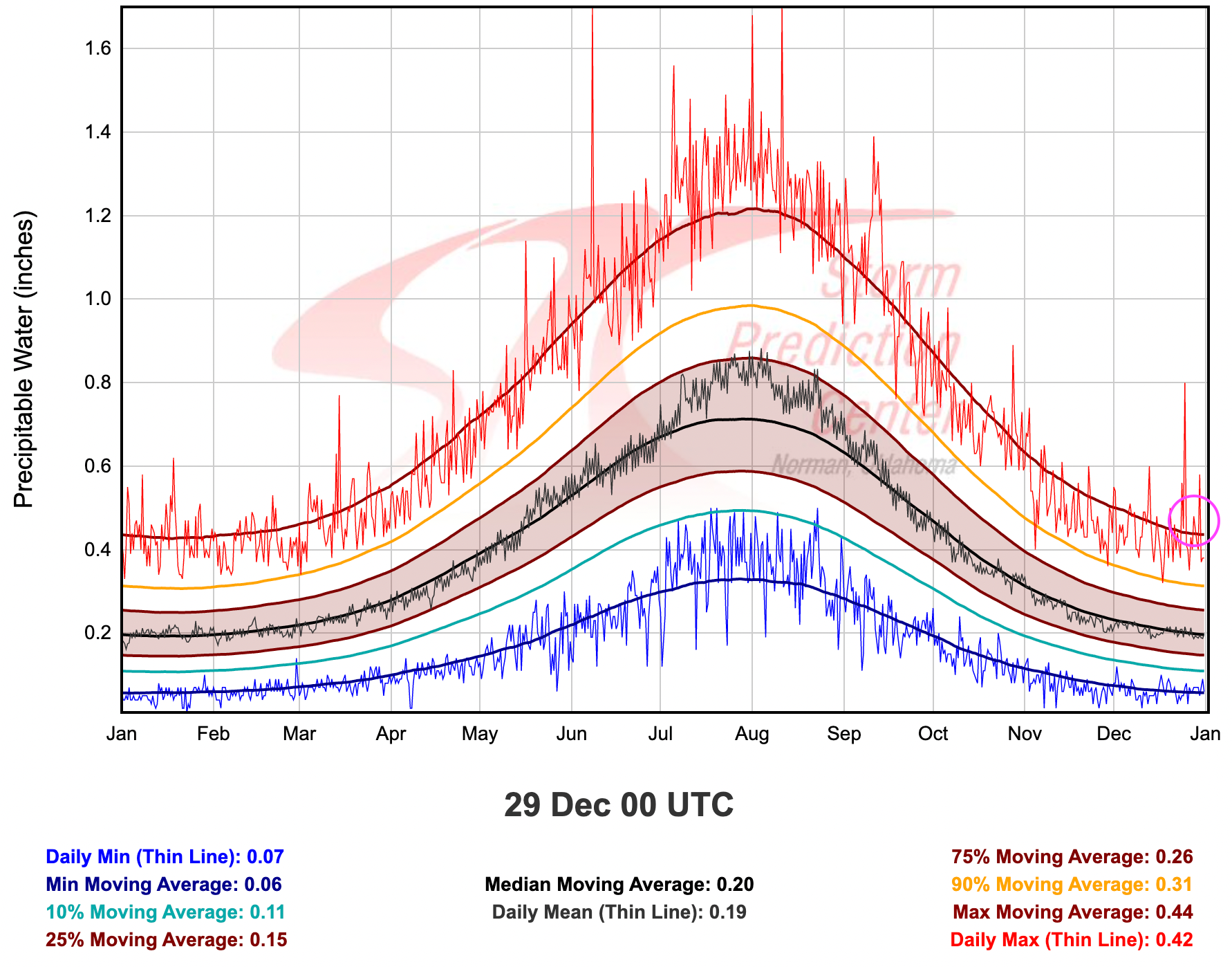 So, what we know is our weather is likely to turn wet this afternoon and evening, with some areas seeing heavy snow by the evening commute. Snowfall rates around the time of transition could be in the 2 inch/hour range. Totals for areas that see the quick changeover (by 5pm or so) could see as much as 5 - 10" of snow, while totals where rain is slow to change will be much lower. If you can avoid driving west out of Denver this evening, or between Denver and Colorado Springs, please do.
Winter weather highlights
Given the uncertainty around how much snow lower elevations will see, there are no highlights issued at this time. This could change later today if data continues to support greater totals within the cities proper.
West of Denver and across the Palmer Divide a Winter Weather Advisory goes into effect a 3pm and extends through 8am Thursday morning. Both the evening commute today and morning commute Thursday could be impacted.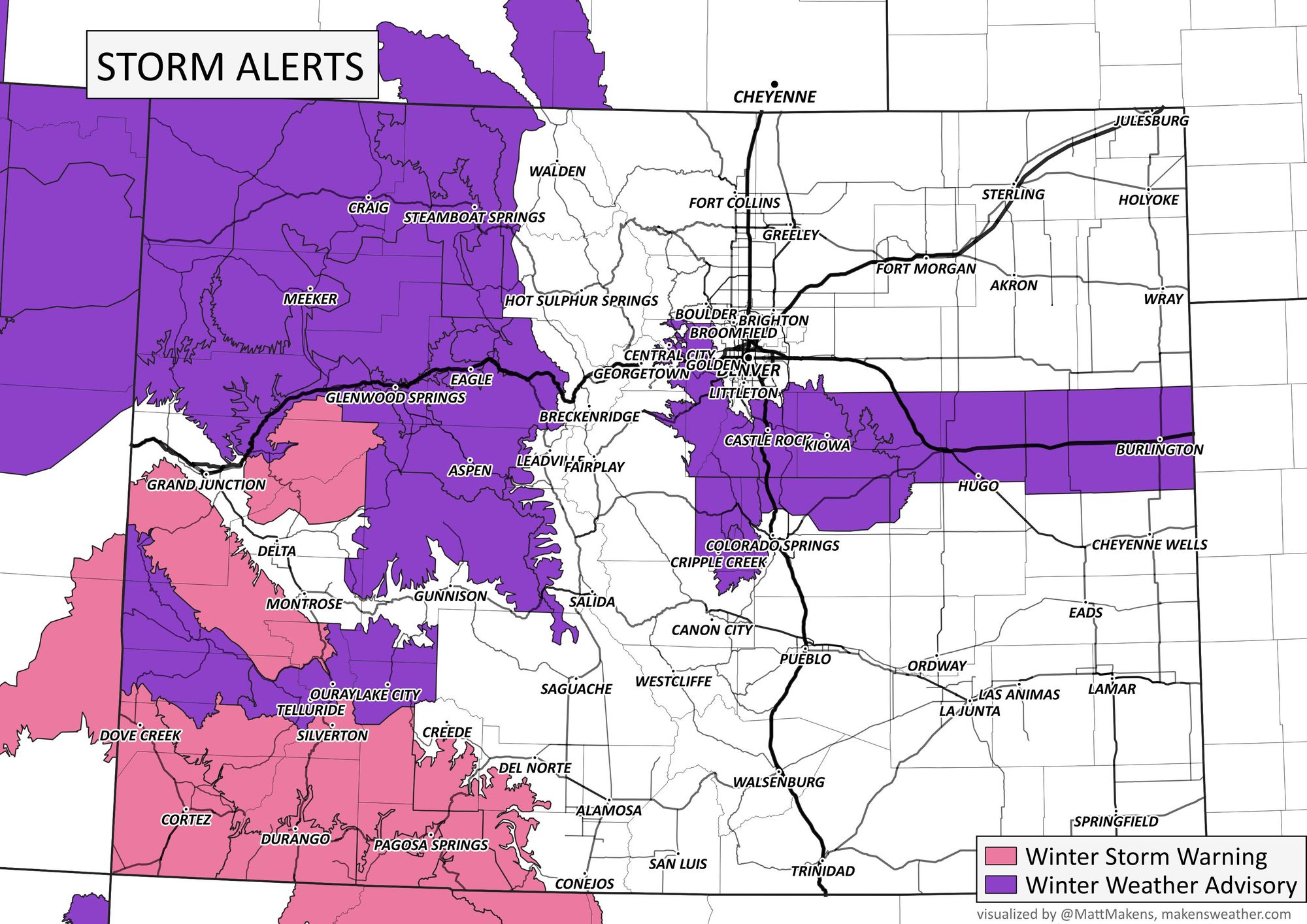 Here is as look at the expected impacts over the next 24 hours: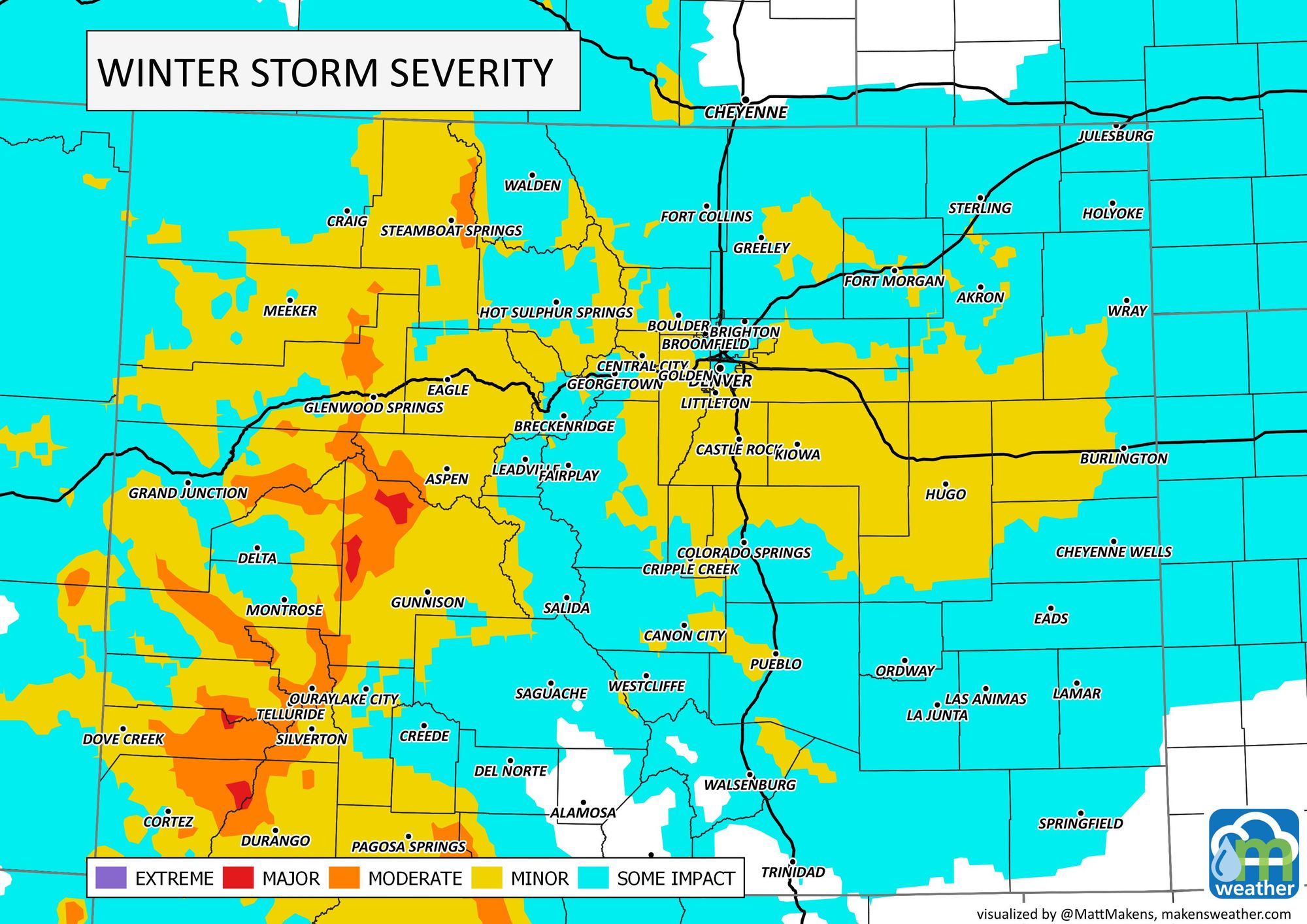 Snowfall forecast
This is not a fun one to nail down numbers for! Big time boom and bust potential all around. We'll put some middle of the road numbers down, but know local dynamics could greatly impact these numbers in your backyard.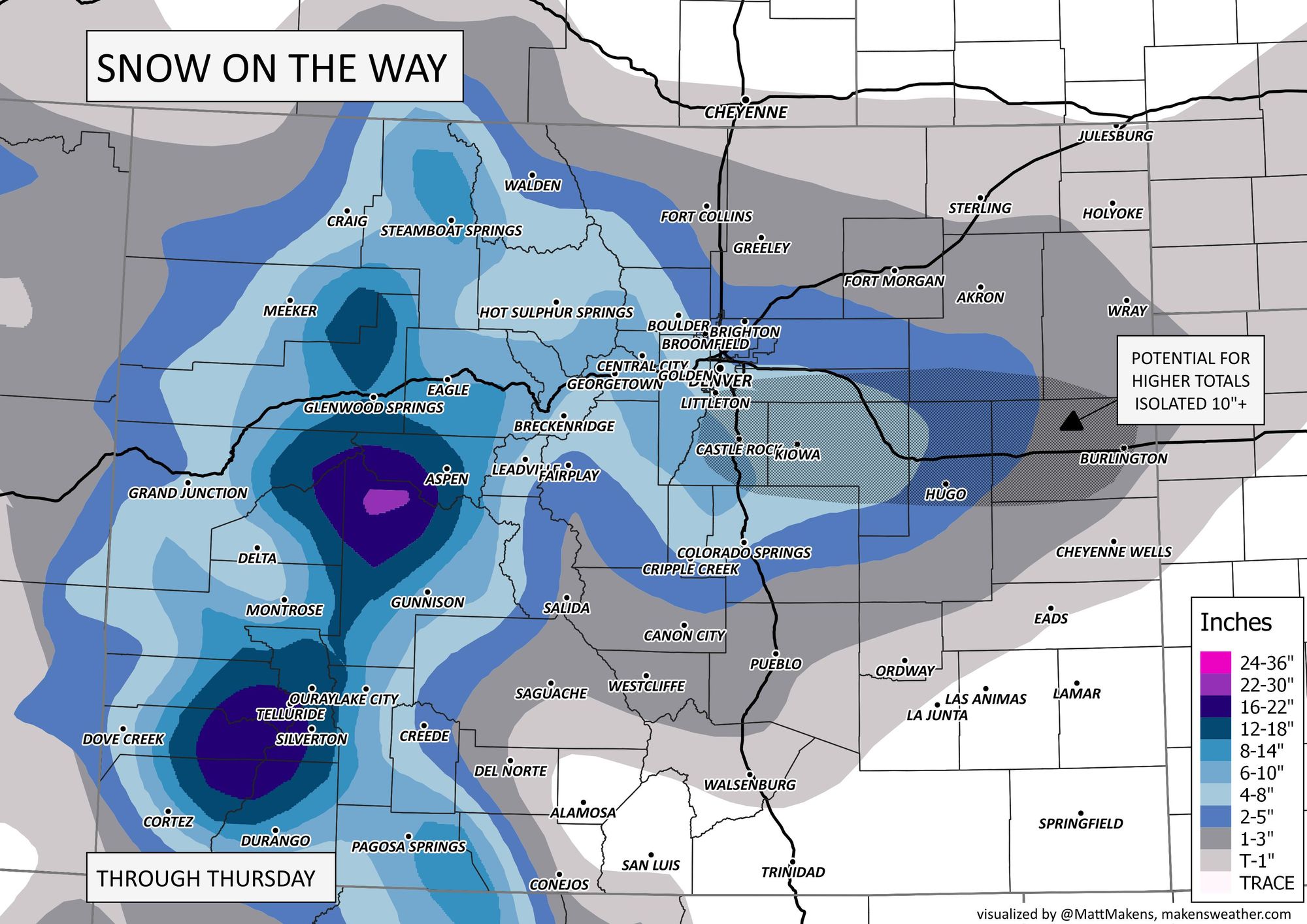 This shakes out to the following... wide ranges given the uncertainty!
Fort Collins: 1 - 4"
Boulder: 3 - 6"
Denver (including DIA): 2 - 6"
Parker: 3 - 8"
Castle Rock: 3 - 8"
Perry Park: 4 - 9"
Colorado Springs: 2 - 5"
Areas in the 3 - 8"/4 - 9" range are the areas where changever is expect to occur the quickest. It won't be surprising at all to see some 10" totals for some of these areas. For the lower-end areas, boom potential remains on the table, but everything will need to align just right.
There's a steady flow of moisture across the western U.S. This atmospheric river will produce lots of water: