As we discussed in our Insider update yesterday, our next chance of snow across the urban corridor and Eastern Plains is on the way, set to bring another round of measurable snow for many of us along the Front Range to start 2023, and continue the travel difficulties many have faced this holiday season.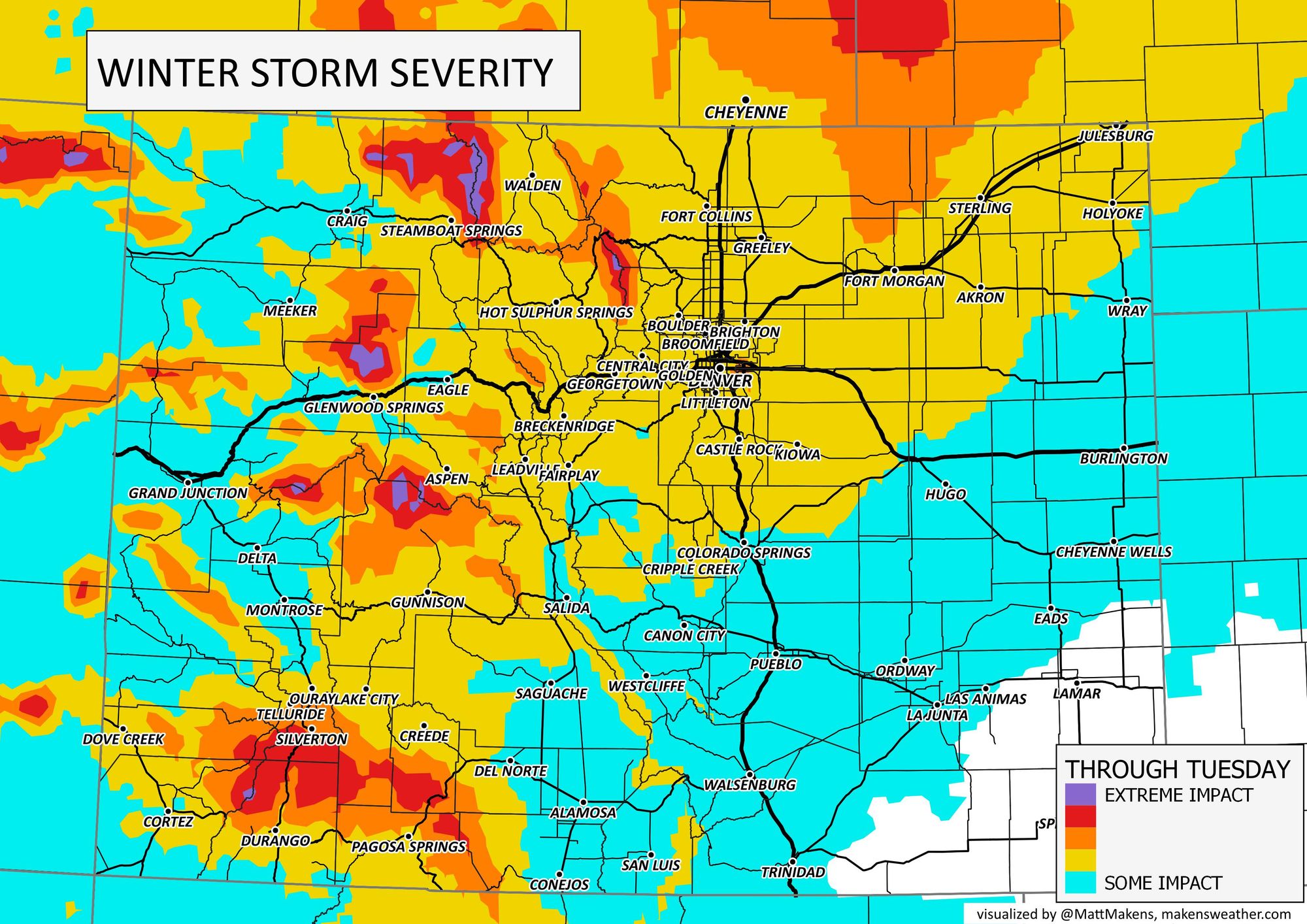 The latest hourly planner for the Denver area shows the chance of precipitation, mostly in the form of snow this time around, will increase after sunset Sunday, and continue through Monday afternoon.

If you have NYE plans tonight, those should stay mostly dry along the urban corridor, with relatively mild temperatures (compared to how cold it could be anyway), and little weather issues to worry about.
If you're celebrating in the mountains, you'll have some snow to contend with, but we imagine that's cause for celebration in itself! ⛷ Here's a look at the snowfall forecast over the next 24 hour or so, with some appreciable snow for parts of the high country Saturday and Saturday night.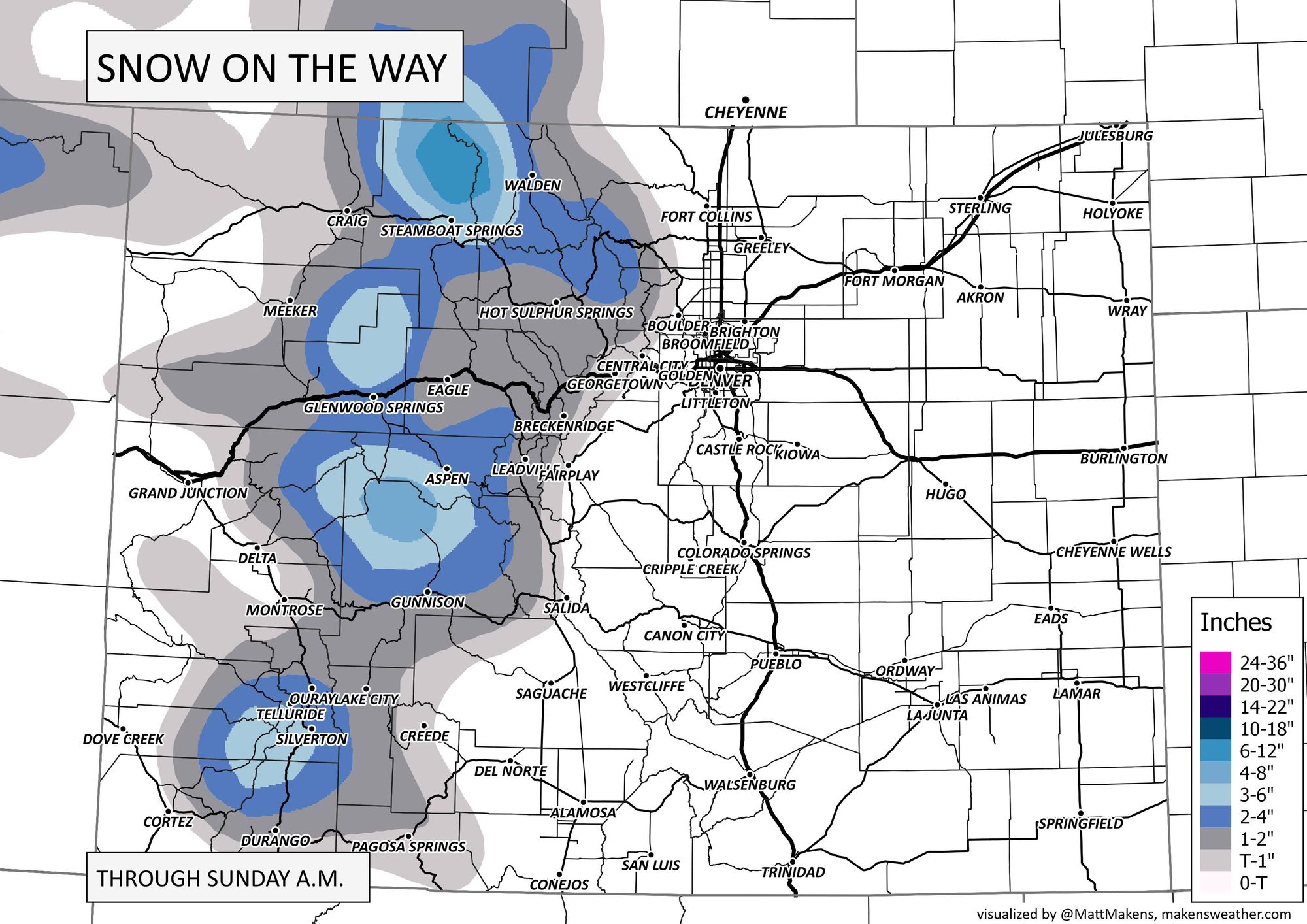 As the main system moves through the Great Basin Sunday, then ultimately over Colorado Sunday night and Monday, the exact track it takes will mean all the difference this time around between a light snow event for most of us (T - 3") and a more moderate snowfall (perhaps 3 - 7"). Like our last system, there's not great agreement on the data despite the storm now quickly approaching.
Travelers do need to beware. You may have heard the terms "Pineapple Express" or "Atmospheric River" recently. Well, the moisture will continue; heavy snowfall will focus mostly on the Sierras, Wasatch, and Rockies before moving over the plains, creating more travel issues in Wyoming and Nebraska to Minneapolis in the next few days. Salt Lake City, Denver, and Cheyenne may make some travel hazard-type headlines in the next few days.
For Denver specifically, the track of the low is awfully close to tracking too far north for a meaningful snow event. We're talking a matter of 50 miles or so, which means it's also not time to call it, but should that low skirt north as it comes over the Rockies, much of the heaviest snow will miss our area. Below is a look at the last 6 runs from the GFS for Monday morning, showing the 500mb low developing somewhere across NECO Monday morning, which will perhaps be a bit too far north.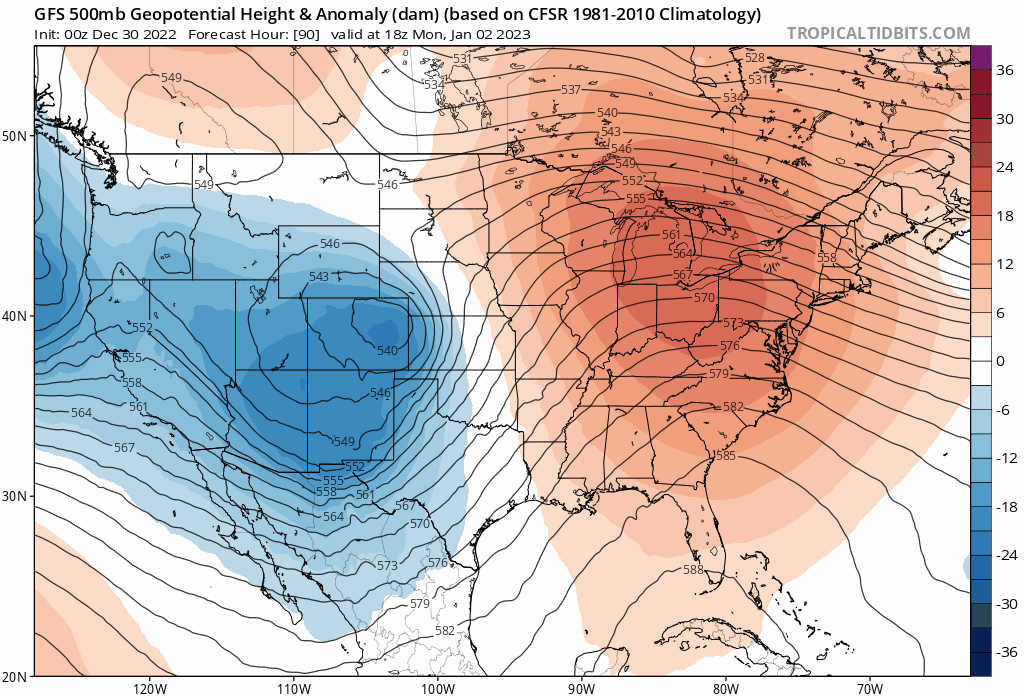 If we compare that to the European model, we see it's a bit slower with the progression of the storm over our area, and digs the low further south.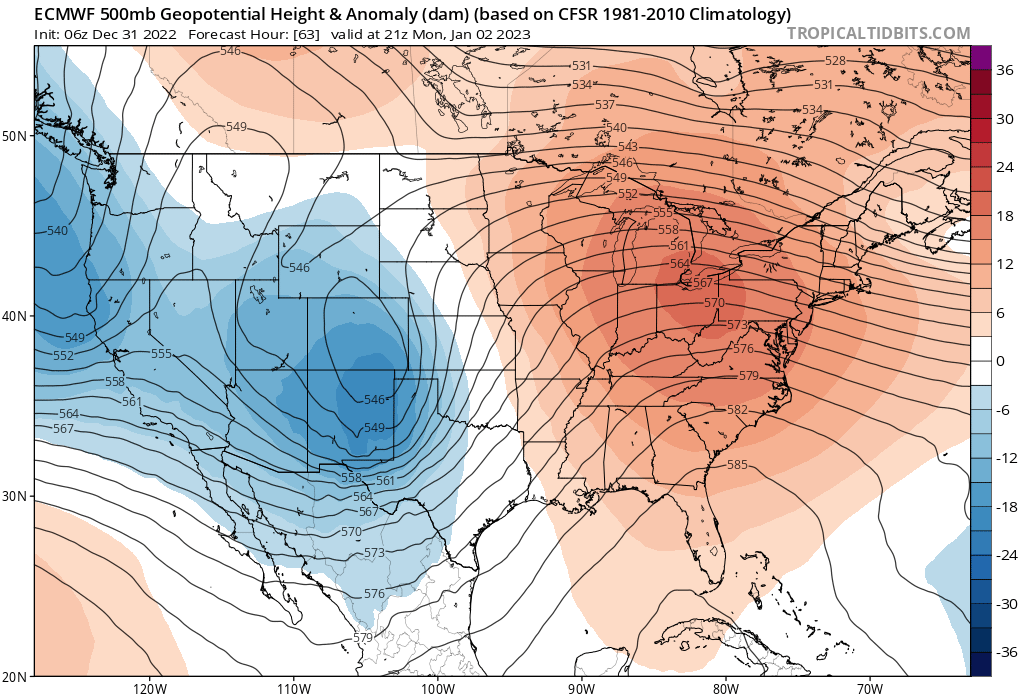 The difference in these two solutions will be notable depending on which wins. A European solution means several inches are on the table from Colorado Springs north to the state line, where the GFS would likely favor areas mainly north and northeast of Denver, the lesser totals in the city and in particular for communities south of I-70 or so.
Data this morning certainly has a northerly bias, but let's see if that shifts back south today. This is often the case as we get closer to the storm's arrival, and one could argue the pattern would favor a more southerly track vs north.
That said, confidence as of this morning in Denver picking up more than 1 - 3" of snow is perhaps a bit lower than it once was. Looking at the map below, note that the greatest confidence in 3" of snow or more through Tuesday evening is across the Colorado high country, then again along and north of the Colorado border, with some heavy snow expected across eastern Wyoming and Nebraska from this storm. Along the urban corridor north of Denver, and I-70 corridor from Denver east we see about a 40 to 60% chance we'll pick up 3" of snow or more – which isn't bad! – but will those probabilities hold or fade today remains to be seen.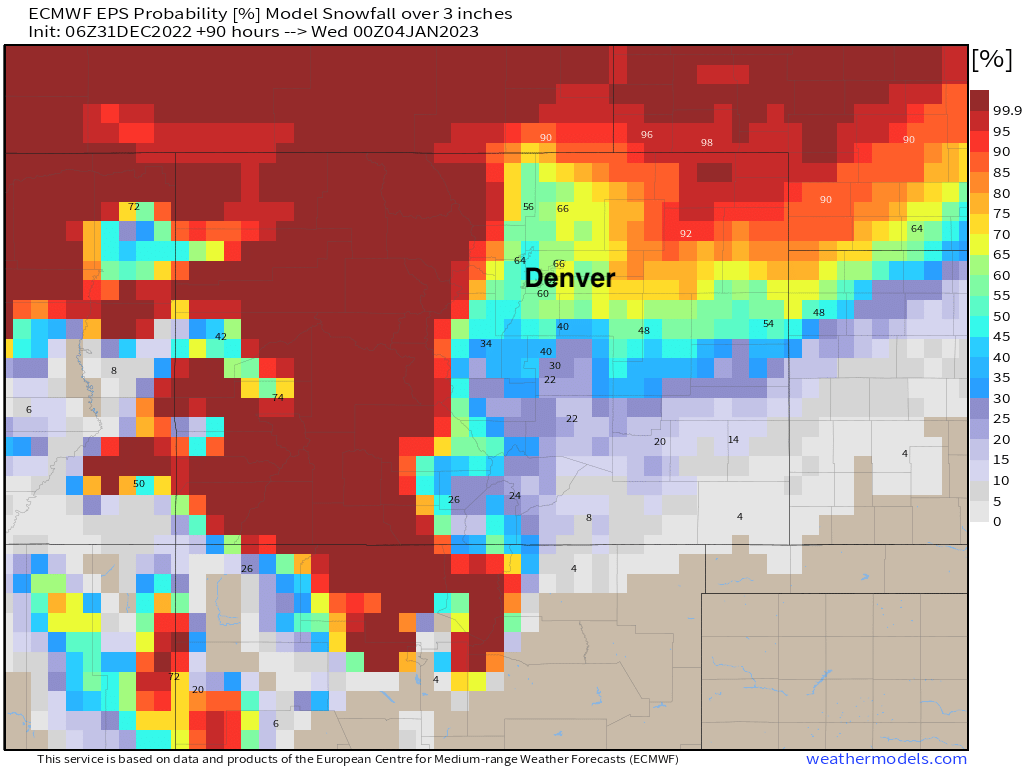 Our snowfall gamblers are in similar agreement this morning. For 3" of snow or more we have the following:
Denver: 52%
Colorado Springs: 36%
Fort Collins: 55%
Boulder: 48%
Castle Rock: 55%
The main energy associated with this system comes onshore this evening, and as it does we expect models to get a better handle on its eventual track. What trends we seen in the data today will be crucial in understanding what type of event we can expect Sunday night and Monday around here.
Planning forecast
Weather for your NYE celebrations along the Front Range should cooperate. Happy New Year everyone! If you are headed to the high country today or tomorrow, plan for winter driving conditions.
Or weather starts to change Sunday evening across Northeast Colorado, with snow showers developing perhaps as early as 9pm Sunday night, but under a slower more southerly solution perhaps not until closer to Monday morning. We know a lot of folks will have Monday off, but if you will be commuting Monday morning this right now looks like it'll be the trickiest commute of the next couple of days, with a need to watch Monday evening as well.
Again, the greatest confidence in where we'll see the heaviest snow is across Western Colorado, then again well north and northeast of Denver. A Winter Storm Watch goes into effect late Sunday night for places like Fort Morgan and Sterling, where winds to 35 mph will be possible, icing, and ultimately several inches of snow are expected to fall. Travel along I-76 and I-80 Sunday night and Monday will not be advised.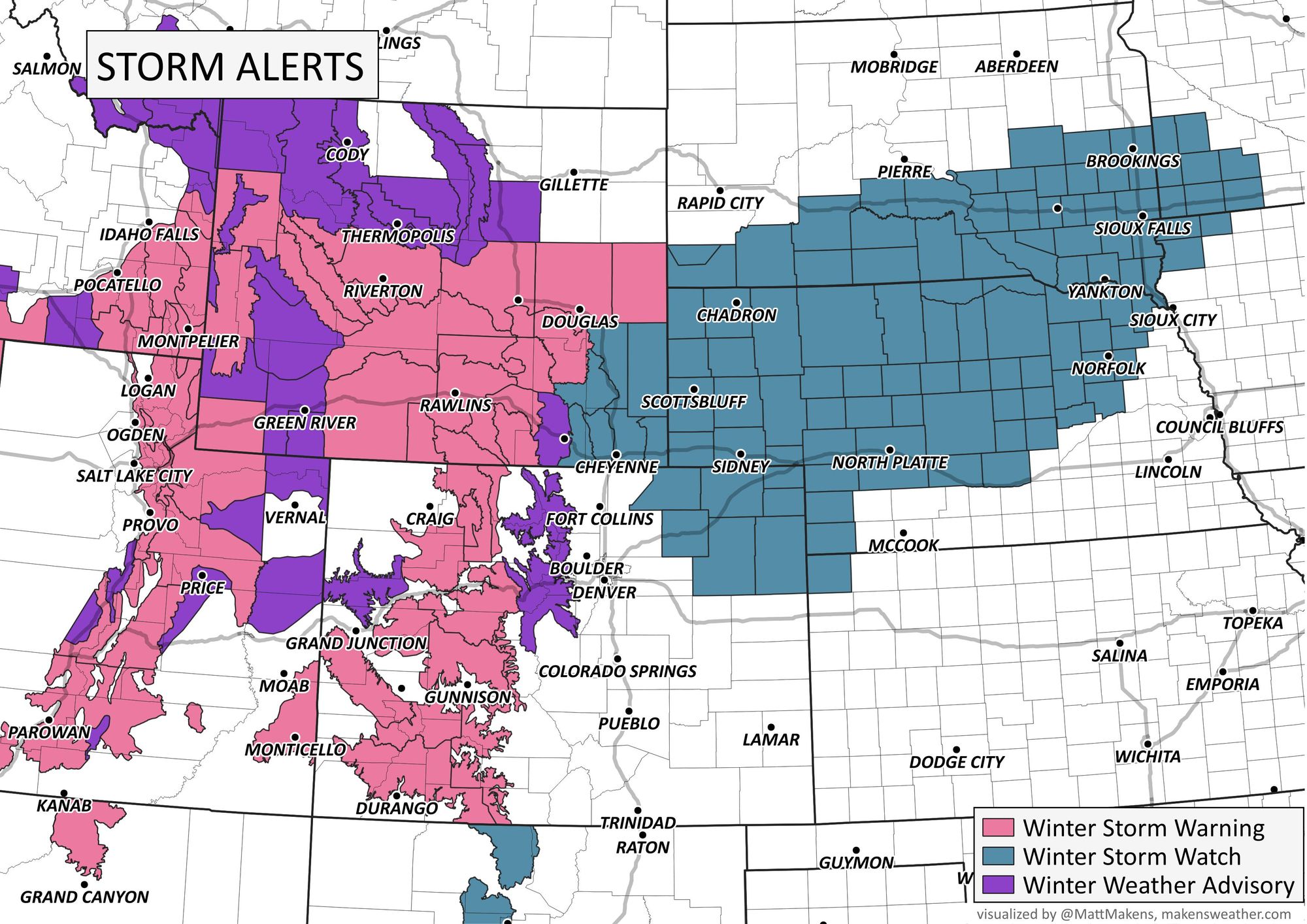 For the cities along the northern urban corridor, it's a bit of a wait and see. About equal odds we end up with a T - 3" event as a 3 - 6" event at this time, so 2 - 4" seems like a good place to sit for now. Colorado Springs should see lesser snowfall totals unless things change dramatically between now and Sunday night. These snowfall totals are for between Sunday evening and Monday evening before the storm finally moves out of our area.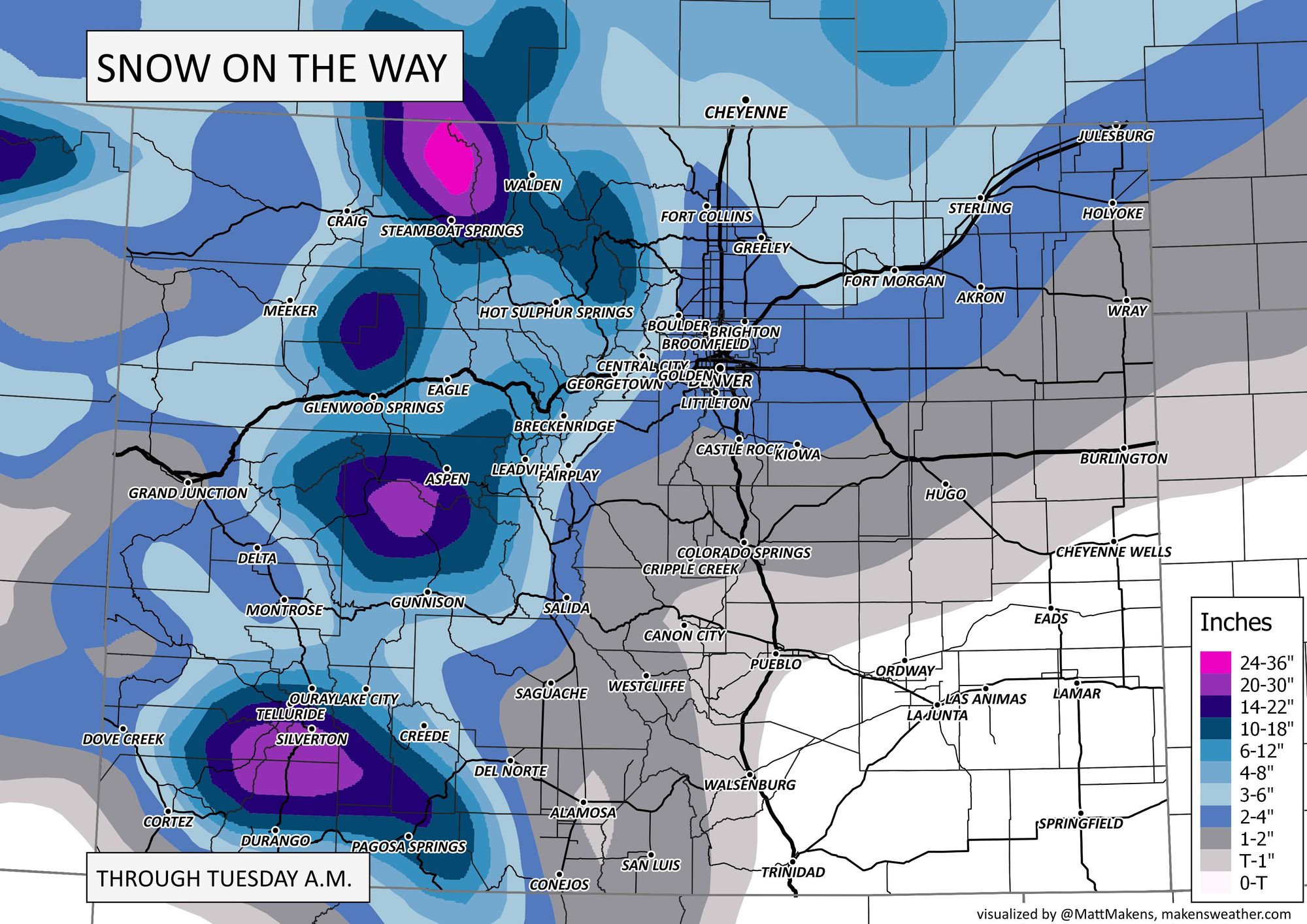 Temperatures remain chilly through about midweek for Denver, before we climb back into the 40s by Wednesday and Thursday, but stay perhaps a bit below average through the first week of the new year.
More to come, please subscribe and you'll never be left wondering what weather is set to head your way!