One storm is not a drought buster, however, the current extended pattern in place over California could make a significant dent in the ongoing drought there – but at a cost.
Precipitation totals along coastal California (northern California in particular) have been significant over the last 14 days, with heavy snow inundating the Sierra Nevada mountains – delivering feet upon feet of snow, and precipitation totals in excess of 10" over the two week period.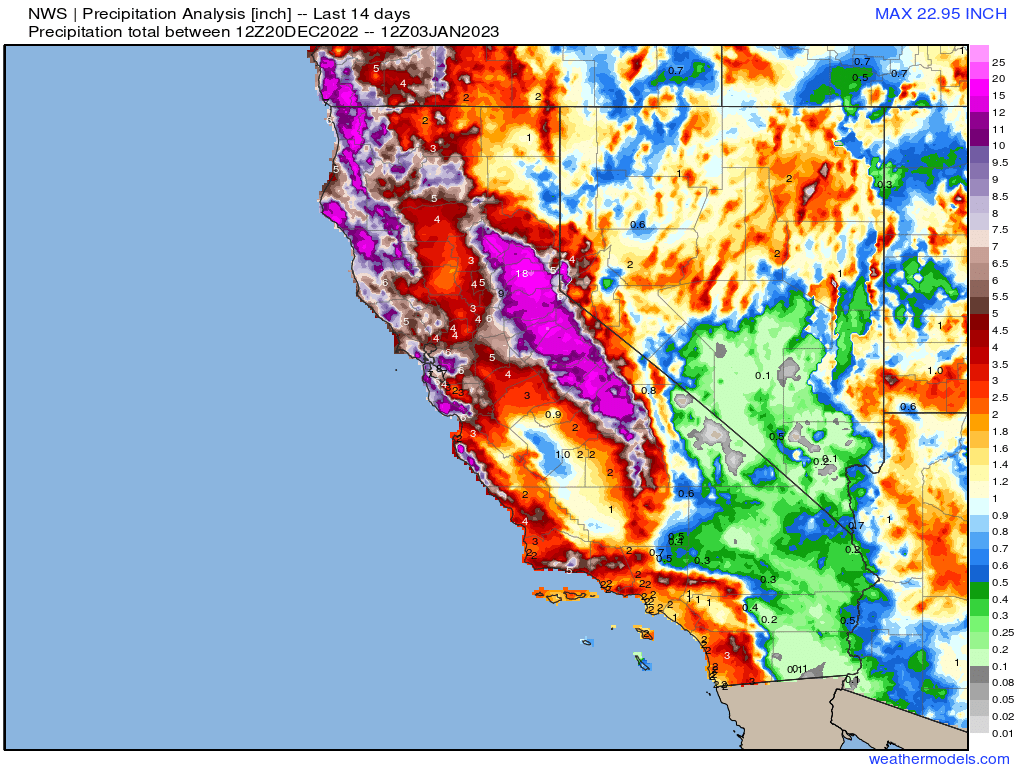 Snowfall over the last seven days: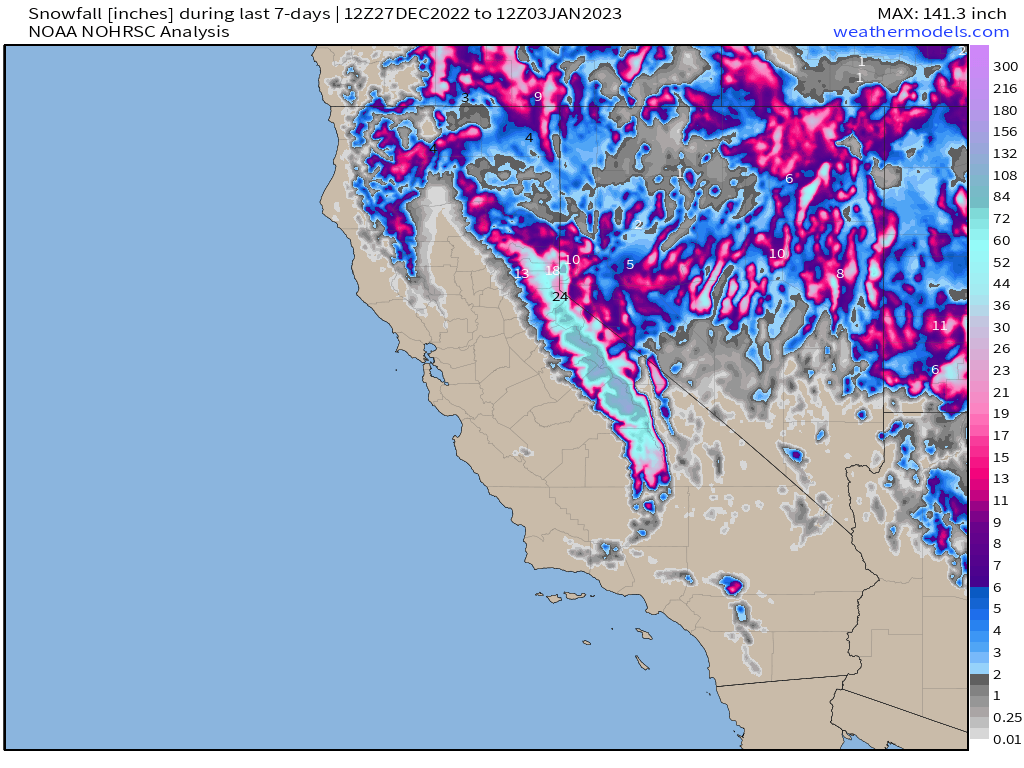 Leading to well-above snowpack numbers across much of the West and Great Basin: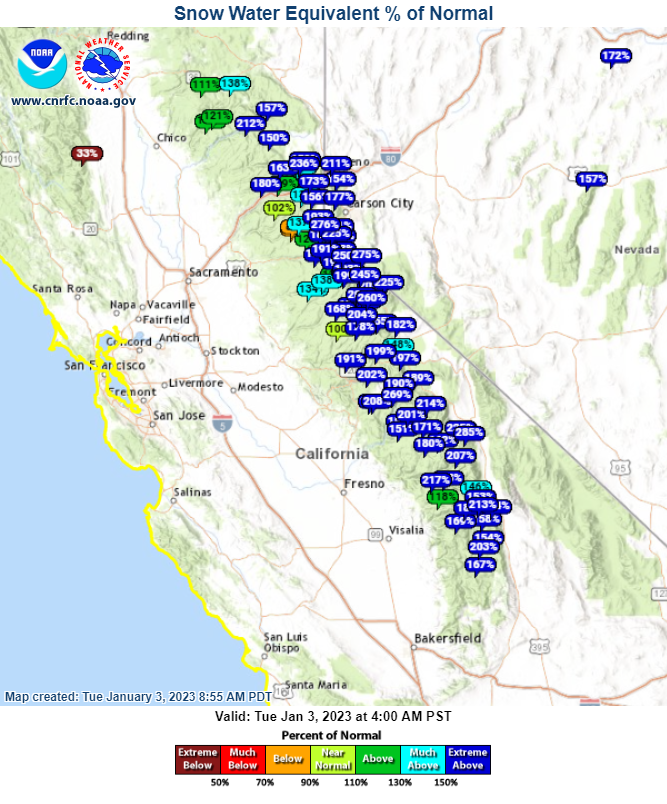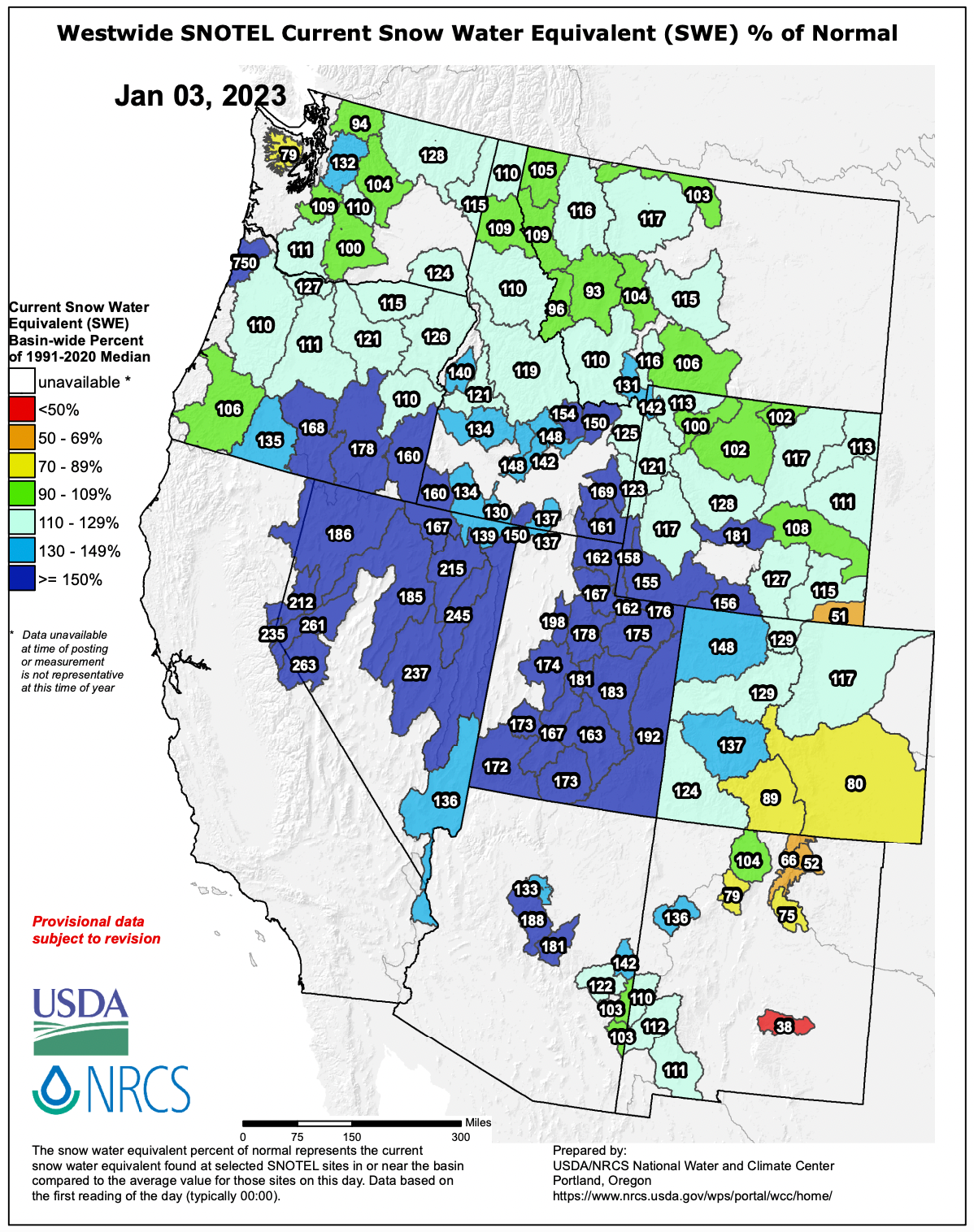 As the atmospheric river continues to roar overhead this week, more rain and heavy mountain snow is expected.
Through Saturday morning, latest data shows a significant portion of the state is set to pick up an additional 3 - 5" of precipitation – in the form of heavy rain along the lower coastal elevations, and heavy mountain snow as you move up in elevation.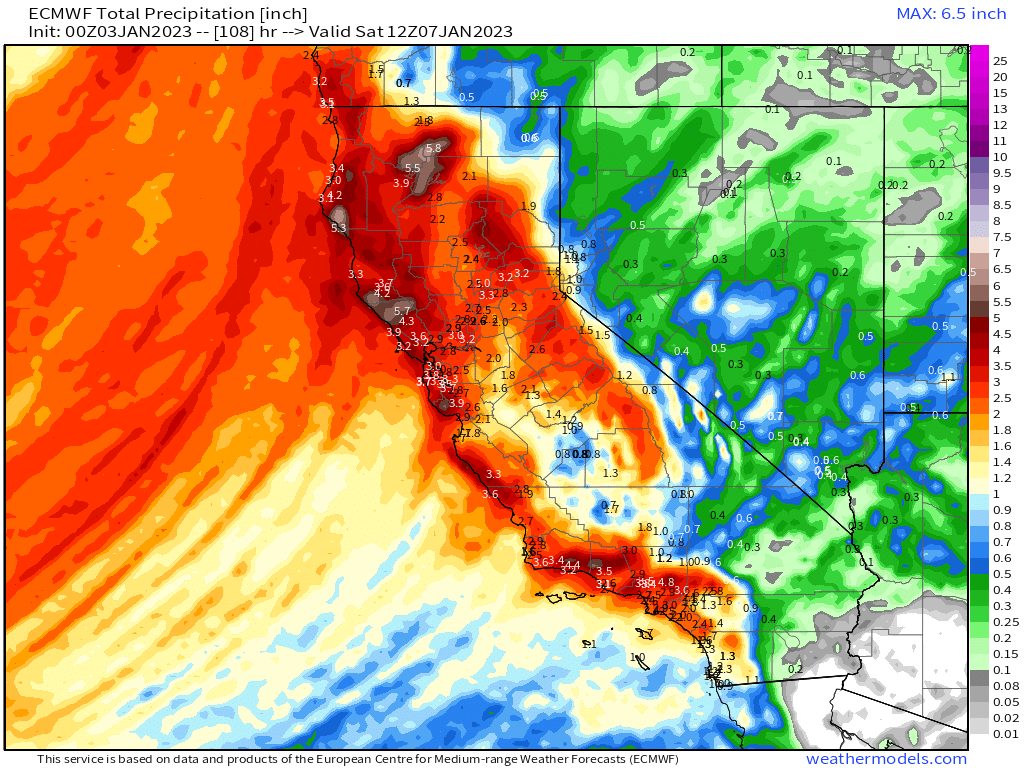 The atmospheric river forecast scale, while not maxed, shows a series of significant events unfolding over the next seven days, made all the more impactful given the precipitation that has already fallen in recent weeks.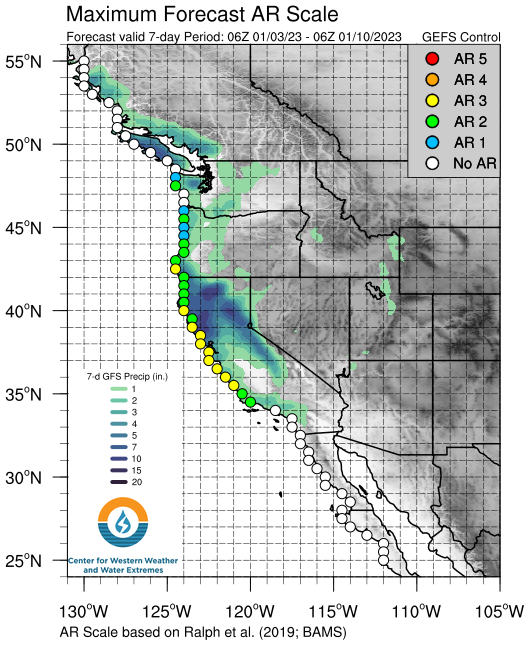 The next round of wet weather is forecast to increase in earnest late tonight and continue through Thursday evening. The animation below shows the latest GFS forecast moving the heavy rain and high-elevation snow inland over the next several days: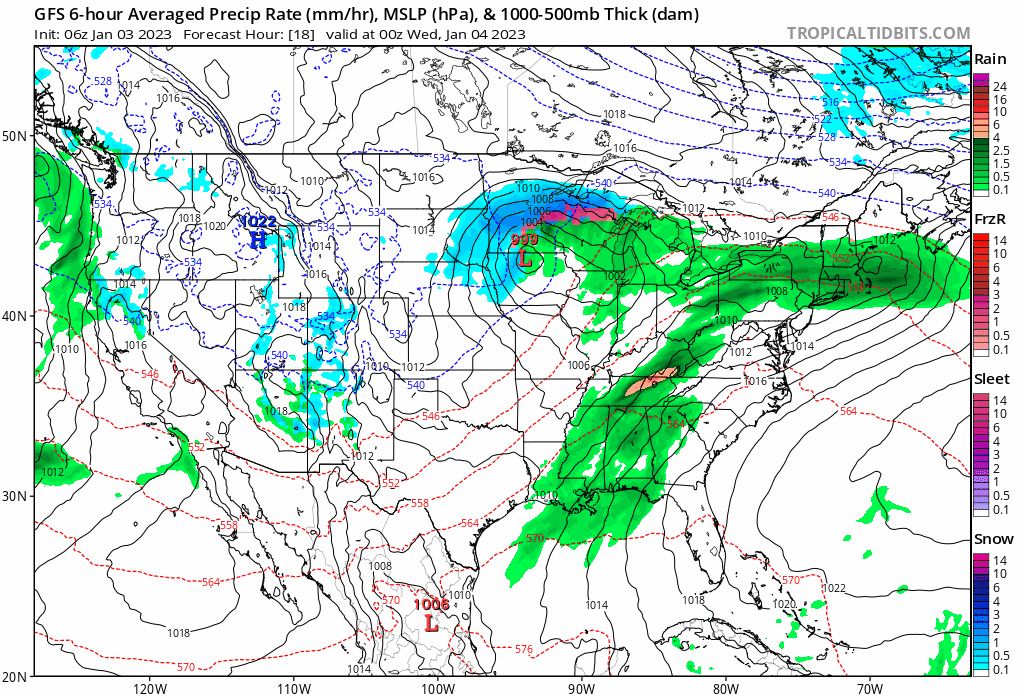 A Flood Watch and High Wind Watch go into effect later today and extend through Thursday for much of California, especially for northern portions of the state and coastal southern California. The combination of both the heavy precipitation, strong winds, and saturated ground have forecasters concerned.
From the National Weather Service in San Francisco regarding the upcoming storm:
To put it simply, this will likely be one of the most impactful
systems on a widespread scale that this meteorologist has seen in
a long while. The impacts will include widespread flooding, roads
washing out, hillside collapsing, trees down (potentially full
groves), widespread power outages, immediate disruption to
commerce, and the worst of all, likely loss of human life. This
is truly a brutal system that we are looking at and needs to be
taken seriously.
Here is a look at the latest Watches in place across the area: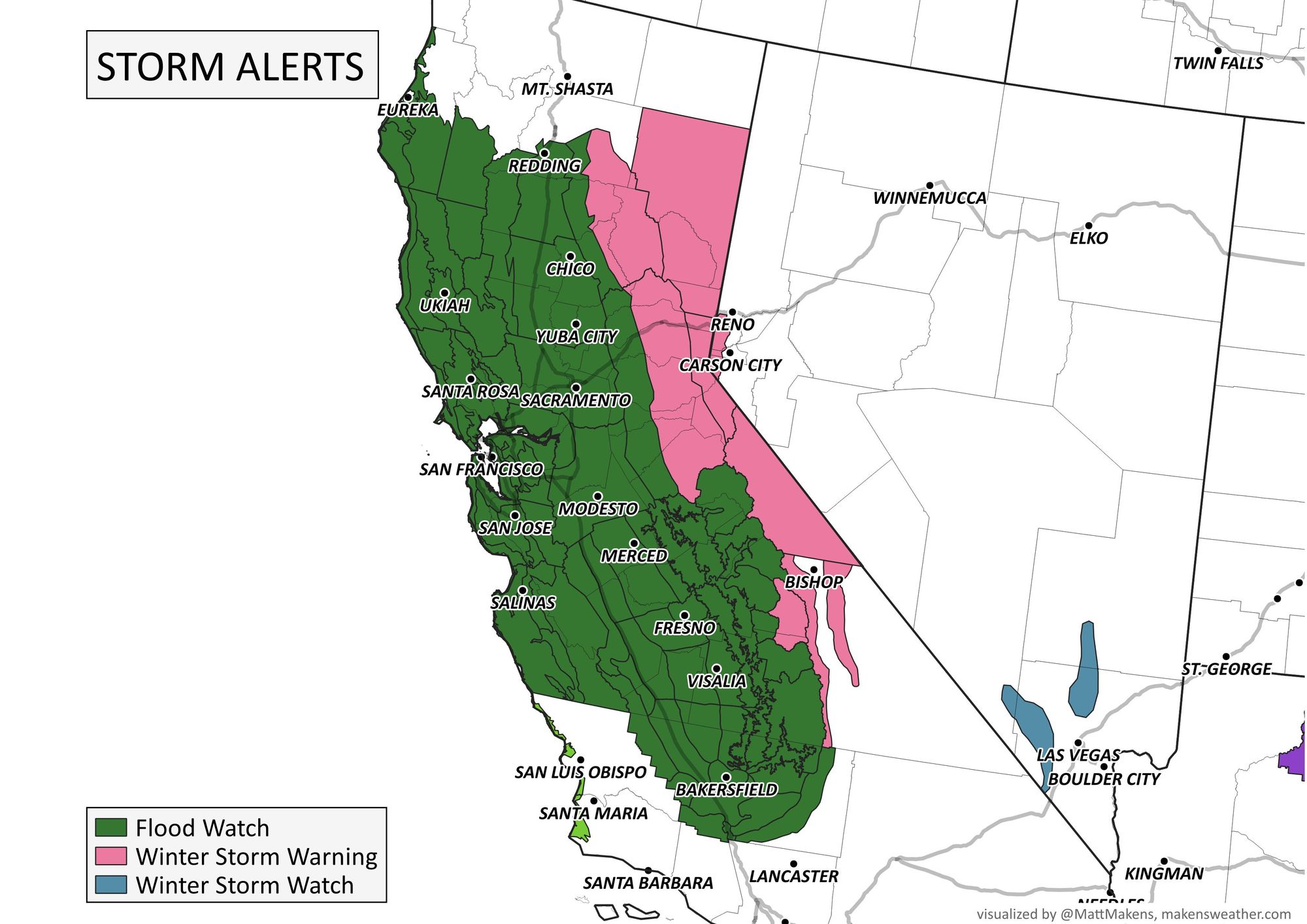 And a great planning list if you live in an area expected to see the heavy rain:
Make sure you're signed up for your county's emergency alerts and/or their reverse 9-1-1 calls. Heed any evacuation orders, especially if you live near an area that is prone to flooding or mudslides.
Have a "go bag" ready in case you need to evacuate quickly (go to ready.gov/plan or ready.gov/kit if you're not sure what to pack).
Find your insurance policies and other important documents. Take photos of rooms in your home so that you can easily reference items in case of damage.
Prepare for power outages or road closures that could last several days. Get extra non-perishable food and have drinking water ready at home in case you're unable to leave home.
Gas up your vehicles and charge up all your devices.
Plan ahead for the elderly or others with special needs, such as necessary medications or other services.
Don't forget about your pets/livestock to ensure their safety.
Impacts can be ongoing even after the heaviest rain is over. Mudslides can sometimes occur several days or even weeks after heavy rain events. Flooded waterways may take days to recede.
Although not as intense as what we expect on Jan 4-5, we are seeing a wet pattern that will continue to bring waves of moderate rain into the second week of January. This means soils could stay saturated for quite some time allowing slides, downed trees, and other impacts to persist.
While the next couple of days are of immediate concern with regard to the heavy rain, wind, and subsequent flooding and possible mudslides, the pattern looks to persist into the second week of the month as well, with more wet weather for California forecast this weekend and beyond. Here is a look at the prior two AR events for central California over the last week, as well as the next 3 in the pipeline: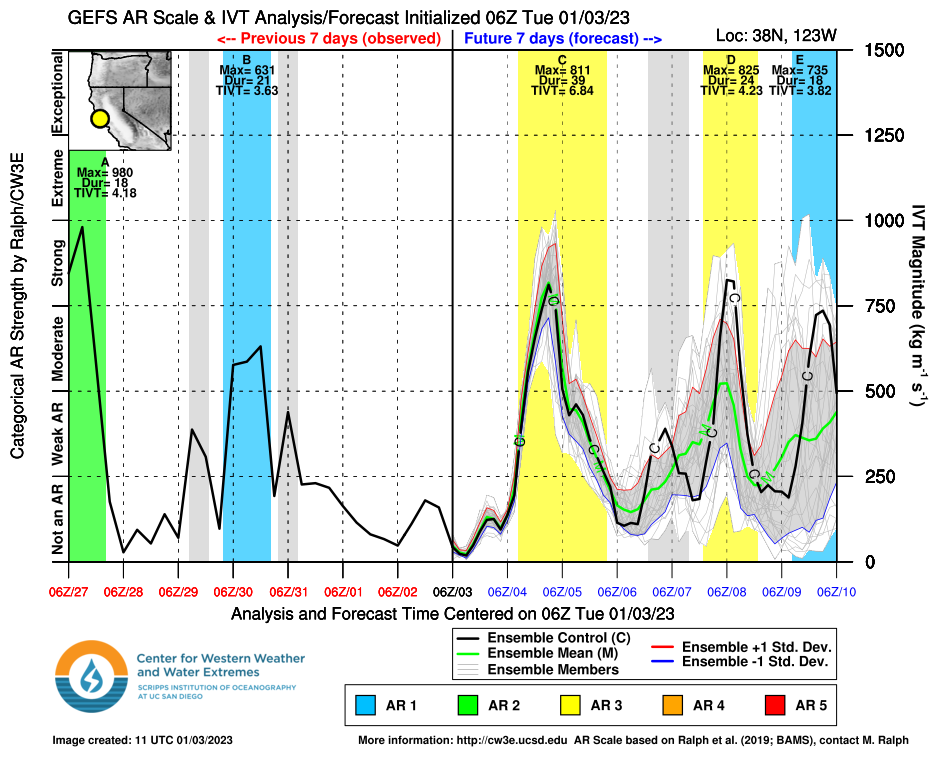 For Colorado this pattern has meant an uptick in rain and snow across the state as well. Going forward, it looks like the next couple of systems won't deliver quite the punch as some of our recent storms, however, and this is particularly true for Eastern Colorado. Here is a look at expected precipitation anomalies over the next week – with some positive anomalies for Western Colorado, but most of the wettest weather staying to our west.