Our eyes remain on the system to hit tomorrow, Tuesday, through Wednesday. As we have discussed previously, the biggest impact is all up to what is now any minor changes to position and speed of the storm as it develops over southeastern Colorado.
If that storm develops a touch north of its current forecast, Denver will come away with less snow, the same for the Palmer Divide and in Colorado Springs. If that storm develops a touch south of its current forecast, Denver and Boulder continue to have an impactful event, with some snow into Colorado Springs. In either case, the biggest totals are going to be coming east of Denver.
From Colorado's northeastern plains toward Omaha, Nebraska, snowfall may total well over one foot (windy too), so travelers on I-80 and I-70 Wednesday beware.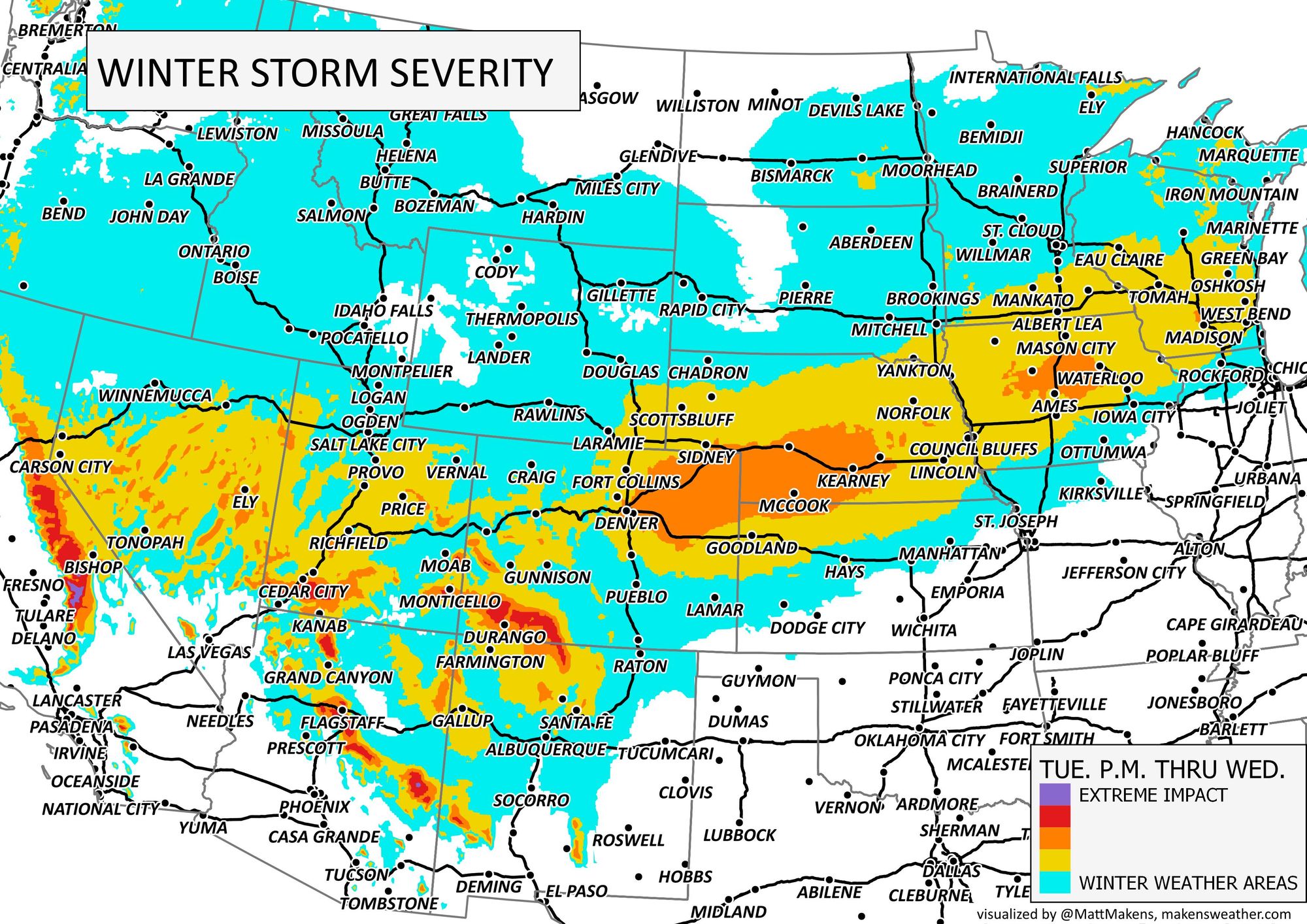 Part of the issue will be a contribution from the wind, which will increase as the storm gains strength. Many of us in the metro areas and on the Plains will have gusts 35-45 mph to create some blowing snow troubles on the roads.
Our knowns vs unknowns remain the same as you've read in previous posts.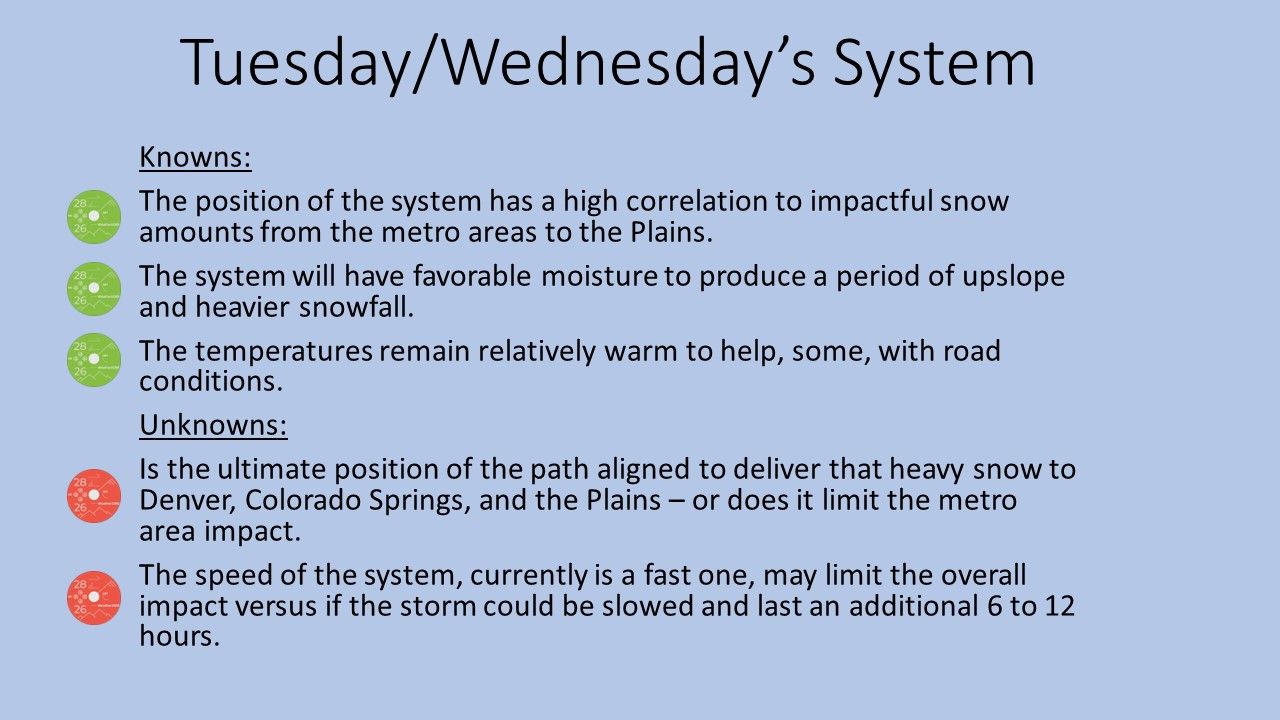 So, when will we know if the storm makes a position or speed adjustment? Barring something unexpected in computer model projections today, it'll likely be late Tuesday before we see where the center of the storm decides to develop, a couple of counties worth of distance different than currently projected could potentially change the whole ballgame. Yet, modeling for longer than 24 hours now has remained very consisted and we see no reason to believe that will change until storm development late Tuesday.
Timing and totals
The latest timeline of when we see showers remains fixed on later Tuesday through Wednesday.

Travel impacts for the metro area will be increasing for Tuesday afternoon/evening drivers but probably is the worst for Wednesday morning travelers.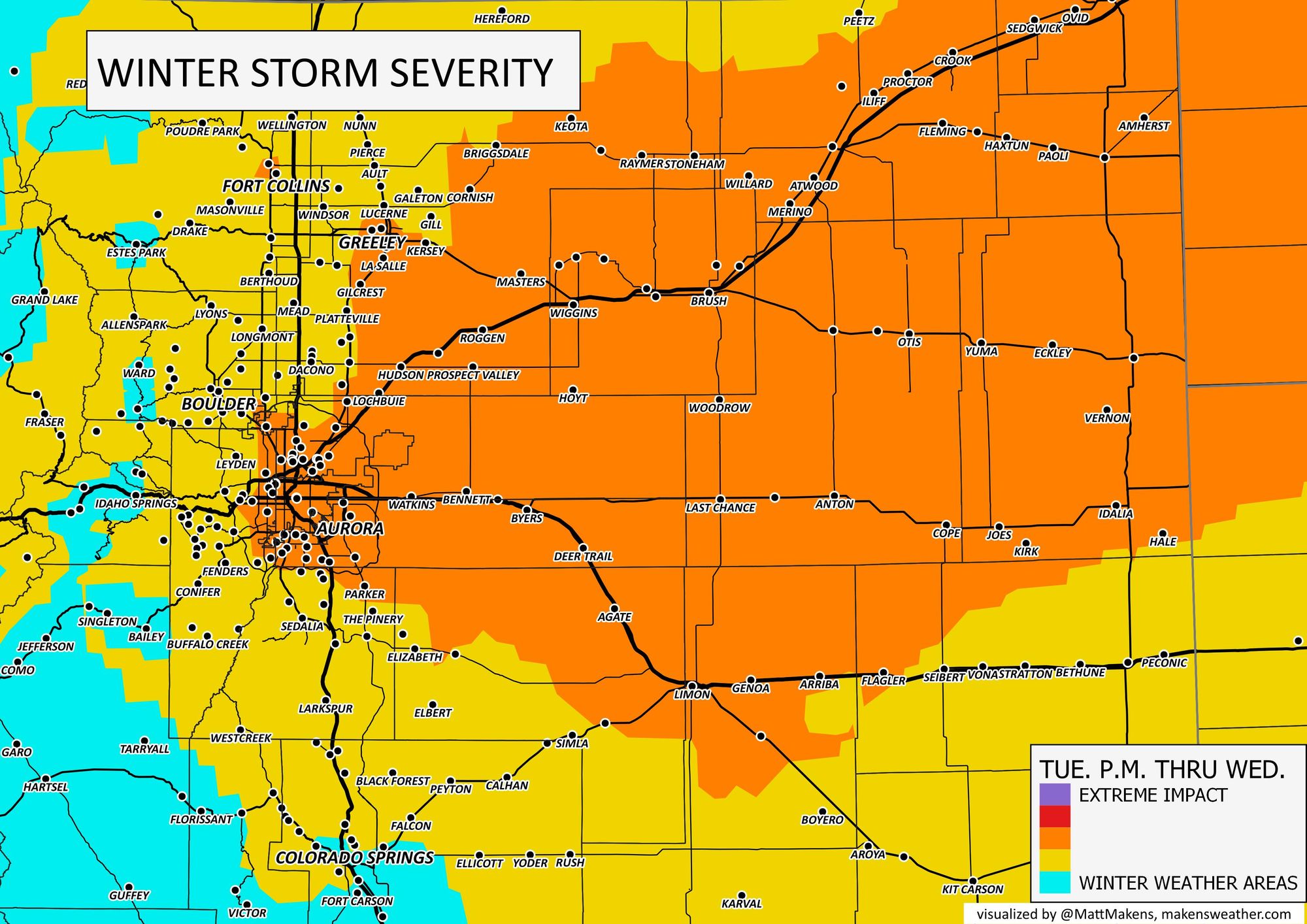 If you are like me, you like to know the probability of something occurring. That's just what we have the Gamblers Charts for, to see the odds of certain levels of snowfall. Here is the latest analysis from Monday morning. We are wanting to scan through the top row of each metro area, the days one to three section.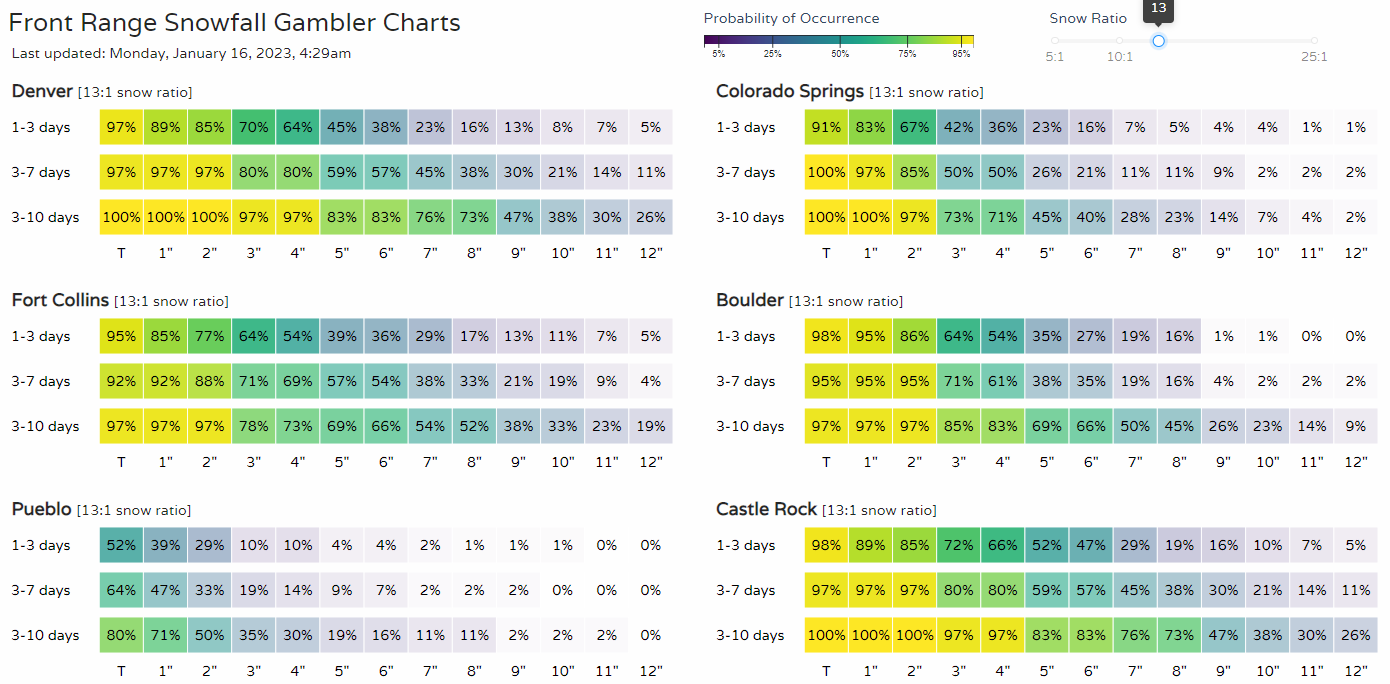 For Denver, Boulder, Fort Collins, and Castle Rock the chances for at least five inches is quite reasonable. For Colorado Springs and Pueblo, the chances are lower.
I believe, in this case, the upslope component from the storm system is not well established based on the storm's position and speed and that is limiting potential totals in Boulder and along those foothills. That's an element - the upslope - that could change depening on any storm wobble, which would increase totals west of Denver into those higher elevations, but it feels like a lower-probability event at this time.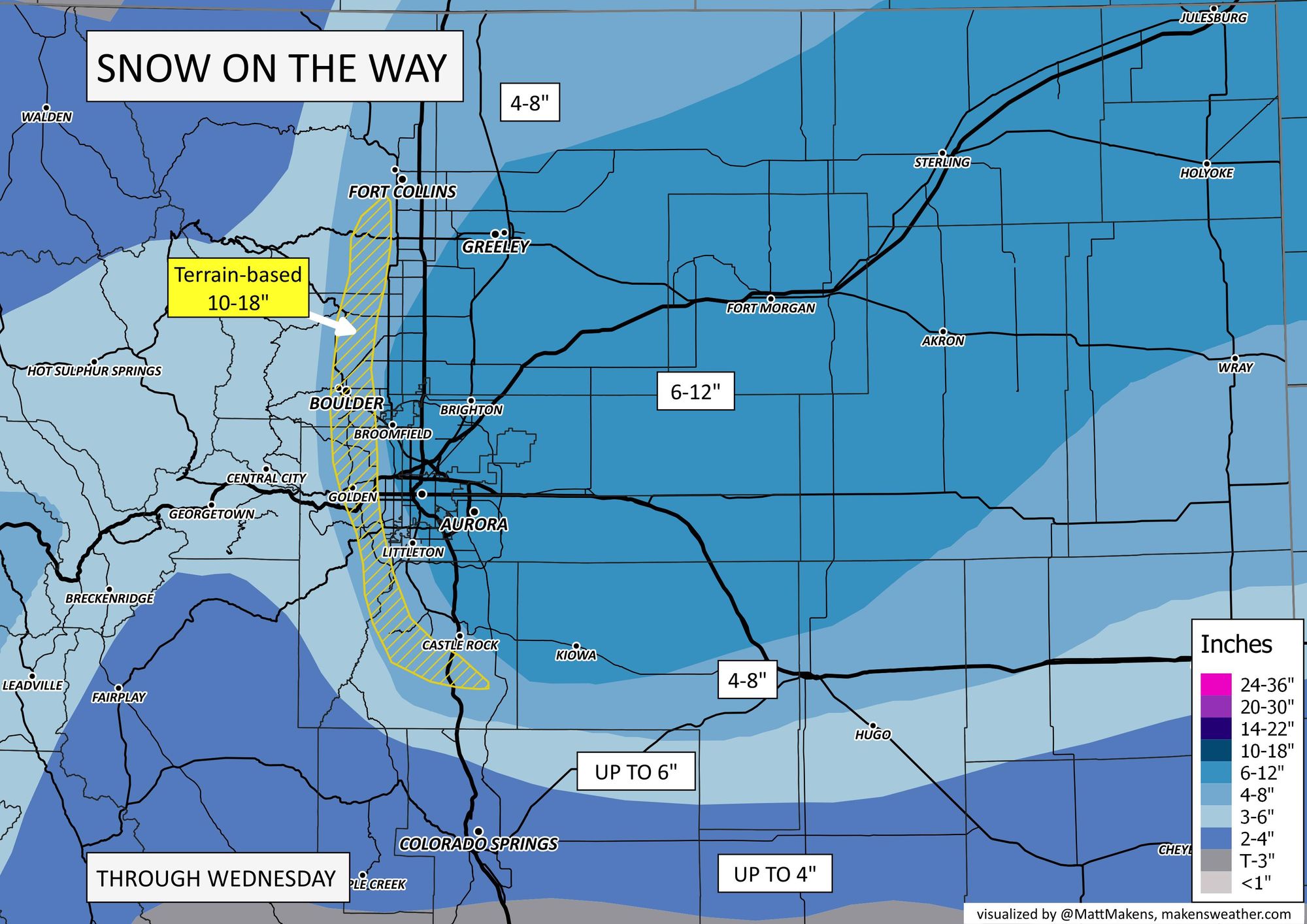 If we broaden that view, we see the heavier totals possible from the mountains to the Great Lakes from this one system.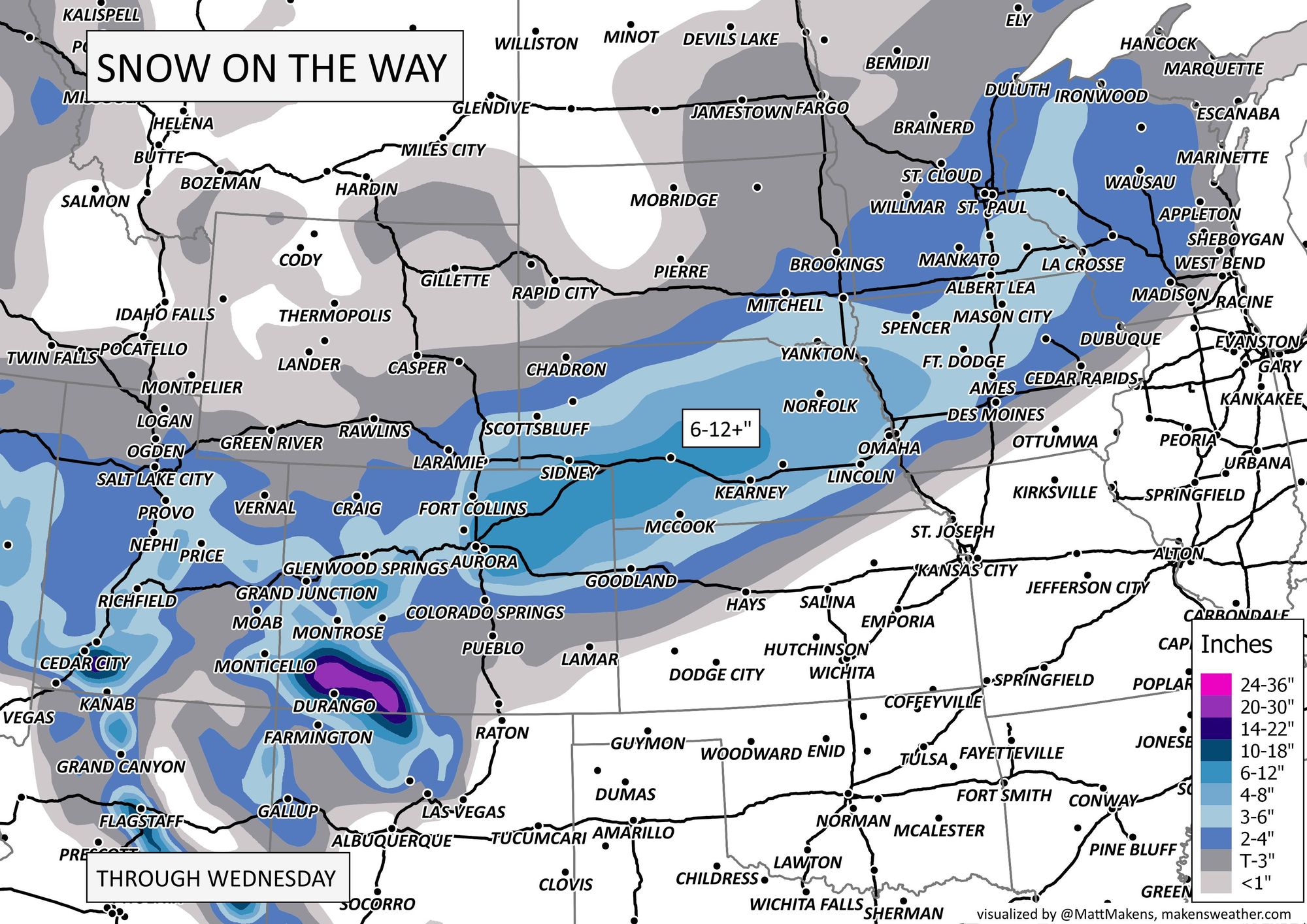 Quick bottom line:
In terms of temperatures, it isn't an overly cold storm. If you are curious about the cool down on the backside, here's the planner for the next three days.

We'll be watching this next system closely and bringing you the latest. Don't miss any of it, subscribe to Weather5280 and we'll email you with important forecast details as we publish them.