Our rather active weather pattern continues as we head into the weekend with two systems taking aim at the state and delivering, in some cases, heavy snowfall to parts of the region.
The first system works its way through the Four Corners today and into Southeast Colorado by Friday evening. It'll deliver a good swath of heavy snow to a part of the state which has largely missed on most of our recent storms, and where some of the more severe drought conditions persist. This is great news!
Here's a look at the snow moving across the southern Colorado border today, into southeast Colorado Friday evening and overnight before ejecting east/northeast Saturday: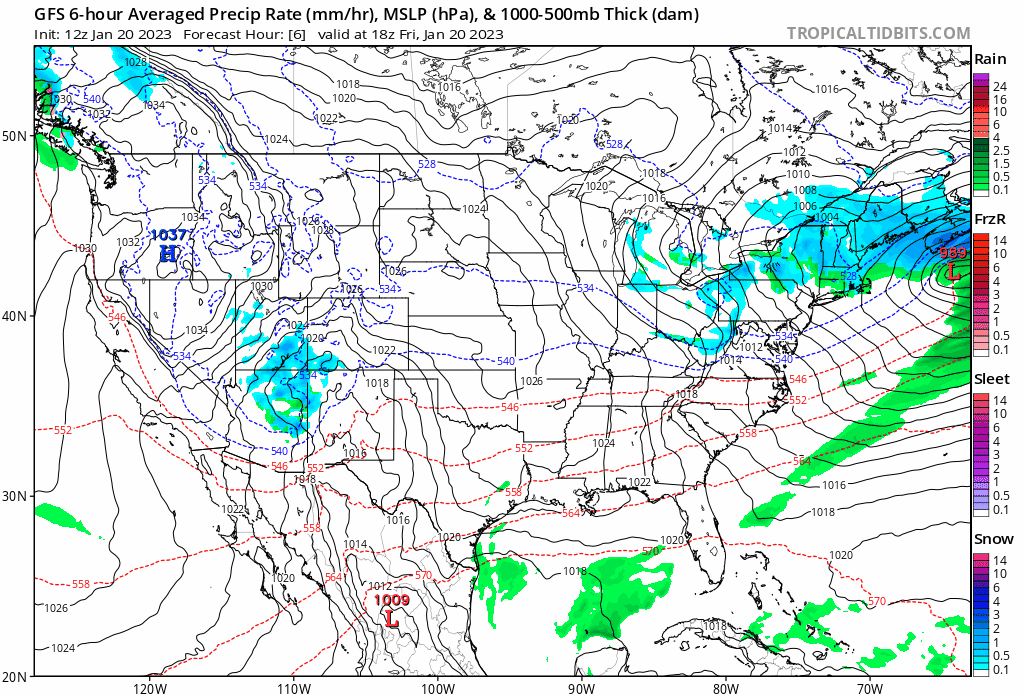 Models have at times tried to pull some of those impacts north into the Colorado Springs vicinity and Palmer Divide. Today model data has trended away from this idea. Still, a Trace to 2" of snow will be possible for areas from roughly Castle Rock south, including Colorado Springs, though probabilities of this happening appear to be dropping.
Here is a look at the expected snowfall through Saturday: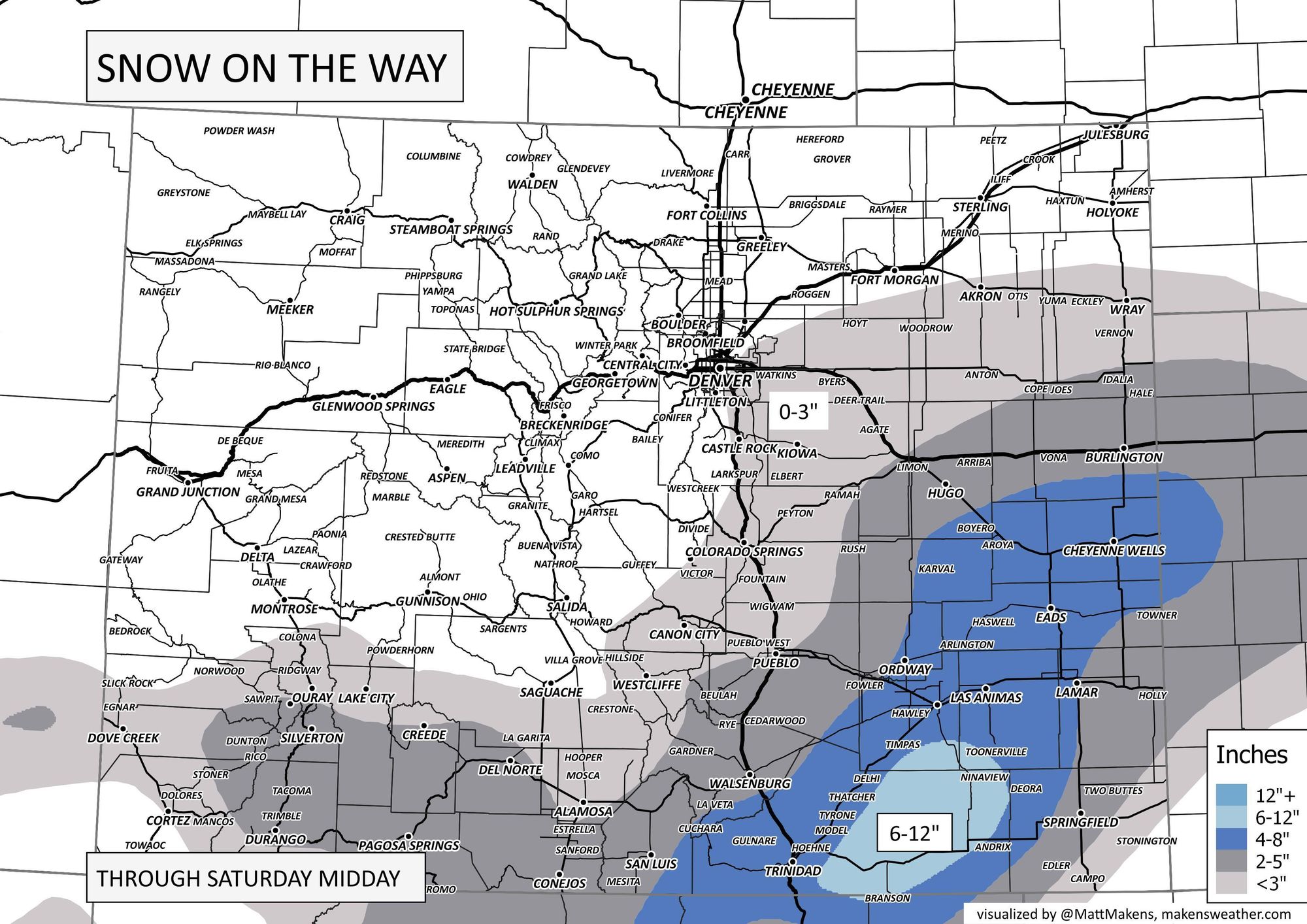 Another chance of snow by late weekend
For Denver, it could be we see a few snow showers this evening as well, but little to no accumulation is expected.
A better chance for accumulating snow for the Denver area looks to Sunday evening and overnight into Monday. Temperatures will remain quite chilly through the period: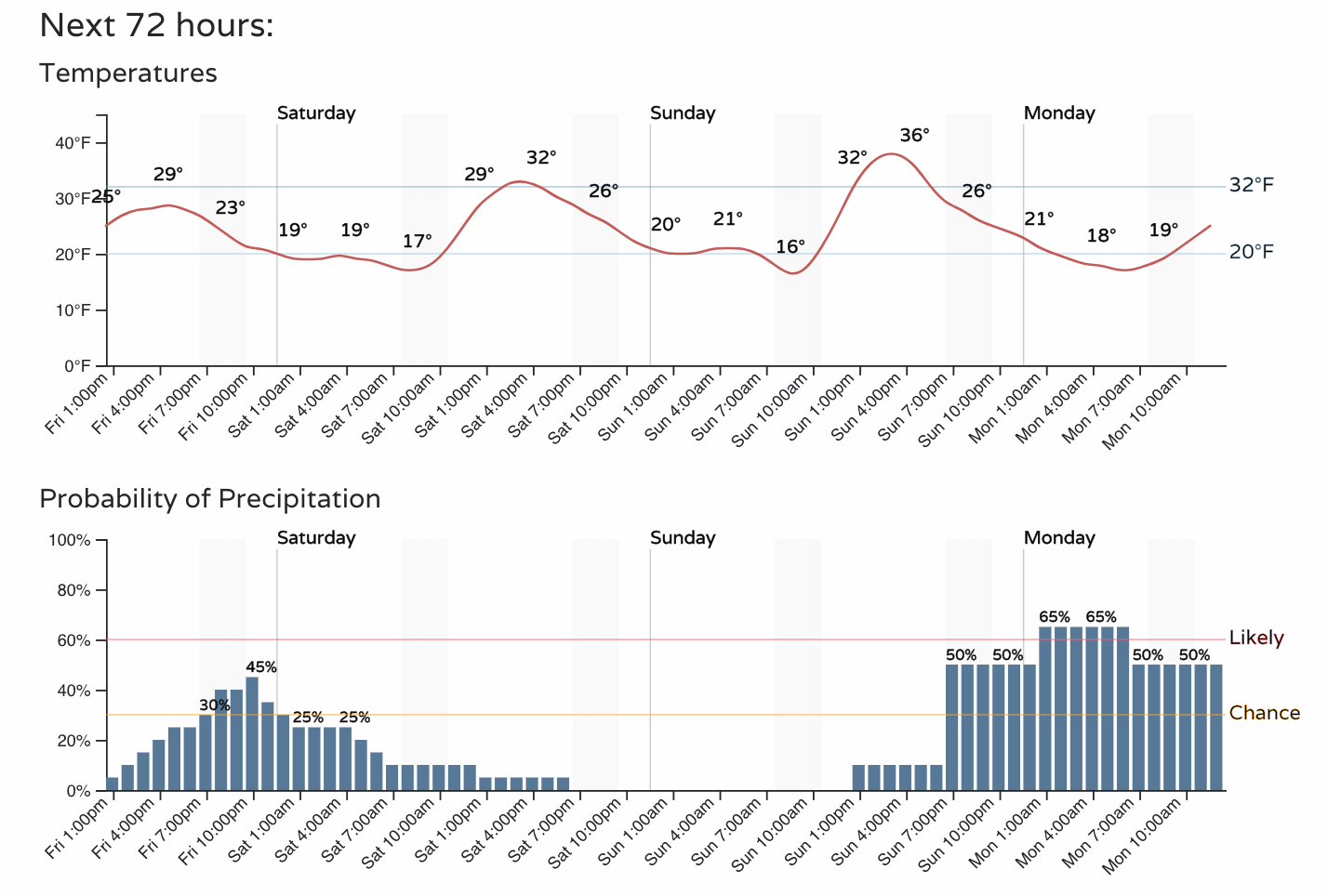 It'll be interesting to see how things progress with this second event.
The system will drop into the Northern Rockies Saturday night heading south for the Four Corners/Northern Arizona area by Sunday night:
Here is where the latest European has it by Monday morning: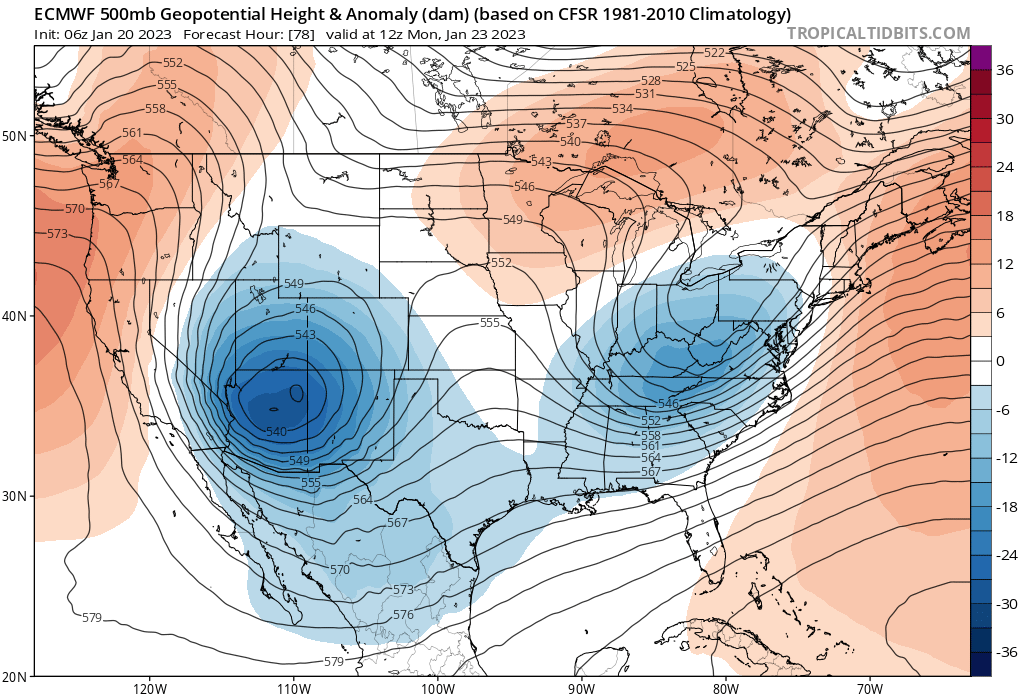 Now, the placement of that low as it drops to our southwest will be key in how much snow we are likely to see (or not see) around here.
This morning's model runs seem to be converging on the European idea, with that low parked over northeast Arizona Monday morning. This is in a better spot for snow for us than this model had in prior runs, but not nearly as good a spot for snow as the GFS had in its prior runs. If we look at the last 4 runs from the GFS we see its gradual progression west and south with the low over each run (and therefore less and less snow with each run):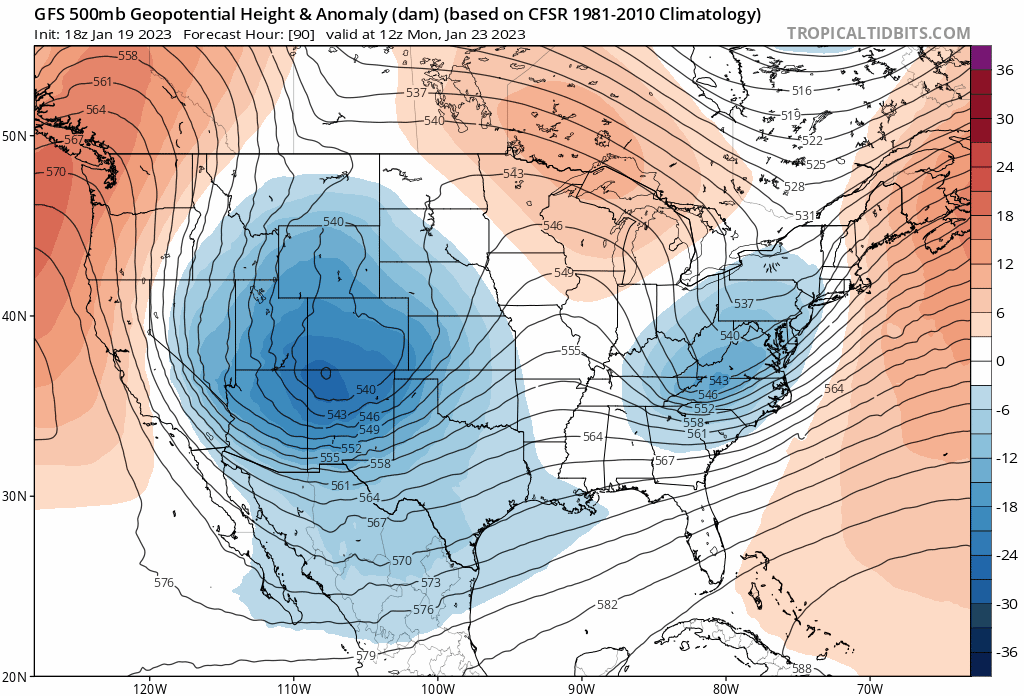 If the low ends up too far southwest we won't have much snow at all to talk about around here. If it stays roughly in the area the two models have it in this morning, we should see accumulating snow from Sunday evening into Monday morning across the area – again, with the heaviest snow focused south and southwest of Denver.
Going by trends alone, I'd be a bit worried about our snow chances if you're hoping for another big snow for the Denver area. By Monday evening the GFS now has the low tracking its way almost into Mexico(!), vs Western Kansas just 4 runs prior. A pretty dramatic shift in modeling, and again, more inline with the less snowy European model.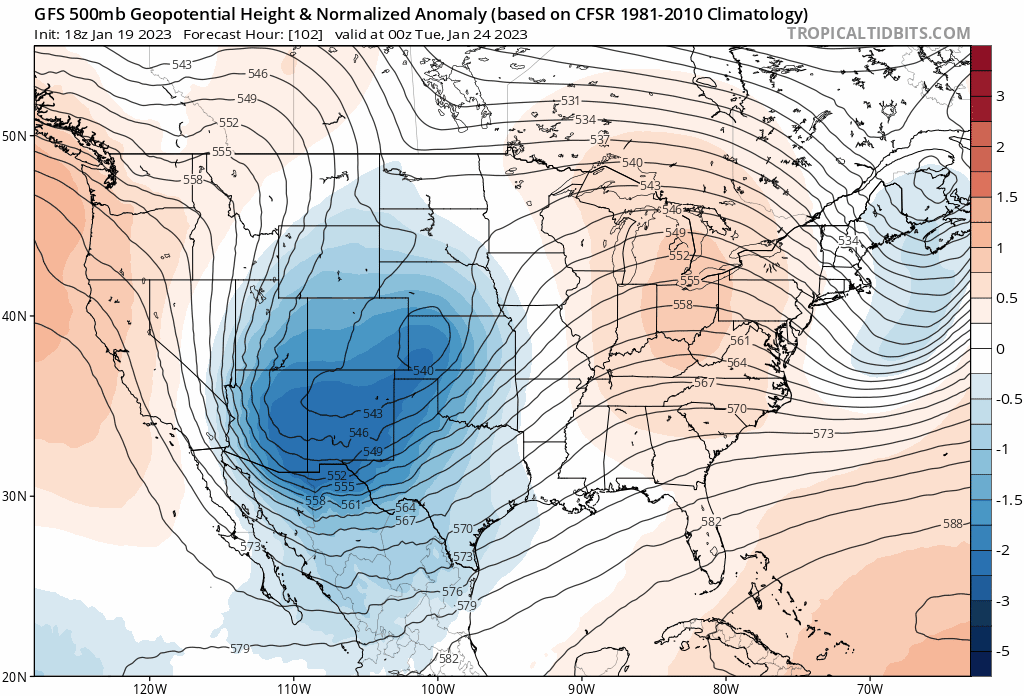 Still, models insist on some pretty good upslope late Sunday night into Monday morning along the urban corridor and anomalous moisture being pushed up against the Rockies as the low slow drops south and southeast. With the 700mb low tracking just far enough north I could see this happening, but given the current trends it's easy to see this one ultimately being a mostly-miss.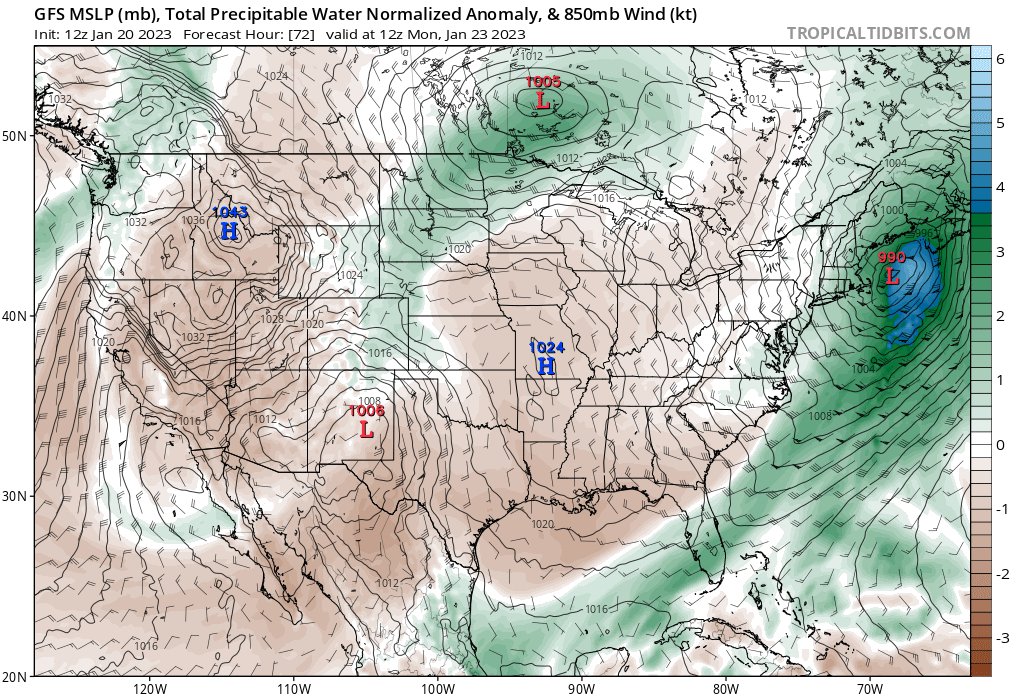 The TL;DR of this here is – plan on chilly weather for Northeast Colorado through the weekend, with a chance of snow by Sunday night and into Monday morning. A more northerly track of the low could mean several inches of accumulating snow once more of the metro area, while a more southerly track would greatly limit snowfall across the area.