A weird weekend for weather underway, as probabilities were slim at best for snow today (and we're seeing showers and flurries all day) and tomorrow's "big snow" looks more and more like a nothing-burger with each passing hour.
The NWS still has "heavy snow" in the forecast grid for Denver from Sunday night through Monday. Maybe I'm completely missing something (possible), but I'm ready to call it. The low looks like it's far more likely to end up in Mexico than in our sweet spot, and outside of a bit of snow along the cold front Sunday PM, that doesn't bode well for much heavy snow around here. Frankly, we might end up seeing more snow today across the area than we do tomorrow.
As we discussed in yesterday's post, the trend in most of the modeling was further and further south and west with the track of the incoming low. That has continued over the last 24 hours further still, moving from northeast Arizona Monday morning to now the Arizona/Mexico border on the latest GFS:
And, it's not just the operational models swinging so far south. The ensembles are in agreement with a very similar, and very southern track on the European ensemble mean in today's run as well: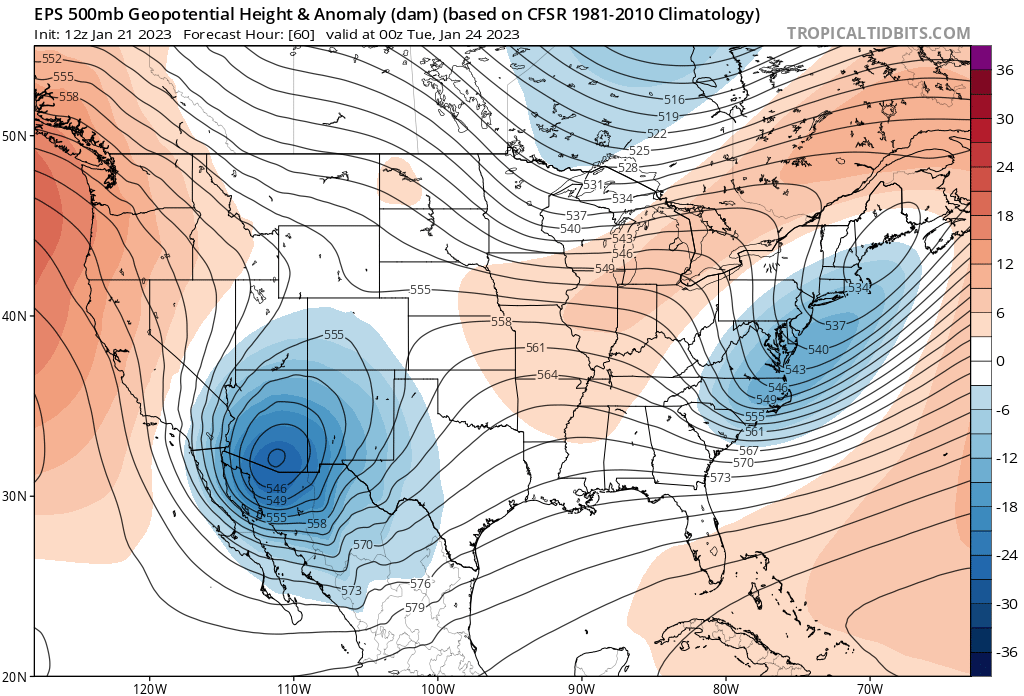 The ensemble mean probability for 3" of snow or more is sitting at 0% in today's European run, and you'll have a hard time convincing me it's wrong! The high probabilities to our southeast are from today's departing system.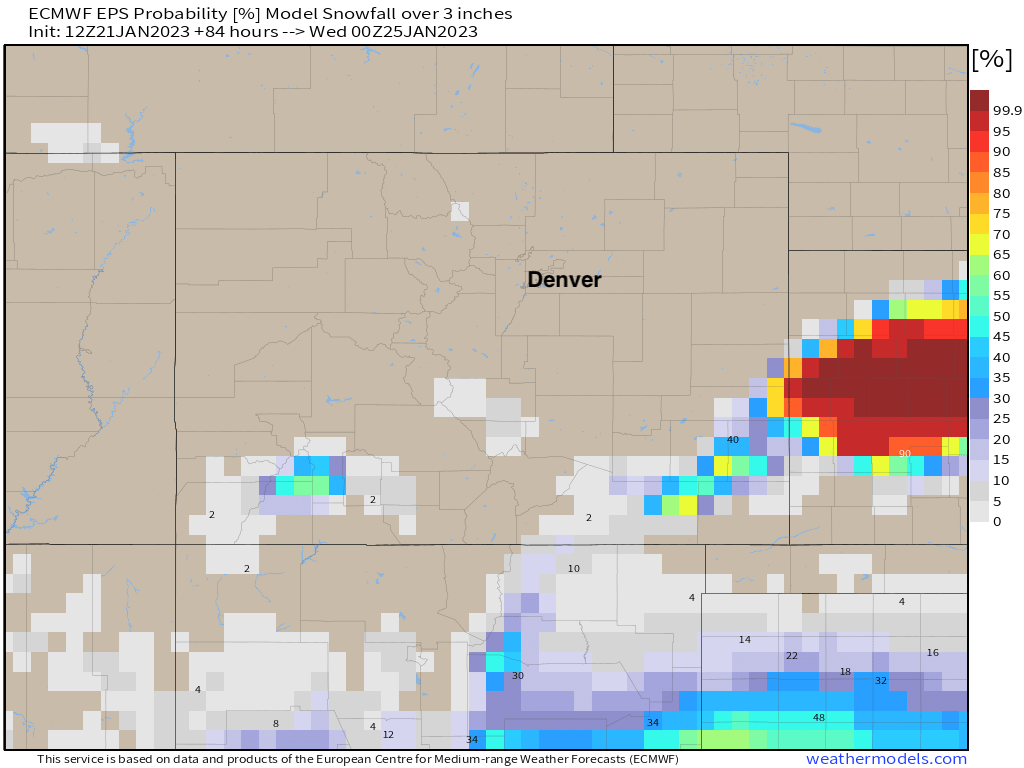 Instead, the greatest probability for meaningful snow looks like it'll end up about 400 miles south of us tomorrow night and into early next week:
In all, just a weird couple of days in weather modeling like we haven't seen in awhile. Even when the low was clearly getting too far south and west for us models have been cranking out some crazy snowfall for us that looks like it just won't come to fruition.
Even the trusty Euro briefly got on board with the idea. Here's it's 24 hour snowfall forecast ending Tuesday night from yesterday morning: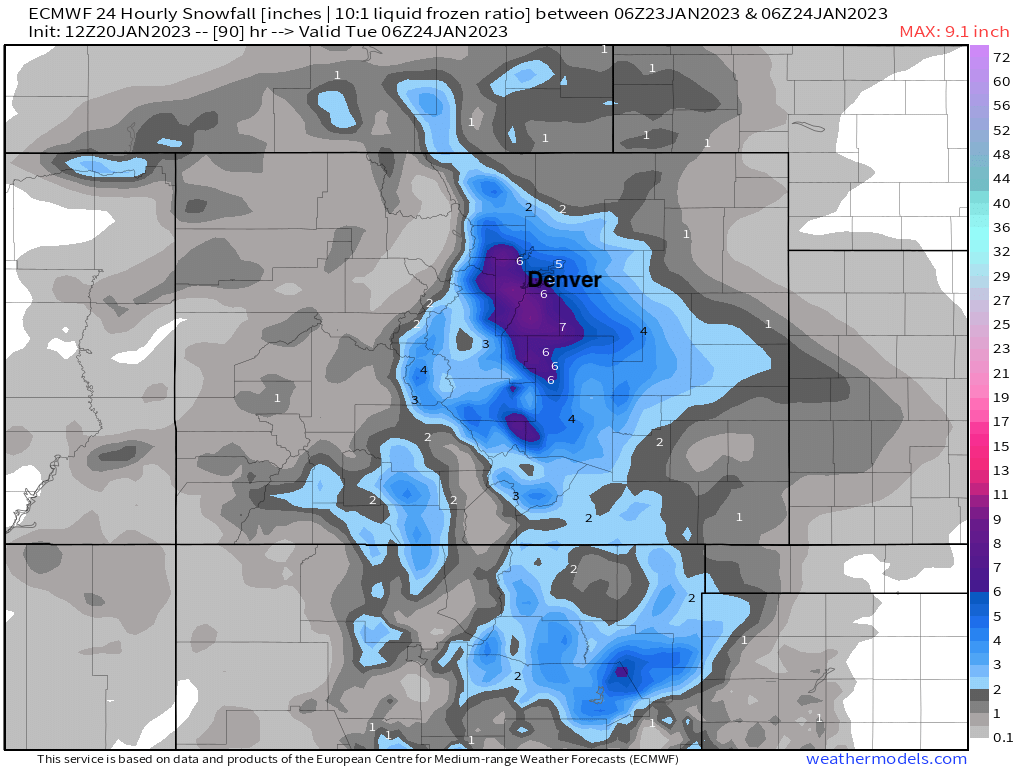 And here's the forecast from this morning valid the same time: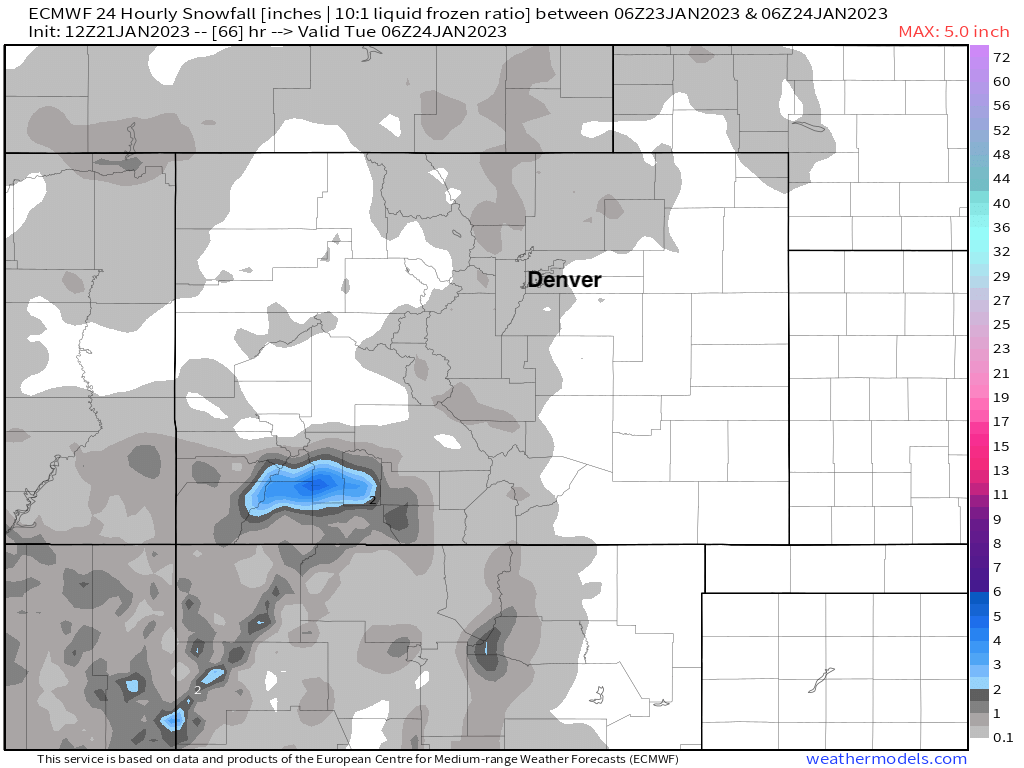 Poof!
Now, is there a chance we see everything swing wildly back the other way? Sure. But it certainly doesn't look likely and you'll struggle to find any support for that in today's data.
Of course we'll be watching all the same, and if this weekend decides to get even stranger, we'll report back.
Enjoy the wintry day, and stay warm!