The past couple storm systems were able to shift the momentum, if you will, and bring in lasting cold temperatures in a pattern change to last quite some time and to provide nearly daily snow chances.
Speaking of that latest storm, it's going to spread serious impacts across the country through this Wednesday. I talk about that here, but the rest of this blog focuses on the Denver area through the week and beyond.
First off, temperatures. Let's just look generally at Denver for the next two weeks. The top image represents the daily highs and all of which are below average (the average is the solid red line across the top.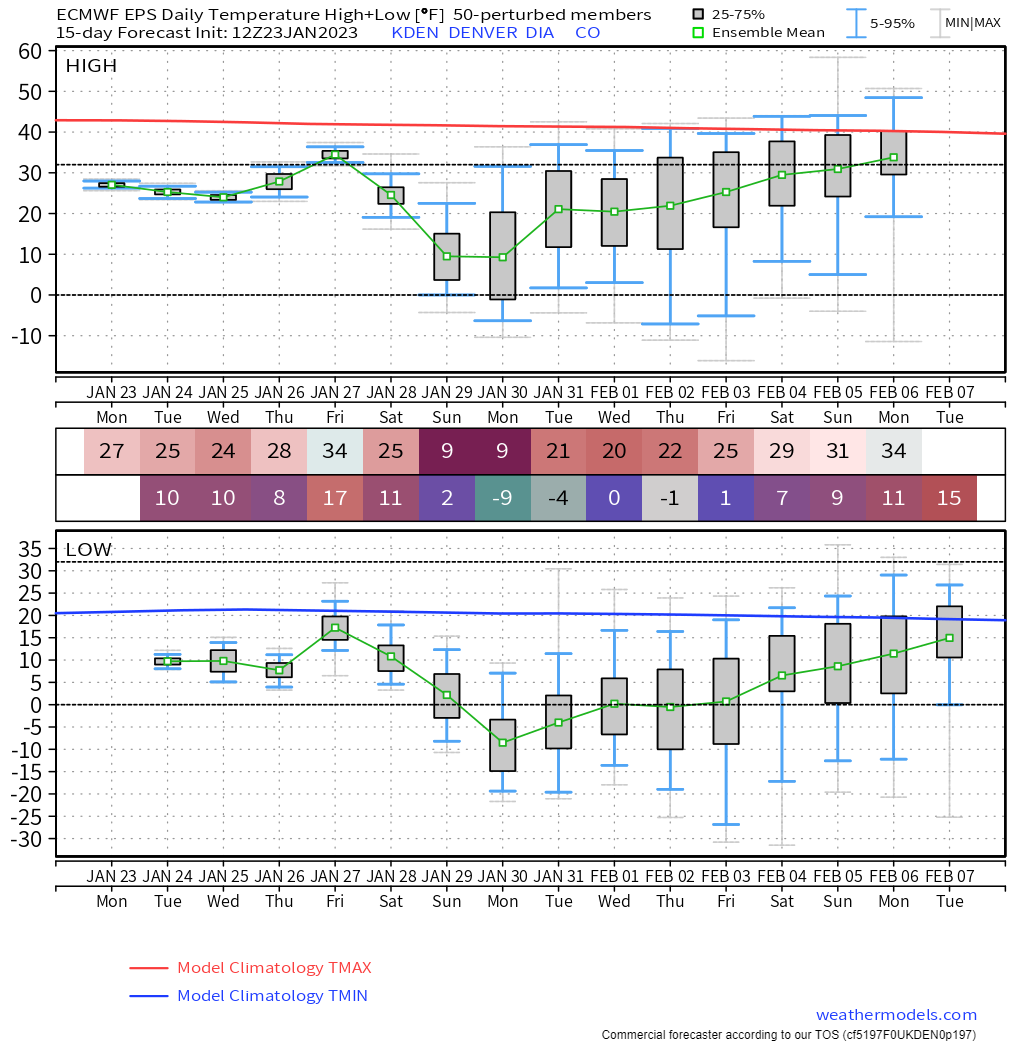 There's potential for sub-zero temperatures later this weekend and early next week! We will have more on that as we get closer.
So far, this winter is a top-35 kind of cold and the upcoming cold will possibly knock us into top-25 kind of cold. So far, we are 28.9° this winter and that's tied for 35th coldest.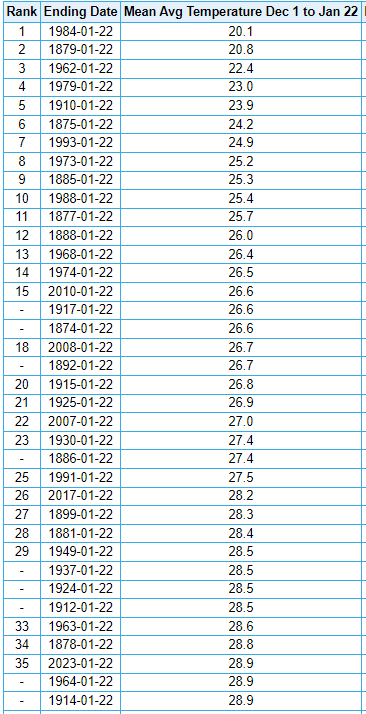 Historically, here's an annual breakdown of average temperature from Dec 1st to date. I'm also including a regression line, the average temperature for this period of time has not changed during Denver's period of record began in 1872.

For further curiosity, DIA's average is 31.6° vs. the long-term climate history of the city which is 31.3°.
With these temperatures, it will take sunshine to do some melting of our existing snowpack on city streets. Plus, we made add a bit more.
Here's a look at daily precipitation chances for the city. You'll see just about every day has a chance for precipitation.

Just in terms of snowfall accumulations, we turn to our Gamblers Charts. You'll direct your attention to the top two rows of each city point, that's where you'll see the chance for snow totals ahead. For Denver, a 23% chance of reaching 3 inches until mid-week, then we increase the odds to 30% for Friday through the weekend to reach another 3".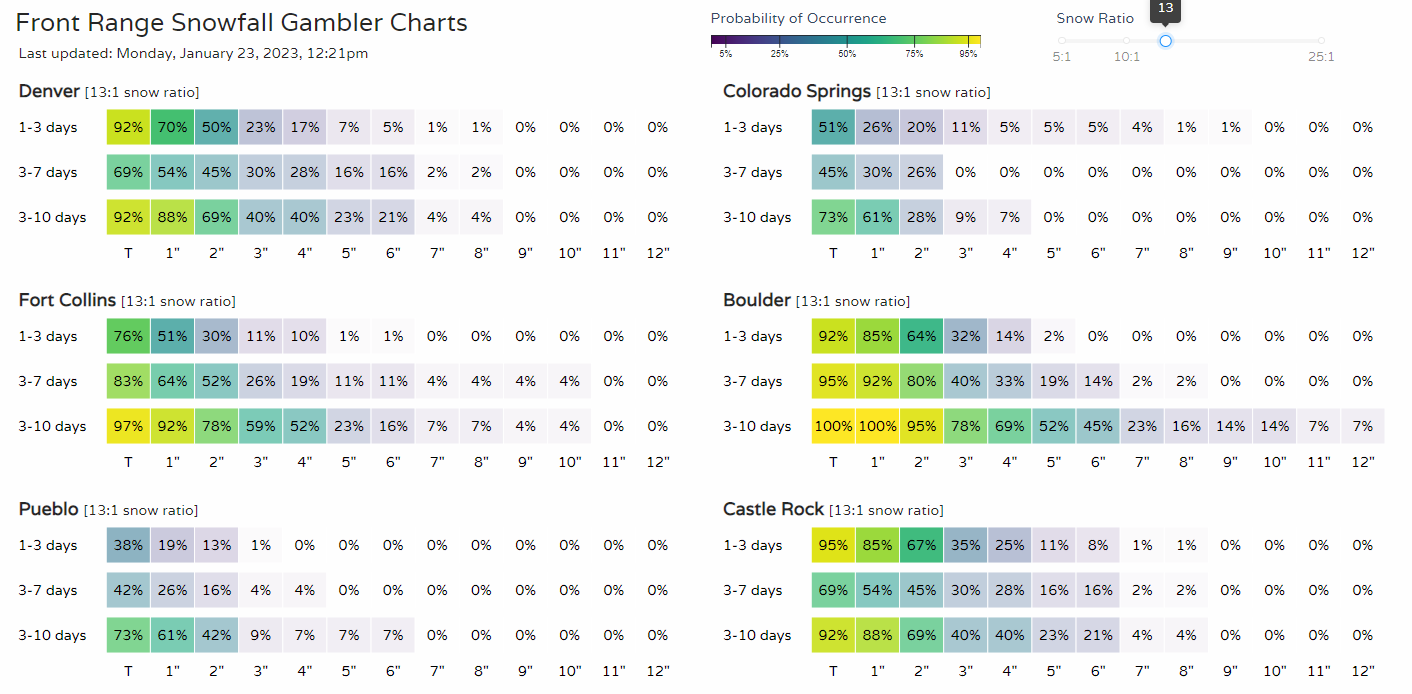 No, it isn't a lot of snow, but considering it is on top of existing snow and ice it is a combination that can lead to some pretty slick roads at times.
For the next week, the focus of deeper snow will be the northern mountains, but this image will give you an idea as to - generally - how much the area will have.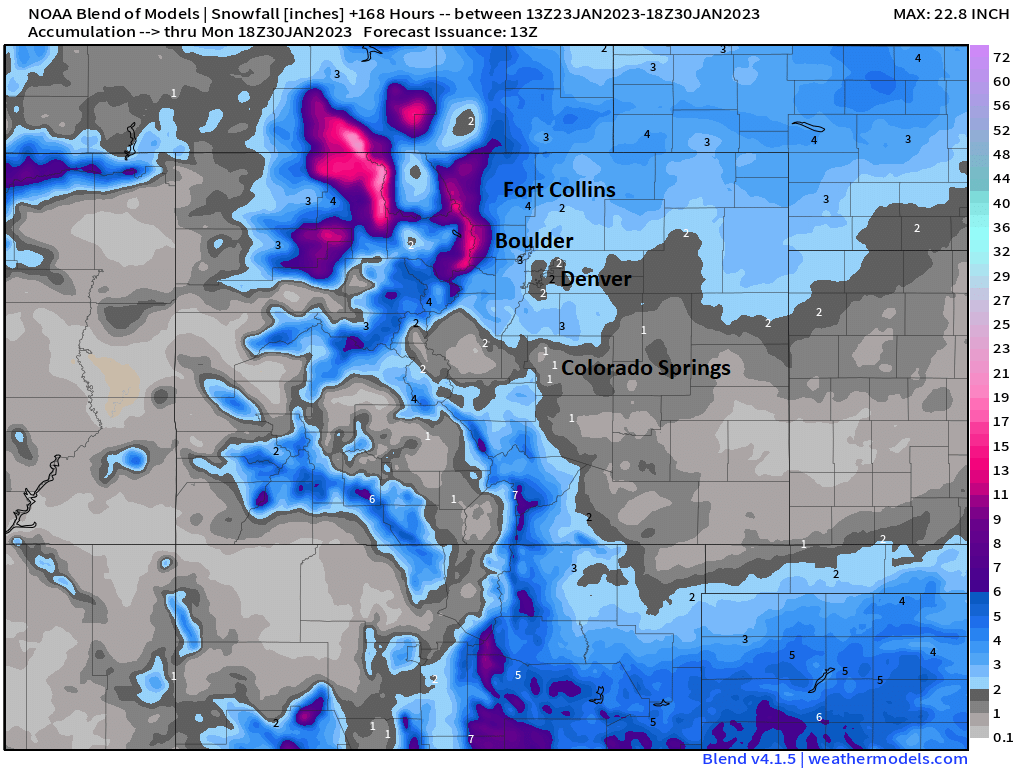 So far this season, Denver has collected 35 inches, which is ahead of the 'normal' 27.1 inches by the end of January.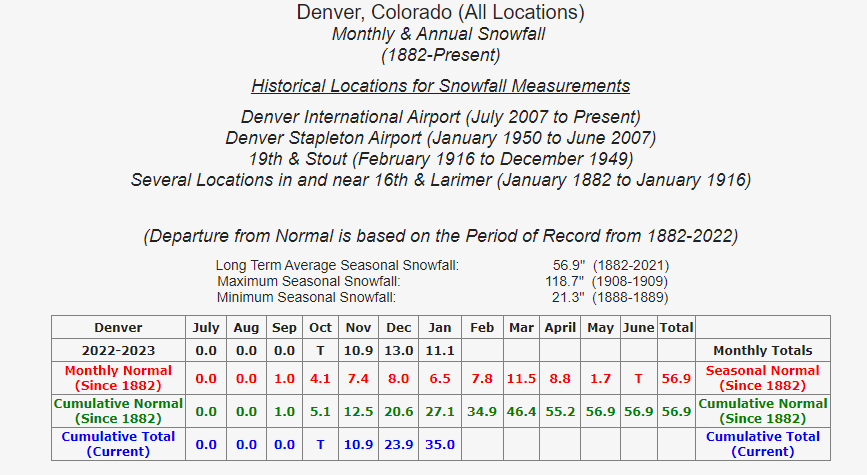 We have a long way to go yet, especially with La Niña in place, to see where the season ends overall.
Bottom line: It's a cold forecast and occasionally snowy, too.